It's nearly the end of another year and time to make some new personal promises and resolutions – but how many do we actually keep? Perhaps you want to spend more time with the family, work less and spend more time doing the things you really love?
From decades of teaching we've witnessed the almost medicinal power that self-improvement and fulfilment can have on the mind and body, which is why we encourage people to continue learning, strive to be better and ultimately, become more creative.  With this in mind, we wanted to ask you – our amazing crafty, creative community – about your own personal objectives for the year ahead. And, if you haven't made any yet, then maybe this is the time to think about what you would like to achieve in 2020. 
Over the last few years we've made it our mission to help textile crafters fulfil their dreams and aspirations and it is our hope to help everyone progress. So, wherever you are on your creative journey, we hope that we can help you set some intentions for the new year and help you achieve your goals. 
Begin Something New
Courses
Maybe 2020 is going to be the year that you finally learn a new craft? Sadly, the days of finding a course at your local community centre are generally long gone, but there are a plethora of courses available online to help beginners. 
Over the past year we've really grown our new online teaching platform The Creative Classroom. We've added several new courses this year, bringing the total up to 6 textile craft courses. 
The best thing is that the Creative Classroom allows you to track progress, check off tasks and re-watch content so that you can really perfect the skills being taught. All of the courses have projects to make with full tuition and instructions so that you can put your news skills into practise, (and maybe make someone a nice handmade gift). 
Last month we filmed Ruth Clayton (Kidd) for a new drawing, painting and design course. This is now live. 
Other Resources
There are other great resources available that can really help new beginners try their hand at a new skill. Periodically, we like to highlight new books as they become available that cover a range of textile arts. These are the books that we've selected that we feel have the most to offer. We have a list of books released earlier in the year and a list that covers the very latest releases. 
Be Inspired
If your new New Year's resolution is to develop new ideas or expand your creativity by trying a new style or technique, then you'll know how important it is to look for inspiration. Inspiration can be found everywhere! You may remember that earlier in the year we spoke about being inspired by a poster, a song, a painting or even the formation of clouds. Look out for things you like and record the things that move you and constantly feed your creative curiosity. You may want to keep a physical journal or sketchbook, however, since most of us have cameras on our phones it's really simple to quickly snap the things that spark an idea. Use a platform like Pinterest to formulate and organise all of your research and ideas.  
The advantages of using Pinterest are:
Use it as YOUR creative space. Organise your things into boards and personal pins and categorise your favourite content. 

There is a tonne of inspiration at your fingertips. 

You can upload your own images from your device. 

Scrapbooks are personal so it's great to know that there's an option to hide certain boards from public view. 

It's totally sharable. You can share individual pins and boards to other social networks and email them to individuals or invite other Pinterest users.
So, record your inspiration and learn how to use Pinterest to its full potential. And don't forget to follow us too! 
Inspiration can also be gleaned from the many interviews that we've conducted with leading artists, designers and creatives. This year alone we've had the most fantastic opportunity to interview some of the biggest names in Textiles. These artists have shared their creative processes, talked to us about how to stay motivated and continue to encourage our students and followers, and for that, we are most grateful. 
This year we've interviewed. 
Christmas induces stress, so it's no wonder we have a lot of people contacting us about taking up a craft in order to reduce stress and feel more composed. It has been proved that crafts like embroidery and knitting are really effective at achieving mindfulness – an important way of switching off and tuning out. We recently put together a piece about how to use crafting to achieve mindfulness and includes 
Finding creativity in the everyday

Keep things fresh and exciting

Create time for yourself

Challenge yourself. 
Discover how to craft towards peach and wellbeing and make a promise for some valuable 
'me time'.
Challenge Yourself
Many competent crafters experience reaching a plateau, meaning they struggle to find a way forward. When inspiration doesn't help, may be a gentle nudge will, and our City and Guilds accredited courses are designed to do just that. With varying difficulty levels for different abilities, each course is designed to encourage you test, question and experiment. They help students to formulate new ideas, try new techniques and make new things that they wouldn't otherwise.  
Over the past year, our courses have proved to be the key to unlocking so much potential.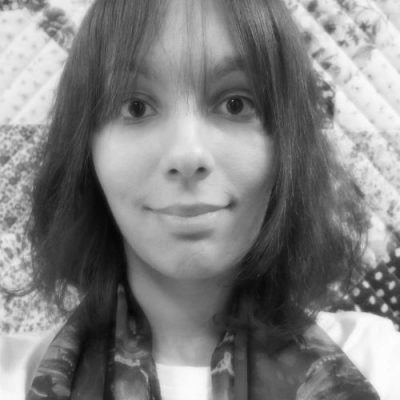 Rebecca Tickle enrolled onto our Patchwork and Quilting course last year and was kind enough to share her personal story with us. At the start of her journey she described herself as a 'sewing rookie' who longed to make things that she was really proud of. The course gave her confidence because of the skills she's learned, and she went on to enrol onto a Skill Stage 3 Patchwork course in the same year.  Rebecca achieved so much throughout her time with us. 
She admits that the course help to shape her style and give her the ability to create things with confidence and is now the proud owner of her very own website sewdrop.co.uk.
For Hazel Frances, doing one of our accredited courses was always on her bucket list. Although she has completed a course at the RSN she desperately wanted to learn more about the design process and really benefited from the hands on and theoretical aspects of the course. Read about her amazing journey here.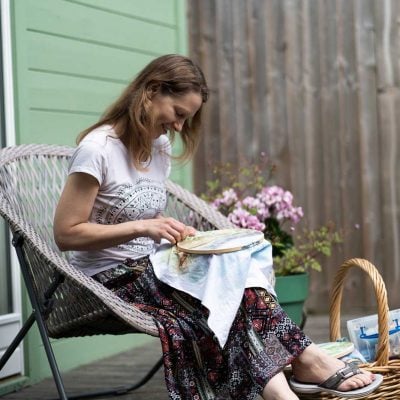 Vicky O'Leary originally studied Art and Design and then completed a degree in Printed Textiles at Winchester School of Art. After a few years out of the creative scene Vicky enrolled onto our Machine Embroidery course and gain the confidence she'd get from achieving an accreditation. 
As a distance learning course, she also found it more manageable to fit it in around her family life and other commitments. Vicky now runs workshops in Surrey and her work is adored by so many fans.
Jayne McClenaghan uses her new found skills, knowledge and certification to teach hand embroidery using her own designs. She also gave potential some great advice about picking a course that was going to push you out of your comfort zone. So, if you would like to teach, set up your store or become a newly emerging artists, then our courses could be the key to helping you achieve your ambitions. 
City & Guilds Accredited Courses
Embrace Opportunities
Twice a year we offer fully funded bursary places for our accredited courses and this year we had thousands of people participate in our vote to find our bursary winners. We had 6 winners in total throughout the year so please make sure that you sign up to our newsletter to receive news about our next round of bursary places when they become available. 
Enjoy the Process
Being creative can be extremely frustrating, especially if don't have the time to release your creative juices. It you're struggling with time at the moment the best thing you can do is keep your head in a creative space instead of withdrawing from it completely. If you can't get to exhibitions, shows or purchase books then utilise social media platforms like Facebook and Instagram and follow a few of your favourite artists. There are so many independent makers and artists pushing the creative boundaries and producing some truly pioneering textile art. We've featured many of these artists in our Inspirational Artists series, so take look at some of the artists that have made it onto our radar and onto our list of Knit, Hand Embroidery, Patchwork and Machine Embroidery Artists you HAVE to follow.f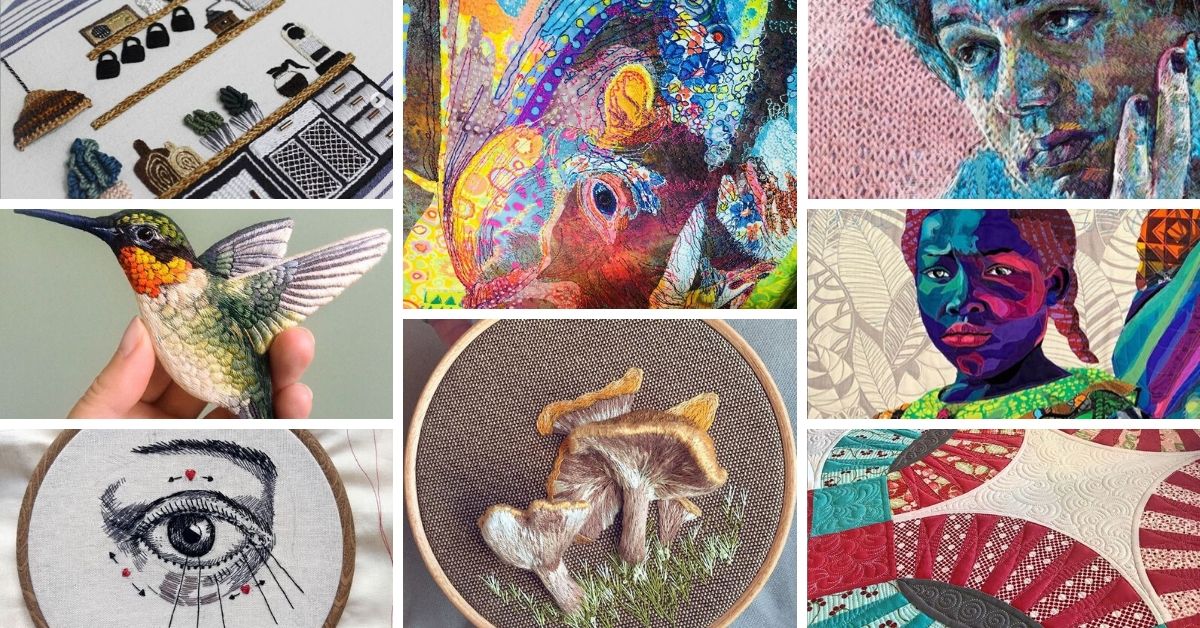 What's Your News Years Resolution? 
If you're a textile enthusiast and thinking about what you'd like to achieve in 2020 then we'd love to hear from you. Drop us a comment below and let us know what you have planned. It could be as simple as wanting to learn a new craft, add a few more techniques to your repertoire, finally finish that project you started last year, learn more about your favourite artists and the contribution they have made, apply for a bursary with us, or gain confidence to promote your own work. 
We hope the resources we've provided above will help you to build a clear picture of what can aim for and how you can achieve it.  Once you've set your resolution or goal, write it down and keep it on display. We may even contact you later in the year to find out how you're getting on. Have a great Christmas everyone and a creative New Year.