Felt
Learn how to create beautiful designs, keepsakes, 3D objects and more with our range of specialist Felting distance learning courses, accredited by City & Guilds. We have courses aimed at complete beginners looking to learn the basics as well as courses aimed at more experienced students who wish to develop skills and experiment with more advanced techniques. Find out more about our comprehensive study programmes and how they can help you achieve more doing something that you love.   
What level should you study?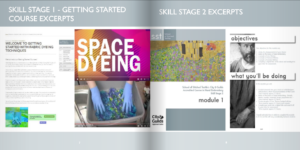 Not sure which level to study at? To help you with your decision we've created a guide to choosing the right City and Guilds accredited creative textile course based on structure, delivery, length, teaching, assessments and the experience level required for each level, so go ahead take a look now.