Stumpwork
Stumpwork is a highly skilled and intricate ancient art form. With a cross over into hand embroidery Stumpwork allows you to create beautifully detailed 3D pieces and embellishments. Discover a range of styles, skills and techniques in our online course, accredited by City & Guilds and become proficient in this beautiful and highly creative craft.
What level should you study?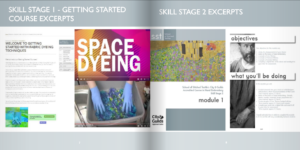 Not sure which level to study at? To help you with your decision we've created a guide to choosing the right City and Guilds accredited creative textile course based on structure, delivery, length, teaching, assessments and the experience level required for each level, so go ahead take a look now.