Machine Embroidery Courses
Machine Embroidery
Machine Embroidery is a highly creative and versatile craft and one of our most popular subjects at the School of Stitched Textiles.  We provide a range of distance learning courses accredited by City & Guilds each designed to help crafters developed their own unique style and creativity. Whether you're looking to learn the basic, develop existing techniques or want to advance as a textiles artists then discover how our in-depth study programmes could be the key to unlocking so much creative potential. 
What level should you study?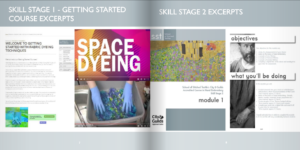 Not sure which level to study at? To help you with your decision we've created a guide to choosing the right City and Guilds accredited creative textile course based on structure, delivery, length, teaching, assessments and the experience level required for each level, so go ahead take a look now.