Are you still trying to decide which level to study at? As the UKs largest distance learning centre specialising in home-study textile craft courses we know that making a decision about which course to study can be a little overwhelming. To help you with your decision we've created a guide to choosing the right City and Guilds accredited craft course based on structure, delivery, length, teaching, assessments and the experience level required for each level.
Course Structure & Delivery
All of our courses are home-study, distance learning or online courses. This means that students study at home by working their way through the course materials issued after enrolment. The course materials are easy to follow and well-structured and are a mixture of written instructions and videos. You will be able to access course materials whenever and where ever you are to allow you to fit your studies in around other commitments.
Depending on the level you wish to study at, each course has a set number of modules to complete and each module has different tasks to complete. Work is submitted electronically to your tutor who will provide written feedback within 10 days of receiving your work.
Throughout your course you will be supported by our tutors who are always on hand to provide guidance, feedback and advice. We also hold regular online live tutor sessions so where you can meet fellow students and share your experiences of learning with us.
Understanding the different 'Skills Stage' levels
We refer to the different levels of study as 'Skill Stages', which accommodate all levels and abilities, as well as interests.
Short craft courses for beginners
As well as our accredited courses and master practitioner courses we also offer short online beginner courses. These are an ideal way of getting to grips with the basics and learning how to follow along with online tutorials. They also act as a perfect taster of our lengthier, accredited courses. We are constantly adding to our list of beginners courses so go and ahead and check them out now.
City and Guilds accredited textiles courses
Our accredited courses are Skill Stage 2-4 and are fully approved and accredited by City and Guilds of London. Working towards an accreditation by an institution like City and Guilds, ensures that both teaching and assessments are delivered to an extremely high standard, making them highly valuable courses. Read more about the true value of taking accredited courses. 
Courses you can study at Skill Stage 2:
Experience Required
Our Skill Stage 2 accredited courses are aimed at beginners. If you've only ever made a few projects by following patterns or perhaps you've only just found an interest in your new hobby, then we'd recommend that you study a Skill Stage 2 course. Courses at this level have been carefully designed to not only introduce teach beginners techniques, but also introduce students to the conducting research into an artist or designer and eventually learn how to create their own designs.
If you're considering studying at this level we'd also ask you to think about how often, if ever, you attend workshops or other courses talks and exhibitions? How regularly do you buy textile or crafting magazines, or books on artists and designers? If you feel confident in your craft but rarely read around your subject or have limited experience of attending courses or exhibitions then a Skills Stage 2 course is probably going to be your best bet.
A Skills Stage 2 course will introduce you to the pleasures of immersing yourself in your chosen craft. Not only does this help you to develop your own style but it's also an important way of discovering new trends and exploring favourite artists.
Course length
Theses courses contain 4 core modules. These cover basic techniques, research and design skills and contain around 100 – 150 hours of delivered content. Modules take roughly 6-8 weeks to complete however you can take up to 1 year to complete the entire course.
Courses you can study at Skill Stage 3:
Click on the individual course titles above for more information about modules, assessments and pricing structure.
Experience required
For crafters with a bit more experience our Skill Stage 3 accredited courses are the perfect choice. If you're regularly completing projects using commercial patterns or kits and you have a fair, though not extensive understanding of different stitch techniques, we'd categorise you as having more experience than a beginner.
If you've been interested in your preferred subject for a number of years, have attended a workshop or course and regularly read around your craft (magazines, books, articles) then you're probably ready to take these more advanced courses. The reason we say this is because our Skill Stage three courses are in-depth courses that require you to research, read and study your subject. We will obviously support you with tasks but some students may find this difficult without previous knowledge and experience of more formal education.
Our skill Stage 3 courses are also great for those with a business ambition. Our course includes an entire module called profession practise, which is aimed at getting your business ready. We teach valuable industry skills to really give you that professional, competitive edge.
Tasks in our Professional Practise module include:
Creating a professional CV and profile
How to cost items and services (like teaching or authoring books) for sale
Compile an effective business plan by assessing the marketing and the competition
Ways to resent work in a digital format for online promotion and reach
Course length
There are 12 modules to study at this level. With approximately 360 hours of course content modules take around 6-8 weeks to complete (although this can vary considerably). Students should complete the course within 2 years.
Our Skill Stage 4 (SS4) courses are City & Guilds accredited advanced programmes aimed at students with more substantial experience.
The courses we offer at this level are:
Click on the individual course links above to see more information about the modules, assessment and pricing structure.
Experience required
If you've already completed a City and Guilds Skill Stage 3 or Level 3 in your chosen subject then you can progress onto a Skill Stage 4 course. However, in certain rare cases students can study at this level if they are able to demonstrate that they have the knowledge and experience required.
Courses at this level provide students with an opportunity to develop their own individual style, experiment with ideas and develop their technical skills to form a collection of work at a professional level.
If you haven't previously completed a Level 3 or Skill Stage 3 course then please do check with us first before enrolling onto this course.
Courses at this level again include a Professional Practise module making them great for craft business owners. Whether you teach classes, run a craft store or sell your own products you'll be taught valuable business and marketing skills including working to client briefs, establishing costing models and how to promote your business and services.
Course length
There are 12 core modules to study at this level. With approximately 410 hours of course content modules take roughly 6-8 weeks to complete (although this can vary considerably). Students should complete the course within 2 years.
Entry level considerations
All courses are delivered online, meaning you will need to have some basic computer literacy skills. We expect students to be able to carry out basic tasks on a computer such as, downloading and uploading files, being able to send email communications and use popular social media platforms like Facebook and Pinterest. We hold most of our online group discussions and live tutor live on Facebook. Once you enrol you will be invited to join your own private Facebook group. This is a great opportunity to share work, thoughts, ideas and meet other like-minded-people.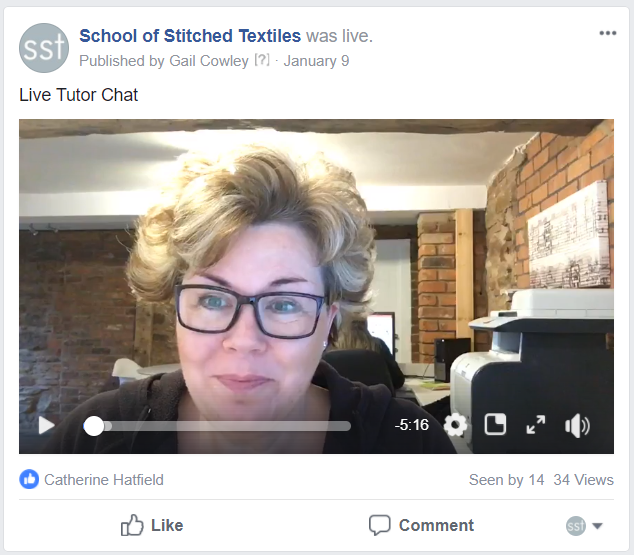 All of our students find these groups and online sessions extremely useful so if you don't already have a Facebook account we recommend that you get one, but please note that this isn't compulsory.
Students submit their work by taking photographs and submitting it online. Although we do provide detailed instructions, if you don't already have some knowledge you may find an online course difficult. However, please rest assured that we have tutors and technical support on hand to help you throughout your studies.
Materials and Equipment
At the beginning of each module you will receive information about the different materials and equipment needed. Please note that all courses require you to have access to a computer and a digital camera. However most phones and computers have decent resolution cameras so you may not need to purchase these separately.
We hope that you have found this guide to choosing the right craft course useful. Alternatively, if you have any questions please leave a comment below or contact the team directly.
Perhaps your still unsure about study via distance learning. If so, why not check out some of the accounts from our recent graduates and students. Take a look at why people study with us, what they learn and how our courses have helped them develop as artists to embrace new careers and professions. Alternatively, feel free to leave any comments or questions below.