Like so many of our graduates Jenna has always loved sewing. As a teacher and owner of Exeter Sewing Machine Company the accredited educational programmes offered at the School of Stitched Textiles have given her the confidence to develop her own ideas and create her own unique Patchwork designs. Discover how we nurtured the creativity of Jenna Clements.
Early Days
'Several years ago, I realised that I had no memory of being taught how to sew and asked my mum about it. The reason I couldn't remember became apparent – I was two years old when she taught me how to hand sew. My heart warmed when she told me how I had the patience for it even then.
 Learning how to develop Patchwork designs
In 2012 I was able to turn my hobby into a career when I began working at Exeter Sewing Machine Company, a sewing and quilting shop based in Devon. It was here that, with the encouragement and support of the owners, I discovered my passion for teaching and enrolled at the local college to gain a City and Guilds Level 3 Certificate in Education and Training. In January 2014 I enrolled at the School of Stitched Textiles and began my City and Guilds Level 3 Certificate in Patchwork and Quilting. I was thrilled to discover an education centre where I could learn long distance and entirely online, allowing me to fit it in whilst working full-time.
As a teacher I wanted to continue to increase my knowledge and ensure that I had a wide range of skills – I knew that the course would allow me to do this in a disciplined and structured manner. I also felt it was important to be able to design my own patchwork projects. From the offset, I was able to study the elements of art and design and gained confidence in developing my own original patchwork designs. Learning about the design process has been a great help when developing original class projects and plans.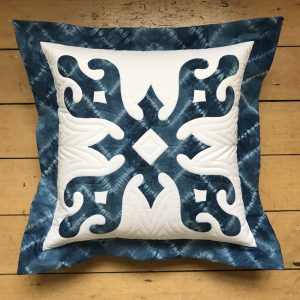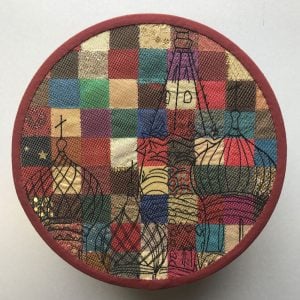 Eighteen months after beginning the course, my husband and I purchased Exeter Sewing Machine Company. The change from employment to business owner had a serious impact on my time, and it took a lot of self-determination as well as ongoing support from my partner to keep on track with my coursework. Being able to email my tutor whenever I was struggling made a genuine difference – not only did she give me constructive feedback about my textiles pieces, she also offered personal encouragement and advice throughout the process.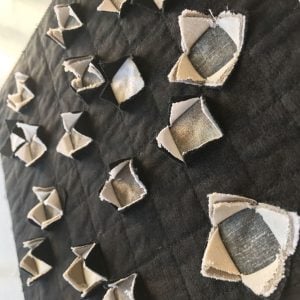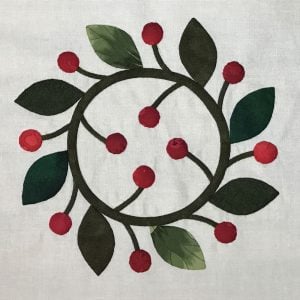 Finding inspiration for Patchwork designs
I've enjoyed drawing inspiration from a wide variety of sources when working on my assessed pieces, incorporating everything from fossils at the local museum to the colours of Russian architecture. The process of developing designs encouraged me to 'think outside the box', and I've been delighted to discover that each final piece has evolved into something that I couldn't possibly have imagined at the start of the design process. I've also been able to incorporate some of my other interests – my final assessed piece uses military history as a starting point, reflecting the changes in textiles and civilians' lives on the home front during the First World War. I've been able to build a huge body of work as a result of the course. I enjoy combining the precision of traditional patchwork and appliqué techniques with modern designs. Although I know that I shouldn't have a favourite element of design, I can't deny that I do – colour! I am fascinated by how emotive a particular hue can be, and by how its appearance can be changed depending on what it's placed next to. I've particularly enjoyed experimenting with colour by combining textiles with other media, such as paints and fabric dyes.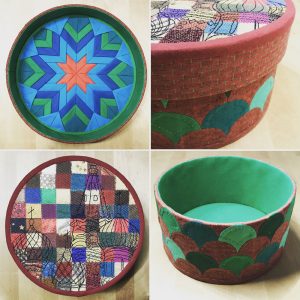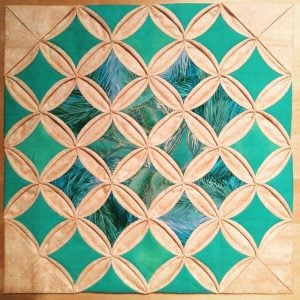 I'm often asked whether I sell my work – the truth is that I'd rather dedicate my time and skills to teaching others. It brings me such joy to see others gain the same sense of contentment that sewing gives me. I firmly believe that the course has made me a better teacher – by increasing my knowledge, by improving my skills in planning and time management, and by always reminding me what it's like to be the student.
In the immediate future I intend to reflect upon and consolidate what I've learned on the course,
and consider how best to incorporate in into future class content and teaching techniques. Longer
term, my goal is to further improve and extend my own class programme. Of course, I will also
keep an eye on the School of Stitched Textile's accredited courses for my next learning challenge!'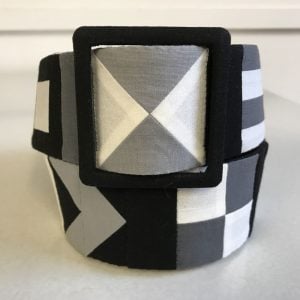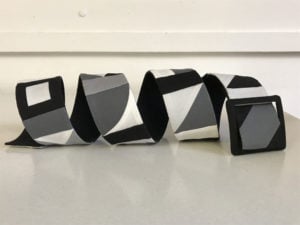 Please visit Exeter Sewing Machine Company or visit their Facebook page.
Feeling inspired by Jenna's story? Why not take a look at the courses we offer. As well as a range of starter courses aimed at beginners, we also provide quality educational programmes designed to nurture the creativity within. So, if you're looking to gain confidence in developing your own designs then check out our accredited courses.