Many of our students talk about how our courses in textiles education give them an ability to develop their creativity. Unlike other courses, we believe that the educational programmes we deliver really allow students to unlock their full creative potential. This is a graduate story from Christina Thomas. Having studied with us Christina is looking to take her new skills in and become an international Fibre Art Teacher.
Christina Thomas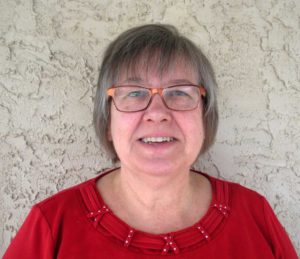 'Sewing and textiles were of no interest to me until I became interested in art. It started with a quilt show where I was introduced to an incredible fibre art piece created by Emily Belak; Praise of Poppies. The result of this experience pushed me to learn how to use a sewing machine and how to quilt within the next two weeks. I became obsessed with the tactile feel and the versatility that fabric offers. My main focus became free motion thread work and colour theory. I gained as much textiles education as possible, from night courses on drawing and watercolour painting, to taking every fibre artist workshop I could. Teaching came next – another great way to learn.
Textiles education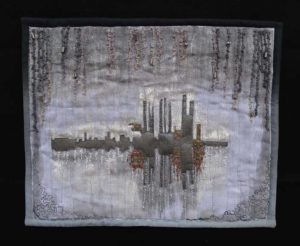 An important goal of mine was to complete a textiles education course and achieve a City and Guilds certificate. I took a short textiles education course, Creative Computing into Stitched Textiles and loved it so much I dove into Machine Embroidery Level 3. Taking a distance textiles education course suited me very well. I value being able to work at my own pace, however, what I have appreciate the most is the opportunity to be creative and to work outside the box. Each portfolio is structured on a similar format but the outcome of work is individualised. My mentor/teacher encourages me to be creative, try unusual fabrics and techniques. I have pushed myself into directions, such as using programmed stitches to create design, I would have never gone to otherwise.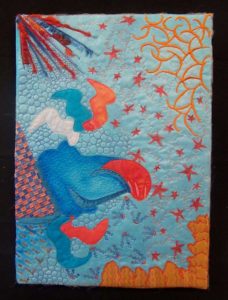 The first 5 of the 12 portfolios taught me some incredible ways to create design, developing my ability to do abstract art. By becoming immersed in the subject, the rest of the levels provided opportunities to create more in depth fibre art pieces. As I do these portfolios, I have developed and fine-tuned my 'process'.
With my process I create a coloured drawing in a similar proportion to the final piece. I chose to do this because it is a quick way to get my visual and equivalent outcomes. From here I start thinking about the design principles and how I will create them. Mounting the finished piece is also important to think about from the start, as it needs to be incorporated when creating. Having the love of surface design, I will consider the melting of fabrics, creating new fabrics, applique, reverse applique, dyeing, using motifs, wool roving, yarns, thread lace, buttons, beads, extra batting and the list goes on! Once I have a good idea of my choices I will dive in. Seldom do I stick precisely to the plan. I like to think that my piece is 'talking' to me. Lots or little will change as I create one section as it rarely turns out exactly like the draft painting hence the next step will also change.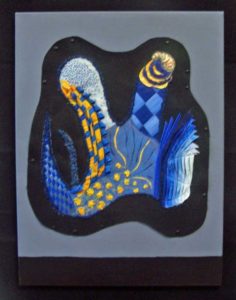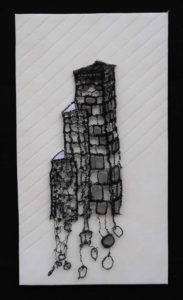 Future plans: Providing textiles education
My plan for the future is to become an International Fibre Art Teacher. One of the main reasons I took the City and Guilds course is because I knew that having it on my resume would provide me with more teaching opportunities. I believe that many potential students understand the quality of work from a graduate of this institute. I am also looking forward to entering more professional calls of entry to show my work.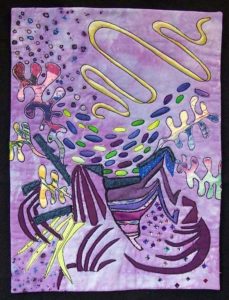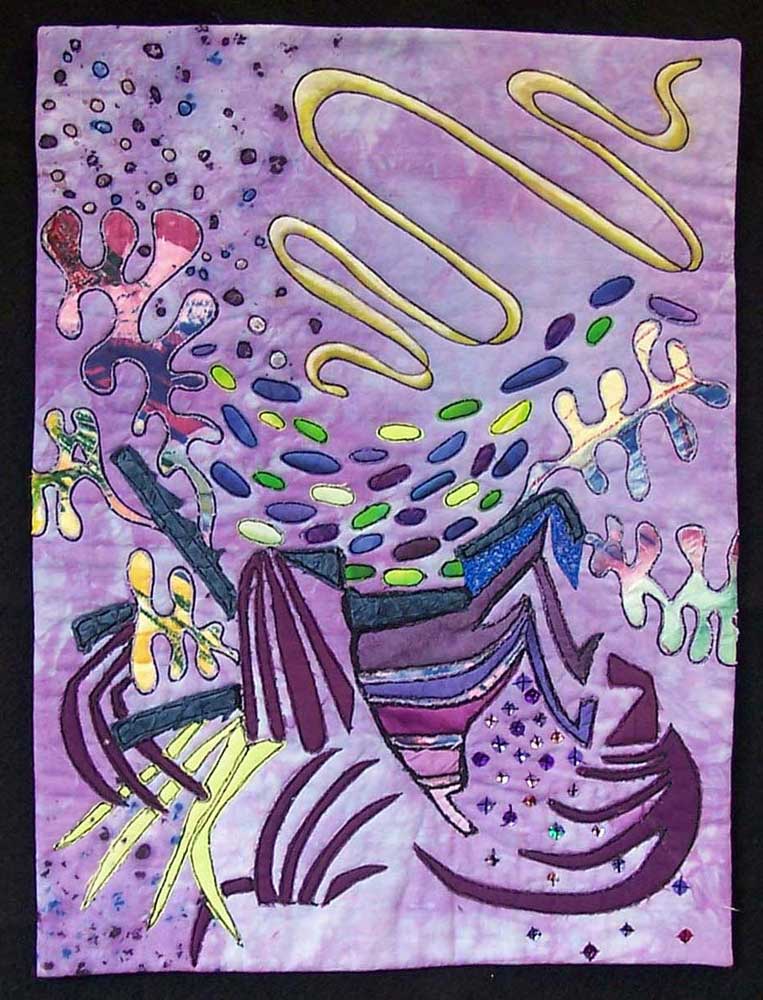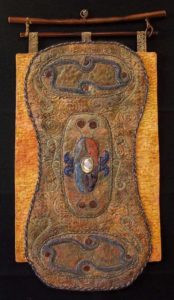 I have come a long way since creating my first quilt show with a combination of my textiles education, hard work, and creative lens, I am excited for the journey ahead.'
If you're interested in our textiles education courses take a look at how we can help you unlock your full creative potential.