The world of art has always been a vast canvas for creative expression. Throughout our Textile Artists you HAVE to Follow series we've demonstrated that inspiration has no bounds and can come from the most unexpected of places. And what could be more quintessentially human and more universally relatable than the pleasure of food? 
In the intersection of these two worlds, where gastronomy meets artistry, we discover a captivating genre of expression: textile artists who use their craft to depict the beauty, nostalgia, and culture of food. In this series we explore the works of nine exceptional textile artists whose creations revolve around the culinary world. From mouthwatering crocheted confections to embroidered gastronomic tales. So, let's take a look at these diverse, whimsical, and thought-provoking textile artists inspired by food. 
So, pull up a virtual chair and enjoy this virtual feast of threaded delights! 
Don't forget to check out our other blogs in the Artists you Have to Follow Series. 
1. Maria Skog
Finland-based textile artist Maria Skog has a gift for crocheting food that look incredibly realistic. Maria has been creating crocheted food for more than a decade and says her inspiration comes from memories of playing cafe and grocery store with her children when they were young.
Her culinary delights and iconic consumables have helped her gain 70,000 plus followers on Instagram where she shares patterns for her creations. 
Follow Maria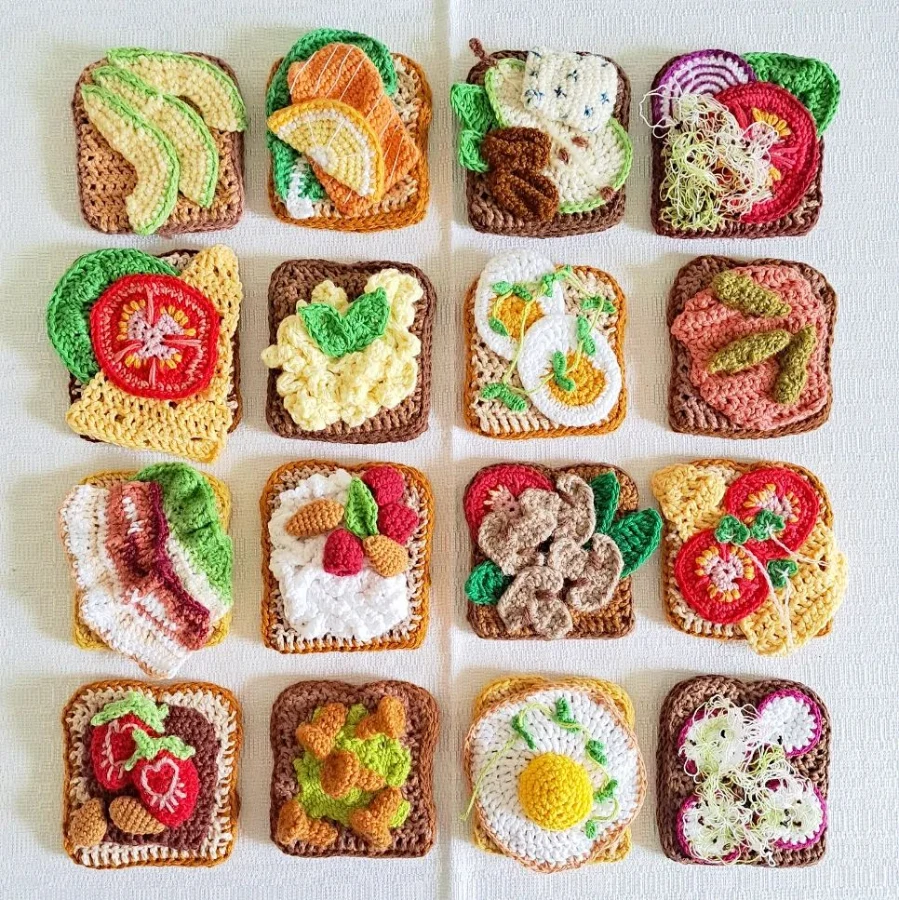 2. Suzy Wright
Located in Dorset UK, Suzy Wright is renowned for her iconic, vibrant pieces created using free machine embroidery. Her subjects include people, insects, flowers, and birds but it's her fruit and veg that inspire us the most. Through layering and blending threads she creates vibrant stitched tapestries that resemble paintings. Her sole aim is to create work that feels real and comes to life. 
Follow Suzy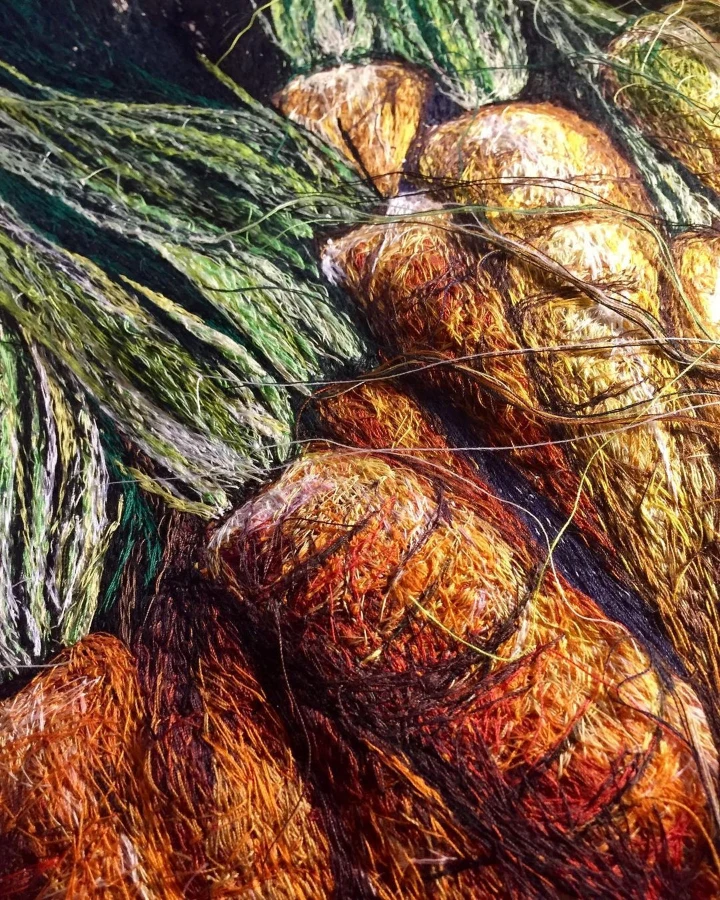 3.Emma Giacalone
British designer and maker, Emma Giacalone creates fine textile artwork, prints and greeting cards. She specialises in creating machine embroidered recreations of the items we know and love the most, with a touch of Emma's humorous magic. Each is designed to bring joy and make us smile. 
Follow Emma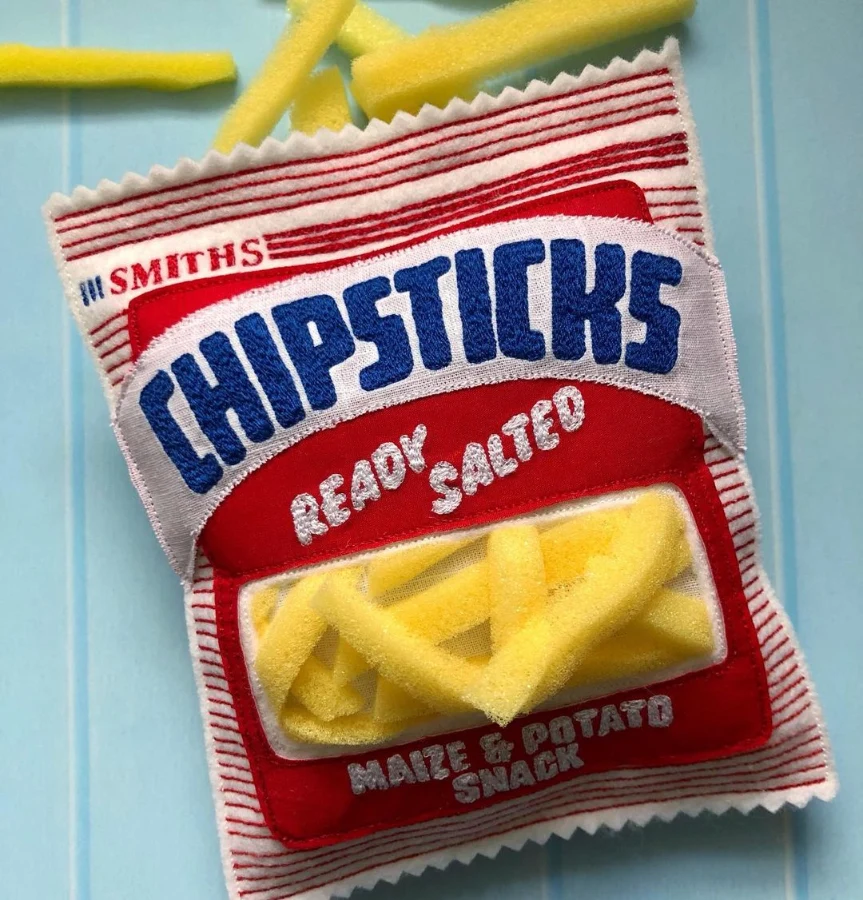 4. Tania Denyer
Ontario-based quilt artist Tania Denyer began quilting by experimenting with and using other quilters' patterns, eventually developing her own designs. She shifted from using patterned fabrics to solid colours, likening her approach to a painter's use of paints. Tania focuses on food as a primary subject in her quilts, aiming to expand the definition of art and highlight the artistry of women textile artists and cooks.
Follow Tania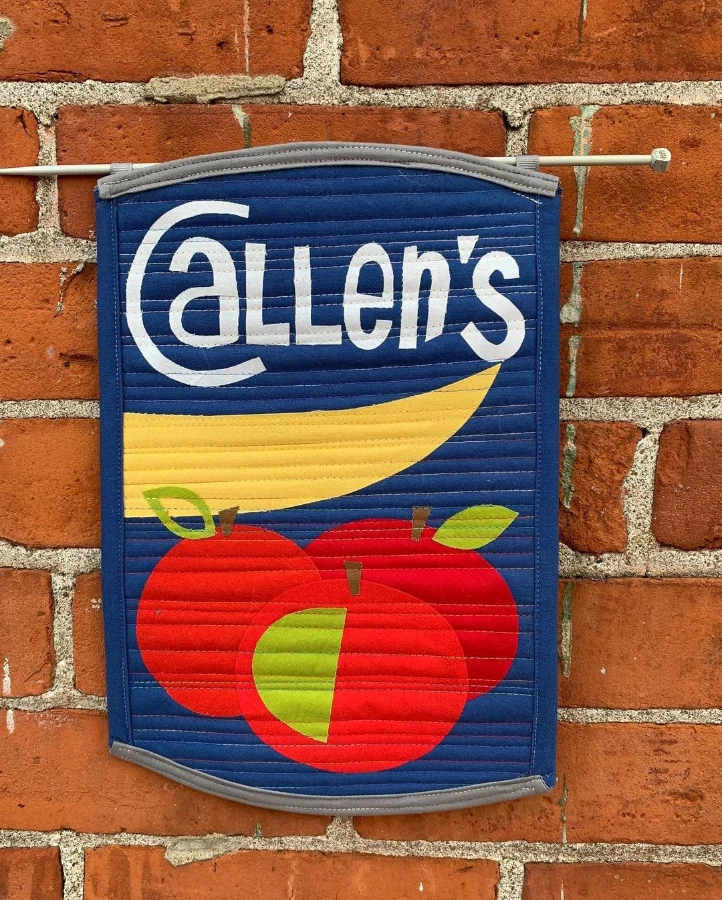 5. Kate Jenkins
British artist Kate Jenkins is best known for her knitted and crocheted depictions of popular dishes and her creations of nostalgic items, reinvented with a comedic twist. She previously worked as a freelance knitwear designer for major fashion houses like Marc Jacobs, Ralph Lauren, and Missoni before starting her own label, Cardigan in 2003. Her career took a new direction when she started knitting food items like fried English breakfast and fish and chips, which gained popularity: Proof that everyone loves food in all formats. 
One of the things we love is her experimentation with humour. Look through her work and you'll spot a plate of visual puns.
Follow Kate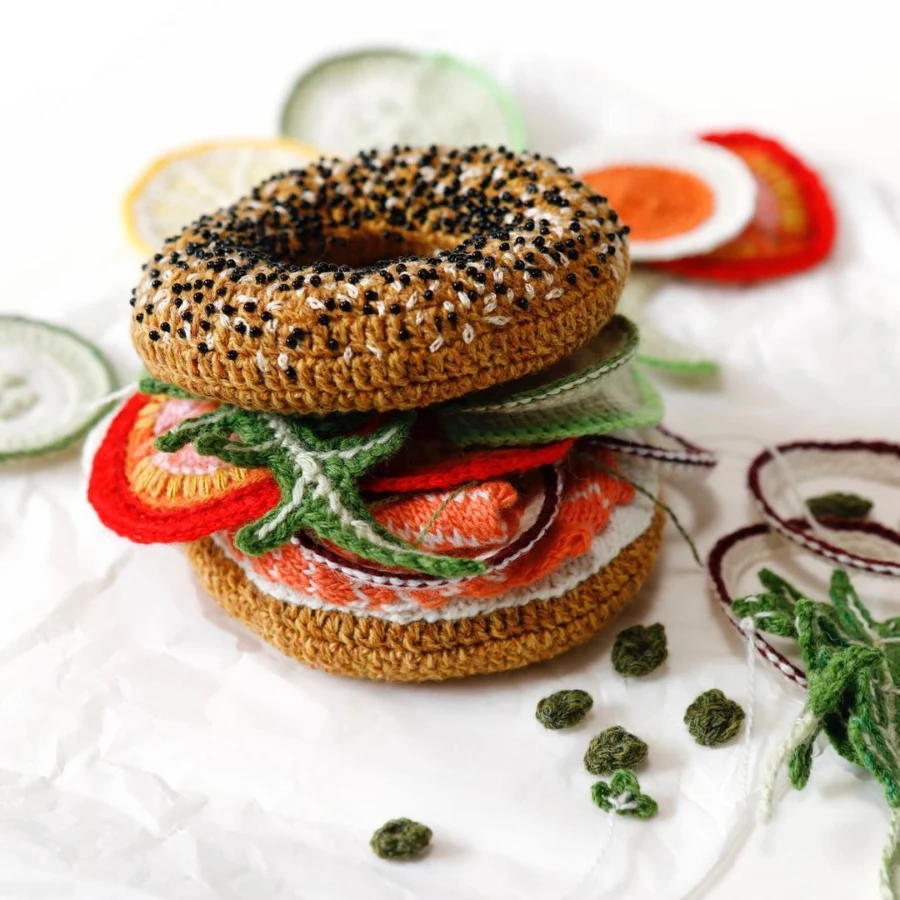 6. Ipnot
Ipnot is an embroidery artist from Yamaguchi in Japan. Referring to the french knot technique as 'grains of threads' Ipnot once embarked on a journey to create 501 pieces of embroidery using only french knots. Her stand out work features popular food and drink items that can be interacted with, used and explored. She has worked internationally with major brands including Chanel, Amazon and Hermes.
Follow Ipnot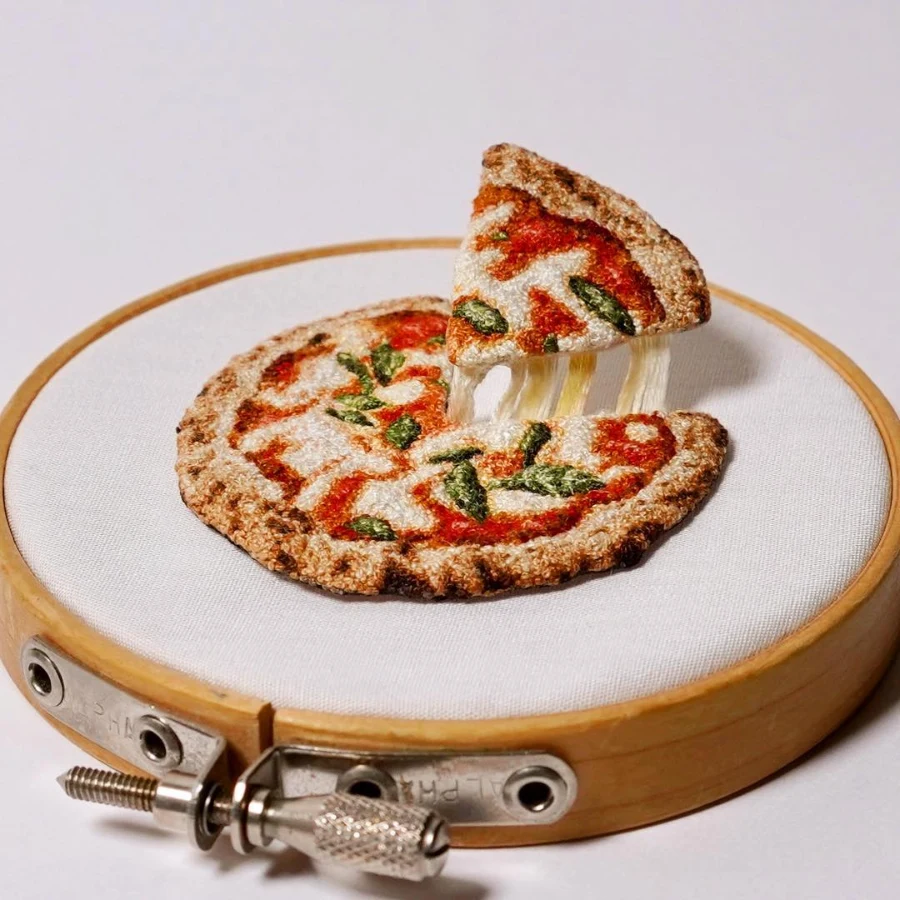 7.Rachel Nettles
(Cabbages and Nettles)
Rachel Nettles, a classically-trained fine artist, creates material sculptures of vegetables and select flowers using machine and hand-stitched textile embroidery. Her sculptures are remarkably lifelike, with attention to intricate details, such as hand-stitched soil around the roots of the vegetables. 
Some of her pieces take up to three weeks to create, and Rachel has spent 20 years perfecting sewing techniques to craft various vegetables. Her beautiful vegetable sculptures have been featured in magazines like Country Townhouse, Gardens Illustrated, and Telegraph magazine.
Follow Rachel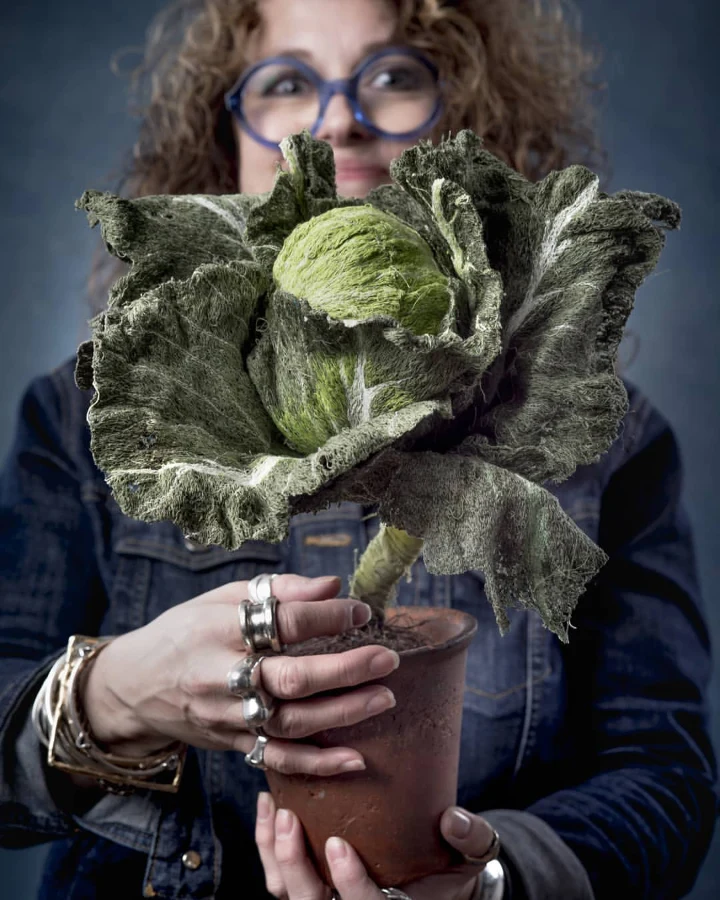 8. Veselka Bulkan
Munich-based artist, Veselka Bulkan is a multi-talented artist produces work from her home studio. Although she holds degree in fine art, Embroidery is her true calling and main focus. She uses natural materials like cotton, canvas, wood, wool, raffia, and paper, to experiment with ideas and techniques and strives to create balanced, simple, yet impressive artworks by blending creativity and traditional methods.
One of the things she is known for is her work on botanical embroideries. She cleverly incorporates the embroidery hoop into her work to display her handing vegetables, giving them a realistic feel. Over on her Instagram account you'll find everything you need for adoption g a slow living lifestyle. She encourages us all to find happiness in simple things like good coffee, baking, trying new recipes, picnics, seasonal changes, cycling, and exploration, which also serve as inspirations for her work.
Follow Veselka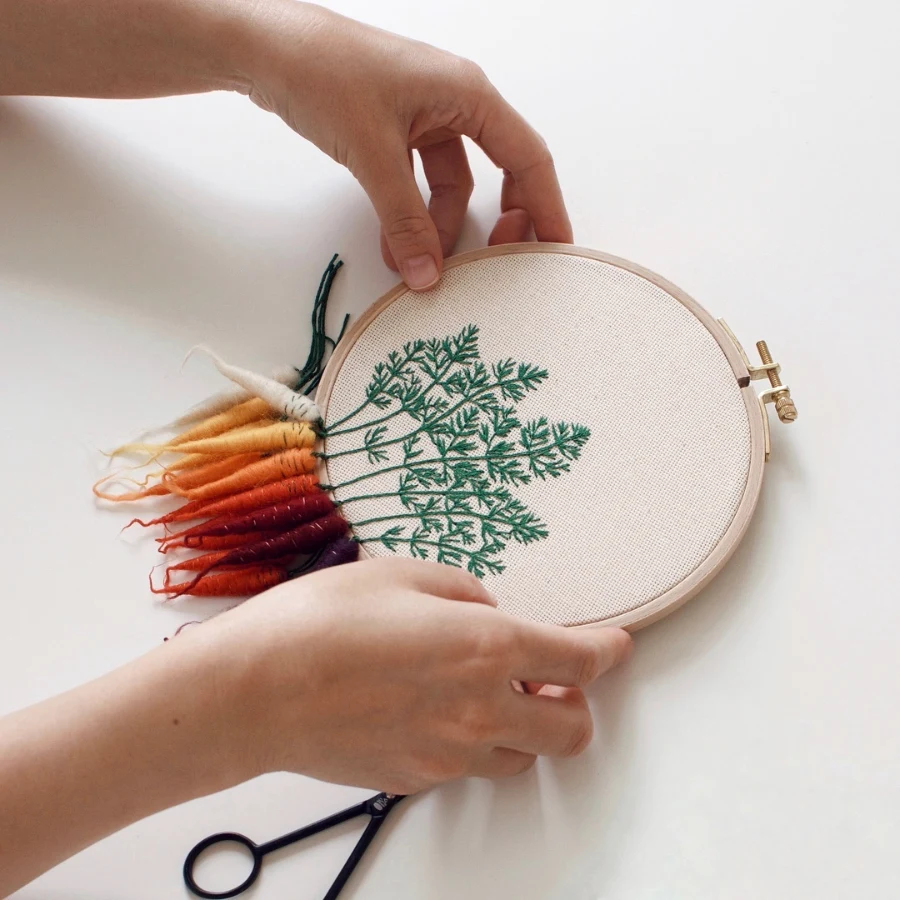 9. Lucy Sparrow
Otherwise known as 'SewYourSoul', Lucy Sparrow is a British contemporary artist celebrated for her unique and whimsical approach to textile art. Her artistry revolves around creating immersive installations and sculptures primarily using felt fabric. 
What sets Sparrow apart is her playful reinterpretation of everyday objects and environments through felt creations. Sparrow gained widespread attention for her "Felt Cornershop," a full-scale installation of a typical British convenience store entirely made from felt. The project not only showcased her exceptional craftsmanship but also provided a nostalgic and humorous commentary on consumer culture and the essence of community stores.
Her artwork goes beyond the mere visual aspect, aiming to evoke emotions and memories tied to these commonplace items. Whether it's felt versions of snack foods, magazines, or household products, Sparrow's work sparks a sense of familiarity and nostalgia in viewers, inviting them to reconsider their relationship with the everyday.
Follow Lucy