Our Artists You have to Follow series focuses on contemporary artists and makers. Throughout the series we delve deep into the art world to pluck out our favourite, stand-out, awe inspiring artists, who are breaking the mould and really pushing the boundaries with their art. We hope that these artists spark an interest, an idea, or a life-long passion in the Textile Arts.
If you're not familiar with this series then remember to check out other Artists to Follow in this series. We've covered
Knit and Crochet Artists
Patchwork and Quilt Artists
Hand Embroidery Artists
Machine Embroidery Artists
Portrait Artists
Felt Artists
In this post we've been exploring textile artists inspired by nature. 
1. Olga Prinku
Olga Prinku embroiders with dried flowers on tulle. Using dried flowers as her thread she creates beautiful displays of everlasting blooms, grasses, berries, seedpods and foliage.
Olga Prinku has always been enchanted by the rich heritage of hand embroidery and weaving from her home country of Moldova. It was this, paired with her love for entwining nature in craft, that led her to come up with the concept of flowers-on-tulle embroidery in 2016. Since then the craft of flowers-on-tulle has bloomed and Olga has amassed a large following of fans keen to replicate her work. 
Follow Olga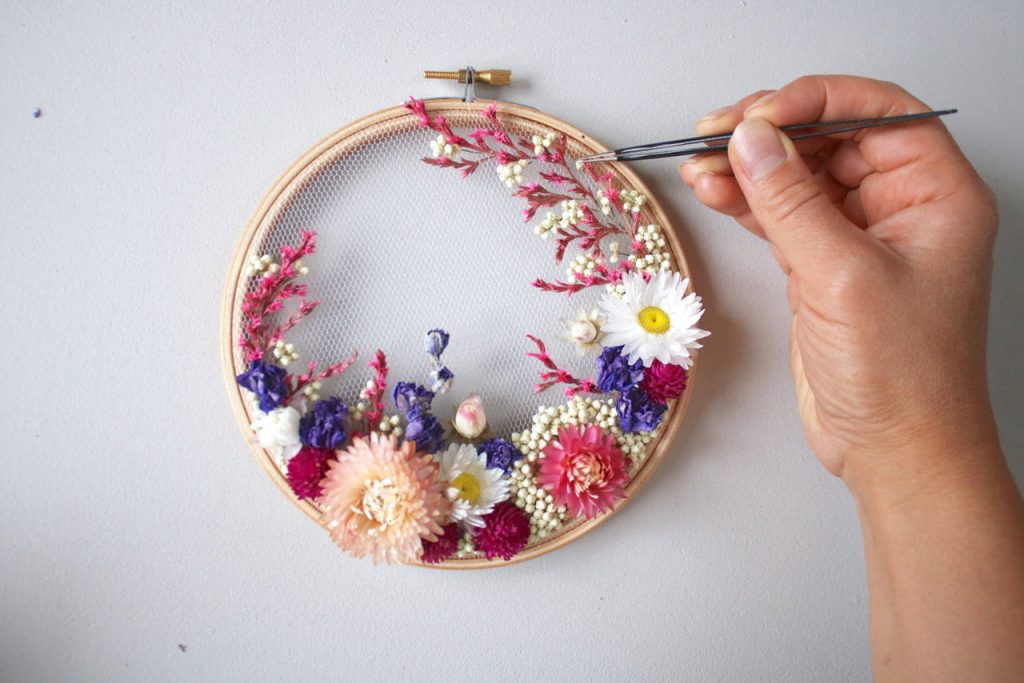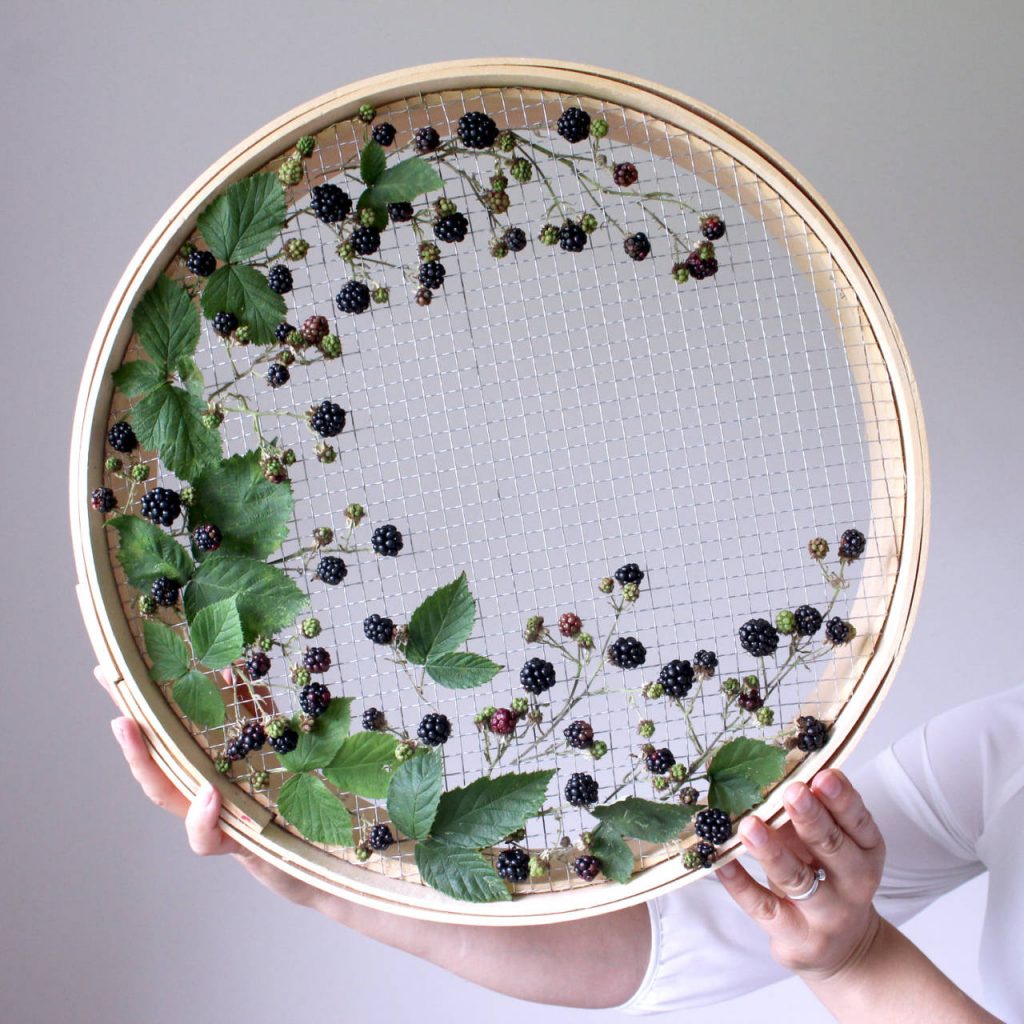 2. Meredith Woolough
Meredith Woolnough is an internationally acclaimed, award winning artist and author from Newcastle, Australia. Her work is held in public, private and corporate collections worldwide.
Inspired by the patterns, structures and shapes found in plants, coral, cells and shells Meredith's embroideries represent both the robust beauty and elegant fragility of life. Specialising in open work embroidery, she often displays her work in shadowboxes – like preserved specimens – so that people can study the intricate beauty and detail of her pieces. Her pieces are so detailed and original and we love them!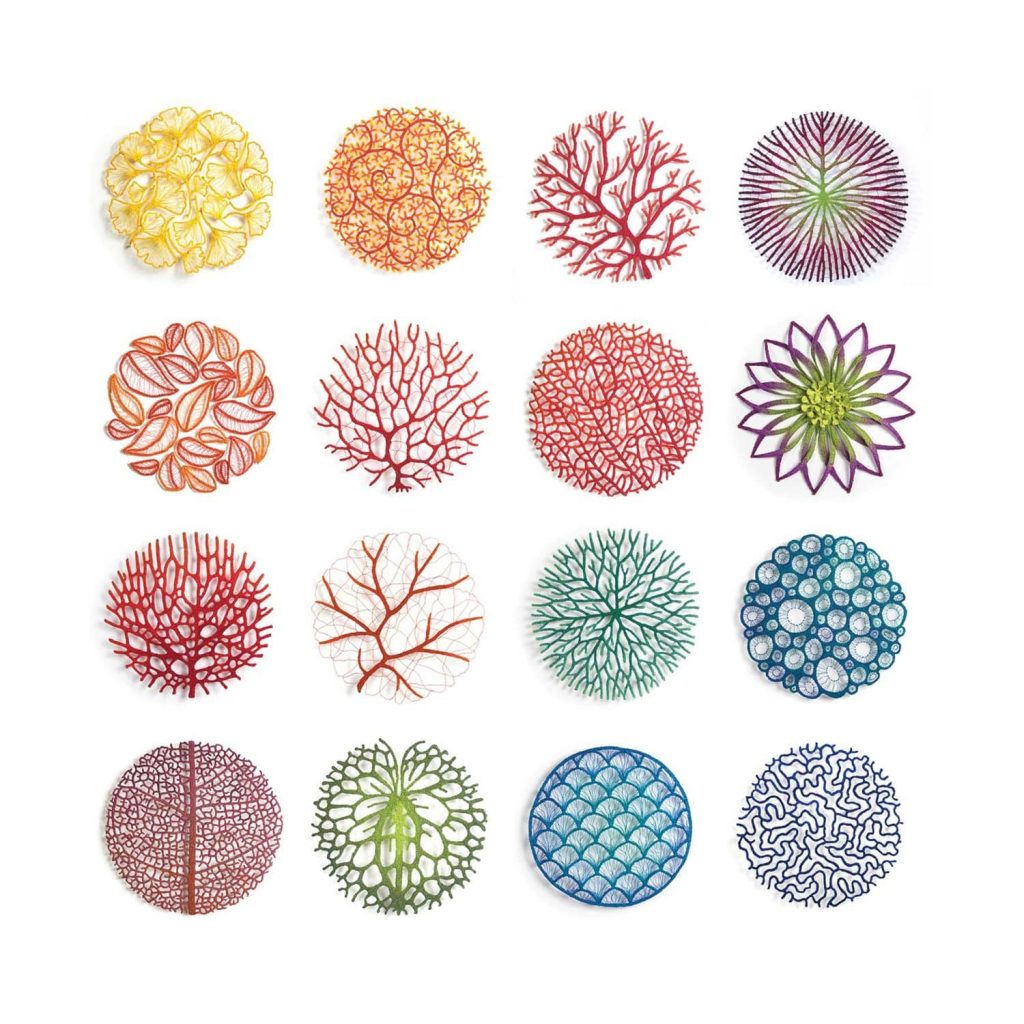 3. Alyssa Ki
Korean-American artist, Alyssa Ki creates flowers that last forever. Using yarn and rovings of raw wool dyed in natural pigments she creates stunning wall hangings and bouquets of wild flowers. 
Currently based in New York, Ki has a background in photojournalism and first started working with fiber in 2018. To create her pieces she blends various techniques together, including weaving, Macramé and crochet.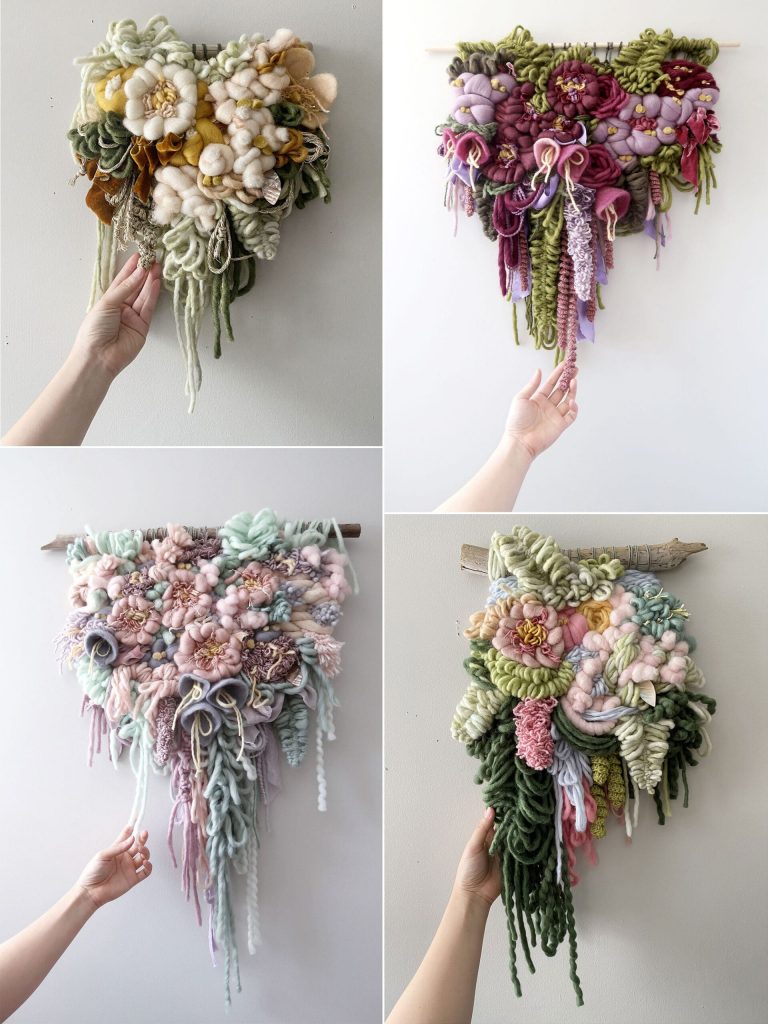 4. Amanda Cobbett
Amanda Cobbett is a British contemporary textile artist and makes free-machine embroidered sculptures. Her incredibly life-like work features mossy-logs and fungi made from fibers to match pale green lichens and golden chanterelles. 
After studying at Chelsea College of Art (UAL), Amanda worked for many happy years in the printed textile design industry, but after a move to the country and a gift of an old Bernina sewing machine, her long held desire to be a maker as well as a designer finally came to fruition. Inspired by nature in all its forms, Amanda's 3-dimensional, papier-mâché and machine-embroidered sculptures are created from her studio in the Surrey Hills. We love her for her realism.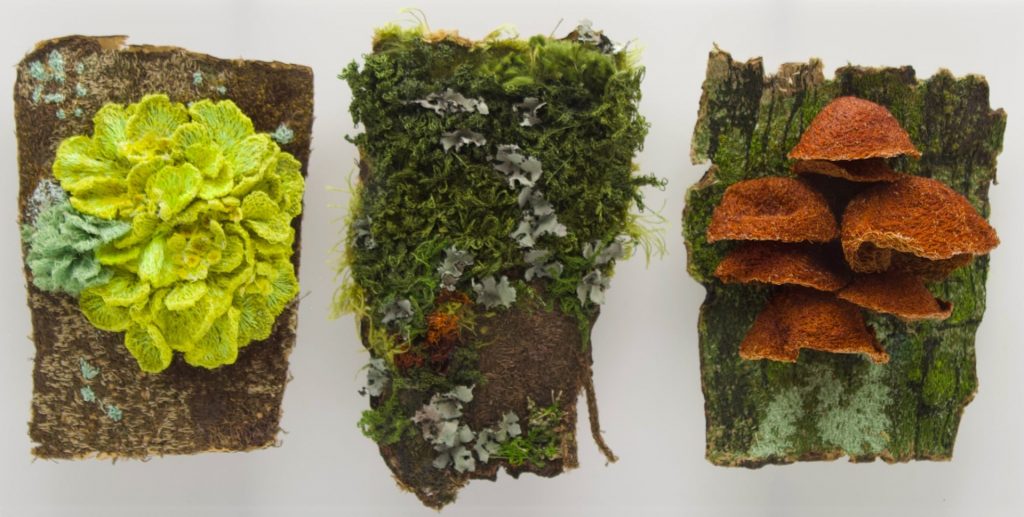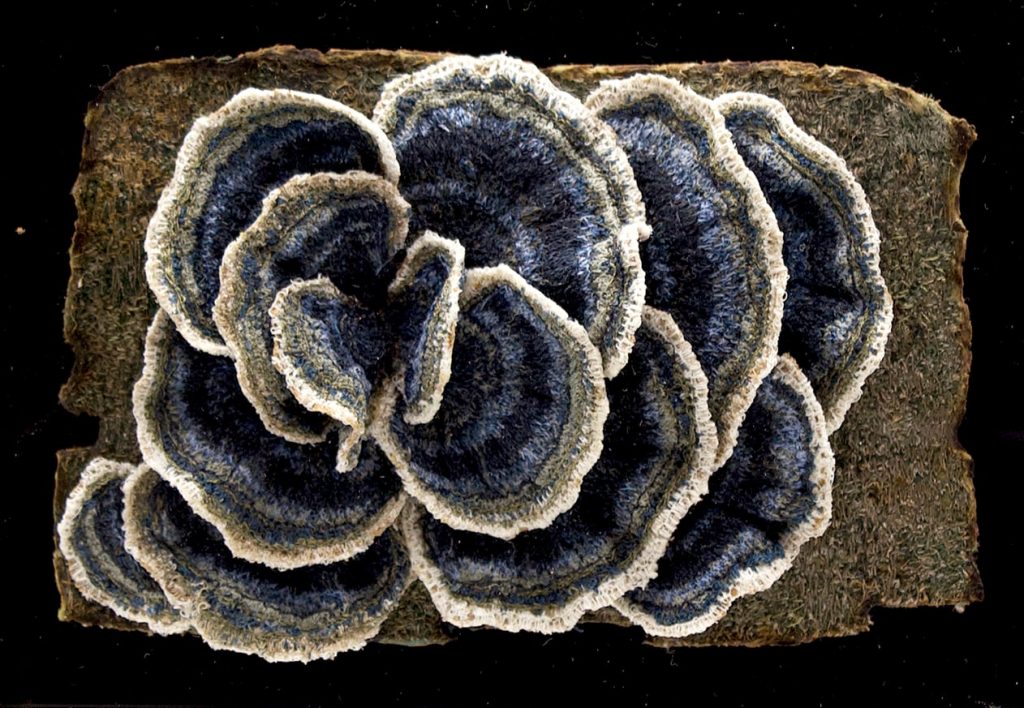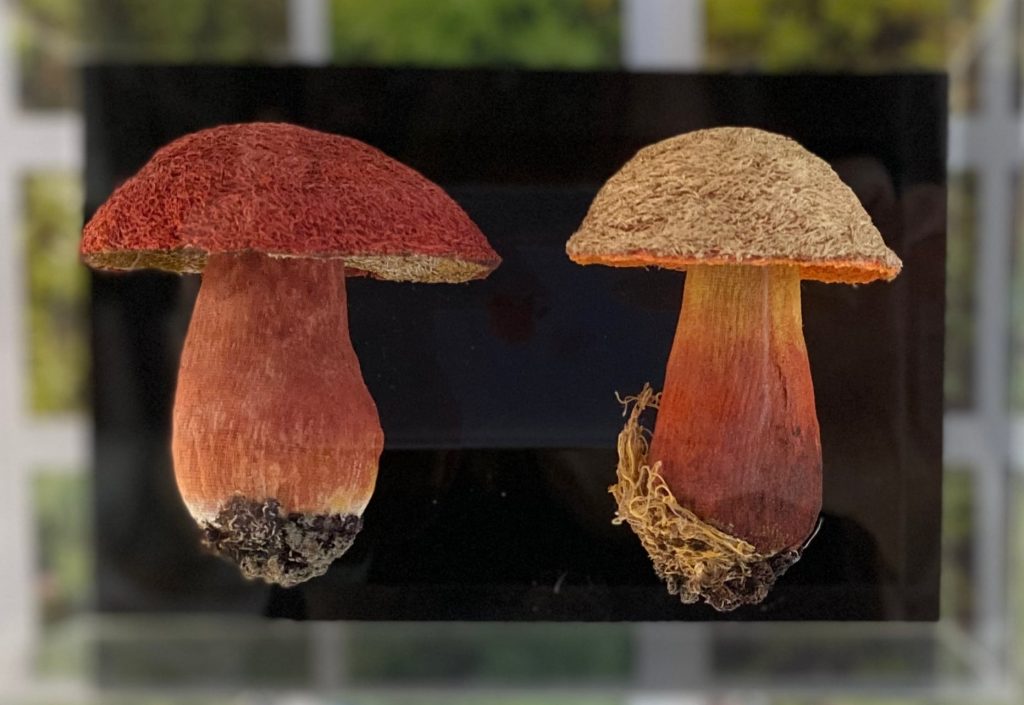 5. Vanessa Barragão
Porto-based textile artist Vanessa Barragão creates three-dimensional textile art inspired by the Earth's coral reef ecosystem. Vanessa's creates life-like textured woolen rugs, tapestries, and wall hangings. All are made using various hand-crafted, fiber art techniques, including latch hooking, crochet, weaving, knitting, basketry, and felt. They mimic the organic textures, shapes, and structures found in the diverse world of underwater flora and fauna, such as fringing reefs and barnacles. We like Vanessa for sharing the beauty, wonder and fragility of the ocean.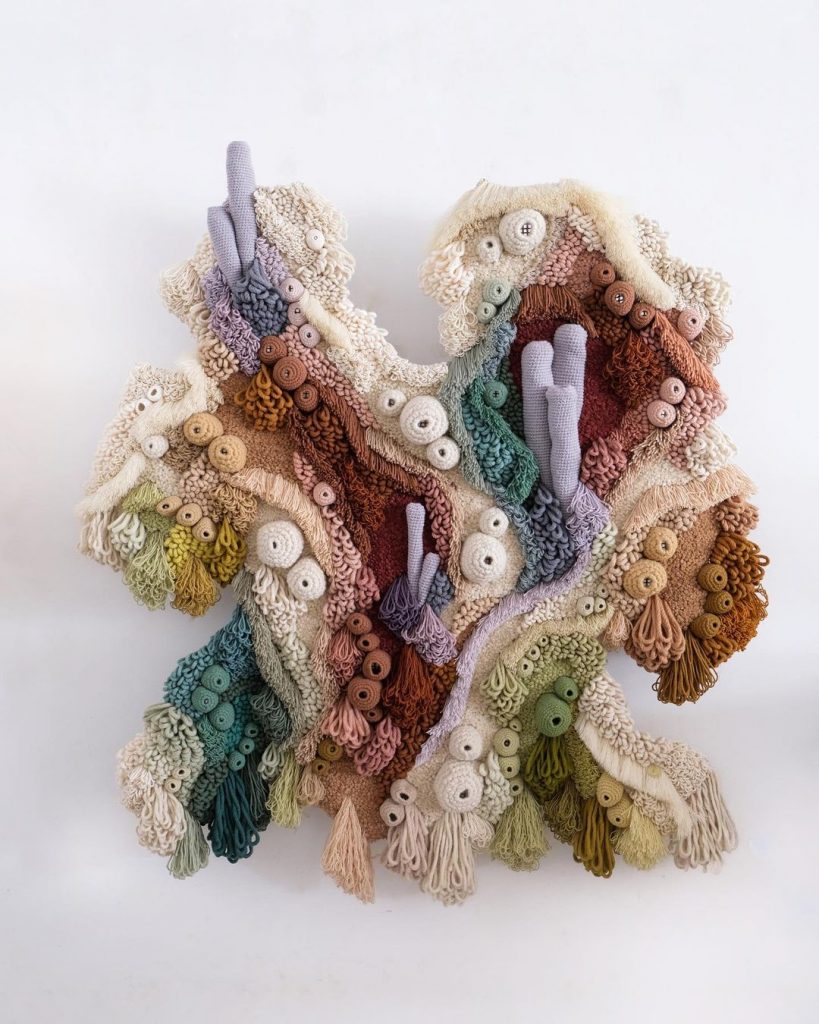 6. Larysa Bernhardt
You may not think that traditional, romantic tapestries have anything to do with nature. However, when they are sewn onto the wings velvety, plush moths, they are transformed from vintage textiles into something that resembles the rich tapestry of life and nature. 
Able to stand on their own or hang from the wall, the handmade moths feature eyes made from Czech glass beads and bodies of cotton velvet and Belgian linen. Bernhardt also wires their wings, enabling people to shape them into their desired position. We love Larysa's moths because the unlikely pairing of moths and tapestries is innovative and stunning! 
Follow Larysa
Instagram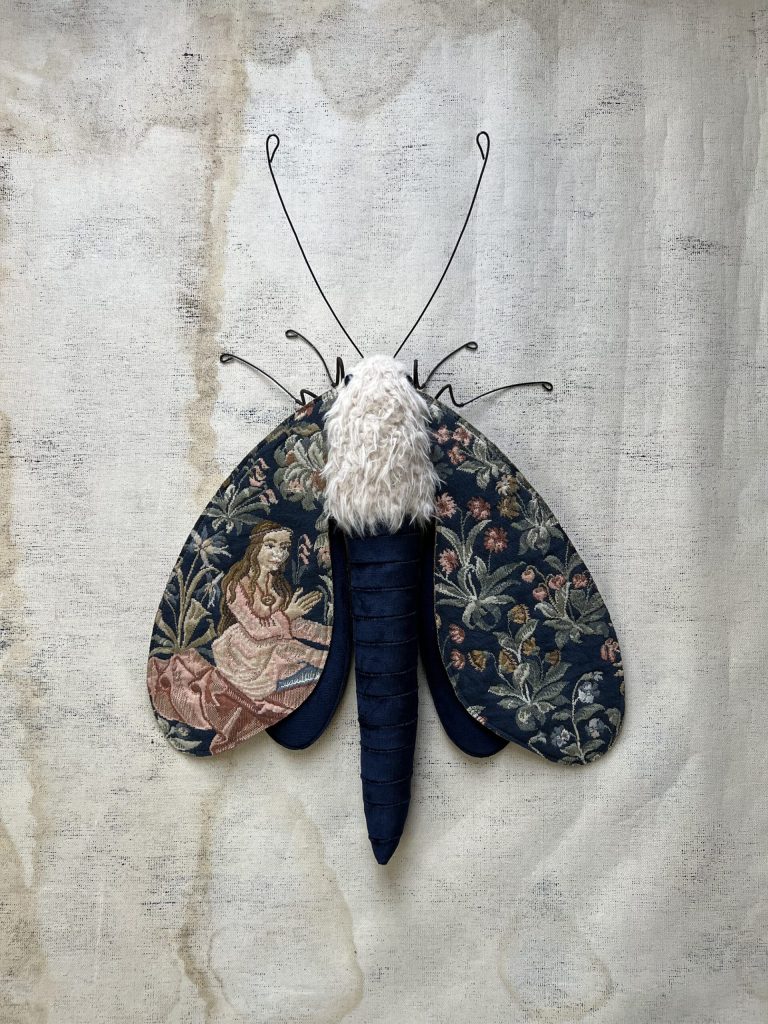 7. Rosa Andreeva
Moscow-based fibre artist Rosa Andreeva creates majestic, intricately detailed gardens which brim from cracked, long-forgotten teacups.  By layering her canvases with skills, threads and beads, she stitches flowers, mosses, and floating pollen to create enchanted fairytale scenes.
We like her for ability to capture the whimsical feel of nature. Using a mixture of tight stitches with loose ends gives her work a 3 dimensional feel. 
Follow Rosa
Instagram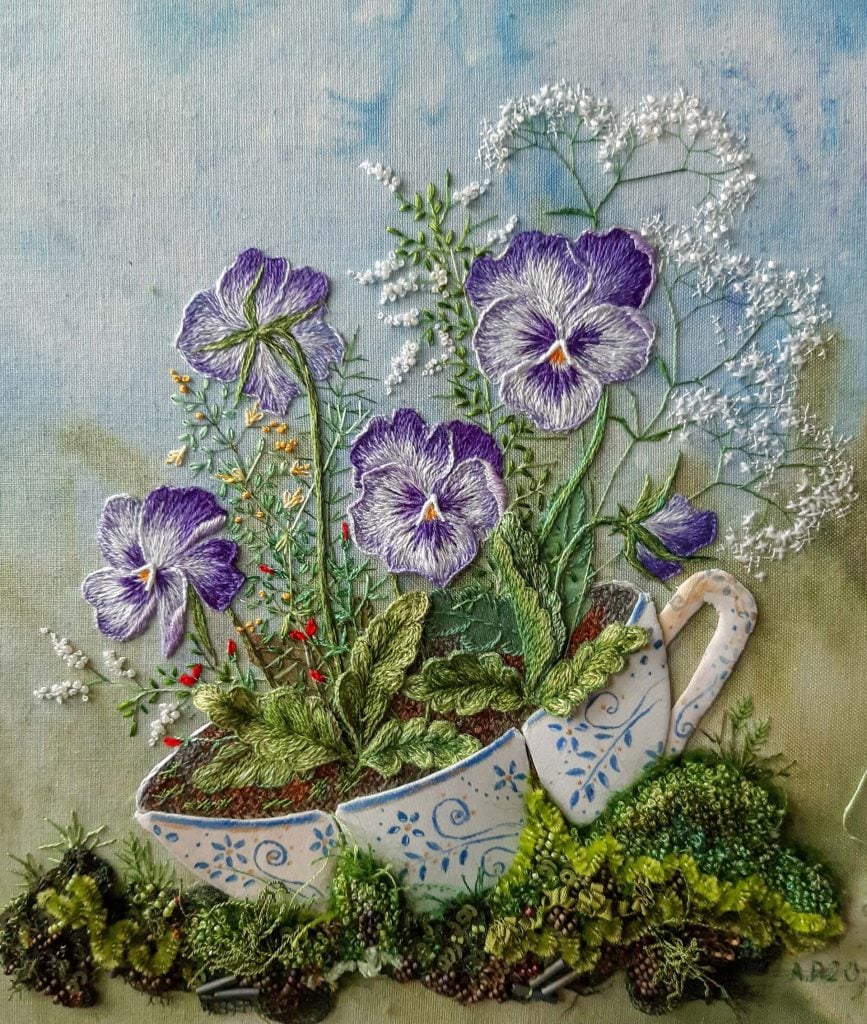 8. Lorraine Roy
It may come as no surprise that Canadian textile artist, Lorraine Roy, is a scientist. Having studied natural sciences and ornamental horticulture, her knowledge and ongoing studies of trees is her primary source of inspiration. Her style is one that is natural, yet sometimes abstract but always demonstrates her understanding and love of nature.
She creates wall hangings and framed textiles using raw edge machine appliqué techniques and embroidery, using as old light industrial Bernina sewing machine. We love Larraine's work because she shows us that nature really is beautiful!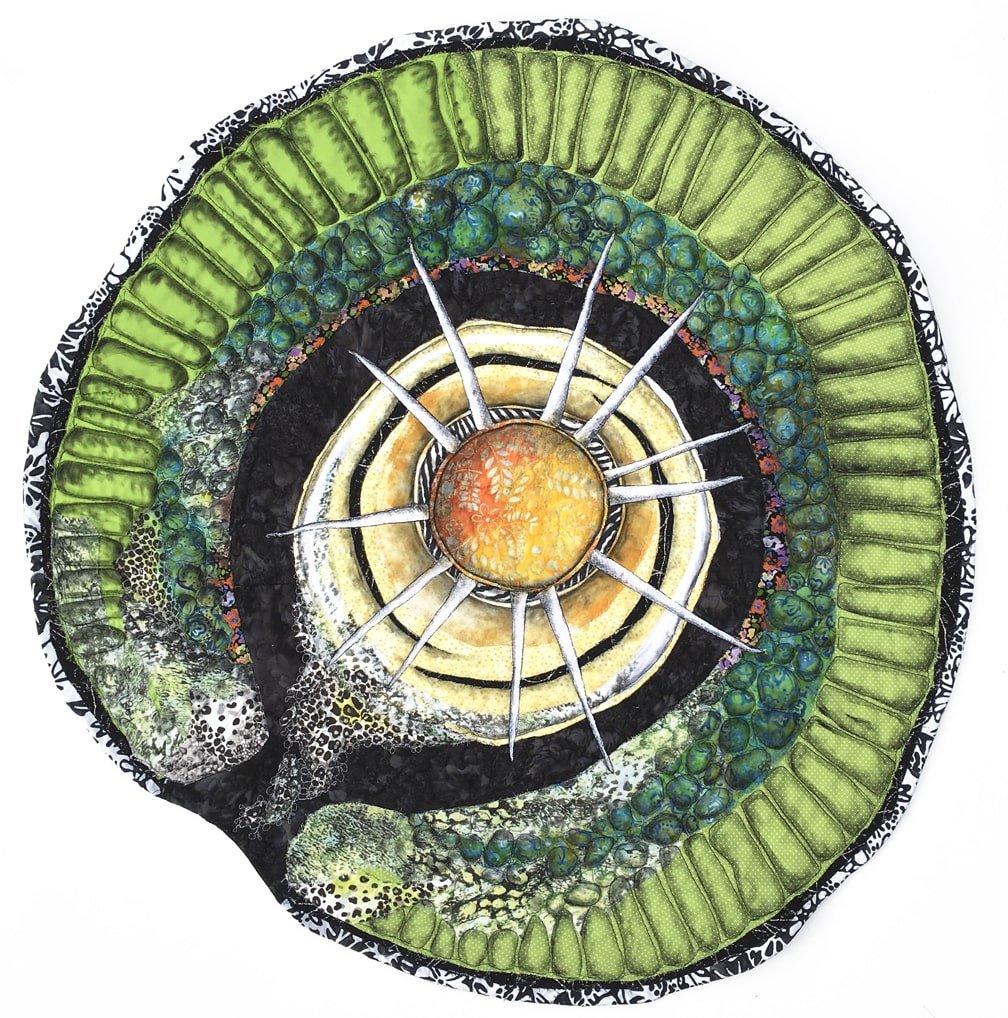 9. Fujitamiho
Fujitamiho is a Japanese crochet artist who makes nature wearable. Using tiny crochet stitches she replicates the colour and intricacies of natures flora and fauna to create everlasting earrings, necklaces and brooches. 
We love Fujitamiho because she's immortalising fragile nature and we love the idea of textiles jewellery.  
Follow Fujitamiho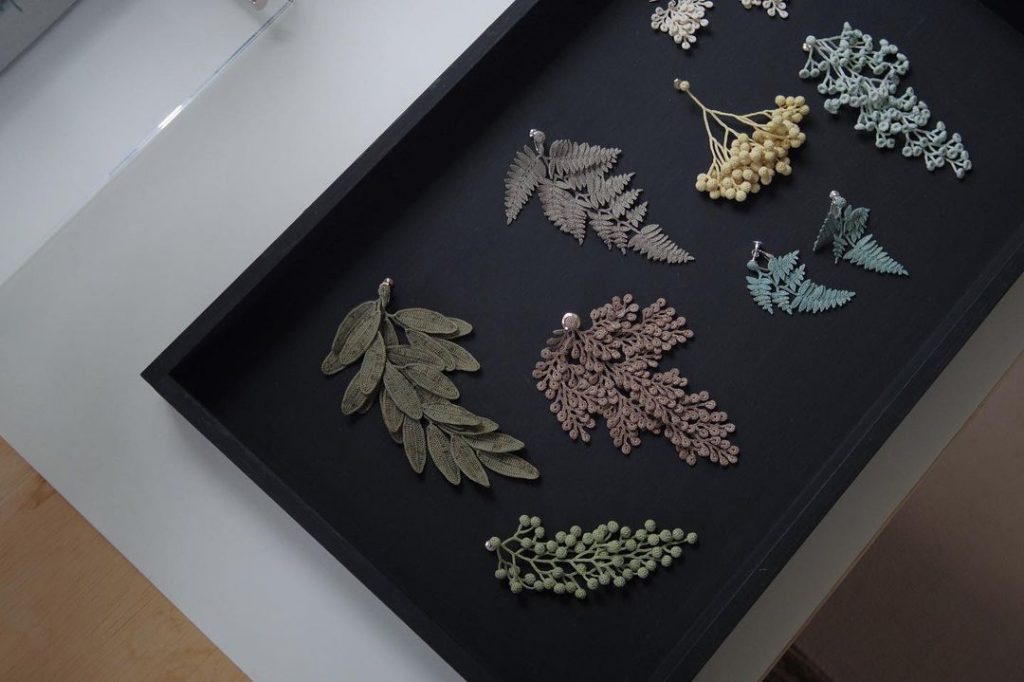 10. Alexndra Kehayoglou
Buenos Aires-based Textile artist Alexndra Kehayoglou uses a range of technical skills to create giant lush landscapes. Inspired by native landscapes that she has visited she weaves, sculptures, stitches surplus materials onto large-scale canvases in a quest to preserve these landscapes forever. 
Alexandra's work is created from an ancient family tradition that gives new meaning to the craft of weaving by hand. We love her work for it's realism and scale. 
Follow Alexandra