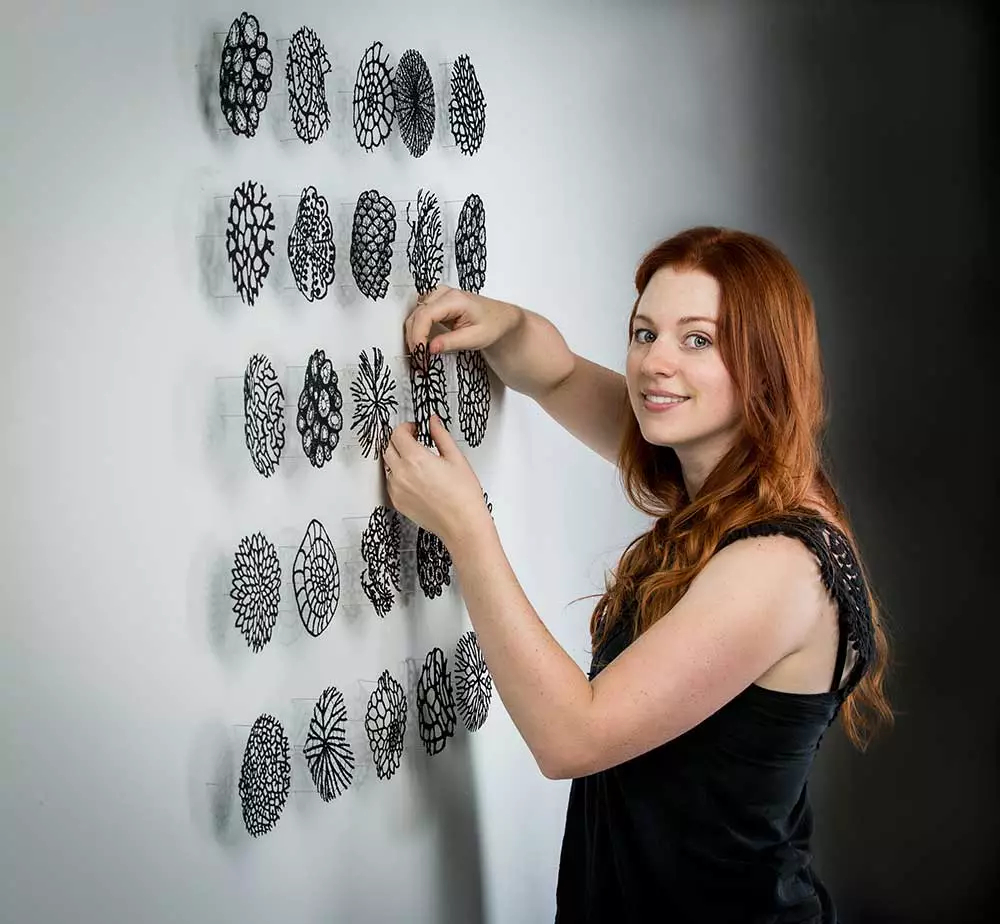 Meredith Woolnough is an internationally acclaimed, award winning artist and author from Newcastle, Australia. Her work is held in public, private and corporate collections worldwide.
 Inspired by the patterns, structures and shapes found in plants, coral, cells and shells Meredith's embroideries represent both the robust beauty and elegant fragility of life. Specialising in open work embroidery, she often displays her work in shadowboxes – like preserved specimens – so that people can study the intricate beauty and detail of her pieces.
 We're so excited to have the chance to speak with Meredith and share her amazing work with you.
Tell us about the piece you're currently working on – what was your inspiration for it, what is it made from, the processes involved and what is it being made for?
'I have just completed working on a large venus coral fan embroidery. I have always been drawn to the beautiful structures and colours seen in coral fans (Alcyonacea) and this piece is one of many studies which focuses on these fascinating animals. My pieces are created using polyester embroidery threads and a water-soluble base fabric to create my artworks. These are then stitched on a domestic sewing machine, but the machine is not automated in any way. It is set up so that I can simply draw with the machine by moving my base fabric around the needle, it is a technique often referred to as 'freehand machine embroidery'.
This technique is the equivalent of moving a sheet of paper rather than a pencil to do a drawing. The water-soluble base fabric that I use acts as a temporary surface for my drawing. Once the drawn structure is complete, I wash away this base fabric leaving my thread drawing behind. This drawing can then be shaped and moulded to give it more form. I am aiming to create a beautiful, realistic looking coral fan that you can proudly (and ethically) display on your wall. This piece will be included in my latest exhibition Biophilia.'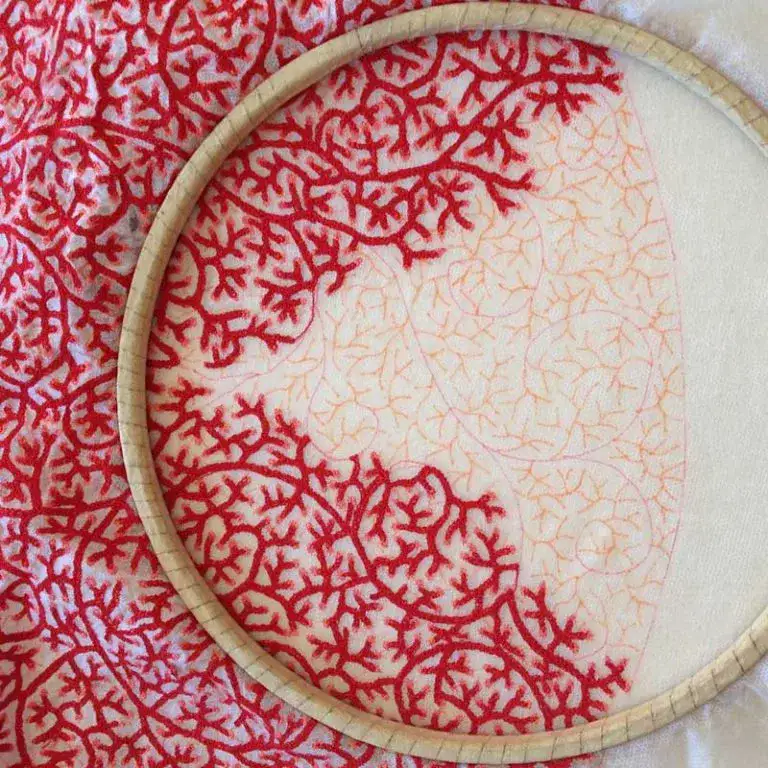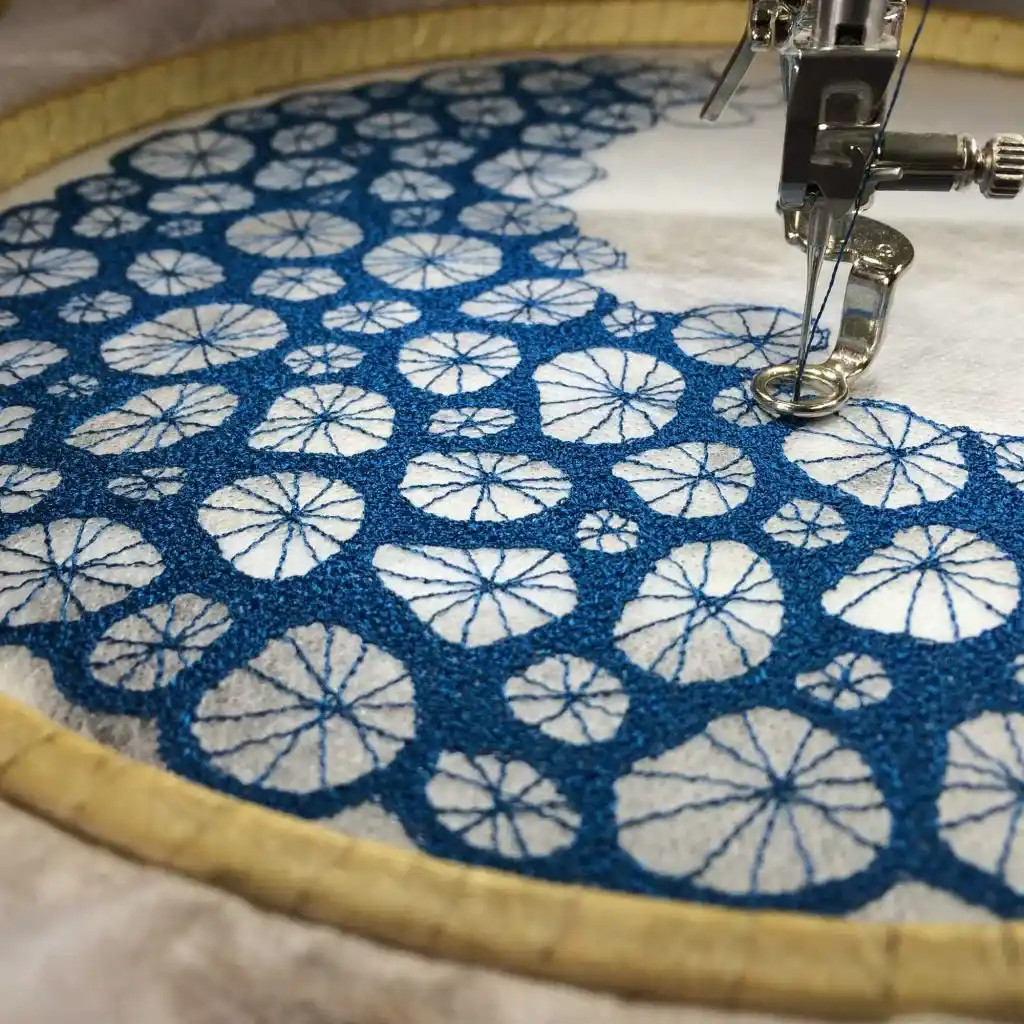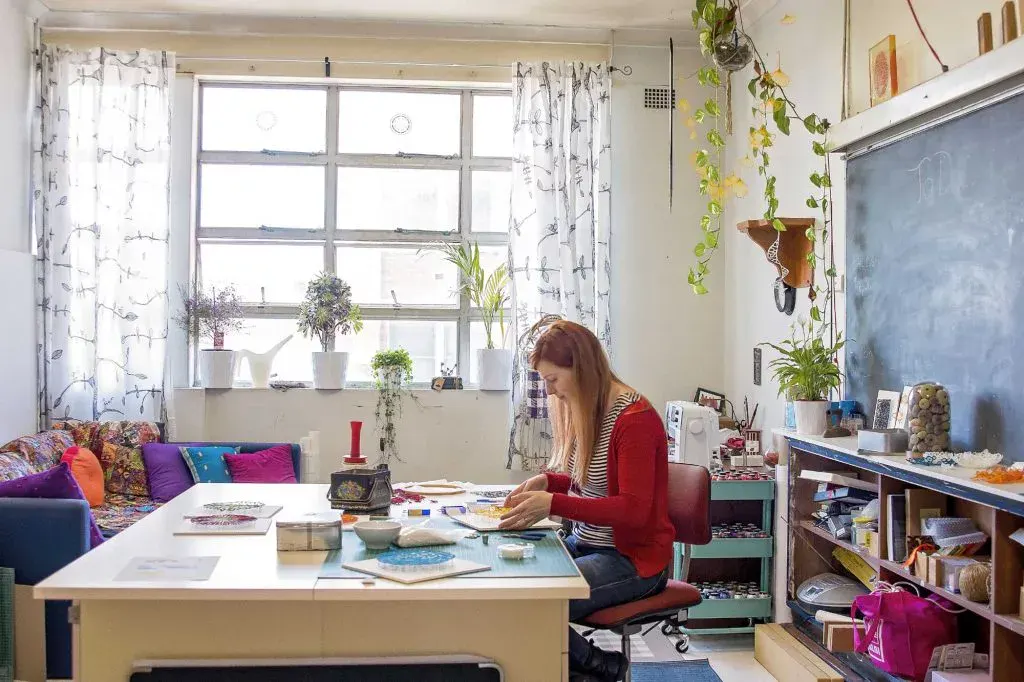 What was your first memory of stitching – who taught you?
'I remember playing with a few embroidery kits as a child but it wasn't until I was at university that I studied embroidery in earnest. Freehand machine embroidery is a pretty standard technique and it was one of many processes I was introduced to during my textile studies at art school. I saw great creative potential in the combination of the freehand embroidery technique and water-soluble fabric, so I decided to focus my studies during my honours year on this combination of technique and materials. That was an amazing year because I was able to solidly dedicate time to experimenting and exploring. I fell in love with the process during that year and haven't stopped working with it since.'
You take so much of your inspiration from the natural world – are there some subject you prefer to others?
'I explore many different types of natural subjects and structures in my work but I seem to keep coming back to things in nature that have intricate veining systems. I have always been drawn to the beautiful interconnected structures in coral fans and leaf skeletons, so they are favourite subjects of mine.'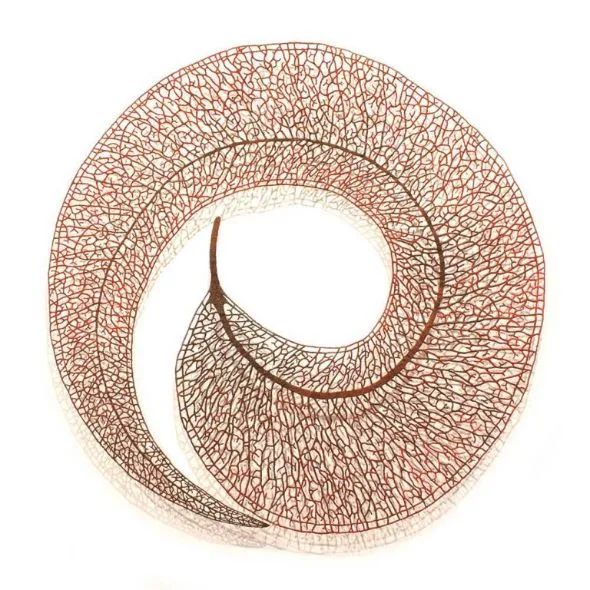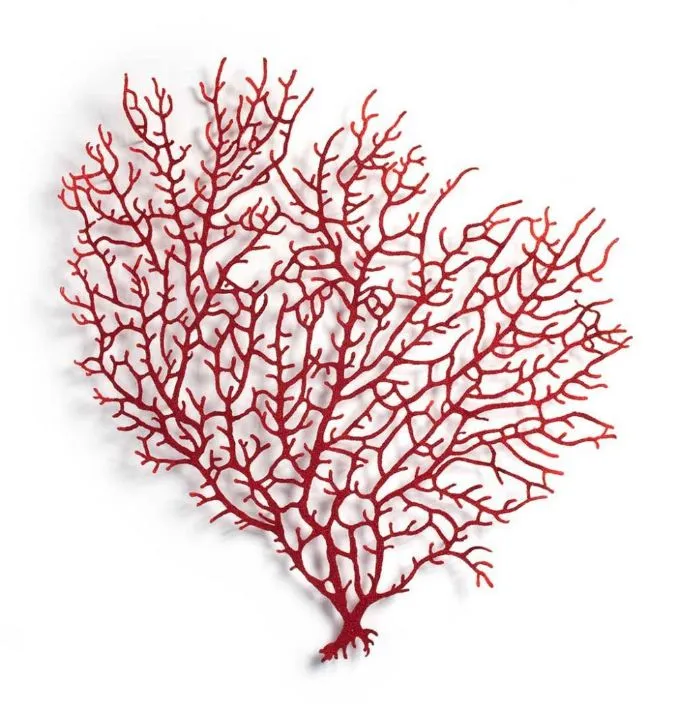 As someone who is trained in fine art and natural history illustration, how much of your current success do you attribute to your training. How much did it add to the artist you are today?
'While formal training is certainly not necessary to work as an artist, in my case I believe the time I spent studying allowed me to develop hugely important aspects of my practice. As I already mentioned, it was during the honours year of my fine art degree that I developed the embroidery technique that I still use today. Without that training I may have never discovered the technique and I would certainly not have been able to spend so long developing it. Most of the stitching techniques and technical tricks that I developed during that year I still use in the studio today.
My natural history illustration training helped me to develop a great passion for nature and solid fieldwork and research practices which I use in the developmental stages of my artwork. This course taught me to observe, understand and interpret the natural world from a more scientific approach, which really aligns with how my brain seems to work.
I believe that my various studies have been hugely instrumental in helping me develop into the artist I am today and I am incredible grateful for those learning opportunities.'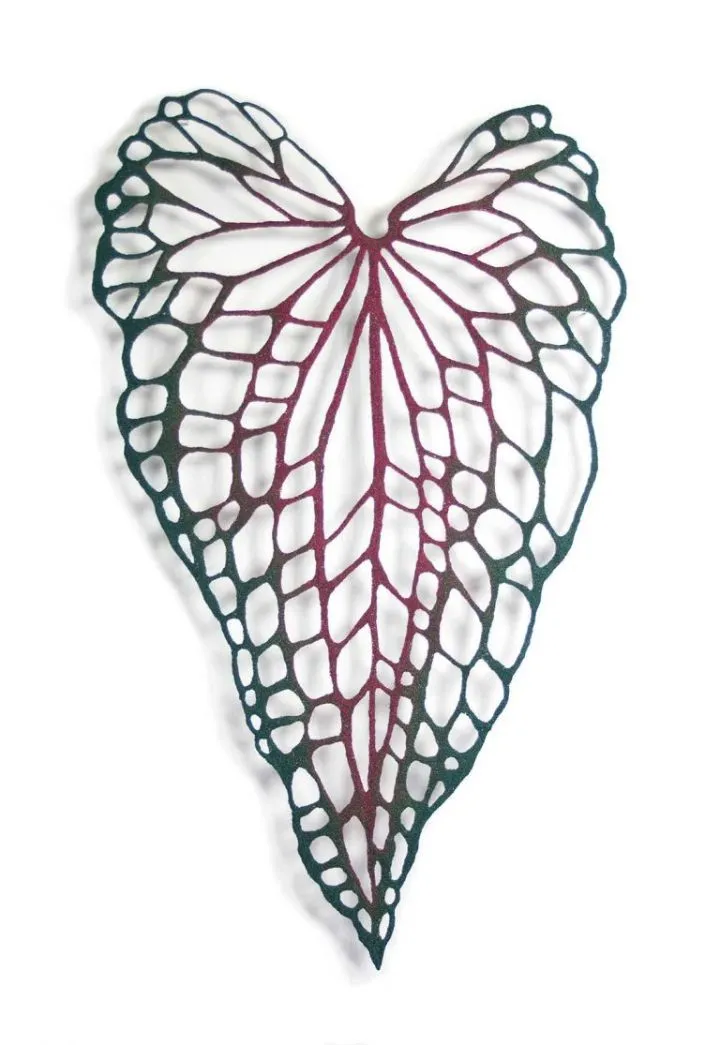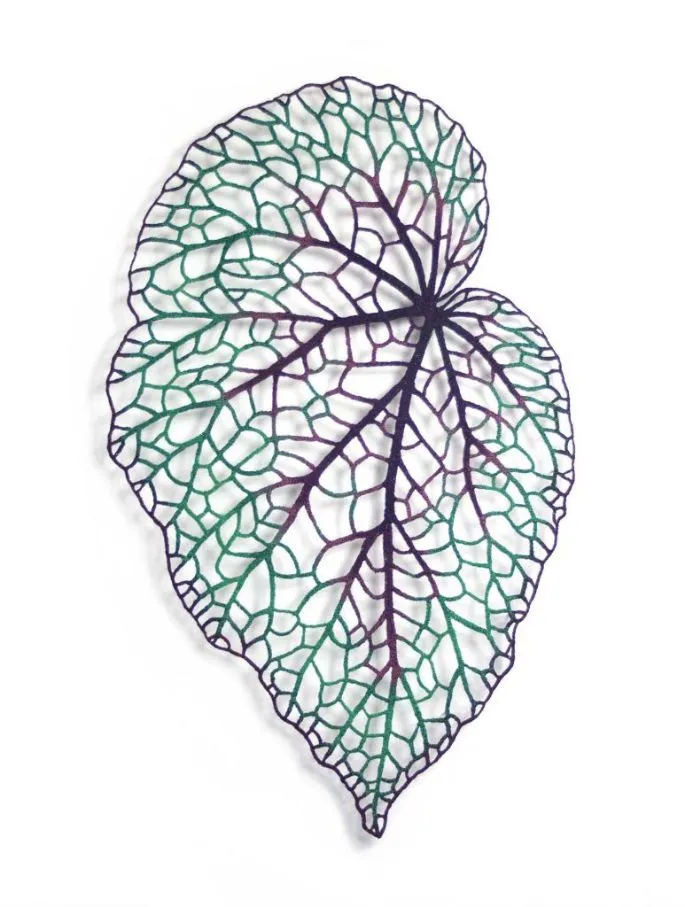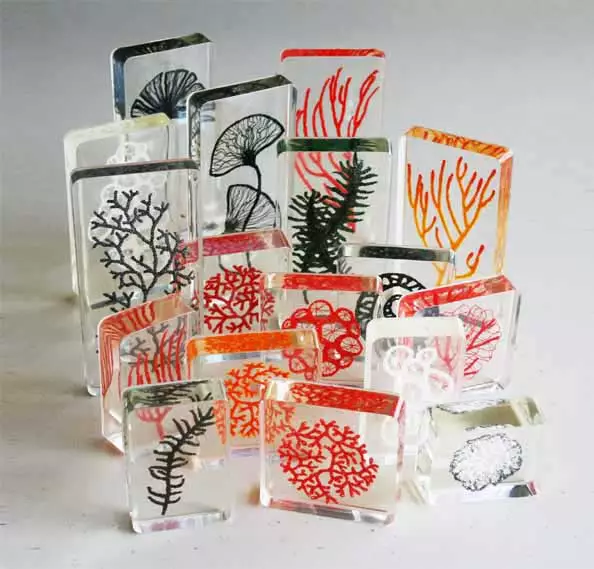 Your sewing machine is such a valuble piece of equipment for you and it is often a choice that our students worry over – do you have any suggestions for them as to how to choose a machine for embroidery?
'You don't need a specific type of machine for this type of embroidery. Any domestic machine in good working order should get you started. You just need to be able to drop or cover the feed dogs and add a darning or freehand presser foot. A few other things that are helpful in a machine are fast stitching speeds, good inbuilt lighting and a slide on sewing/extension table. Personally, I have always worked on Bernina brand machines. They are well designed and made so I find them very reliable and enjoyable to stitch with. My advice to anyone who is looking to buy a sewing machine is to purchase the absolute best one you can afford at the time. A sewing machine is a long-term investment. Get a good one, take care of it and it will serve you well for life.'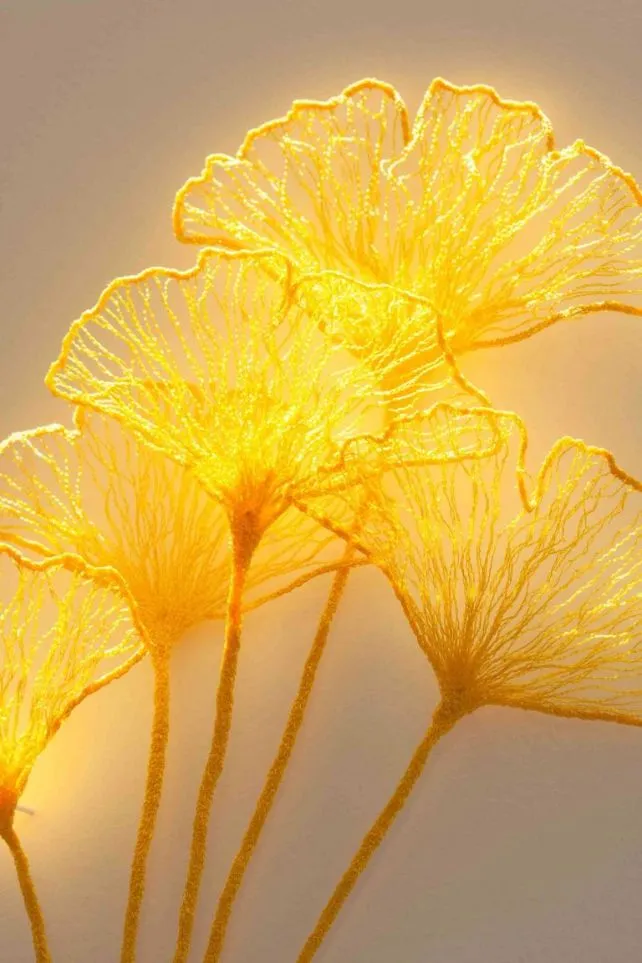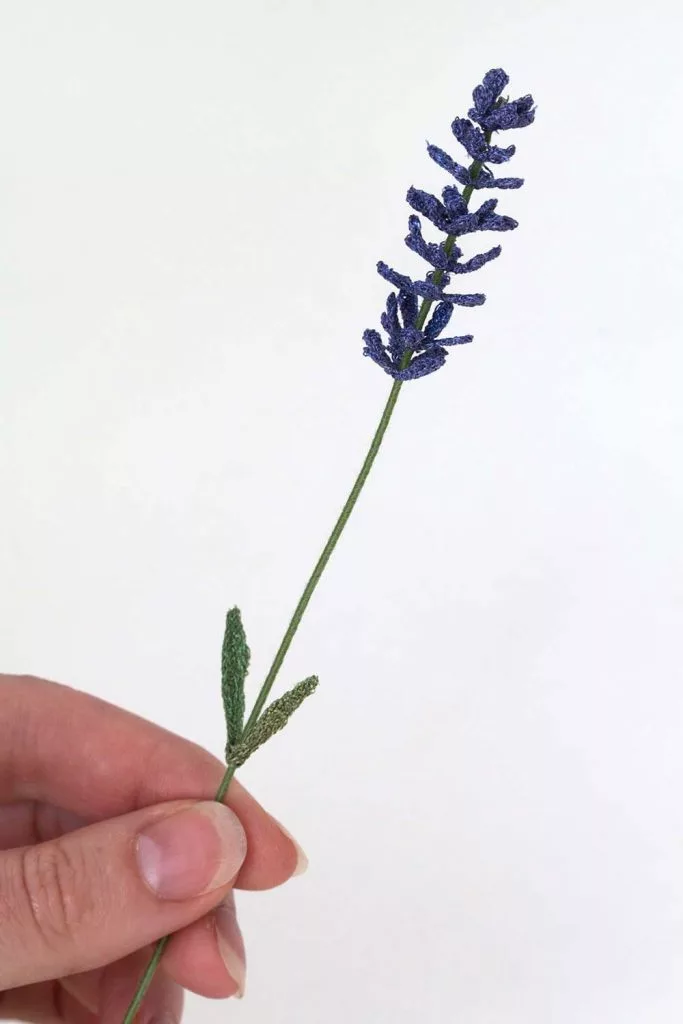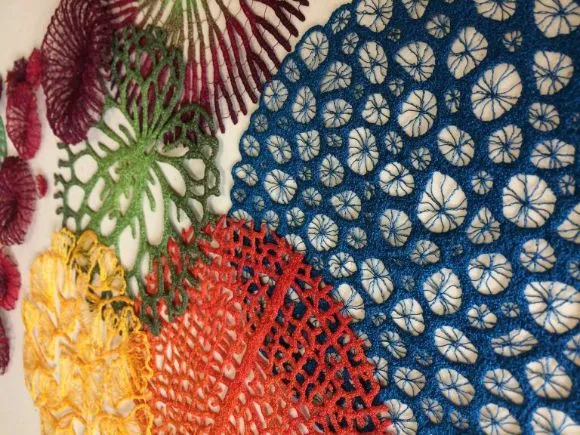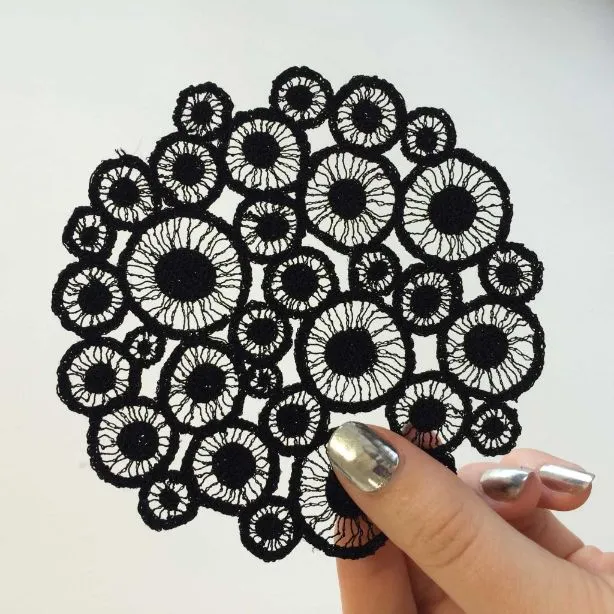 Who would you like to sit next to at a dinner party?
'If I had to choose someone to sit next to at a dinner party it would be David Attenborough. I would love to chat to him about weird and wonderful natural phenomena.'
What's next for you?
'Over the next few months I will concentrating on promoting my online courses, which will be released soon. I have an exhibition at the CSIRO Discovery Centre in Canberra and another Pop up Exhibition at the Thrive Wellness Centre.'
Exhibitions:
Biophilia, 30th October – 6th December 2019, CSIRO Discovery Centre, North Science Rd, Acton ACT, Australia
Pop up exhibition, 3rd – 29th February 2020, Thrive Wellness Centre, 9 Robert Street Wickham NSW, Australia
You can follow and connect with Meredith by checking out her website or on Instagram.
Don't forget to check out Meredith's book, Organic Embroidery, which is featured on our list of Latest Book Releases – perfect for Textile Enthusiasts.