Olga Prinku is a contemporary artist known for her unique and intricate floral artistry. Born in Romania and now living in the UK, she has always been enchanted by the rich heritage of hand embroidery and weaving which she incorporates into her innovative approach to crafting and design. Paired with her love of entwining nature, she pioneered the concept of flowers-on-tulle embroidery. Her work primarily centres around the use of dried and pressed flowers to create stunning and ethereal pieces of art.
Prinku's captivating floral arrangements have gained immense popularity on social media platforms, particularly Instagram, where her work has amassed a large and dedicated following. Her visually stunning compositions have made her a prominent figure in the world of floral and botanical art. Prinku's creations have been displayed at various exhibitions and art shows, where her artistry has been recognized and appreciated by both the art community and the general public.
Olga Prinku's floral artistry is a testament to her talent, creativity, and the timeless beauty of nature. Her ability to transform dried flowers into captivating works of art has left an indelible mark on the art world, and she continues to inspire others with her unique approach to botanical art.
Remember to take a look at other textile artists inspired by nature.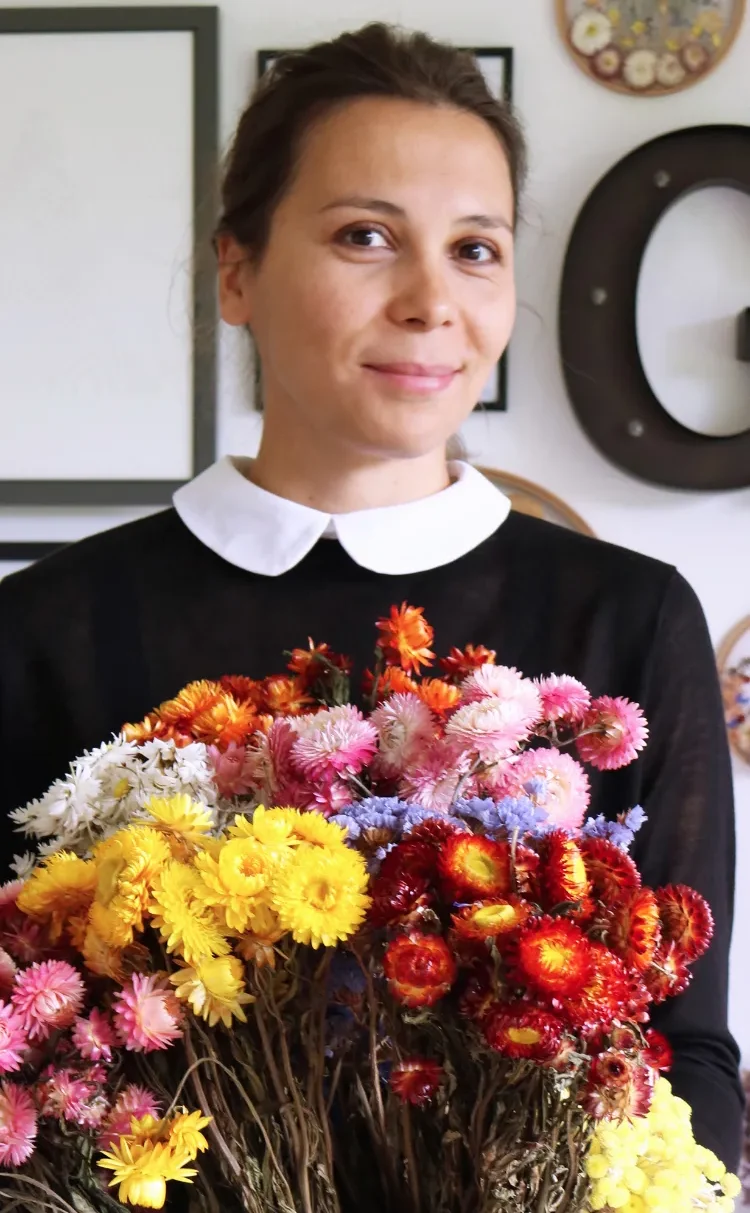 "I like to think about the stem of a flower as like a line of thread, so one of the main techniques I use is to trap the stems in the tulle fabric by creating almost like a running stitch that goes in and out of the mesh. It's a delicate job as the stems of flowers can be fragile – you need to develop a feel for how far you can push each kind of flower before it might snap. You have to have patience and almost be led by the stem."
Where did your interest in Textiles begin?
I learned to knit, crochet and embroider when I was on maternity leave – over a decade ago now! Initially I was motivated by wanting to make things for my baby, such as hats and blankets and a Christmas stocking. I then started to make more of these items and put them up for sale on Etsy.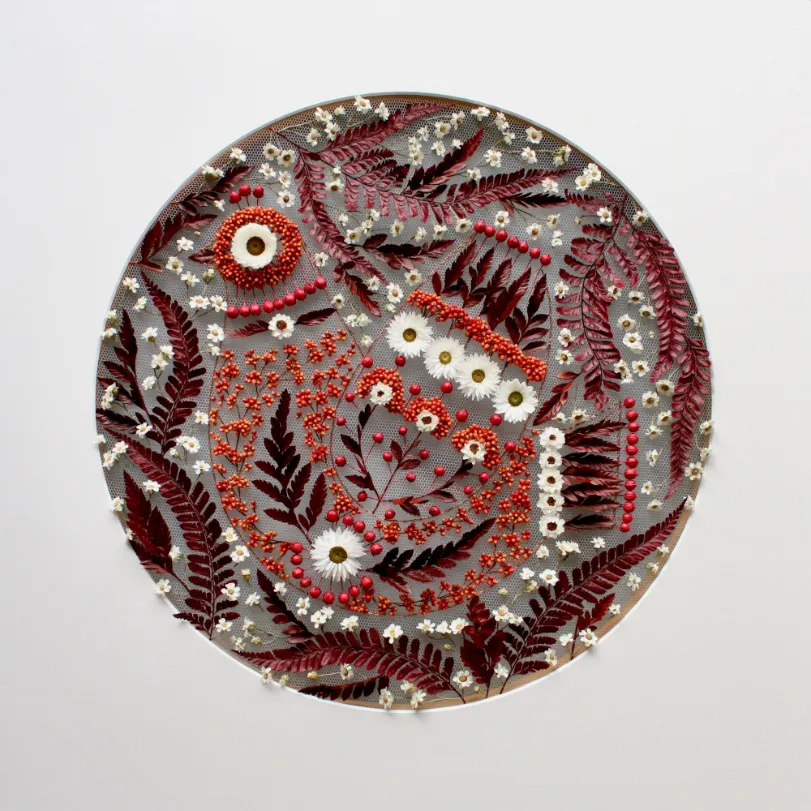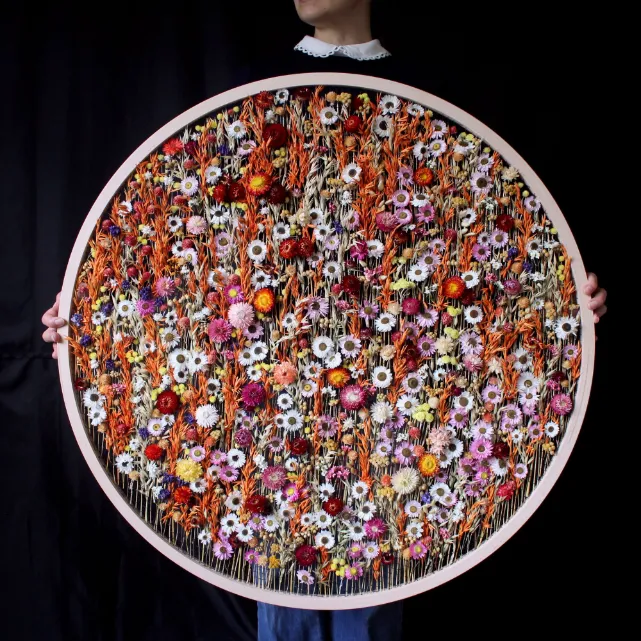 You have settled on such a unique style and set of materials – can you tell us about how you first set out on this road and decided on this set of techniques?
It actually all started with selling those knitted Christmas stockings. I was making festive wreaths to style my photos of them, and I thought of experimenting with using a garden sieve as a frame for a wreath by poking the stems of foliage through the metal mesh. When I saw a mesh fabric in a haberdashery shop, I wondered whether I could do something similar with that fabric and flowers.
So I discovered the flowers-on-tulle embroidery technique purely by experimenting and trying things out – but making the connection with embroidery also gave me ideas for techniques to experiment with using plant-based material.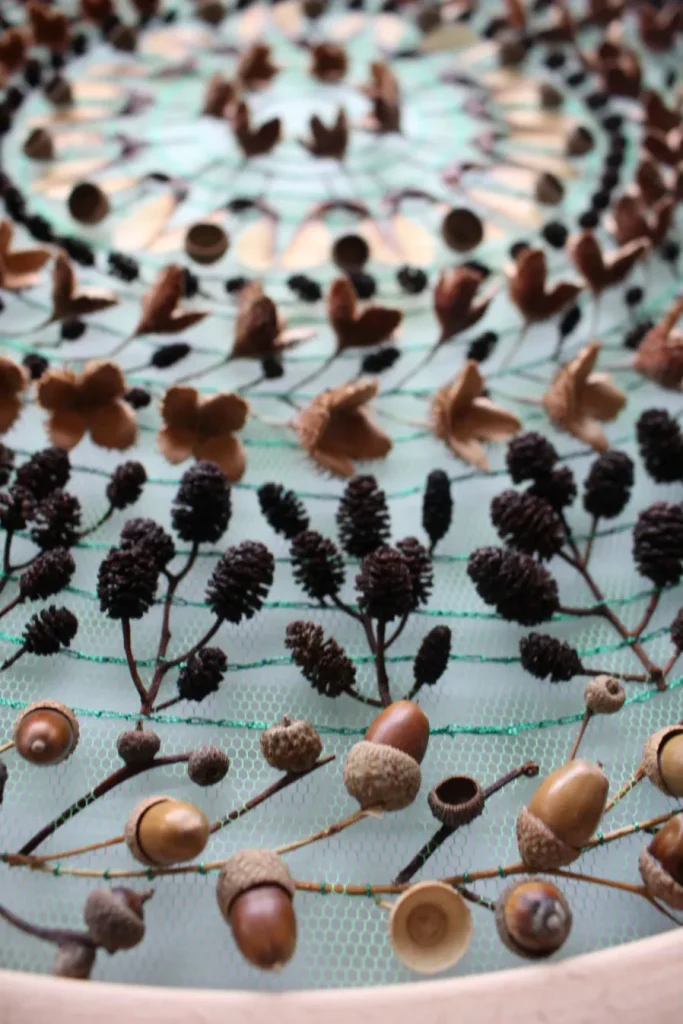 Can you tell us more about your technique?
I like to think about the stem of a flower as like a line of thread, so one of the main techniques I use is to trap the stems in the tulle fabric by creating almost like a running stitch that goes in and out of the mesh. It's a delicate job as the stems of flowers can be fragile – you need to develop a feel for how far you can push each kind of flower before it might snap. You have to have patience and almost be led by the stem.
Another technique is to secure the organic material to the fabric with thread. I've been using this a lot in a recent series of work I call "Graft", including my Collect Open piece, that's based around twigs of silver birch. Generally I like to minimise the visibility of the thread, so that – with the fabric also looking near-invisible on the right background – it looks like the design is suspended in the frame.
In some cases I also use thread that contrasts with the organic material and adds visual effect to the design, through colour or texture. For example in the "Ode to Trees" piece I made for the Aga Khan Center Gallery's exhibition, "Seeds, trees and mountains", I used metallic thread and chain stitch to secure my tree seed heads in a circular pattern.
The choice of technique depends on what I'm trying to achieve visually – whether, for example, I want to curve the material, or if I'm looking to create a more precise pattern or an organic freeform one – and how easy the type of plant is to work with. Often I don't know what will work till I try, so when I start a new piece I tend to test each element of the design in advance.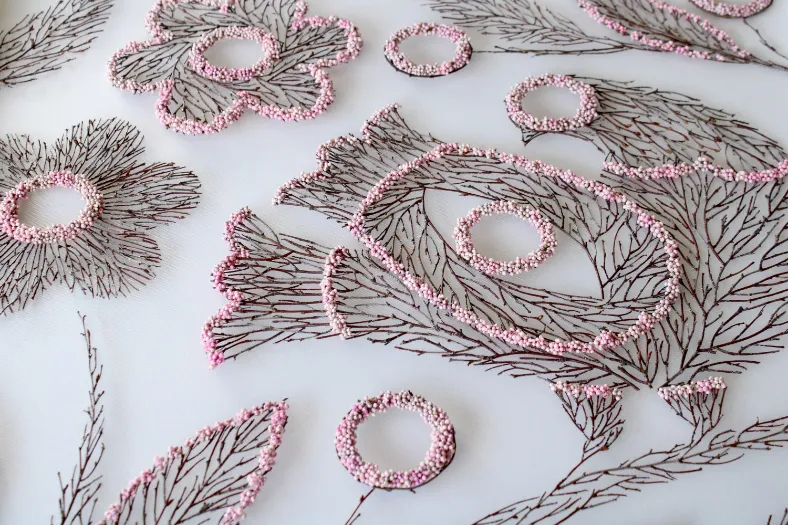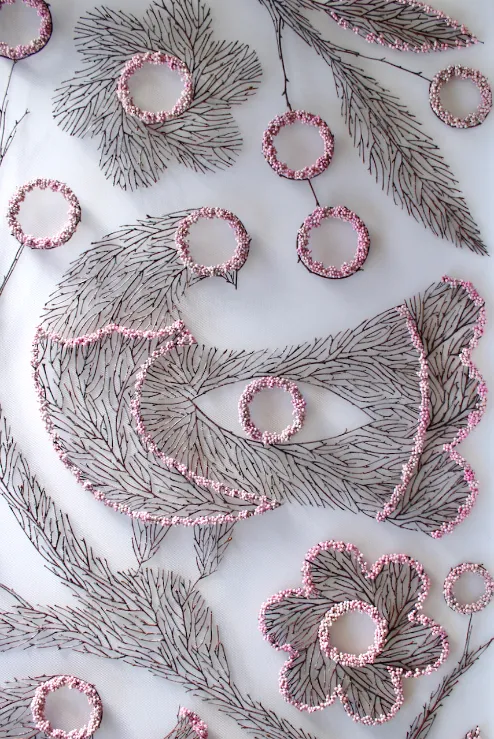 What is it that keeps you on track and motivated – any advice for our students would be very welcome!
As much as anything I think it's about minimising demotivation – trying not to dwell on the inevitable mistakes and knockbacks or the slow process of creating the artworks! I find the most motivating thing for me is when I come up with a new idea or discover a new plant, and experiment to see if I can make it work. But of course it's always motivating too when people say nice things about your work!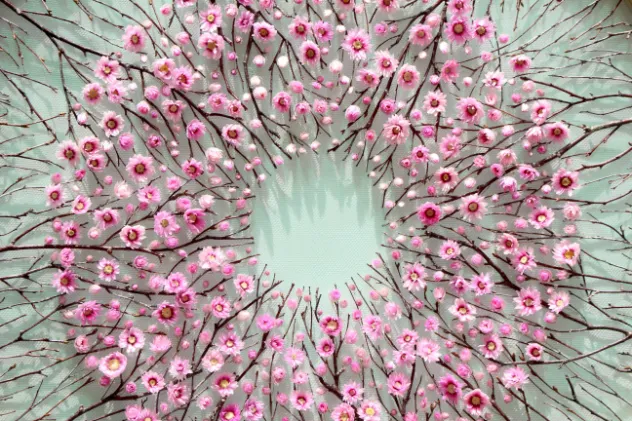 Do you think your training as a graphic designer played a part in the designs you use for your embroidery?
Definitely. I think training sharpens your eye for things like shapes and forms and what colours work well together, how to deal with negative space, and distributing a pattern uniformly. My graphic design training also gave me a love of visual puns, and I always find it satisfying when I can work nature into a pun – using feathergrass in an embroidered bird, for example, or making a clock out of dandelion clocks.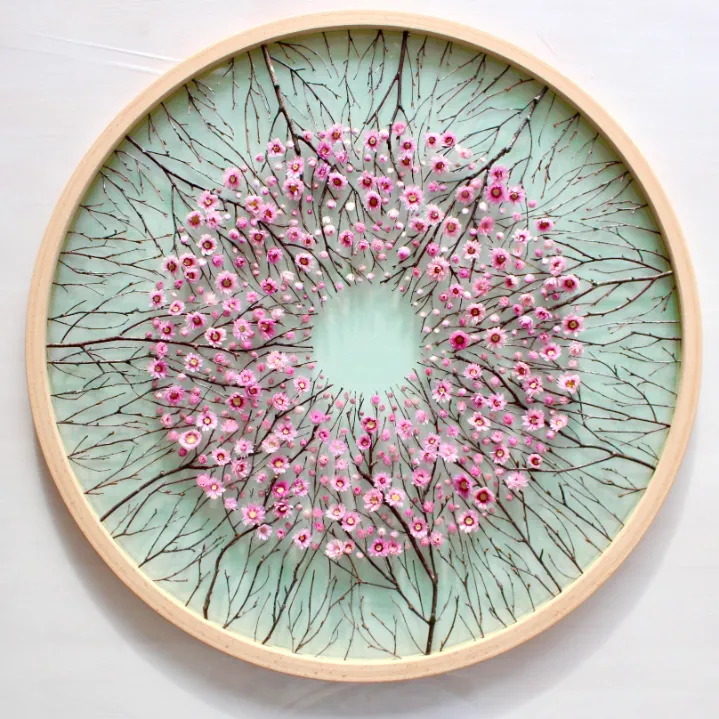 You've received some very prestigious awards – can you tell us more about the selection by the Crafts Council to be part of Collect?
It was an honour to be chosen to be part of Collect Open, and a great experience to be at Somerset House with so many amazing artists. It was just a case of going through the application process, which was challenging in a good way as they prompt you to ask yourself how you might be ambitious and push your work to a new level, what you are trying to communicate with your work, and how you are challenging norms in your craft medium. These are all questions you have to be asking yourself as an artist all the time, but it's great to have a project and a deadline to focus your mind.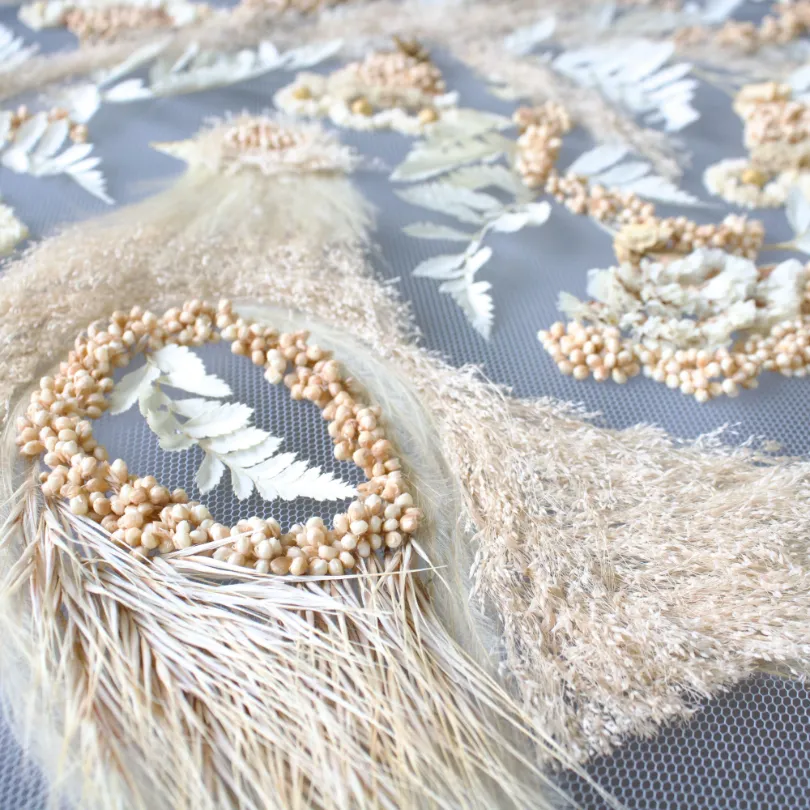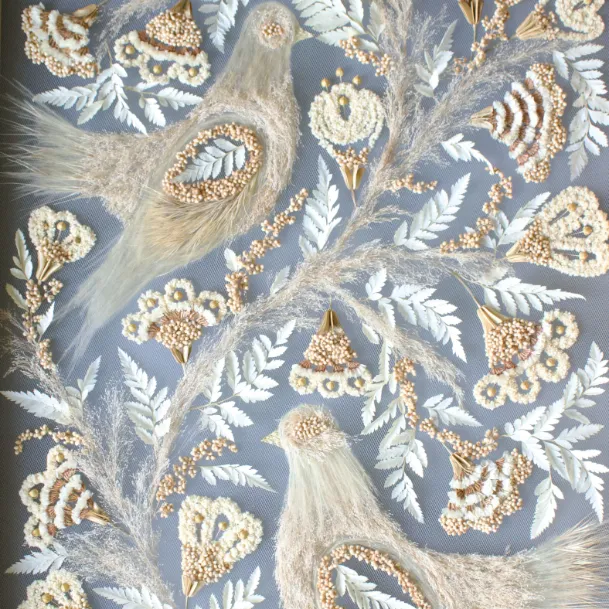 And exhibited in some wonderful locations around the world. Can you tell our students about the process of getting selected to show your work at the world's premier galleries and museums?
I've been fortunate enough to be approached by some wonderful curators at galleries and museums who've seen my work online or in a magazine and thought it might fit an exhibition they're planning. In a couple of cases it's come from responding to an open call to submit ideas.
But I've come into the art world via a background in crafts and graphic design, rather than having set out with the ambition to be an artist. So, to be honest, I'm still very much in the process of getting my head around how the art world works! I think making work that is innovative will always help attract interest, but if there's a shortcut to getting your work exhibited, I haven't found it yet!
What's next? Do you have any exhibitions coming up?
I'm currently working on new pieces for an exhibition in 2024 at Hidcote, the National Trust property in the Cotswolds. I've been visiting the gardens there this year to forage for materials to incorporate in the work, and the ideas for the pieces are inspired by the architecture of the house and the curation of the formal gardens. The exhibition will be on for six months so I'm hoping a lot of people will be able to see it.
In the near term, I'm part of an exhibition called "Light" as one of the finalists in the SCAF emerging artist awards – it's currently at the Lawrence Batley Theatre in Huddersfield until January 2024. And I'm looking forward to exhibiting at the Contemporary Applied Arts in London in November. 
Finally, I've just filmed a Christmas-themed video with Michelangelo Foundation, so I'm looking forward to seeing how that turns out. And if you're in need of Christmas gift ideas, can I suggest my book – Dried Flower Embroidery: An introduction to the art of flowers on tulle – is available in all good bookshops!
Follow Olga Prinku
For up-to-date information about Olga's upcoming exhibitions please see her website, or follow her on Facebook or Instagram.