2. Bisa Butler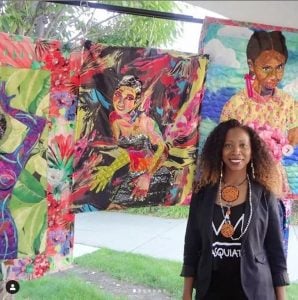 Bisa Butler is a phenomenal fibre artist, specialising in quilted portraits. Her key signature is her use of vibrant colours, and subjects that span various points of history and countries. This is a great example of stories being told through the fabric. 
Follow Bisa
Instagram: @bisabutler
Facebook: Bisa Butler Fine Art
Website: Hi Fructose
3. Ann Harwell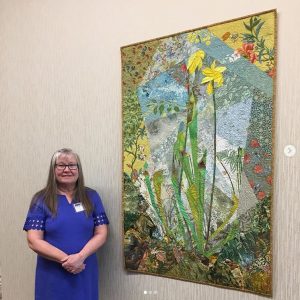 Ann creates quilts that 'tell stories, express feelings and communicate ideas'. At the centre of her work is a desire to create perfection. Often created from hundreds of tiny pieces of jewel-colored and patterned fabrics, her quilts include works based on outer space, astral phenomena and landscapes inspired by gardens and arboretums.

Follow Ann
Instagram: @annjharwell
Facebook: Ann Harwell Art
Website: Quiltartisannharwell.com
4. Sherilyn Mortensen
Sherilyn Mortensen is a Gammill quilt artist, pattern designer and a custom creator. If you like clean cut designs, precision and detail then she's definitely one to watch! 

Follow Sherilyn
Instagram: @sea_sherilyn_sew
Website: Gammill.com
5. Mathew Boudreaux (AKA Mister Domestic)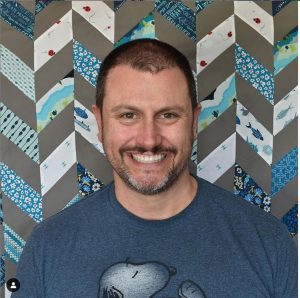 After taking a few local sewing classes Mathew has, over only a matter of years, built a huge social media following. If you take a look at his work you'll see why. From his website he sells his own patterns and continually wow us with his creations. Please check him out.

Follow Mister Domestic
Instagram: @misterdomestic
Facebook: Mister Domestic
Website: misterdomestic.net
6. Alyson Vega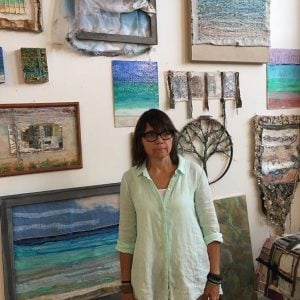 Roberta Smith from the New York Times, once reviewed Alyson's work, paying particular attention to her quiltlike patchwork of fabric pieces strung to a wire frame. "What holds them together is unclear," she said, "which has a magical effect." We think so too! 

Follow Alyson
Instagram: @alyfiberartist
Website: artsy.net
7. Paula Cochrane
Paula is a lover of antique quilts. She loves fussy cutting, intricate piecing and the wonderful secondary patterns it can yield. All of her work focuses on colours, patterns and designs from the late 1700's to mid 1800's. If you want quilts that remind you of yesteryear then make sure you follow Paula Cochrane. 

Follow Paula
Instagram: @oldepatchart
Facebook: Olde Patch Art
Website: oldepatchart.au
9. Timna Tarr
Timna is an award-winning exhibiting artist, designing and making quilts for private and corporate collections. She is an in-demand speaker and has been featured in many books and magazines. We just love her use of colour and attention to detail.  

Follow Timna
Instagram: @timnatarr
Facebook: Timna Tarr Quilts
Website: timnartarr.com
If you'd like to share an artist with us then please feel free to leave a comment below.