Hi, my name is Vicky O'Leary and I'd love to share my textiles story with you.
I've always been creative. From a very young age I would spend hours drawing, painting and in later childhood, make clothes for myself with help from my Mum.
My passion for textiles stayed with me throughout my school days and it seemed a very natural path to continue to do both an Art and Design Foundation course and then onto a degree in Printed Textiles at Winchester School of Art.
After which time I sold my printed designs through an agent to fashion and interior design companies.
Being young and impatient, back living with my parents, I soon discovered that it was no fun having to pay off my student debts, and so I went into retail management and later into events management.
After starting a family I found I was missing something and wanted to get back to being creative. I found I was lacking in confidence in my own abilities and even though I had done a degree it seemed like a long time ago. The degree course was very geared towards working in the design industry and didn't seem relevant to my current situation.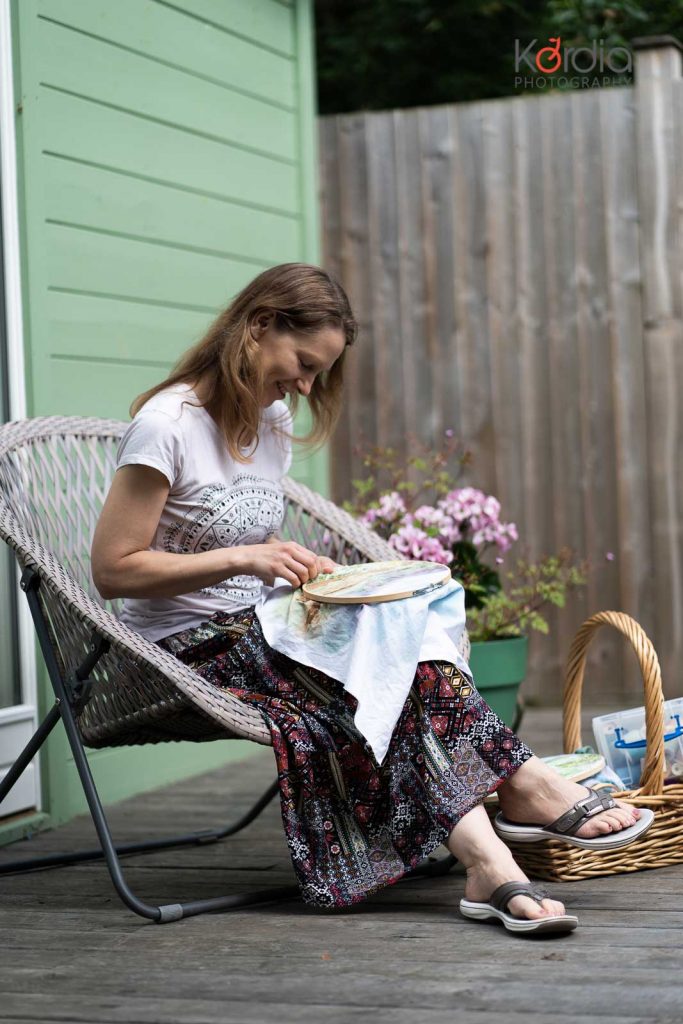 Finding a Course
I wanted a course that would allow me to explore the capabilities of my sewing machine, so I started searching for a Machine Embroidery course, I wanted it to be recognised and accredited so that it proved I had achieved a certain level. The City and Guilds accreditation is popular and very widely recognised, it's a well respected level to have studied at, which could be useful if I wanted to do further studying at a later date, or start teaching others.
With the School of Stitched Textiles I found the course was broken down into very manageable chunks and clear examples were given before I signed up for the course so I had a clear understanding of what the course entailed just by looking on their website and reading up on the course.
The first module came with lots of examples of previous students work to help show the level of detail needed and to demonstrate how to present the work, which was a great help. I opted to present my work on PowerPoint.
Being a mum of two young girls I wasn't sure how much time I could commit to a course but having an online course worked well as I could fit it around school and nursery schedules. Having your own tutor to help guide you through and give more guidance where necessary and an online Facebook group meant that you were never completely on your own doing the work.
I have learnt that I am never happier than when I am creating, and it is such amazing therapy! I have truly re-ignited my passion for textiles and feel far more confident with a new set of skills under my belt.
I have taken a brave step in deciding that creating textiles is what I would like to do as my career. I am in the process of creating some textiles workshops in Surrey to teach others some techniques as well as offering one to one sessions. I am also creating a range of handmade embroidered items to sell, both can be found on my new website www.vickyolearytextiles.com please pop by and have a look.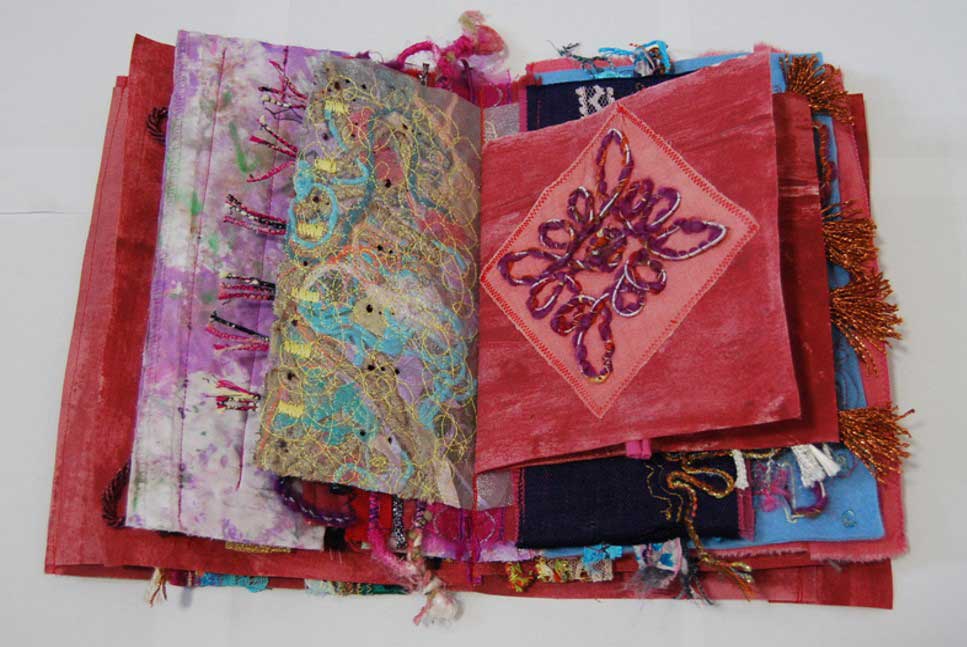 Please feel free to drop me a message at http://www.instagram.com/vicky_oleary_textiles or find me on Facebook I'd love to hear from you.
The course is a great way to learn about the design process even if you have some knowledge of design, you can definitely learn lots of new ways of creating designs.  If you are afraid that you won't know how to design anything, you can just simply follow the SST course and be confident that you will create something wonderful.
I would advise anyone starting the School of Stitched Textiles course to just throw themselves into their work, experiment, and remember there's no wrong way of doing things. you'll love it!