As one of the UK's most popular mixed media artists, Cas Holmes needs no introduction. Her accomplishments include the publication of several books, work in public and private collections and countless international exhibits. 
Cas' work embodies her desire for travel and collecting materials which are then stitched into her work: A signature synonymous with her style, which has been described as painting with cloth. An icon of the textile art world, we caught up with Cas to discuss her work, inspirations and current projects.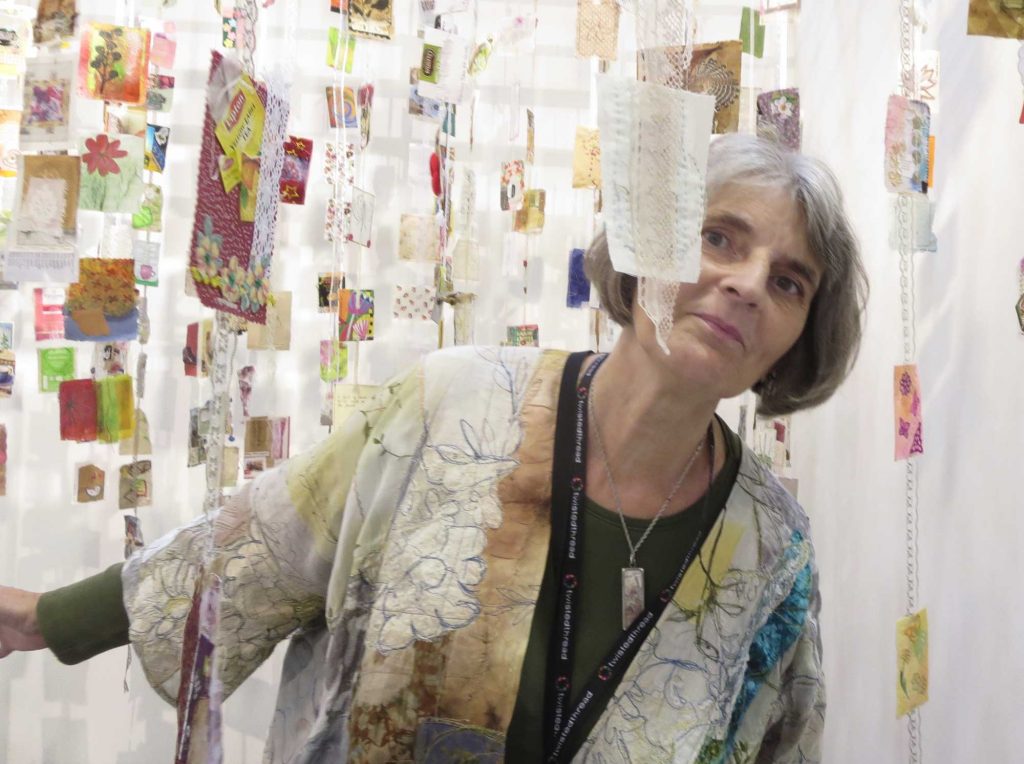 Tell us a little about your own history with stitching, when did you first start?
"It all began with the dreaded cross stitch apron at school. I never did finish it. No one taught me to stitch as far as I know. It was not something I saw anyone in my family do, although a neighbour would make us lovely party dresses.
It was not until I tore a canvas apart at collage and then started piecing it together that I became interested. I am a member of the Embroiderers Guild and would argue that my engagement with the guild has allowed the nature of stitch to filter through to me."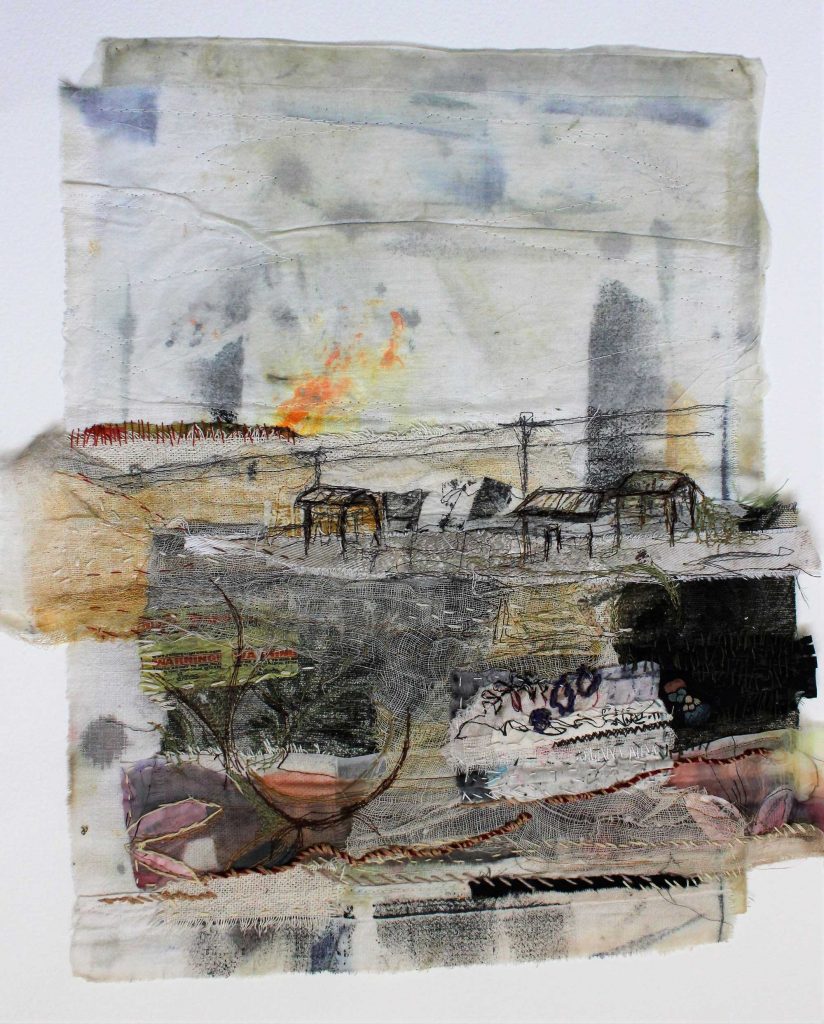 What are you currently working on – what was your inspiration for it, what is it made from, the processes involved and what is it being made for?
"Following the recent exhibition of my work at the Knitting and Stitching Show in Autumn 2018 with 'Textile Landscape' I am looking at the interrelationship between the forces of nature, landscape and man. This is a new series which is in its early stages. North Westerly, a piece recently seen in my exhibition Painting with Cloth at Rochester Art Gallery was the first exhibition held in Spring 2018. 
I have set myself a theme of hand-stitching words (these are only stitched on when I travel) and relate to our relationship to a sense of place and loss. I cannot say more about this has the project will reveal itself when I am ready. It is likely to be worked in the next 18-24 months."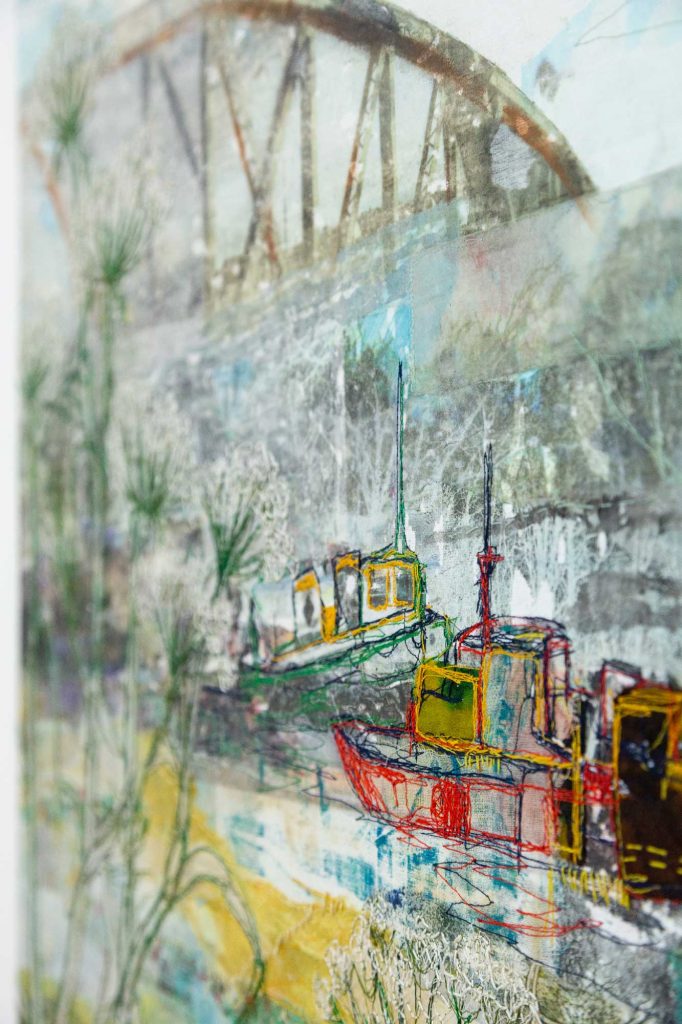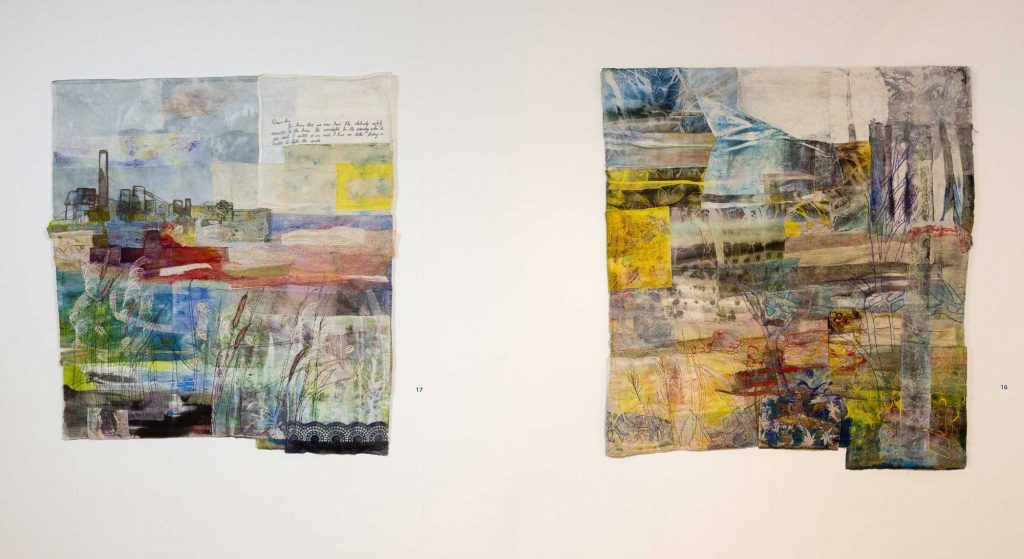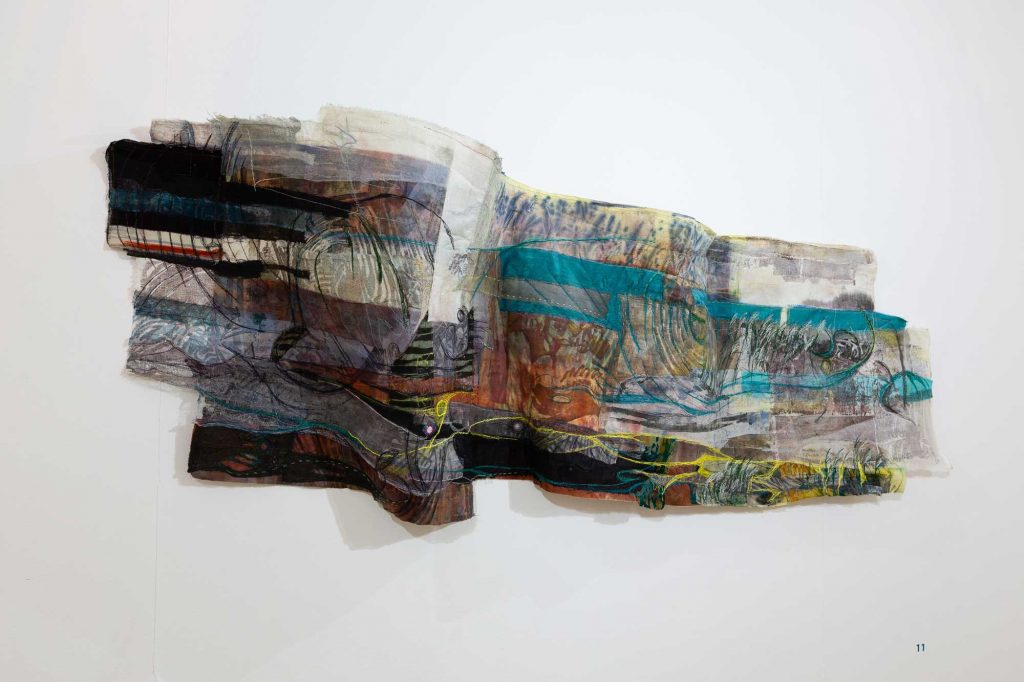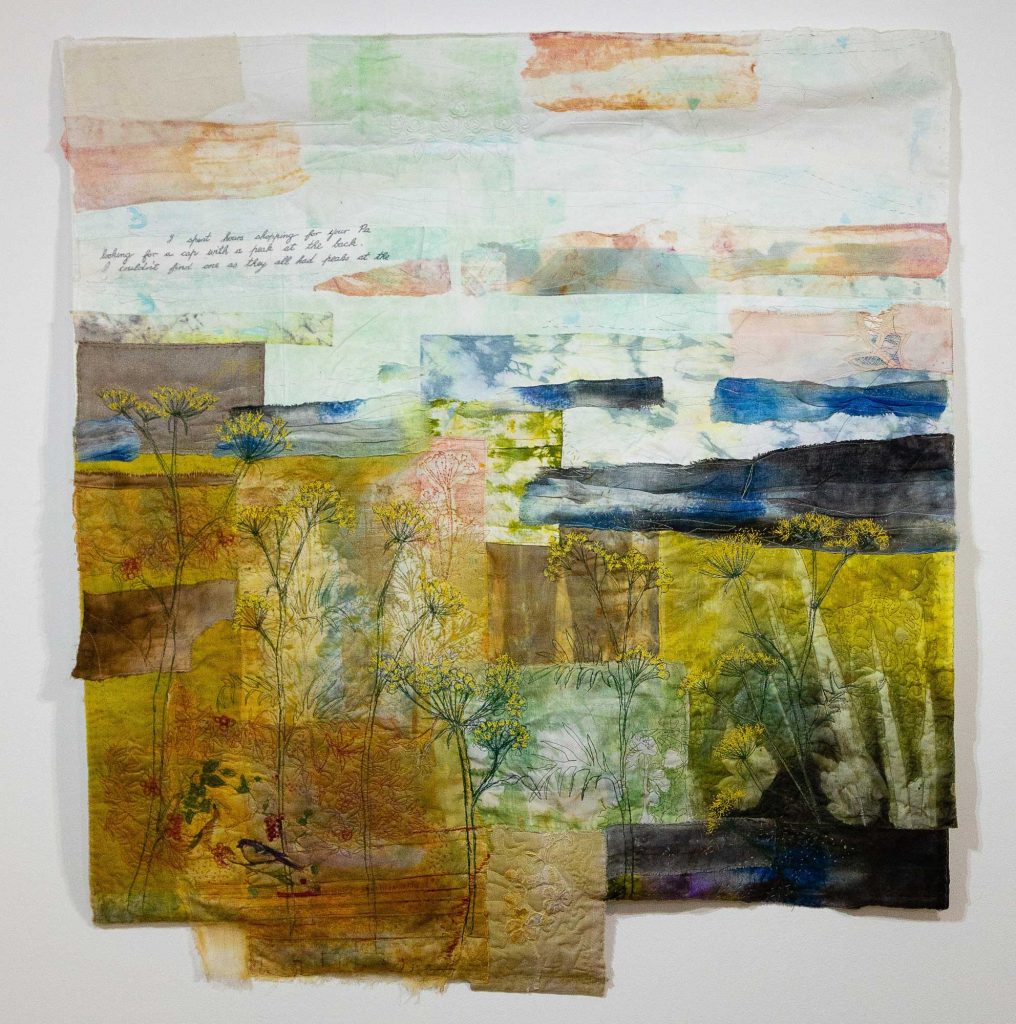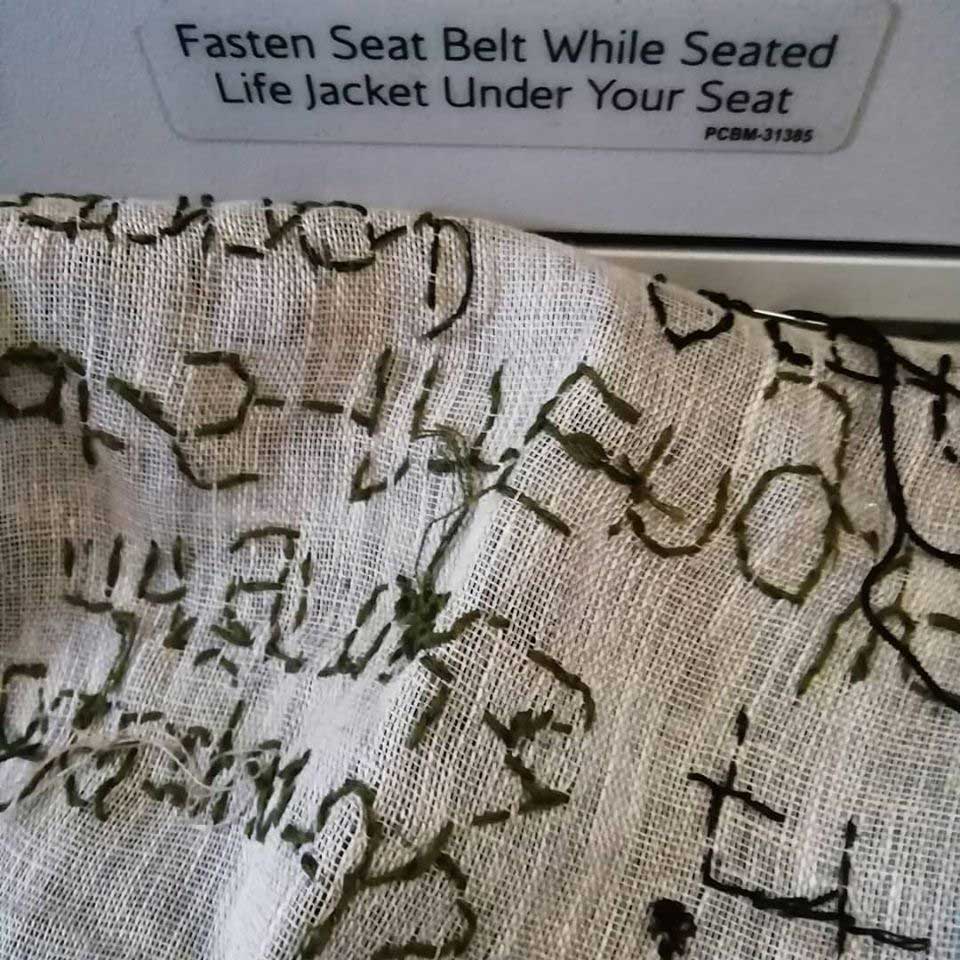 Where do you usually look for inspiration when starting a new piece?
"None of my pieces are neatly planned, intuition, a response to materials and the given environment, place or landscape inform the work and sketch books serve to record these things.
I gather all the elements together – cloth, paste, colours, papers, and so on – and build up layers as I would a painting. I then cut up the layers to see what's underneath. This is then worked with further paint and machine stitching. 40 Yards, an ongoing project, best relates to how I work. The series uses cloth I gather as I work the images inspired by the everyday things I see within 40 Yards of my house. A big part of my work is the human connection we have to the urban and natural landscape.
This is best described by John Hopper:
'We live in a world where the line between human and nature is often drawn with a definitive thick black marker. We have our world and they have theirs. There is urban and there is wilderness, human society and the lack of it, but that is rarely how it is in reality. The real world is full of complexity, of a strong and binding interconnection between human and natural environments. 
Cas often finds this interconnection in the fragile world of the in-between, literally at the places where nature and urban meet, such as gutters, the edge of agricultural field systems, domestic gardens, old industrial land. These are the places where weeds are rampant and the man-made lies half-forgotten.'"
John Hopper, The Edgelands of Cas Holmes,  Fiber Arts Now 2018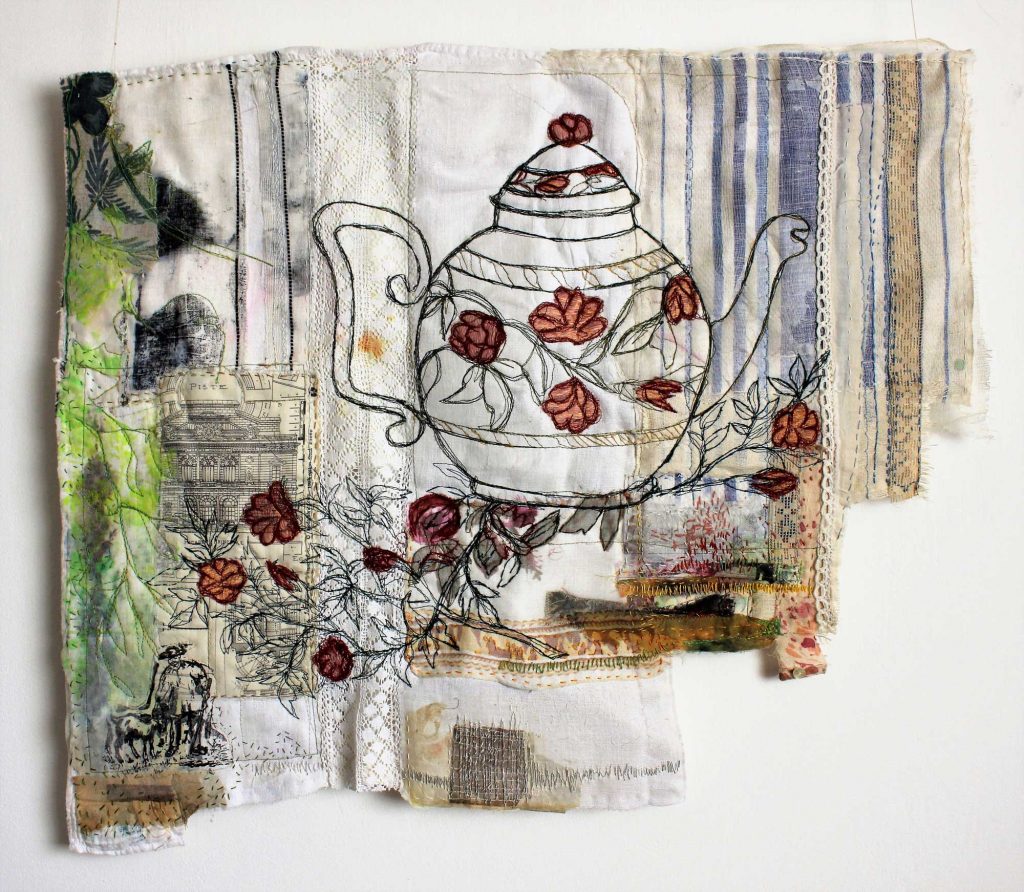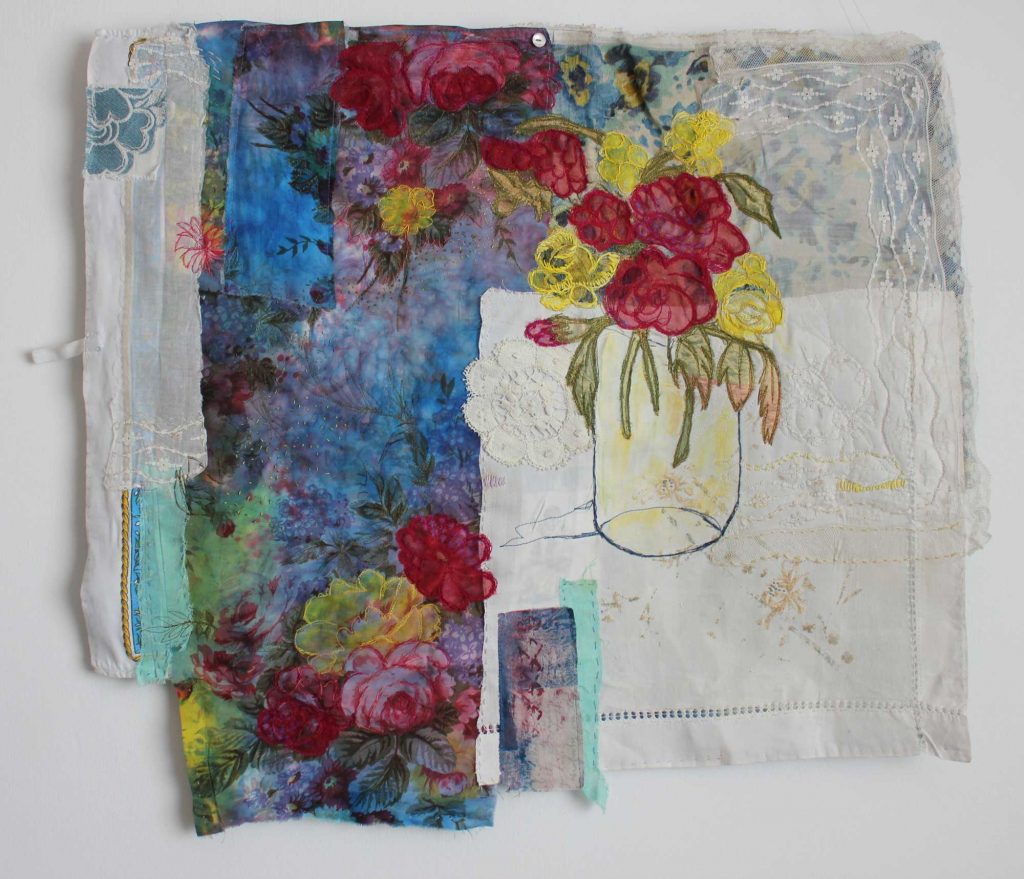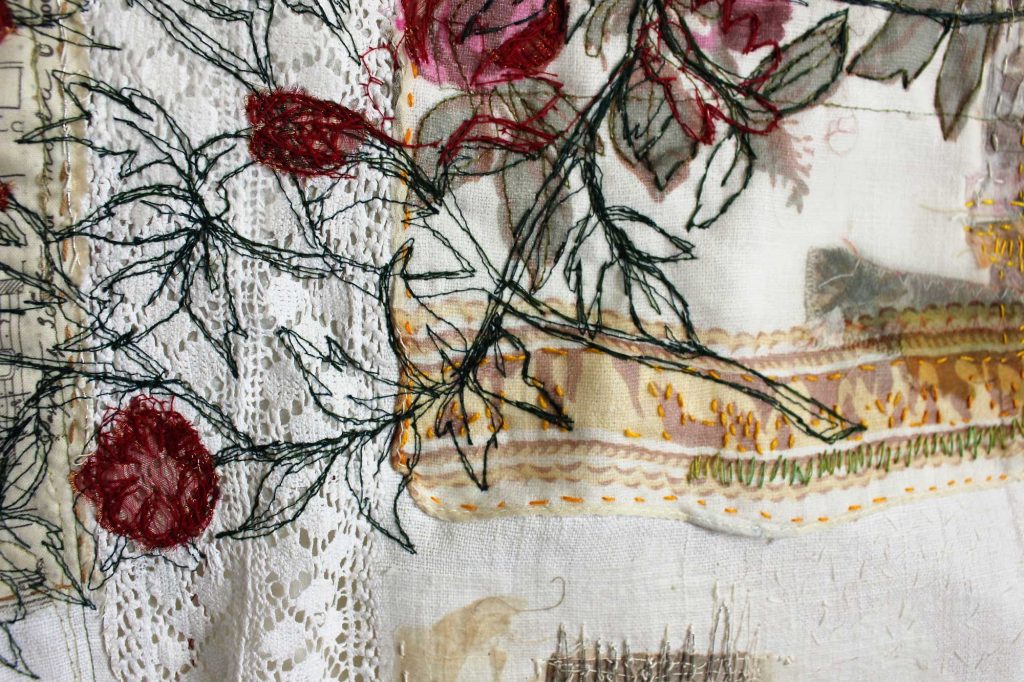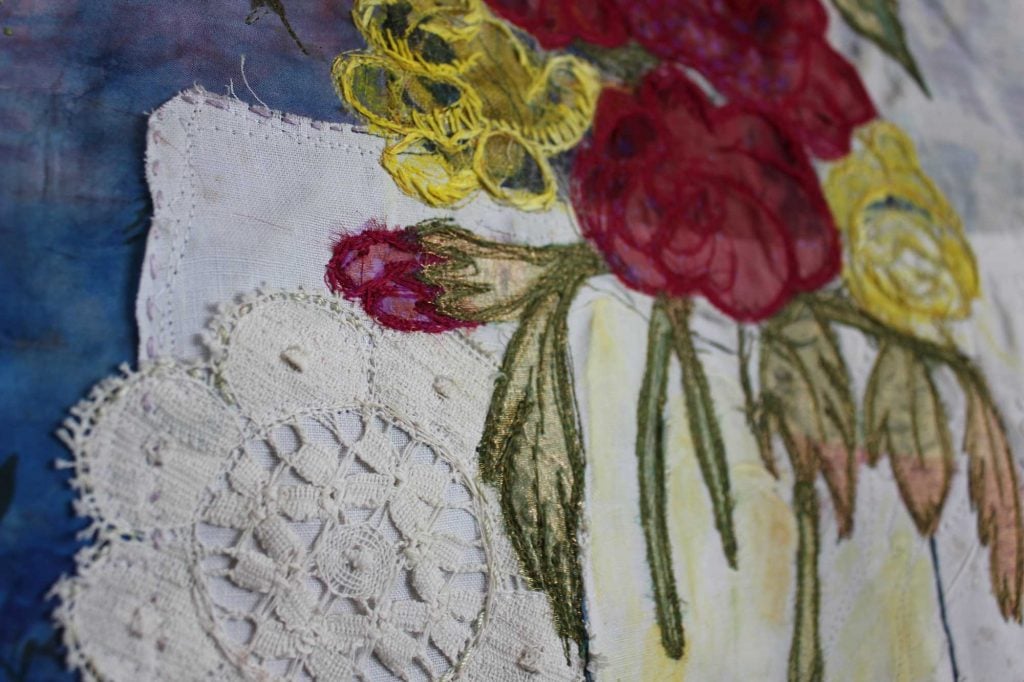 As someone who is trained in fine art, how much of your current success do you attribute to your training. How much did it add to the artist you are today?
"It was whilst studying on a painting degree course at Maidstone College of Arts I discovered other media cloth, paper and found materials best suits my mode of expression. The essential difference between my pieces and painting on canvas is my 'canvas' or paper undergoes cutting, tearing, layering and stitching. I often work without clearly defined edges so that the shape and size of the work is only determined on its completion. I work instinctively, responding to the materials and adding textures and marks as I progress.
My work has been described as 'Painting with Cloth' or 'Stitch Sketching'. The programme of study taught me to 'look', explore and find a context for my practice. My recent writing for Batsford publications has continued to contextualise my own practice and share that with others.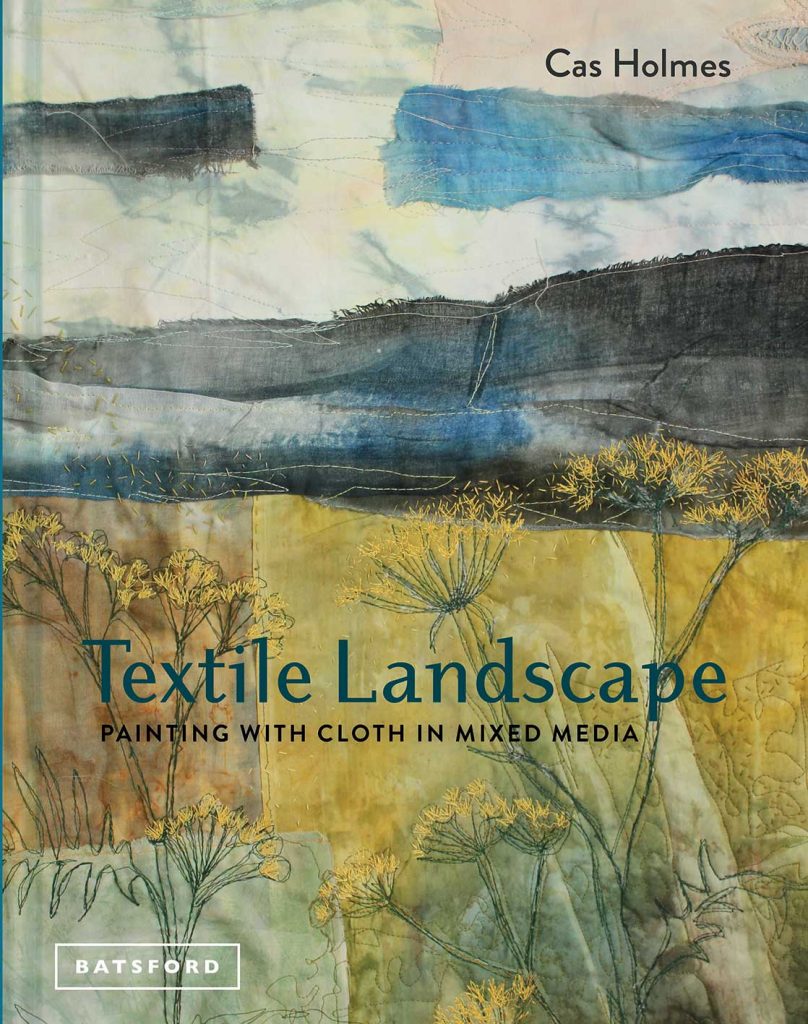 We know from your books that you enjoy using found pieces and objects within your work. Can you suggest ways or processes whereby our students could begin to do the same?
"Most of my materials come from accessible sources and I set store on exploring the type of marks I can make and what I can do with them rather than 'over think'. I trained in Japan and am interested in the ideas reflected in 'wabi sabi' (beauty to be found in the imperfect and overlooked).
I work with cloth and paper I pick up as I travel and am often given pieces when I teach. I cannot remember when I last purchased materials to work with. My father was a painter and decorator so I often use household emulsion paint or acrylics for painting as these were around my home as a child. The use of low-tech techniques and application of paint, inks and cold water dyes combined with drawing materials allows me to exploit different marks on the found materials and paper I collect or am given.
Using the needle to join these disparate pieces together and adding textural mark excites me most. It is perhaps also the one tool I use that most painters do not use and allows me to take my work in many directions both physically and conceptually."
Details of Cas' publications can be found here.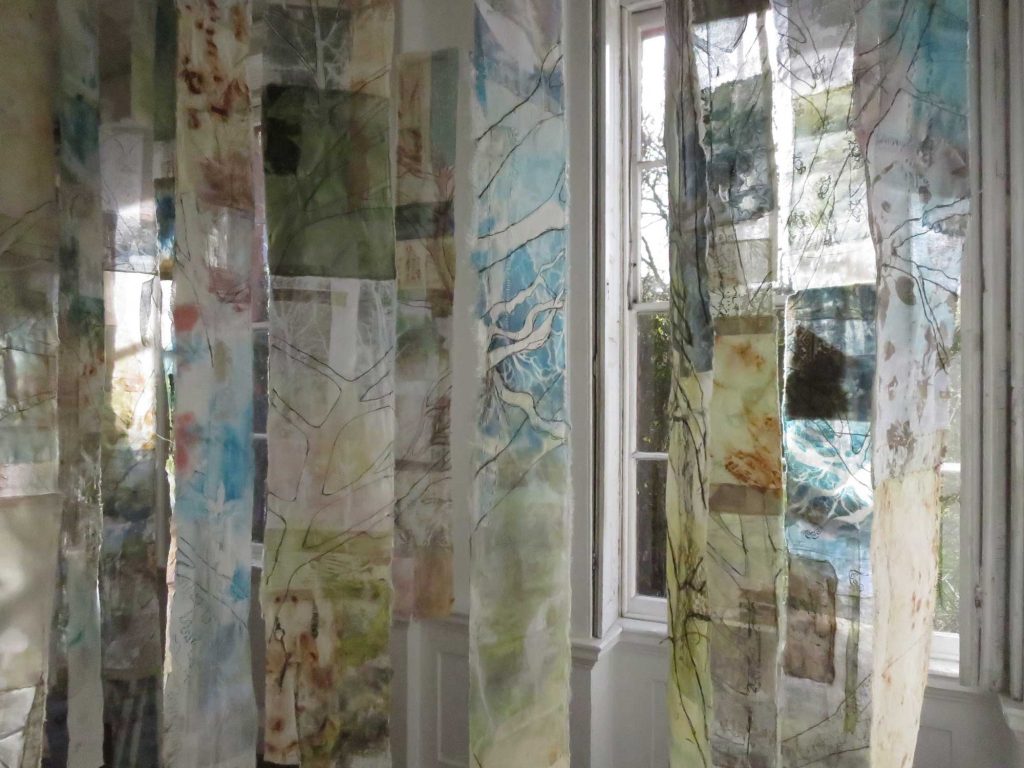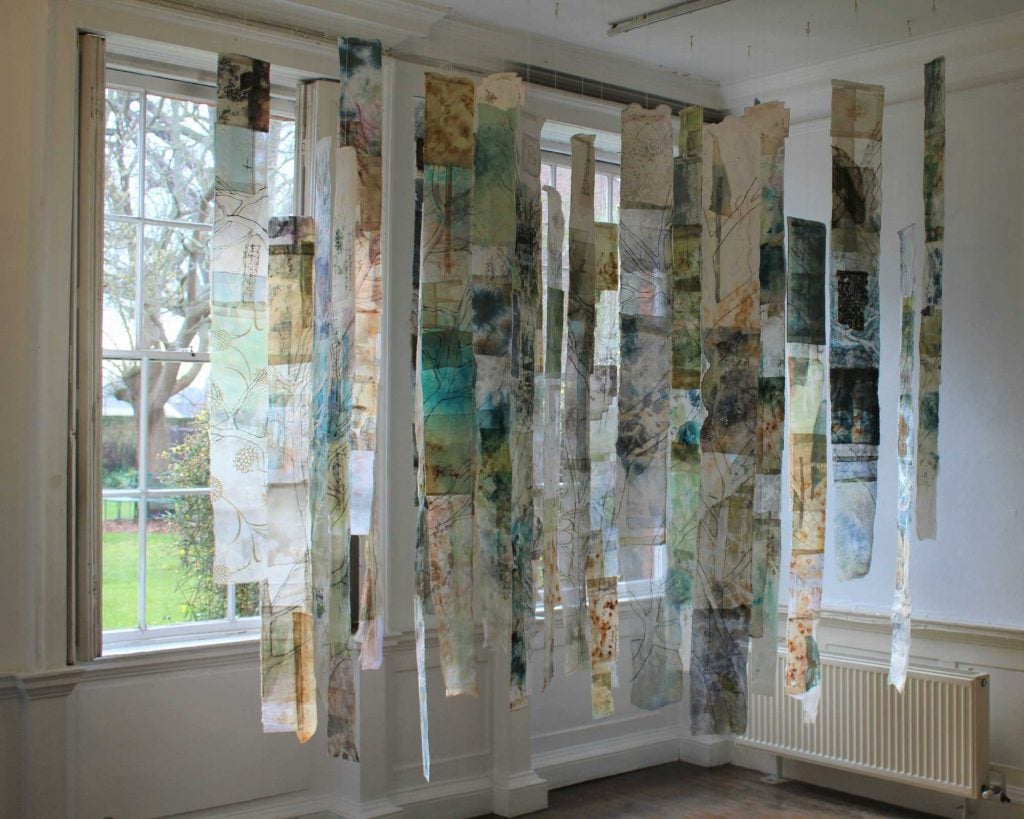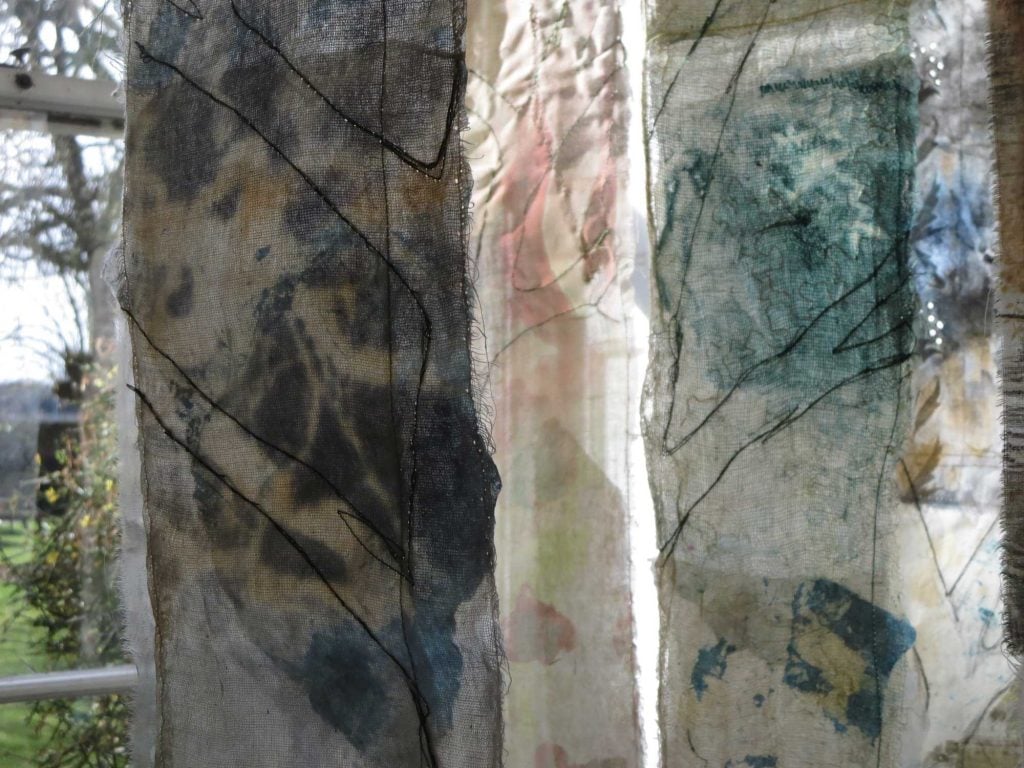 What artists inspire you personally – who would you like to sit next to at a dinner party?
"This always changes. I would like to have a good natter with Grayson Perry. I am sure I will laugh as much as be challenged in my thinking in relation to discussions on art, politics and society in general. 
Itchiku Kubota
, aJapanese artist, and ask if his Symphony of Light Kimono installation has turned out as he imagined. Constance Howard: There are many questions about textile art I would value her opinion on. Finally, my Father and my Grandmother…for their vision in 'making me look' and what they would advise me to do now. They were not 'artists' but both could turn a hand at everyday things."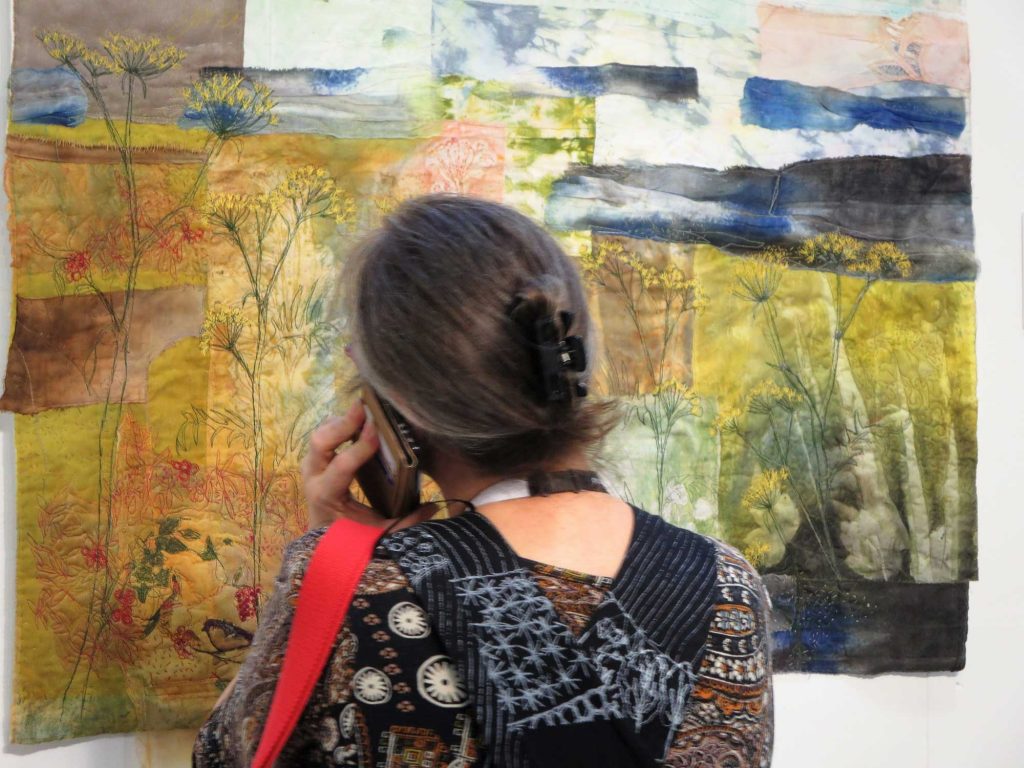 Cas Holmes has another book out and it promises to be a beautiful insight into how stitch with everyday items. 
Cas invites us to re-examine the world and use the limitations sometimes imposed by geographic area or individual circumstances as a rich resource to develop ideas for mixed media textiles in a more thoughtful way. With techniques and projects throughout, the book explores:
How to be more resourceful with what we have to hand, including working with vintage scraps, homemade dyes and papers, and even teabags and biscuits.
Rediscovering family history and how photographs and objects can provide inspiration, including Cas's own exploration of her Romani heritage.
Drawing inspiration from our local landscape and how it changes through the seasons.
How to transform materials with mark-making, printing, image transfer, collage and stitch.
A huge thank you to Cas Holmes for sharing her latest work with us. You can visit her website at casholmes.com  to see more examples of her work. You can also follow her on Facebook  and Instagram  
Workshops and current news can be found on her blog. 
Images: 
Rikard Österlund (Painting with Cloth Exhibition, studio images by Sheilagh Dyson and author, all other images by the Author.