As an accomplished artist, the work of Sylvia Paul has been exhibited in galleries across the country, and as far as Japan. As well as inspiring students with her workshops, she has authored a book – My Life in Bits –  and continues to sell to private collections internationally.
Sylvia is a fascinating artist with a unique ability to create art in any medium. She has been accepted for open exhibitions with The Pastel Society, The Royal Institute of Oil Painters, The Laing Landscape Exhibition and The Royal Institute of Water Colour Artists where two of her landscape collages were exhibited.
What's more extraordinary is that Sylvia has only been working with textiles since 2013. Three years later she was elected as a member of Art Textiles: Made in Britain in 2016 and continues to exhibit with them every other year at The Festival of Quilts.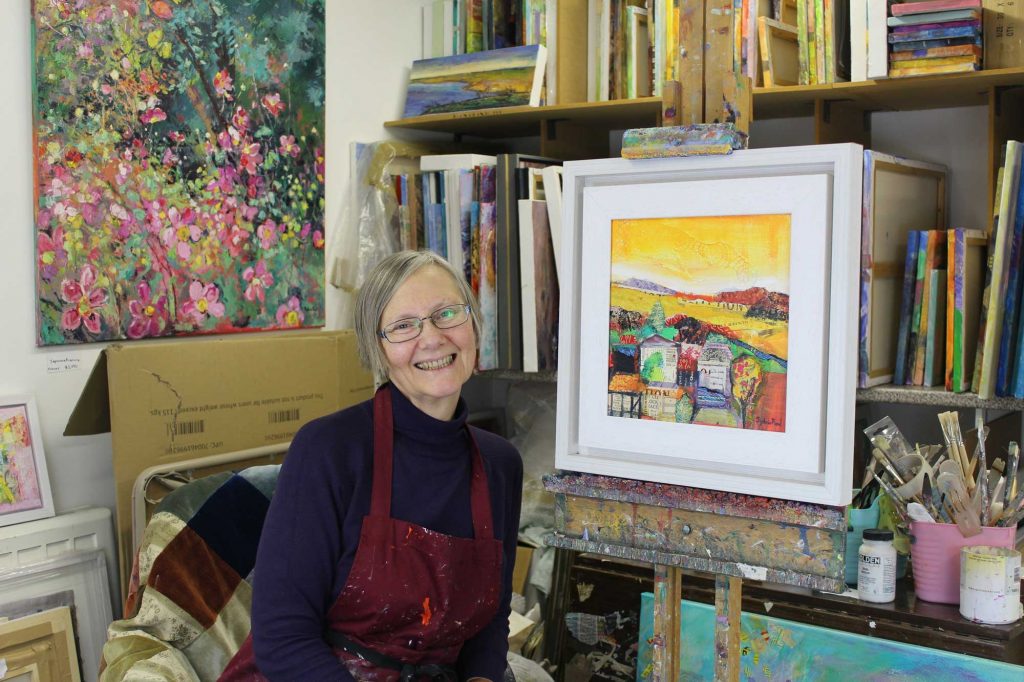 Please tell us about what you are currently workin
g on.
"I have recently finished a textile piece that I am entering into a competition. The competition, set up by the European Textile Network, is on the theme of The Garden of Eden. I was looking for a new project and I was particularly attracted to the theme. I re-read the stories of the Garden of Eden and was particularly drawn to the part where Adam and Eve were hiding from God after they realised they were naked. 
'They heard the sound of Lord God walking in the garden at the time of the evening breeze, and the man and his wife hid themselves among the trees of the garden' Genesis 3.8.
Creating the piece rather like a theatre set or diorama was a challenge but I hoped it would enhance the feeling of a story evolving or a scene in a play. After reading the Genesis stories I had ideas of what to include in the garden, and tried to represent different forms of life. I included large and small mammals, a bird of paradise, fish, insects, the snake, various plants and trees including the apple and fig trees. There is a hint of gold in the distance and a river flowing out of the garden. I used a deep wooden frame and built the piece around this using silk fabric remnants mostly from Japanese kimonos. The technique included applique and free motion machine embroidery along with hand embroidery.
My Piece 'Hiding from God' has been accepted for the exhibition and I will be attending the European Textile Network conference at the end of July. Garden of Eden Textile Exhibition Neuhaus Castle, Neuhaus an der Donau, 4114 St. Martin im Mühlkreis Austria which runs from July 17 – August 4, 2019."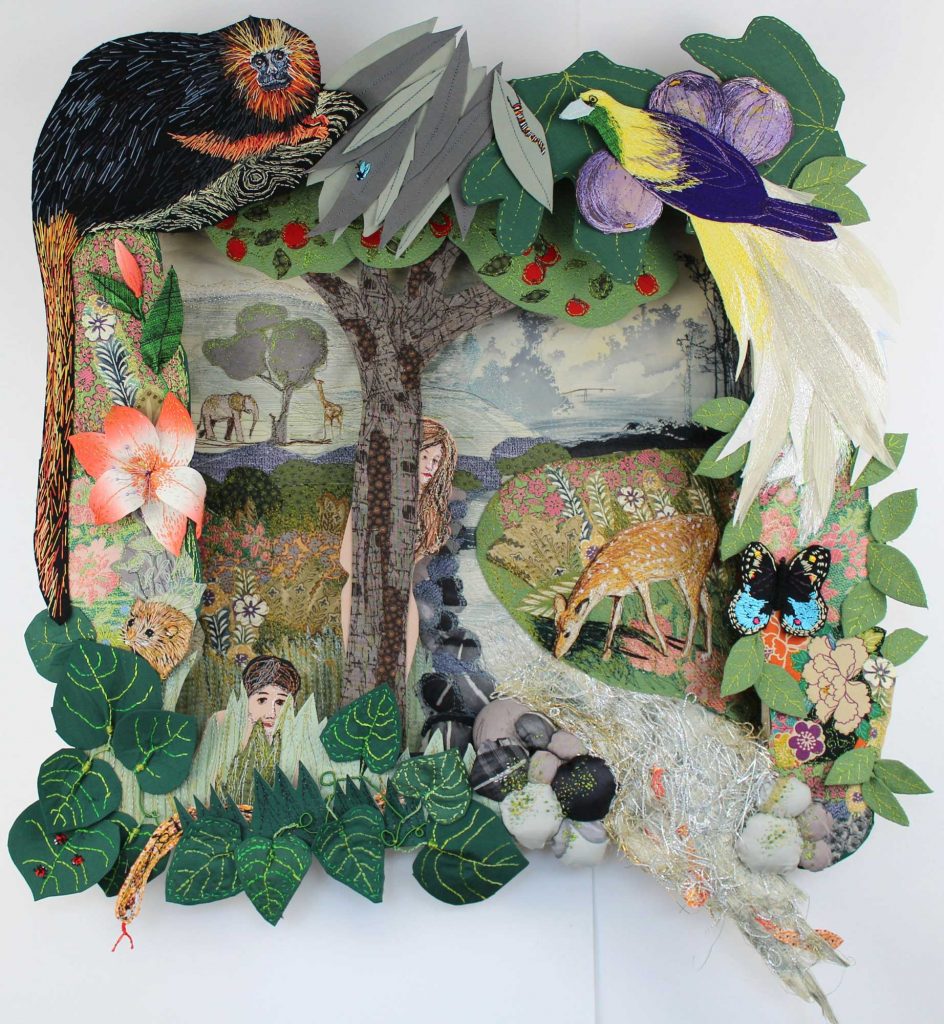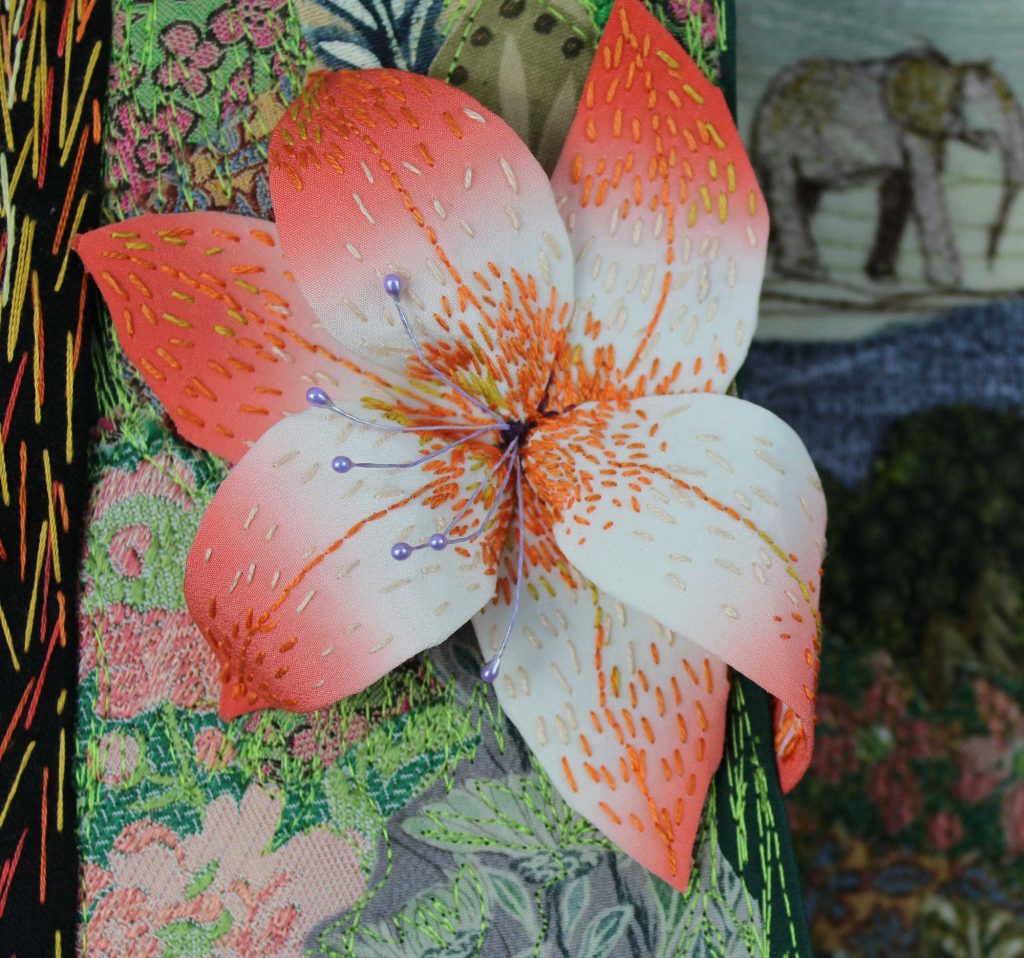 Butterfly (left) , monkey (top-right) & bird of paradise (bottom-right) detail from 'Hiding From God', by Sylvia Paul
Having studied at art school in Colchester, do you think that creativity is something that is taught or nurtured?
"Some of my earliest memories involve making things at home and at school. I was greatly encouraged by my parents in all things creative as were my brothers. I do believe that creativity is something that can be nurtured from birth though it can be manifested in many ways. We may not all be able to learn to draw to the same level but we can still be creative perhaps in music or drama. Some may have untapped creativity that has not been discovered and nurtured at all."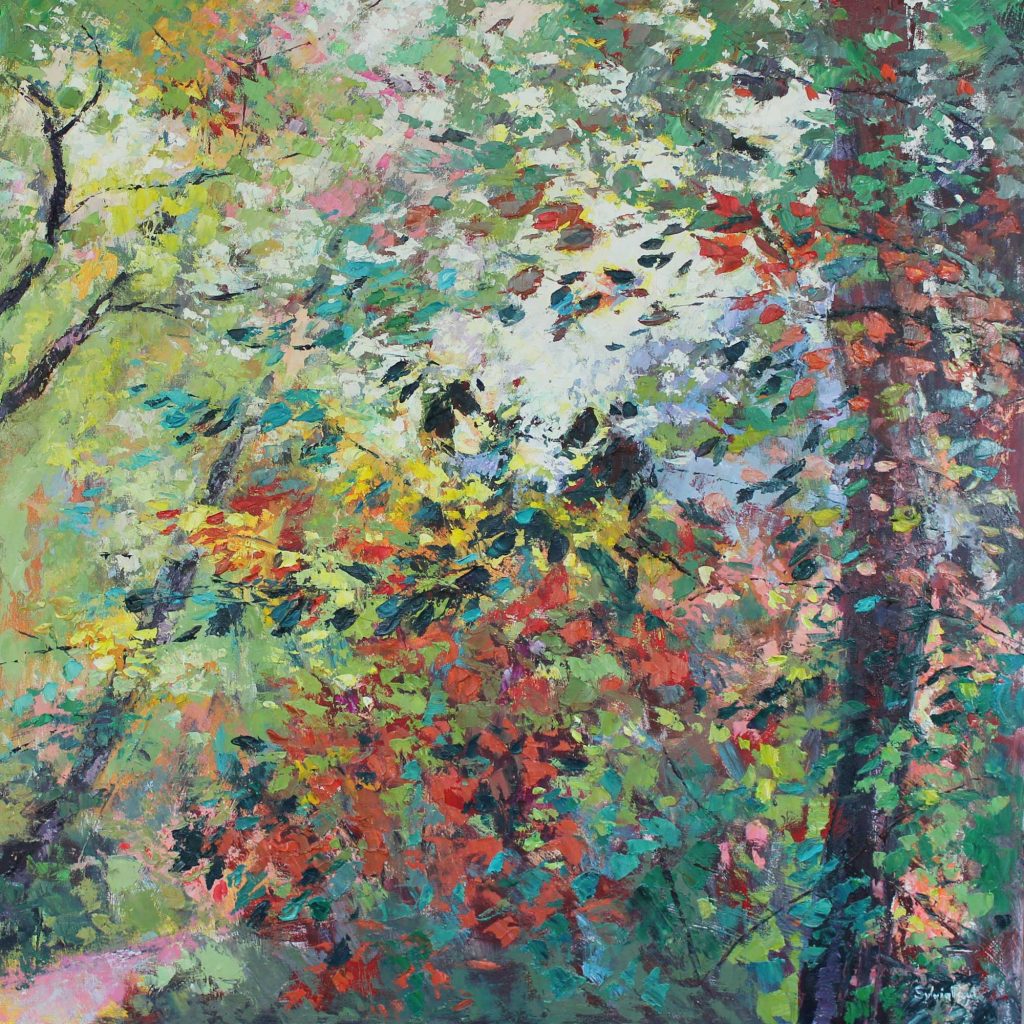 What was your first memory of art – did someone teach or encourage you?
"Painting, drawing, paper mache, needlework were all encouraged at home. My older brother was a keen oil painter and built himself a studio in the garden exhibiting his work in local art shows. I can remember in the infant class doing embroidery and painting. In the juniors one particular teacher encouraged me with my art and I can remember creating a batik snail on fabric. It was always my favourite subject and at the age of 10 I realised I had a special talent for drawing".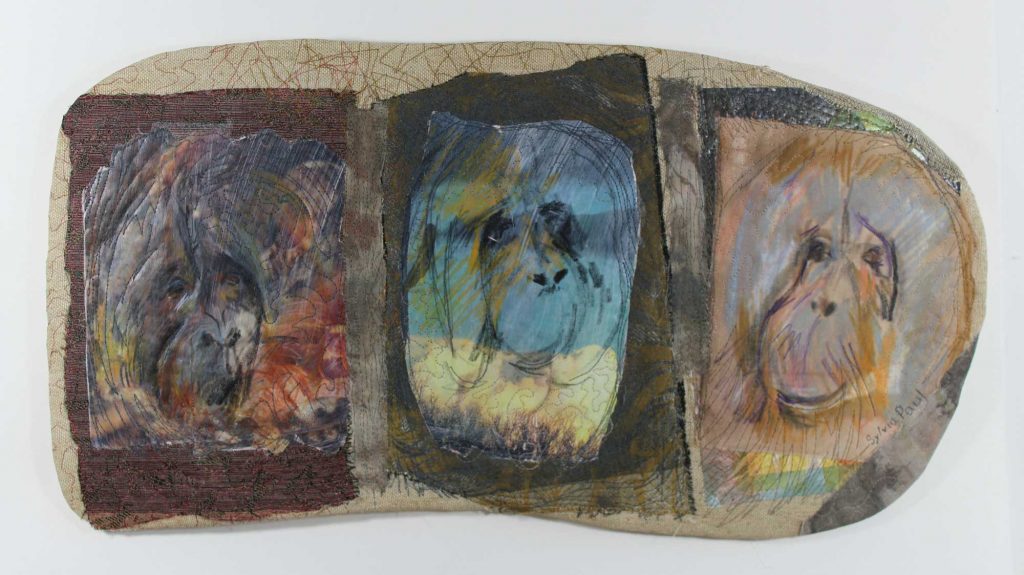 What sort of changes have you seen in art and textiles over time and any predictions for future trends?
"I have been a professional painter for 40 years and exhibit in galleries and art fairs in the UK some galleries might not wish to show the textiles."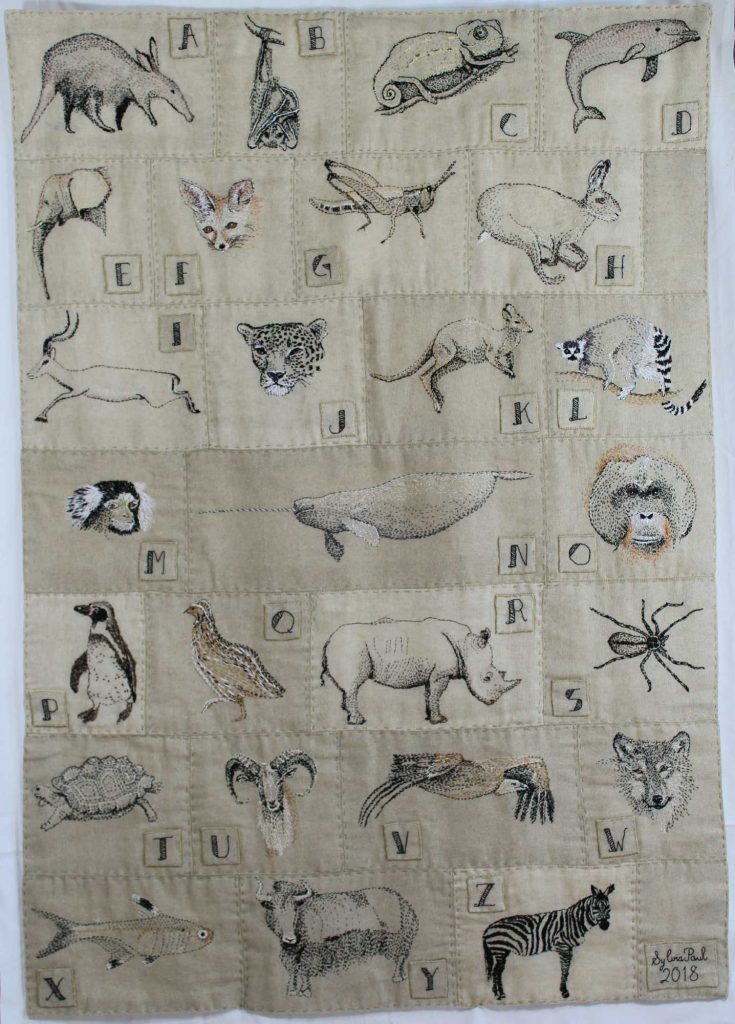 What do you consider has been the highlight of your career so far?
"In 2009 I had one of my paintings accepted for The Royal Academy Summer Exhibition which was a big deal for me. But equally, my exhibitions in Japan have been amazing, particularly in 2013 when I exhibited some textile hangings alongside my paintings. These were the first pieces of textile art I had created."
You have recently created some Japanese inspired abstract pieces and also exhibited in Japan – was there a particular Japanese artist that inspired you personally?
"There hasn't been one Japanese artist in particular that has inspired me but just experiencing the country in itself has completely changed my work. There was so much that has inspired me from the traditional gardens to the modern cities, the beautiful traditional fabrics, the artistic food presentation. I have collected and been given wonderful papers for my collage art and many kimonos and fabric remnants. The fabrics were a major influence in the start of my textile art journey."
'Winter' (left) and details from  'Winter' (right), Japanese Inspired Fabric, by Sylvia Paul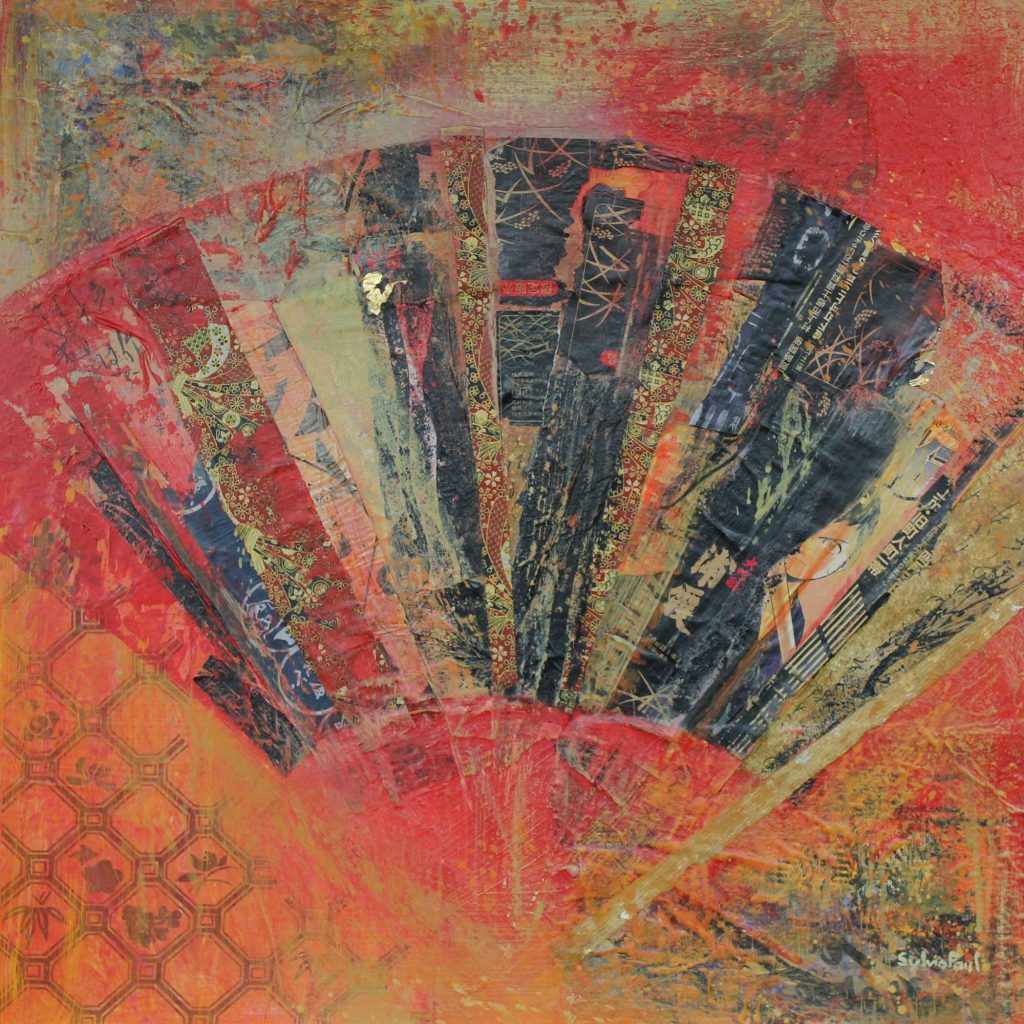 What's your development process for your designs, if any?
"I tend to work on my textiles in a similar way to my paintings. I sometimes have a glimmer of an idea before I start which evolves as I go along. I might do a rough sketch of the idea but I don't always have a plan as to how it can be done. I am learning as I go along. I like the challenge of finding ways of creating a piece and I'm happy to try a new technique to get the result I want. I haven't had any formal training in textiles but I hope this keeps my work fresh and different."
'City' (right), detail (left) – Japanese inspiration and experiments with paper and stitch Japanese Inspired Fabric, by Sylvia Paul
How did you develop your own style and inner voice? Was there a defining moment for you or was it a gradual process?
"I am constantly developing my style both in my paintings and textiles. Even after 40 years of painting my work is developing and changing. Recently I was encouraged to do some larger oil paintings and this has given me new confidence and freedom. My textiles are an ongoing discovery of what I can achieve. Above all I want it to be enjoyable and challenging. I'm not sure there is a particular style yet."
Do you ever feel de-motivated, if so how do motivate yourself on these off days
"Some days it can be hard to know what to paint if this happens I just start with colour and texture on a canvas. I have go-to themes that I return to again and again in my painting and this gives a framework for my creativity. I always have something I am working on if not painting a textile piece. The beauty of textiles is that you can have an on-going project that you can return to in between pieces. Often the textiles are worked to a given theme. 
As a member of Art Textiles: Made in Britain we have a different theme every other year and this can be the motivation for a large body of work. The most recent theme was 'Wild' and this inspired me to go sketching at our local zoo. I used the sketches in a series of textile plaques created to look like cave paintings. I also created a large hand sewn hanging "A – Z of Wild Animals" which took months to finish. A lioness hanging in applique and free motion embroidery also formed part of the exhibition. I made some mixed media textile books and scrolls which was something I hadn't done before."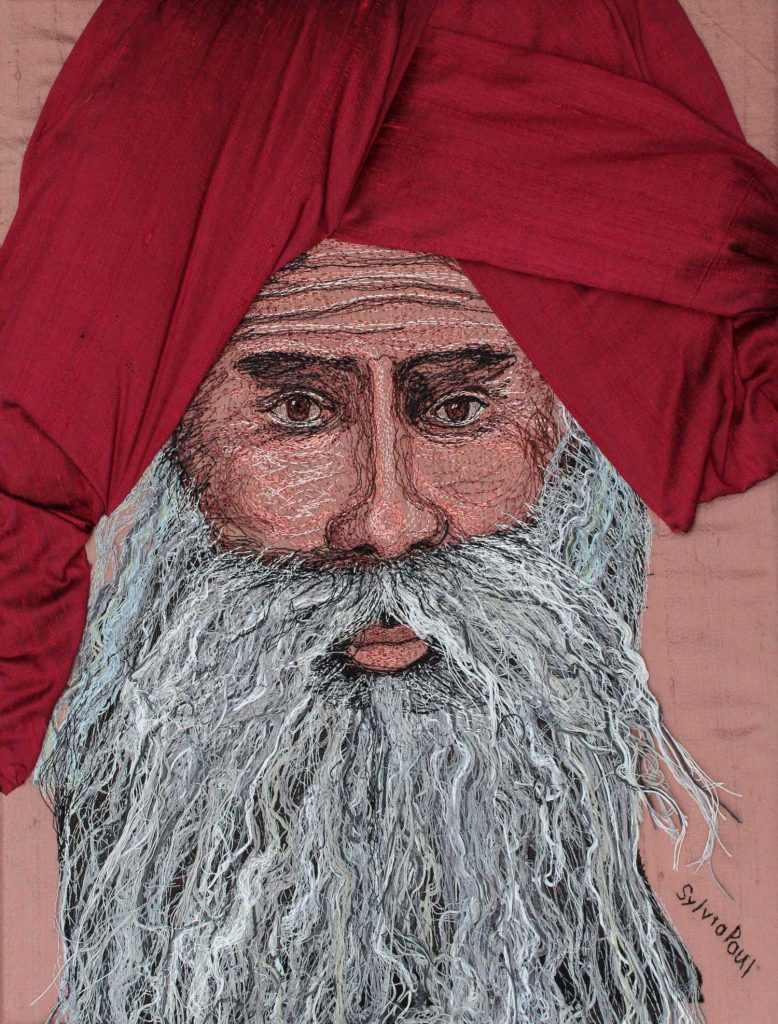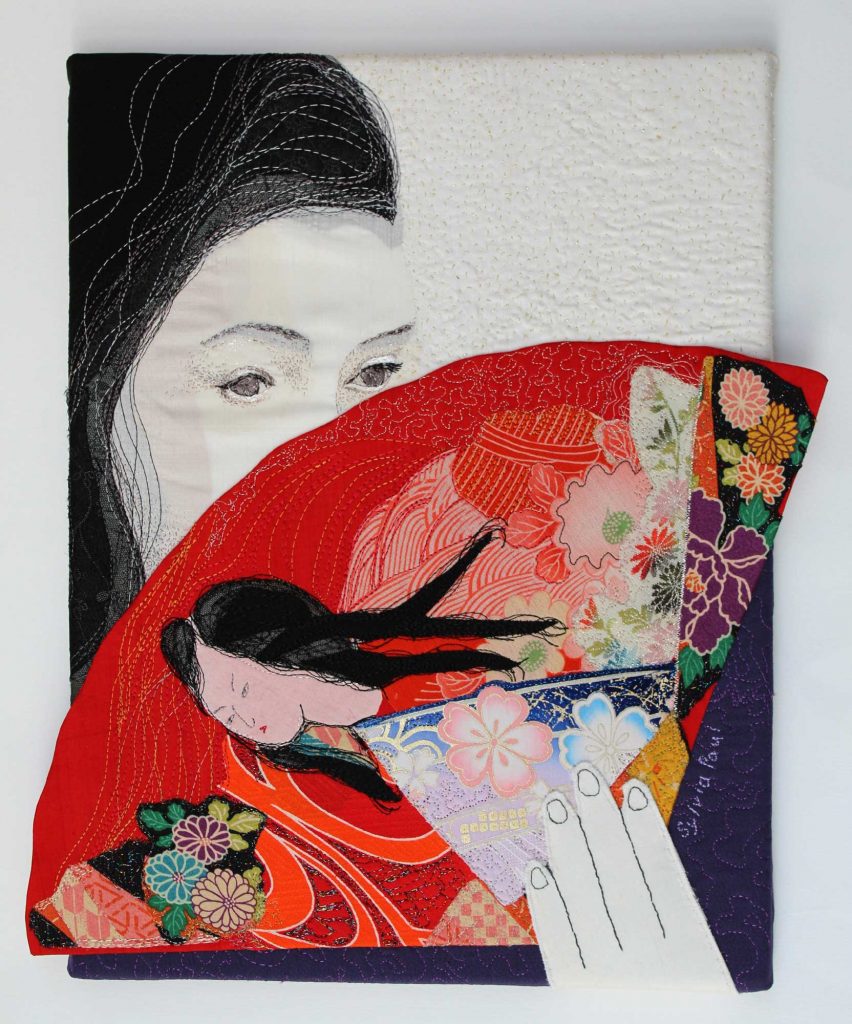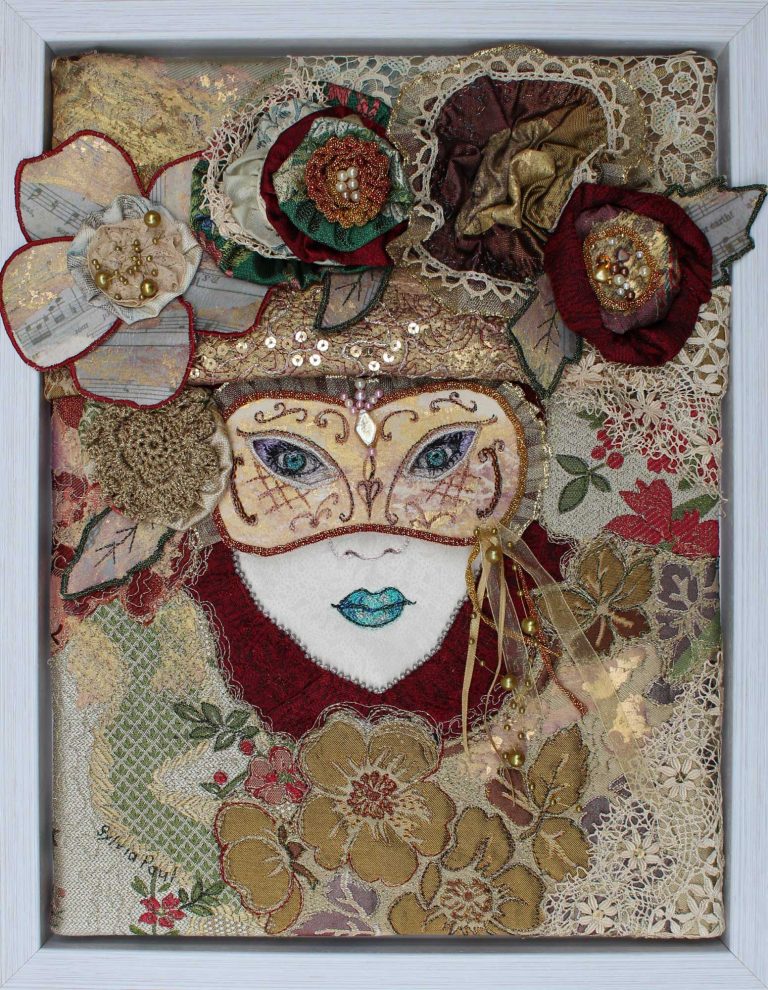 Beard, Fan, Mask Concealed theme for Art Textiles: Made in Britain 2016 FOQ by Sylvia Paul
From the collection WILD by Sylvia Paul 
What advice would you give to students who are undertaking courses with us?
"I would encourage anyone learning something creative to be open to ideas. To be prepared to experiment and through this discover something you love doing. Focus and practice but be open to change as your skills develop. Learn from your mistakes and don't give up."