Caren Garfen could be described as an artist full of contradictions. She's a textile artist that didn't enjoy or excel at sewing in school and who now has an international reputation in this craft. Her signature works are dainty, detailed and intricately hand sewn pieces, but take a closer look and her pieces reveal dramatic and often, painful subject matters. Her beautiful simplistic style is in stark contrast to the complicated and well-researched societal issues depicted.
Caren is renowned for her exploration of gender stereotypes and femininity and has for many years focused on eating disorders and the significant influence social media exposure can have on body image. Her brave treatment of such issues has made her an international success with her work being exhibited widely in the UK and Europe, as well as in Japan, USA, and Canada.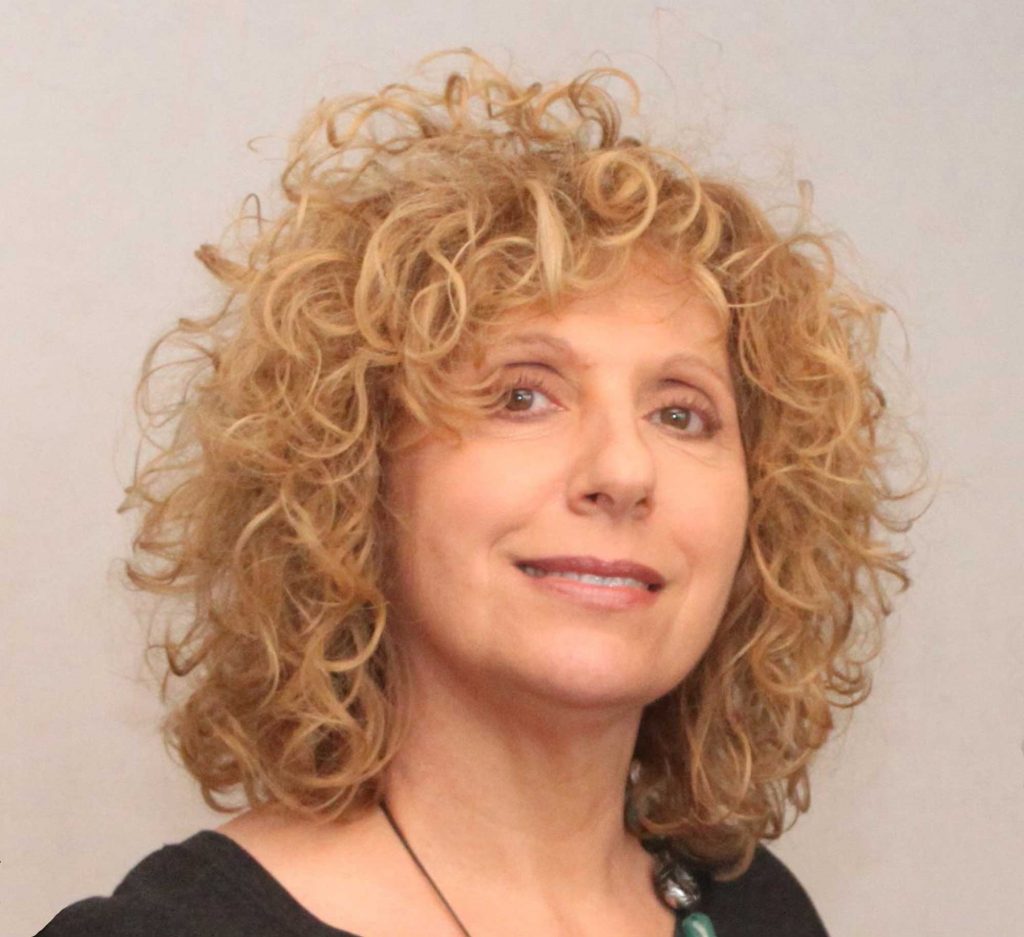 What was your first memory of stitching – who taught you?
"There was a competition at junior school for a pupil to produce the best wedding outfit for a doll. My twin won! She was exceptional at needlework from a young age. I made the same outfit with the help of my mum, and I thought mine looked identical to my sister's but obviously I was wrong! I wasn't very interested in sewing then, and even at secondary school would use any excuse not to do any work in Needlework lessons. I remember Mrs Bochanin being very patient with me, but I got so fed up with threads knotting that I gave up! My report card read 'C-, could do better'. I was twelve years old."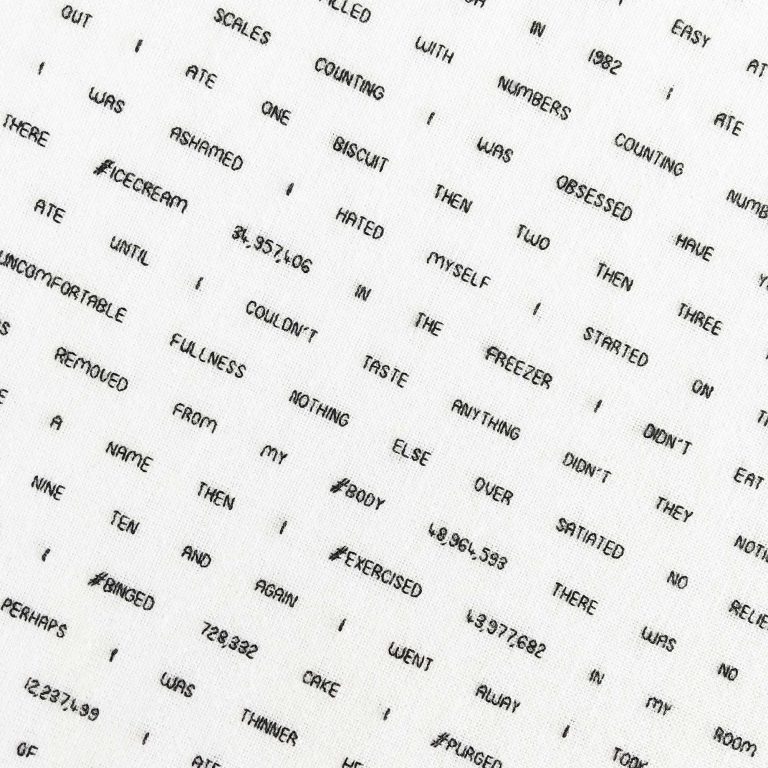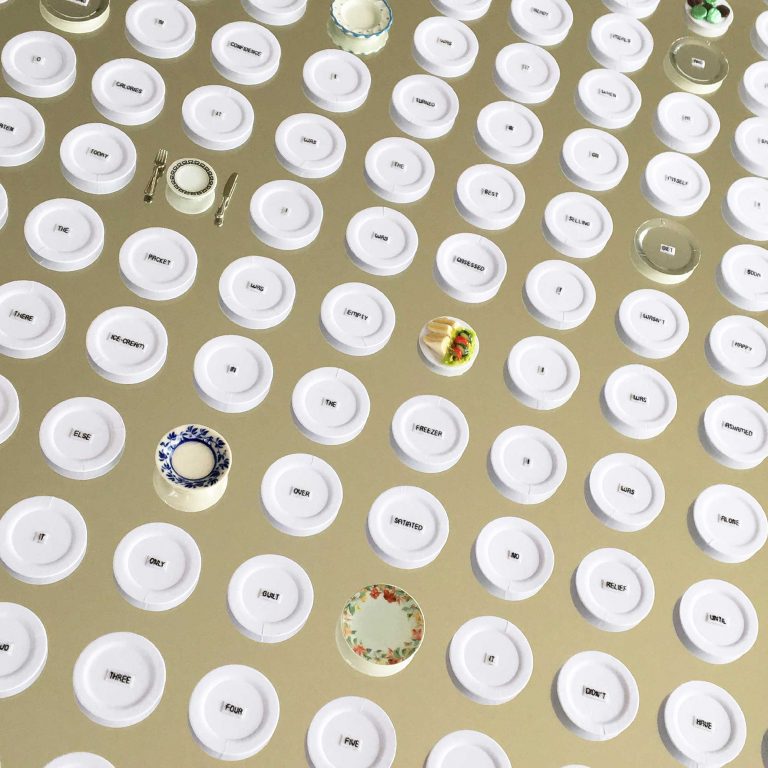 Where do you think you get your creativity from?
"I think that creativity is in my genes, but it is also something that can be taught and nurtured.
I was brought up in a family of very creative people; my grandfather was a tailor, my paternal grandmother a cook, and my maternal grandmother created the most wonderful mixed media collages in her seventies. An aunt sang and embroidered, an uncle loved amateur dramatics; another made bespoke kitchens, and my father was a hairdresser. My three sisters are all very able with a needle and thread. 
My mother was the most creative of all, mainly out of necessity. She was an outworker when we were little, sitting at an industrial sewing machine in her bedroom for hours on end making women's clothing which was destined for department stores. She made all of our clothes as we grew up, and even our wedding dresses! She would sit in the evenings hand knitting, barely looking at the knitting needles! I think that creativity needs to be channelled, so being taught new skills, or extending one's knowledge, are really important.
I was always doing one course or another, and eventually signed up for a City & Guilds in Creative Embroidery. For two years I was learning new techniques and looking at everything in a different way. It was really worthwhile as it led me to enrol on a degree course in the Applied Arts. This not only gave me confidence but also left me equipped in the role of the artist I am today."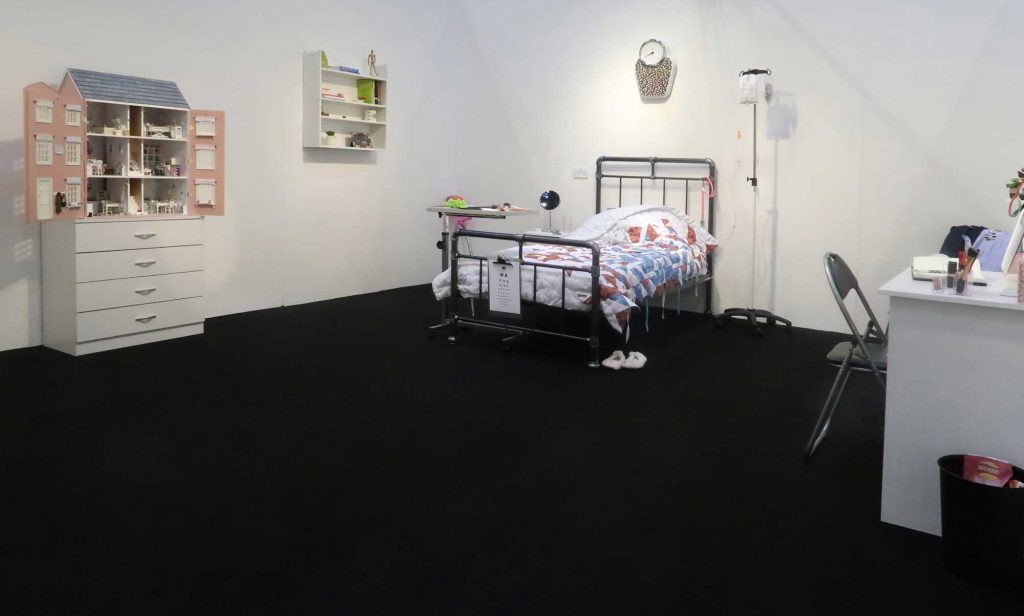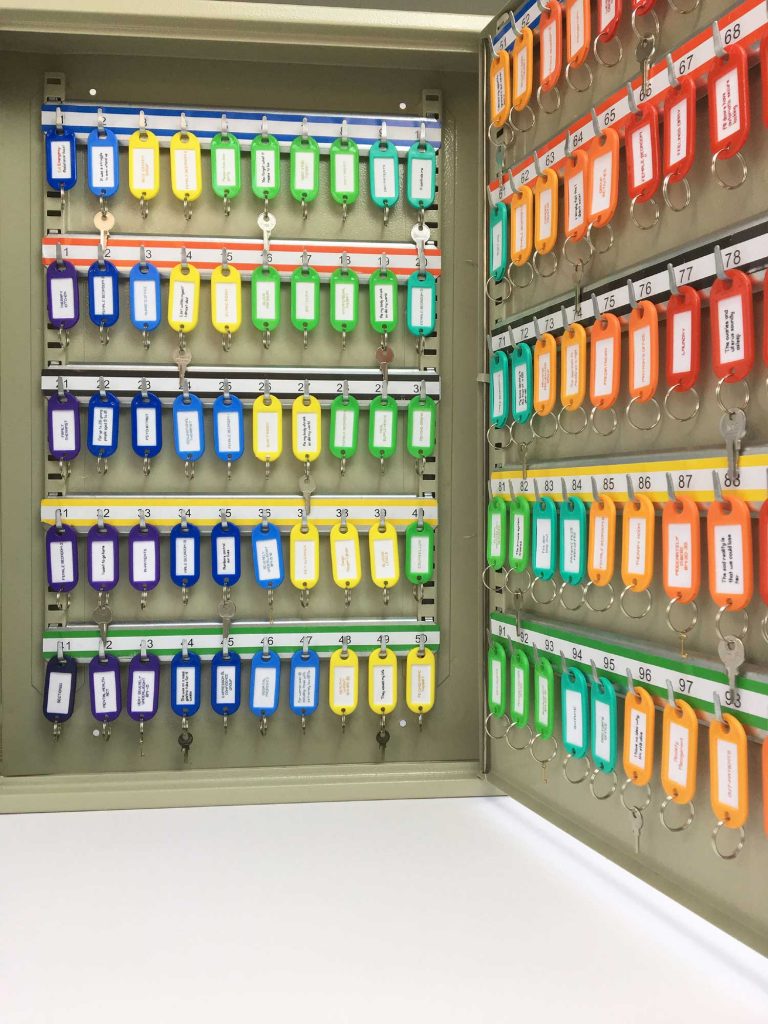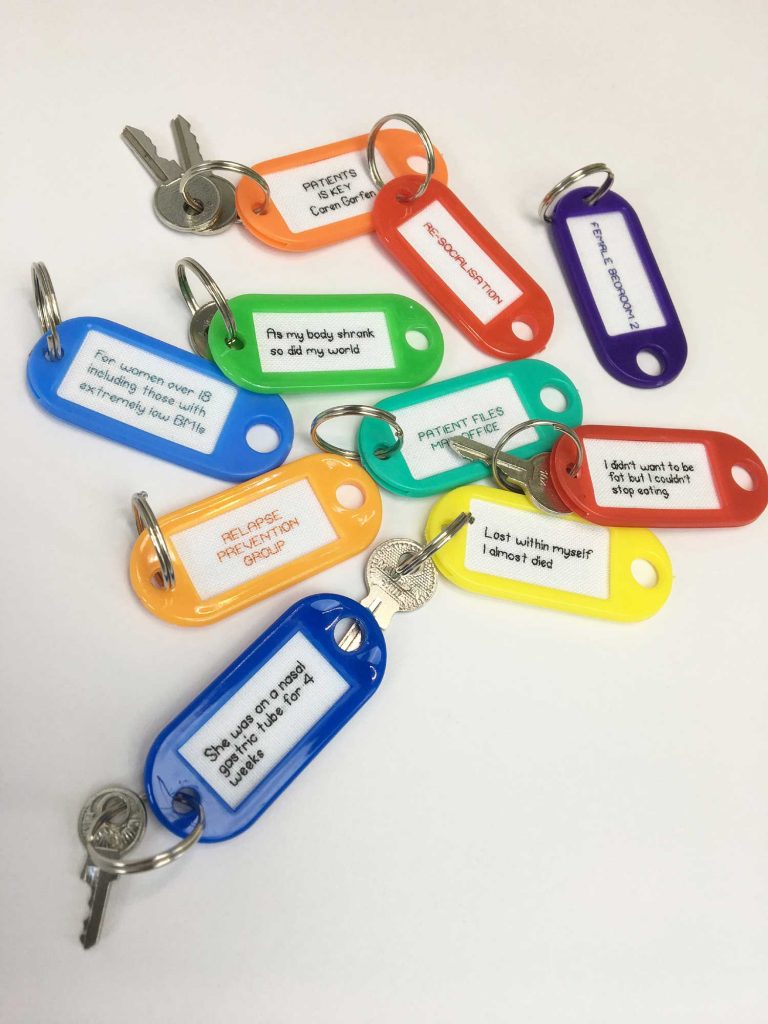 What project(s) are you currently working on?
"I am at the very early stages of a new project; the ideas are bubbling up in my mind and need to be transferred onto the fresh white sheets of a newly purchased sketchbook. Some projects, which may take up to four years to complete, will have around eight sketchbooks filled with research, drawings, photographs and thoughts. At this point I am reading relevant books, cutting out articles from newspapers, scanning Google and visiting exhibitions. I don't usually share my ideas at this stage as I really need to get them to a point where I think "Yes! I can make an actual artwork out of this concept."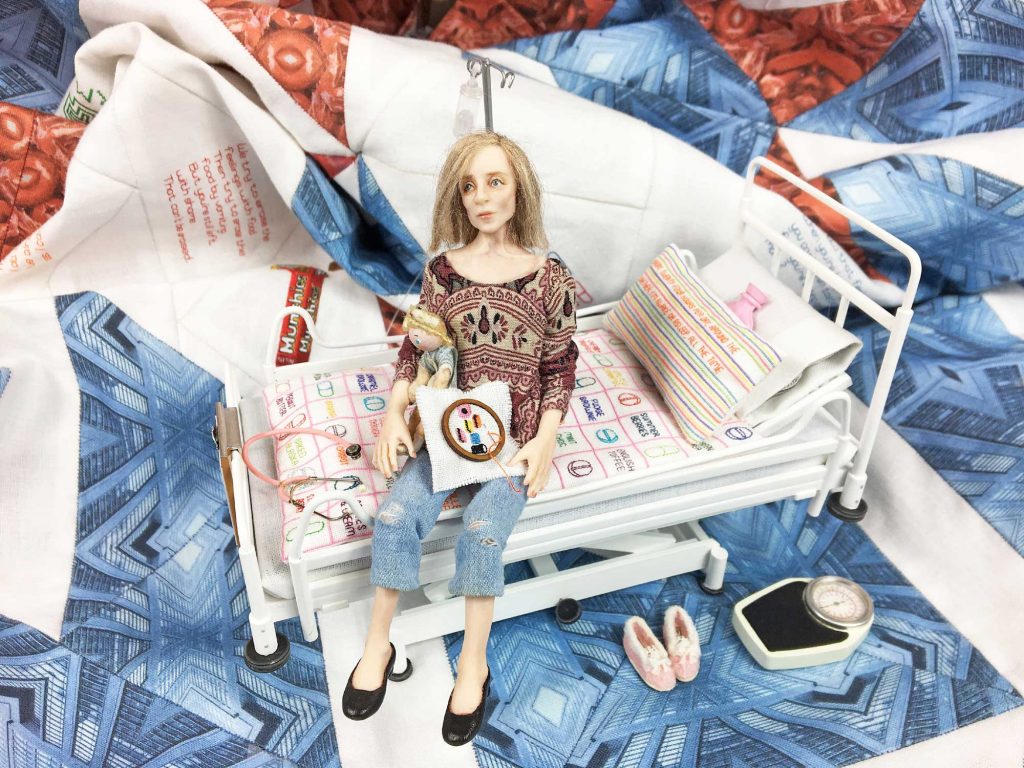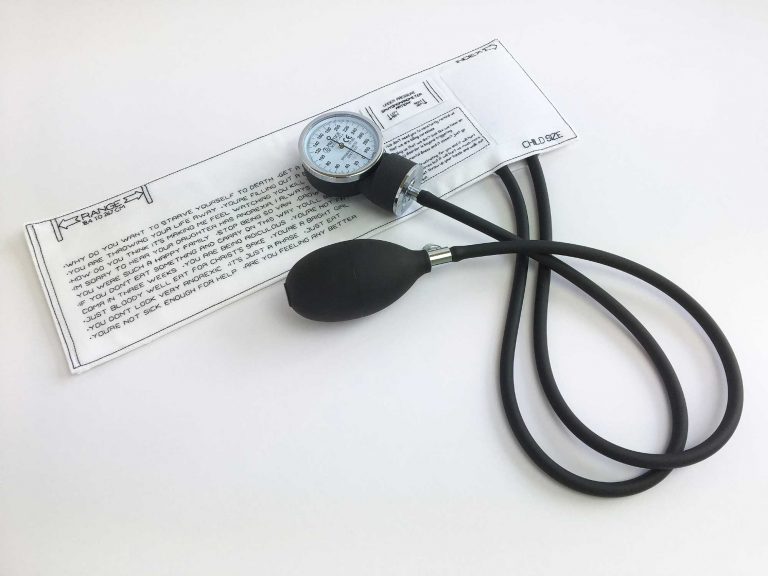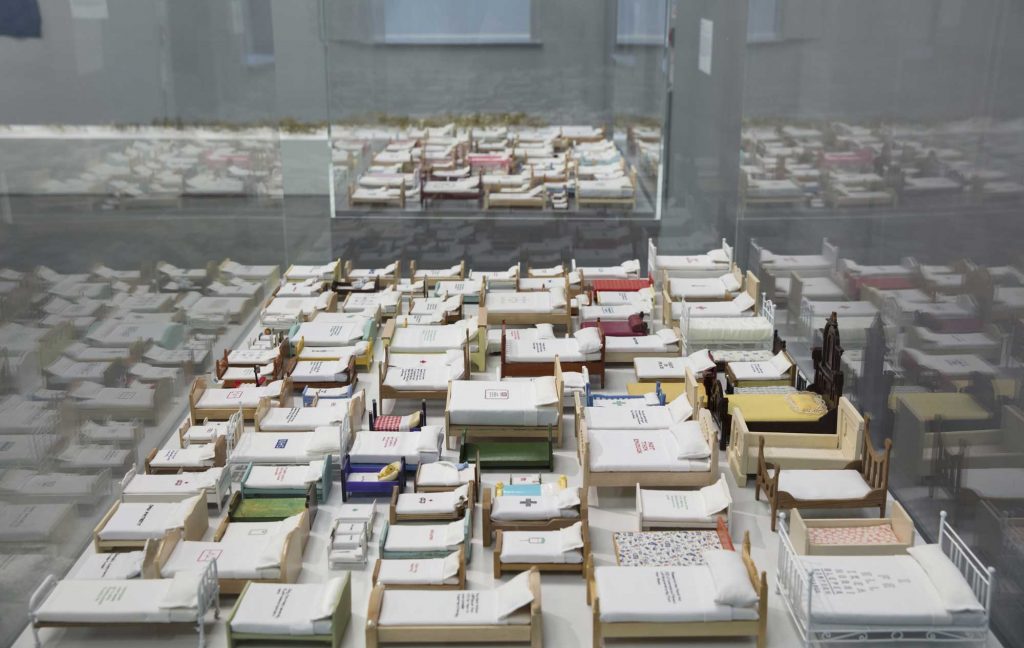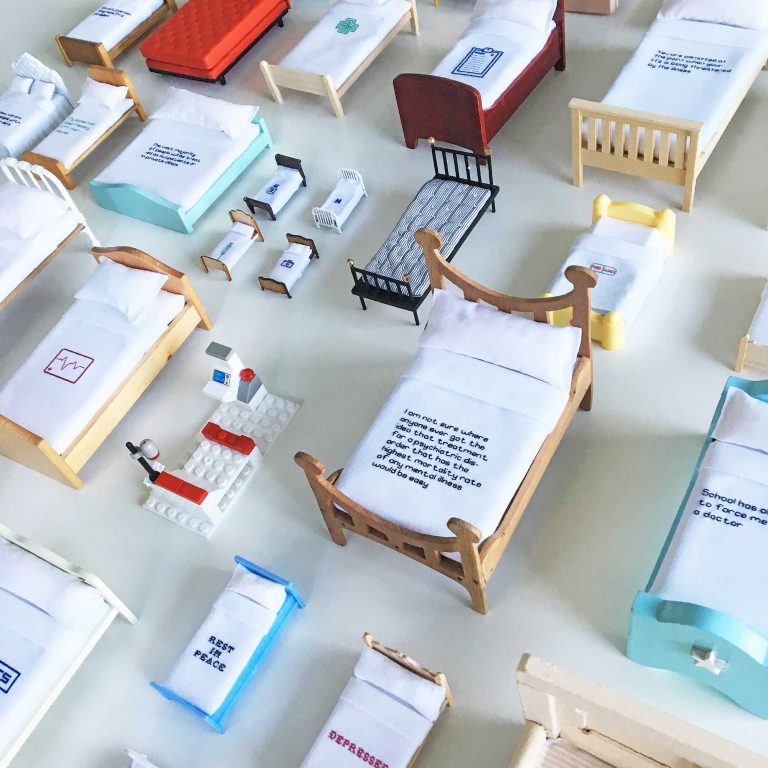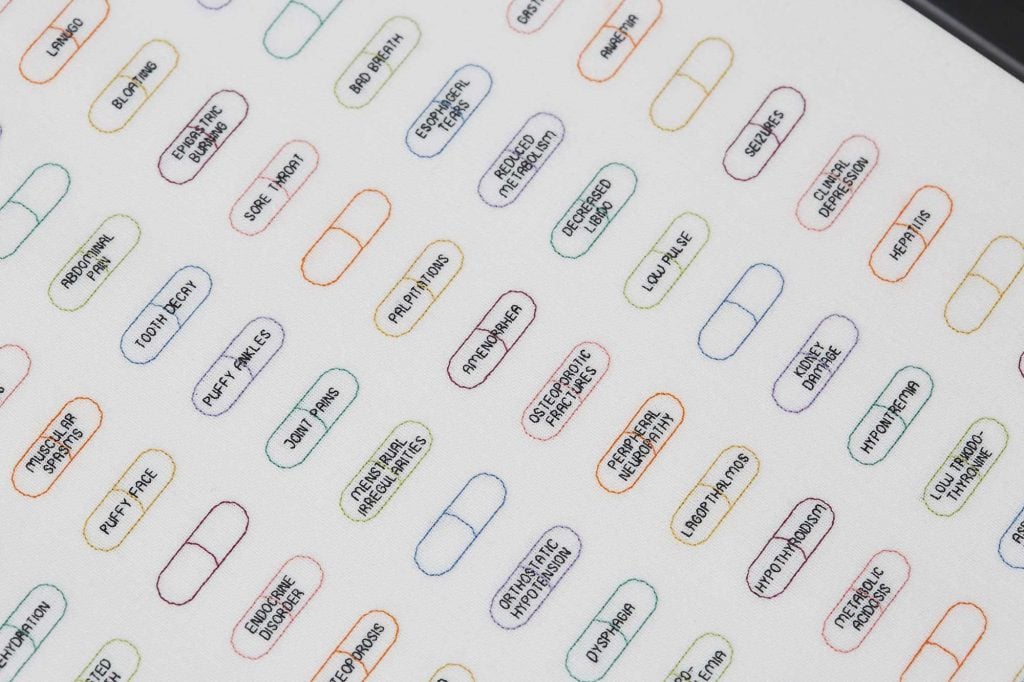 Your work is issue-based, incorporating social statements – how did this come about?
"As I progressed through my degree course I became very interested in research. The essays and dissertation, which I had been dreading, became really exciting to me. I loved studying different artists and theories at a deeper level. I enjoyed posing an argument, dissecting it and reaching a conclusion. 
All of these thought processes were transferred and developed in my practical work. I was interested in other people's experiences and used questionnaires to seek them out. I also sought out government surveys and academic papers to back up my own research. I think that I am really trying to make sense of the complex world that we live in today when I am creating issue-based art."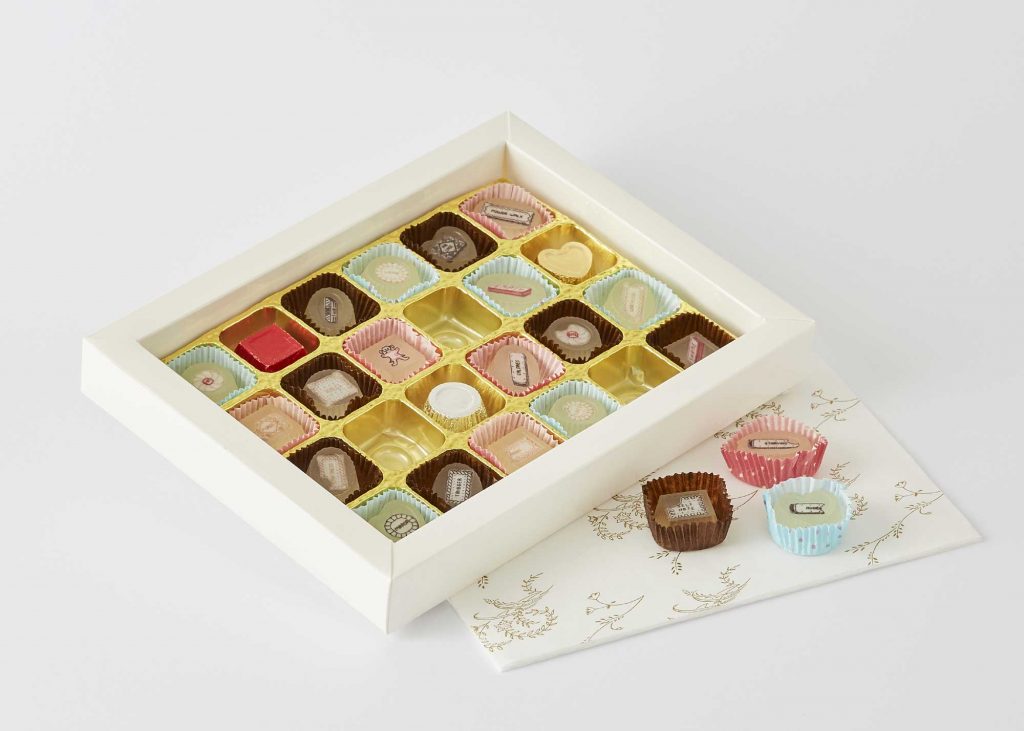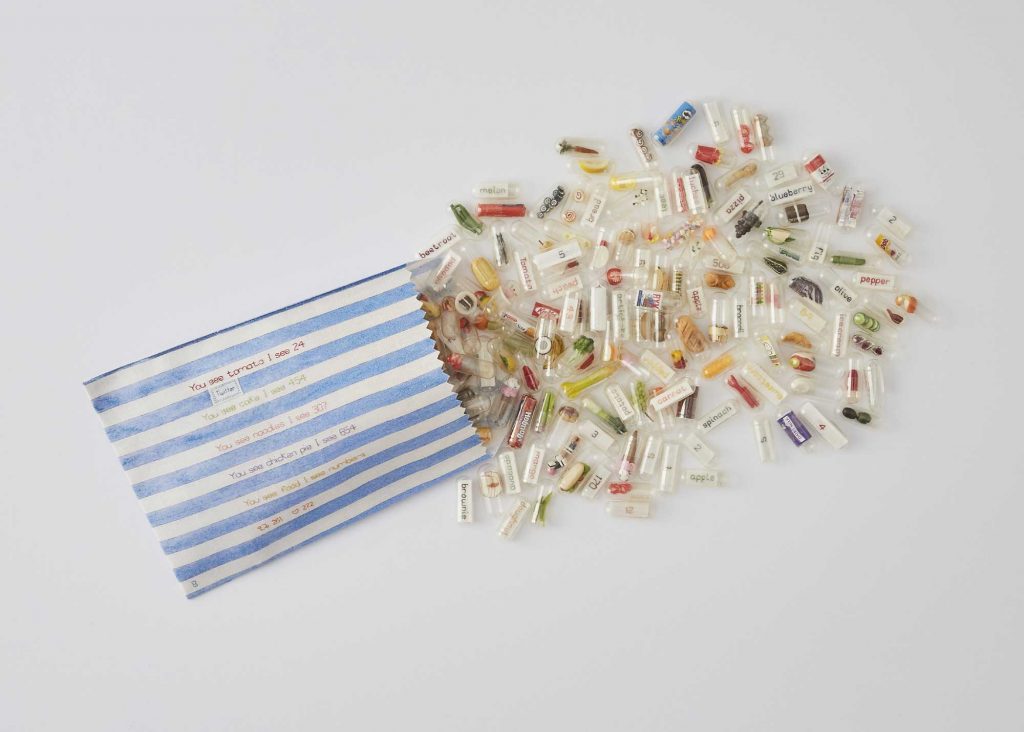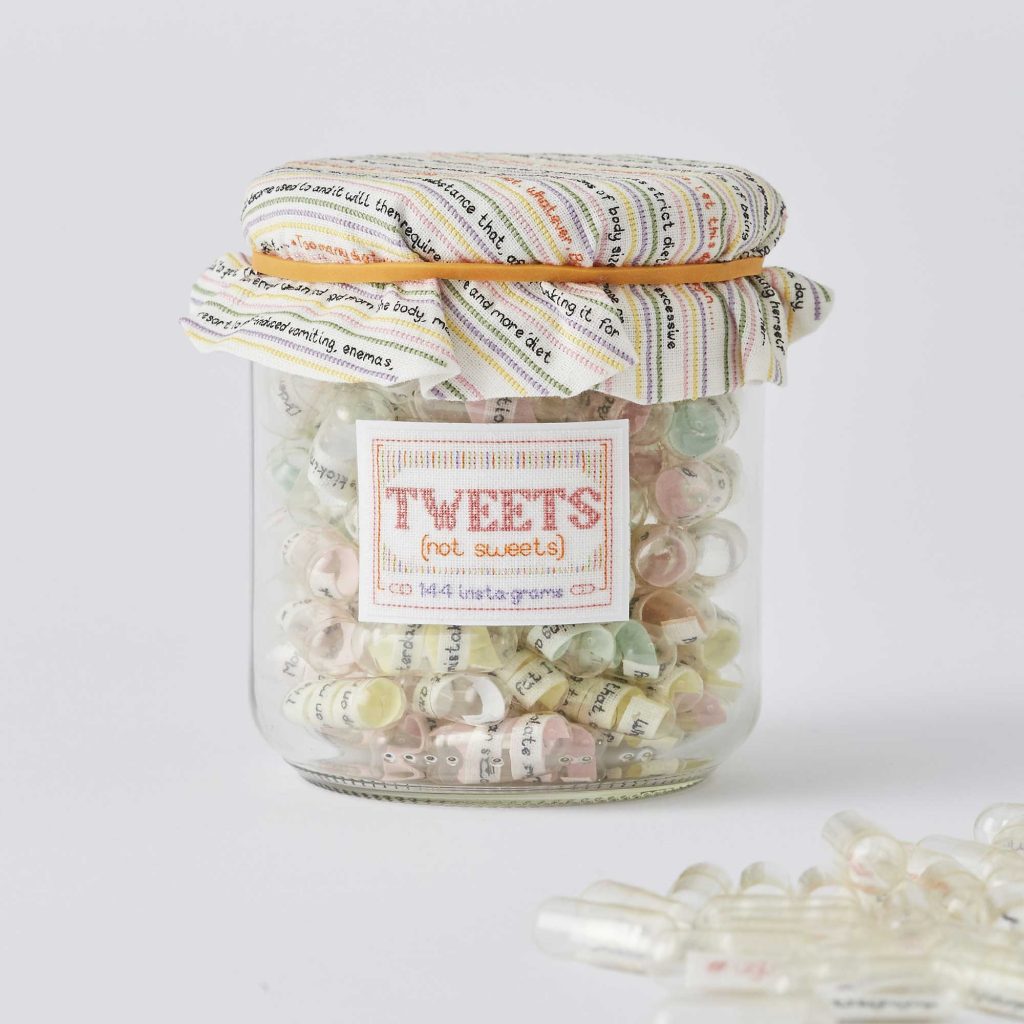 What do you consider to have been the highlight of your career so far?
"Many exciting things have happened over the years so it is difficult to think of just one. I still feel so much pleasure when I think of the time when I was selected as an Embroiderers Guild Graduate and Scholar; winning One Year On at New Designers; attending the Private Views of 'Quilts 1700-2010' at the V&A and the RA Summer Exhibition; making site-specific work for Salts Mill in Yorkshire and for Newark Park National Trust Property in Gloucestershire.
However, I think the most recent highlight of my career so far, was being invited to have a second solo gallery at The Knitting & Stitching Show. I exhibited my bedroom/hospital room art installation, 'What's Going On Upstairs', which was based on eating disorders. It was here that a mother came to my stand to tell me about her daughter who had been very ill with anorexia nervosa.
Four years prior to this she had come with her daughter to the K&S after she had spent five months in a specialist unit which, I was told, had done little to improve her condition. She brought her in to see my kitchen art installation 'She Was Cooking Something Up' which was about women and dieting. The mum told me that something in that kitchen had touched her daughter, that she had become obsessed with what she had seen, and that it was the beginning of her recovery. I told her not to say anymore because I would cry, but she carried on, and said that her daughter was now doing very well and was studying textiles at university. What more could one want from a piece of artwork?"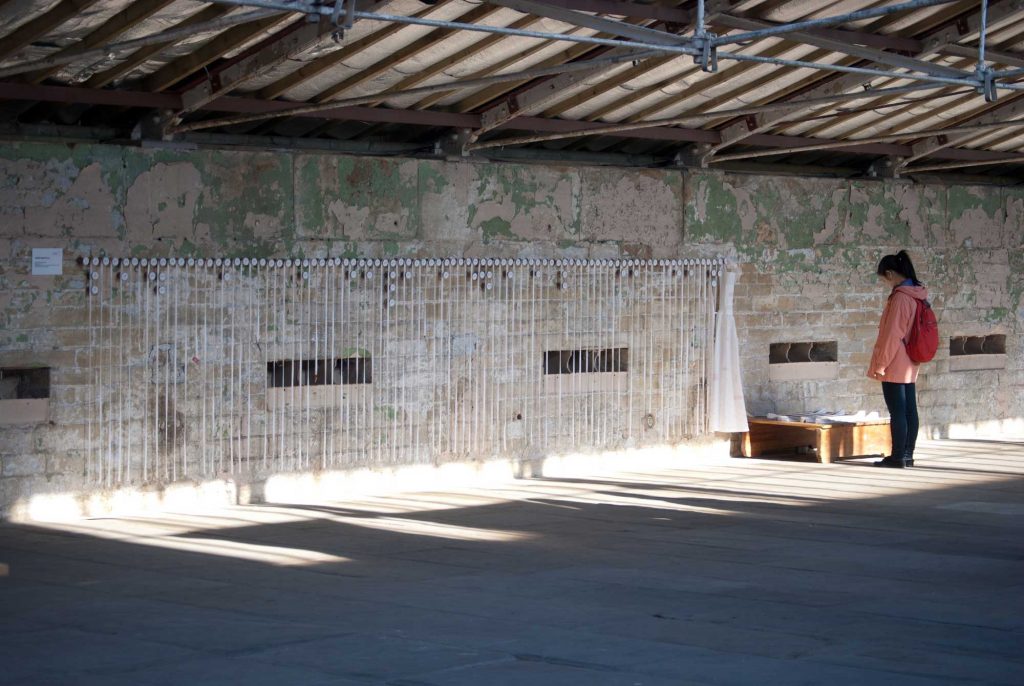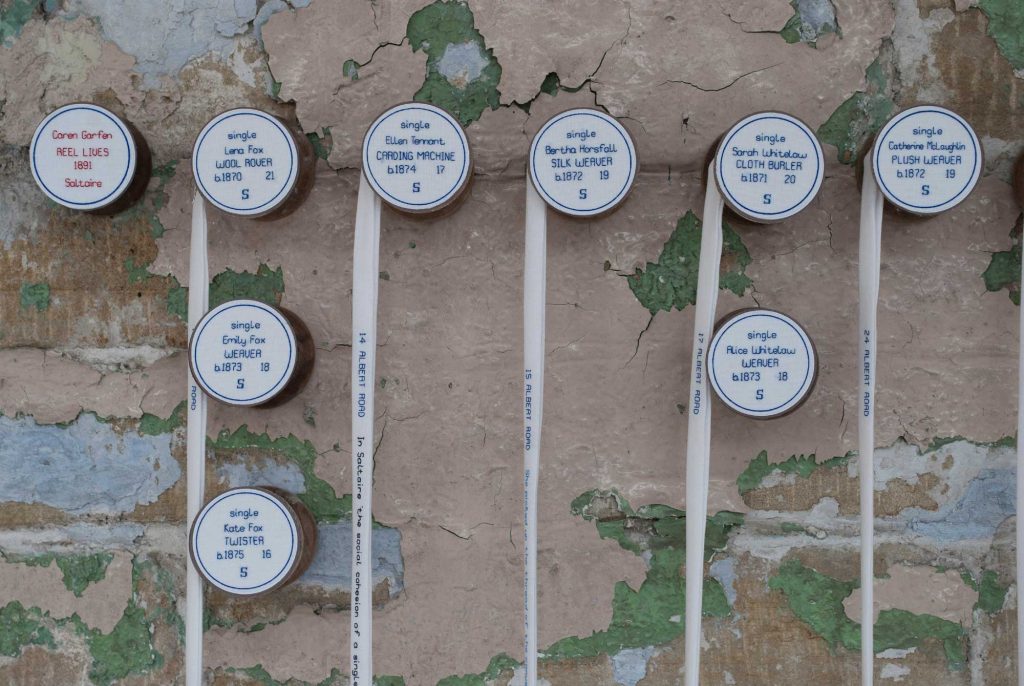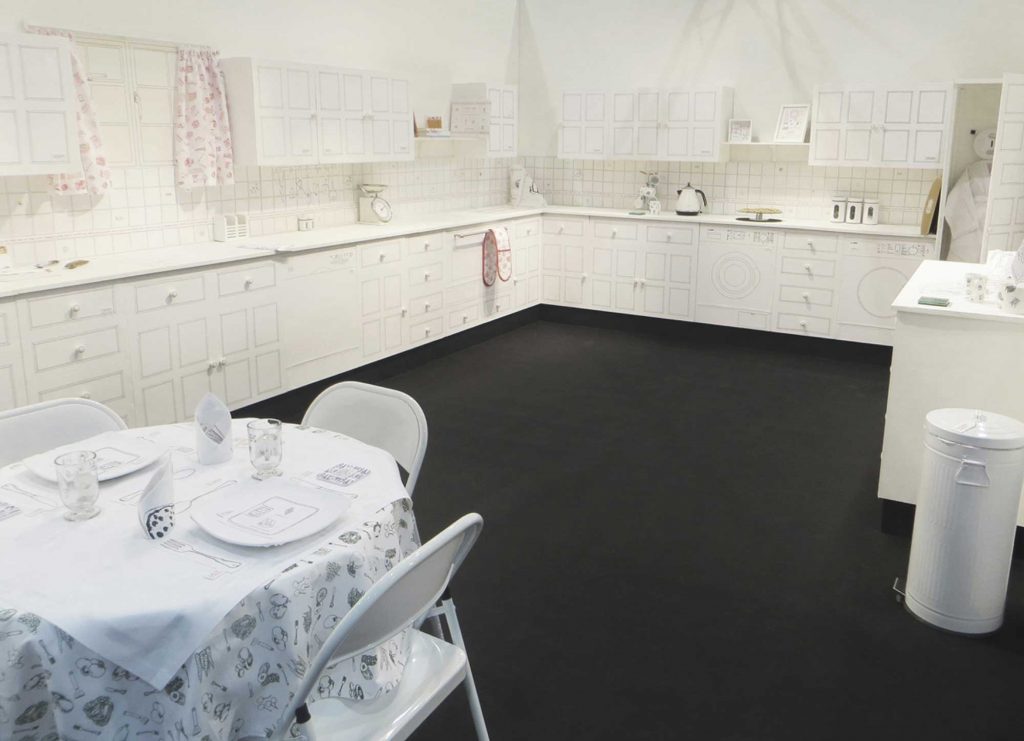 Which artists inspire you personally?
"Artists who have inspired me the most would have to be Judy Chicago, Mona Hatoum and Louise Bourgeois. I have more catalogues on them than any other artists!
I wrote my dissertation mainly about 1970s American artists. It centred on the works of Chicago, Miriam Shapiro, Faith Wilding, Suzanne Lacy and Aviva Rahmani, all of which were truly fascinating. These First Wave Feminist artists were trailblazers, creating innovative textile artworks that dealt with women's concerns such as rape and bodily functions at a time when they were regarded as taboo and perhaps still are.
I recently saw the work of American artist Jenny Holzer at Tate Modern at a time when I was having a mini crisis about my work. Holzer's work takes many forms, including textiles, and words are a dominant feature in her art. I had been worrying that I was concentrating too much on text, even though they are central to my work. I walked around the gallery which had walls lined with printed words, or flickering on signs, or engraved into granite. I decided to have more faith in myself and my love of words!"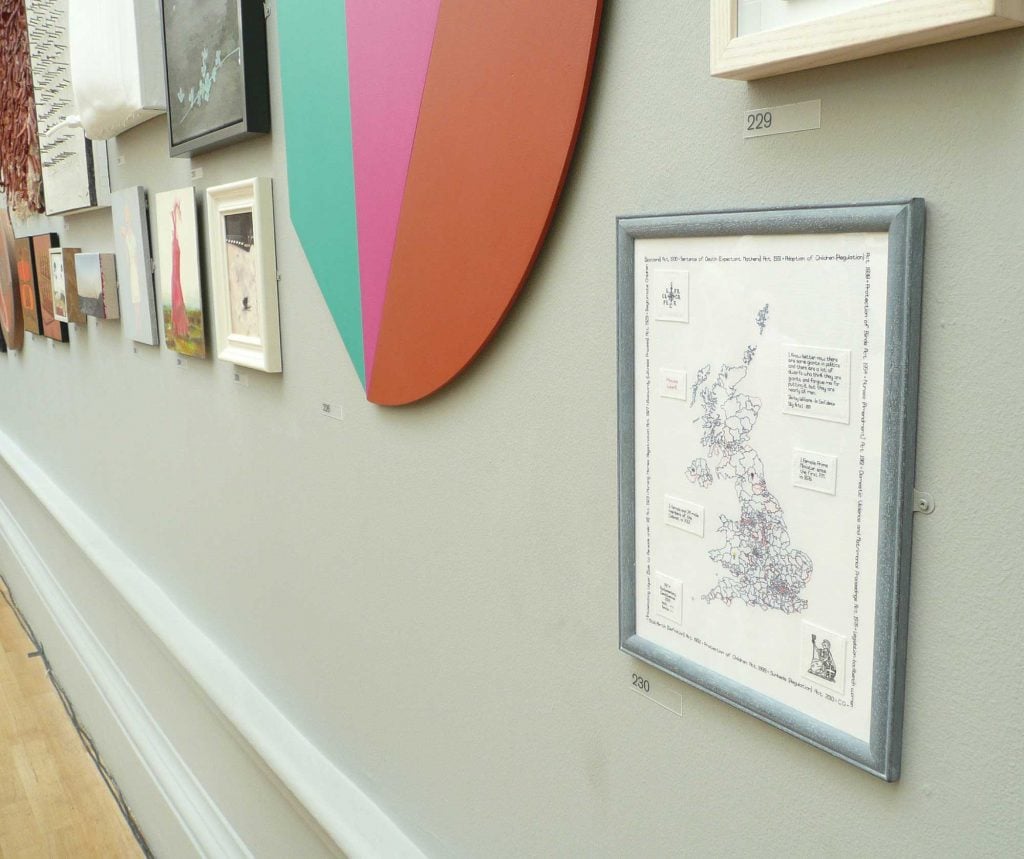 How did you develop your own style and inner voice? Was there a defining moment for you or was it a gradual process?
"I think that the defining moment happened in my final year at university. I studied for my degree part-time and this gave me plenty of time to develop thoughts and processes. In the fifth year I was looking at ways of embellishing my final pieces. I began playing around with words, and hand stitched puns onto handmade labels. I really liked the humour but I wasn't sure how people would react to it. It turned out that my labels were the talk of the faculty; everyone loved them and the tiny stitches. I expanded on this idea and it became my signature in the early years. I have now moved on from the labels but still like to use a 'turn of phrase' in the title of each work. I constantly listen to my 'inner voice', and describe it as having an innate feeling as to whether an artwork is going to be successful or not, if that makes sense."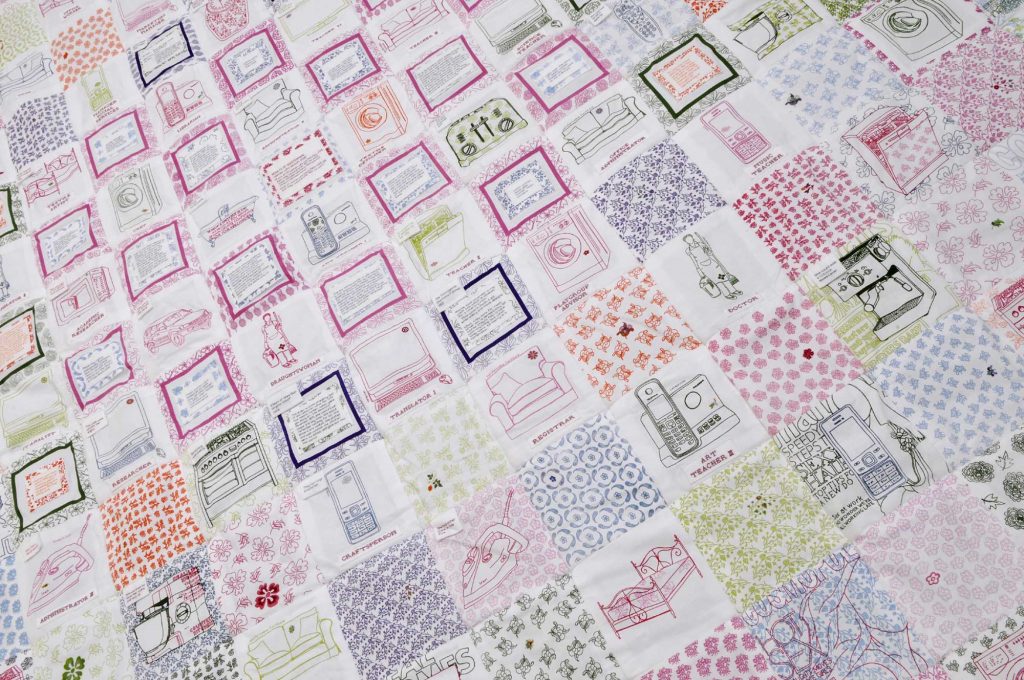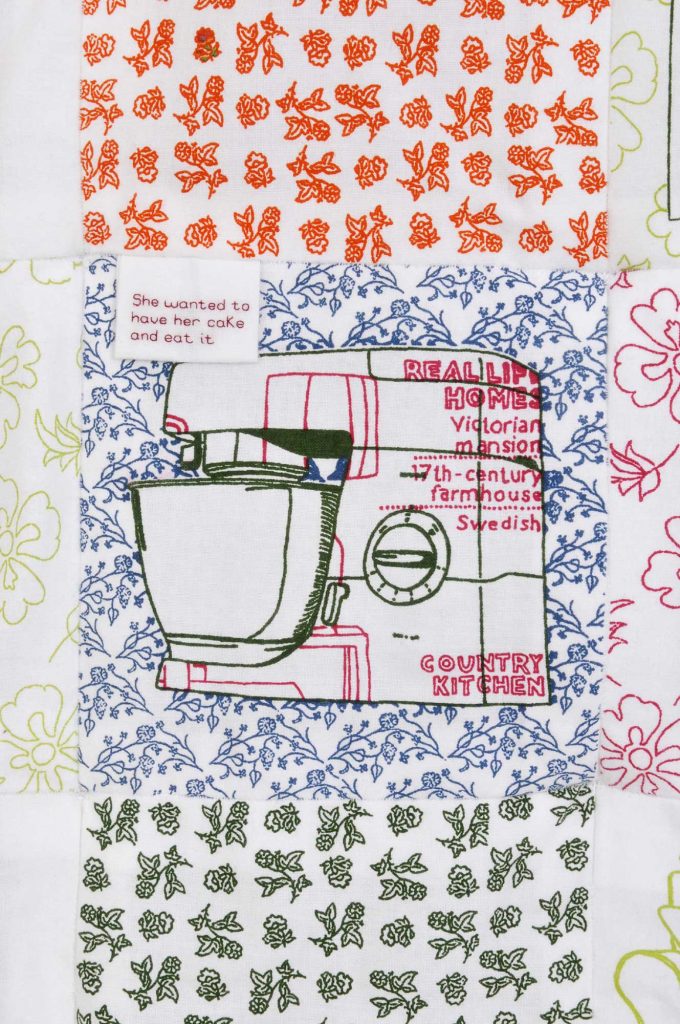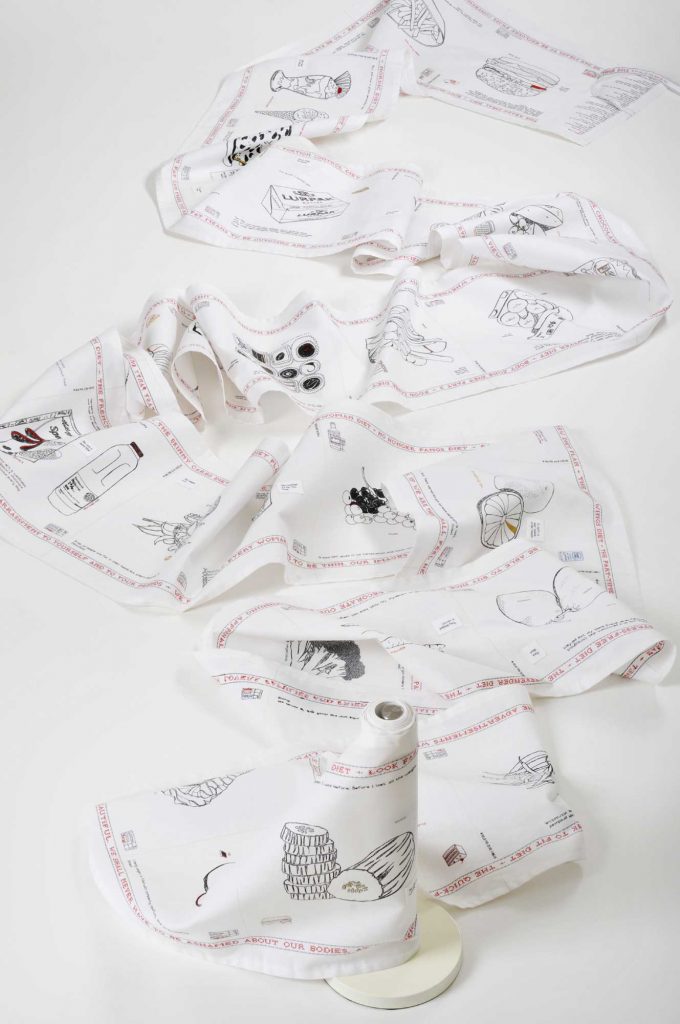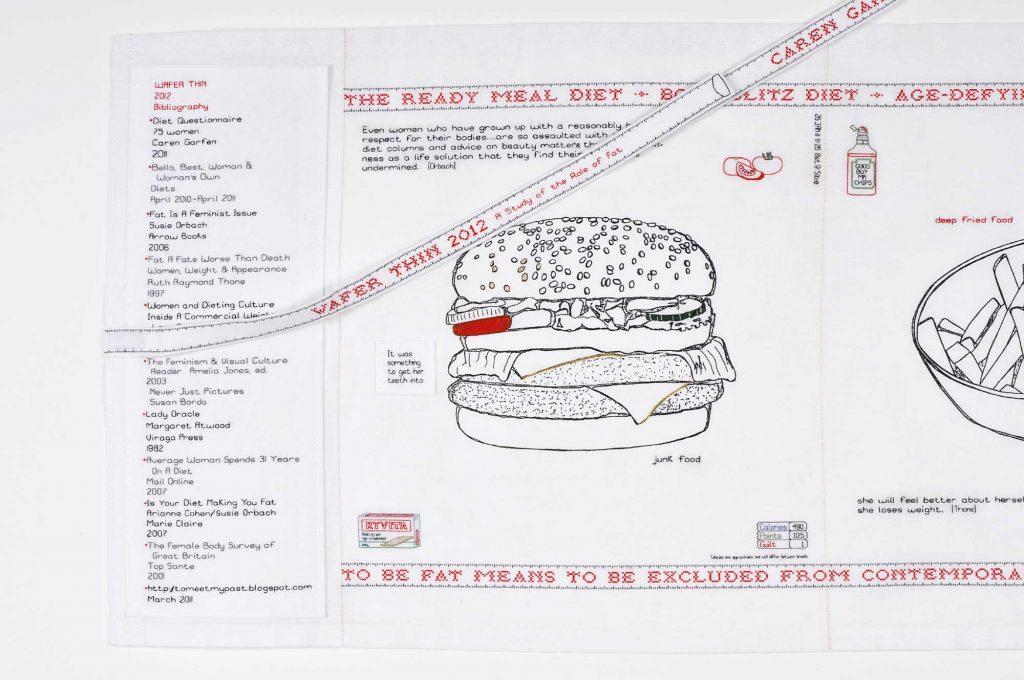 You use mainly hand stitching in your work – does this help you feel closer to the pieces as they evolve?
"Yes, definitely. There is something exciting about picking up a blank piece of cloth to begin stitching. I will select the colours of the silk threads and choose the thickness of the strands. As the work evolves, I will be listening to my inner voice – I'll still be thinking about the concept, how the work is progressing, where to place a particular stitch and how I am going to construct the completed piece.
By the time the sewing is finished I am truly connected to it. When I stitched 'Augustus and Edie' I already had the words of the poem 'The Story of Augustus' by Heinrich Hoffmann, 1798-1874, etched into my brain by my husband who would randomly start to recite it! At junior school, at the tender age of six, he and his classmates had to learn the poem. When it came to performing it in front of their parents, each child, one by one, began to forget the words! I loved the poem, and felt that it fitted very well with my concept on eating disorders. I decided to construct my own 21st century version of Hoffmann's poem, with the same structure and rhythms. It is one of the few artworks that I would not want to be parted from."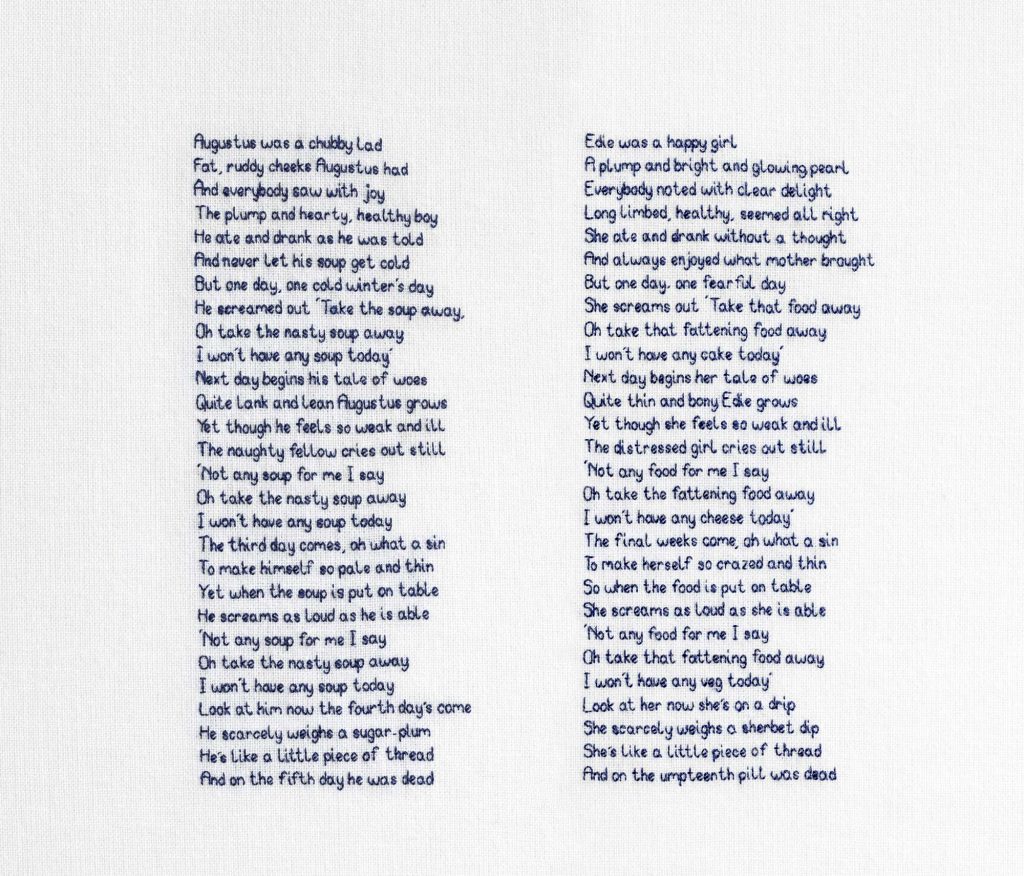 What advice would you give to students who are undertaking courses with us and perhaps hoping to pursue a career in the arts?
"I think the best path is to expand people's knowledge, and to challenge themselves in whatever area of stitch that excites them. It is important to research contemporary artists, not just those who specialise in textiles. I have been inspired by potters, jewellers and glassmakers. Go to lots of exhibitions, read relevant books, draw and take photos. Fill sketchbooks with your ideas. I think the most important advice is to develop your own style. By all means be inspired by others, but if you want to create really authentic pieces, the ideas must come from you."
We'd like to give huge 'thanks' to Caren for sharing her incredible work and insights with us today. You can find out more about Caren by visiting her website or the 62 Group. You can also follow her on Facebook, Instagram and Twitter or get in touch by emailing her: caren@carengarfen.com.