Sara Dennis is a tutor of Hand Embroidery, regularly teaching at the Royal School of Needlework (RSN). Having studied at the RSN for three years she became an expert in her craft which allowed her to teach at prestigious venues like the Victoria and Albert Museum and The British Library.
As well as exhibiting and managing a busy programme of tutoring, Sara has more recently began filming for her new role as an expert on the BBC's The Repair Shop, where craft experts pool their talents to restore heirlooms and treasured antiques to their former glory.  Sara's first appearance on the show involved restoring a huge hand-stitched bedspread.
She has also been working with us to create a brand new Goldwork course, aimed at complete beginners. 
It is a truly an honour to talk to Sara about her career so far.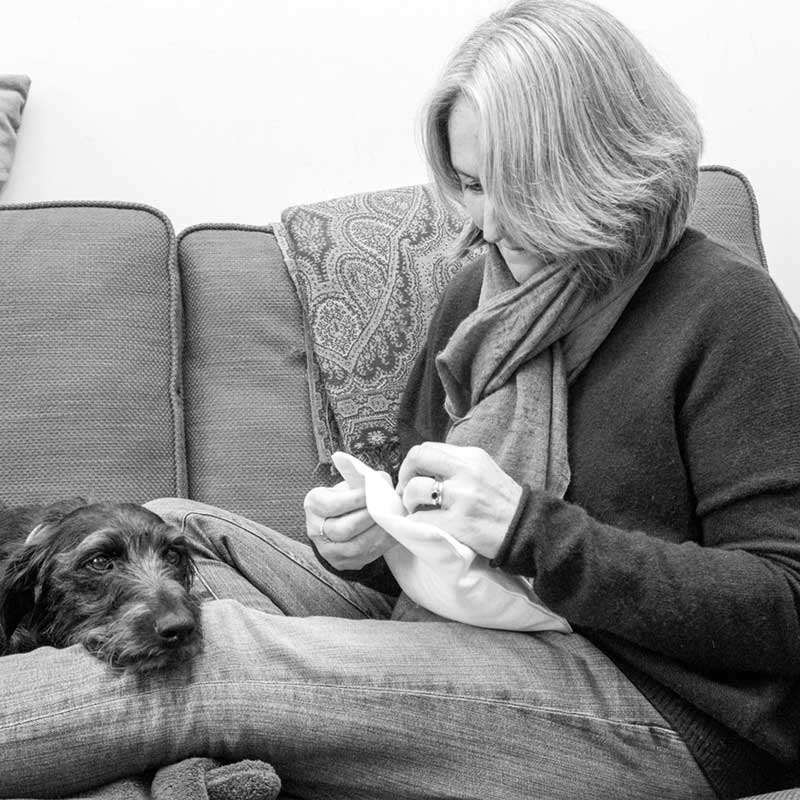 Tell us a little about what you are currently working on – what was your inspiration for it?
'I am researching a poem I found in the Victoria and Albert Museum archives. It is essentially a list of ancient stitches, some of which I have not even heard of. I think it is sad that some antique stitches are being lost, so I am taking the poem as inspiration and after the research I intend to create a sampler on linen using silk, recreating the stitches mentioned in the poem. Unfortunately, none of them is described just named so it may take some time to gather all the information. I do have a series of illustrated plates given to me by my father-in-law, so am reading through those as a start.'
What was your first memory of stitching – who taught you?
'My earliest memory of stitching was, like many embroiderers, with my grandmother. I remember making a calico apron with ladybird buttons, each one of the 22 buttonholes was stitched by hand in bright scarlet.'
Do you prefer working on your own designs or being set a commission brief?
'Each has its own merits, working on your own designs is a creative process which can be very frustrating but ultimately rewarding. You have the freedom to choose fabrics, threads etc. However, working with a client is just as rewarding, as long as the initial brief is understood, and the client's expectations are discussed. It is vital to engage in a constructive, informative conversation at the beginning of the process.'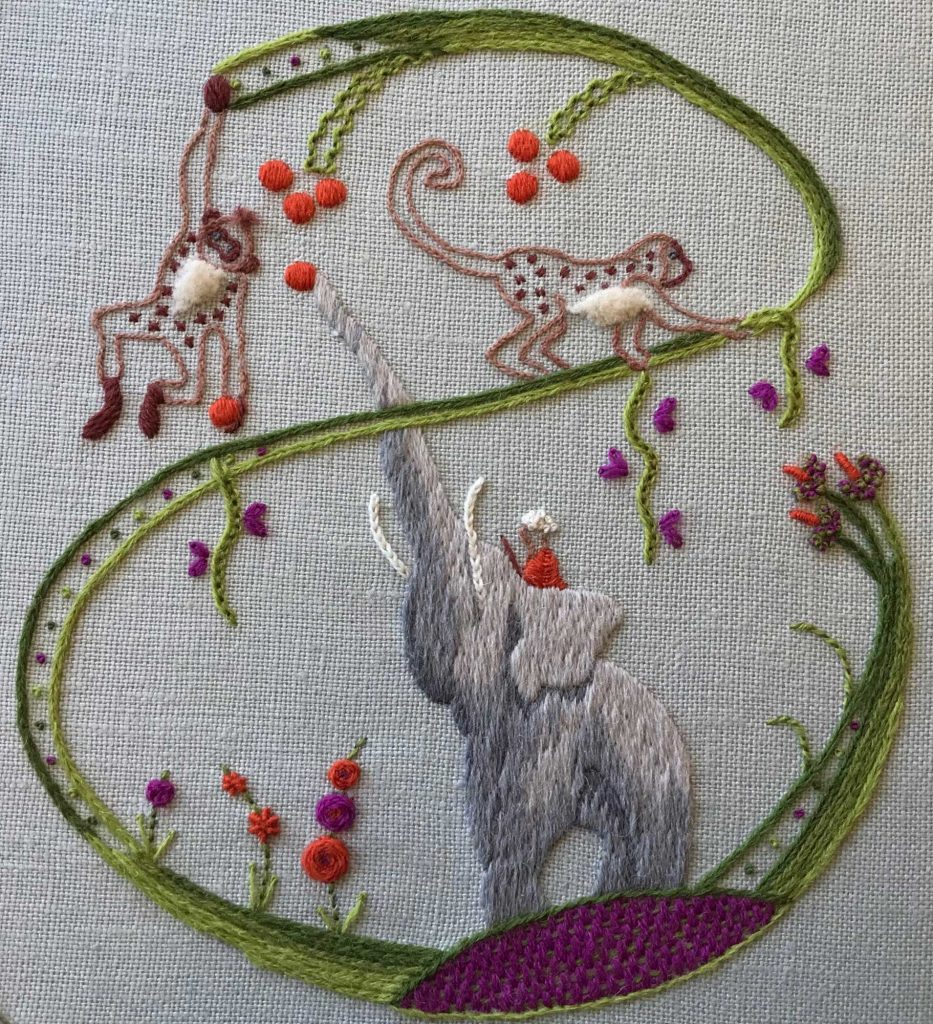 As someone who is trained with the RSN, how much of your current success do you attribute to your training. How much did it add to the artist you are today?
'The Future Tutor Programme is a three-year full-time course; and it really was full-time, I guess we stitched about 80 hours a week on average; but that did enable us to learn every technique taught at the RSN – from crewelwork to tassel making. We also worked in the studio on commissions and conservation projects. The grounding at the RSN has given me the confidence and ability to teach a wide range of techniques to a wide range of students. It has also had a huge impact on who I am as an artist, I now know the rules and knowing the rules allows you the freedom to break them and experiment. The programme is always evolving to maintain the highest standards of traditional hand embroidery.'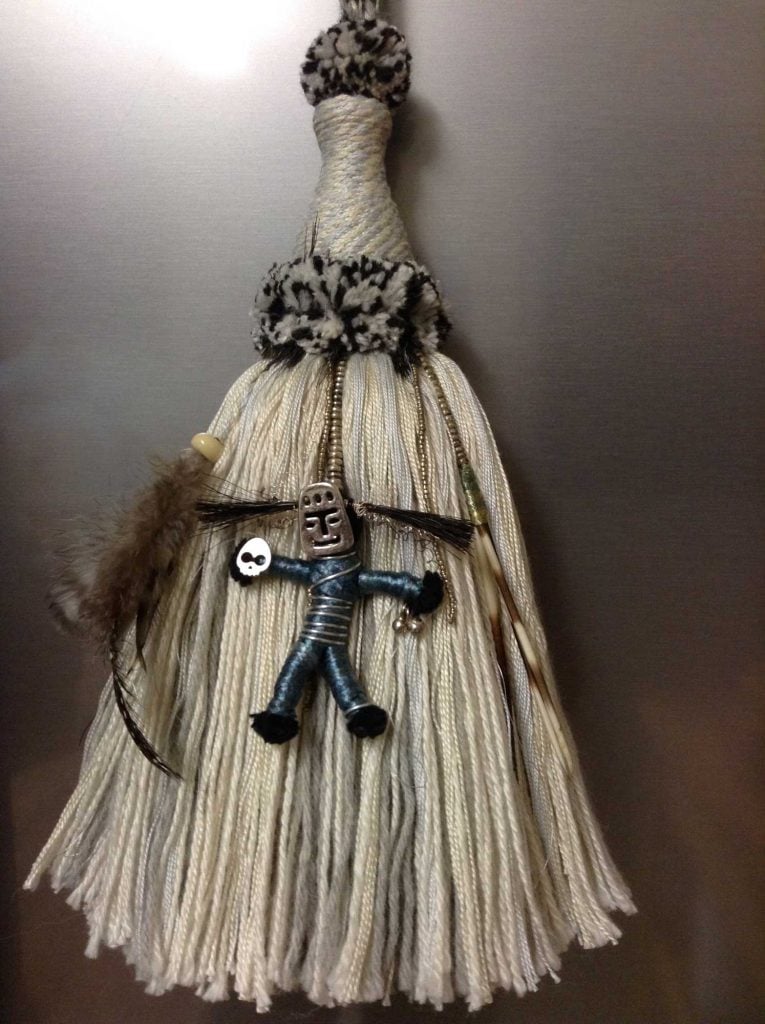 We know that you trained and worked as a nurse and then changed to study Art History at university before training on the RSN Tutor Programme. Many of our students are considering changing to a textile related career from their existing work – do you have any advice for them?
'If you are passionate about embroidery but are unsure about pursuing it as a career, it would be easy to say, "Just go for it", but it is not that simple. There is a lot to take on, being a talented embroiderer is not enough, you need business skills, you need to be organised and love hard work. You need to able to weather the knock-backs and be able to bounce back. But most important of all – you need to believe in yourself and sometimes that's the hardest part of the job – working for yourself by yourself can be a solitary path, but ultimately it is so rewarding.'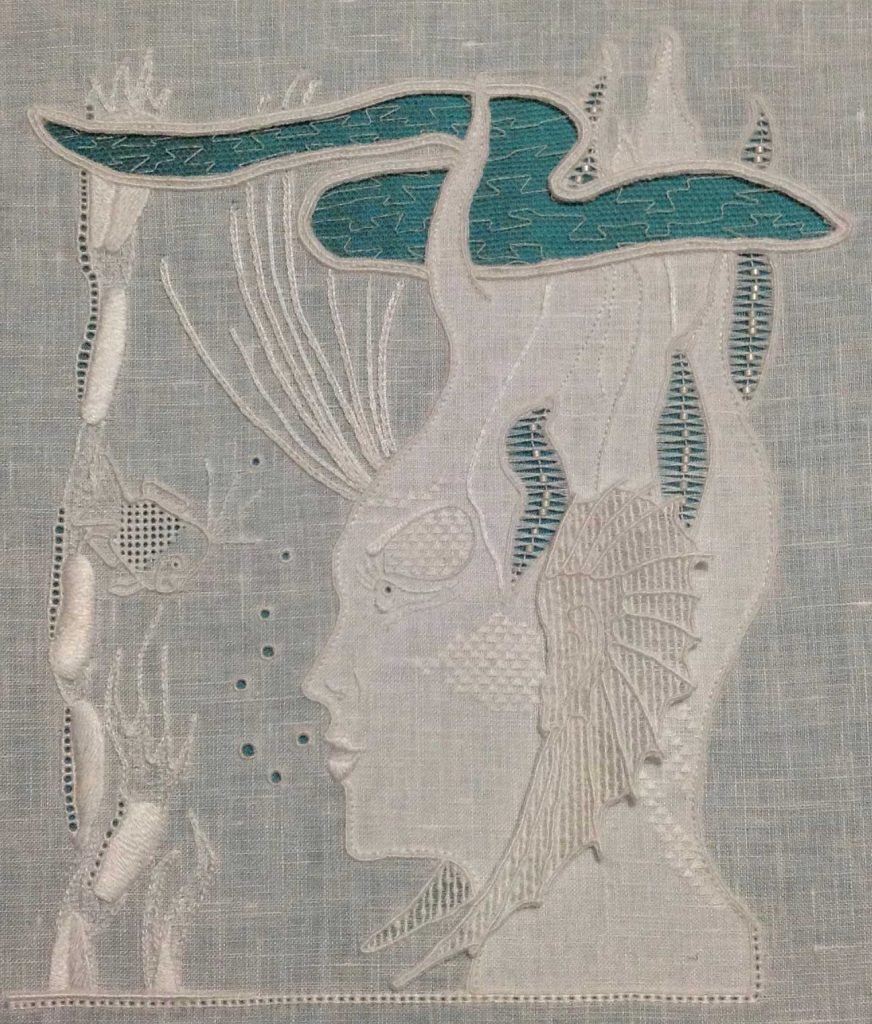 What is next? Do you have exhibitions or new books underway that you could tell us a little about?
'I am involved with The Repair Shop, which is great fun, and I am leading a couple of tours to Bangladesh and West Bengal for Colourious Holidays, which am really looking forward to. I would also like to start up an embroidery group in Lancaster in the near future. But if I am honest, I am just about keeping up with the work I have set myself at the moment.'