Christine Chester is an award-winning mixed media artist regularly producing pieces for exhibitions.
We find her story fascinating because it is only now that Christine finally feels that she is 'doing something that she loves' – working as a teacher and an artist. Christine herself admits that it has taken a long time to get to this stage so we caught up with her to find out more about her own creative journey.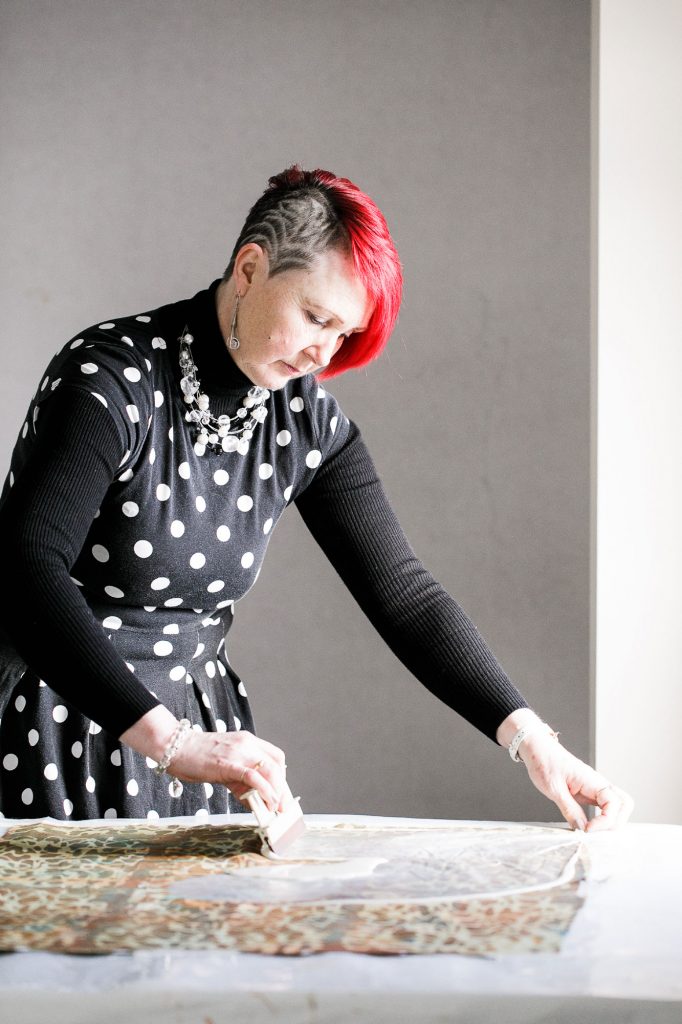 What projects are you currently working on?
As a member of Quilt Art, every couple of years the group puts together 2 travelling exhibitions. I am currently finishing off work for the exhibitions which open in 2019 – one at the Menier Gallery in June and the other at Festival of Quilts in August.
The small piece is a narrative of the development of a person, or a brain, from childhood through the busyness of adult hood to the chaos and then blandness of old age and dementia.
The larger is a response to a theme I have recently started to explore: the invisibility of women in history and the history of art in particular.
As both of these are at a stage where I only have to finish off some of the stitching, or tidy up in order to hang the piece, I am also planning my next piece which will be another piece about dementia. My work with dementia is fed by my family's own experience of my dad and much of the early work featured photographs of him working when he was in his prime.
More recently, the work had taken a much more generic form about identity and absence generally. This new piece of work will take me back to an image of my father but worked in transparent fabrics so the form will be uncertain, unclear, something you have to work to 'read', just like our relationship with our loved ones with dementia.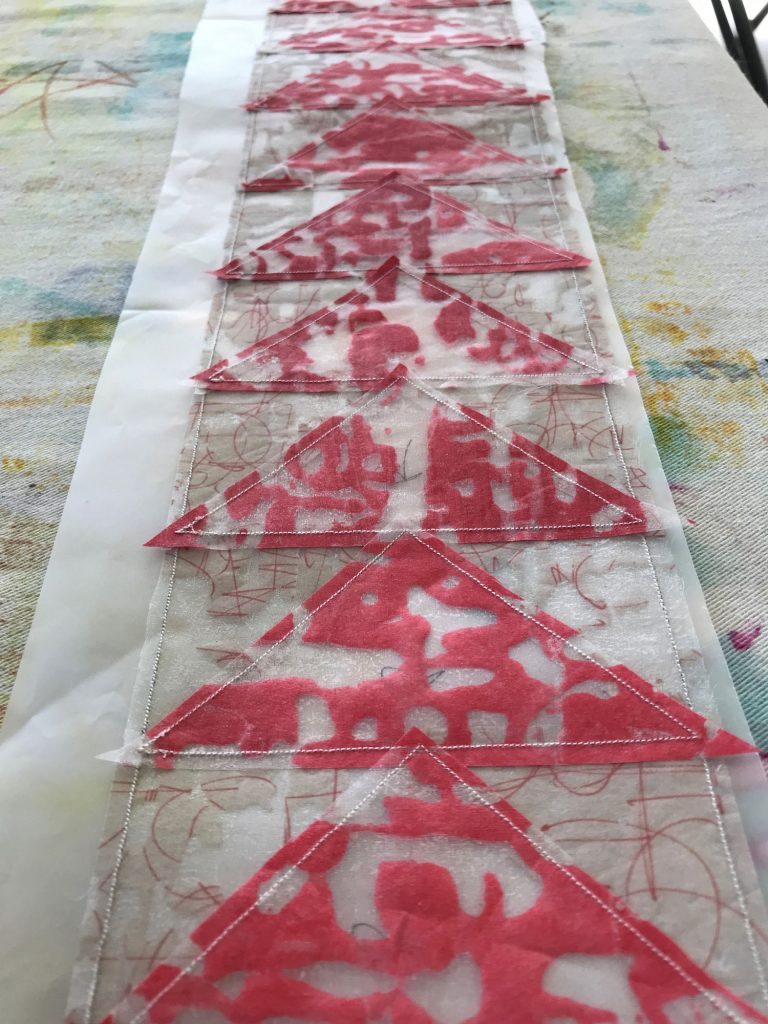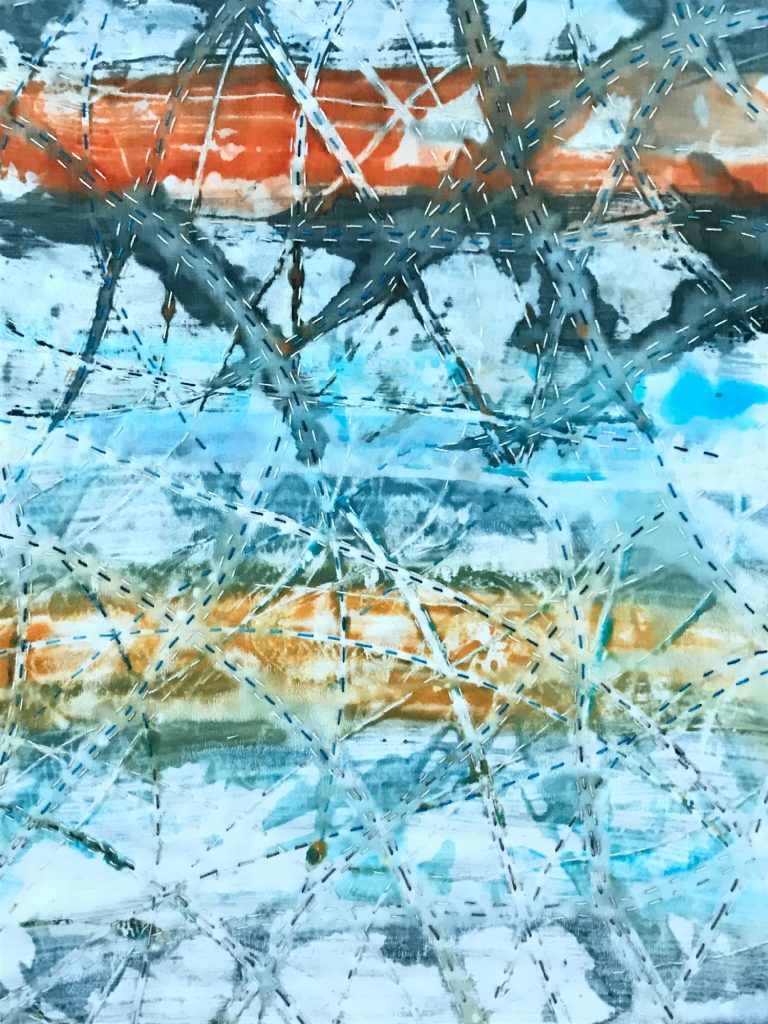 Do you think that creativity is something that can be taught or nurtured?
I think it is a bit of both. I definitely think that much can be taught about how to turn creativity into actual pieces of work. Practical skills of course can be learned, but also experience and analysis of the work of other artists, can help inform our work.
What can't be taught is passion: that necessity, drive or ambition to make work. This takes you through the tough times, the lows, the busy times, and keeps you working.
What was your first memory of Textiles – who taught you?
I think my first concrete memory of textiles as something to make, was at school. I worked cross stitch using soft cotton on binca – not the most inspiring fabric or thread but I think I was only 7 or 8. It also gave me the first opportunity to design something myself. We then graduated on to smocking! I still have the apron I smocked – I can remember even then that I was trying to be creative so I chose a grey gingham where everyone else chose pink or green, and worked the smocking in my favourite colour of orange.
My mother was my teacher apart from this, teaching me all sorts of textile skills and giving me a love of stitch which endures today. She continued to teach and inspire me when I took up stitching again in my late 20's.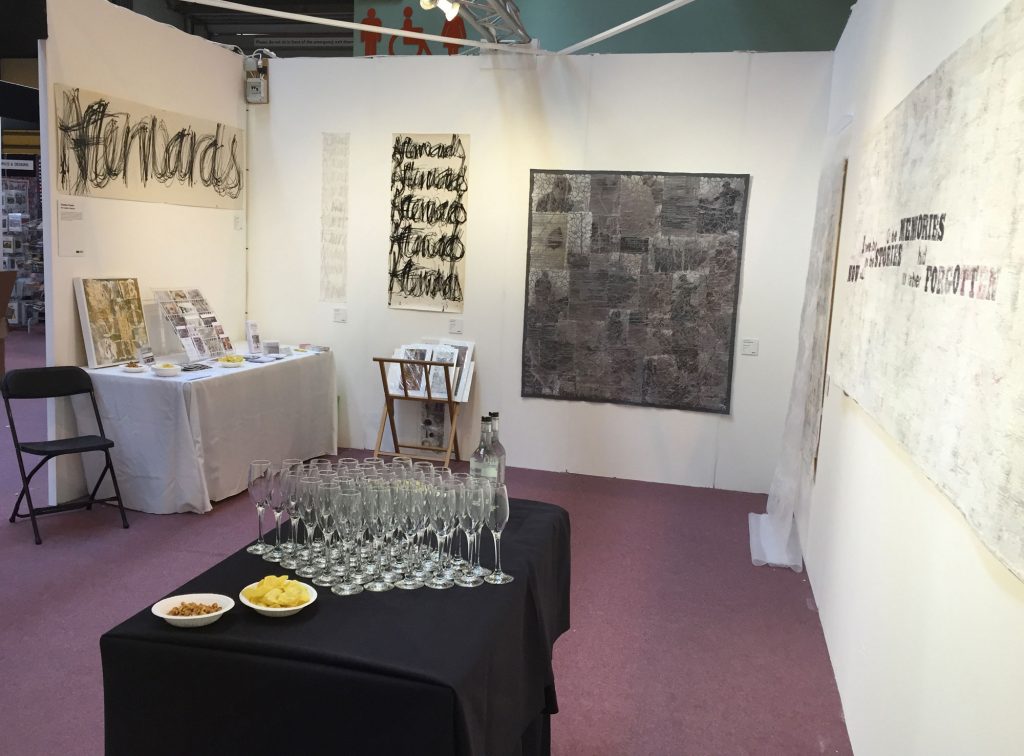 What has been the highlight of your career so far?
2015 was my highlight. I had my first solo exhibition and that was at Festival of Quilts with a footfall of 30,000, so I had lots of visitors over a short period of time with much feedback. I also completed my Masters Degree and graduated with Distinction, using some of the experiences from Festival as part of my final show.
This was such an exciting year; making several large pieces of new work enabling me to develop new ideas about dementia and think more about my personal relationship to it in terms of what happens to your own identity when the person you share memories with, cant remember them any more. How much of our identity is tied up with the way other people interact with us.
The response that this Fragility of Memory exhibition received was quite overwhelming and emotional. I had previously had no idea that the work would generate such a response and this has, in turn, informed ideas about other pieces of work.
The MA allowed me to experiment with ideas and other ways of expressing them. I had gone into the degree thinking I was going to have a textile outcome. This couldn't be further from the actual final exhibition which featured plaster casts of empty pockets suspended above 3 monitors showing slide shows of empty hands positioned so they appeared to be supporting the suspended casts.
I had spent many years wishing I had done an arts degree, and this was finally my chance to do that and I thoroughly enjoyed it and met lots of interesting people and learned such a lot in the process.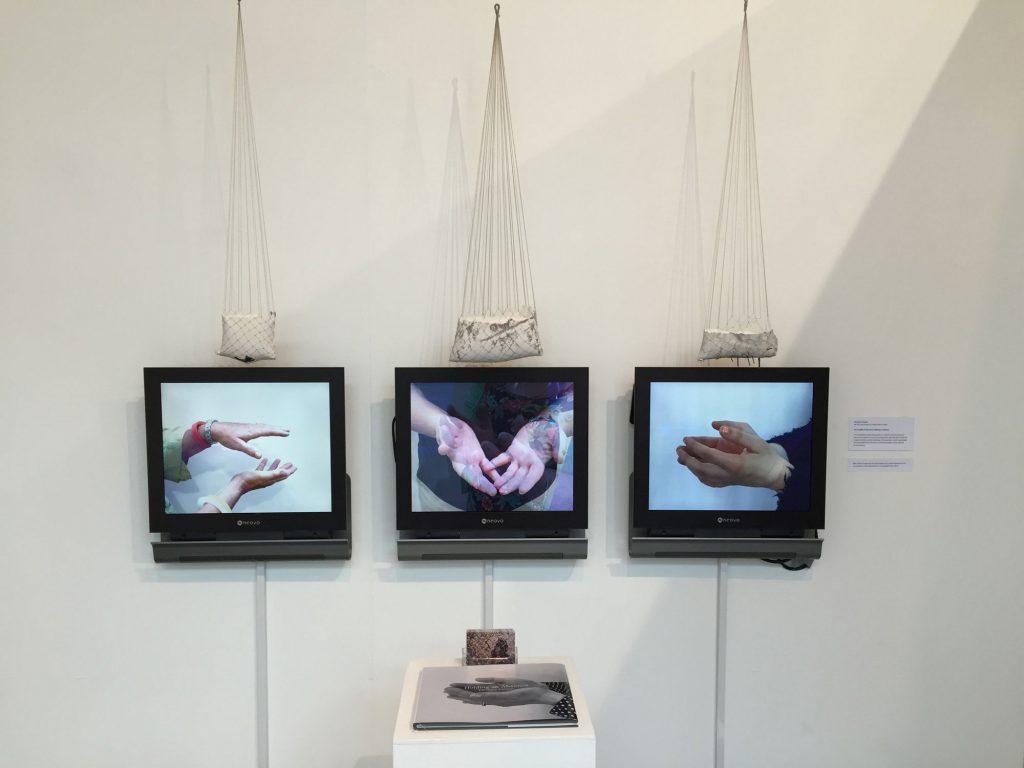 Which artists inspire you personally?
I like Debbie Lyddon's sense of place and use of materials; I like Matthew Harris's approach to his work from drawing through to completed work; I like Richard McVetis' use of time within his work; I like Alice Kettle's ambition and sense of scale in her work; I like Chiharu Shiota's manipulation and use of space; I like Claire Benn's calm approach to work and surface design; I like Mirjam Pet Jacob's broad artistic approach to quilts and quilting.
What's your development process for your designs, if any?
I do a lot of thinking and writing down of my thoughts. I don't keep a traditional sketchbook for that – my sketchbook practice is based on mixed media surface experimentation that will occasionally find its way on to fabric which then might become work. My process is thought driven, but I also build up a stock of fabric using various processes that suit my thought processes about breaking down, repetition, absence, and so when I think about making work I often have materials that I can use or add to. The thinking continues as I develop work and try to make each step or process I use appropriate to the meaning of the work.
How did you develop your own style and inner voice? Was there a defining moment for you or was it a gradual process?
I was working with Claire Benn and Leslie Morgan at Committed to Cloth and we started a new year of Independent Study classes with a tutorial for which we had to prepare answers to a set of questions. One of those questions asked what I wanted to achieve. I responded that I felt I was a bit of a butterfly, making strong work but not having my own style. They encouraged me to work on just one process and experiment with it to see what developed.
I chose to work with paper lamination which I liked as it combined a process with my love of photography. However, rather than choosing my own photos to work with, I chose to work with photos of my father that my mother had taken. My dad had been diagnosed with vascular dementia a couple of years before and these photos spoke to me of the man I remembered from my childhood, and the man featured in the stories that he had often told.
It took me 2 years to experiment with the process working towards making a large piece of work, constructing a couple of smaller pieces along the way, giving me valuable experience in how to manage the transparent fabrics that this type of paper lamination is based on.
These works were the first works that I had success with in juried exhibitions, and formed an important section in the Fragility of Memory gallery at Festival of Quilts.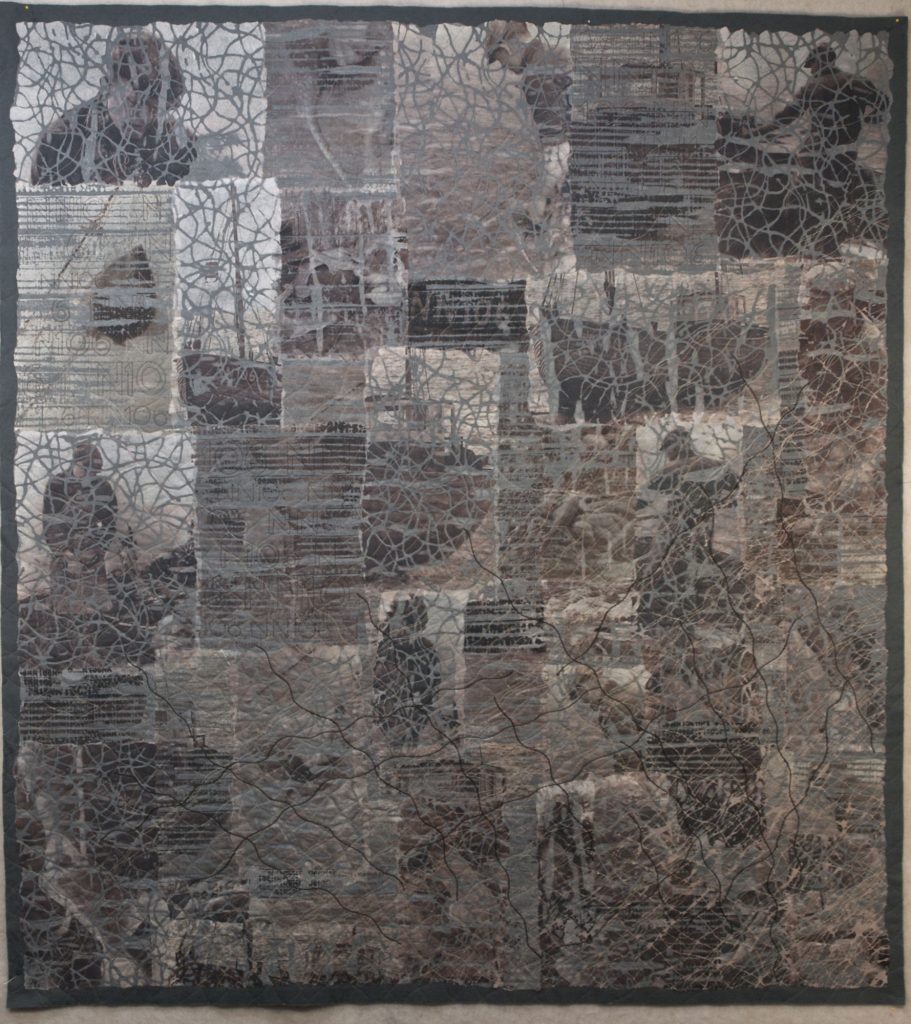 How do you stay motivated?
I often feel I don't have enough time as I have to support myself so I teach and I also am a partner in a thermofax screen business, and this takes up a lot of my time when I would normally be stitching. This makes me feel quite depressed and anxious but I have a lot of supportive friends and family and they help me work out strategies for making best use of my time.
I did have one period where I found myself very low – this was after my MA had completed. I came down off an incredible high from both Festival of Quilts and then the MA, and crashed. I got myself out of that by taking a drawing course. I love to draw but am not very disciplined about it. But doing this course made me draw every week and stopped me thinking about what I couldn't do. I didn't complete the 10 weeks because by week 7 I was back to making textile work!
I suppose my worst time was a few years ago when I had a life changing diagnosis and the way I coped with that was to make work that took the form of a diary of my treatments. It gave me something positive to focus on and at the end I had a large piece of work that reflected the time I spent though a very difficult time. I felt I had turned the tables on de-motivation and used my creativity to motivate me through treatment.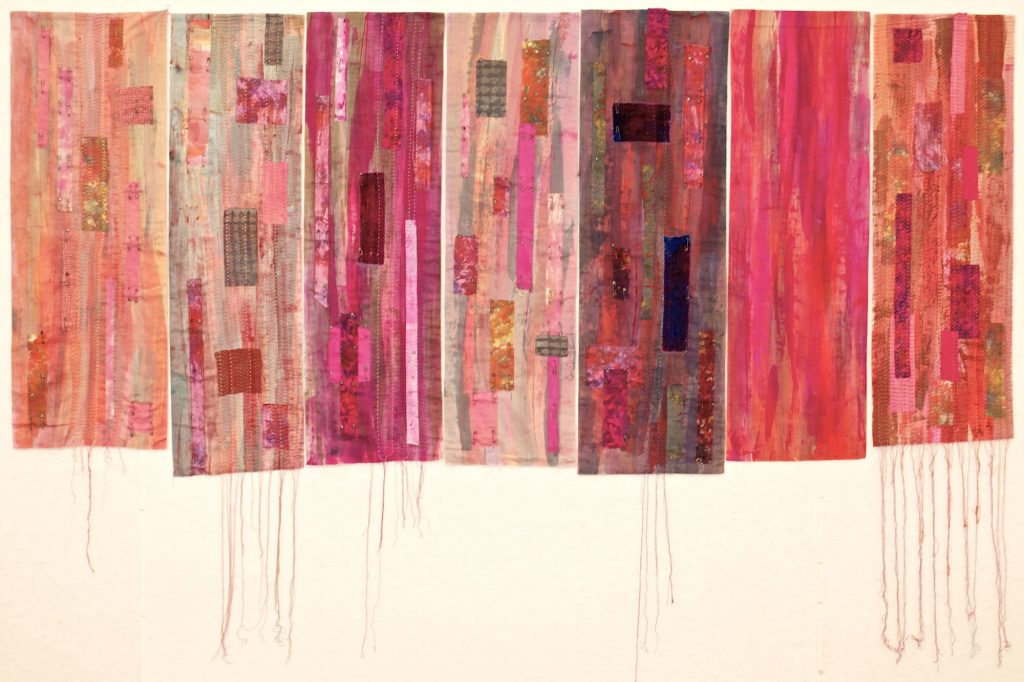 What advice would you give to students who are undertaking courses with us?
Make the most of the support you have from tutors and your peers to be ambitious, take risks, play, have fun.
Enrolment onto our City & Guilds accredited courses will take place on the 2nd February so remember to register your interest in a course if you wish to be invited to enrol. If you're ready for the challenge then now is the time to unleash your creativity.