Sue Stone is a highly accomplished British artist; an exhibiting member of the 62 Group of Textile Artists (Chair 2013 to 2018),  a Fellow of the Society of Designer Craftsmen  and a member of SEW. Her distinctive style has become synonymous with her portrait and figurative compositions that are so often highly detailed, textural, personal and emotive.  
Her personality is prominent throughout her pieces, echoed by the ever-present fish – a nod to her Grimsby roots – which resonate family and belonging. It is an honour to catch up with Sue as she discusses her upcoming exhibitions and her honest approach to hand embroidery.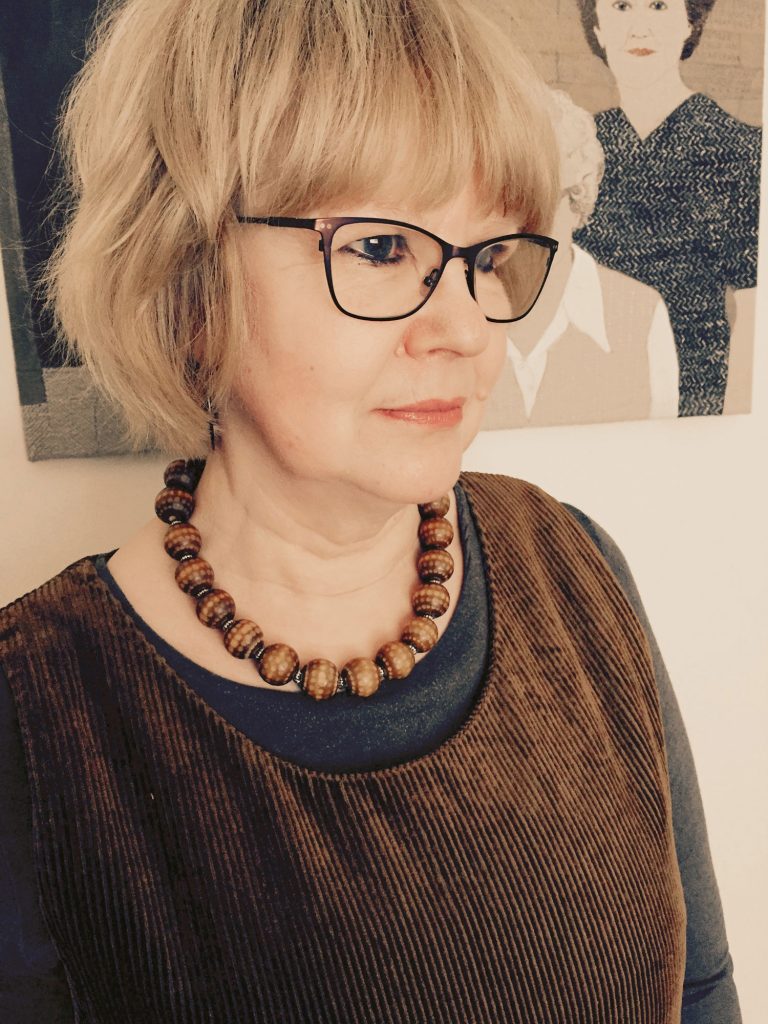 Tell us about how you got into hand embroidery?
I was born in Grimsby, Lincolnshire in 1952. My mother was a talented seamstress who was professionally trained as a tailor so I was always surrounded by cloth and making. 
Aged 18, I went to live in London and studied Fashion Design at St Martins School of Art. I left without completing the course but later went on to study embroidery at Goldsmiths College, University of London. I graduated in 1975 with a First Class honours degree in Textiles/Embroidery. 
At Goldsmiths I was lucky enough to be taught by Constance Howard and Eirian Short. After graduating I returned to my hometown and had a long career in fashion design and manufacture. I returned to embroidery in 2002 and have been working full time as an artist since then.
How do you describe your work?
I describe my work as very honest, both in technique and content, because the presentation of my work is simple and straightforward. I use a needle and thread to make portraits and narratives. My figurative 2D compositions often feature a fish, which is a symbol of my Grimsby heritage. My work has its emphasis on hand embroidery often combined with machine stitch and sometimes acrylic paint.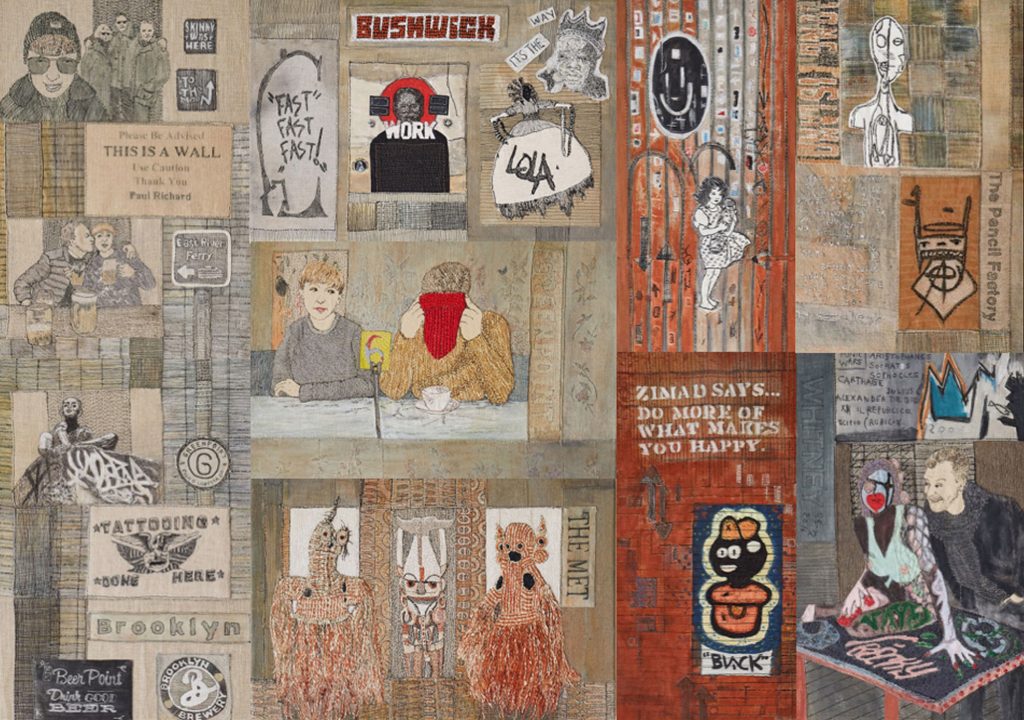 You draw a lot of inspiration from various things in life such as people and relationships – how did this come about?
In 2006 I made a piece called The Wedding which was inspired by Grant Wood's American Gothic painting. This was my first figurative piece. I made this piece because I don't have any wedding photographs. This was not by choice but because the best man forgot to bring the camera! I enjoyed making it so much I decided to make a series and ended up making five pieces. All were three feet by three feet six inches so I didn't start small. After making these portraits I decided I would develop my figurative work further.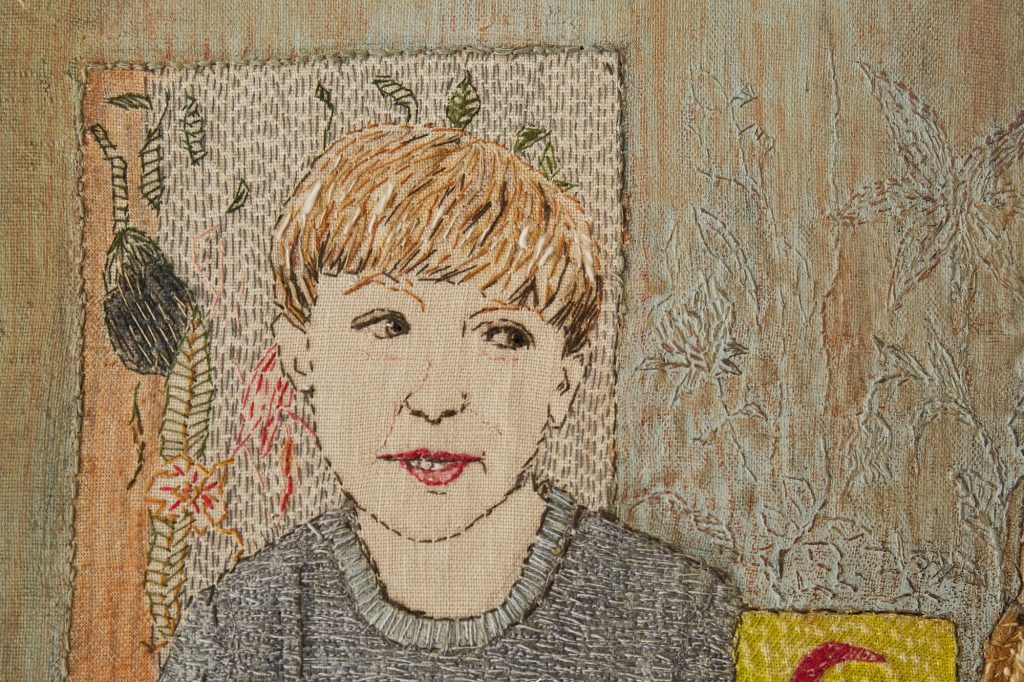 Which artists inspire you?
Many artists inspire me but my favourites change from week to week. There are of course the stitchers, Jenni Dutton and Audrey Walker, and mixed media artist Peter Blake is always on my favourites list. I also love Jean Michel Basquiat, Gilbert and George, and Grayson Perry. A very diverse lot and the list goes on! One of my students recently introduced me to a wonderful German artist called Charlotte Salomon whose life was cut short at Auschwitz and she is my current favourite. I love street art for its immediacy so there are so many graffiti artists I admire. My favourite of those at present are New York based artists Faille.
What is your approach to developing pieces?
I take each piece as it comes but basically I have 2 different approaches. The first approach is to pre-design the composition on the computer screen using Photoshop. I often work with my own photographs combined with snaps from my family album. Using Photoshop to combine the images saves a lot of time drawing and re-drawing, positioning and re-positioning but it only provides my starting point. Most of my drawing is done directly in stitch on the fabric.
My second approach is totally different. I just start making small embroideries and sampling and then I assemble those using collaging techniques working out my composition as I go.
This is my favoured development process at present but I know it will probably change again.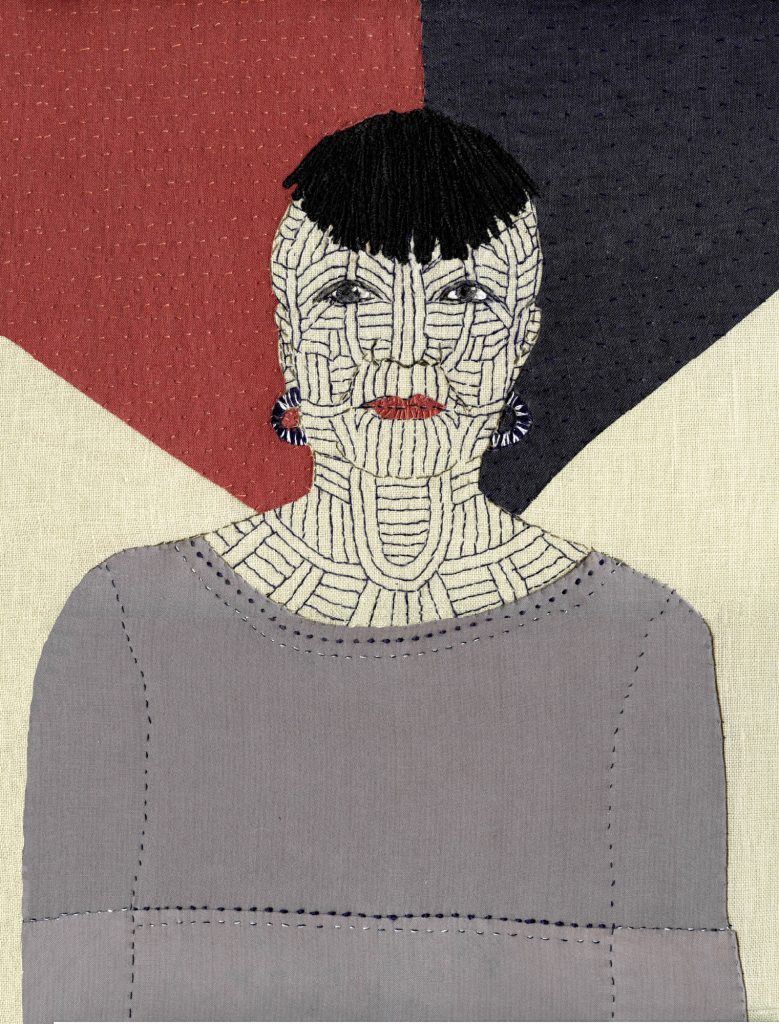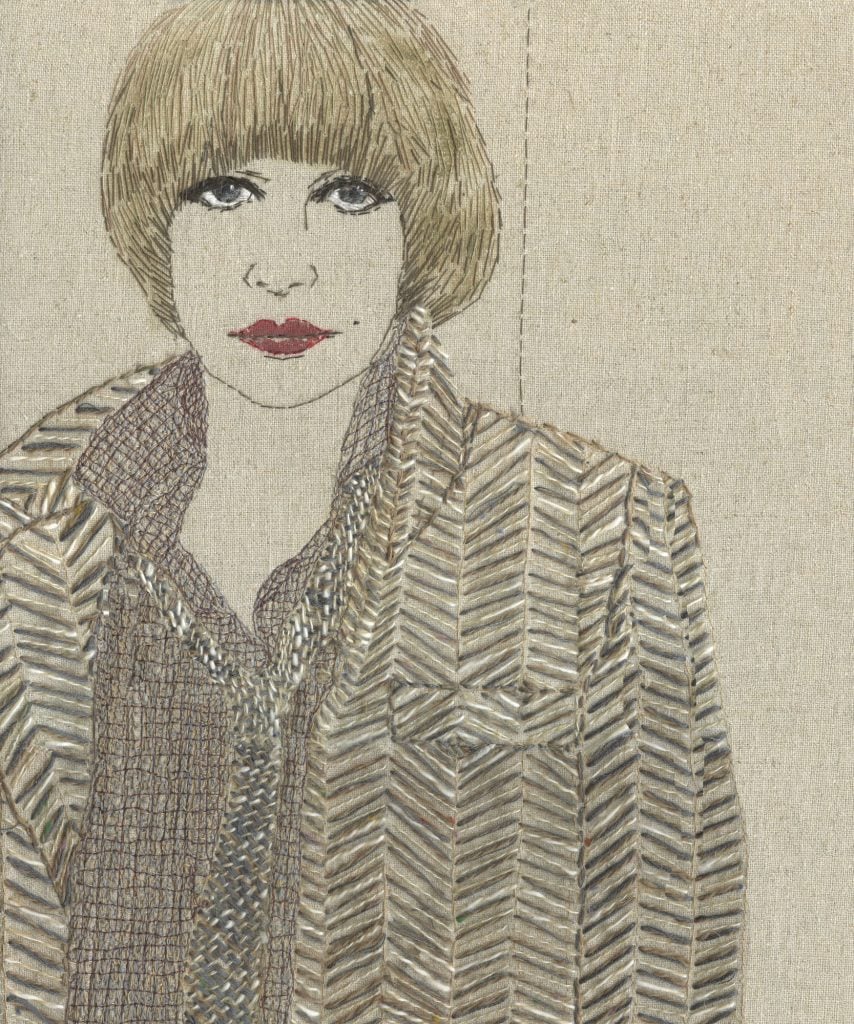 How did you develop your own style and inner voice? Was there a defining moment?
Making my first figurative piece in 2006 was definitely a turning point. Before then I'd just been finding my feet again trying out everything from landscapes to weaving to photography to 'found object' assemblages. My figurative work has changed quite a lot over the years. It has evolved and developed gradually. My figurative work started as appliqué and hand stitch. I moved to mainly free machine stitch, back to appliqué and hand stitch and then on to mixed media. The emphasis at present is firmly placed on hand stitching with the addition of machine stitch, appliqué, acrylic paint and InkTense pencil.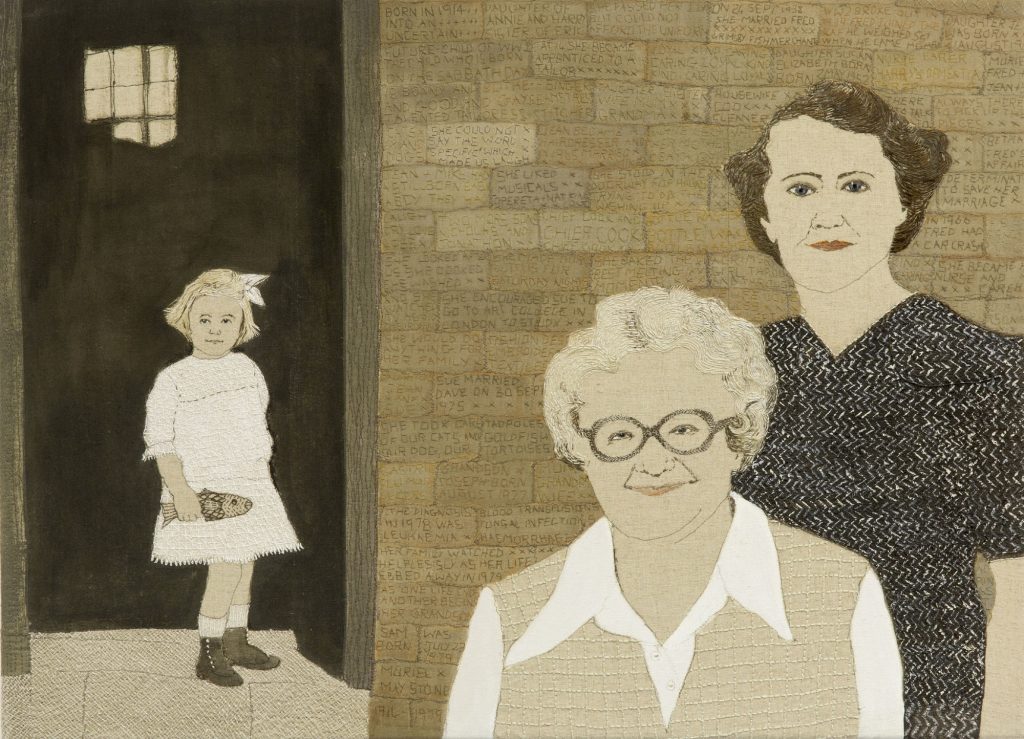 Do you ever feel unmotivated to create? How do you stay motivated?
I don't often feel unmotivated but over the years I have evolved various strategies that have helped me when I do. I have found that experimentation with small samples is a good way to clear space in my mind. My samples are never just samples, they are there to spark ideas and give me time to think. Leafing through the samples, both successful and unsuccessful, in my stitch books helps me make sense of my thoughts and motivates me to get on and do the work.
What advice do you have for our students? 
You need to put in the hours to achieve your goals. Set your standards and ambitions high but not so high they are unobtainable. Take small steps today then take some more tomorrow and you'll be surprised just how far you have travelled. Persevere, do the work and you will get there in the end.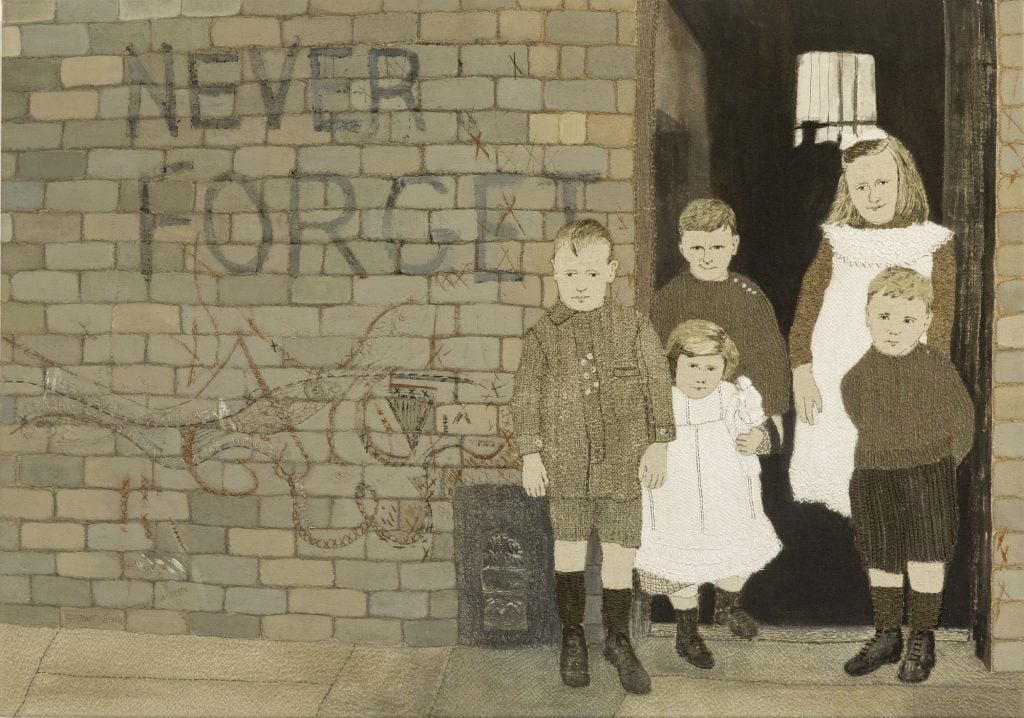 We'd like to thank Sue for taking the time to talk us, I'm sure you'll agree that she is a huge inspiration. You can find out more about Sue's upcoming exhibitions and releases by visiting her website, or her blog. Remember to check out her upcoming exhibition, with the 62 Group, Ctrl/Shift New Directions in Textile Art, touring exhibition at the National Centre of Craft and Design from the 2 February to 22 April 2019.
Follow Sue on Facebook or Instagram.
Feeling inspired? Take a look at our accredited City & Guilds courses. Register for more details and we'll send you a course brochure with details about how you can enrol.