Julie Campbell began embroidering in 2017! In the space of 3 short years Julie Campbell has perfected her craft. Now, her anatomical designs are adored by nearly 80 thousand dedicated instagram followers. 
Needless to say, Campbell's work is synonymous with the exploration of anatomy. You can expect lots of beautifully gory details; a dissected mouse, a heart with all it's ventricles intact, or a human skull. 
Her success is most likely attributed to the realism that she brings to her work. Each piece is meticulously crafted with intricate and delicate details. The raw, hanging threads representing tiny capillaries or dripping blood from a human organ laid out on the embroidery hoop.
Julie Campbell has kindly invited us to dissect the work and artist behind these amazing anatomical designs.
Tell us about what you're currently working on?
I tend to work on several pieces at a time as I am always impatient to start new work. This method is more interesting as I don't like to tire of a piece I am working on. I have about 15 unfinished pieces that I will eventually get back to. 
At the moment I am trying to get three embroideries finished for a group exhibition at the beginning of March at Stone Sparrow NYC in Manhattan. Most of my inspiration comes from what we are going through as a society, how much we hide behind walls and the masks we wear. 
My inspiration comes at the weirdest times. I don't sit down with a sketch book and make drawings to get ideas, they often just jump out of nowhere. Often it's a title that suddenly comes into my head and I think how I could portray it.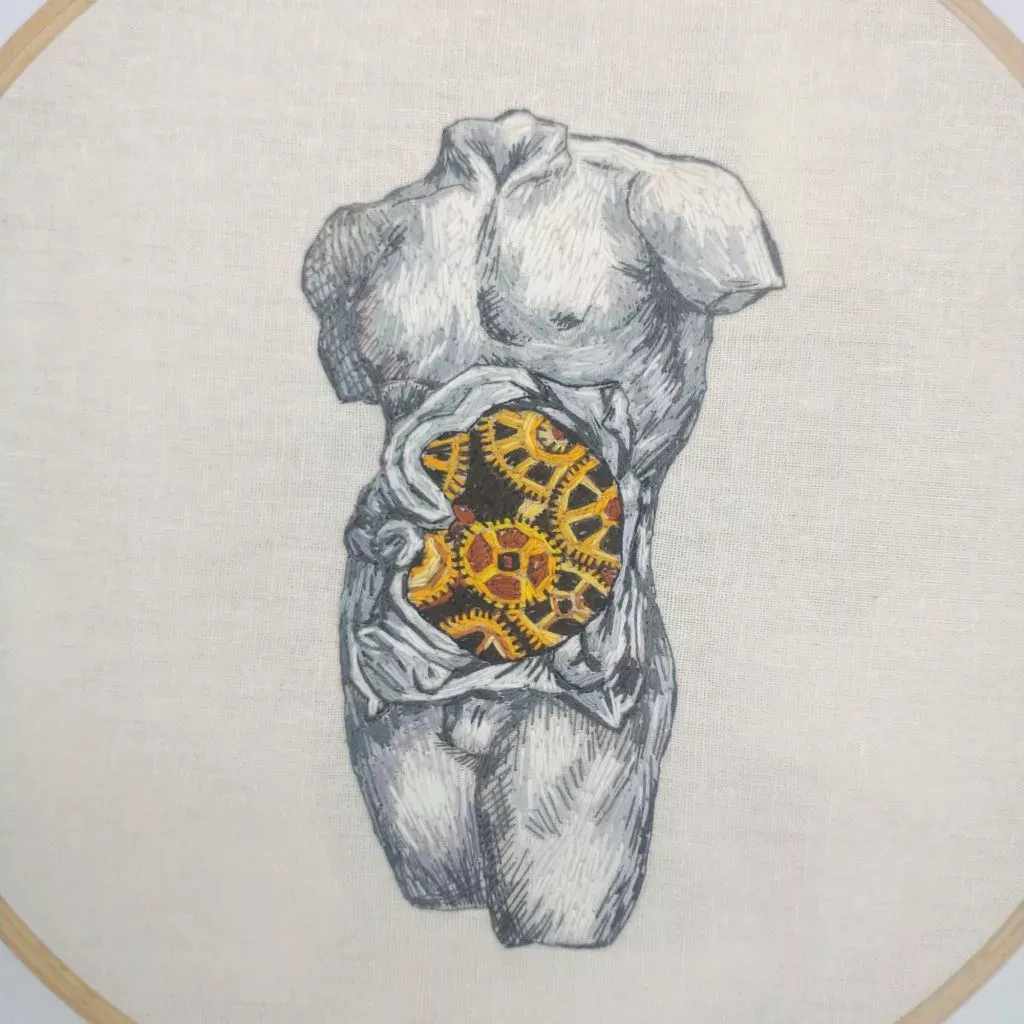 What was your first memory of stitching – who taught you?
I came late to embroidery. I started three years ago at the age of 54. Because I am self taught I don't actually know about the different stitches or tools or techniques. Typically, I'll use a small needle, some tight weave linen and embroidery floss plus sewing thread. I see my embroideries more as drawings than anything else as pencil was my preferred medium until I discovered 'drawing with thread'. I work in a similar way, I start with the darker colours and outlines and leave the lightest colours to last.
Tell us more about how your interest in anatomy/pathology became entwined with embroidery. What sort of reactions do you get from viewers of your work?
I understand that my work topic is going to be slightly limiting as not everyone appreciates anatomy. I have always had an interest in the inner workings of the body. This became very important to me when my teenage daughter became unwell. What I find fascinating is that our outward appearance tells very little of the person we are. We are so often judged or judge others purely after a fleeting moment.. Our bodies are a facade. I like to explore beyond that idea, and get under the skin as it were.
As someone who is trained in graphics, how much of your current success do you attribute to your training. How much did it add to the artist you are today?
Non at all. I studied Graphics in the '80's, there was no social media, very little home computers. I really didn't enjoy what I was studying at all. I've always wanted to be a children's book illustrator. In fact after my studies I completely stopped doing any kind of art for about ten years. I realise now I should have changed course and done something completely different.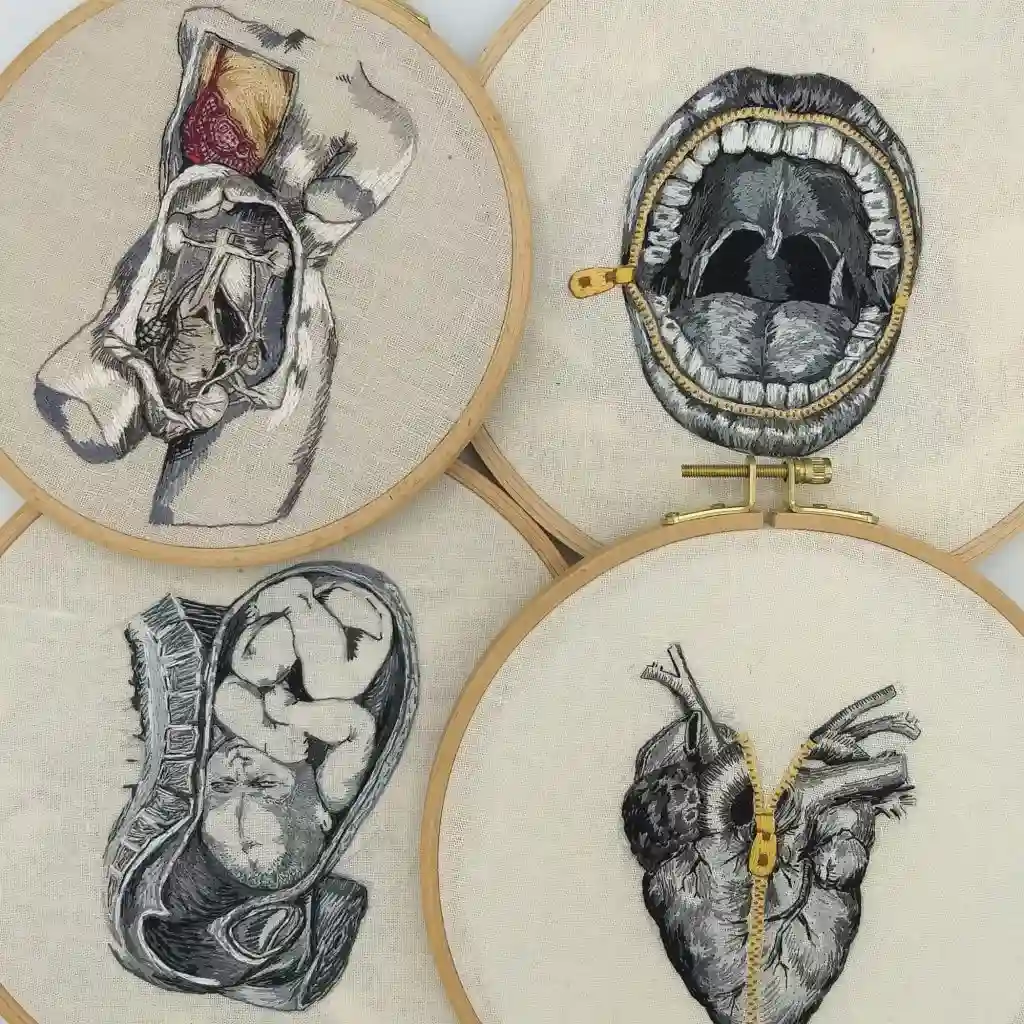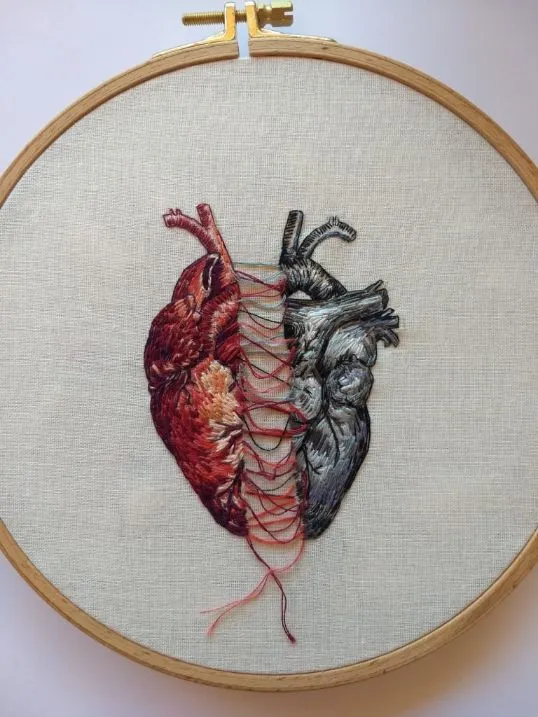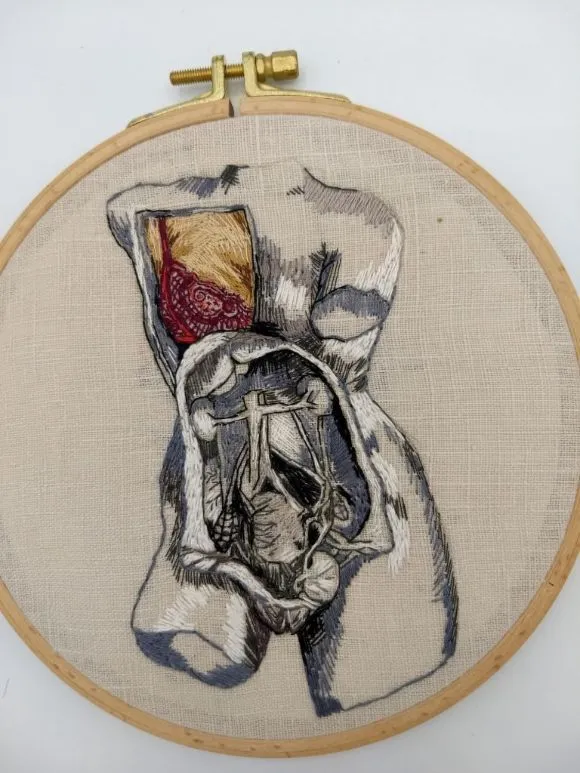 How has the pandemic affected you and your work and business – tell us a little about how the last year has been for you.
It hasn't really affected my work as such, I suppose I have found inspiration from what we are all living through. We are all suffering varying degrees of trauma and heartache, that said of course inspiration or not I wish we weren't living this new reality. 
A lot of my work is to do with heartache and heartbreak so I suppose it plays into that. I'm at home all the time with my daughter so there is not that much that has changed in my everyday life. I miss the things that everyone misses. Because I mainly exhibit in galleries and a lot of that has become more online based, I would love to be able to go to an opening night again.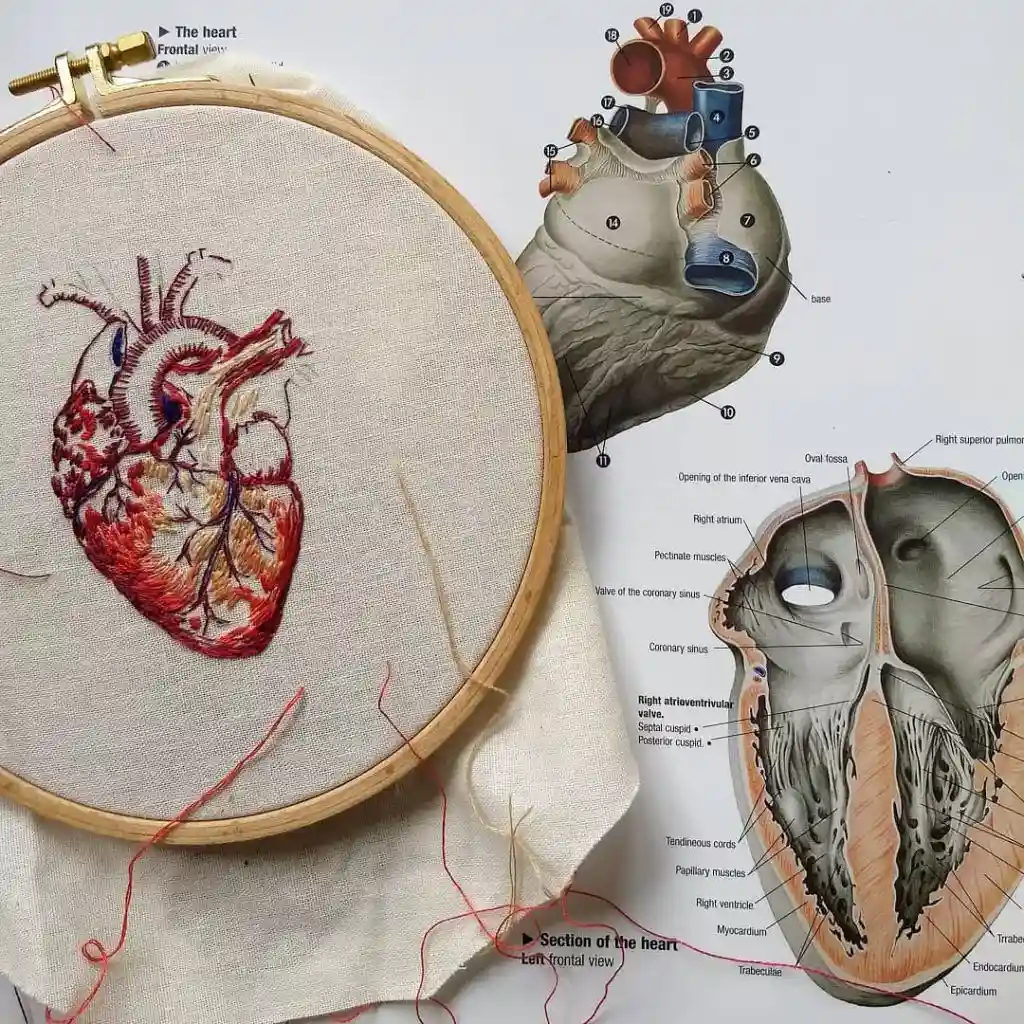 Our students are often considering making a business from their embroidery and selling their work. Do you have any words of advice for them?
That's a difficult one. If you really want to make money from it then you have to start doing kits and patterns, get a good website with a webshop. I wanted to keep mine as one off pieces of art, it is very difficult to make money from embroidery alone. Luckily some galleries are beginning to recognise embroidery for the art form it is and it is being seen less as a woman's hobby and more of a skill. I suppose it really depends which way you want your art to go. 
There is a fine line between art and craft and both are great but I wanted mine to be considered one off art pieces which I think makes it more difficult to make money from.
What's next? Where can we see more of your work? 
My next exhibition is part of a group show at Stone Sparrow NYC. They are an amazingly beautiful gallery, I feel truly honoured to be exhibiting in such a gorgeous space with so many talented artists. 
I could do more and push myself but I really want to carry on enjoying what I am doing. I don't want it to become a chore. Of course it would be lovely to make my living from it but at my age I am fairly realistic in knowing that there are not so many people that can truly earn enough with their art to live from. I would also love to be able to do a book cover, it's something I've always dreamed of being able to do and who knows maybe one day….
We'd like to give a huge thanks to Julie Campbell for giving up her time to talk to us about her work. Please make sure you check out more of her work by following her on Instagram.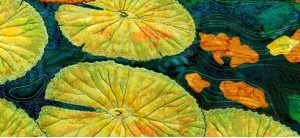 Deborah Wirsu is the founder of Thread Sketching in Action; a site dedicated to helping crafters create beautiful stitched textile art. Like most modern day business owners, Deborah requires a combination of skills to successfully run her business. At Thread Sketching in Action she is the self-professed chief creator, teacher, writer,
Read More »

Lynn Skordal Lynn Skordal has been described as a collage, embroidery and mixed media artist. It's therefore no surprise that her work is eclectic; often made from stamps found in the street, vintage pictures, magazines and books. She uses whatever she finds and inspires her to create Munchesque dreamscapes or
Read More »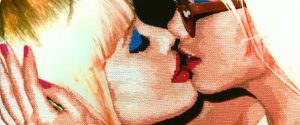 Inge Jacobsen is a highly accomplished Danish/Irish artist. Not only has she exhibited around the world and won countless awards, in 2012 she exhibited alongside legendary YBA Sarah Lucas at the Selling Sex show by SHOWstudio. One of her proudest accomplishments. As an artist and photographer there is an obvious affinity with stylistic,
Read More »