Lynn Skordal has been described as a collage, embroidery and mixed media artist. It's therefore no surprise that her work is eclectic; often made from stamps found in the street, vintage pictures, magazines and books. She uses whatever she finds and inspires her to create Munchesque dreamscapes or bizarre yet alluring alternate realities. All of which are designed to 'alarm, startle or provoke.'
Despite her international success Lynn Skordal remains a private person. She was even a little reluctant to include a picture of herself for this interview. But thankfully, she's agreed to talk to us about her work, inspiration and artistic process.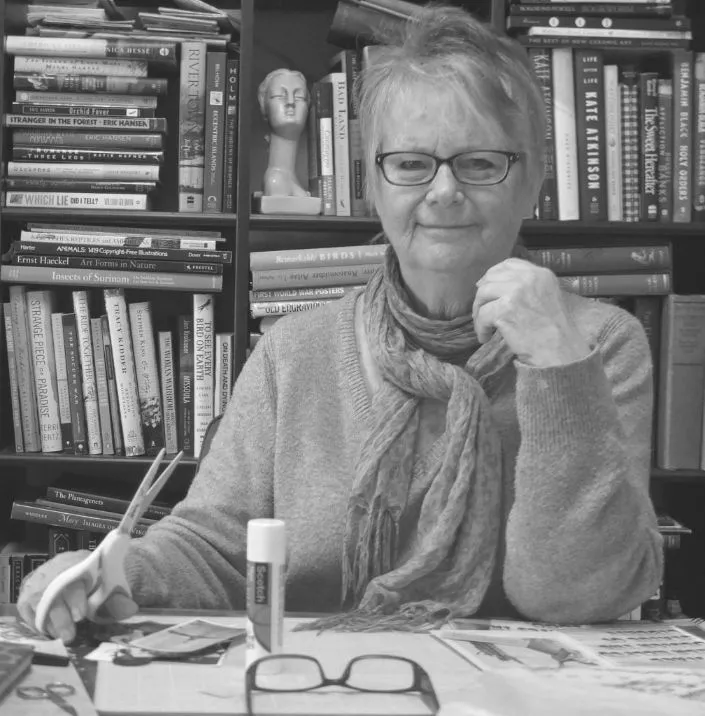 What are you currently working on?
I've got several pieces in process at the moment, including finishing an altered book about Gustave Eiffel. This involves a lot of collage, some pop-up elements and a tiny bit of stitching. I'm also working on a textile piece in which I'm embroidering/embellishing a vintage piece of toile.  Neither of these pieces is being made for any special purpose. Like most of my work, they are just ideas that need expression.
The book was born when I found a little paperback book written in Italian about Eiffel's life with interesting fold-out pages. I started adding collage to some of the illustrations and then it occurred to me that a fold-out Eiffel Tower might be fun. This turned into a complicated altered book project.
The textile piece is the second in what may be developing into a series of pieces with embroidered/pieced backgrounds and large appliqued text elements.  The first of these (a political piece completed about six months ago as a comment on the woeful state of American government) is a monochrome flag created from strips of cloth cut from khaki trousers, embellished with dainty white embroidery and appliqued with a political quote.  This second piece is inspired by a political/feminist quote that I want to use (sort of Barbara Kruger meets Aubusson) and will involve modifying the toile scenes with some irreverent embroidery, and large appliqued text.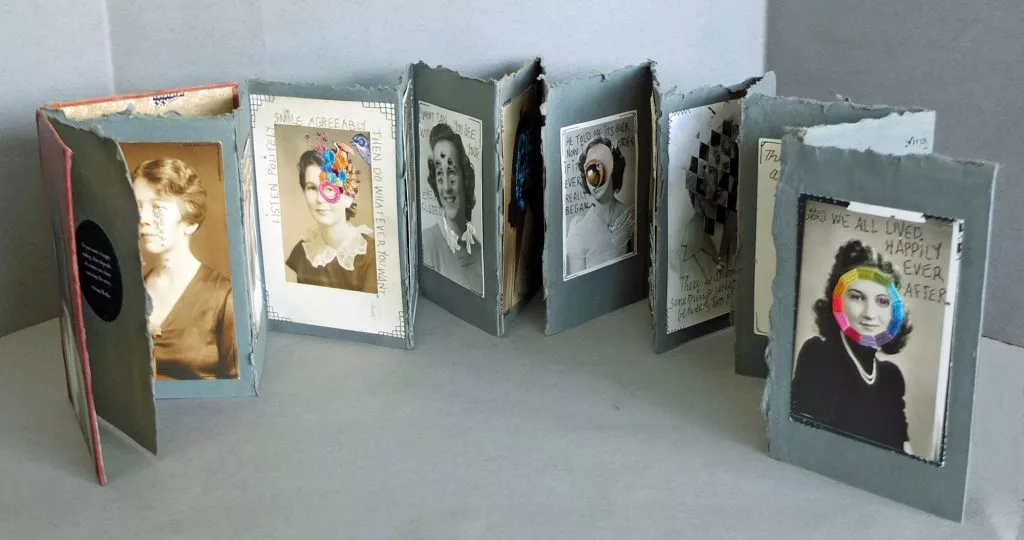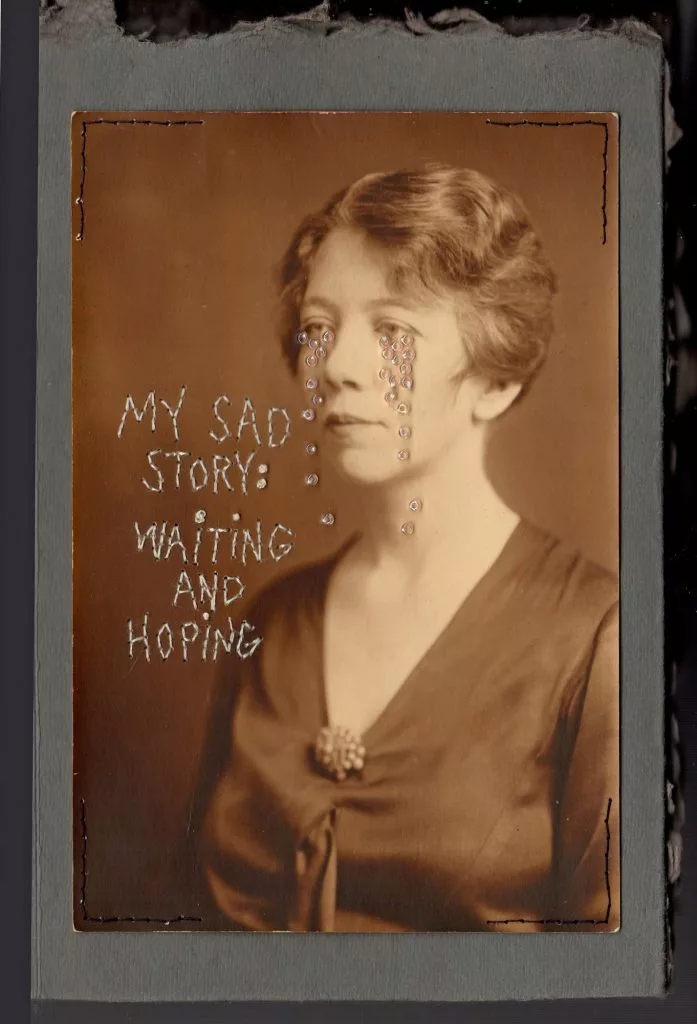 What was your first memory of being creative – who taught/encouraged you?
I grew up as one of six kids with lovely parents who were happy to indulge a wide variety of creative endeavors. My mom taught me to embroider and sew and my father was perfectly willing to let me have a go at the large, dangerous table saw in the garage. Their attitude was usually "sure, why not?"
Where do you usually look for inspiration when starting a new piece? I know that you live in a truly beautiful part of the world by the sea, so does that help with the creative process?
Inspiration comes in a variety of ways. Sometimes I find an old book that suggests what it wants to be such as the Eiffel book. A title might pop into mind, such as an altered and embroidered book I did several years ago with the title "A Blue Thread Runs Through It" (stolen, obviously, from a famous Brad Pitt movie).
I like to embroider on photographs, and sometimes turn these into books, such as a recent accordion-style book called "Great Modern Short Stories."  Occasionally, I will design projects to meet an exhibition call.  Years ago, for example, I embroidered and appliqued handkerchiefs and doilies and bound them into a book called "The Needle and the Sword" to commemorate a famous suffragette speech.  Recently, I created a fabric book called "Odd Notions" for an exhibit of artist's books featuring fabrics and stitching.  A couple projects have been based on poems or dreams, and a couple just reflected a desire to turn unusual materials into a book (old player piano rolls; tea bags; thrift store paintings).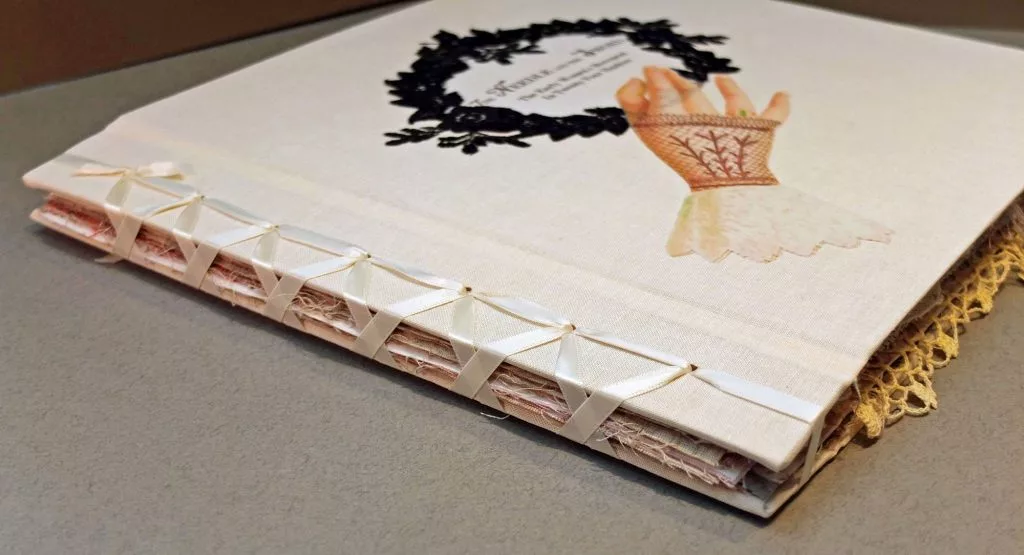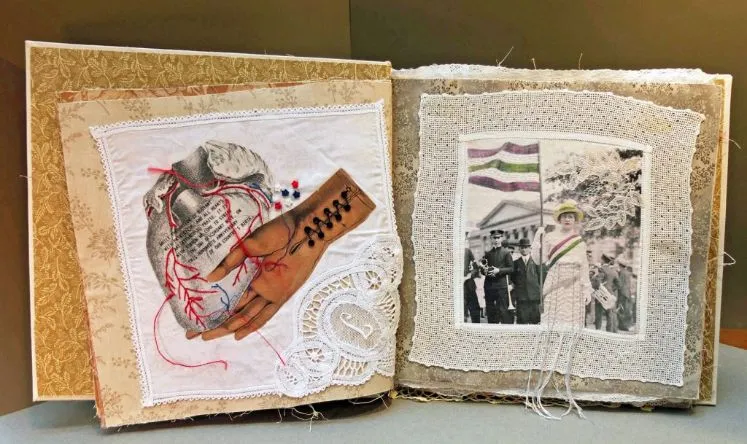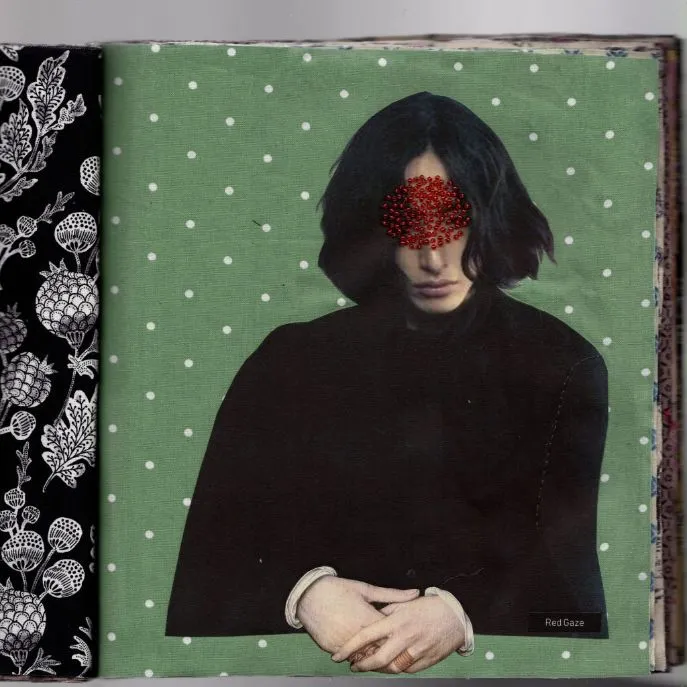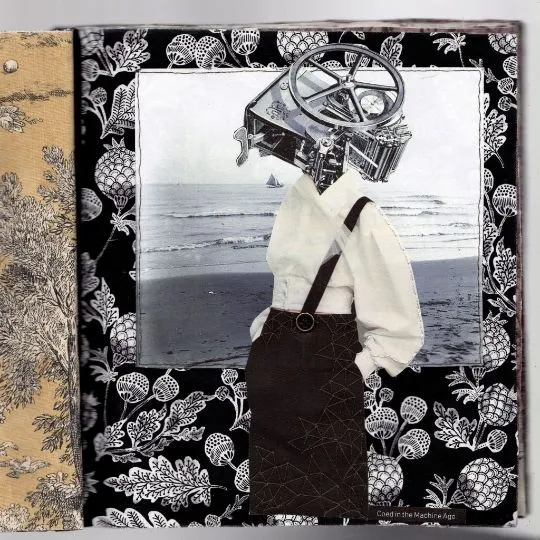 We know that you enjoy using collage and clippings within your work. How did that come about? Can you suggest ways or processes whereby our students could begin to do the same?
After retiring from practising law, I started working intensively in a series of art journals.  At first, I just explored various media and techniques, but pretty quickly discovered I loved old-fashioned cut & paste collage.  The materials are humble but interesting, and I found I loved creating little surreal worlds out of book and magazine scraps.
After a while, I felt I wanted to use the technique to tell a longer, larger story, and began altering books and making artist's books.  The wonderful thing about artist's books is that there really are no rules. You can use whatever materials or media you want, and you can give it any form you desire.  My only rule (for myself) is that my books and other pieces cannot simply be pretty or interesting to look at. They must be "about" something.  There must be a story that amuses, mystifies or provokes, or at least a context that makes the experience of the "reader" worthwhile.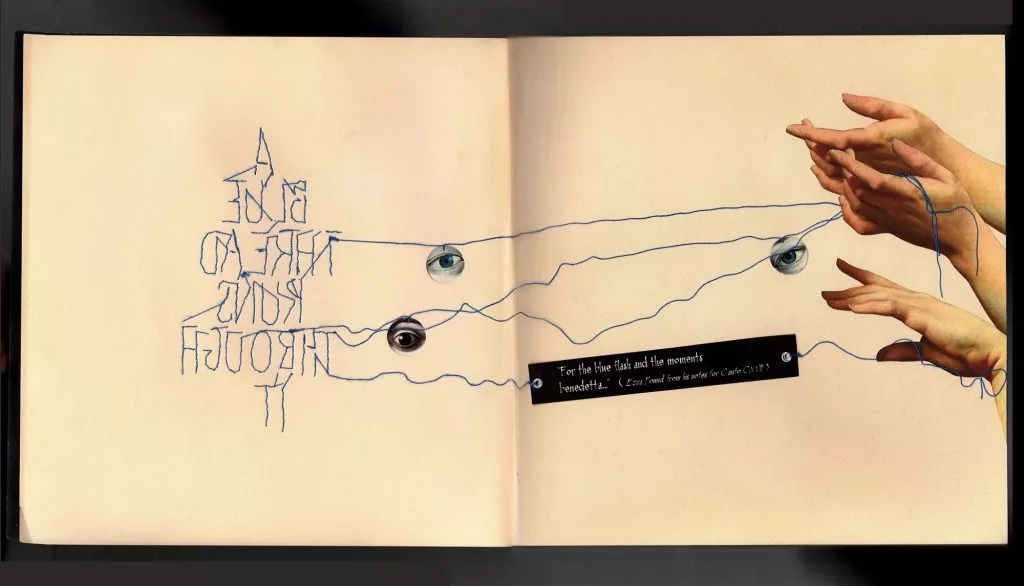 What artists inspire you personally – whose work would you like to have hanging on your own walls at home?
I get inspired by artists working in other disciplines like sculpture, painting and poetry. I don't spend a lot of time looking at the work of other collage or book arts artists.  It varies from time to time, but today I would LOVE to have a Pierre Bonnard on my living room wall and a glass sculpture by Christina Bothwell on my coffee table!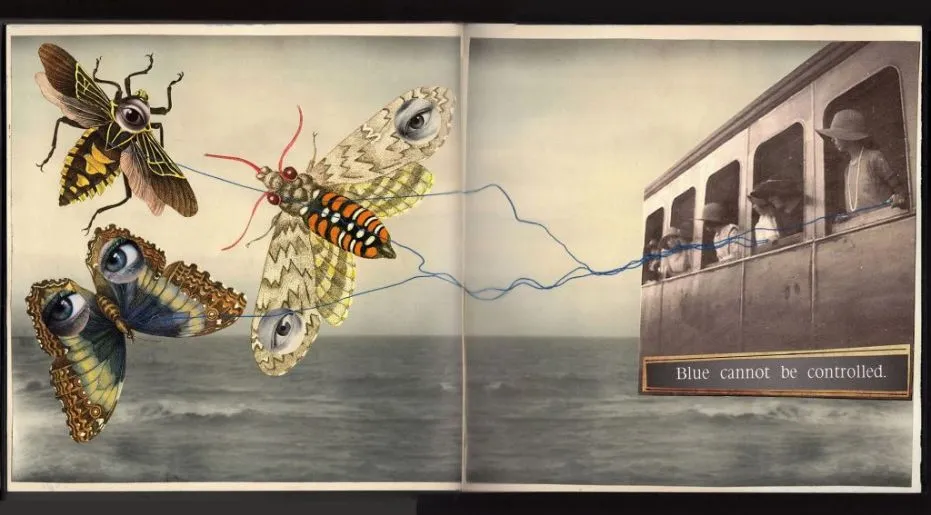 What is next? Do you have exhibitions or new books underway that you could tell us a little about?
For the next few months I'm making an effort to finish some outstanding projects. These have been laying around my studio for way too long.  These include my third alteration of a vintage copy of Anne Morrow Lindberg's "Gift From the Sea", a book I dislike and therefore enjoy cutting up. I'm also working on a book about money, and a project entitled "The Serial Killer Rolodex". The less said about this, the better. In between, I think I'd also like to make another fabric book or two and complete a few more pieces in an on-going series of altered maps. Just this afternoon I ran across a poem which has suggested a lovely, shifty story line that would work well as a collaged artist's book, so I'm adding that to my to-do list.
Find Lynn Skordal at
Regular Paper (Lynn Skordal's Blog)