Inge Jacobsen is a highly accomplished Danish/Irish artist. Not only has she exhibited around the world and won countless awards, in 2012 she exhibited alongside legendary YBA Sarah Lucas at the Selling Sex show by SHOWstudio. One of her proudest accomplishments.
As an artist and photographer there is an obvious affinity with stylistic, highly produced, iconic images that Jacobsen so often uses in her pieces. But it's her treatment of the images that we find so fascinating.
Inge Jacobsen takes mass produced images, like magazines and adverts and gives them a unique makeover. She stitches, embroiders, cuts and collages to transform her subjects. A process that Jacobsen refers to as 'hijacking'.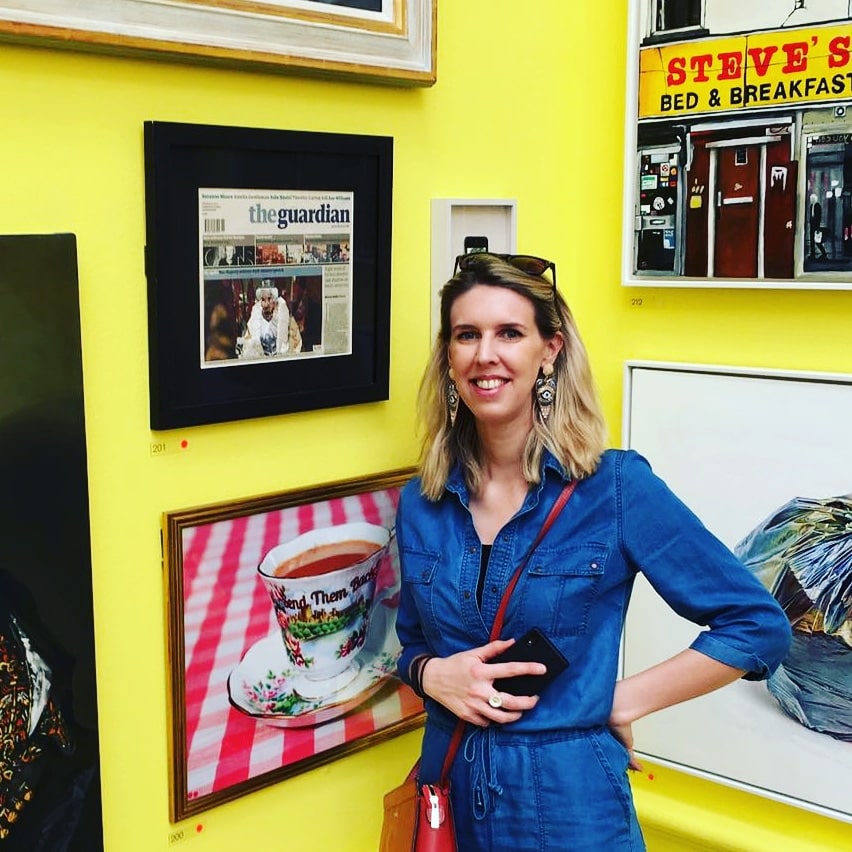 It is a bold and proud response to mass produced, commercial imagery and successfully readdresses the balance by injecting some individuality. Furthermore, since hand embroidery is largely associated with conservative femininity, we personally feel that Jacobsen manages to restore some of the femininity that is sometimes lost in the graphical treatment of women in the public eye. She is also making something lasting out of something that could otherwise be classed as fast fashion.
Needless to say Jacobsen has already achieved so much. Commissions include American Express who requested Jacobsen to being a fresh perspective to their iconic cards as part of a new advertising campaign. She has also worked with world renowned luxury brand Georg Jensen and Vogue.
Having recently returned to live in the West of Ireland we caught up with her to talk to her about any projects we can look forward to and find out how she's staying creative during lock down.
What was your first memory of stitching – who taught you?
My Danish Grandmother was very good at knitting and cross-stitching and taught me. Her sisters, who I never had the opportunity to meet, created some very intricate and beautiful cross-stitched pieces that would later influence my work.
What project have you recently finished?
I've just finished a cover of a magazine called "Dansk". As the name suggests it's a Danish fashion magazine but created for an international audience. I started this piece almost 4 years ago but set it aside and picked it back up recently to finish it.
I have a habit of starting projects and then dropping them only to pick them back up months or years later. It's nice to come back to a project with a fresh approach and perspective as these projects often take quite a bit of time. This way I don't rush to finish something and ruin it in the process.
I cross-stitched this back to front directly into the magazine cover- stranded cotton thread on paper. This way the image appears neatly on the inside of the cover. I like working like this as it distorts the original image and creates chaos on one side, leaving a beautiful neat version over another advert. I created this as part of my practice and if the appropriate opportunity arises it will be exhibited either on its own or alongside other embroidered covers I have created.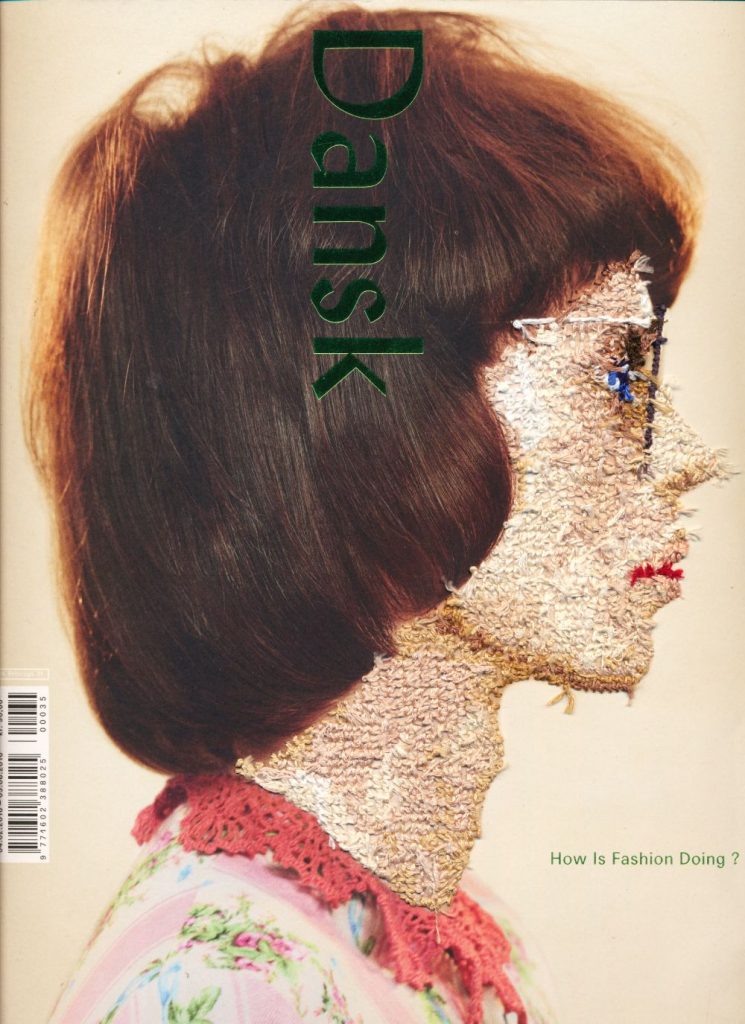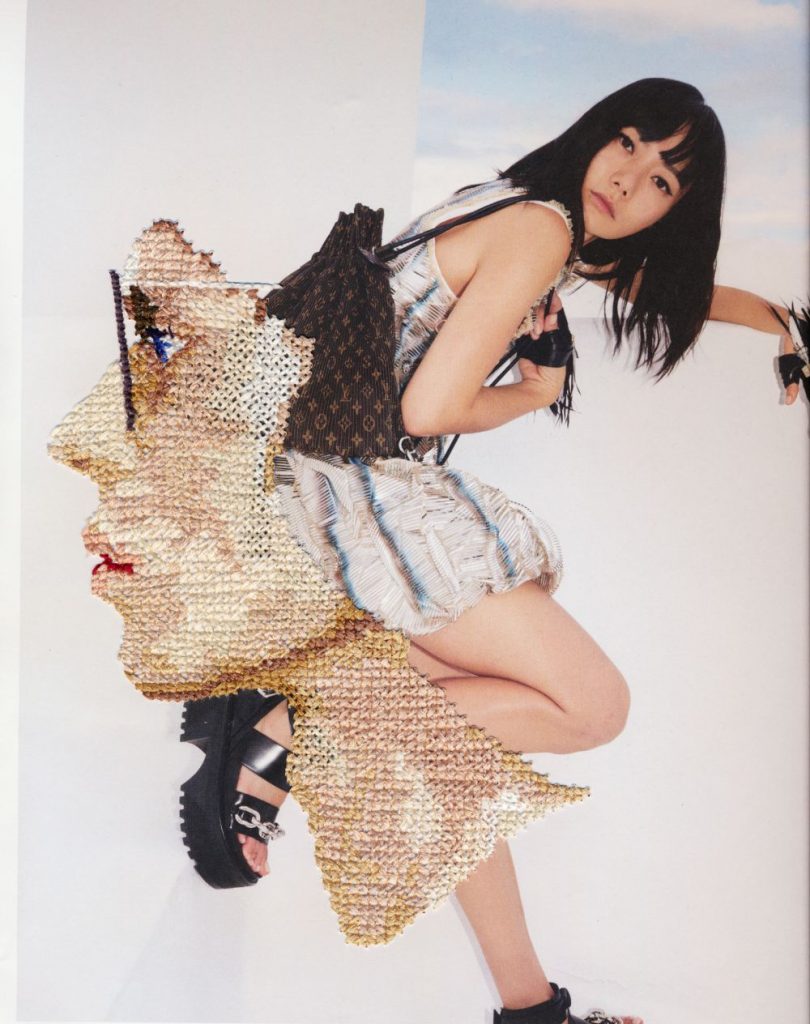 Tell us a bit about the environment you like to work in.
I like to work from my home in the west of Ireland. For me, embroidery work has traditionally been done in the home and that is something I like. I usually work with music on or in silence. It is important to stay focused and patient with embroidery. It is not something that is created in a fast-paced frenzy. Also, because I work on paper it is too delicate for it to be rushed.
As someone who undertook a degree in photography, how much of your current success do you attribute to your training? How much did it add to the artist you are today?
I started my degree in Fine Art and that is actually where I began stitching. After taking a year off to re-evaluate things I then returned to complete my degree with 2 years in Photography. I was very lucky that the tutors in the Kingston University Photography department, at the time, had a very open mind to my embroidery/photography combination and actively encouraged me throughout my degree to continue with it.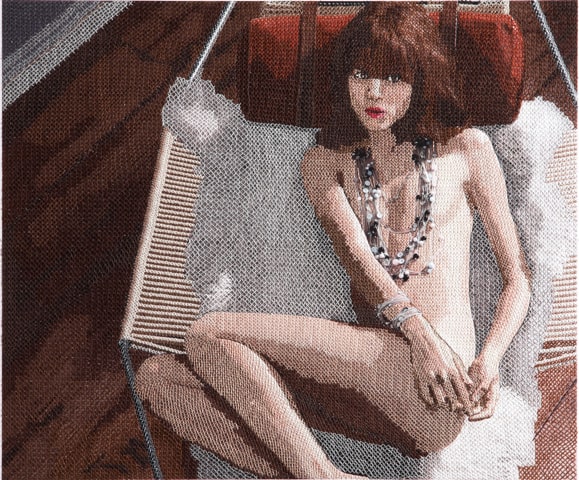 My experience there taught me to keep an open mind about my practice. It also encouraged me to always be researching, learning and discovering. Applying this research to my practise isn't always easy but during my degree I also learned that we all work in different ways – some prefer to do their research at the start of a piece and some prefer to use their research to apply meaning to existing work.  The latter suits my way of working.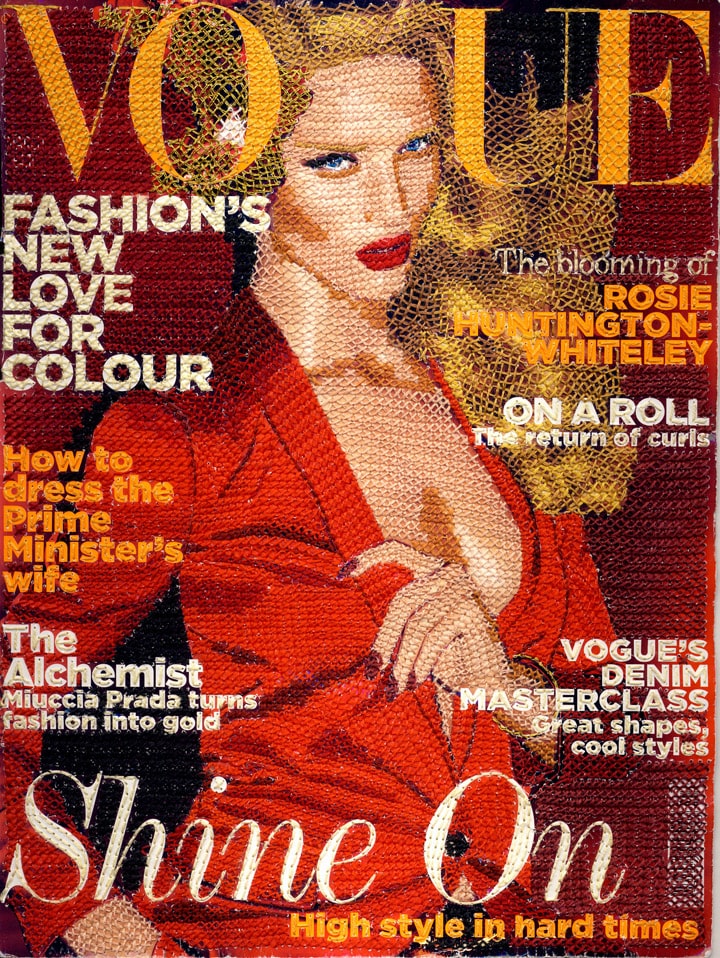 You have worked with some iconic names and brands, such as Vogue, American Express and Georg Jensen. Is the process you follow when working to commission very different to the one you would use when compiling work for an exhibition of your own?
The only real difference is that there is usually a tight deadline with a commission and the images are nearly always selected for me. This hasn't ever been an issue as the images are either iconic, in the case of American Express, or stunningly beautiful – in the case of Georg Jensen.
Tight deadlines are the hardest part to overcome as it can mean working around the clock on a commission and that's not my preferred way of working.
For the Georg Jensen commission I reached out to the Royal School of Needlework for help. While working for them for 3 weeks I learnt a great deal. This is a great example of how a tight deadline can push me into an extraordinary position.
Usually if I am creating work for myself or exhibiting I like to take my time and go at a natural pace.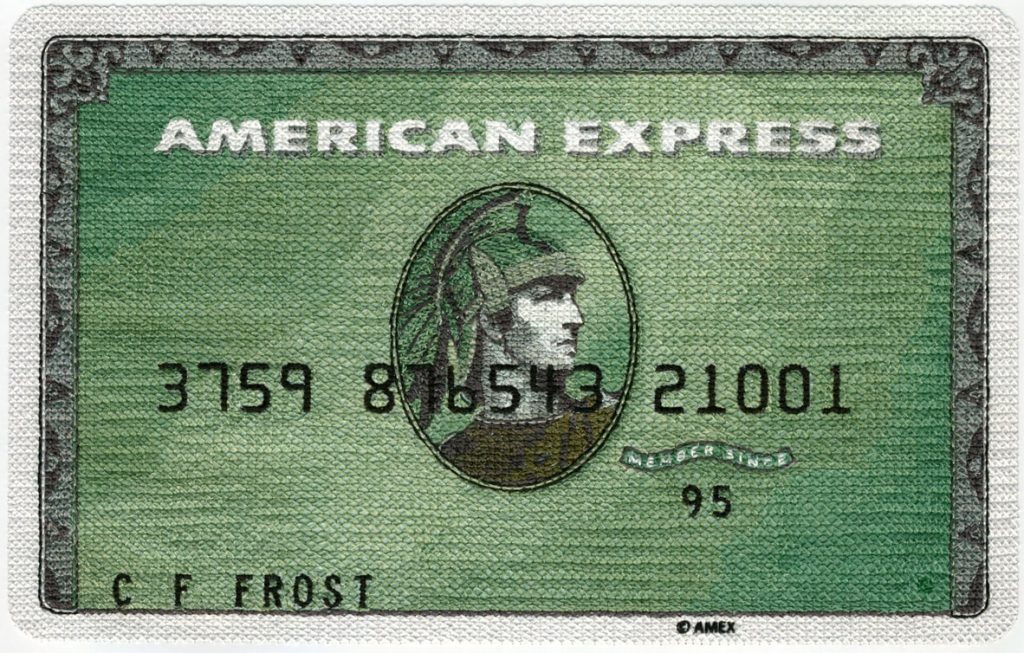 What artists inspire you personally?
I love artists like Sarah Maple and Jean-Michel Basquiat. Basquit would make a great dinner guest. His work speaks volumes and contains so much chaos but is beautiful in its own way. There are also some fantastic stitch artists out there currently making very strong work like Jess De Wahls, who's work I really admire.
You've been incredibly successful in your chosen career. What advice do you have for our students?
Get your work out there as much as possible. Apply for group shows and competitions and utilise the internet as much as you can.
I would also recommend setting up a website and social media channels. It is so important to make it as easy as possible for the right people to find your work. Post your work. Link to your work on communities that you think might be interested. Don't be afraid to email galleries/magazines and make some noise about yourself and your work. The worst thing that can happen is that they say 'no', but just move on to the next.
What is next for you?
As I've just relocated back to the west of Ireland I'm in the midst of getting set up so you'll have to follow me on Instagram or visit the website for announcements about future projects.