Deborah Wirsu is the founder of Thread Sketching in Action; a site dedicated to helping crafters create beautiful stitched textile art. Like most modern day business owners, Deborah requires a combination of skills to successfully run her business. At Thread Sketching in Action she is the self-professed chief creator, teacher, writer, film director, webmaster and office tea girl.
Deborah has published several books, tutors and continually develops resources to help each of her students learn thread sketching, thread painting and artful appliqué techniques.
Having produced a legacy of work over the years and exhibited worldwide, Deborah Wirsu's main passion is teaching and writing, which she dedicates her life to. Her biggest success is therefore her ability to empower her learners, equip them with the right tools and knowledge, and the confidence to develop creatively.
A short while ago we caught up with Deborah to find out how life during the Pandemic was treating her. We also got to take an exclusive look through some of her own favourite pieces.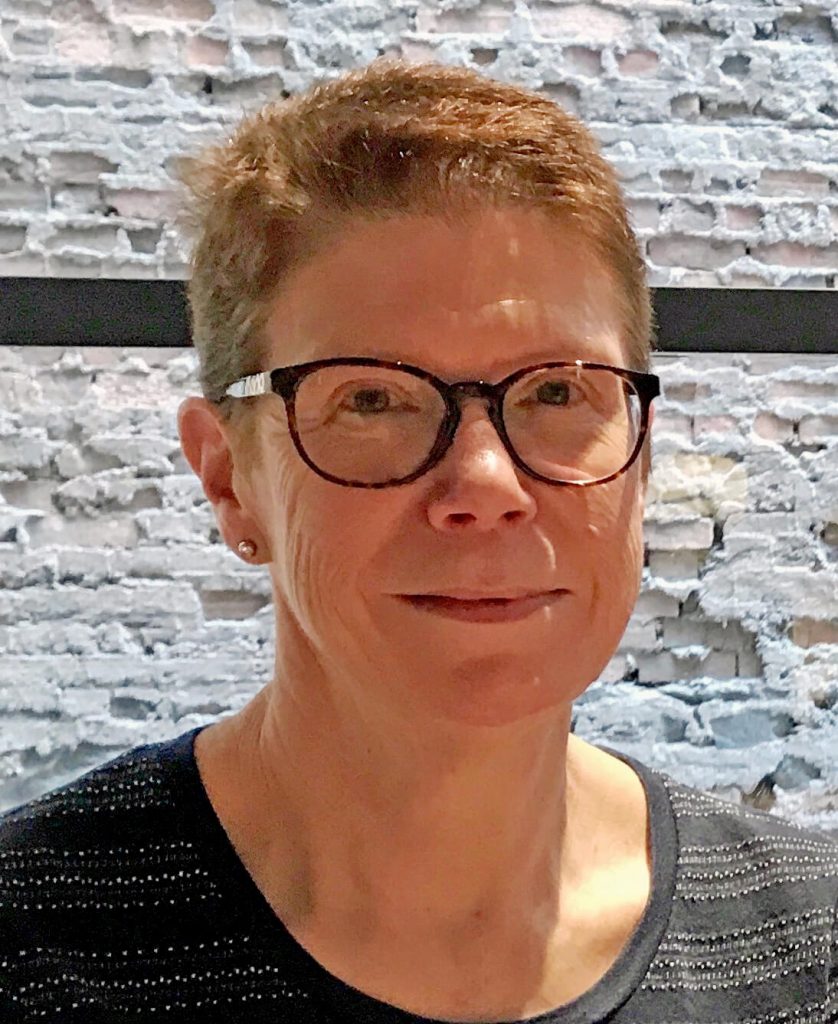 Can you tell us a little about what you're currently working on?
While much of what I make is created for use in my teaching and books, I usually have at least one larger project in development. Being able to 'switch off' from thinking about demonstrating or describing a process allows me to enjoy my craft from a purely artistic viewpoint.
The major project underway at present is a 1 metre square portrait. This is inspired by a photo of a very dear, elderly cousin, who sadly passed away a year or so ago. I was fortunate to visit him in West Yorkshire a few times in recent years. One particular photo I took captured his vibrant personality, enduring passion for, and interest in life.
This project continues my interest in using free motion zigzag stitch to create a 'painterly' effect, worked over an image printed on the fabric. All my works using this technique begin in Photoshop, where the photos are edited and manipulated to create a somewhat Impressionist appearance. These are then enlarged and printed onto high-quality PFD cotton fabric. Occasionally, when doing smaller works, I print them on silk.
Tiny, free motion zigzag stitches, using dozens of different-coloured thread, gradually layer and blend to create rich textures and depth. It's a time-consuming process, but very satisfying when you see the picture coming to life, as it were.
This particular portrait is a very personal project that I will either keep or hand on to a relative. As much of my work revolves around teaching and writing, it's crucial to have an outlet that offers a different perspective. This provides the freedom to follow my intuition, without feeling I have to film or photograph every step.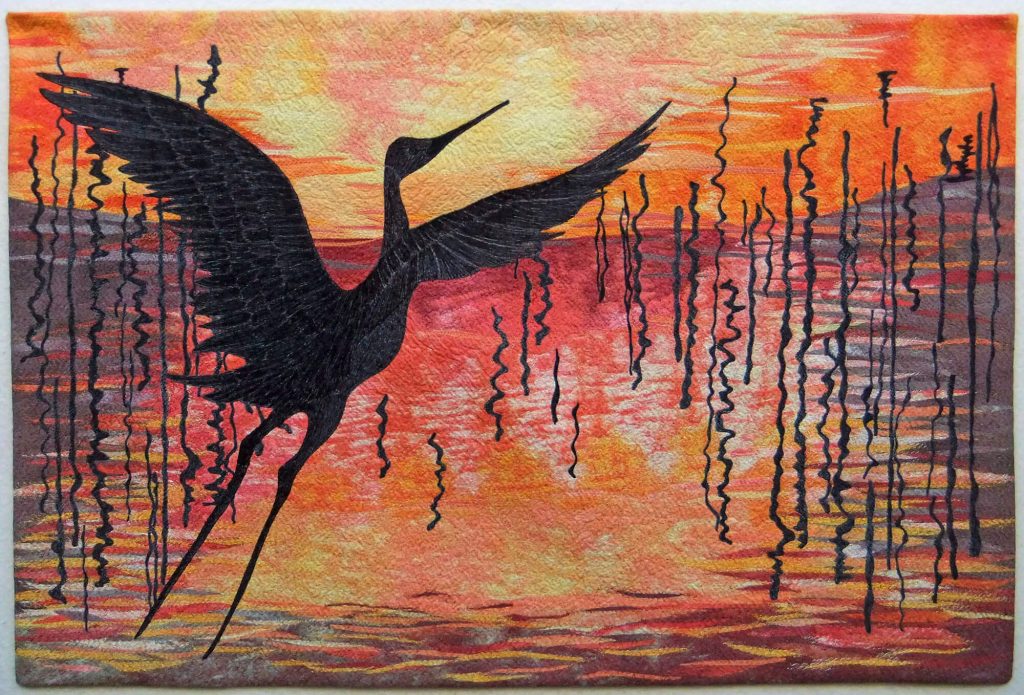 Where did stitching begin for you?
To be honest, I can't remember a time when I haven't been sewing. Growing up in Sydney (Australia) in the late 50s – 70s, dressmaking was an everyday part of life. I frequently observed my mother making clothing and household furnishings. I must have shown early interest as I remember sitting, legs dangling, at my mother's trusty Elna machine in a workroom alongside our kitchen. (Fortunately, the Elna had a knee control lever).
My mother was a very accomplished seamstress, but she didn't really enjoy it, I think. Although she taught me the basics, it was an 'aunt'—a professional dressmaker and tailor—who grounded me in the correct sewing techniques. She was a hard taskmaster, and to this day, when dressmaking, I can't bring myself to secure a seam with backstitch! 'So unprofessional,' she would say!
Drawn to handcrafts of all kinds, my interests soon blossomed to embrace hand embroidery, needlepoint, knitting, and crochet. I was one of those kids who wanted to learn something fast and then move on to the next new thing!
Being a bit of a loner as a child gave me plenty of time to indulge my interests, spending hours in the sewing room or my bedroom. I was always making something. When I wasn't sewing, I was usually outdoors climbing trees or getting in a scrape, horse riding, tending my pets, practising piano, or reading and writing. I was very fortunate to have parents willing and able to indulge me in my various passions. I think it was a way for them to prevent me from becoming bored!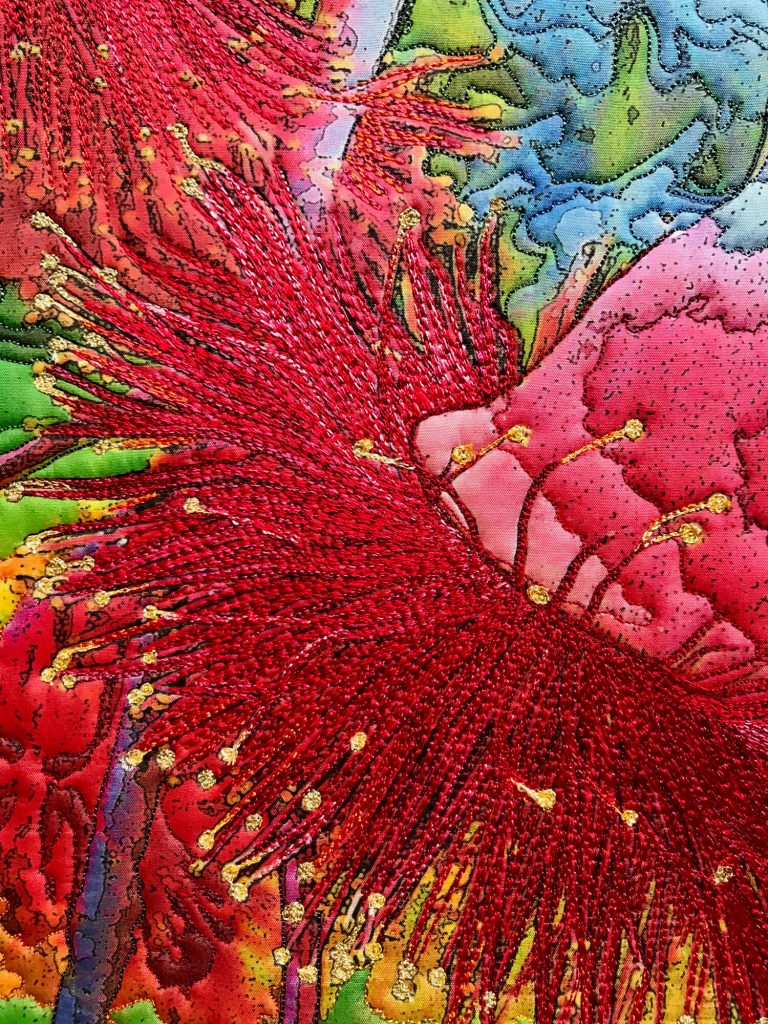 Do you think living in Australia provides a great deal of inspiration?
Yes, Australia, like so many other countries, has unique qualities and sources of inspiration. Growing up in a leafy suburb of Sydney, yet surrounded by bush, I was fortunate to live amongst everything from towering eucalypts to tiny rock orchids (and the odd spider or two!). As an adult, I also lived for some years in the semi-rural outskirts of Melbourne. As a result, I've felt the pull of native plants when designing some of my work. Early examples of my thread sketching and thread painting include a series of 'micro' cards featuring native plants. This theme has continued to be a source of ideas.
However, as someone who loves to travel, scenes from my overseas journeys feature heavily in my output, especially the landscape thread paintings. I have a particular fascination with Asia; and my European travels are popular topics, too. My mother emigrated to Australia from the UK, and my father's family hailed from Finland, so I feel a powerful European/Scandinavian connection.
I long for the day when our international borders reopen. I can't wait to once again experience the fascinating cultures and scenery to be found elsewhere.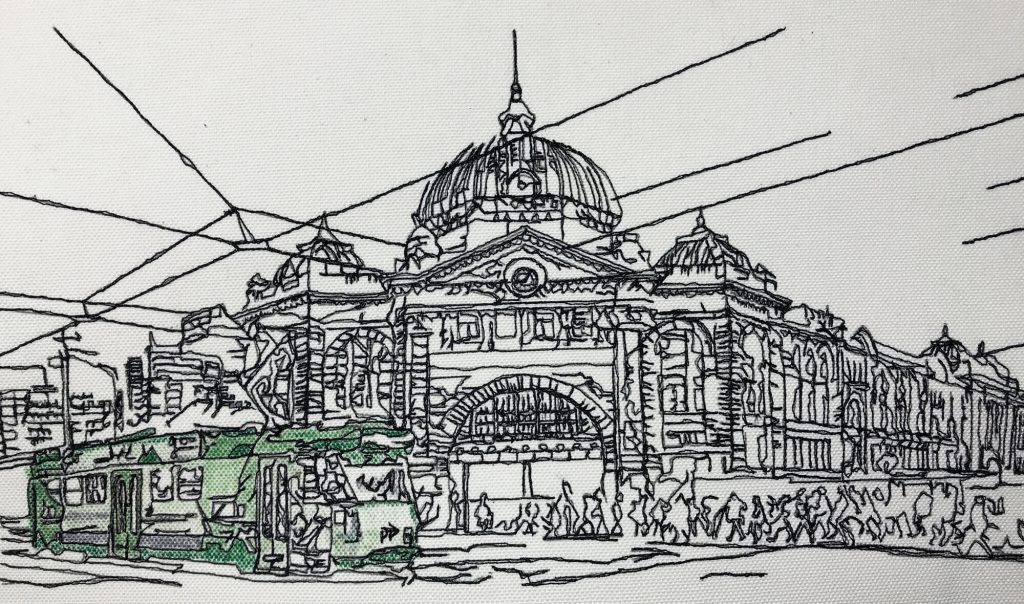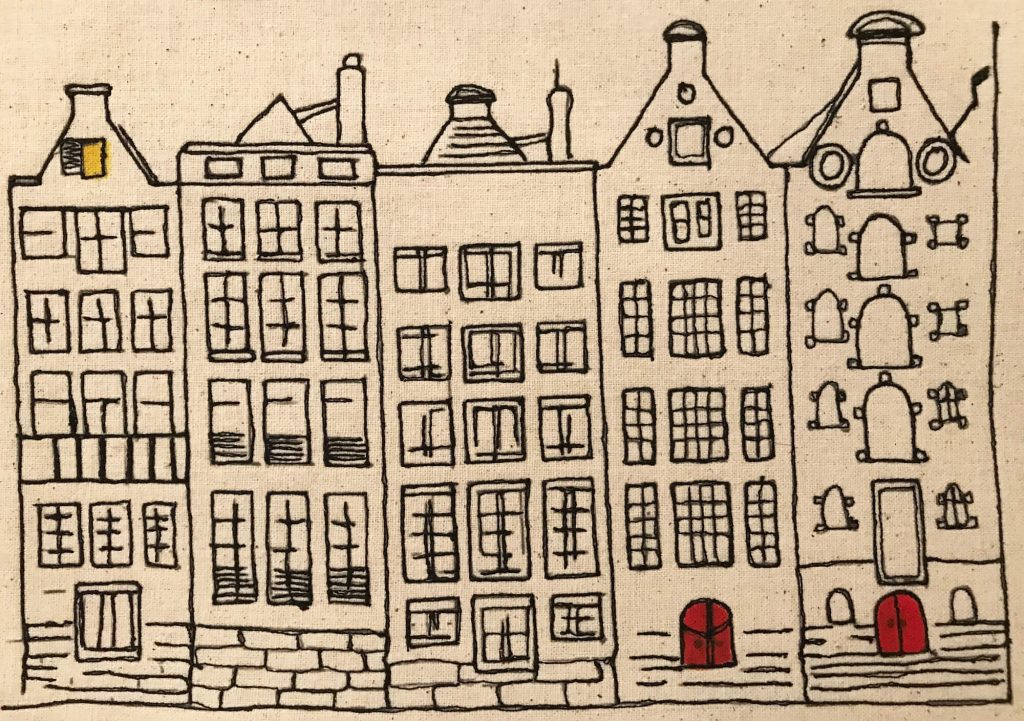 As someone who is both an author and a video creator, how did you find the learning curve in both writing and filming professionally?
Oh my! The learning curve has been steep! Although music was initially my primary career, a time came when I needed a complete change of direction. A need to do something different. I had been teaching for many years, so I was comfortable with communicating ideas to others. I also knew I wanted a 'portable' career. One that would allow me to travel, working from anywhere, as long as I had a laptop and internet connection.
After several false starts, I decided to begin my creative textiles website. However, at first, I had no idea where the main focus would lie! Inspired by the discovery of art quilts, I dreamed of building a business around the fascinating world of art quilting.
Typically, I didn't merely want to do what everyone else was doing. Over time, I realised it was the stitching process that fascinated me most. After discovering the joys of free motion stitching—thread sketching, thread painting, and free machine embroidery—I felt released from the constraints of formal free motion quilting designs. It was then that I knew I had found my place.
My business began to take off after undertaking to film 52 short thread sketching demonstration videos on YouTube—weekly for a year. In hindsight, it was a crazy idea. I'd never made a video before, and I was still very new (and self-taught) at web design. Nevertheless, Thread Sketching in Action was born. The subsequent popularity of those videos led to the creation of my online school—Deborah Wirsu Arts Academy—and the beginning of a series of online classes.
As someone with a lifelong interest in reading and writing, I was naturally drawn to writing books on my subject as well, and now have three published works available. A fourth book is due for publication very soon.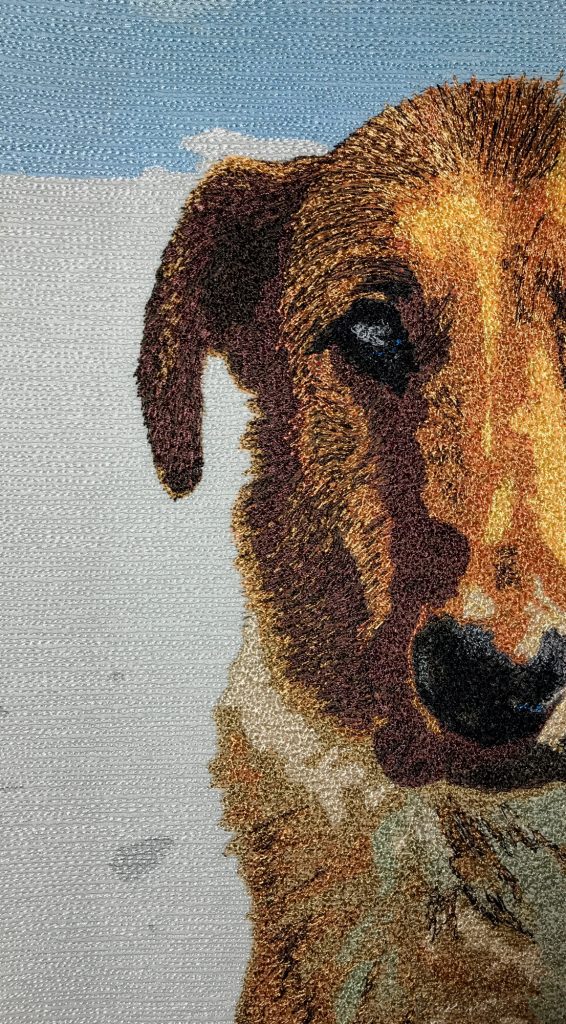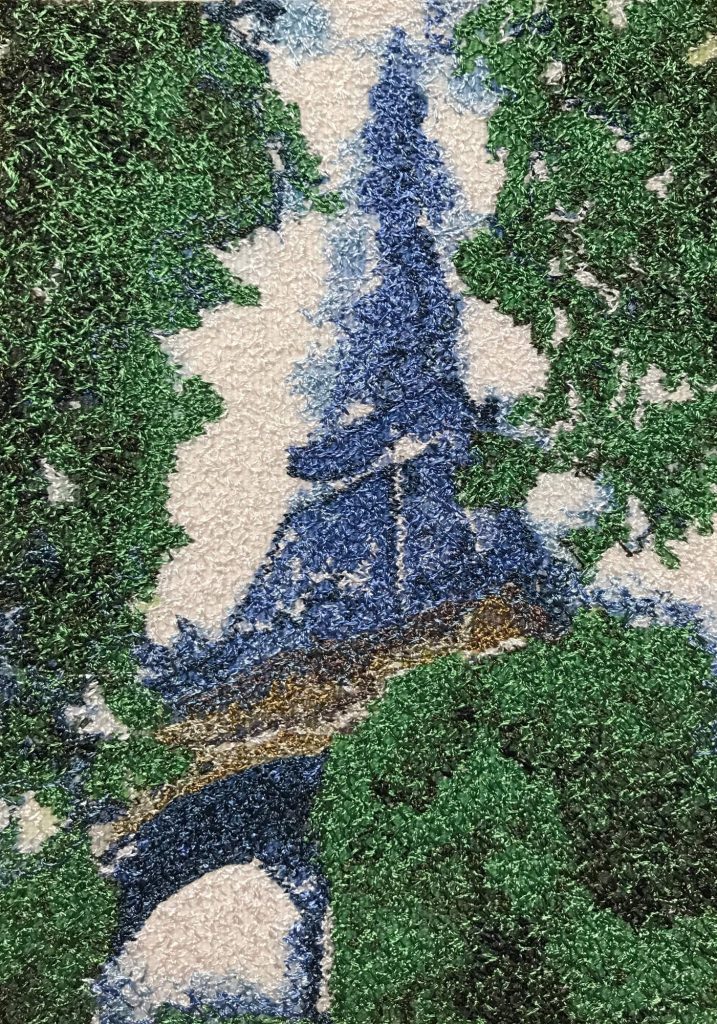 What would your advice be for others?
My advice for anyone wanting to become involved in online teaching, writing, and publishing is, to borrow a phrase from Nike…Just do it!
Don't wait for the perfect moment.
Do not wait until you have all the knowledge (you never will) or the best equipment.
Don't put off getting yourself 'out there' because of a fear of looking silly.
I began with no background in IT, no knowledge of running an online business, and little idea of where my business was headed. But I did it anyway. My expertise lay in creative art, music, teaching, writing, and editing, none of which I had ever undertaken online. All you need to get started is a decent computer, high-speed internet connection, and a reasonable video camera and microphone.
Desire can take you a long way. Everyone experiences doubts and insecurities. It's so important to acknowledge the anxiety and push through it, however hard it seems. (Sometimes it's tough!) If something doesn't work, try something else. Or seek help.
You are a talented musician as well as a textile artist. Do you find that your interest in music finds its way into your textile work?
This is an interesting question. My style has developed and evolved over the years, resulting in a range of approaches that I find difficult to describe. Looking back, very few of my textile pieces involve any visual representation of musical themes. However, my job as a professional Viola player involved playing mainly opera and ballet. Both are artforms that embrace both music and visual expression. Every time I perform opera, I learn something new about interpretation.
Thinking about my textile art, I believe any musical influence in my work is subjective. The intoxicating atmosphere of the theatre, the thrill of performance, lighting and stage sets, and the emotions of the music itself reflect in my approach to colour, form, design, and technique.
Any art form, be it painting, sewing, writing, music, opera or ballet, requires a level of discipline to do well, and many years of practice. Over the years, I've developed a dogged attitude to achieving my dreams.
Any skill learned in life is reflected in other things you do. Even if the subject matter does not directly indicate that.
Until Covid-19 came along this year, I was still actively involved in the Melbourne Opera Orchestra. I was performing several opera seasons each year. Sadly, that is on hold at present, but I look forward to the day when theatres will throw open their doors once again.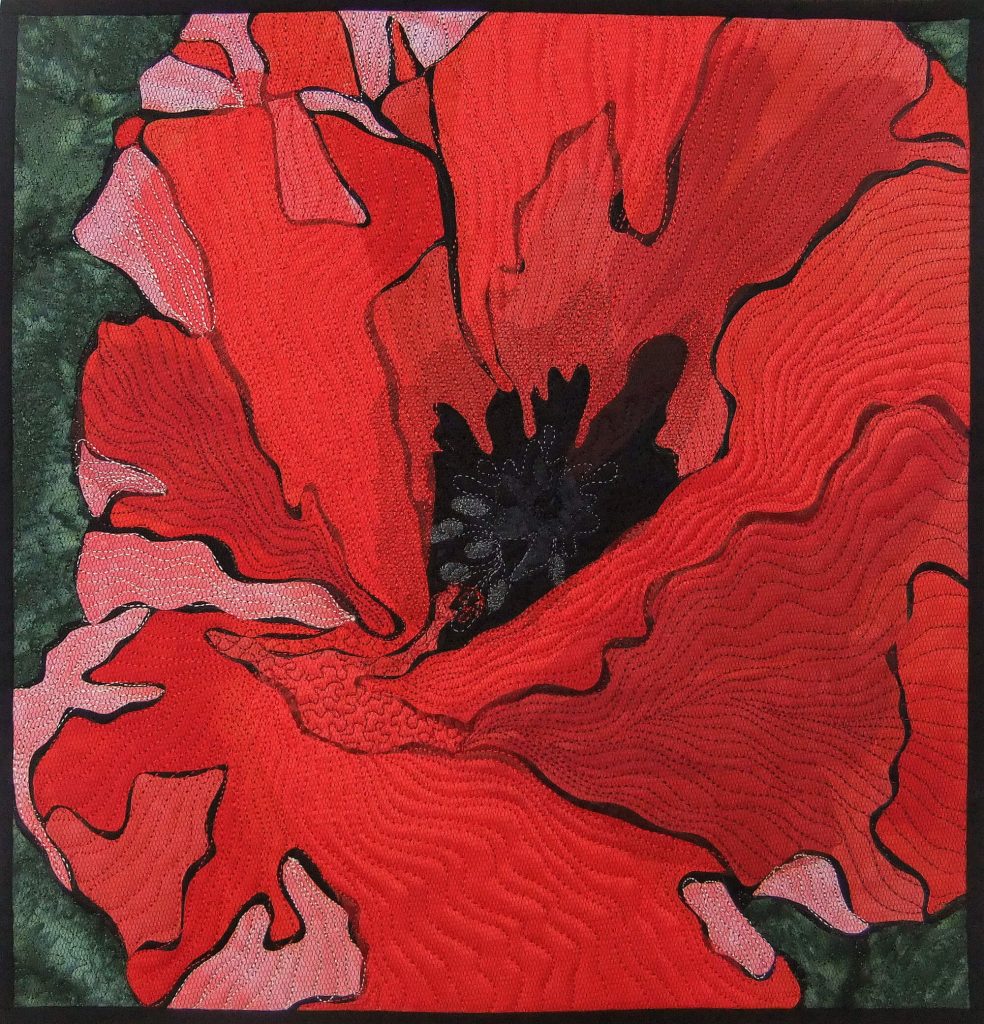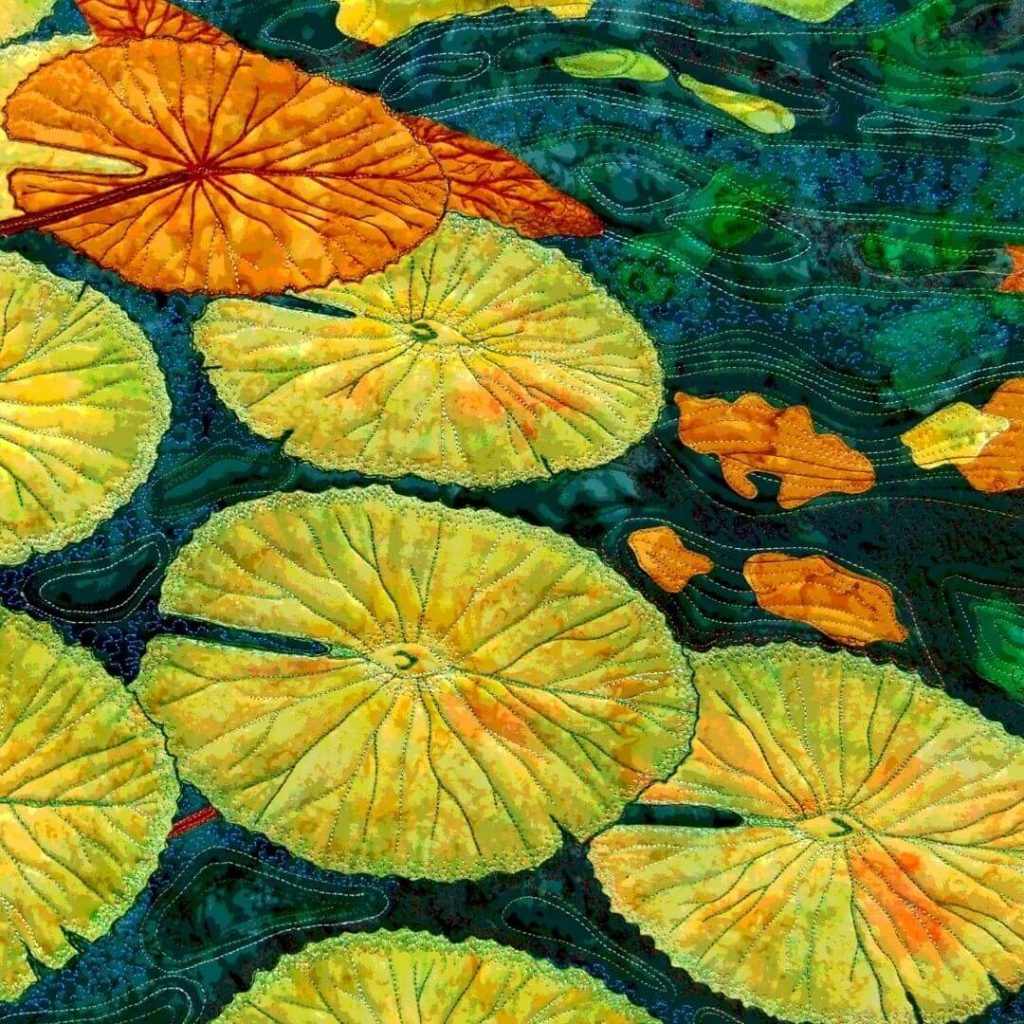 What is next? Do you have exhibitions or new books underway that you could tell us a little about?
The focus of my work lies in online teaching and writing. Like so many others, I've been mostly housebound since March due to coronavirus. However, there has been a 'silver lining' of sorts to this. It's given me plenty of undistracted time to work on new projects.
So, three new online classes have taken shape this year, released in January, April and July. Furthermore, another textile art book is due for publication in September. I'm also developing a series of books to help others who are interested in following the path of authorship or online business strategies.
Follow Deborah Wirsu on Facebook, Pinterest or Youtube
Email: admin@threadsketchinginaction.com