Kim O'Rouke has been sewing for 40 years and has always loved being creative with textiles. However, a sudden and tragic loss of a close family member made her re-evaluate her life and career. Having almost completed an accredited course in Patchwork and Quilting discover how Kim's life has changed and what she is doing now. You won't believe the change in direction and the happiness this her brought to her life.
Sewing for 40 years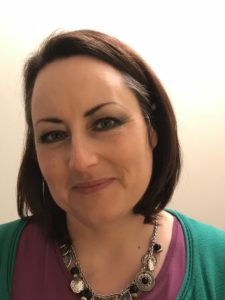 I have been sewing for about 40 years. My first forays into attaching one piece of fabric onto another weren't ever going to set the world on fire: a bag made out of old blankets that may have looked chic and trendy through the eyes of an eight-year-old, perhaps didn't see the light of day when it reached its intended recipient.  Still, it started me on a journey that I have always loved with a passion and the thrill of sewing two pieces of fabric together to create something new has stayed with me four decades later.
I sewed a lot during my teens. Mostly it was dressmaking and curtain making on my mum's beautiful old hand turned Singer.  A career in marketing resulted in a break from sewing for a few years which was resumed in my thirties when I had my children (cue best dressed Mary in the nursery nativity play!).  But it was a combination of experimentation at home and attending a quilt making course at my local patchwork shop that meant I'd 'suddenly' found my sewing home.
Patchwork and quilting to me was the coming together of colour, design, geometric patterns and creating something unique that I hadn't experienced until then.  I was thrilled!  My brilliant teacher insisted on seams joining perfectly and generally very high technical standards right from the start, which has stood me in very good stead ever since.
Changing direction
Then the worst thing possible happened. My mum – who I was incredibly close to – died at aged 67.  It was a complete shock to me. How could my mum, so full of life and vitality, die that quickly at such a young age?  It was a real wake-up call. I realised that life was far too short to not be filled with joy, colour, love and passion for what you do.
Three months later and with a little trepidation (would I be good enough?) I had signed up for the City and Guilds Intermediate Certificate in Patchwork and Quilting with the School of Stitched Textiles.  I was excited about learning how to design, but despite having spent nearly 30 years working with graphic designers in my marketing career I had never actually designed anything myself.  The first time I had to draw something I sat there wondering how on earth to start.  I put all my pencils into a straight line and I stroked the paper in front of me.  The last time I drew anything was at school. This was an entirely new, slightly scary concept.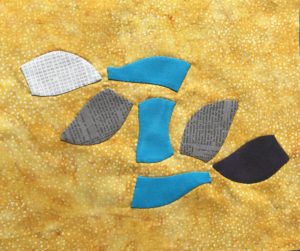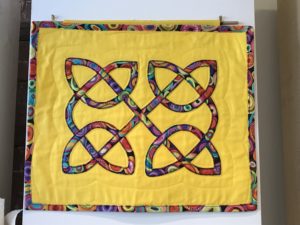 Learning how to design
However, I made those first few faltering steps into the world of drawing and sketching, then colour, tone, texture and (currently) form. I fell in love. Step by step my course manual helped me build up skills and slowly I gained confidence.  Nearly half way through the course I now find myself being able to sketch line drawings with relative ease and extract elements to play with in order to make brand new designs out of them.
Taking a design from paper to sewing is a thrill.  OK, so maybe they're not great works of art just yet, but through experimentation I have discovered that I like strong value changes in my work and I lean towards striking geometric design.  I've also discovered that sewing through cellophane sweet wrappers is surprisingly satisfying!
My full immersion into the world of sewing wasn't quite finished. In fact, I think it is only just starting.  Mum's death spurred me into changing my career completely, and so 2017 saw the end of my thirty-year marketing career and I opened a contemporary patchwork and quilting shop in a local market town.  I adore chatting with and helping my customers. Although I sometimes wonder how on earth I got here I love what I do and feel blessed to be surrounded by my lovely and brilliant team, and my very talented customers. A good proportion of whom are fast becoming friends.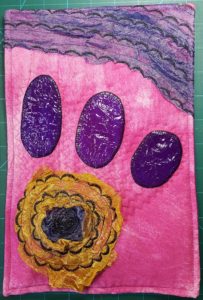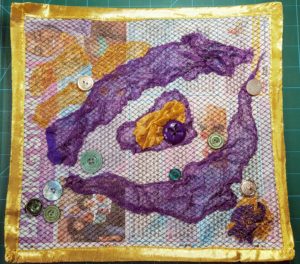 The start of the journey
I have lots to explore in my career ahead in textiles.  I teach at my shop, but I want to inspire my customers to step outside their comfort zones in colour and design.  My own design work is expanding and I'm considering looking at designing for fabric in the future, as well as designing and teaching bag making which is still a love all these years on.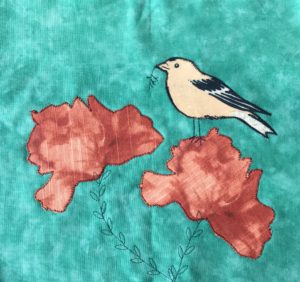 To me, the journey has just started.  What a thrill!
Have you been inspired by Kim's story? We're thrilled to have so many similar stories from graduates that have reported how our courses have been their saviour or have been great value to enhancing their skills. If you have studied with the School of Stitched Textiles and would like to share your story then we'd love to hear from you.