There are many reasons why our students choose to study a distance learning textiles craft course at the School of Stitched Textiles. Some are looking for an advanced learning programme to advance their knowledge and skills and others feel that it is simply time to do something for themselves. One particular student, Gill Thompson turned to textiles as a way of overcoming personal difficulties.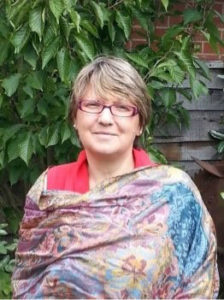 'A sewing machine sitting on the table was an almost permanent sight in my house growing up. Not only did my mother make clothes for both herself and me, she also made clothes for Cindy dolls as a home worker. My toy sewing machine was set up next to hers and I remember getting very irate realising it wasn't stitching the same as hers. Needle work at school followed, giving me the skills to go on and make clothes for me and my daughters. Cross-stitch, Tapestry, and Embroidery continued my interest with needle and thread. Then life intervened; a career and children meant that stitching took a back seat.
At 48 everything changed, a breakdown led to me giving up work. An ex-colleague stayed in touch and helped me through that difficult time in my life with trips to local artists' workshops. One 'Open Studio' where I saw a depiction of a Cornish harbour made with all sorts of fabric scraps particularly sticks in my mind as I remember thinking "I wonder if I could do that".
Getting lost in a world of textile crafting
This is when sewing came back in to my life. While I was sitting stitching, either by hand or with the machine, I realised that I was totally calm. I became lost in what I was doing and nothing else mattered. Soon after, I started to visit a selection of local workshops, increasing my sewing ability but also regaining my social confidence and after some time joined a regular patchwork group.
The day my eldest moved in to his first flat was bittersweet. My son had flown the nest, but my newly acquired sewing room went some way to consoling me! Every cloud has a patchwork lining. I finally had space for my fabric stash, extensive library of books, and even a seat for my very patient husband.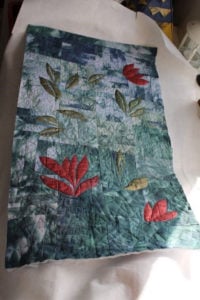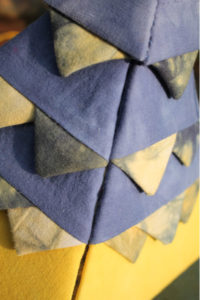 This is now my sanctuary and 10 years after leaving work my life has totally changed and my skill set has expanded more than I could possibly have imagined. I am now working part time at Sew Creative Quilts, a local business. I have no idea where all this is going to take me, but I am excited about the journey, even at my age.
A welcome challenge
I left school at 16 and spent the intervening years doing countless courses covering every aspect of my career. This gave me a wealth of experience but not nothing that I could point to and say "hey, look what I did!". With new found confidence in my sewing, I decided a City & Guilds textiles craft course was the way forward. Living on the North Norfolk coast my only real option was to do an online textiles course. After doing my research I chose the School of Stitched Textiles. I felt the Level 3 in Patchwork and Quilting was both achievable yet challenging.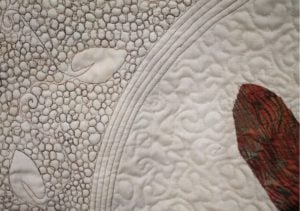 How my textiles craft course has helped me
The course has really taken me out of my comfort zone, the design aspects in particular. I've never felt confident in my skills as an artist. However, this has improved, as did my knowledge and practical ability. If I had a problem I felt comfortable e-mailing my tutor Marj Rutter as she would always come back with a supportive answer. I have learnt so many fascinating things from doing this course. Not only about patchwork and quilting but about different artists and how they work, different cultures and their traditional embroidery, and textile history. For me the best part of this course is that it has taught how to be inspired. I draw upon a huge collection of material for ideas before roughing those ideas out on paper. If only it had taught me how to make a decision about fabrics quicker! Having all most completed my last module I am already excited about the prospect of starting my next level textiles craft course.'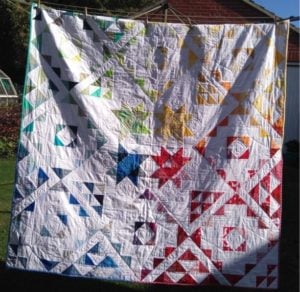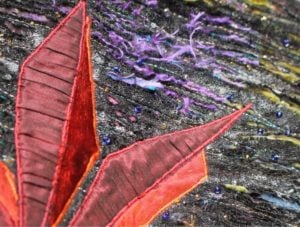 We'd like to thank Gill for sharing her very personal and touching story. We are so pleased that your course has given you a new found confidence in your own abilities. You're making great progress.
x