If you're a fan of stumpwork embroidery, there's no doubt you will have heard of Kay Dennis! Throughout her career – spanning more than three decades – Kay Dennis has taught 100s of stumpwork students. She continues to reach and inspire a new generation of budding artists through her popular published books, exhibitions and workshops.
Although Kay had always loved embroidery it was only through attending courses that she gained vital exposure to the techniques of Stumpwork. A passion that would later become her career.
Supported by her husband and business partner Michael – aka 'Team Dennis' – Kay began teaching the City and Guilds (7822) Syllabus at Missenden Abbey. The following year she wrote the Level 1 syllabus and later, the Level 3 syllabus. She continued to teach City and Guilds Stumpwork until the formulation of the new City and Guilds Stumpwork syllabus.
As well as teaching Stumpwork, Goldwork Embroidery and Elizabethan Embroidery, Kay has created commissioned pieces for the National Trust and the Embroiderer's Guild. In 2011 Michael became Chairman of the Guild of Needle Laces and Kay was later elected Chairman of the South East Region of the Embroiderers' Guild. Needless to say, their experience and skills are wide-reaching, and they have been pivotal figures in the education of traditional Stumpwork embroidery.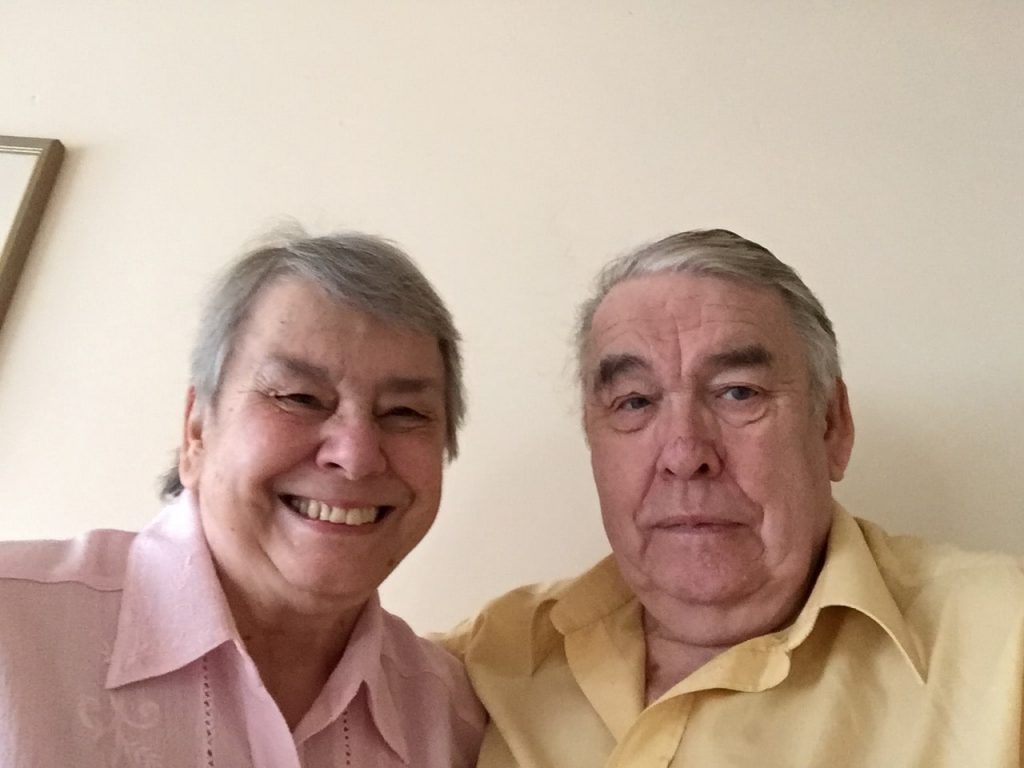 What was your first memory of stitching – who taught you?
As a child I used to spend part of my school holidays with two Great Aunts living in Worthing.  One nasty winter when I was about 4 1/2  Auntie Bertha, who was a beautiful embroiderer, taught me some basic stitches on 'Binca'.  My mother was also an accomplished needlewoman and before the war was a professional seamstress…..it is obviously in the genes!
Do you have a favourite subject for turning into a stumpwork piece?
I love the countryside and the wildlife that lives in it, so I nearly always turn to the world about me for inspiration. The colours, shapes and textures of flowers, trees and beautiful fungi are inspirational in themselves.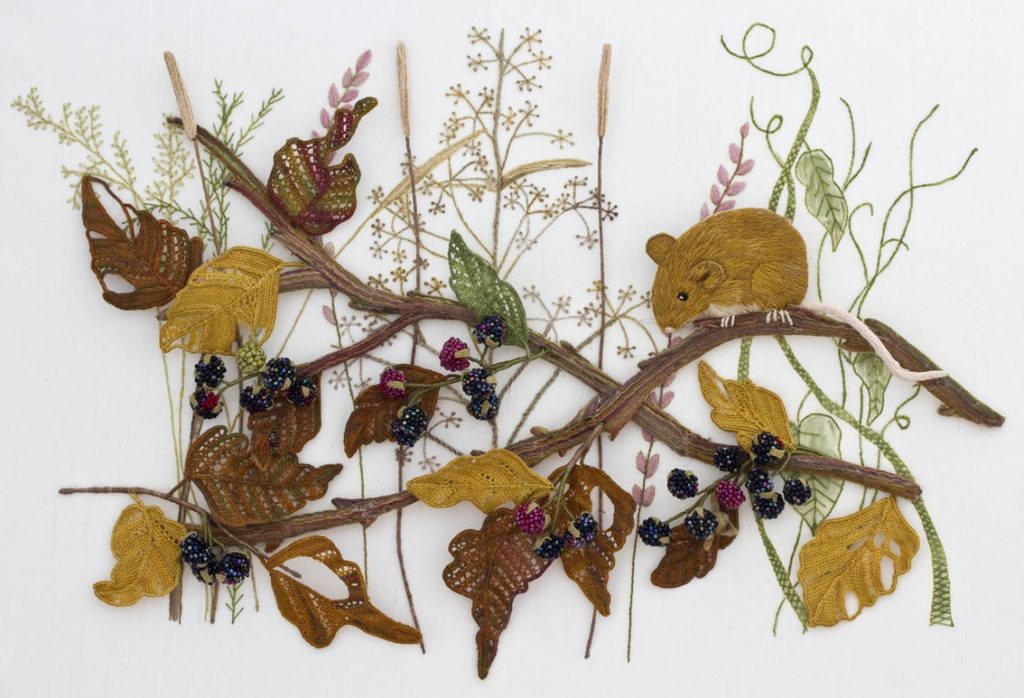 How did it feel to make the leap from working to embroidering full time?
At the time scary! I had dreamed about becoming a professional embroiderer for a number of years since teaching a group of embroiderers' needlelace. I started teaching, at weekends, to local groups and gradually my reputation grew and I was becoming really busy and started teaching nationally. In 1995 I had the option of taking redundancy from my day job and knew this was the opportunity I had dreamed about.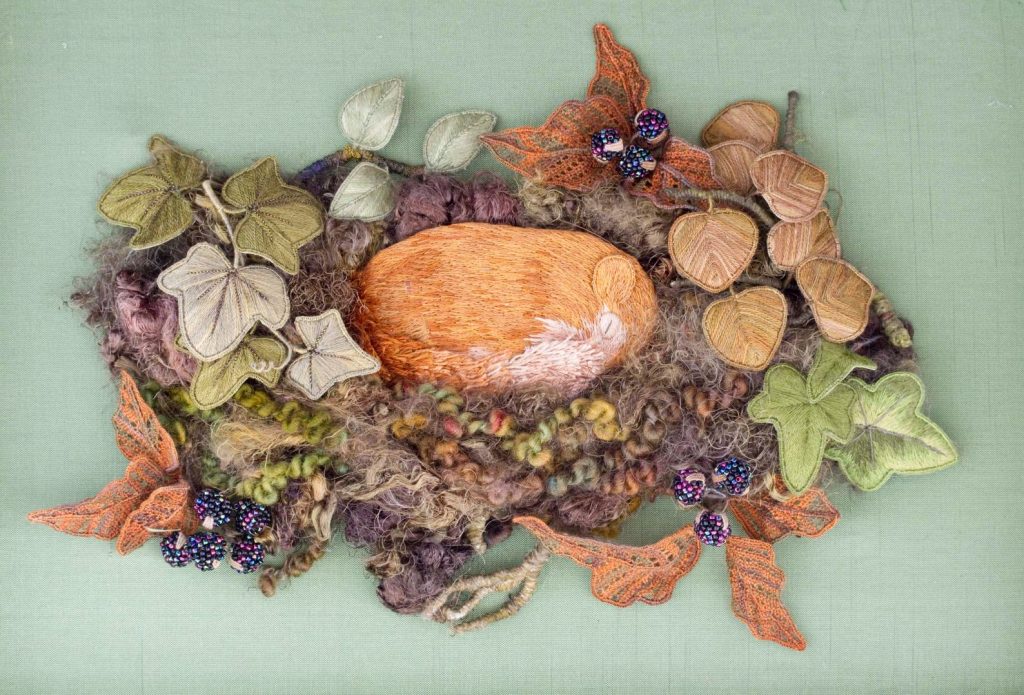 Could you give some advice to our students who may be thinking of also making the leap from working for someone else into sewing full time?
I would say make the leap gradually, work part time for income but also work hard at building a reputation. Take any job that is offered to you, be flexible and keep learning.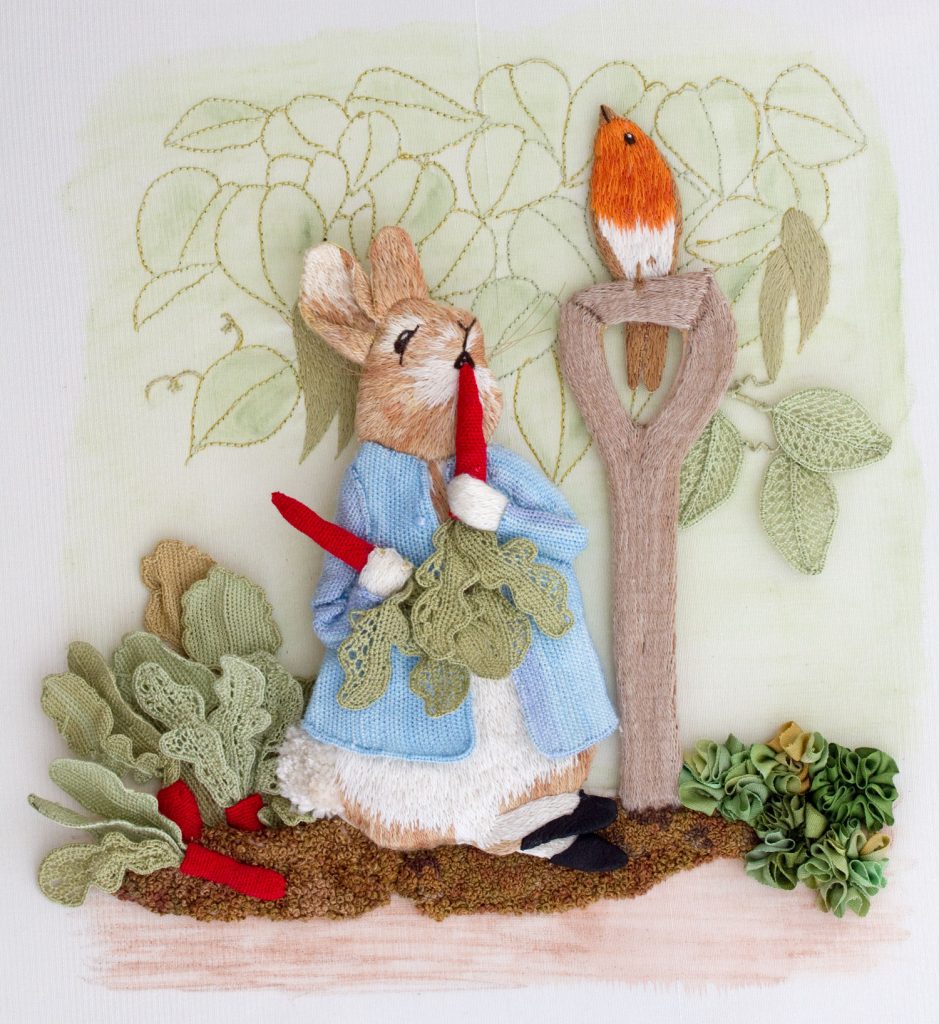 Working with your husband must be fun. What are the challenges and benefits of working with a family member?
My husband Michael really became involved when in 1998 I was asked to write my first book for Search Press.  I was Ok at designing and stitching but drawing patterns and stitch diagrams on the computer I was rubbish at (and still am!). Between us we wrote the draft book. He now writes all the information booklets and draws the stitch diagrams. As I got busier he started to come with me to classes. He drove me to classes and helped if I had a large class – we are affectionately known as 'Team Dennis'
What artists inspire you personally?
There are so many embroiderers who's work I admire – Jenny Adin Christie, Trish Burr and Alison Cole.  I would love to sit next to Alison Cole at a dinner party.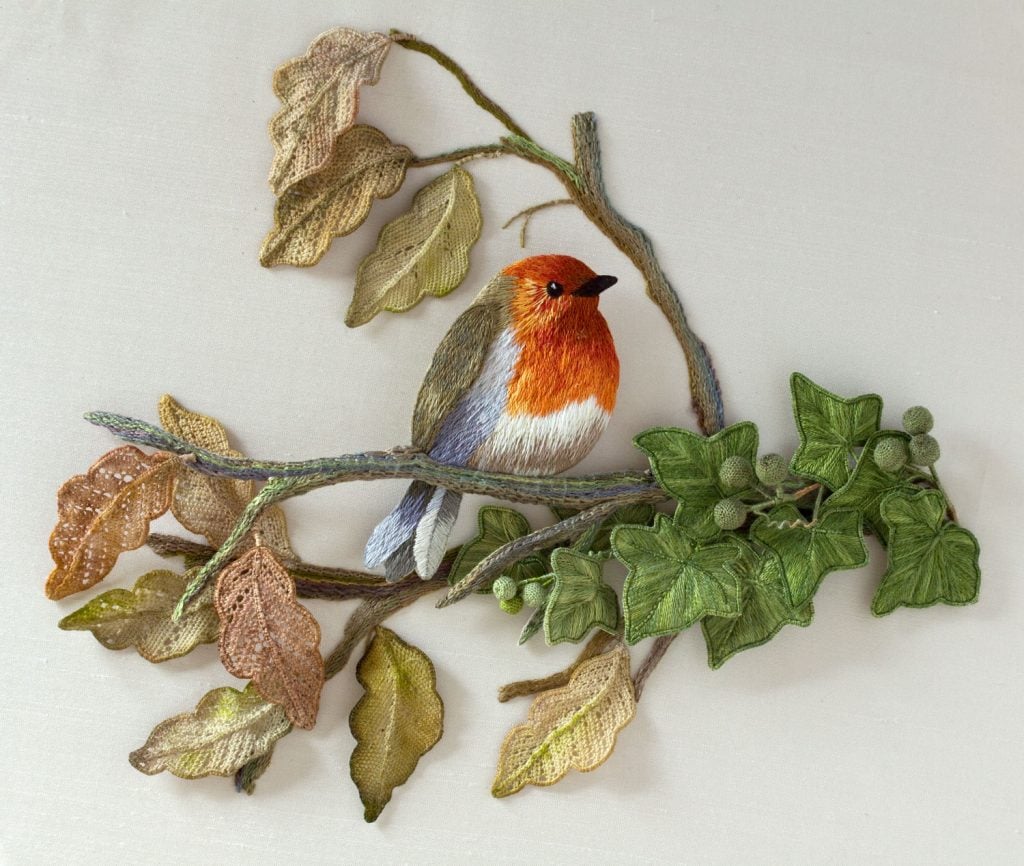 What do you have planned next?
Now that I am in 70's I am wanting to slow down a bit.  I still enjoy teaching, and want to continue that for a few more years. However, during this pandemic I have enjoyed being at home. I've enjoyed being able to really spend time on ideas which have been in my head for a number of years. I have also been able to be in the garden more enjoying the wildlife that visits us.  There are a couple of articles for magazines lined up and I will still enjoy demonstrating and teaching at shows.