Gold has long been a symbol of status and power. Throughout history emperors, royalty, and religious leaders would wear opulent garments adorned with gold – Goldwork Embroidery. The work would have been carried out using the most expensive materials by highly skilled craftspeople. Today, Goldwork is a lot more accessible and is becoming an increasingly popular needlework technique. 
We've seen a resurgence in interest over the years. Many of you have even asked about how to get started. If you're interested in learning about this fascinating technique then we've put together this helpful guide.
Here's what we'll cover:
What is Goldwork?
A short history of Goldwork
What Materials will I need?
What are the different techniques? 
Who are the main players in Goldwork?
How to get started with Goldwork Embroidery? 
Best Goldwork Embroidery Books?
Other sources of Inspiration?
What is Goldwork Embroidery? 
Goldwork is a style of embroidery done using metal threads. Traditionally, gold 'threads' were created by beating gold into flat ribbon like threads which were stitched into place. Thanks to the advancements in manufacturing, threads these days are made from imitation metals, providing an almost unlimited supply of different threads, materials, and decorations that can be incorporated into Goldwork.
A Short History of Goldwork
Dating back to the 12th Century, Goldwork has a very long history in the UK.
At one point, England was the epicentre of Gold embroidery. It was done almost exclusively by professional male embroiderers in London workshops and called 'Opus Anglicanum':  A Latin term  which translates to 'work of the English'.
At the time, Goldwork employed a remarkable technique called underside couching. Working with the work the wrong way up, golden threads were pulled from the front to the back via a silk couching thread producing a very weighty and valuable design completely covered in gold. Designs would range from national emblems to decorative motifs, however, most mediaeval Goldwork was based on religious teachings.
Sadly, the Black Death (plague) of the mid fourteenth century brought an end to Opus Anglicanum production in London as many of the producers and their customers died. The Reformation during the 16th century also saw large amounts of this wonderful historical embroidery lost as monasteries and other religious establishments were destroyed. If you'd like to learn more, the V&A Museum holds the largest collection of this work in the world.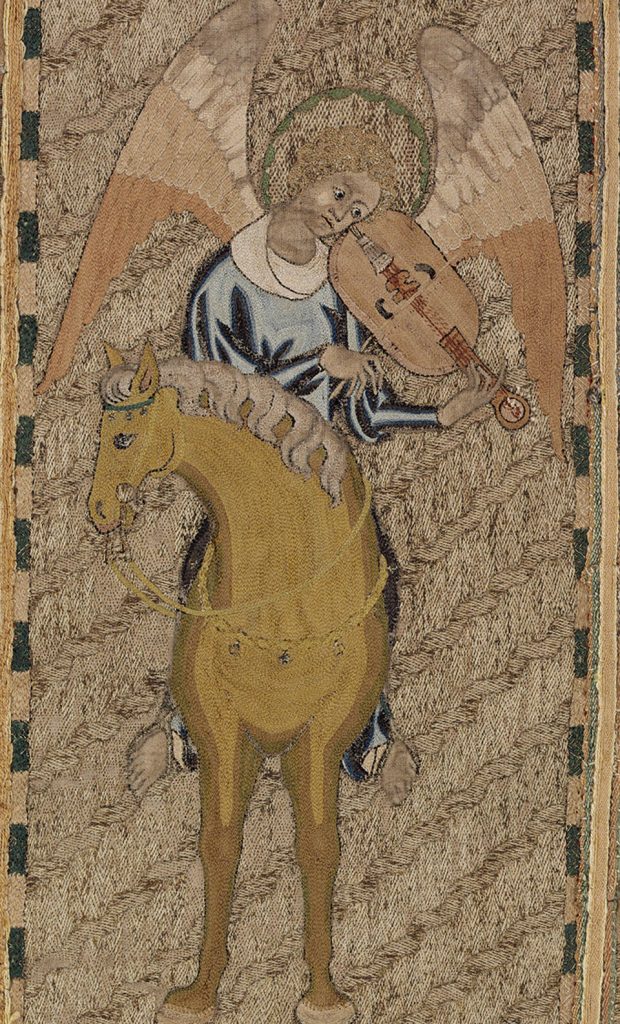 Today Goldwork remains very popular. However, techniques have been adjusted to incorporate new techniques, including machine embroidery and also new materials which are less costly and easier to work with. The more traditional methods are still used for religious artefacts and clothing. 
What Materials Will I Need?
The materials you need for Goldwork will vary depending on the design you want to create and the materials you want to use. But there are some main supplies you will need that you may not have, especially if you've not done embroidery before. 
Essentials
Embroidery Hoop: Embroidery hoops come in a variety of sizes and are used to stretch your fabric taut and hold it in place. We recommend a thick rimmed hoop.
Embroidery Stand: This is an optional extra but for a Goldwork it will make your life a lot easier. Embroidery stands can be mounted onto the edge of the table or held in between your legs, leaving both your hands free to work with the threads. In our experience having both hands free is better for Goldwork.
Fabric: For Goldwork Embroidery, Linen or thicker cotton is the best option. Silk and Velvet are very hard to work on.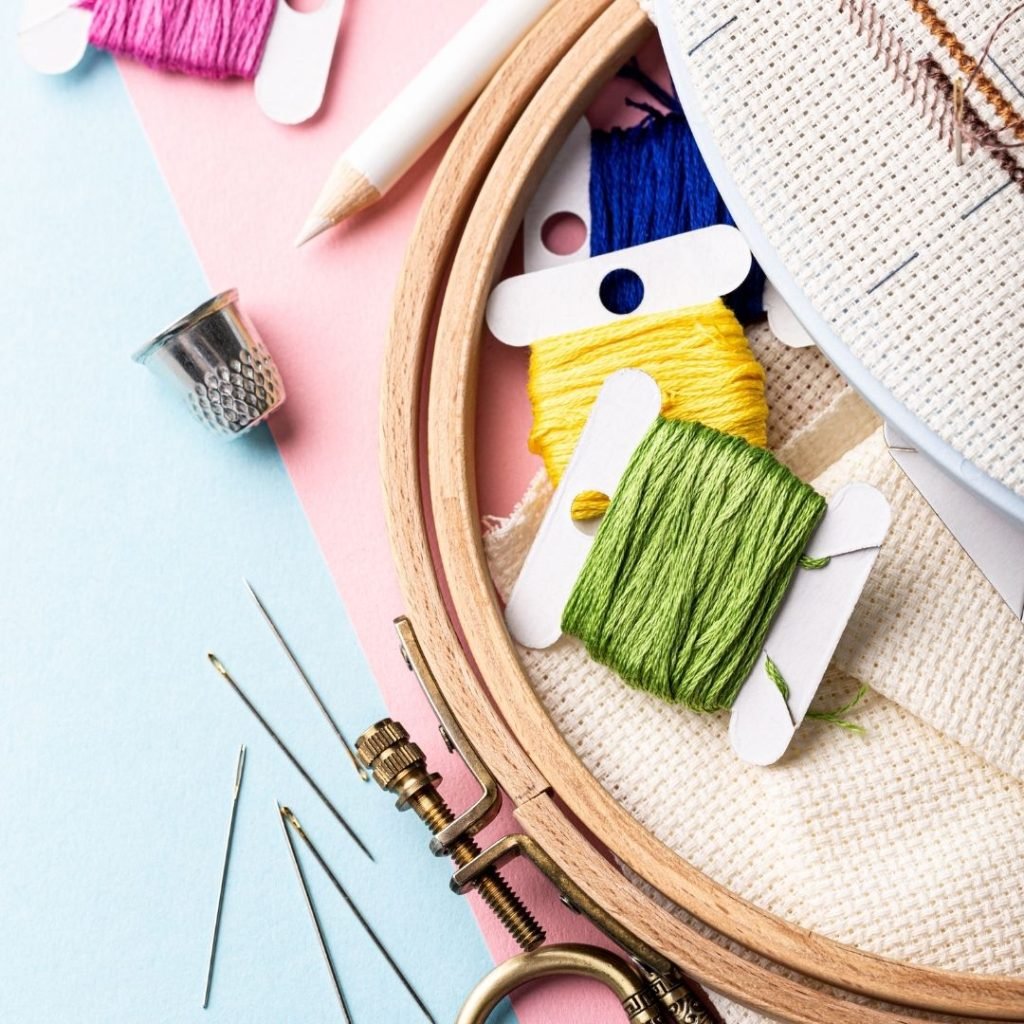 Backing: Backing is a sheet of material that is placed under your main fabric. BAcking acts as a stabiliser while you're stitching. It will make your stitches look more professional and neat as it will stop the fabric from puckering or moving. The excess backing is cut away once you've finished stitching your design. We recommend Calico stabiliser or backing which you can get from anywhere, including Amazon. 
Tracing Paper and Tissue Paper: These are useful for transferring your design. Use the Tracing paper to trace your design. Tissue paper can be stitched onto your fabric using a big basting stitch and removed once you've finished. You can also get soluble sheets which dissolve in water but this is not a great idea for metal work as it can cause the materials to rush. (Unless of course that's what you're after). 
Wax: Beeswax is used to strengthen and protect your threads before using it to sew your metal threads onto the fabric. 
Threads
Metallic threads: Threads for Goldwork fall into two main categories with regards to how you use them. Threads or wires that are couched and those and those that are stitched through.  Again, there are a large variety of sewing threads available for Goldwork so the best thing to do is to visit your local haberdashery store to take a look at the different types. 
Having said that, for Goldwork there are a few main types of threads and wires which are more commonly used.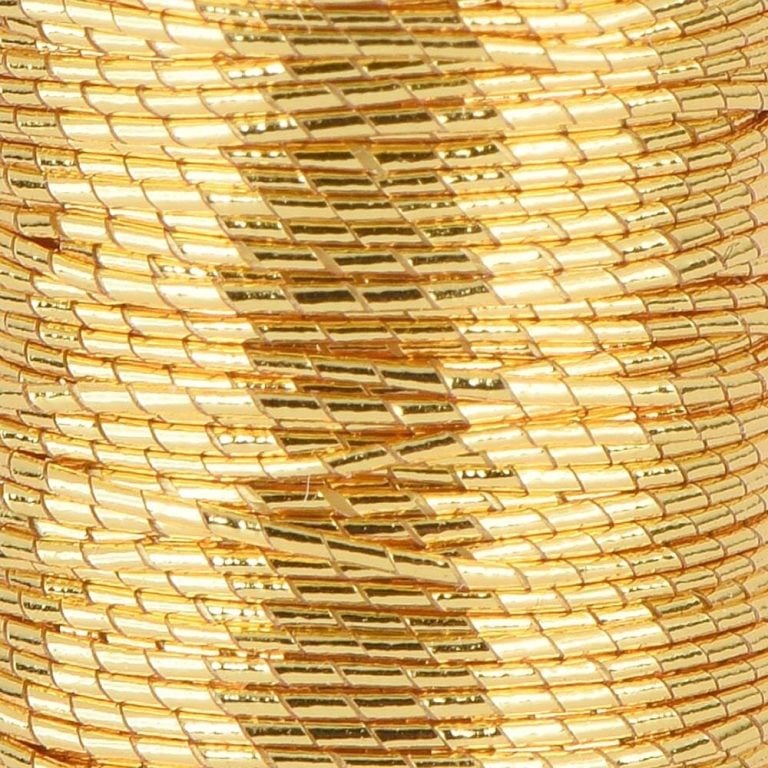 Japanese Thread
Japanese thread is made up of a gold metal outside which wraps around a strand of cotton. You don't sew with the thread. Instead you couch it. These are traditionally stitched in strands of two.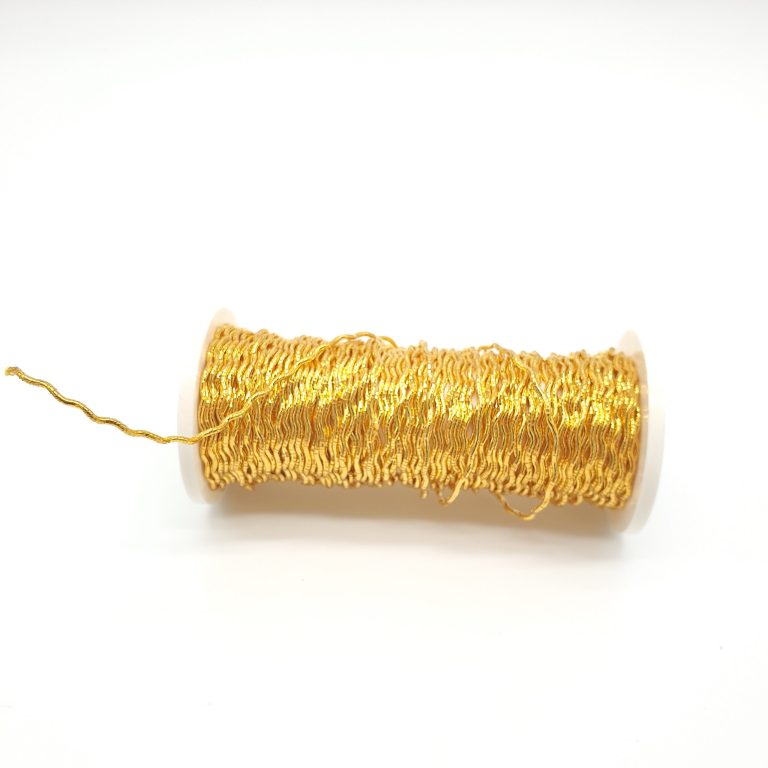 Rococo Thread
Rococo is another metal thread made from fine wire tightly wrapped around a cotton core. Like Japanese thread, Rococo is couched. (See techniques below). It comes in lots of different sizes and is more malleable and wiggly than Japanese thread.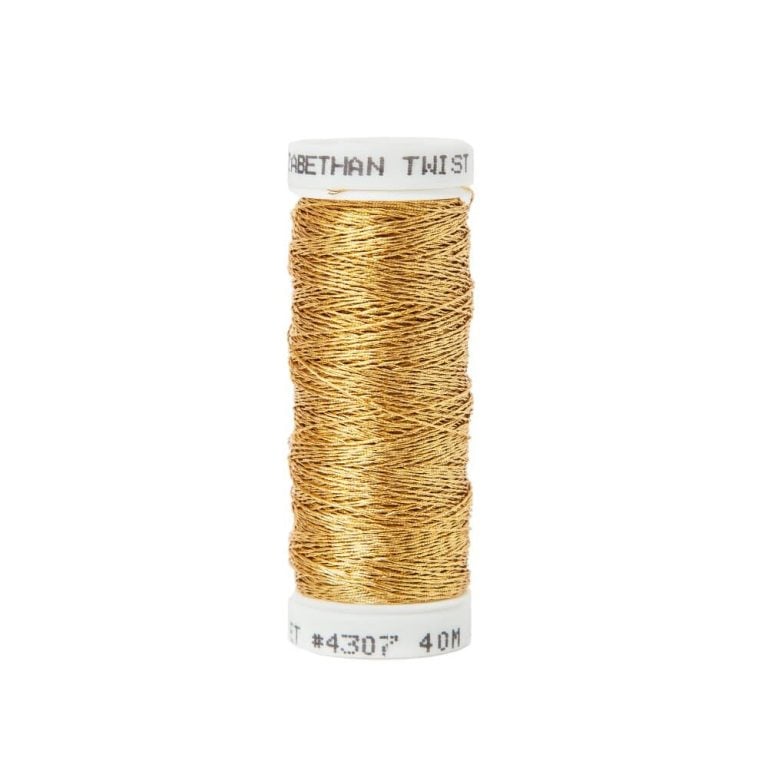 Elizabethan Twist
Elizabethan Twist is a very fine goldwork thread made up of two fine threads that have been lightly twisted together. This can be used to sew through the fabric.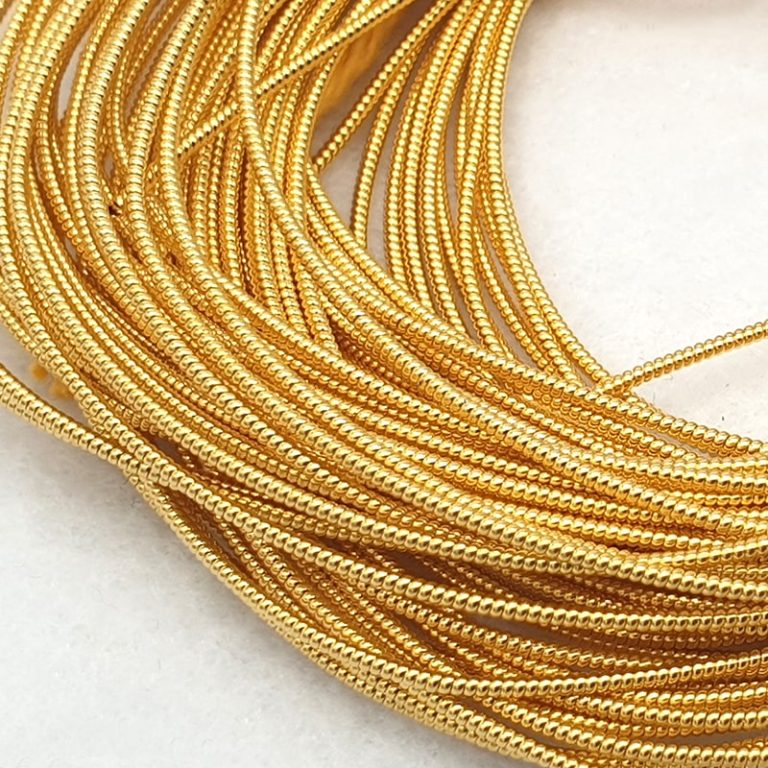 Pearl Purl
Pearl Purl is a fine coiled wire that looks a lot like the old slinky toys. This is couched into place by sewing in between the individual coils. It can be used to create an outline and looks great when worked in rows. Remember to wax your threads when stitching these down and try to keep your threads invisible.
Embellishments
 Like Hand Embroidery there is an infinite amount of embellishments that can be used in goldwork, like spangles, sequins, ribbons, wires, buttons and beads. As long as they are metallic, you can use them! 
It's important to understand that goldwork is a generic term which should really be metal work.  Most modern threads are available in a variety of metallic finishes such as copper and silver as well as several different shades of gold. You'll need a very specific set of materials for gold and metallic work, which can be obtained from just a few suppliers. We'd recommend finding a supplier near you on our Stitch Directory.
Stitches
Goldwork doesn't utilise a lot of different stitches. Goldwork is generally couched in place, so a small, right angled couching stitch is used to hold it down. Unlike Hand Embroidery there are not very many different stitches used, just the threads themselves. 
Goldwork is applied to the front of the ground fabric – goldwork threads are not passed through the fabric in an in and out action, but instead held in place with a couching stitch and taken to the back to be finished at each end. Here are a few of the basic Goldword techniques. 
Padding
Padding is often used in Goldwork to give the work depth and dimension. A lot of contemporary embroidery uses padding to create a 3D effect. Padding creates a foundation on which the Goldwork is stitched. Concentric pieces of felt can be used to build up areas which can then be over embroidered or covered in kid. Lower areas can be built up using string or card to create lower relief areas. Kid can be shaved at the back to make it very thin and easy to handle when applied.  
Couching
Gold threads like Japanese, Rococo and Pearl Purl are couched. This means they are stitched down using a single strand of waxed thread, in such a way that it is invisible. The ends of the metal threads are then plunged through to the reverse side of the fabric and stitched back to keep them neat and in place.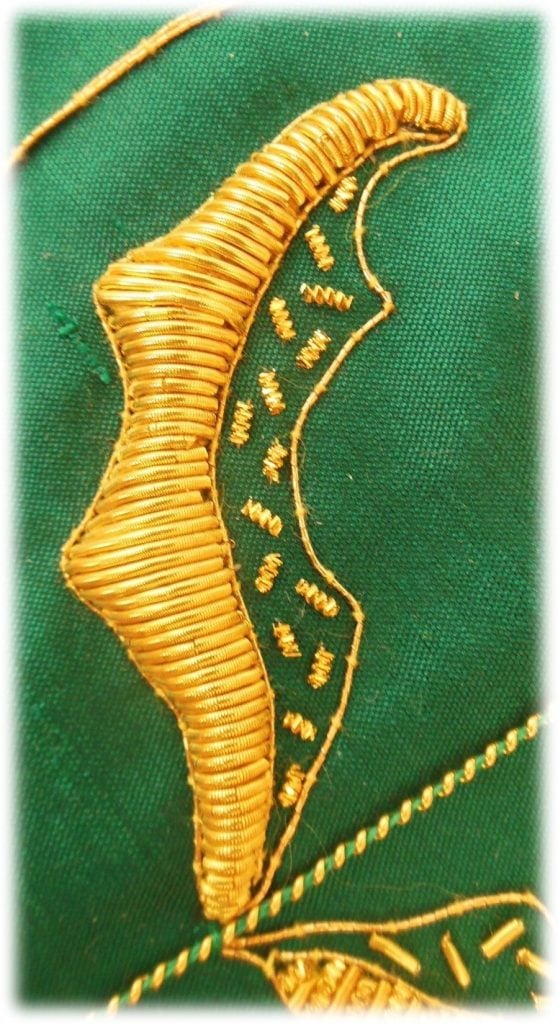 Soft String Padding
This padding technique is great for creating sharp points. It's typically worked in narrower areas and usually has cutwork or plate worked over the top of it. 
Contemporary Goldwork Artists
Hanny Newton
Hanny Newton is a British embroiderer inspired by the rich heritage of Goldwork. Her work is abstract but reflective of the natural world and aims to reflect organic shapes, markings and themes. She says 
'I am fascinated by the inherent qualities of metal threads; the interaction of light and metal. I like to strip back technique and allow the qualities of different metals to speak for themselves.'
Georgina Bellamy
Georgina Bellamy, aka 'The Embroidery Girl', is an award-winning embroidery artist and designer. Since graduating from The London College of Fashion in 2014, Georgina's built an impressive client portfolio which includes the likes of Louis Vuitton and Georgina Goodman.
'All of my work currently revolves around goldwork sculptures. The sculpture is created by pressure on fabric- the goldwork metals form the hard surface and solidify the structure. I add details with firm wires called pearl purl and occasionally leathers.'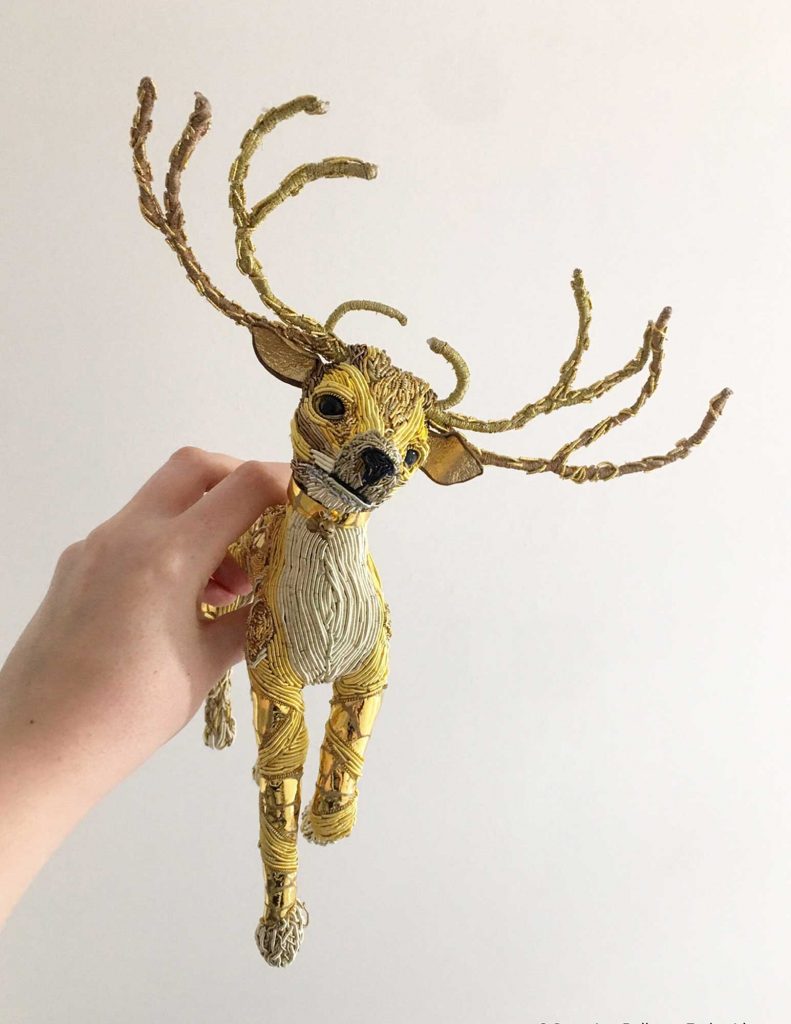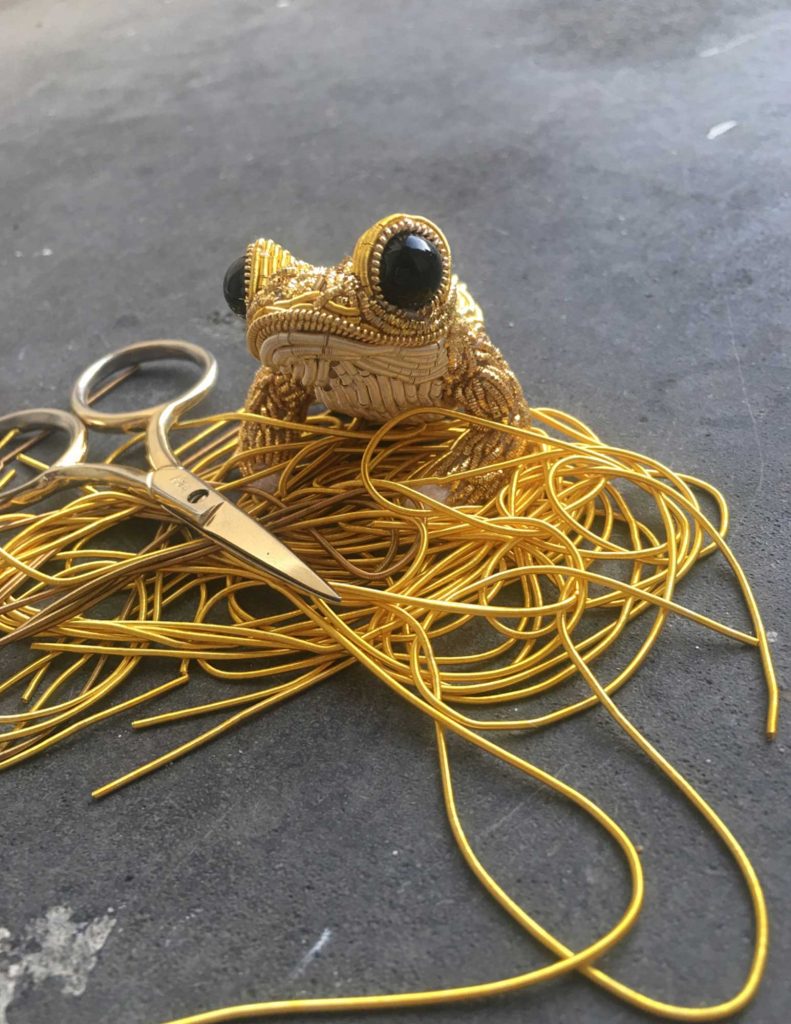 Sara Dennis
Sara Dennis is a tutor of Hand Embroidery, regularly teaching at the Royal School of Needlework and prestigious venues like the Victoria and Albert Museum and The British Library.
As well as exhibiting and managing a busy programme of tutoring, Sara is a restoring expert on BBC's The Repair Shop, where craft experts pool their talents to restore heirlooms and treasured antiques to their former glory.  She is also our guest tutor of our brand new Goldwork course, aimed at complete beginners. 
Check out our Goldwork for Beginner's course, taught by Sara RNS tutor, and The Repair Shop restorer, Sara Dennis. Work your way through the lessons and track your progress online. 
Sarah will show you how to choose threads and fabric, transfer and hoop up your design, apply padding and work with japanese thread, check, rococo, pearl purl, spangles and beads and finally, how to mount your finished piece professionally.
Best Goldwork Embroidery Books?
Our accredited Hand Embroidery courses give students the chance to explore Goldwork Embroidery in-depth. They are required to study the history of Goldwork and create a portfolio of samples pieces using different skills and techniques. Take a look at the work from some of our Embroidery students and get ready to feel inspired! View all of the latest work from our students by visiting the Gallery.
Goldwork Embroidery is traditional technique steeped in history. Today, is has evolved into a much more accessible, versatile and affordable needlecraft. Whether you're an embroiderer looking to learn more about the technique or have never embroidered before, then we do hope you find this guide to Gold work Embroidery helpful.
Do you already do Goldwork? Perhaps you have a favourite supplier of threads? Please share your experiences or questions by leaving a comment below.