Georgina Bellamy, aka 'The Embroidery Girl', is an award-winning embroidery artist and designer. Since graduating from The London College of Fashion in 2014, Georgina's built an impressive client portfolio which includes the likes of Louis Vuitton and Georgina Goodman.
Although Georgina's works is probably more synonymous with her sculptural embroidery she often demonstrates her multi-dimensional approach, giving us the chance to admire her lacemaking, quilting, goldwork, beading and freehand machine embroidery skills.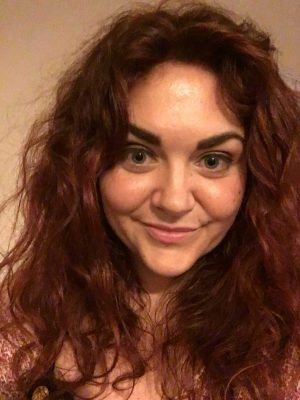 What was your first memory of sewing – who taught you?
I was around 6 years old when I first tried embroidery, but it wasn't an immediate love. After the first flush of enjoyment and a few half-done kits later, I never touched embroidery again until the age of 21! I found cross stitch quite frustrating and struggled to finish many of my subsequent cross stitch kits at that age. I was a very creative child and come from a very creative family but no one stitched- mainly painters and sketchers. As such, I never learnt the primary skill of embroidery- patience! That skill didn't come until much later.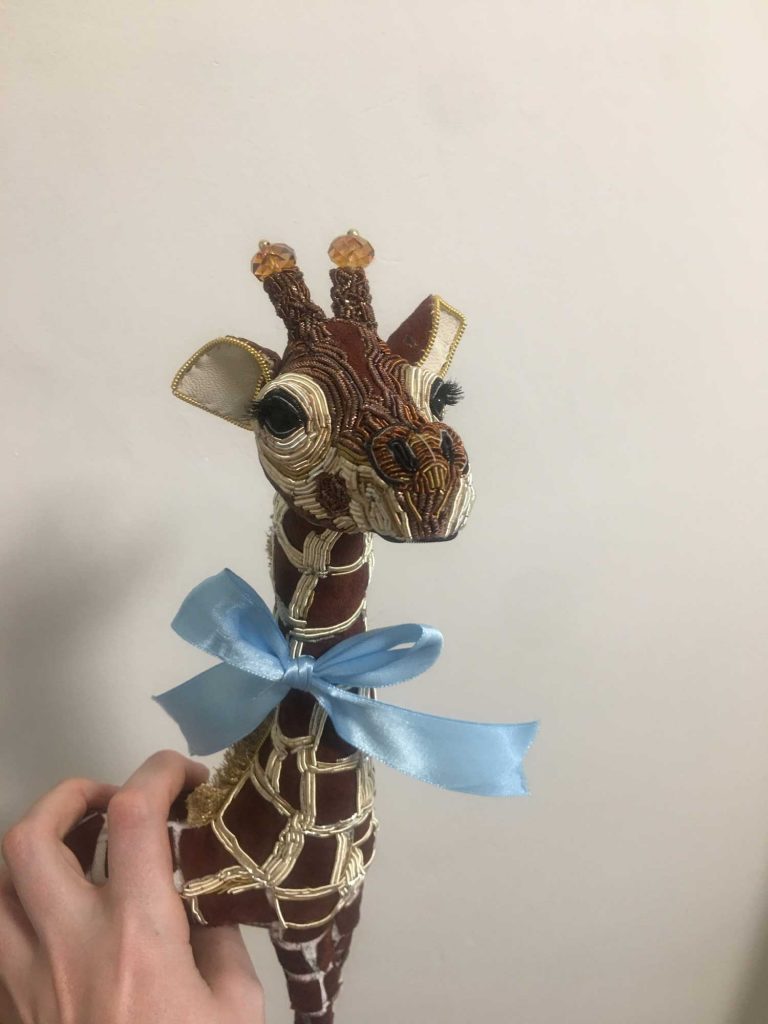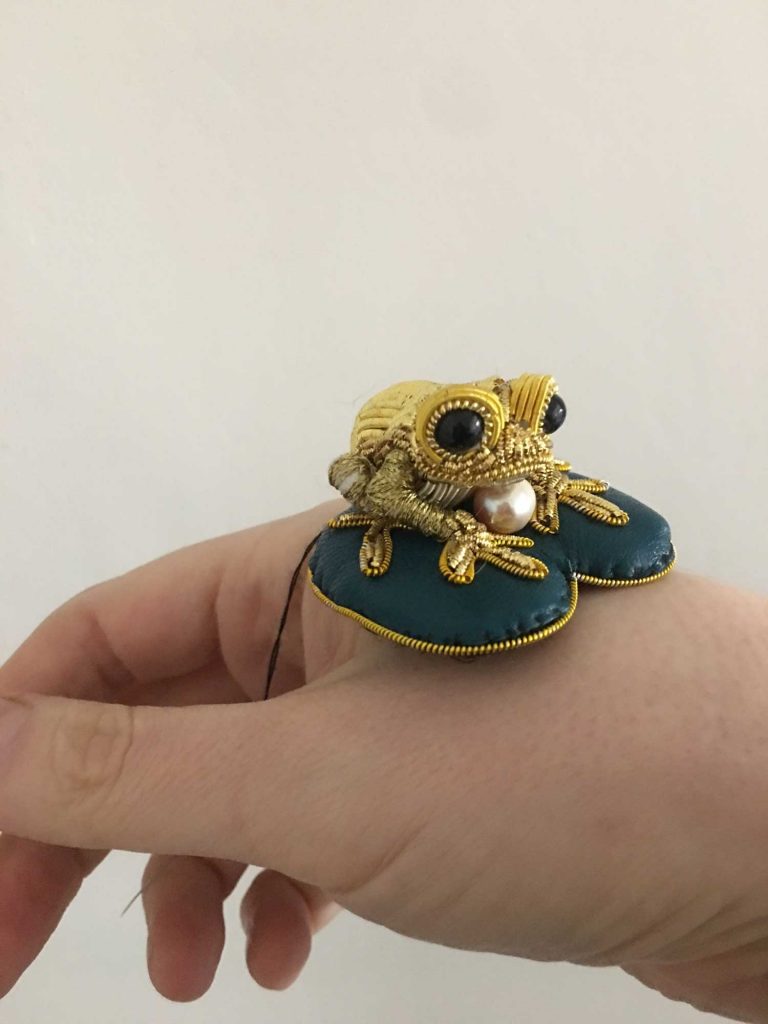 What are you currently working on?
I usually have 2-3 projects on the go at any one time. One is an art project, one a class project and the last a commission. My current art baby is a golden bat. It's based on a character I wrote a story about some time ago and depicts the moment the bat accepts his golden skin. All of my work currently revolves around goldwork and the bat is no exception. The sculpture is created by pressure on fabric- the goldwork metals form the hard surface and solidify the structure. I add details with firm wires called pearl purl and occasionally leathers.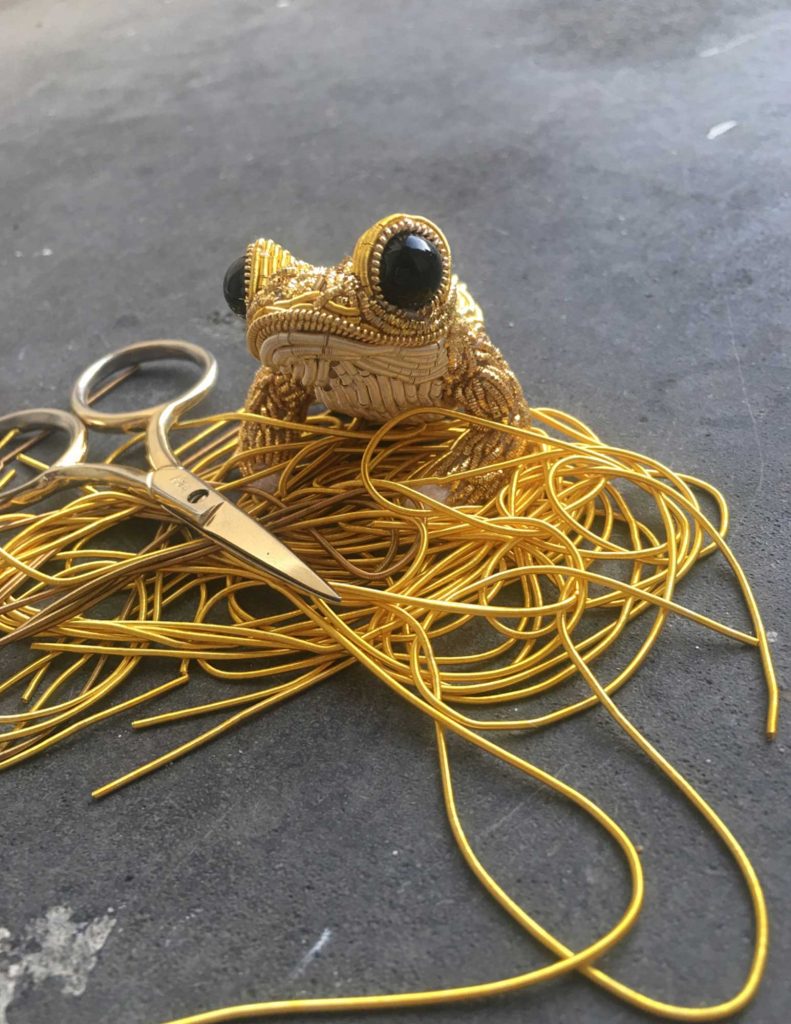 Where do you usually look for inspiration when starting a new piece?
Most of my inspiration actually comes from people I know or emotions I have felt. Many of my animals are loosely based on characters I have developed stories about and many are loosely based in real life.
I try very hard to focus on expressions when creating a character. I want to convey what they may be feeling at the time. It may be grumpy, happy, sad, lonely- the list goes on. It's very much about the character in my head at the time. Once I have settled on the character or the emotions I want to express, I look for my animal. I like to explore different shapes and possibilities so I often try many different ways to do the sculpture before I settle on the final ideas. Sometimes the particular shape of a part of an animal will peak my interest and I'll explore how to create that shape in goldwork. It might be an exceptionally large nose of huge ears. I can often find I'm inspired by everything animal related!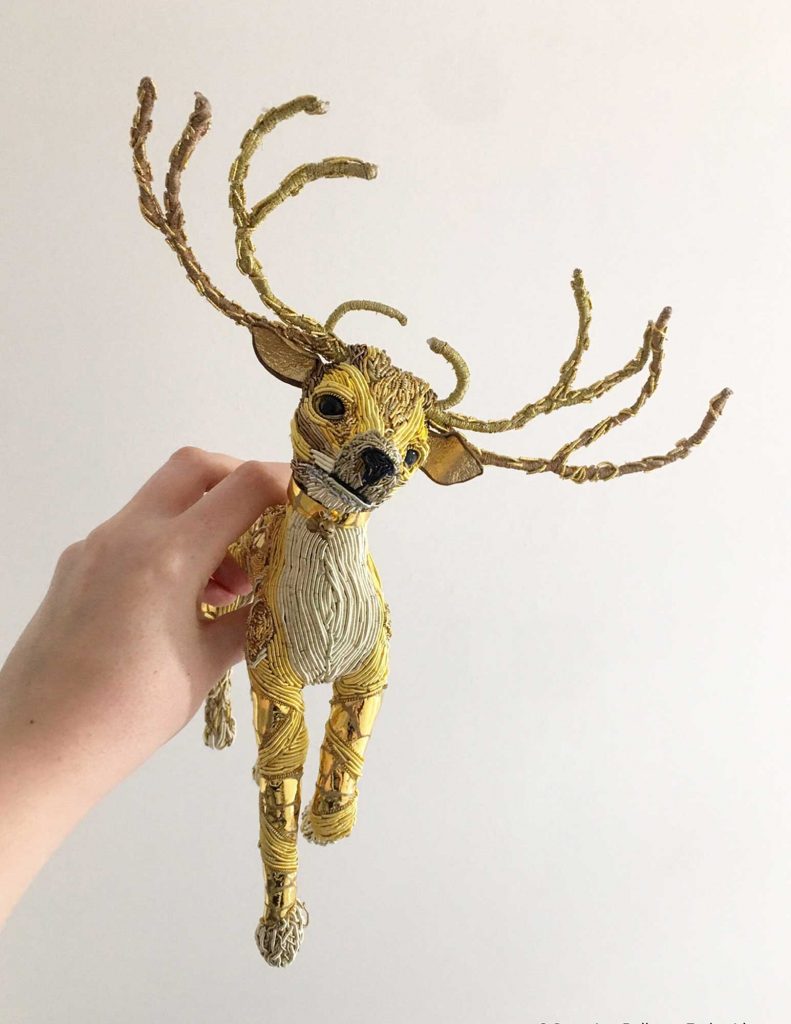 As someone who trained at the London College of Fashion, how much of your current success do you attribute to your training?
How much did it add to the artist you are today? Studying for my embroidery degree helped me enormously in so many ways. Firstly, it gave me 3 years to focus on developing my own style and find and fail at different techniques. 
Prior to university I had studied embroidery at college level for 3 years, taking as many City & Guild embroidery qualifications I could. Because of this I knew a lot about the practical side of embroidery but my design skills were sorely lacking. I knew very little about how to create an original idea or how to make a design cohesive. The degree really gave me the opportunity to explore my ideas, define my style and gain a better understanding of the design process. I think it also helped to cement my direction and give me an understanding of how to develop myself in many ways.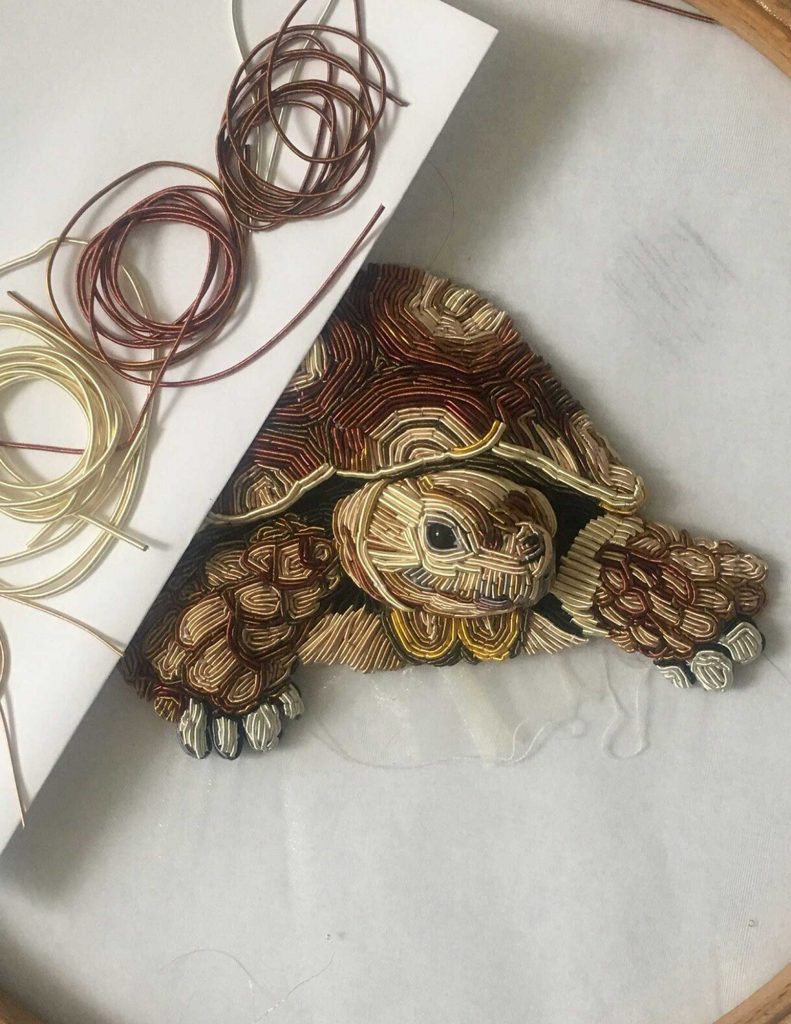 Goldwork threads are so difficult to find nowadays. Do you have any suggestions or tips for sourcing them?
You can come to me! Over time I began investing into companies and artisans that made various wires from all over the world. At this point I have lots of specific wires, developed specifically for my 3D work.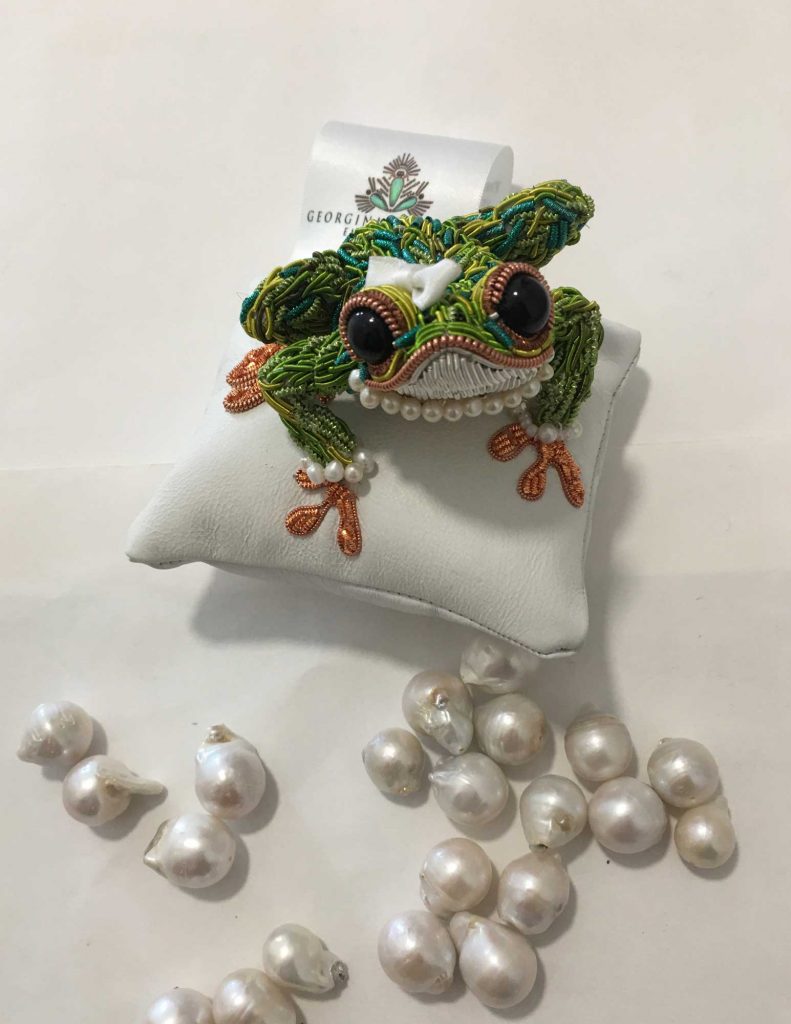 You have made an amazing career within hand embroidery. Can you suggest ways or processes whereby our students could begin to do the same?
Really focus on building a great social media presence and online brand. Your social medias are so important to your visibility in the industry. 
Most importantly, I'd say developing your own style is critical to your success. Copying others is a short-term route and your understanding of your own creativity is very powerful and important to your future success. Keep working regularly and make sure your social media feeds represent your work. Cat and holiday posts are great occasionally but try to focus the intent of your platform to work related posts. 
Another secret to success is not to give up. If this is truly what you wish to do, it will be very hard. Embrace that and work hard at creating your own work and putting it out into the world. It may take many years until you are a success so don't feel downhearted and keep going.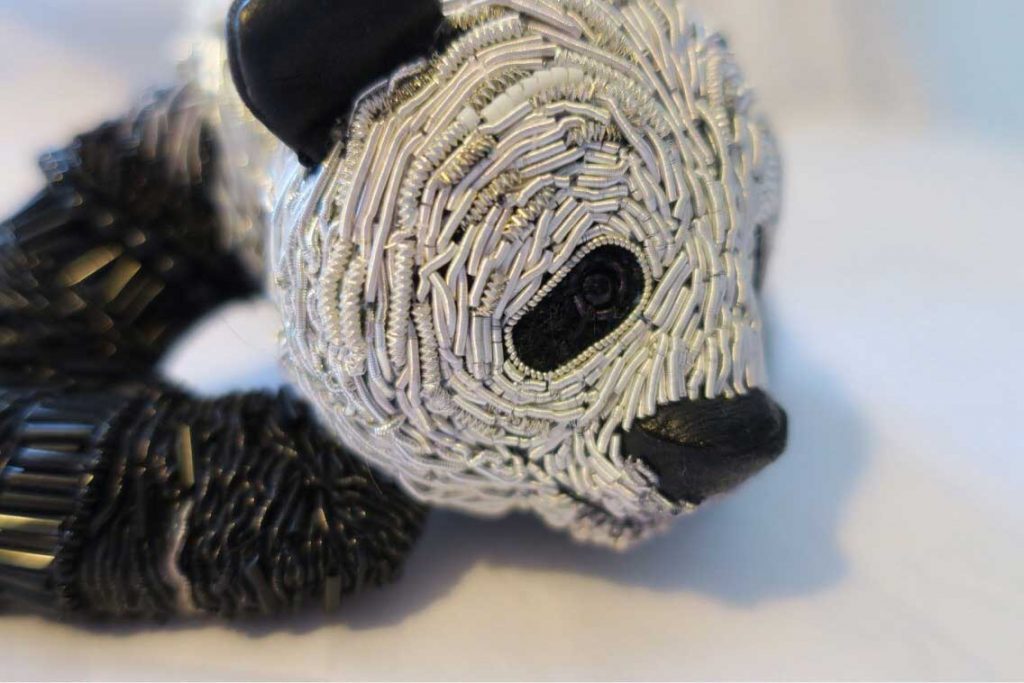 What artists inspire you personally – who would you like to sit next to at a dinner party?
I was recently introduced to the work of Annemieke Mein and was blown away by the characters she produces with her art. I absolutely love the level of detail she obtains and how she has taken stitch to another level. As a frog lover her depictions of them make my heart sing. It's truly beautiful stuff.
At a dinner party I'd probably like to sit next to J.R.R Toilken and pick his brain for fantasy animals! I think he would have a few good ideas for me if "lord of the Rings" is anything to go by. I really like other people's imaginations. They inspire me greatly. It's actually one of the things I love about teaching; the teacher/student dynamic and their imaginations. One single conversation with an imaginative person can spark a year's worth of work and ideas. You never know where another's inspiration could lead you. I find writers particularly good at that. The words can lead to a thousand pictures in your mind of something and no two persons picture will be the same.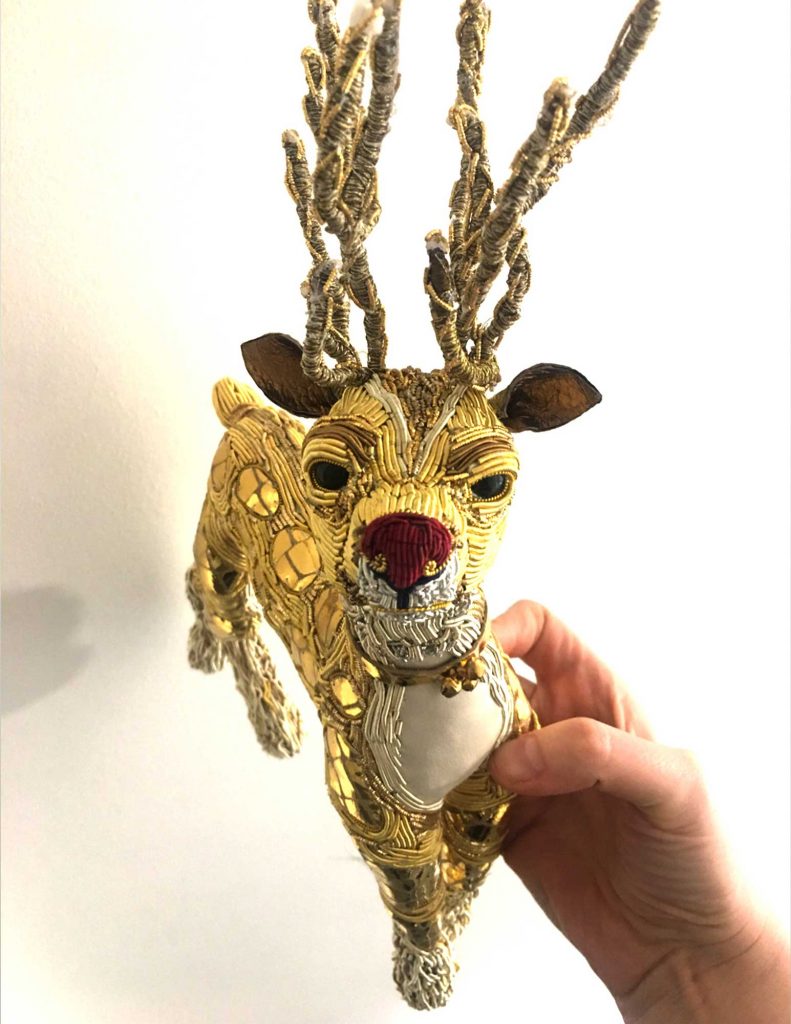 Where can we see more of Georgina Bellamy?
A book is definitely in my life goal list; however, I feel I'm a little young currently to put one out there. I think I'd like another 3 years of teaching beginners so I can fully understand how to explain and make complex 3D embroidery processes easier to a new embroiderer. Teaching will be taking up the next few years of my life and I plan to get quite experimental with my workshop projects. I also plan to travel across the world and teach, bringing 3D goldwork to a new audience.
I love exhibiting and have plans for 2021/2022. However, following the "knitting and stitching shows" last year I can definitely say I need a break. My final plan is to get back into fashion and start to explore the possibilities of 3D embroidery on shoes, jackets and bags. I'd dearly love to get 3D goldwork on the red carpet and have it trending as a new hobby for the U.K. It might be a rather ambitious plan as goldwork can be rather time consuming, but I can dream! I'd also like to take to YouTube next year and create short videos helping people to stitch. I already do this over on my Instagram but I feel like YouTube is the new platform for me.
To find out more about her work, future classes and exhibitions please visit her website or follow her on Facebook.