We all know of the many benefits to needlework and crafting. For one of our students in particular crafting has not only helped her through personal difficulties but it has also exposed her to a number of fantastic opportunities. Emilia Padovan was definitely born to sew. Read her story as she talks about finding solace in her hobby, the progress she's made, and the fantastic amount of recognition she has received for her work… and she is only fourteen!
Born to sew
As far back as I can remember I have always loved to sew. One of my earliest childhood memories is of stitching in the waiting room for a cardiologist appointment, aged just three. I remember causing quite a stir because no one could quite believe that someone so little could sew! Since then, I have spent many happy hours working on every different type of sewing technique and craft that I could get my hands on.
At nine I was diagnosed with the rare genetic disorder, Ehlers Danlos Syndrome. By the age of eleven I was too ill to attend school. Encouraged by my mum I began sewing more and more as it proved to be a great distraction from the pain. It worked so well that she enrolled me, age twelve, onto the Introduction to Embroidery course at the School of Stitched Textiles. It was an instant hit!
Studying Stumpwork
After completing the introductory course I went on to study their City and Guilds Level 1 in Stumpwork, aged thirteen. As a complete beginner to Stumpwork, I initially found this quite challenging. I had very little knowledge of the subject and remember thinking 'stiletto' was a reference to a shoe! However, I was able to follow the course easily because the course was so well written. I also received great support from my tutor, Karen Quickfall. She was so wonderfully kind and helpful that I managed to complete the course. I even got a special commendation for my work.
When I first set out on my City and Guilds 'journey' I had no idea how highly City and Guilds accreditations were looked upon within the embroidery community. The courses I have completed have been a great way of showing people how serious I am about embroidery. I am incredibly grateful to the School of Stitched Textiles for allowing me to enrol – despite my age – and for the continued support they have given me.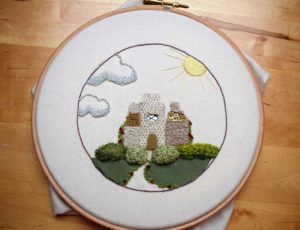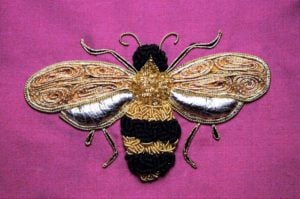 Being Inspired
One of the suggested reading books for the City and Guilds Level 1 in Stumpwork is the 'Beginner's Guide to Stumpwork by the wonderful Kay Dennis. I found her to be a great inspiration and based many of my designs for the course around her work. I was lucky enough to attend one of Kay's workshops last September and got the opportunity to show her some of my stumpwork. Very shortly after meeting her I was awarded a bursary to attend the SE Region Embroiders' Guild Summer School. Since Kay is the Chairperson of SE Region Embroiders' Guild she had clearly been impressed with my designs.
Attendance at the Embroiders' Guild Summer School was amazing. I got the opportunity to learn the basics of machine embroidery under the guidance of the lovely, Wendy Dolan. Our assignment at the Summer School was to create a machine embroidered landscape. I chose to base mine on the 2014 poppy art installation at the Tower of London. Created by Paul Cummings and Tom Piper, they used 888,246 ceramic poppies to mark one hundred years since the first full day of Britain's involvement in the First World War. I had visited the installation on Remembrance Day and found it to be a very moving experience. It was wonderful to be able to bring this into my art.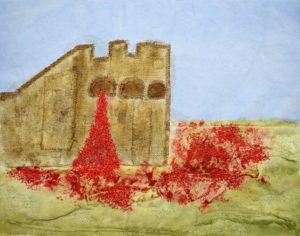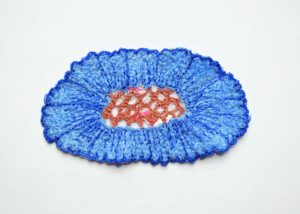 A bright future
Since completing my City and Guilds course with the School of Stitched Textiles I have completed many other courses. These include, Goldwork and Samplers with Hilda Sheppard and 'padded people' with the textile artist, Anne Silliphant. Unfortunately, at present, I'm not embroidering as much as I would like as I am working on my IGCSEs. However, I do continue to upload any interesting embroidery or art work that I complete to my Instagram account The Inspired Crafter.
Once I get through my IGCSEs and A-levels I hope to attend the Royal School of Needlework at Hampton Court and undertake their BA in Hand Embroidery.
We'd like to thank Emilia for sharing her moving and highly inspirational story. We wish her luck with her studies and we can't wait to see the work she produces in the future. If you're inspired by Emilia's story, take a look at our full range of craft courses tailored to all ages and abilities.