Christine Perry, aka Winwick Mum is a knitter. More specifically she is the mastermind behind the successful site, Winwick Mum; a labyrinth of delightful knitting patterns and resources to help beginners create hand-knitted socks. As well as patterns, tutorials, and equipment the Winwick Mum site also features Winwick Mum Yarn, created in collaboration with West Yorkshire Spinners.
Christine Perry is an award-winning blogger and has taught thousands of beginners to knit socks through her books and sockalong tutorials. As a lover of knitting Christine is here today to talk to us about her career and how knitting socks not only improves your wardrobe (and quite possibly prevents chilblains), but improves well-being too! A sentiment that we wholeheartedly agree with!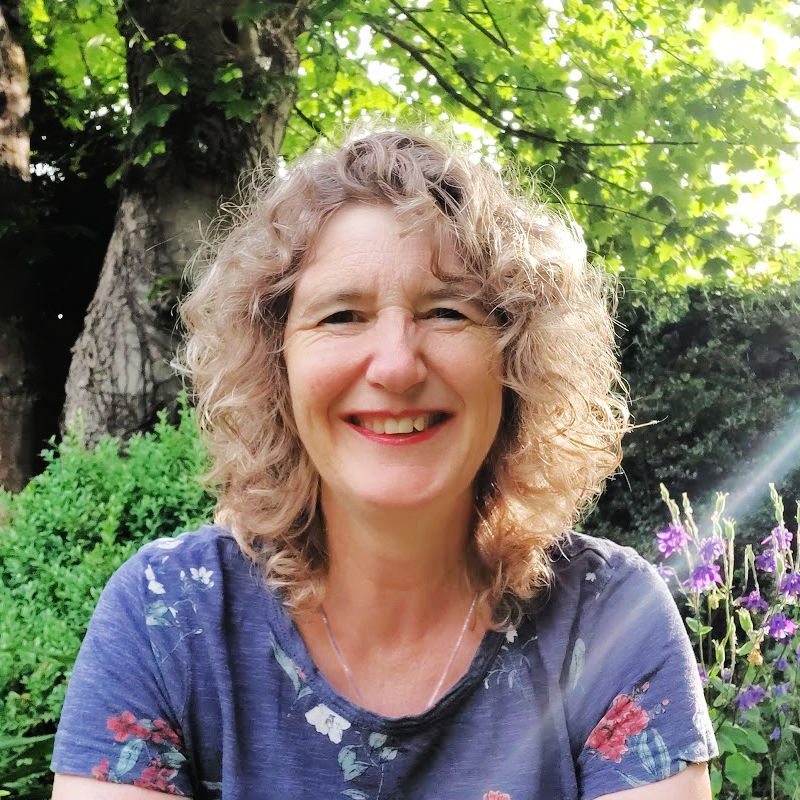 "I passionately believe that knitting and crafting in general is a vital life skill and that once you can knit socks, that confidence spills over into every other area of your life. That, to me, is priceless!"
Tell us about how you first became interested in knitting and then how you came to specialize in sock making.
I've been able to knit and crochet since being quite small. My Nan taught me when I was probably around 5 or 6 years old.  When I was in my teens I actually preferred to crochet as it grows faster but I tended to make blankets or small amigurumi toys. The clothes patterns were very much stuck in the 1960s and 70s!
I knitted my first pair of socks for my beloved Uncle Harry when I was about sixteen years old.  My Aunt Ella had always knitted his socks for him. When she died he asked whether I'd be able to make some for him as he didn't want to have to buy any.  I was certainly up for the challenge – but what a performance! The pattern was quite awkward, involving sewing gussets and side seams, and I wasn't sure they were anything like up to my Aunt Ella's standard.  After handing over the finished product, I decided categorically that I absolutely, definitely would not be making any more socks.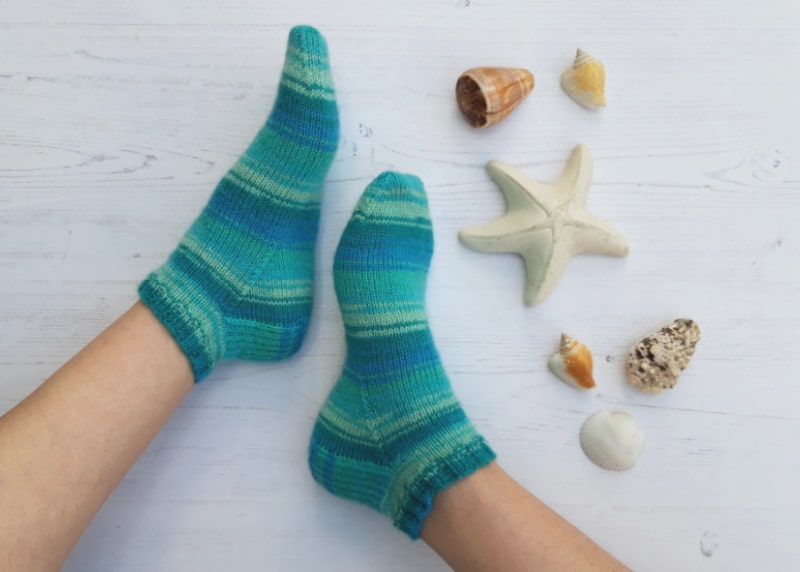 After that, I spent a few years knitting Rowan Kaffe Fassett jumper samples for my local yarn shop which was a wonderful way for me to improve my knitting skills as well as discover more about design, colour and texture – Kaffe Fassett certainly has those design skills in abundance!
Fast forward to when my youngest daughter was a baby.  I was in a local yarn shop buying wool for yet another baby cardigan when I spotted balls of multi-coloured yarn on the counter, along with leaflets showing knitted socks.
"They're new in," said the lady behind the counter, noticing my interest.  "They make lovely socks."
"Oh, I made a pair of socks a long time ago," I told her, shuddering at the memory.  "I'm not sure I could face another pair."
"This is a good pattern," she said, "and you get it free with the yarn."
Ker-ching!  I left the shop with baby yarn and multi-coloured yarn to make my husband a pair of socks.  And this time round, the pattern was much more straightforward.  No sewing up and a heel that magically created itself thanks to some nifty decreasing.  I was hooked, I started experimenting to make the sock pattern fit even better and I have never looked back!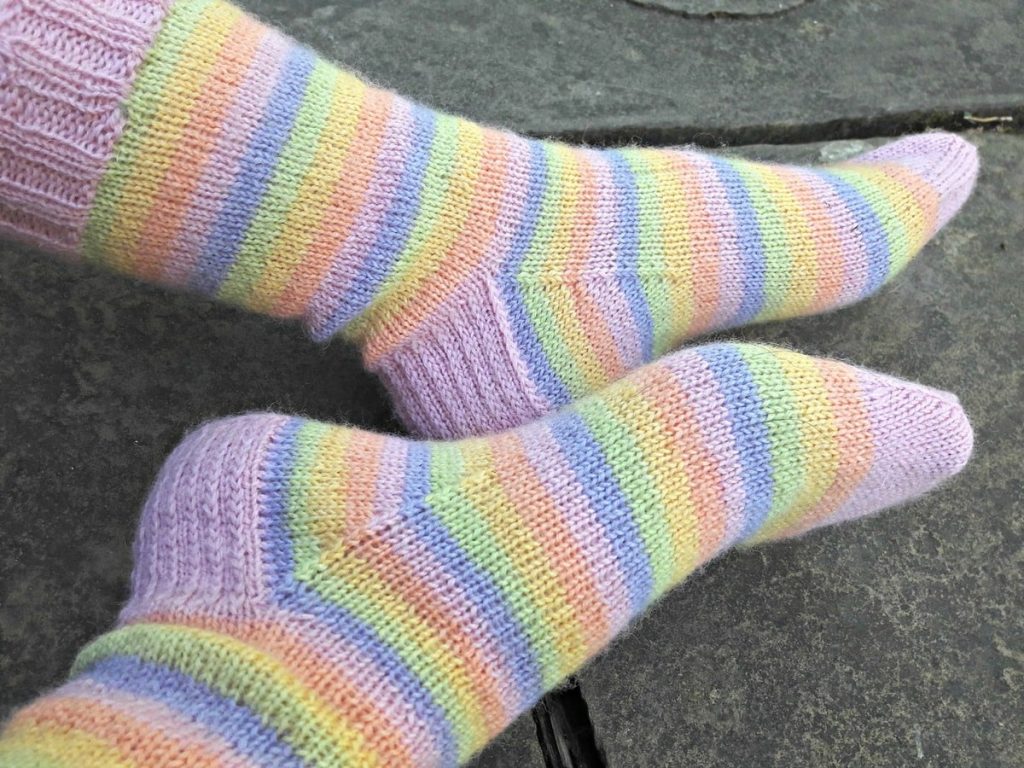 You work with a yarn company to design sock yarn – how did that come about and what goes into designing a yarn from scratch?
I had been working with West Yorkshire Spinners for some time before we started to talk about Winwick Mum yarn – I think their yarn is fabulous for beginner sock knitters to use, I had already created some patterns for them and I have been delighted to have been asked to design their Christmas sock patterns for some years now.  It was a very natural progression for us to talk about a Winwick Mum range of Signature 4ply and it's been a fantastic experience!
The inspiration for the two collections has come from all kinds of places – the first collection was inspired by an amethyst tumblestone, Spring dog walks, childhood holidays in Wales and by the Winwick Mum blog strapline of "looking for the extraordinary in the everyday".  The second collection was inspired by the seasons and there's one colourway for each of the seasons.  There are blog posts about the colourways and the inspiration on the my site.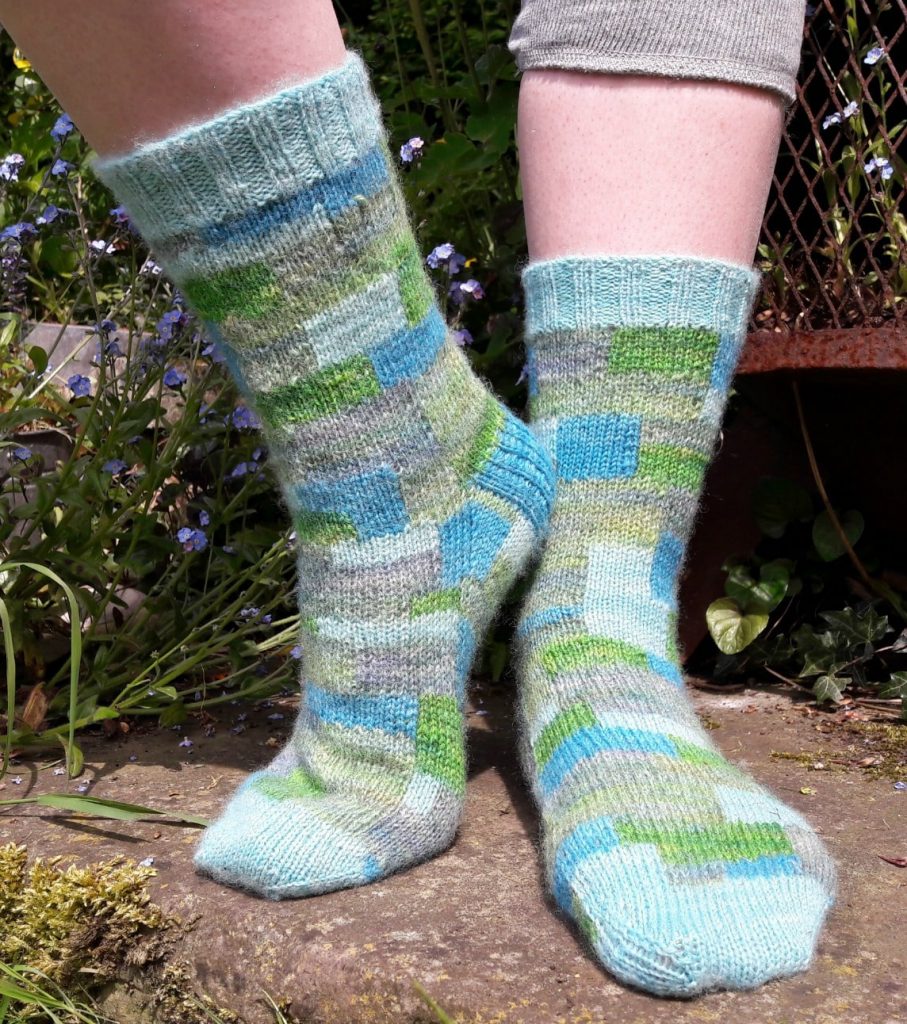 Once I had the colour palette ideas, I was able to work with the dye house team to create the yarns.  They have created a special Winwick Mum stripe that's different to the other striped yarns WYS produce – the very first yarn was Hidden Gem, based on a chevron amethyst tumblestone and if you look at the way the stripes work in the yarn, you can see the same stripes in a tumblestone.  It's incredibly clever!  We liked those stripes so much that we chose to keep them for all the colourways.
The Seasons collection was created over the first lockdown so there were lots of phone calls, photographs, emails and samples flying through the post.  It was quite an adventure!
You've been incredibly generous with your instructions via your site and blog and are known for your easy to follow and clear patterns. How did you start to build up your online resources and why do you do it free of charge?
I had been knitting socks and dipping my toes into the pattern design water for some time before one January morning in 2015, someone said to me at a knit n natter group, "Ah, socks, they're far too hard for me knit!"  It just so happened that they were about the third or fourth person that had said that to me that week. So, I threw my hands in the air and said without really thinking about it, "That's it!  I'm going to write some sock knitting tutorials to show that they're not really that hard and I'm going to put them on the blog!"  Now, if you're going to make bold statements like that, doing them in front of an audience is a sure-fire way to make sure that someone is going to hold you accountable and I decided that I really was going to do it!
I wrote my Winwick Mum Sockalong tutorials to talk someone through everything they would need to know to get started with knitting a pair of socks.  Of course, there's always more to learn but my aim was only ever to help someone to create one pair and then they would have the confidence to start making adjustments and looking at other techniques and patterns.  Later on, I found that some people needed more help. This is why I created the follow-on technique tutorials of cables, lace, intarsia and colourwork.
Why are they published free online?  Because there are such fantastic well-being benefits from knitting that I wanted to make sure that if someone only had the money to buy the yarn and needles or buy the Super Socks or More Super Socks paperback books of the original tutorials and follow-on techniques, they could buy the yarn and get started straight away.  There's something about those little knitted rounds that calms your mind in a way that many other things can't and I want everyone to be able to experience that!  I also passionately believe that knitting and crafting in general is a vital life skill and that once you can knit socks, that confidence spills over into every other area of your life.  That, to me, is priceless!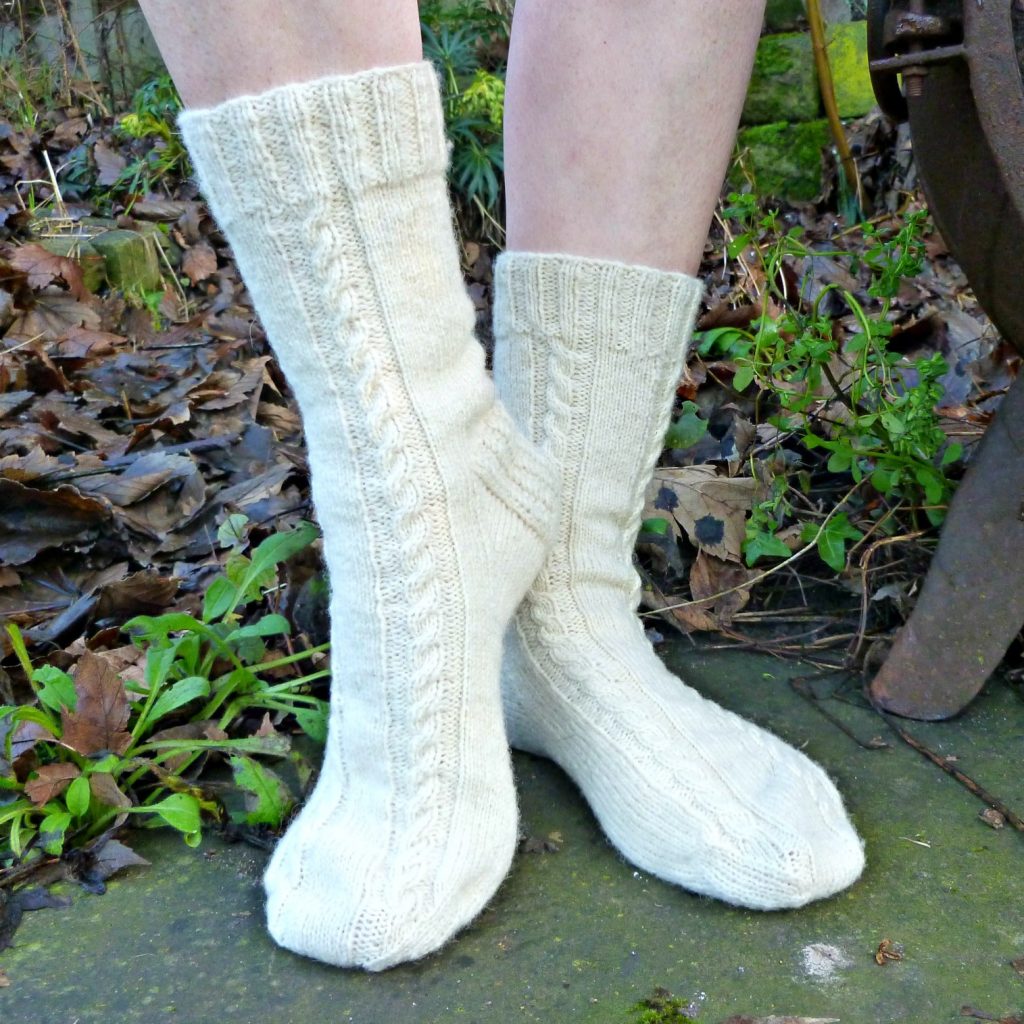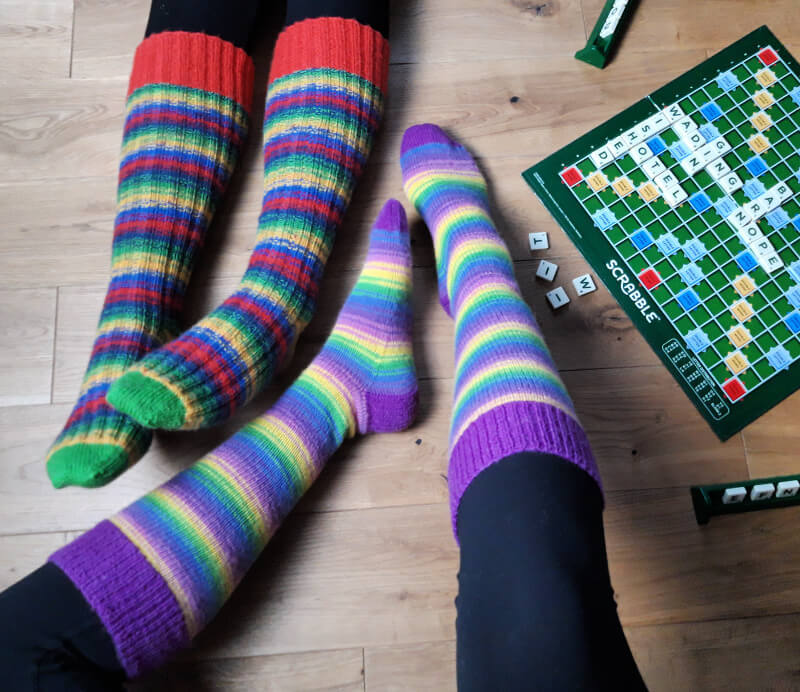 Do you enjoy teaching face to face or prefer creating resources for people to work away in their own time at home?
These days, I prefer to be online.  I have done face-to-face workshops before now but I can help so many more people through the internet that I would rather spend my time creating resources that they can use in their own time and at their own pace.
What do your students and customers find most challenging about sock knitting? Tell us a little about the stress points and how to overcome them.
Sometimes, the hardest thing for someone is just to get started!  They are so afraid that they're going to go wrong at some point that it puts them off even casting on. This is why I like to remind people that the worst thing that ever happens with knitting is that you unravel and start again.  I'm all about creating fearless knitters! The heel is always an anxiety point but it's just worked on the same stitches that you were knitting previously and I've tried to make it as easy as possible for someone to follow my instructions and see the magic work for themselves!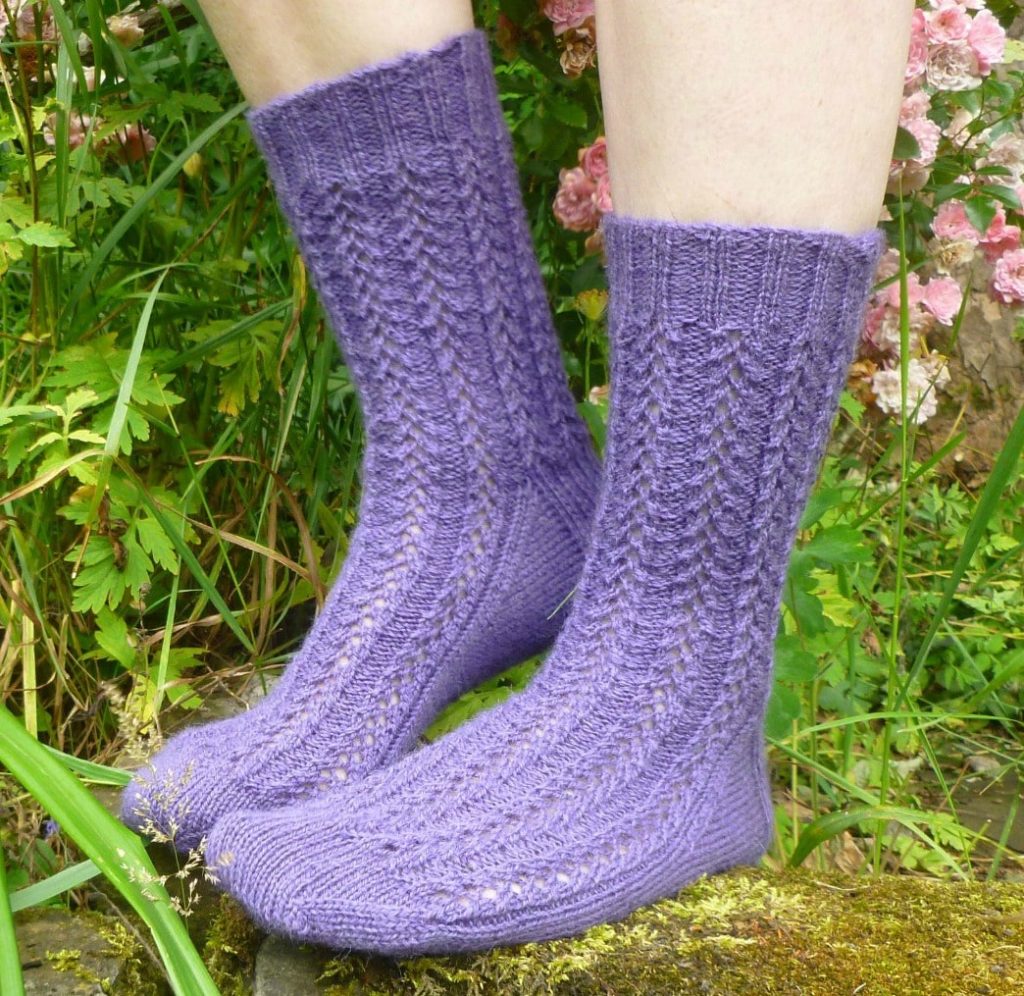 Do you have exhibitions or new books underway that you could tell us a little about?
I don't have any books or exhibitions on the go at the moment. However, I have just launched another free pattern as part of my Winter Haven KAL which you can find on my site.  This is something I started a couple of years ago. The idea behind it is to occupy myself and others through the dark (northern hemisphere) weeks of winter. I create a new sock pattern and encourage everyone taking part to choose a cosy space to sit and knit. It's grat for recharging the batteries after the busy holiday season. It allows people to focus on on self-care that isn't just about hot baths and painting your nails!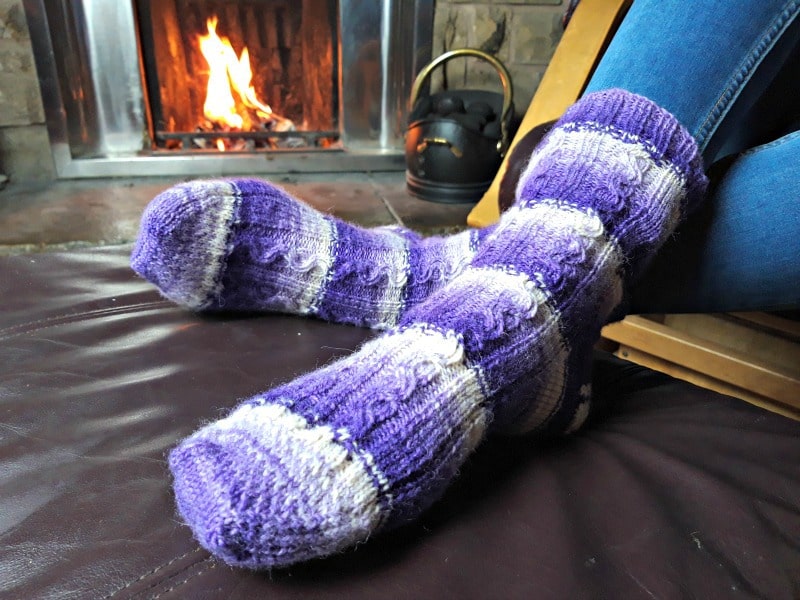 A huge 'thank you' to Christine for taking time out to talk to us about her work. To get started then remember to checkout the Winwick Mum website, or follow Christine on Instagram or Facebook.