We recently featured Sarah Gwyer in our blog, Portrait Artists You HAVE to Follow. When researching for the piece we came across Sarah's work and were hooked by her contemporary and striking style.
Sarah Gwyer is well-known for her iconic, bling, celeb portraits which address themes around celebrity status, consumerism and commercialism. She creates gorgeous embroidered pieces which almost always feature beads and reflect her influencers like pop artists Andy Warhol and James Rosenquist, and contemporaries like Damien Hirst.
Based in the Cotswolds Sarah studied Fine Art in Cardiff, followed by a Printmaking Masters at the University of Arts in London. It was during her masters that Sarah began embellishing her work with beads. By the end of her studies the stitched elements took centre stage in her work and she was soon exhibiting in London and New York.
As an award-winning Artist, Sarah uses her iconic pop imagery to speak to and connect with her audience. Her contemporary, bold style and themes are helping the Fine Art world appreciate the power of embroidered textile art.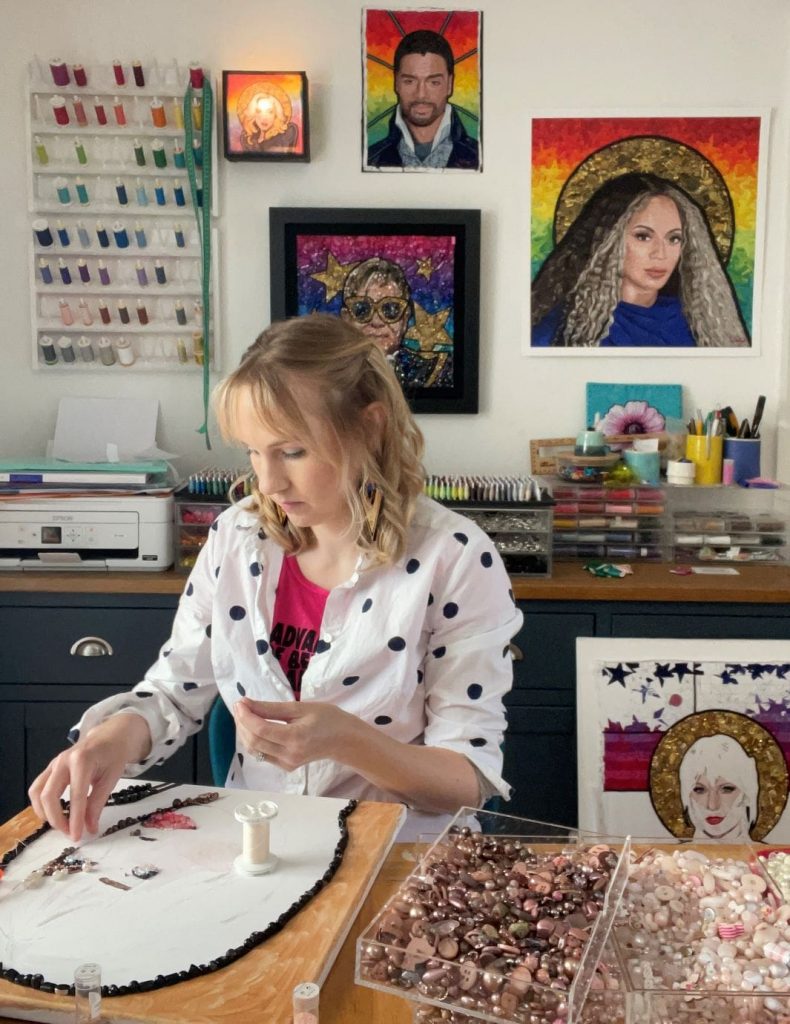 What are you currently working on?
I'm currently stitching a portrait of Taylor Swift. I've been stitching her since January this year. I'm creating her as a show piece and she will feature all the different elements of my practice, thread painting, bead embroidery and cross-stitch in a floral featuring portrait. A lot of the drafting of this piece is still only in my head despite her face being fully stitched. A haloed Taylor will be in front of a Star-spangled banner, in business dress and surrounded by flowers. There will also be a cross-stitch element inspired by the Loara Standish sampler. I'm hoping it will be finished by the end of next year.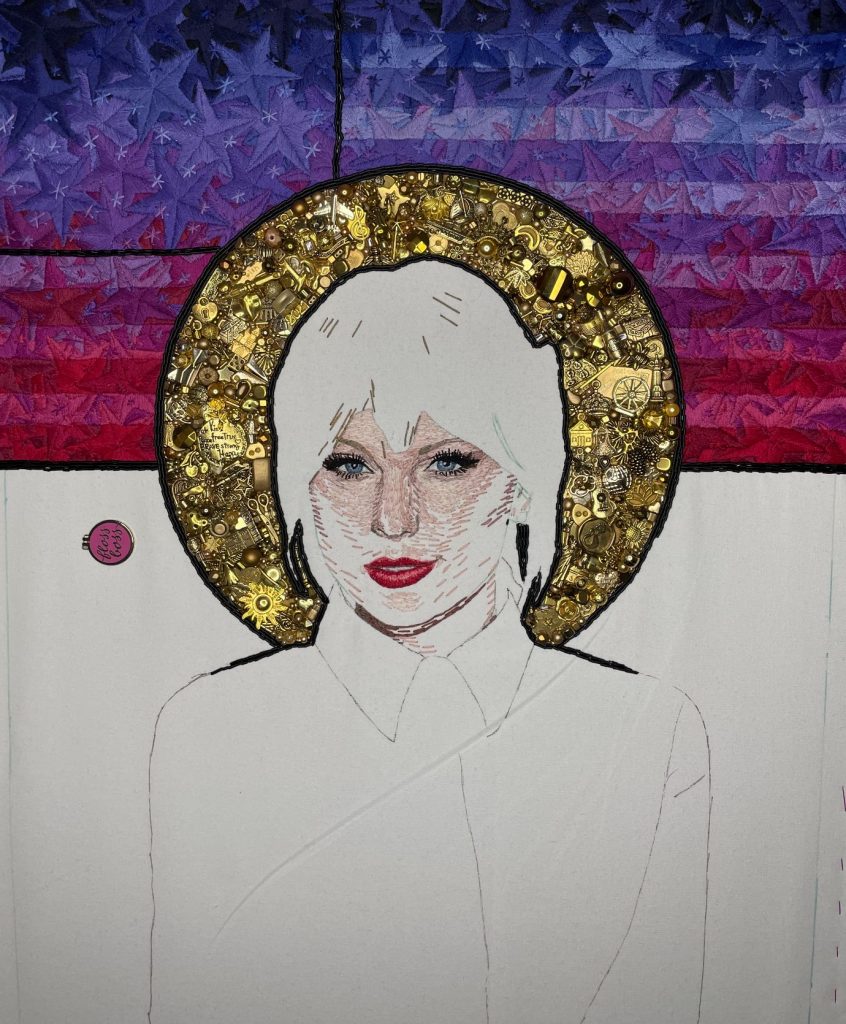 When did your interest in sewing begin? Who taught you?
I've never been able to truly pinpoint this, I was very young when my mum first taught me stitching. I started with French knitting and cross-stitching kits and only dabbled a little until I picked up a needle as a way of using beads and charms, I'd been hoarding since university. I was specialising in print at the time but missed making more tactile work. Very quickly stitch took over, I loved how accessible it was, how therapeutic stitching was and I couldn't understand how it wasn't more visible in Fine Art institutions.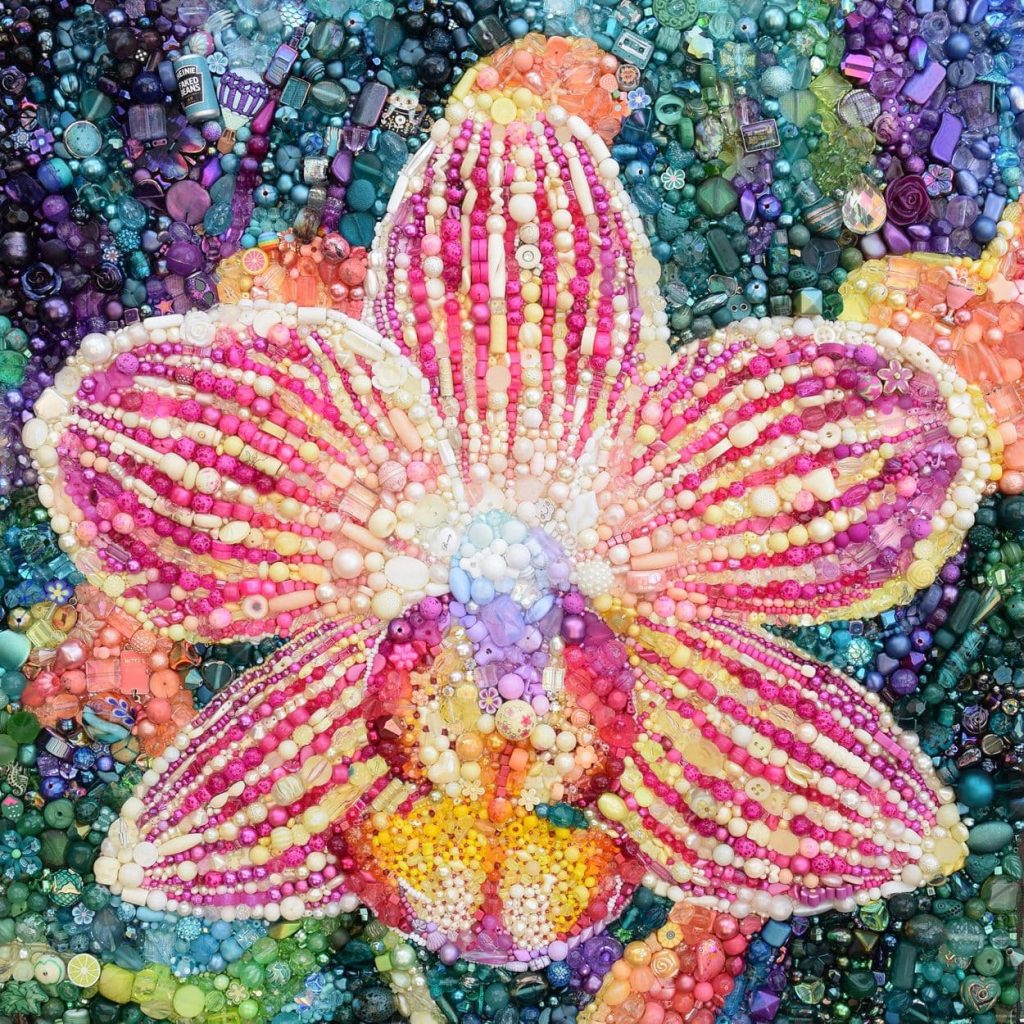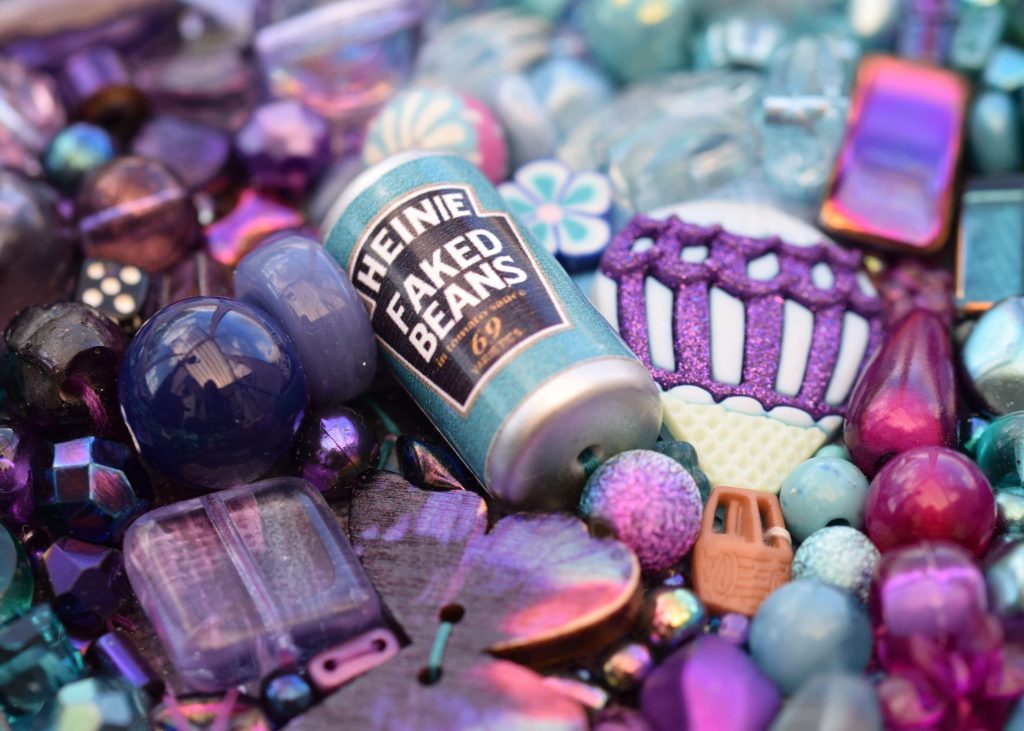 Your pieces often feature famous people – why is that?
I've chosen to work with Iconic subjects to help bring embroidery to as big an audience as possible. It has too long been overlooked in the Fine Art world and I take advantage of our celebrity obsessed society to show the versatility of stitched art. I also like the play between the fast paced, almost instant celebrity world and the time an embroidery takes. I have to be really careful when choosing a subject, I don't want to pick someone who might, weeks or even months into a portrait say or do something that causes great upset.
What's your process when creating portraits. How long do they take?
I always start by creating a digital composite, I will sift through hundreds of images of the chosen subject merging them together to create a unique portrait. I used to always under paint the canvas before stitching into it for a bead embroidery but I am moving away from this slightly and sometimes now using appliqué instead to reduce my acrylic use.
Whether I'm using beads or cotton threads I always start with the eyes first, it helps with proportion and is the best judge of how successful the portrait is going to be. If the subject can't be recognised once the eyes are stitched, I start again. I then tend to work outwards in every direction, it avoids touching the already stitched areas unnecessarily and for beadwork it makes it easier to cluster them together.
A bead embroidery 50cm square takes 6 weeks while a thread painting of a similar size would be 6 months A cross-stitched dress I created took years though. I rarely work on one piece at a time, I like to switch between thread painting and beaded works to avoid RSI and to keep me engaged in the work.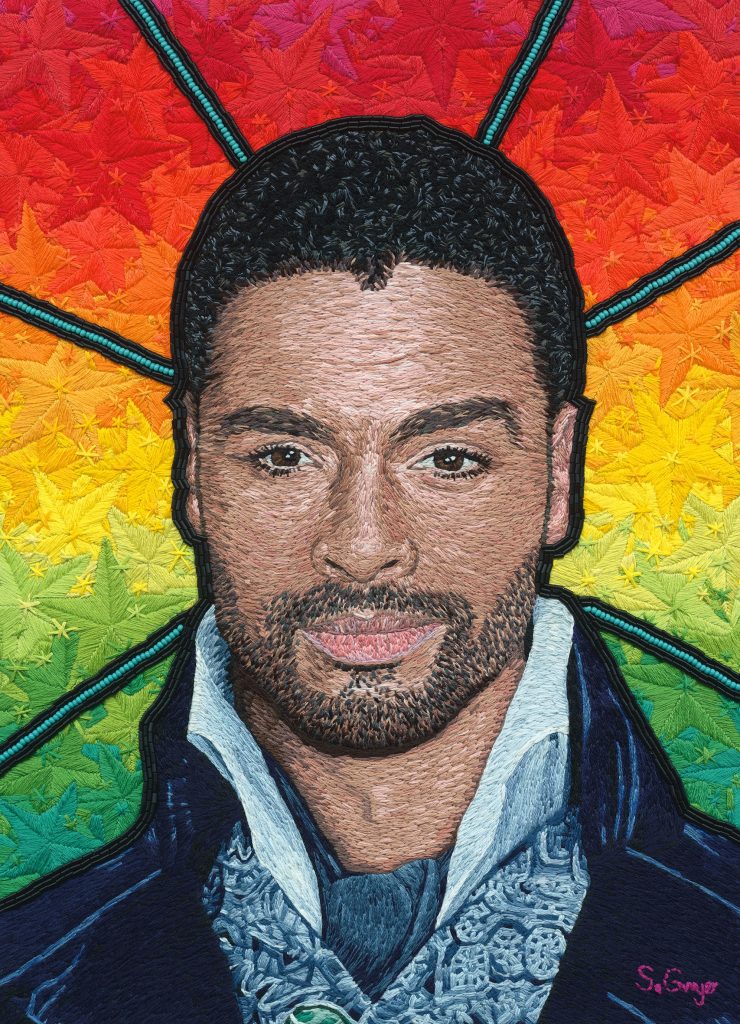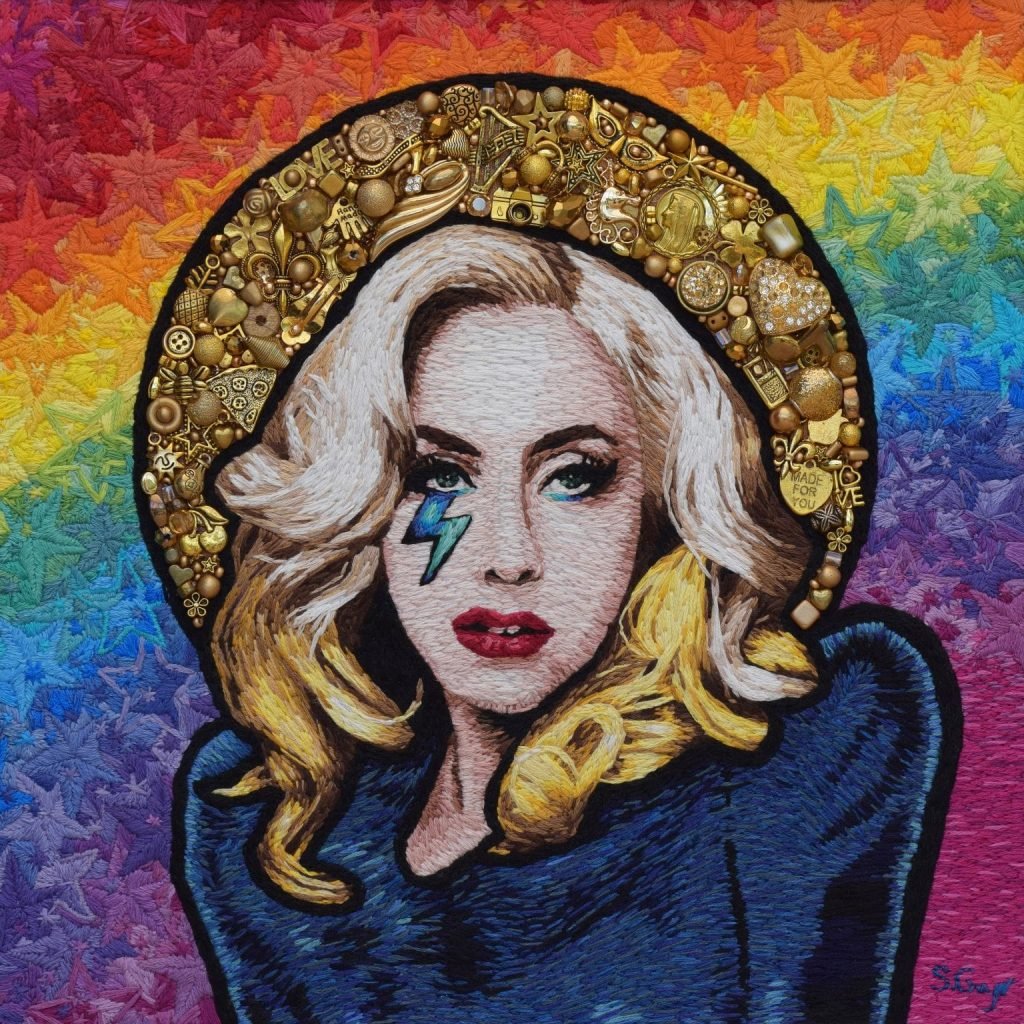 As someone who is trained in fine art, how much of your current success do you attribute to your training. How much did it add to the artist you are today?
I think my Fine Art training established a framework for me and my artistic practice, making it quicker for me to progress. I took very different things from my undergraduate and Masters degree. My undergraduate degree gave me the time I needed to find my style as it wasn't until my third year that I used lots of embroidery and found the subject matter I still work with today.
I did my Masters degree straight after in Printmaking but did far more sewing than printing, it cemented my ideas and reminded me to keep experimenting and challenging myself. The most useful part of my Masters however was a fantastic lecture series, it prepared us well for life as working artists dealing with everything from copyright law, business practices and the reality of probably needing a second job.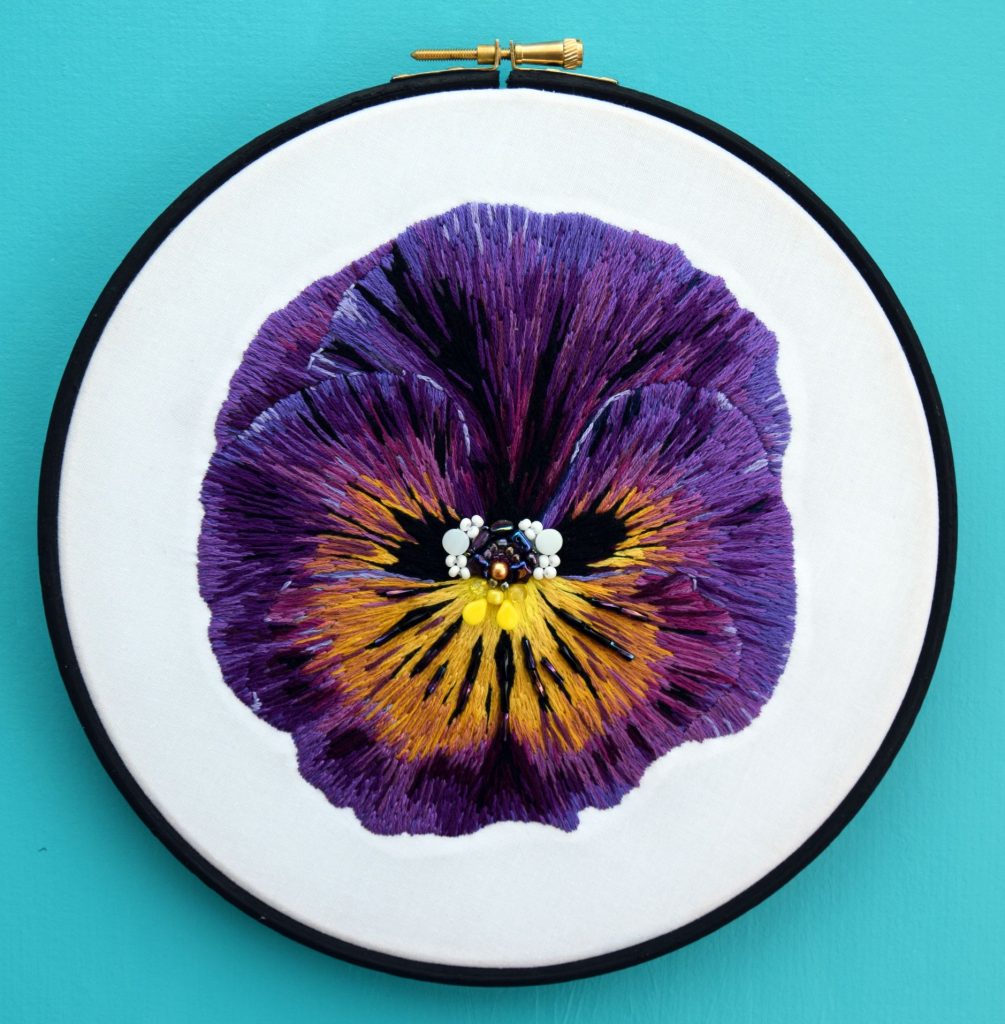 You use beads in a really unique way. Can you suggest ways or processes whereby our students could begin to do the same?
The best starting point is a good range of different shaped and sized beads. It is impossible to get two differently shaped beads to fit exactly together so it is about ensuring that certain beads are in exactly the right place, even if that creates a slight gap elsewhere. The centre of a pupil or a lip line must be exact but the middle of a cheek or forehead can be less precise without losing the overall effect. To make close fitting clusters, small, oddly shaped beads can fit partially underneath larger, round beads and diamond shapes are really useful. It's a technique that develops through lots of practice.
Do you ever get to meet the famous people you base your pieces on?
Not as of yet but hopefully one day. Lizzo did see her portrait and shared it on her Instagram describing it as 'gorgeous' which was a brilliant lockdown boost. I would love to know what Lady Gaga thinks of hers but despite lots of press coverage I don't know if she's even seen it.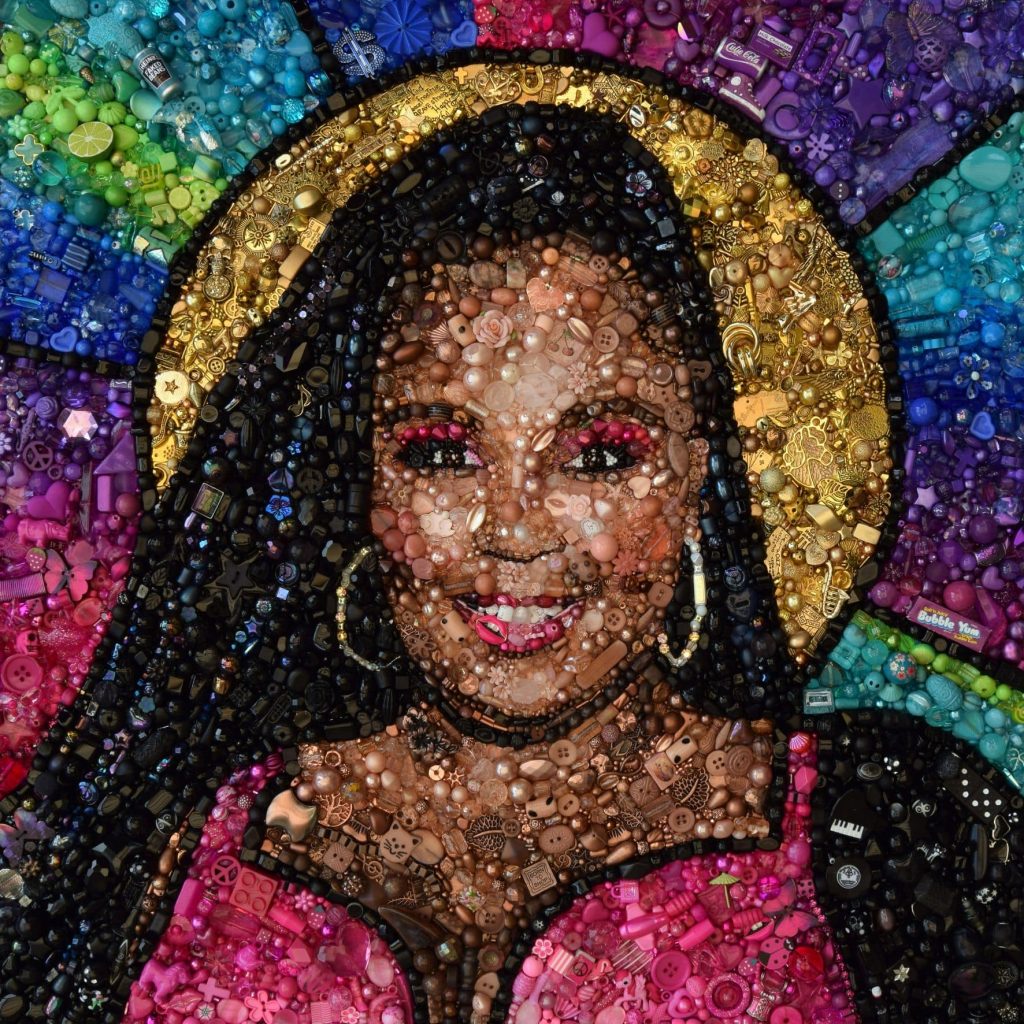 What's next?
I'm working on a new series based on the increase in inequality in society since the start of the pandemic. It will involve the reworking of some older works and use celebrity faces to draw attention to some shocking recent statistics.
I'm currently in the very early stages of my first book proposal.  I'm often asked if I do kits or patterns for my floral works so my book will teach several designs of those. Lots of the techniques in it are used in my portraits too so it should be useful to thread painters of all subject matter.
Find out more about Sarah Gwyer by visiting her website. Or follow her on Instagram or Facebook