The Quilters' Guild has now launched the first of the Elizabeth's Dowry collection fabrics, inspired by one of the quilt treasures in The Quilters' Guild Collection, the Mariner's Compass Coverlet (1820 – 1829).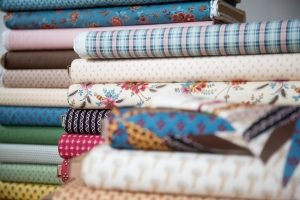 It always attracted interest from the quilting community not only because of its historic design, but because it is one of the few items in the Collection where the provenance is known.
The new line, including 23 stunning fabrics and a complete Mariner's Compass panel, will be introduced in August and available in quilt shops worldwide at the beginning of October 2016.
"The Quilters' Guild Collection is a wonderful source of inspiration for quilt makers, designers and researchers throughout the world. This collaboration with Marcus Fabrics and Karen Styles represents an exciting new direction for The Quilters' Guild and it's only fitting that we should start the journey with the motif of the mariner's compass at centre stage", said Chris Gatman, Chief Executive, The Quilters' Guild.
You can read more about the fabrics at the guild's site  HERE