Over the last few months we've received a fantastic amount of applications – our highest yet – to our creative bursary scheme. After several days of shortlisting the team at the School of Stitched Textiles have finally been able to shortlist nine lucky finalists.
These finalists will now get the chance to take part in a vote and the three applicants with the largest number of votes will receive a bursary to study a Skill Stage 2 City & Guilds accredited course of their choice for free. We'd like to point out that this was an incredibly hard decision. The level of skill and creative flair was extraordinary, especially since the course level being applied for is for beginners with limited experience. We'd like to thank everyone who entered and encourage them to apply next time round.
Take a look at the shortlist and then take a moment to vote for your favourite.
1. Carly Biggerstaff
Applying for: Hand Embroidery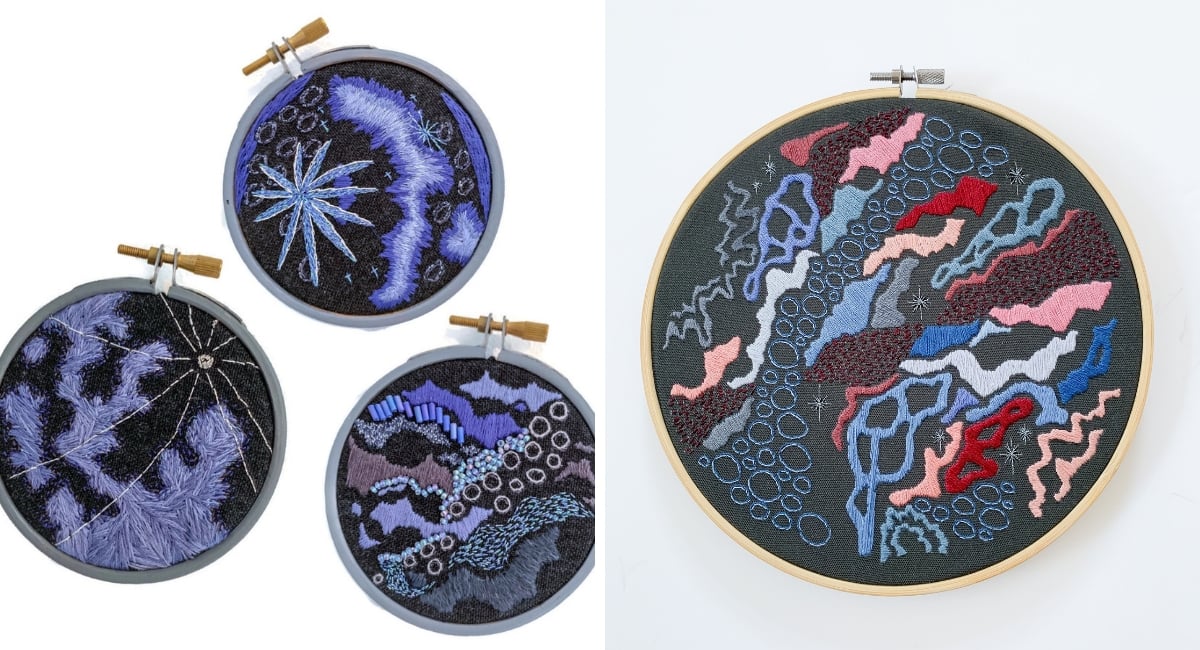 Carly has hopes of becoming a full time embroidery artist but wants to improve her skills to be able to sell her work.
"The course would make a massive difference to my skills as an embroidery artist, I'm currently very slow. I've had one paid embroidery job and loved it! I only just made the deadline, I'd love to learn new techniques and speed up what I can already do! To actually have a qualification would just be so amazing."
2. Caroline Miller
Applying for: Machine Embroidery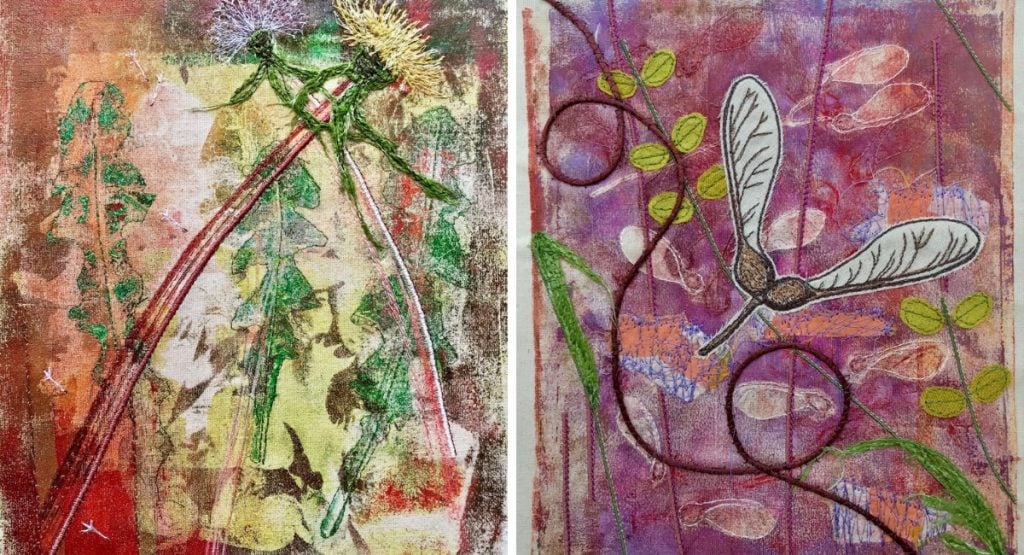 As a freelance florist specialising in creating bespoke funeral designs Caroline has always been passionate about innovative design and has successfully competed at Chelsea and Hampton Court. After incorporating both textiles and stitch  in her floristry work she is keen to develop ways to use botanical materials both within, and as a source of inspiration for stitched artworks.
"I am absolutely motivated to learn and love acquiring new skills and techniques. It is great to be able to experiment with materials in a more time relaxed and flexible way.
Having been at home with my daughter over the last year, the time I have spent stitching and creating has potentially opened a whole new, exciting future for me. I would like to spend however many years learning as much as I can, gaining an accredited qualification and seeing where it takes me. I would like this to be the start of a new career for me rather than just a hobby and believe your training and qualifications will set me on the right track."
3. Hannah Wisdom
Applying for: Machine Embroidery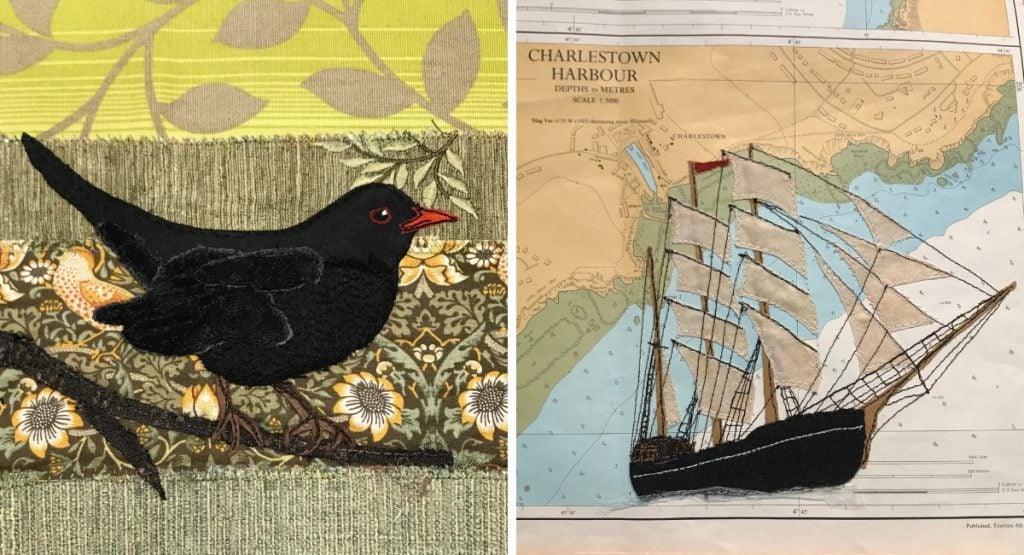 Hannah has always loved all aspects of sewing and finds it a wonderful escape from the everyday. Having recently sold a few of her own textile art pictures to colleagues and on her Folksy and Etsy stores she now hopes that the course will provide her with some much needed direction to improve and expand her skill set. Ultimately she hopes to gain creative confidence and expand her craft stores.
"One of my big challenges is around confidence. I have only recently become brave enough to show my work via social media. I have a huge lack of confidence in my abilities, and I think that the completion of this C&G accredited course would not only give me a good grounding and help me to develop my abilities and skills, but would also validate my abilities to myself and thus improve my confidence. I have never received any formal training and think this is holding me back.
I would love the opportunity for some directed study. I'm very excited about where this could lead!"
4. Heather Sault
Applying for: Knitting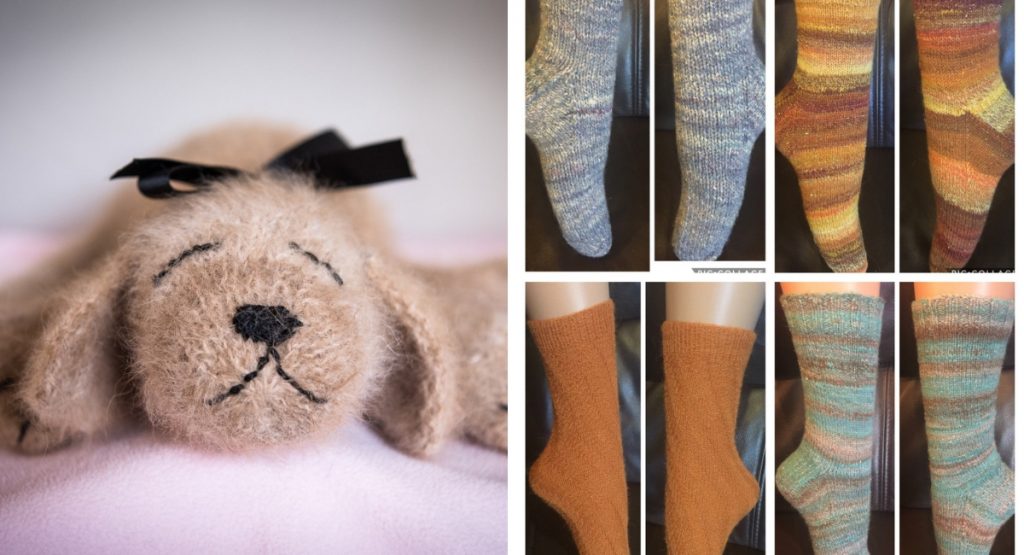 Heather has been given the opportunity to knit garments for a company but feels she lacks confidence in her abilities.
As a passionate knitter Heather has learnt how to spin her own yarn and weave, and uses her handspun yarn to knit socks using 5 double pointed needles. She has also learnt to spin dog fur to make precious keepsakes for people.
"My real motivation to undertake this course is to enable me to start my own small business, teaching, making high quality garments with an emphasis on vintage stockings and underwear. This course would fill me with confidence and belief in succeeding in a way that will only enhance my life, I love crafts and really would like the professional skills to go with my enthusiasm and eagerness to succeed."
5. Jane Holt
Applying for: Felting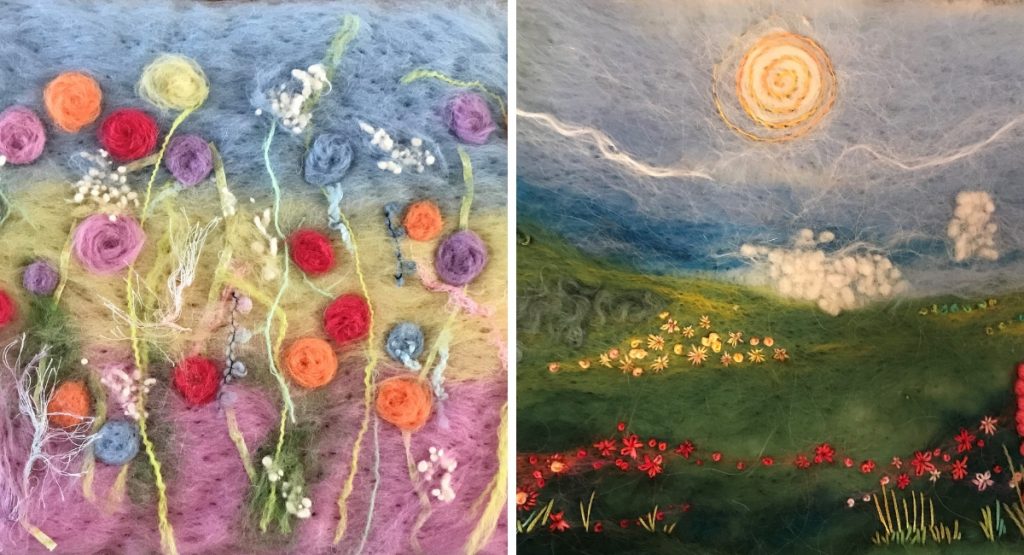 Jane has always had an interest in creative projects and would love the opportunity to learn more techniques. After attending a Christmas bauble felting workshop last year she was able to sell some of her creations at a local art and craft shop and really wants to be able to make more items to sell in order to fund the next stage of her artistic development.
"I hope that the course would give me both the skills and the confidence to produce items that I felt had genuine artistic value.  I believe it could be the starting point for a whole new direction of my life, as office work is not really feasible for me to go back to."
6. Melanie Makin
Applying for: Patchwork & Quilting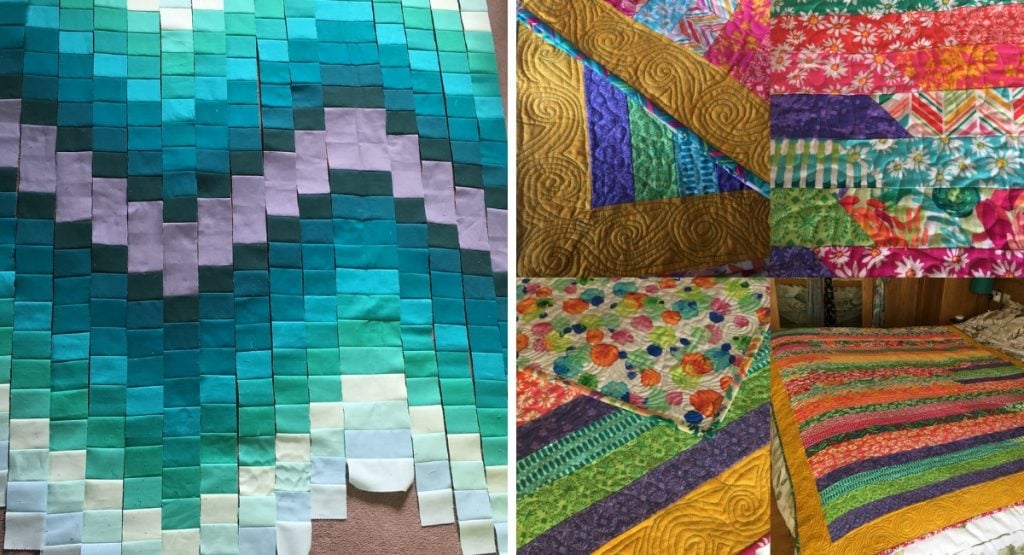 Melanie has always been artistic and studied art for two years when she left school. Unfortunately she was never able to go to university to study further and subsequently had to give up her dream of an artistic career for a while. However she is still chasing her dream.
"I have always been a knitter and I have recently taken up sewing and quilting. I would love to teach quilting and I feel that this course would be the first step towards that. I have taught the odd bag making class at my local sewing shop and feel that C&G accredited course  would give me the confidence to teach quilting."
7. Sarah Mannix
Applying for: Textiles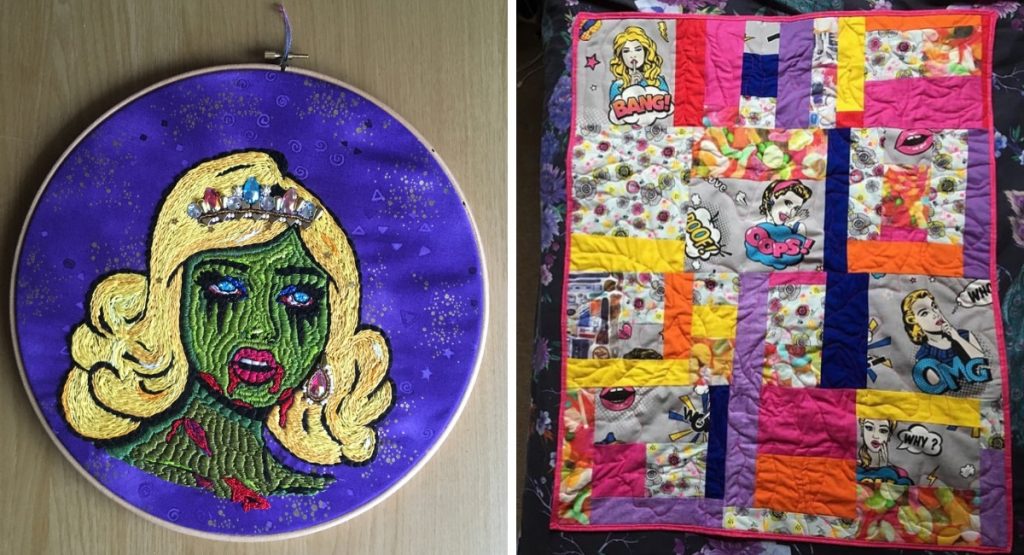 Sarah is really passionate about textiles and enjoys hand embroidery and quilting. She spends her lunchbreaks, evenings and weekends planning projects and crafting and has recently started making quilts. Sarah wants to do the course in the hope that she will find her niche, continue her creative journey and ultimately, develop a sewing business. She also wants to continue promoting crafts and creative practise in relation to mental wellness and health.
"I feel I would benefit greatly from the guidance and structure a course like this offers and being able to connect with people who are passionate about fibre arts. I am passionate about making things and this is my driving force to complete the course."
8. Sheila Young
Applying for: Crochet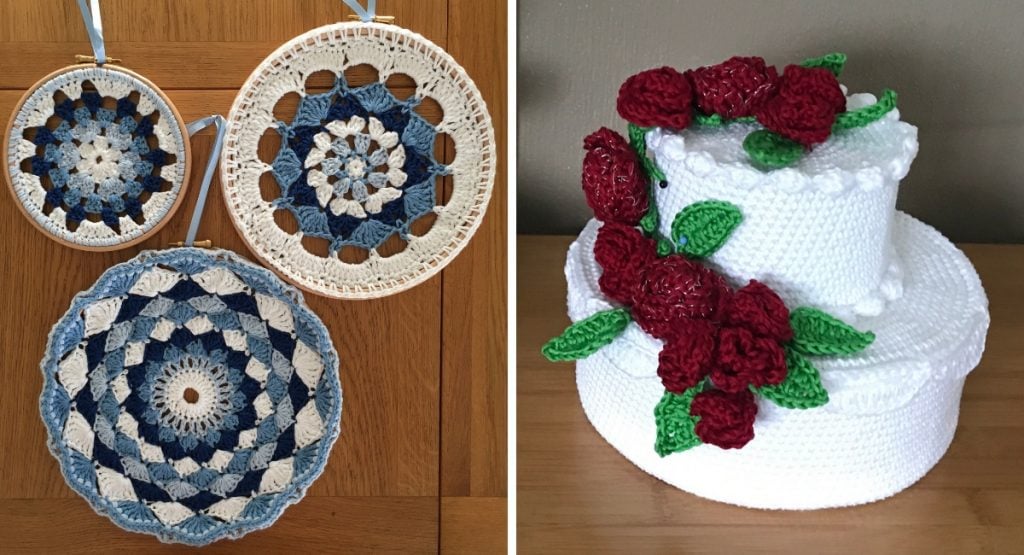 As a passionate maker Sheila would love to have the skills and confidence to teach others. She is currently selling a few of her creations to earn a little income before she can receive a state pension.
"This course would change my life as I would learn so many new things I also belong to several different craft groups so would get lots of support and would be able to discuss and exchange ideas.  I know there will be times when I am busy and would have to prioritize what I do first but I have a lot of determination which would see me through."
9. Zoe Holt
Applying for: Textiles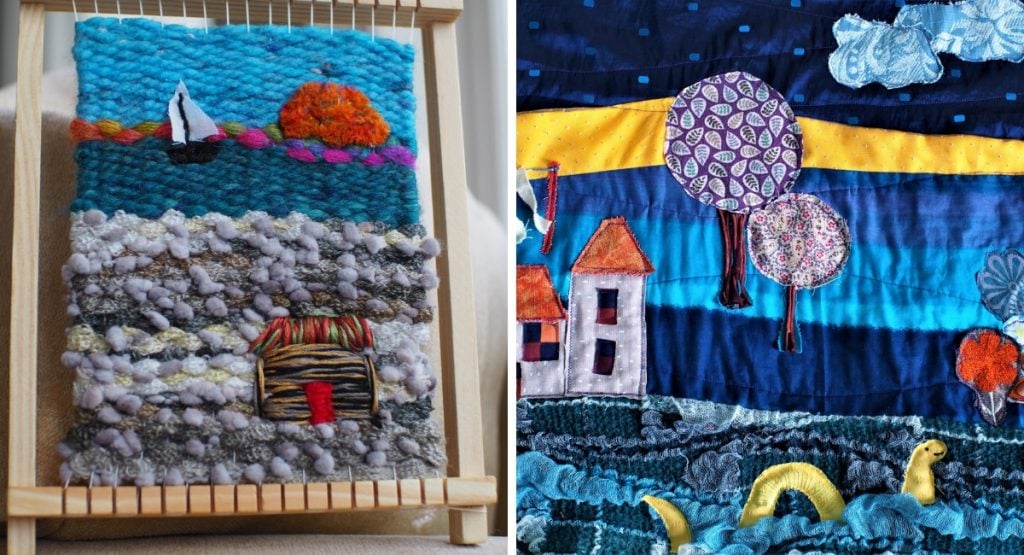 Zoe is a full time carer for her son but finds textiles and crafting a welcome diversion. She has taught herself machine sewing, simple hand and machine embroidery, applique and simple decorative weaving and has recently started to make the occasional piece to commission.
"My textile activities have given me a creative and intellectual outlet and have become central to my feeling of self.
As I am so far self-taught, it would be an absolute privilege to learn techniques in a more structured manner. I am thrilled at the prospect of pushing myself out of my comfort zone with the guidance of an experienced tutor."
Good luck to all of our finalists.