Melanie Couffe is an independent Cross Stitch and Blackwork designer, published author, and a self-proclaimed lover of colour! Her 'Colour is Life' motto is an integral part of her style and designs, through which she hopes to spread joy and love!
Born in the UK but now living in the South of France, Melanie turned her love of embroidery into a business venture following the birth of her children, Tom and Lily. Over on her site, Tom and Lily Creations, you'll find kits to re-create her own designs, as well as a huge range of hand dyed stitching fabrics which, as you'd expect, are bright and vibrant. Melanie also provides hand dyed threads from her Colour Gems thread range.
How did you start designing?
I come from a very creative family, and also a teaching family. As a child and young adult I was always very frustrated because I couldn't draw or paint like the rest of my family.
As a result I followed the teaching route and became a language teacher. I moved to France and got a teaching job in Dijon.
There was a cross stitch shop just next to the language school and I bought a tiny cross stitch kit. I started it that night and finished it a couple of days later. I went on to buy a second and a third. I was hooked!
In retrospect now I realised that those cross stitch kits helped me feel like I wasn't alone during my time away.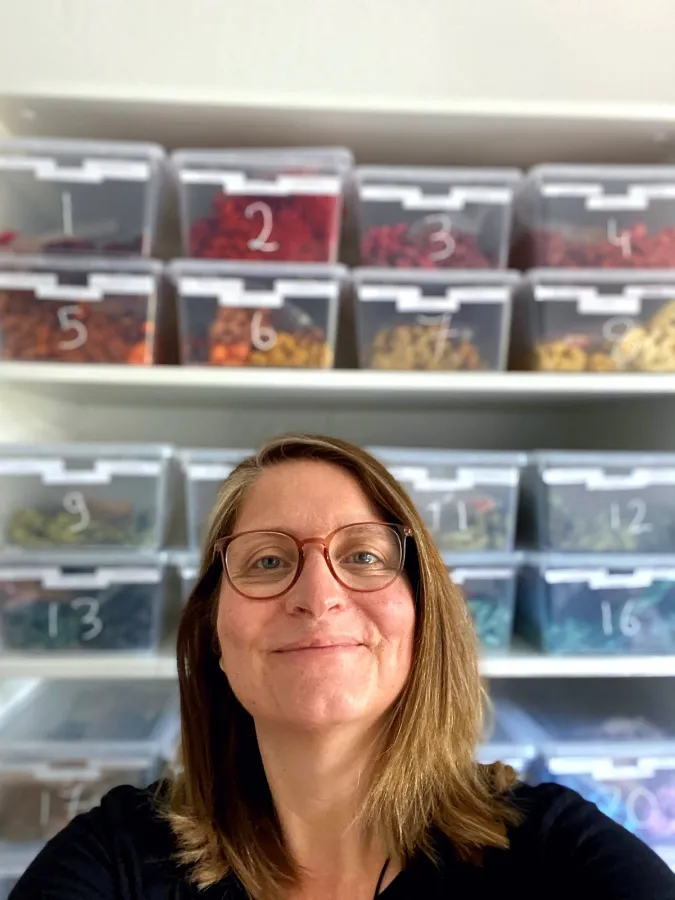 A couple of years later whilst on maternity leave I designed a sampler for fun  and it became very successful in the region where we live. I went on to stitch more designs and eventually created my own business in 2006.  It was a great way for me to stay at home with our children and keep working.
It felt so good to be able to draw and paint with a needle, rather than  a pen or a paintbrush after so many years!
Tell us what you're currently working on.
I'm very excited to present my new book Blackwork Embroidery In Colour edited by Search Press. 16 blackwork seasonal designs with a modernised twist of colour.
I met the Search Press team at the Homemade Fair in Hampton Court in 2018, where I had a booth with my cross stitch and blackwork embroidery designs along with my hand dyed stitching products. They asked me to design a book for them, which I did with great pleasure. Pandemic held things up a little, but now the book is here and it's beautiful.
What was your first memory of stitching – who taught you?
My maternal grandmother taught us canvas work, knitting and crochet every summer, during our long summer holidays in the south of France. My mum is French and we spent every summer with her family.
Between the heat that kept us inside and having to keep quiet during siesta time, our grandma shared her creative skills with us. At the time I wasn't  enthralled and found it quite boring. I did have a preference for canvas work though.
As an adult I picked up cross stitch one day and couldn't put it back down. I was hooked.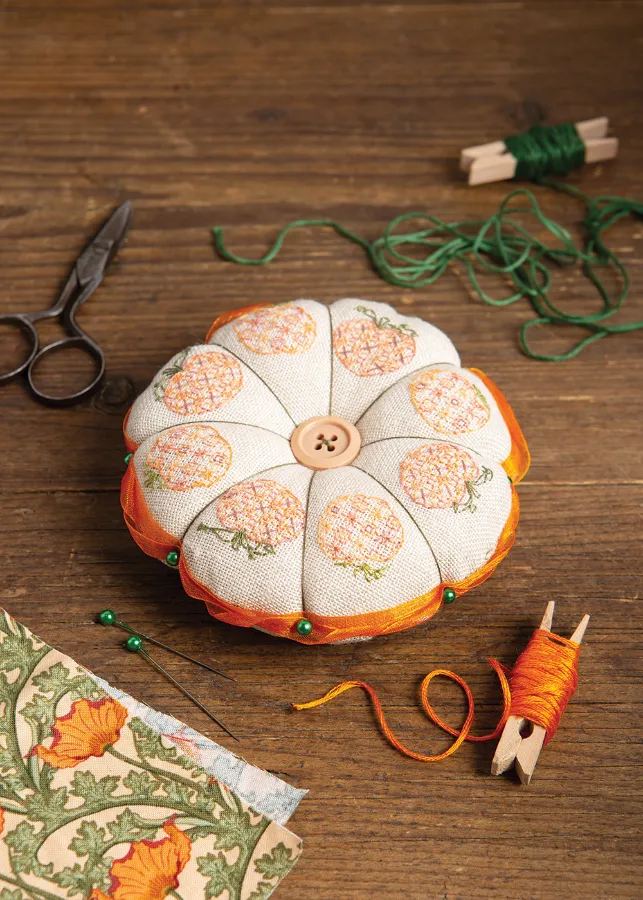 Where do you usually look for inspiration when starting a new piece?
I would say that my biggest inspiration are the seasons. Each season has a particular colour range for me and I use these colours and seasonal themes to design my work.
I also love to add a bit of humour to my designs when I can as I love knowing that my designs bring joy, along with well being through the colours I use and the repetitive actions of the stitching itself.
You have your own website and sell some gorgeous supplies that are hand-made– how do you decide what goes into your shop?
My main website has all my cross stitch and blackwork designs on it, along with my hand dyed stitching fabric and threads too. My subscription site is where stitchers can find information, gift a subscription or subscribe to one of my boxes.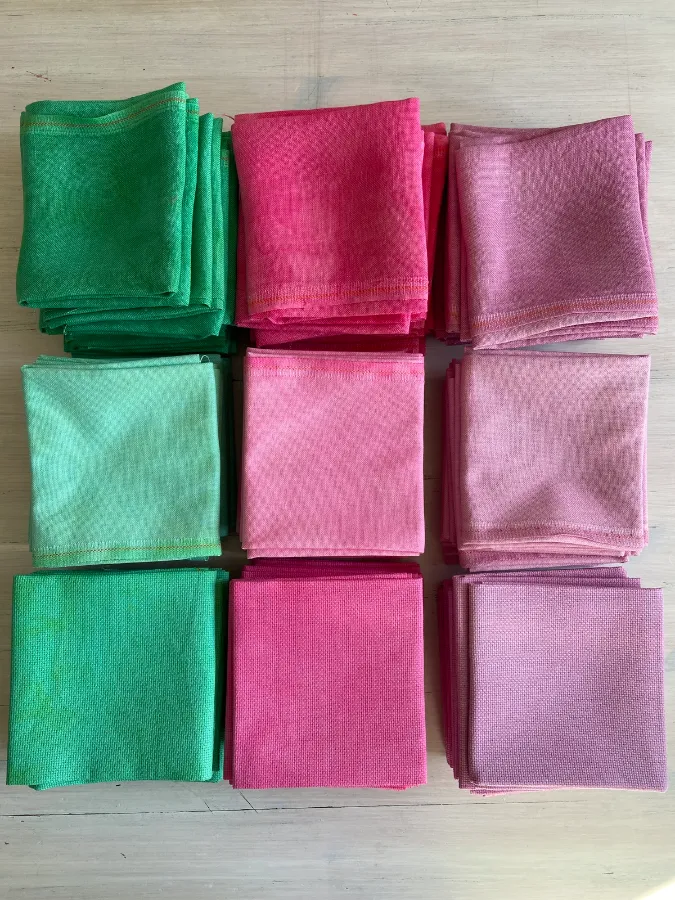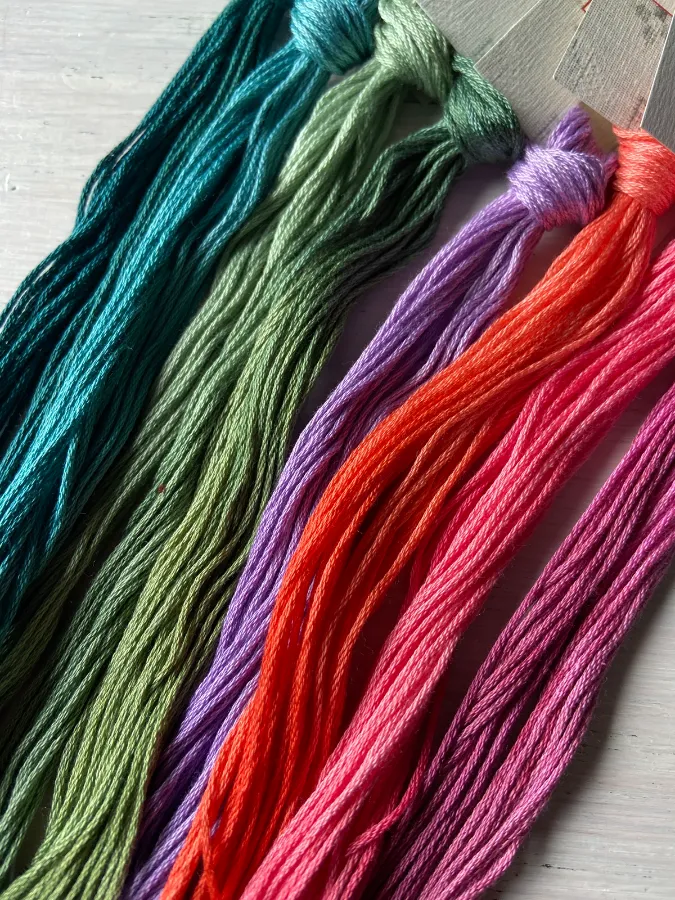 We know from your book that you especially enjoy using colour within your work. Can you suggest ways or processes whereby our students could begin to do the same, especially if they are a little 'colour shy'?
When I started introducing coloured fabrics into my designs 15 years ago, it wasn't really the fashion then. Most stitching was very classical back then,  plain threads on white or linen coloured fabric only.
I quickly realised that quite a few stitchers were afraid of colour and didn't know how to use it in their stitching.
I would suggest to start by using the basic colour wheel to help to know which colours to associate or use together.  If you use the complimentary colours together as a start you can't go wrong. Bring in different nuances of those colours, or neighbouring ones little by little.
I always say that you should trust your intuition when it comes to colour. Whatever feels right to you, and makes you feel good is the best fit.
Placing thread colours on coloured fabric is also a great way to choose colours. You'll know instinctively if they work together or not.
Don't be afraid, just have fun with colour!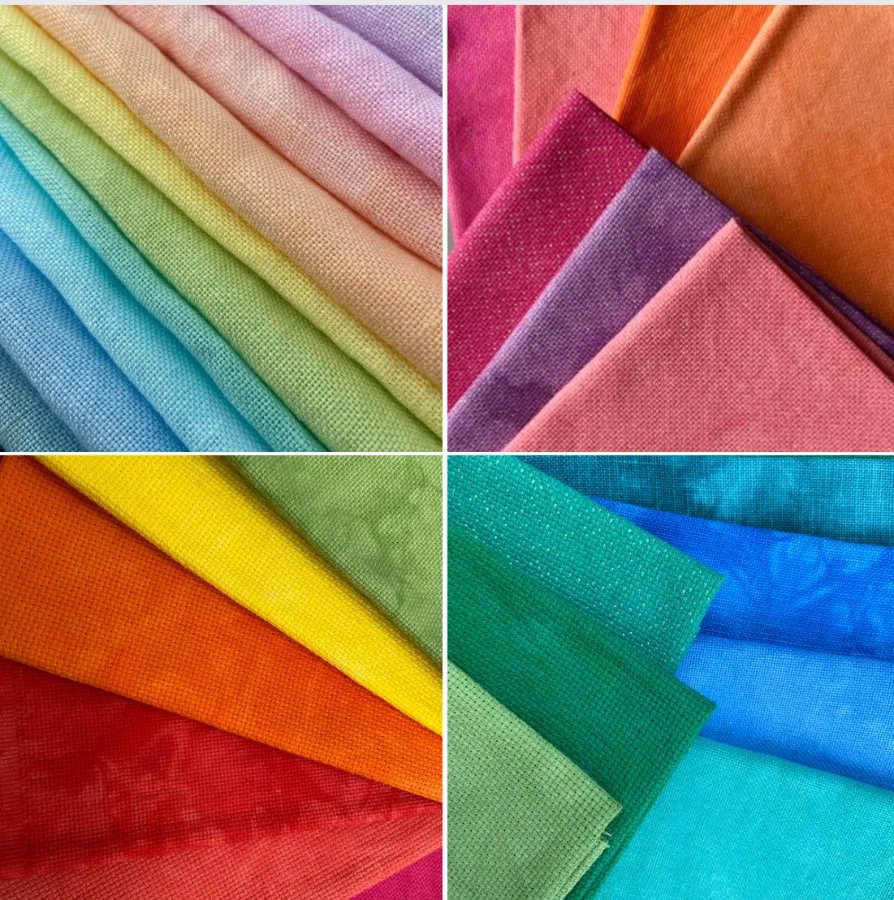 What artists inspire you personally – who would you like to sit next to at a dinner party?
Wow, that's a great question! I would love to meet and sit next to Danielle Clough aka Fiancé Knowles. Firstly because she seems to be a really friendly person, but mostly for her love of colour! I love her fun and colourful hand embroidery and all the colours she uses. I'm sure we would have a lot to talk about!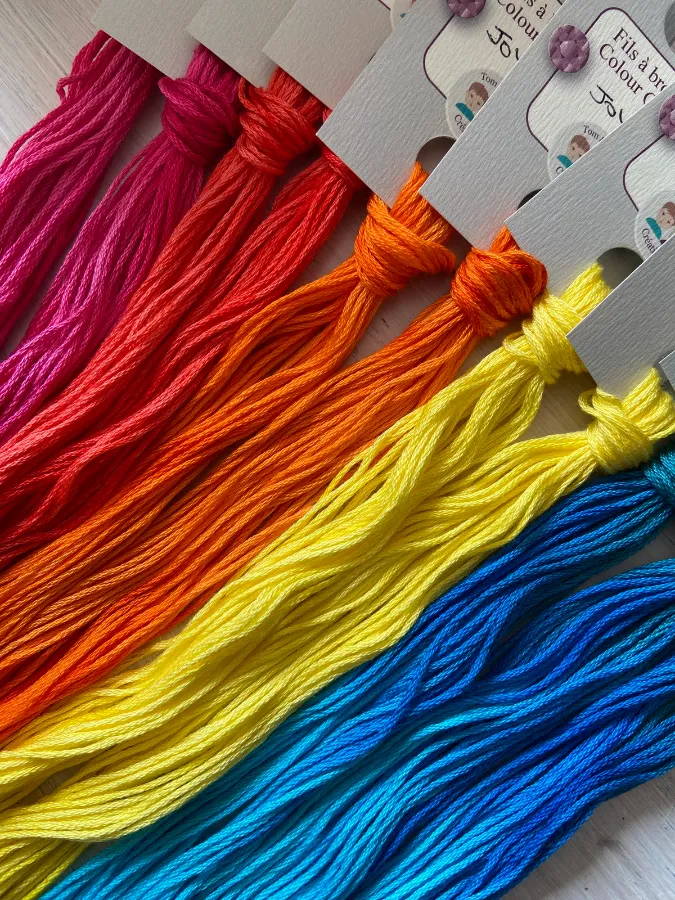 What is next? Do you have exhibitions or new books underway that you could tell us a little about?
I don't have another book underway at the moment, but I'm working on a monthly membership for the stitchers who buy the Blackwork Embroidery In Colour book. I want to inspire and accompany my readers to stitch the pieces together with me, rather than just keeping it on a shelf or on a coffee table.
Stitching and embroidery have been a good companion to me since a young age and I love how tight knitted the cross stitch and embroidery community is. I would love to help others find support and well being and make lots of stitching friends all over the world.
To get onto the community waitlist and be the first to know when it launches and to get my early bird offer please follow this link
Follow Melanie Couffe by visiting her website or find her on Instagram and Facebook.