Despite being an experienced textiles artist with more than 40 years' experience, Janet Scruggs has found a great deal of value in the courses we offer, here at the School of Stitched Textiles. Janet decided to enrol onto our Hand Embroidery course which has taught her how to create her own abstract designs.  Read more about how our Hand Embroidery courses nurtures creativity.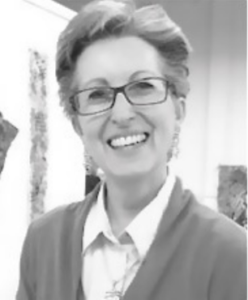 Jan has been involved in textiles for more than 40 years. Over the years, she has exhibited locally, nationally, and internationally, and has won several awards for her artwork. She holds a Bachelor of Education degree from the University of Calgary and has developed a passion for teaching and mentoring others in fibre and textile arts, yet she continues to have a hunger to learn new things.
"I am a technique junkie!"
An early interest in textiles craft
Even as a child, Jan has always had an interest in sewing and handicrafts. Using what she learned in school, she continued to build upon that base by sewing garments, knitting and crocheting for family, and adding to her repertoire with beading, paper arts, wet and dry felting, and anything to do with textiles!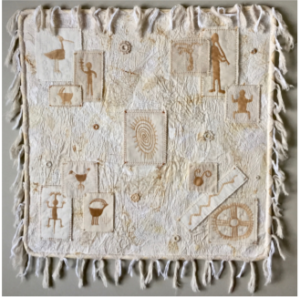 Primarily, Jan has been self taught in the world of quilting, mixed media and fibre art. Even so, she has taken workshops when they piqued her interest and fondly remembers her first quilting class when her car ended up on its side in a ditch! She progressed from making functional quilts for every member of the family (plus friends), to making art quilts. Getting a taste of this art medium was like a glass of water to a thirsty soul. She worked on her technical skills related to art quilting, but was immediately wanting to use her own creativity in her designs. This led to mixed media, felting, and innovative techniques – and eventually to teaching in a local quilt store, and to quilt guilds.
Exploring creativity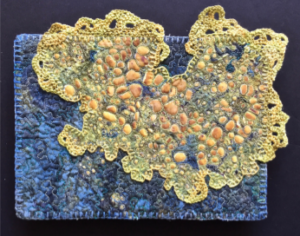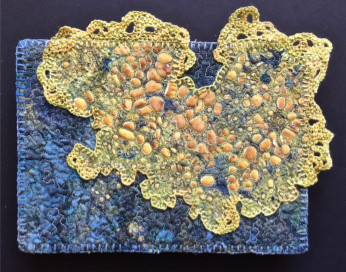 Wanting to explore her creativity, Jan became a founding member of the Fibre Optics Group in 2008, while living in Calgary, Alberta. This group continues to explores fibre art and mixed media techniques during a monthly play day. Jan moved late last year to Kamloops and misses the synergy that occurred with 10 – 12 artists feeding off each other's creativity, skill and knowledge.
"Can I melt that?"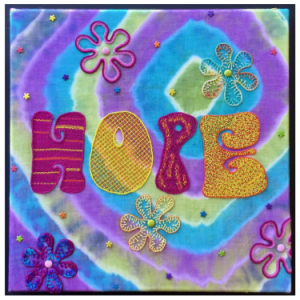 In order to feed her appetite for learning, Jan wanted to further her more formal education. She really did not have the time, nor the inclination to go back to school physically. Jan had heard about City and Guilds and upon finding an ad in a magazine, soon discovered the School of Stitched Textiles.
Upon enquiring about classes, Jan decided to take a felting course to see what it was like. She was hooked! She learned a different method of felting and found the base of knowledge she gained in just that short course to be something that she refers to, and uses, often.
Then, she was offered a special incentive to be part of a School of Stitched Textiles study in which people were connected to others taking the same class.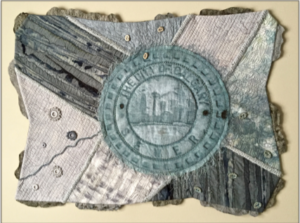 Hand Embroidery Course
"As I already knew a lot about quilting and machine work, I decided to focus on hand embroidery. I was adding some embroidery to my art quilts and wanted to learn more, so that I would be able to be more creative in this area. So, I enrolled in Level 3 Hand Embroidery course" This started Jan on her way!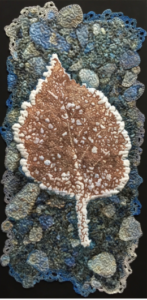 "What surprised me the most about the hand embroidery course was the design portions. I had studied design elements and principles of design in creating my quilts, but here was something new. I have just loved the design exercises. Learning to make abstract designs was absolutely captivating. It was not something I had ever done before."
As she nears the end of her hand embroidery course with School of Stitched Textiles, the question of "what next?" keeps coming up.
"I am thinking about another course with the School of Stitched Textiles as I have a real enthusiasm for the school and the opportunity it presents to continue learning through online courses. I have made presentations to groups about my experience and continue to encourage others I meet to give the school at try.
As much as I want to continue, I do want to take a break as I have so many design ideas and skills from this course that I want to take time to explore first."
Thank you for sharing your story with us Jan.
You can see more of her work and read more about her by visiting her website