Jan Horrox is a serial crafter! Born during the second World War she occupied herself with painting, drawing, knitting and sewing. These skills would later come in useful when making cloth dolls: an artform that demands versatility.
Her love of the creative pursuits would follow her throughout her life even as a photographer's assistant and pattern cutter for Angel's theatrical costumiers, and for the Fashion Print company WonderWorkshop.
Jan studied Fashion & Textiles and specialised in Knitwear at the Walthamstow Art School, before setting up her own self-titled knitwear label. In 2005 Jan Horrox discovered cloth dolls at an exhibition! The brief encounter would instigate a complete change of direction.
We caught up with Cloth Doll artist, best selling author and tutor, Jan Horrox to discuss her latest projects and upcoming events.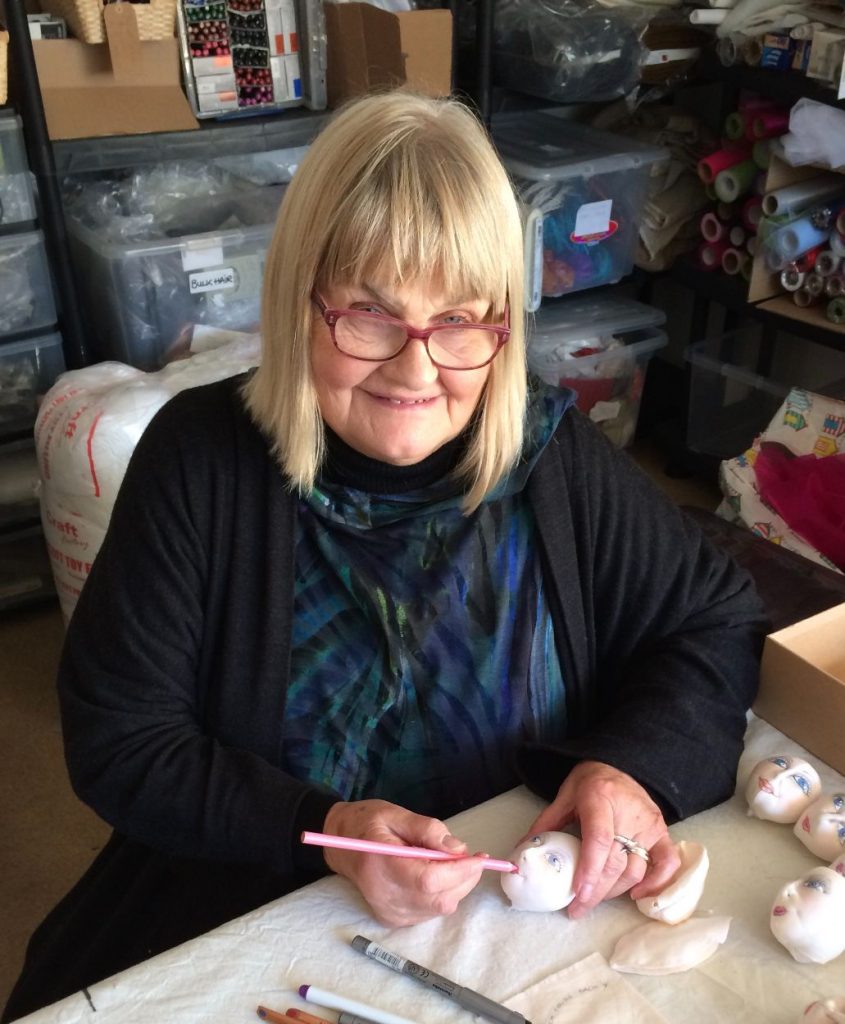 What are you currently working on?
I'm currently working on a series of figures themed on the four elements. I have begun with the element 'Earth" and made 4 dolls so far.  The doll I have most recently created in this series is for a workshop to be in Maggie Greys WOW book 7 and is themed on the idea of  herbs and spices. At the forefront of my theme is climate change. As we approach the point of no return , I have been reflecting this theme in creating these dolls.  Collecting a neutral colour palette,  I am using eco-dyed natural fabrics as well as repurposed fabrics, embellished with hand and machine embroidery.  Dolls made so far are called Rosemary, Nutmeg, and Laurel.
These dolls are smaller than the dolls in my books – now 14" rather than 18".  This size is a personal preference.  I am using various joints – embroidered joints, bead joints and I also work on an armature quite often so that the doll is free standing.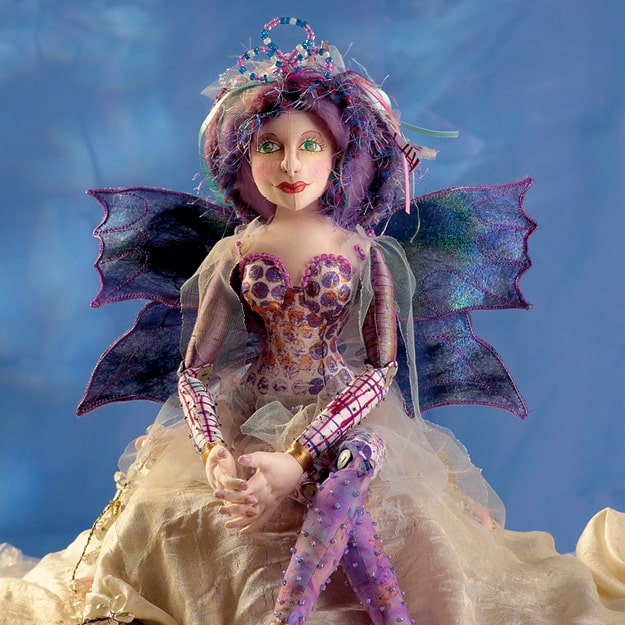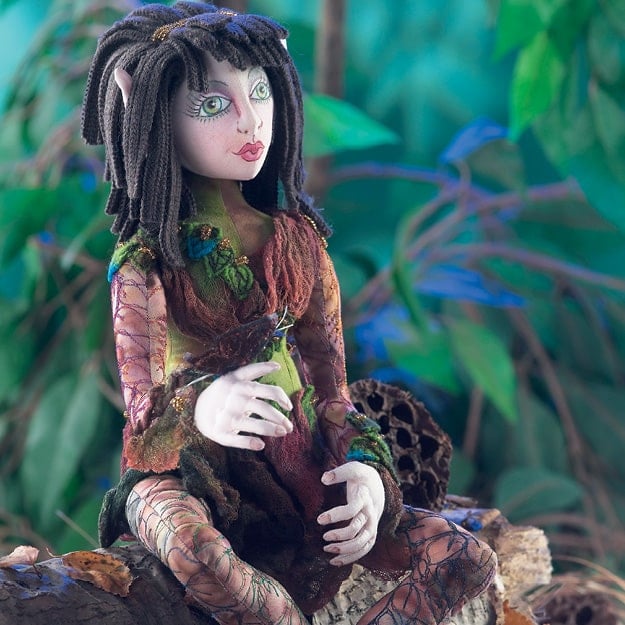 How did making cloth dolls start for you?
After a career of 30 years in Fashion Knitwear, I came across cloth dolls at a Knitting and Stitching Show at Alexandra Palace.  I had no interest in dolls until coming across this display of Cloth Dolls gathered from all over the word.  This exhibition was curated by Ray Slater who went on to become my tutor and mentor in the Culture of Cloth Dolls.  My fascination was with the enormous variety of  styles, ideas and techniques involved in these textile creations.  What an interesting vehicle for every kind of creative textile technique available to us. I had just begun to do City and Guilds courses in machine embroidery and creative textiles so Cloth dolls inspired me as a way to use these new techniques.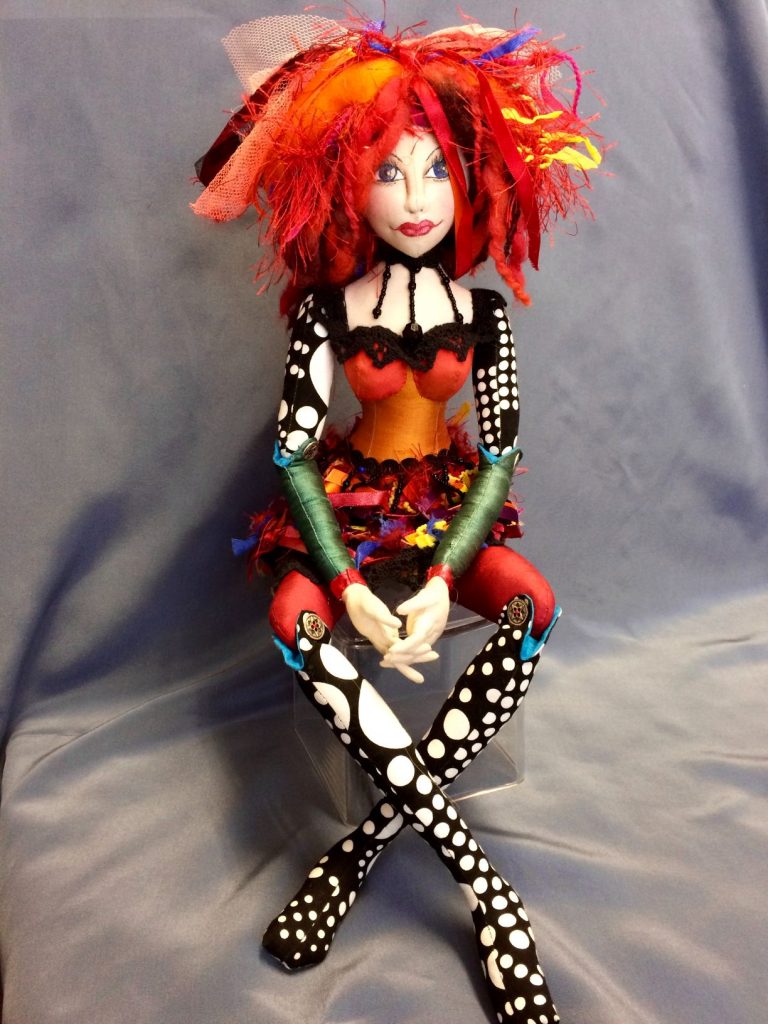 Where do you usually look for inspiration when starting a new piece?
My inspirations occur to me as I live day to day and I keep a daily journal/sketch book where I make notes with little diagrams/drawings/cuttings of each idea.  Then I can revisit and select or reject from this.  Ideas come from nature, exhibitions, TV and film, books and politics.  I used to be much more involved in fantasy but now I like to give each doll some kind of serious intention even if it's only with the materials I am using.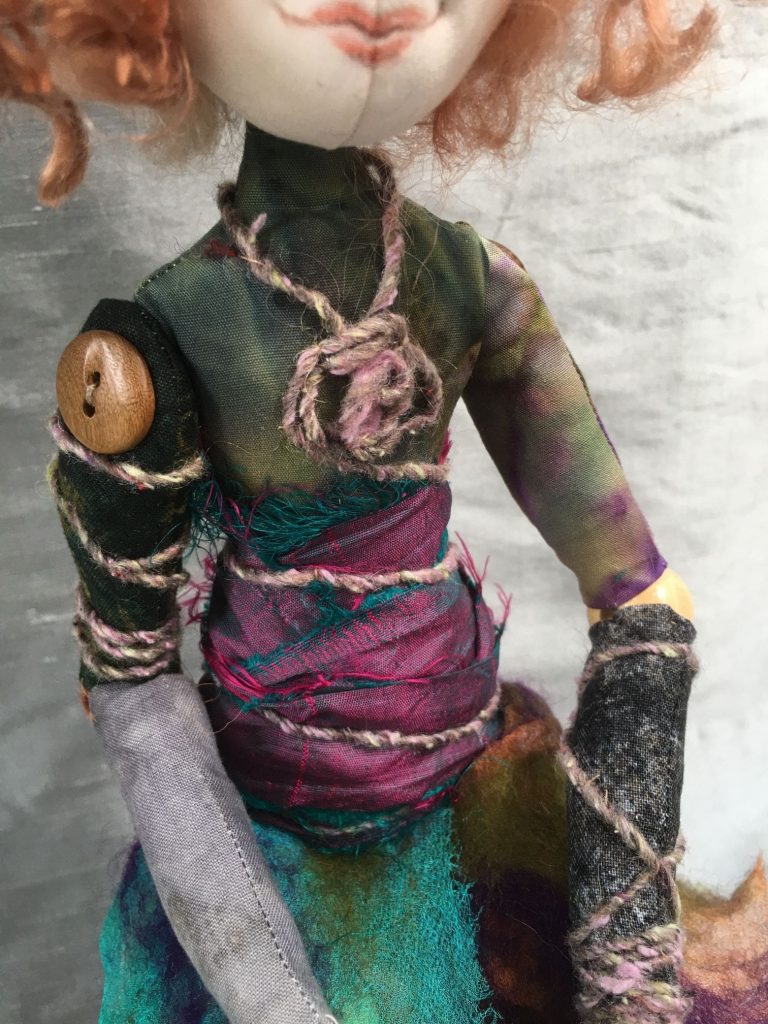 As someone who is trained in knitwear design, how much of your previous career do you think has carried over to your dolls? How much did it add to the artist you are today?
I originally trained in Fashion Textiles and my first career was with knitwear. I set up and produced my range of ladies fashion Knitwear under my name of 'Jan Horrox.'  This began in 1975 and continued until 2005.  As well as knitwear I made silk jackets and trousers to accompany the knitwear.  So I did a lot of pattern cutting as well as procion dyeing a lot of the silk.  All these skills carried over into doll making which was one of the attractions of making cloth dolls.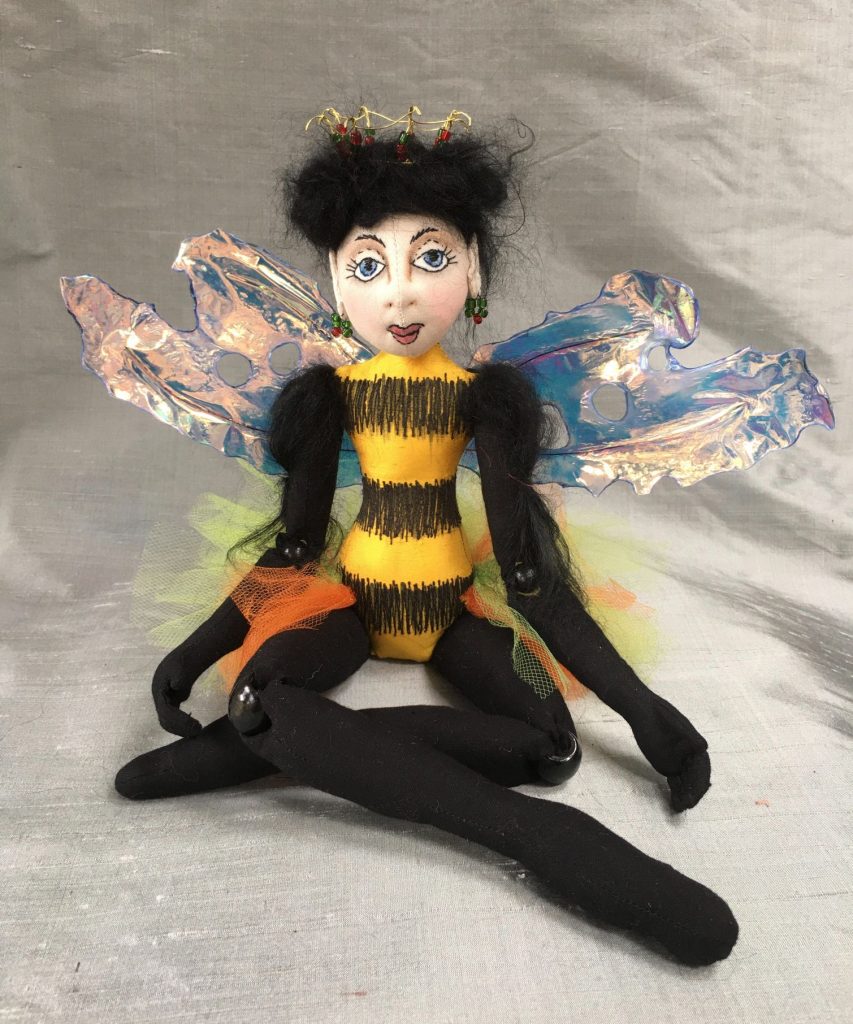 What was it about dolls in particular of all of the various crafts that captured your imagination? If one of our students were thinking about beginning to make dolls what advice would you given them on where to start?
This transferring of skills is what attracted me to cloth dolls as well as the size of dolls. After years of doing many trade and retail fairs which required transporting around large vans of knitwear and clothing, it was a relief to downsize to 18" dolls!  By this time I was in my 60's and looking for a 'retirement' type business.
For anyone wanting to start out making a cloth doll I would advise a good basic pattern. Don't take on too much to begin with until you get to grips with some of the techniques.  The main things to learn are Needle sculpting,  making hands and fingers, template sewing and creating a face.  The best way to learn is by a hands on workshop but these are few and far between even in 'normal' times. There are a number of videos on Youtube as well as online courses.  My books are written for beginners and if you use them or other patterns, please do read all the instructions first as template sewing is not like normal dress making/quilting.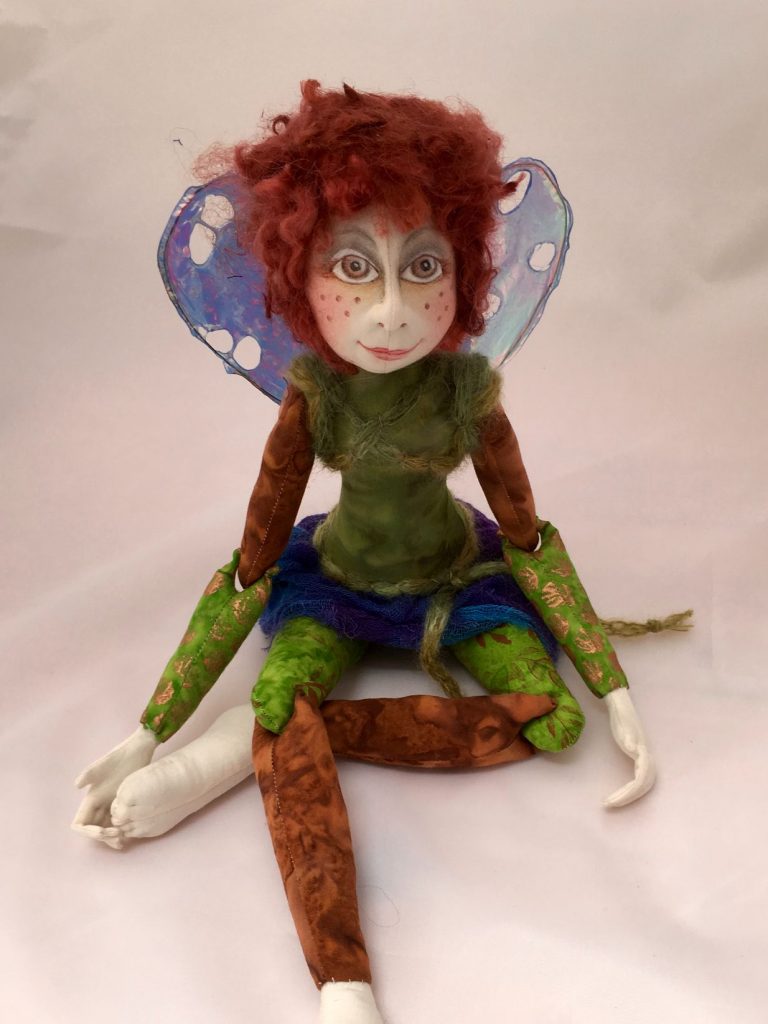 Moving on to the 'P' word! How has the pandemic affected you and impacted your dollmaking and business. How do you see things moving forward from it?
The pandemic has not greatly affected my business which is mainly online anyway. Sales are aided by a monthly News Letter and social media presence.  Last year I had to cancel all my 5 workshops, which I hold in Glastonbury where I live, and this year workshops will not be possible  before July.  Meeting up with students for the workshops are the main thing I miss.
What do you have planned?
The future of all our crafts has adapted to online very well but I am sure many of us miss our wonderful retail shows like 'Festival of Quilts', Knitting and Stitching Shows and all the others. Lets hope they can come back again soon.  From a personal point of view, I was 80 last year and so I do not anticipate any growth of the business plan.  I gave up having a stand at the big shows about 2 years ago pre pandemic.  Workshops will be the only live activity I may continue with though I am hoping to do online workshops as I master the IT required to make videos and all the rest.  There are many people who cannot attend live workshops for all sorts of reasons so I think this would be a good thing to follow up.
Back in January Search Press published a compilation of my previous two books, this is called 'How to Make Cloth Dolls' and an excellent starting book.
I have an article/project for a cloth doll called 'Rosemary' in Maggie Greys 'WOW book no.7. this Winter 2021.