Maggie Grey is a contemporary British textile artist. As the former editor of The World of Embroidery magazine for the Embroiderers' Guild and the current editor of Workshop on the Web – which is now a series of leading publications for D4Daisy Books – she is often referred to as an 'innovator of embroidery techniques'.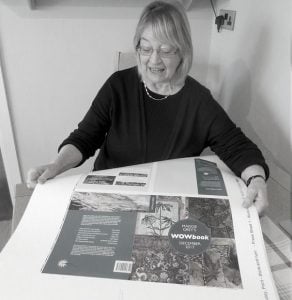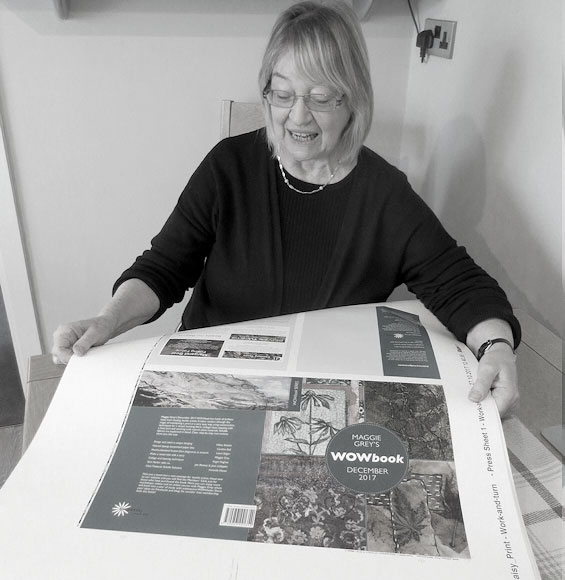 One of her distinguishing traits is her ability to embrace technology. As she continues to explore, reinvent and experiment with computer aided designs, materials, compositions and techniques, Maggie continually reaffirms her place in the textiles world as an influential pioneer of modern textiles. And we're grateful that she continues to teach online, write and exhibit work internationally.
Maggie is a firm believer in the importance of self exploration and continually promotes individual design. It was a great honour to discuss Maggie's work and inspiration with her because these are the core disciplines that are so intrinsic to our own City & Guilds courses.
What was your first memory of embroidery – who taught you?
I came to embroidery through a strange series of events. For our very first Christmas together (oh so many years ago), Clive gave me watercolours, good paper and drawing pens. I was pretty awful at first but persevered. In a search for texture, I laid down some cotton threads on the paper, just stabbing long stitches by hand. By chance, I found a book, 'Thread Painting', by Liz Hubbard, which, quite literally, changed everything for me. Liz described a method of free stitching with a sewing machine on painted calico. Using an old Singer, I stuck at it until I mastered it and produced work that pleased me. When I attended City & Guilds classes, I was the one who didn't know how to hand embroider and the only one who could machine embroider. Now I hand-stitch a lot.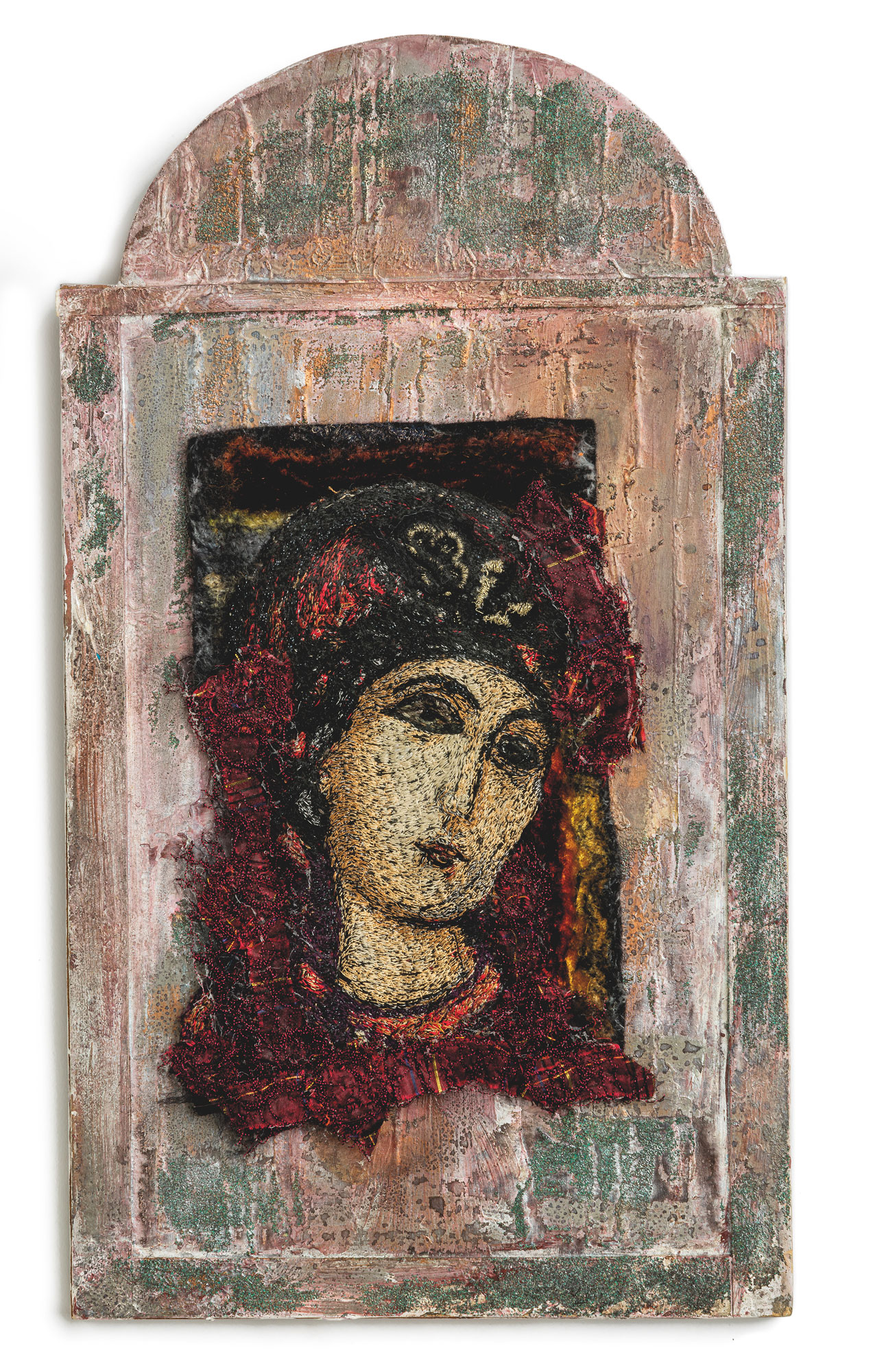 Sad Madonna: Heavily machine embroidered work, based on an icon. I am working on some new icon pieces but they are only at the sketchbook stage, so far.
Tell us about some of the projects you are currently working on.
At the moment, I'm obsessed with words. My last book, 'Long Diaries and Tall Tales', was intended to be about methods of compiling travel logs and diaries with materials for wall-hangings. However, part way through, I was hi-jacked by the idea of myths and legends, which led to a series of panels that tell a story. My husband, Clive, is good at producing what he calls pseudo-calligraphy, so we worked together and it was great fun. I'm still pursuing some of the ideas by making a series of concertina books using distorted lettering as a design source.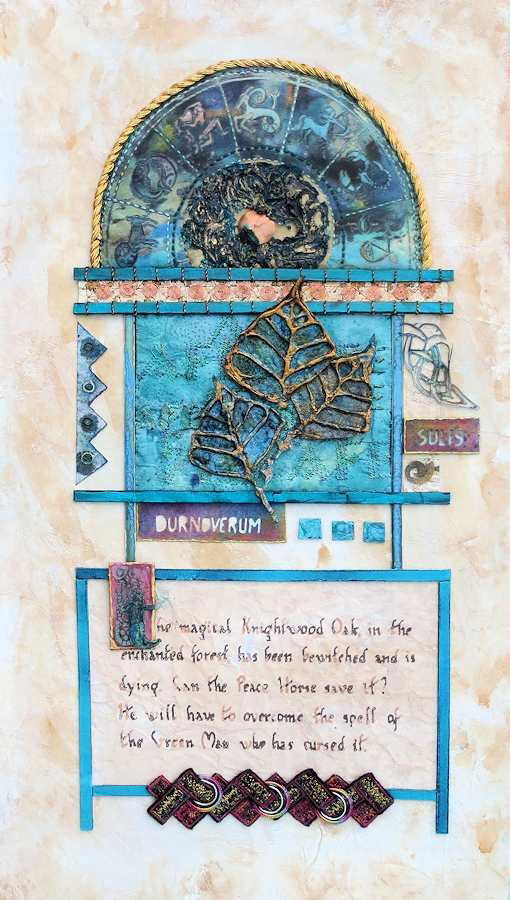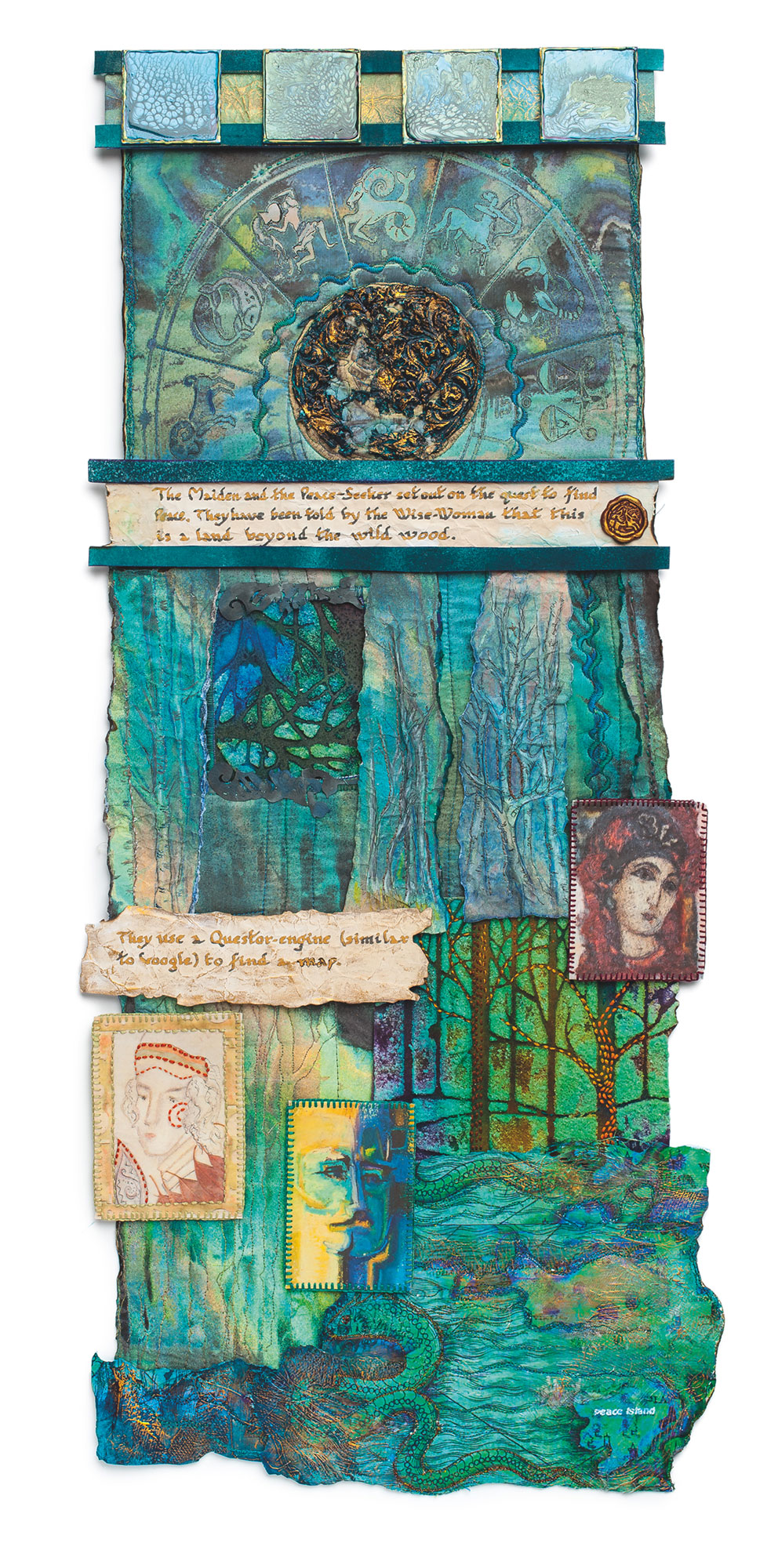 left: A collaboration with Clive that tells a tale of peril and rescue in the New Forest, near our home. Right: Peace-seeking in the Land of Myth and Legend. A mixed media piece that tells a story.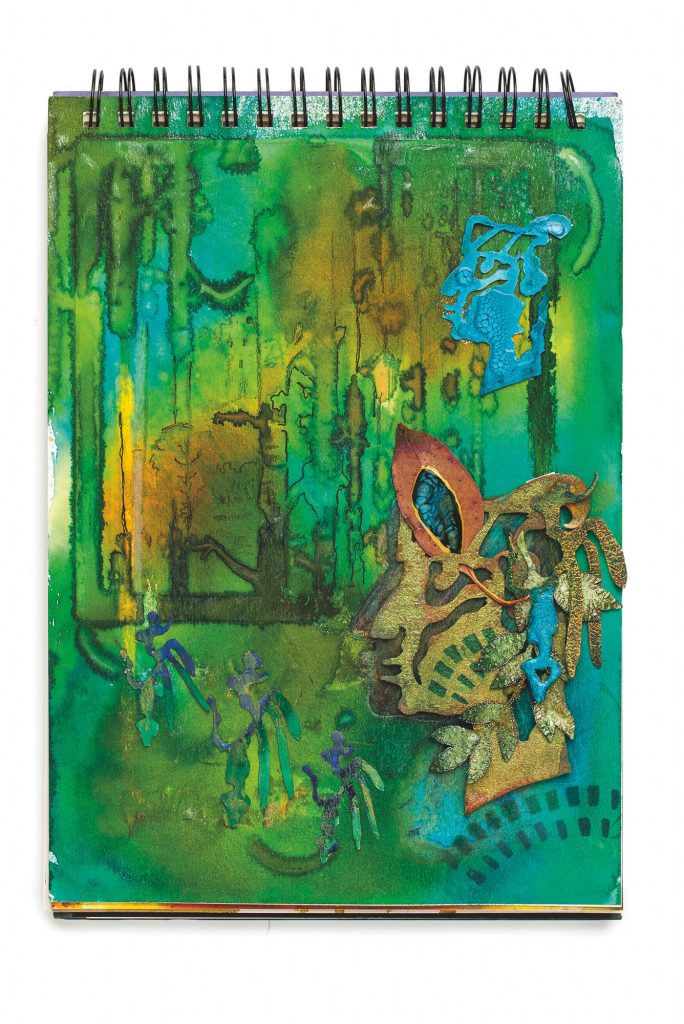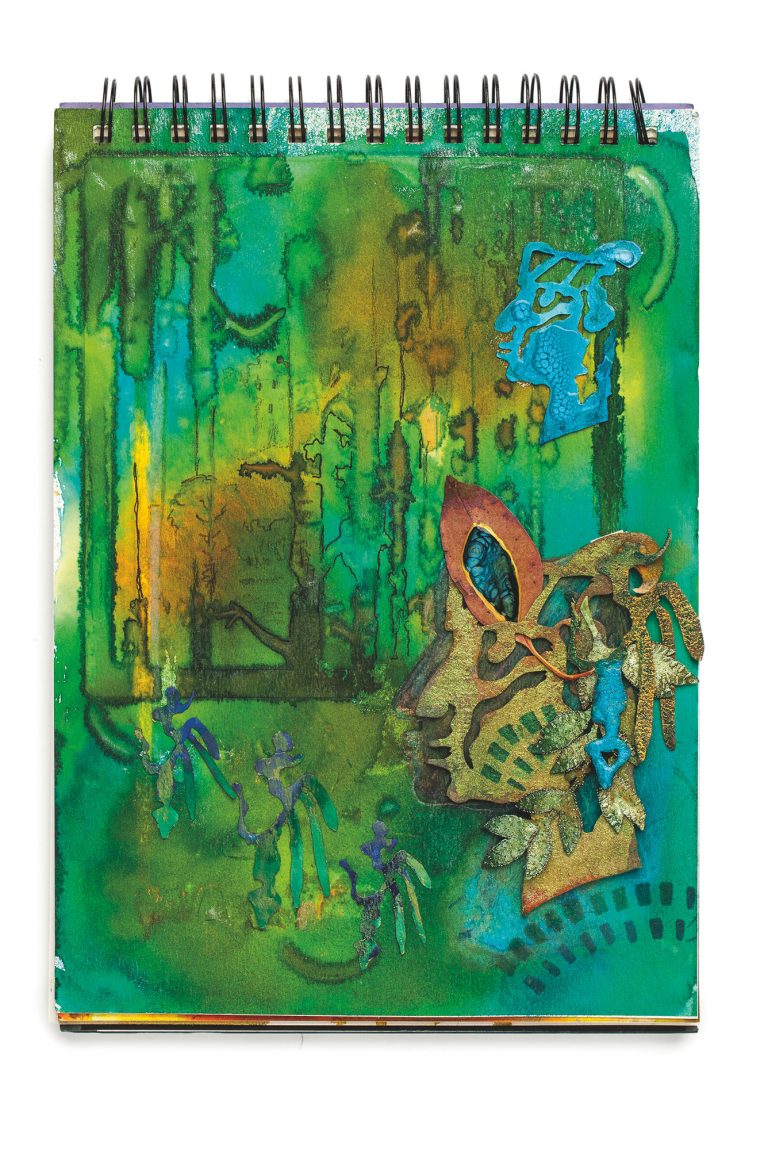 Sketch-book that inspired the Peace-seeking piece.
what are your feelings towards individual creativity?
I think everyone has that spark but it's easily extinguished. Many people are told at an early age that they can't draw or can't paint instead of being offered alternatives to explore. I don't think that art and design are alone in this negativity. I belong to an unaccompanied singing group which includes a number of people with wonderful voices, who were told at school that they couldn't sing. I am often inspired to produce work based on our songs. I made a vessel for my section of WOWbook 1, which was based on a song called 'River Chat'.
What sort of changes have you seen in the craft over time and any predictions for future trends?
Technology has moved everything forward. When my friend Valerie Campbell-Harding and I used to 'team-teach' computer textile design, we were in the minority and there was only one software package that was suitable. Now lots are available and domestic sewing machines can produce computer-enhanced effects, although these are often a little predictable. Future trends worry me as I consider the demise of City & Guilds classes have resulted in a lack of design skills. It is good to see that organisations like 'School of Stitched Textiles' are promoting them.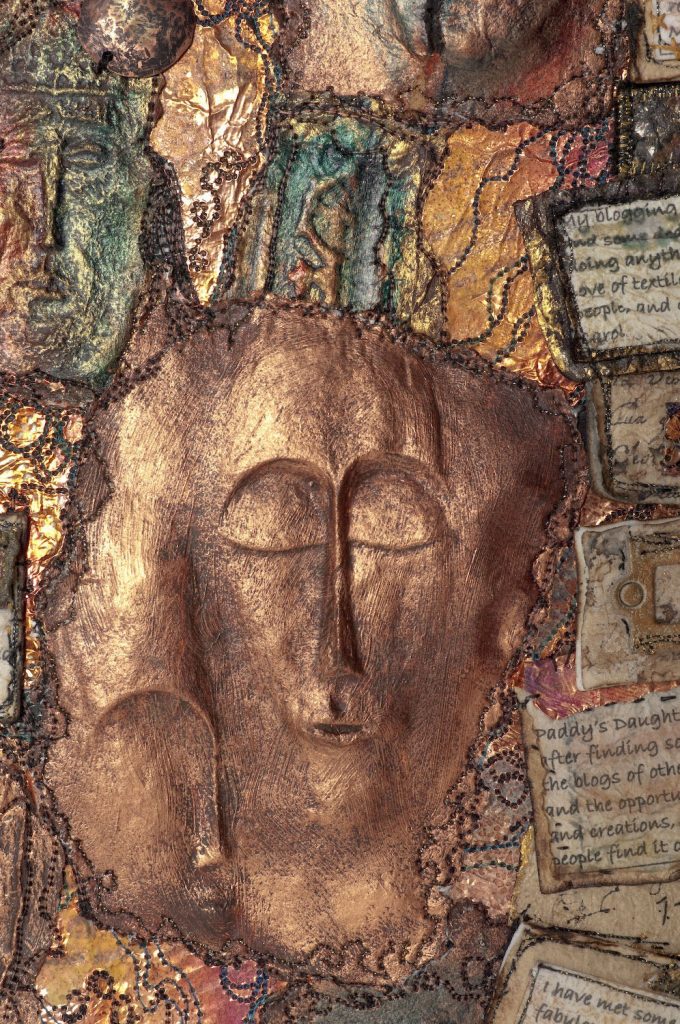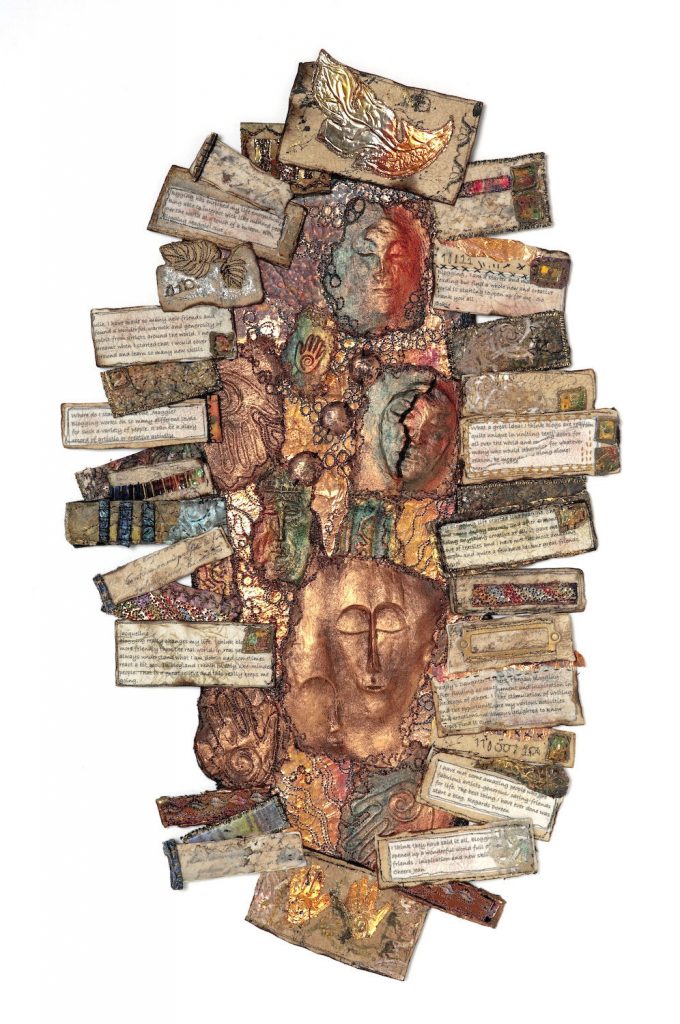 Binary Humanity: This mixed media work was exhibited, by invitation, in South Carolina. The exhibition was inspired by the use of computer technology and mine was based on the fact that every digital interaction was linked to hands on the keyboard and a face peering at the screen. I asked for comments on the subject on my blog and included them around the edge.
What has been the highlight of your career so far?
Am I allowed to have two highlights? One was during my days of teaching City & Guilds classes when one of my students, Elli Woodsford, won the Gold Medal for Excellence. Her work was outstanding. The other highlight was being asked to work with a team at the Royal College of Art, producing textbooks on textile design for use in schools. Meetings at the RCA were so exciting and you never knew which famous artist would be standing next to you in the canteen lunch queue. This experience set me up well for editing The World of Embroidery magazine for the Embroiderers' Guild and writing books, first for Batsford and then for D4Daisy Books.
Which artists inspire you personally?
Textile Artists: My friend Jane Wild who does wonderful things with paper. Val Campbell-Harding, who was my great inspiration, friend and book writing partner. I still miss her a lot. Jan Beaney, Jean Littlejohn and Jean Draper, always give me ideas. I am also inspired by artists of the past: Piper, Picasso, Braque, Hundertwasser and, at present Archibald Knox – the Art Nouveau guru from the Isle of Man. His lettering style is inspiring my current work.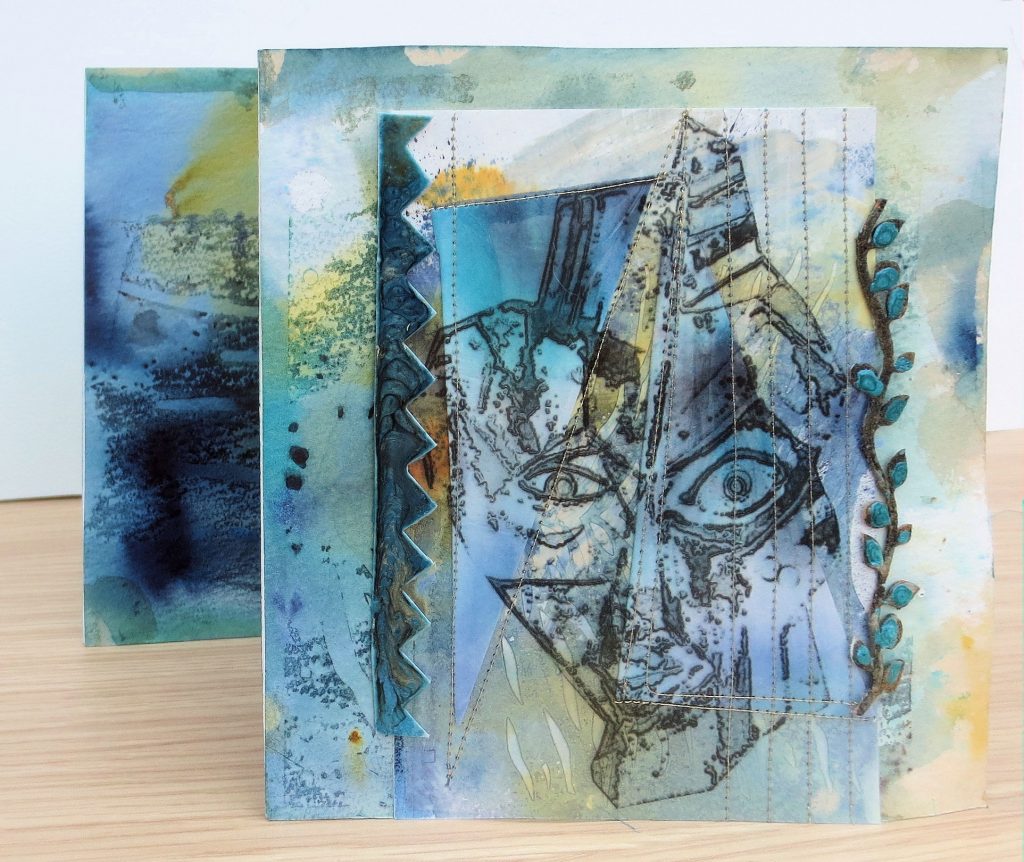 Concertina book inspired by Picasso: A drawing was scanned into a design program and printed on acetate. This was placed over painted paper and fragments of stitching.
What's your development process for your designs, if any?
Drawings are usually the beginning, followed by lots of sketch book experiments, during which an idea morphs into something quite different. I still use the computer and a digital cutter, often stitching on printed paper, which echoes cut shapes. I love working with paper moulds and sometimes these form part of the design process, sometimes the final piece.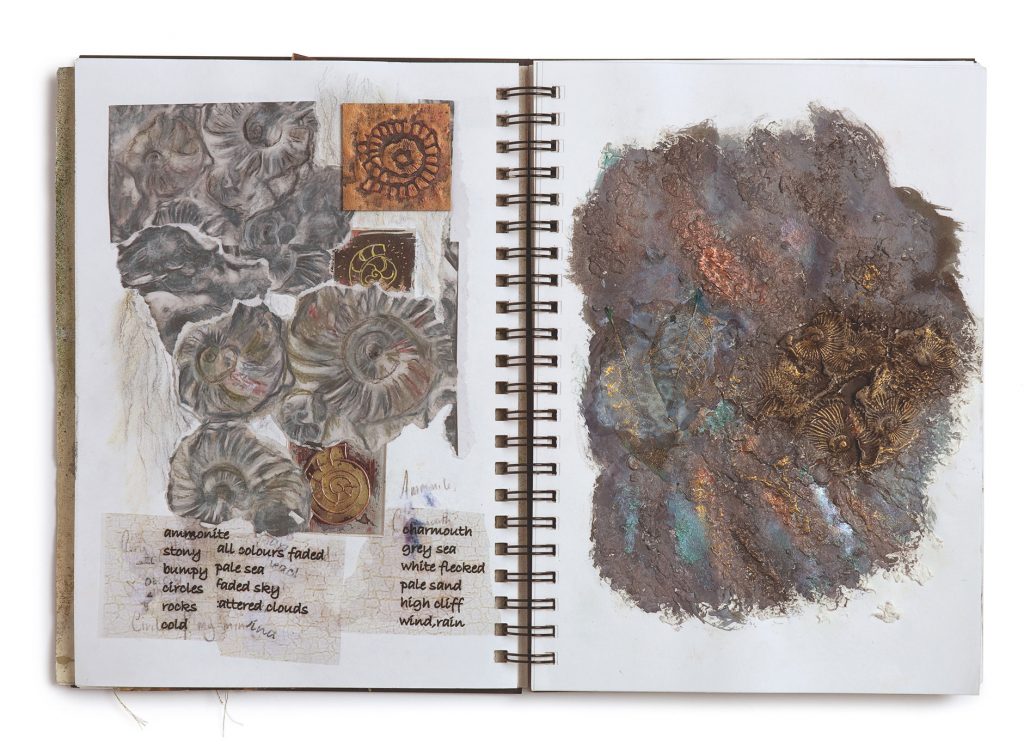 Sketchbook based on fossils from the Jurassic coast: I often write down the impression of the day, such as the sky colour etc. This is often easier than trying to reproduce it with limited resources. Lots of work resulted from this sketchbook.
How did you develop your own style and inner voice?
I'm still working on it. When I feel I've stopped evolving, I'll hang up my needle! I guess I incorporate processes from the past but I'm a great butterfly and need to try new things. The past is only useful for being fairly sure of what doesn't work.
Do you ever feel de-motivated, if so how do motivate yourself on these off days?
Yes, everyone has these days, I'm sure. I find it best to leave my work and have a long walk, followed by a session immersing myself in books about favourite artists. I am often roused from this torpor by the need to protest about something. My triptych, 'Metaphor' was about the arms trade. The flowers represent something good covering something evil – arms deals presented as trade agreements, for instance.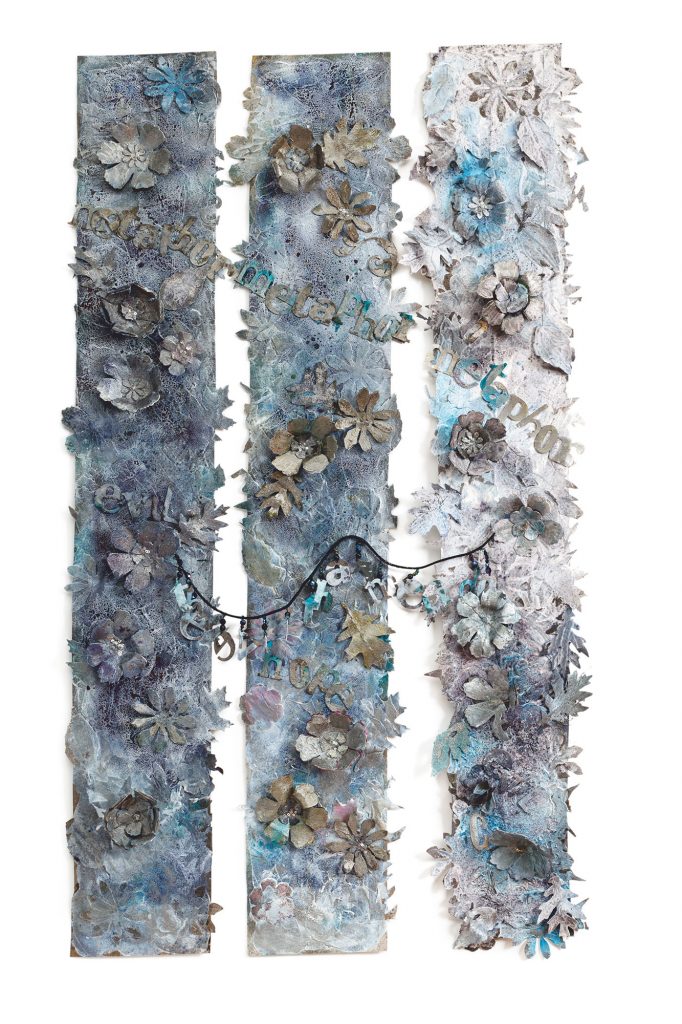 Metaphor: Flowers cut from Vilene with a die-cutter. Gesso and ink were the colouring agents.
What advice would you give to students who are undertaking courses with us?
Try to relax and enjoy the process. Don't compare your art with others – you are unique and so is your work. Be prepared to experiment but don't be disappointed if they don't all work. Do spend time looking at painters, engravers, calligraphers – their work can spark off all manner of ideas.
Exhibition: Maggie has a retrospective exhibition at the Dorset Art & Craft Association, Purbeck School, Worgret Road, Wareham, Dorset BH20 4PF. On from Friday 3rd – Tuesday 7th August, 10am to 5pm (4pm on Tuesday).
Maggie Grey is the writer and/or editor of many books – the latest of which is Maggie Grey's WOWbook2
We'd like to thank Maggie for taking the time to talk to us and share her work. If you've been inspired by Maggie Grey (why wouldn't you be?) then please take a look at our range of beginner courses and City & Guilds accredited courses to find out how you can unlock your own personal creativity.