Lois Stapleton grew up loving Art and Design. As a economics graduate and working full-time, Lois decided to study with us to gain a better work-life balance and pursue her interest in Hand Embroidery. She knew that to get the most enjoyment from her craft she need to nurture her skills with consistent support and deadlines to focus her. 
Having completed our Skill Stage 4 Hand Embroidery course, Lois tells us that she is discovering more about her style, gaining an identity as an artist, and loves that she can now create her own designs. Lois was also shortlisted by her tutor to feature in our Student Excellence Awards. Make sure you check it out and vote for her! This is her #MyStitchJourney.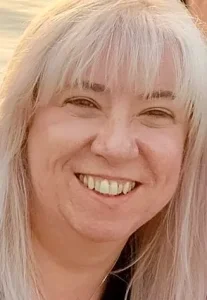 "The course provided such a breadth of learning, from technical skills through to the history of embroidery and everything in between!  The most helpful thing for me was discovering more about my style, my identity as an artist, and how to create my own designs."
Lois Stapleton
I am probably not the 'typical student'! I am an economic graduate and I work in a global professional firm, so before I started the course I didn't have a craft business or anything like that. But I grew up loving art and design; I learnt basic skills at an excellent girls school and over the years developed a wide range of craft skills.
My love for embroidery started with basic cross stitch and I did a 12 week online course which introduced me to different stitches and techniques. I also joined a local embroidery guild and subscribed to the Embroidery magazine to learn about contemporary artists and new techniques. Before starting the course, I was fairly confident that embroidery was my craft and I had a good foundation of skills.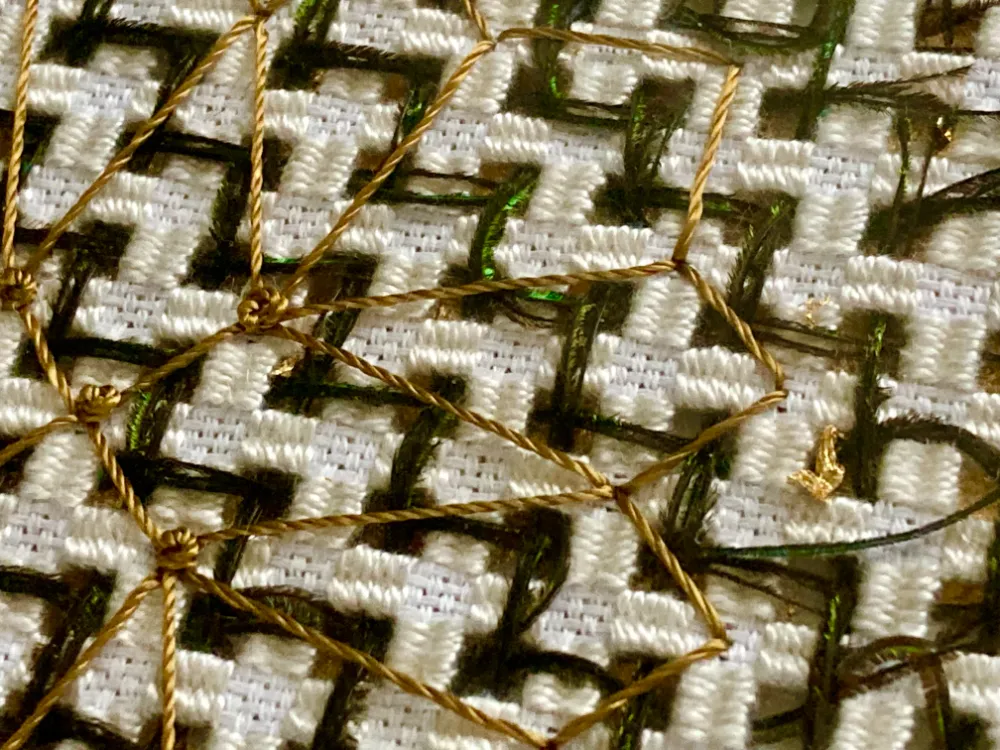 Motivation for studying Hand Embroidery
Honestly there wasn't one reason.  I know that I am most healthy and productive when I achieve a good balance between work and other interests, and being creative gives me energy and joy.
To get the most out of embroidery, I believed that I needed to extend my skills.  I know that I learn best when learning is structured, I have consistent support and a few deadlines help to focus the mind.
I didn't have a particular ambition to open or start a business but you never know where learning can lead, and wouldn't art be a beautiful retirement hobby career!  Who knows? Time will tell, and for now deepening my skills and just enjoying embroidery is more than enough.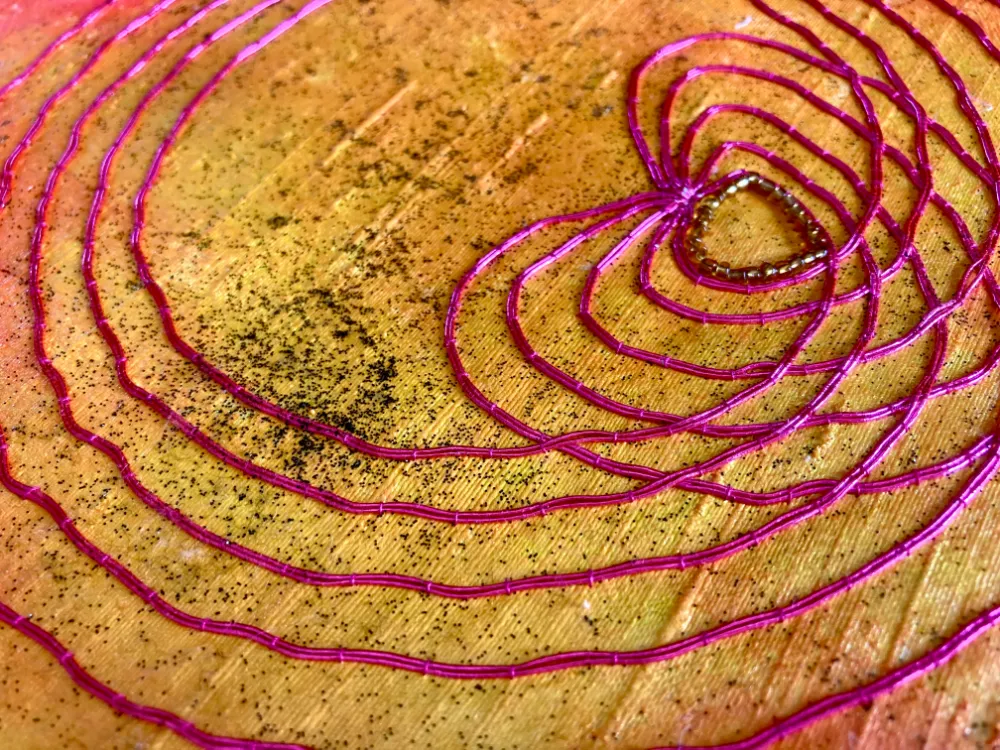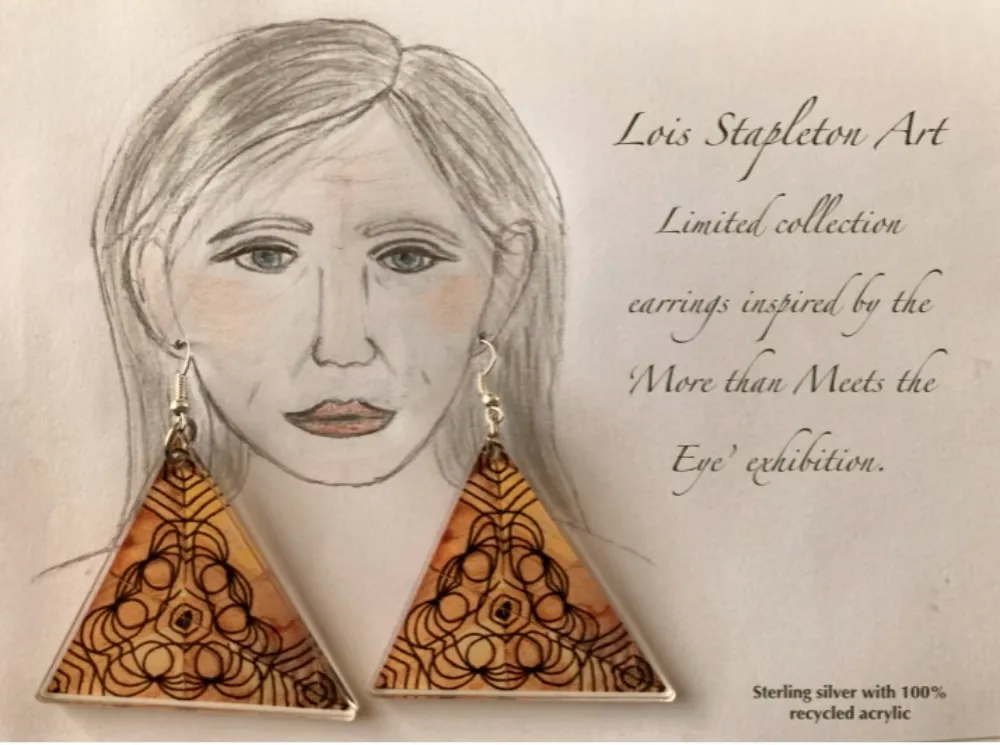 Why an accredited course?
The course is accredited by City & Guilds and that gave me extra assurance about the quality of the course. Having a qualification would also strengthen my CV if I choose to exhibit my work in the future.
I looked at a few different courses, and the fact that School of Stitched Textiles (SST) provides virtual self-directed learning gave me the flexibility I needed to fit the course around my job.  Before choosing the course, I did a short online course to check that format of learning would work for me and it did!  When signing up for the course, I had a chat with Gail and she provided the information I needed to choose the right level.
The course provided such a breadth of learning, from technical skills through to the history of embroidery and everything in between!  The most helpful thing for me was discovering more about my style, my identity as an artist, and how to create my own designs.  At the beginning of the course, I choose the peacock as my course topic and then throughout the majority of the course I created designs and used different techniques to stretch and explore my ideas.  My tutor pushed me to think more deeply about my designs and then at the end of the course when I completed a mock commission I applied what I learnt to another topic.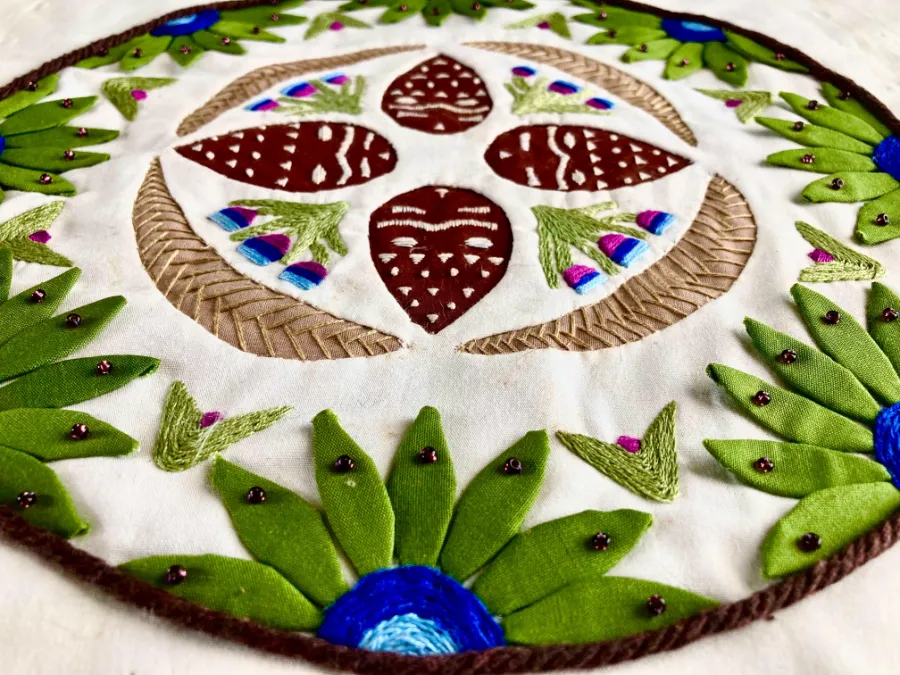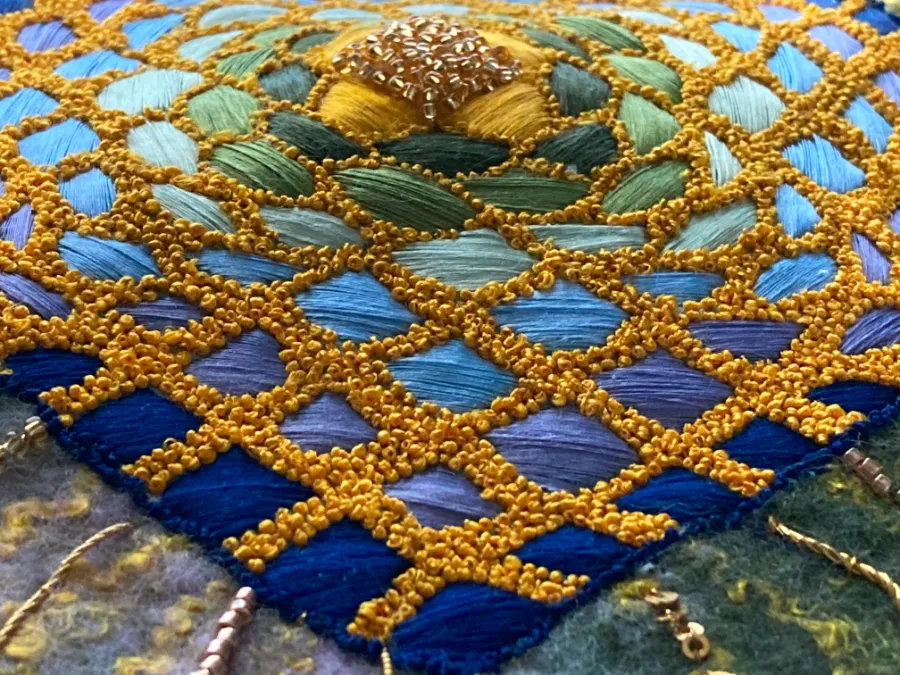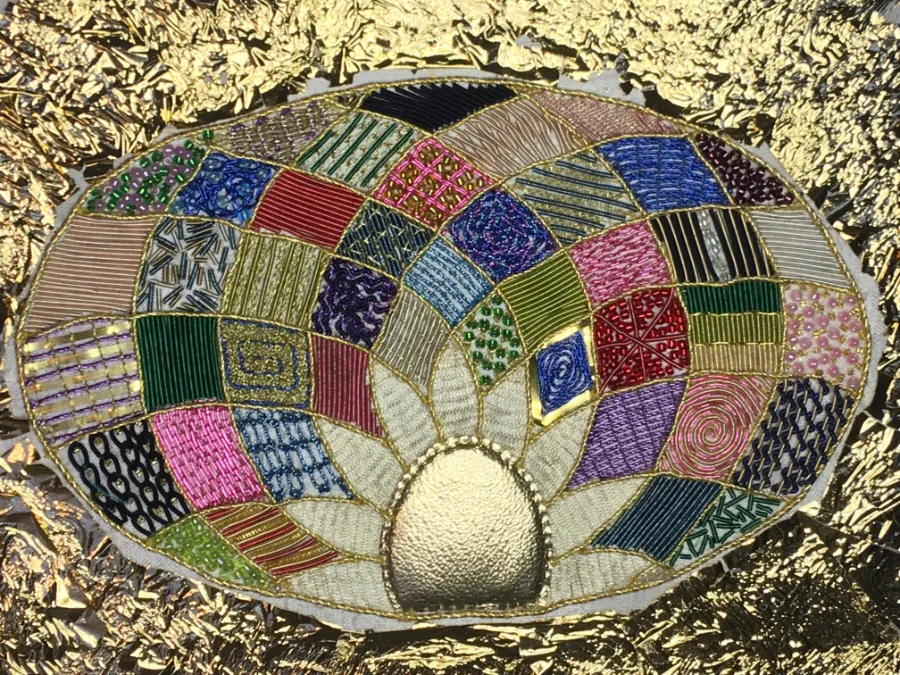 What's Next?
I graduated in August and decided to spend some time thinking about what to do next. I considered doing some technical training or learning a different craft skill, but landed on continuing my learning with SST and decided on the Masters level in hand embroidery. I plan to take 2-3 years to complete the course and use this learning to further refine my skills and my personal style. I want to create pieces of art that I can exhibit and potentially sell.
I would not hesitate to recommend this course. It was perfect for me; it matched my learning style and gave me the flexibility I needed. But do not underestimate the investment you will need to make to complete the course – to get the most out of the learning opportunity, you will need to invest time and energy and you must be open to stretching yourself. I spent a lot of time reading books, researching and watching YouTube videos alongside stitching and creating. For me, the investment paid dividends beyond my expectations!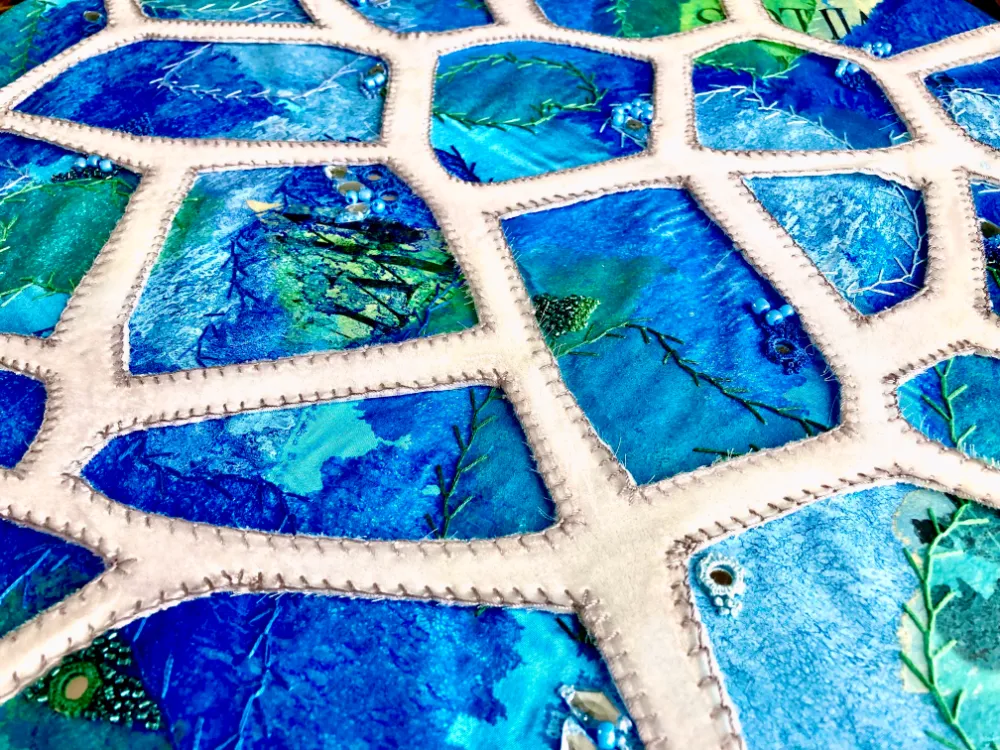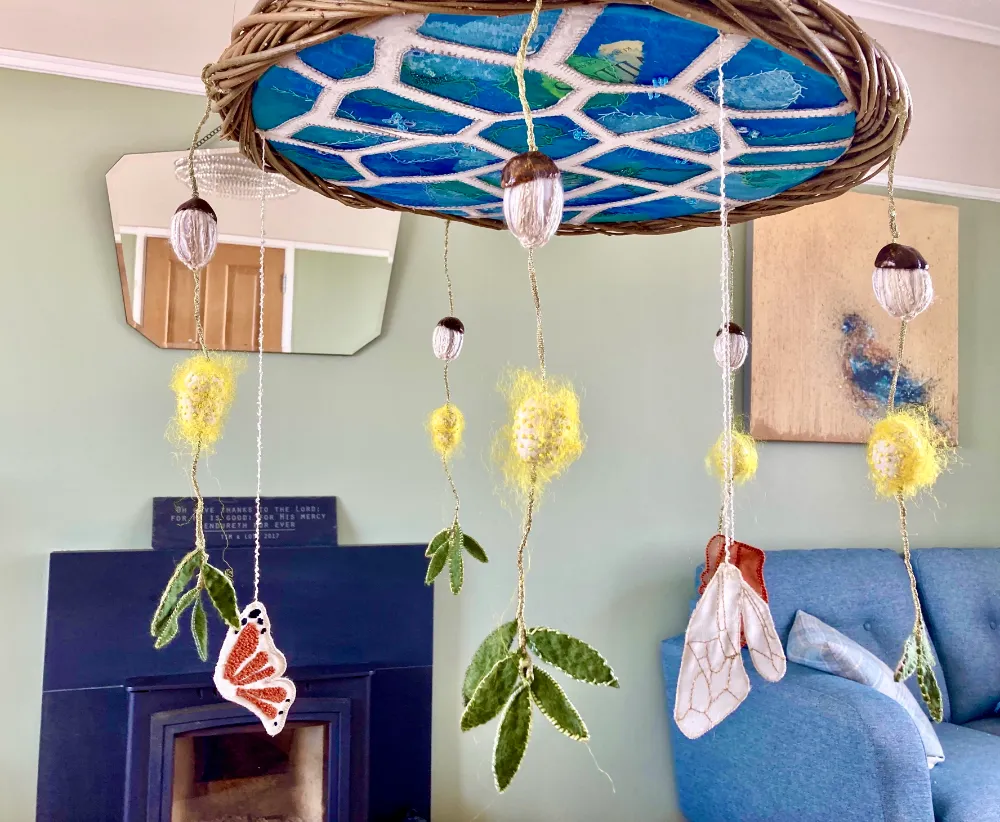 Advice to new students?
Experiment and just have fun learning new things.  You won't get it right every time… if I hadn't been open to making mistakes, I would not have completed the course.
When you get a new module, just take it one step at a time.  The course is cleverly designed, and by the end of each module I was designing and producing work that at the start, I felt was beyond my capabilities.  Finally, the course will give you more than embroidery skills, there is a significant focus on design, learning about the craft and professional development.  At the end of the course you will have a significant record of learning and a wide range of original pieces of your own art!