The art of slow stitching is deeply relaxing. With rhythmic qualities it has an intrinsic calming effect, promotes mindfulness, and restores the soul. One particular artist who knows all about this is Elli Beavan.
After moving aboard a 44ft Catamaran in 2020, Elli was forced to give up her sewing machine, iron, pressing board and rotary cutters, swapping them for space saving, rudimentary tools. With only threads, scissors and needles at her disposal, today Elli creates beautiful hand quilted pieces which embody the calmness of the sea and perhaps reflect a simpler way of life.
As a published artist, Elli Beaven has been featured in Mollie Makes, Curated Quilts, Selvedge Magazine Blog and No Serial Number. All of her pieces include fabrics, dyed with foraged plants and are made in her compact, floating 'studio' in the middle of the Mediterranean and beyond.
We had the absolute pleasure of talking to Elli about her work, finding her sea legs and the art of slow stitching at sea.
"Stitching really is central to who I am. I need this creative work to find balance and happiness in life!"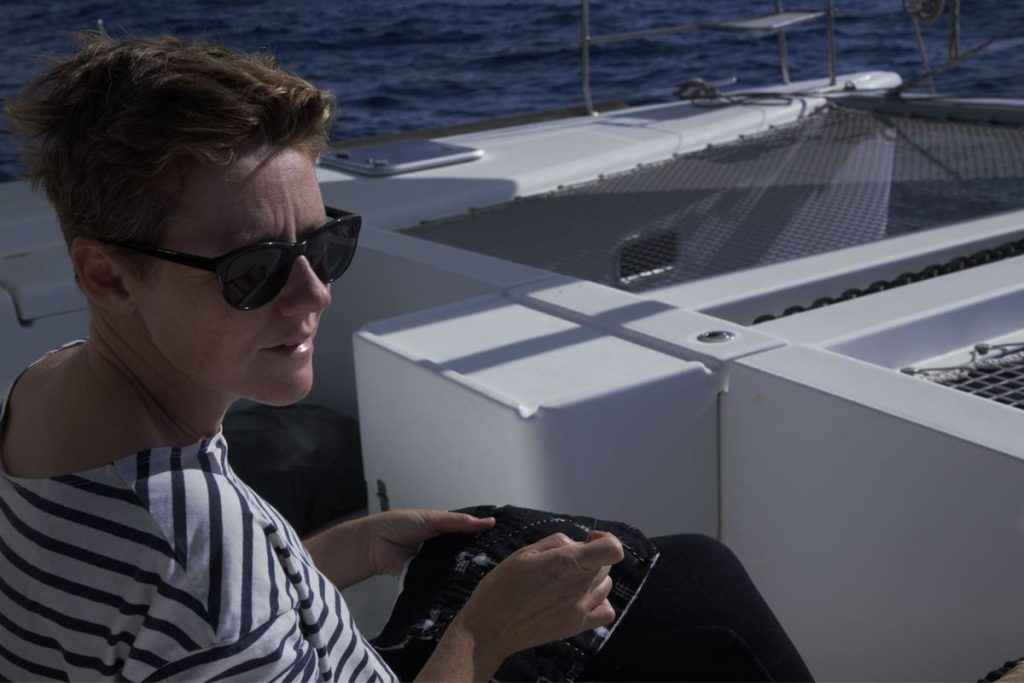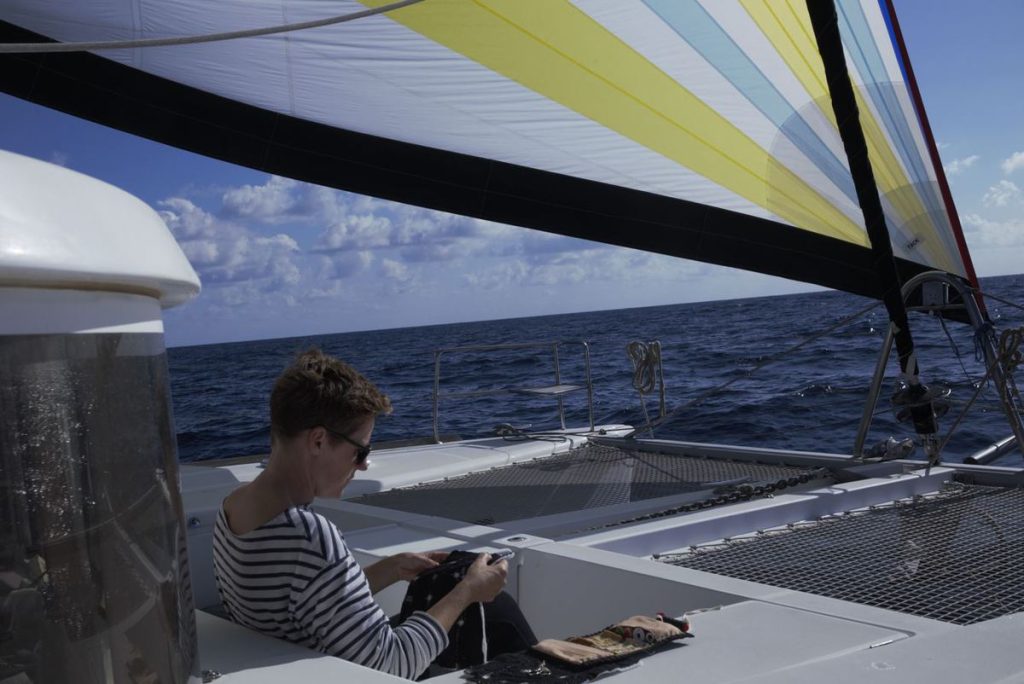 Join our Stitch Community!
Tell us about the piece you're currently working on – what was your inspiration for it, what is it made from, the processes involved and what is it being made for?
I am rarely working on just one piece at a time. However, the piece I am most excited about working on at the moment is a memory quilt commission for a dear friend. Her mother-in-law was an incredible artist and creative maker who often worked with textiles.
After she passed away, I was invited to spend some time in her studio. Together with the family we selected the fabrics for a quilt.  It was such a special experience to get to know this incredible woman through her tools and workplace. The quilt I am making for her family is directly inspired by that experience.  She shared my love of repurposed textiles so the quilt will be a beautiful textural mix of cotton, silk, linen and wool fabrics.
I never really fully design a quilt before making it but I have a loose idea which I then adapt as I sew. For this quilt I'll be hand piecing the blocks whilst we sail across the Atlantic. I will then figure out how they best fit together once we arrive on the other side.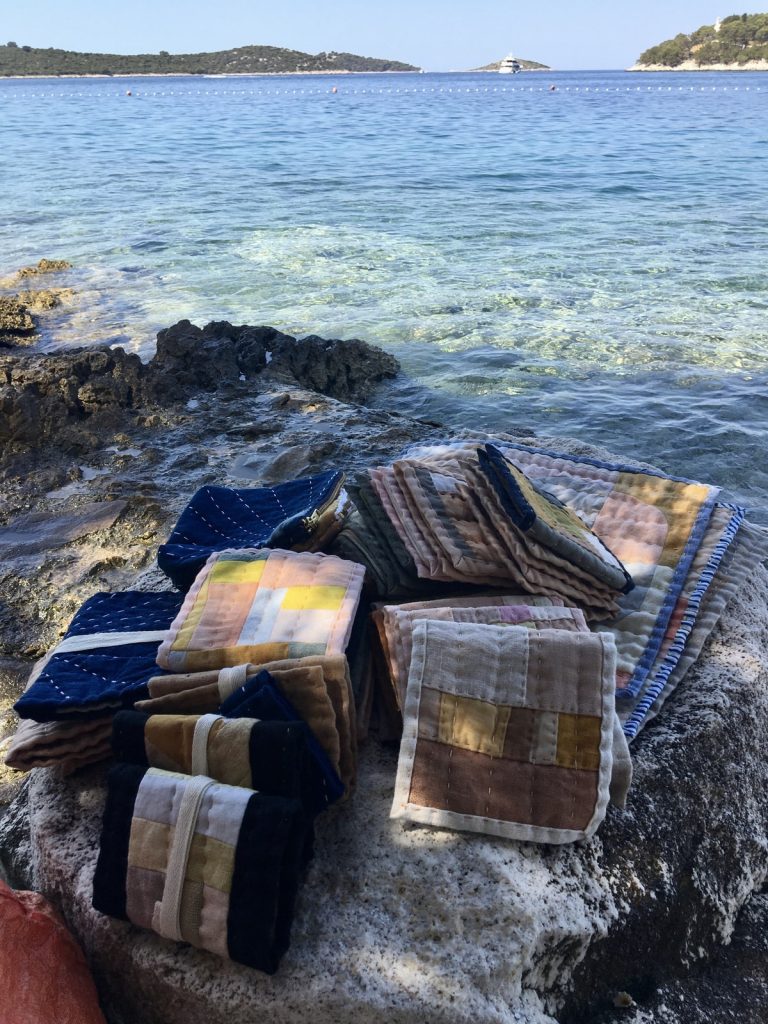 As you work in a studio on a sailing boat, can you tell us a little bit about how you manage in such a compact space? You must have military levels of organisation?
Living and working on a 44ft sailing catamaran with my husband and three kids means there is no physical studio space! Rather, I have a space under one of the beds to store my fabric and tools. I just keep everything I need for my current project in a plastic box that moves with me wherever I'm currently sewing. Usually at our cockpit table.
It has definitely been a huge change from having my own fully equipped studio space in London. I have had to radically rethink both how I work and what I make.
Where once I could not imagine quilt making without all the tools – sewing machine, iron, pressing board, many rulers, rotary cutter etc – I now work almost entirely with just needle, scissors and thread.  I still have a rotary cutter and a ruler but they only come out occasionally. I also only brought a small amount of fabric with me. Some boxes of studio offcuts from garment maker Nadinoo Clothing, some repurposed textiles from my studio in London and a box of my own plant dyed fabrics, which I've added to a bit along the way.
I was surprised to find that I actually love working with less and have found the process of exploring hand sewing techniques really enjoyable and creatively freeing.  In this context working on a smaller scale also made more sense.
Last winter I worked on a series of Patchwork paintings, essentially small hand pieced patchwork pieces designed for framing or incorporating into others work.  I also worked on smaller practical items, needle books, pouches and a hand sewn Huswif roll up sewing kit, as well as small quilted wall hangings.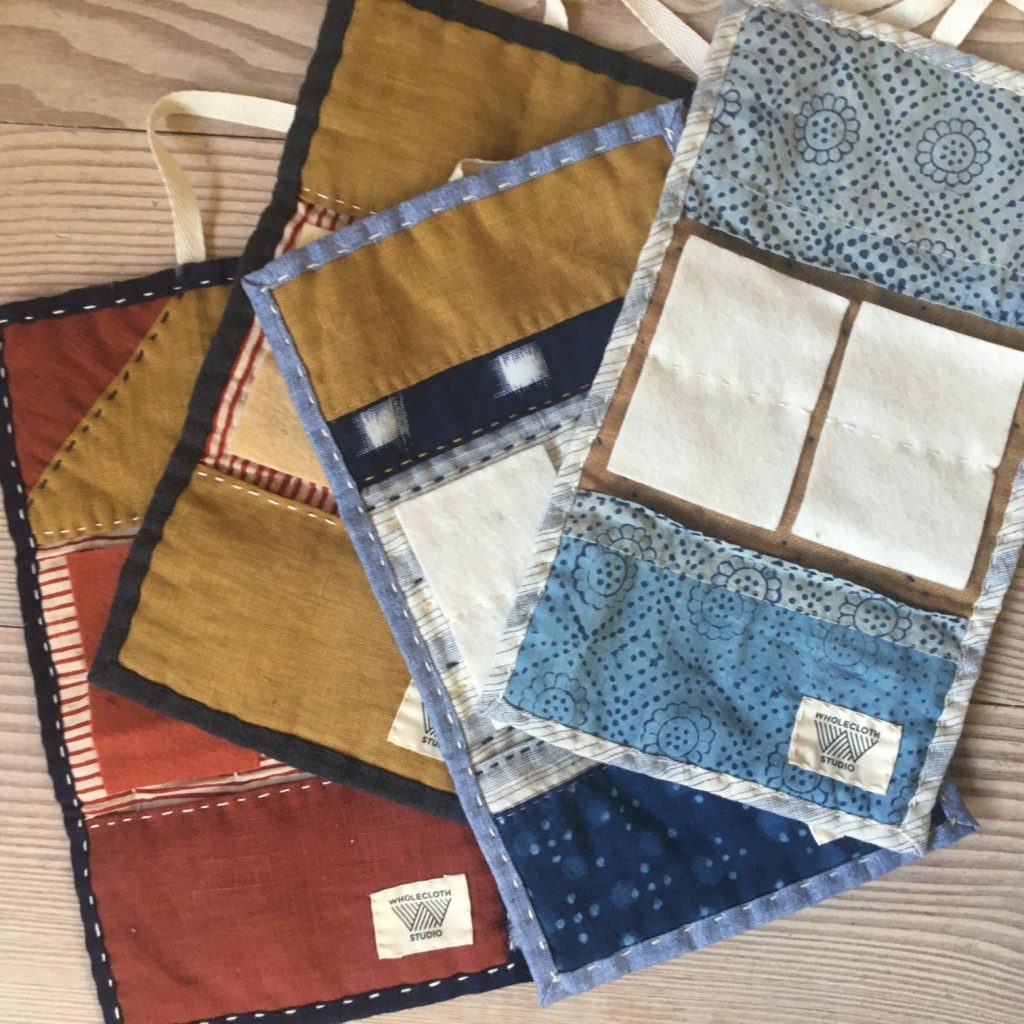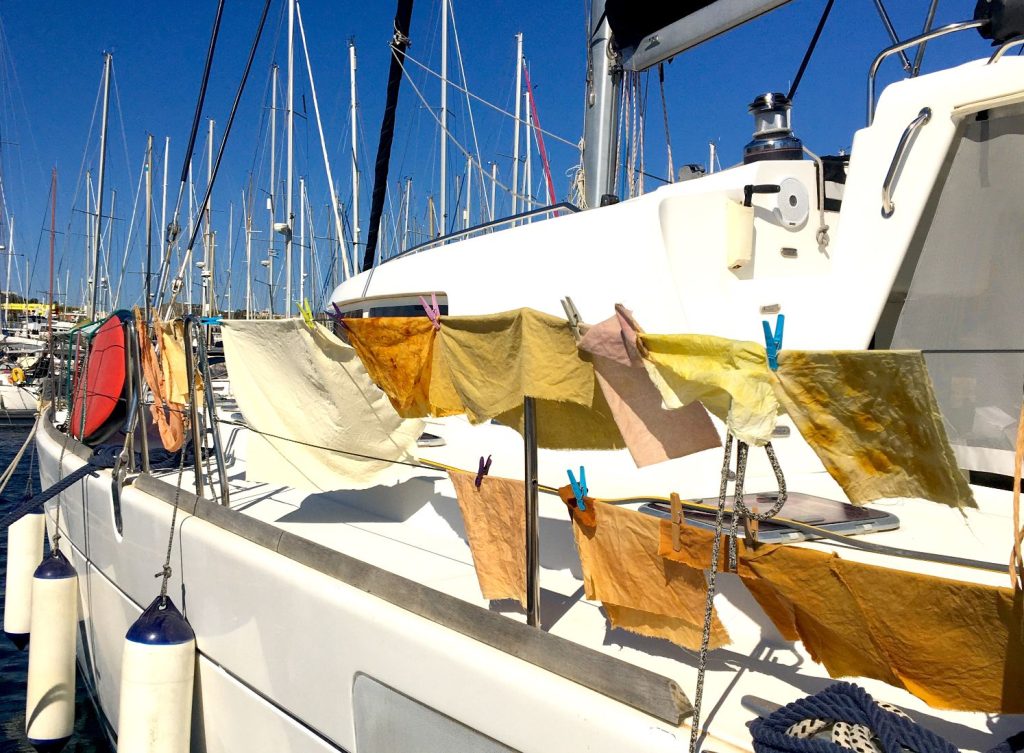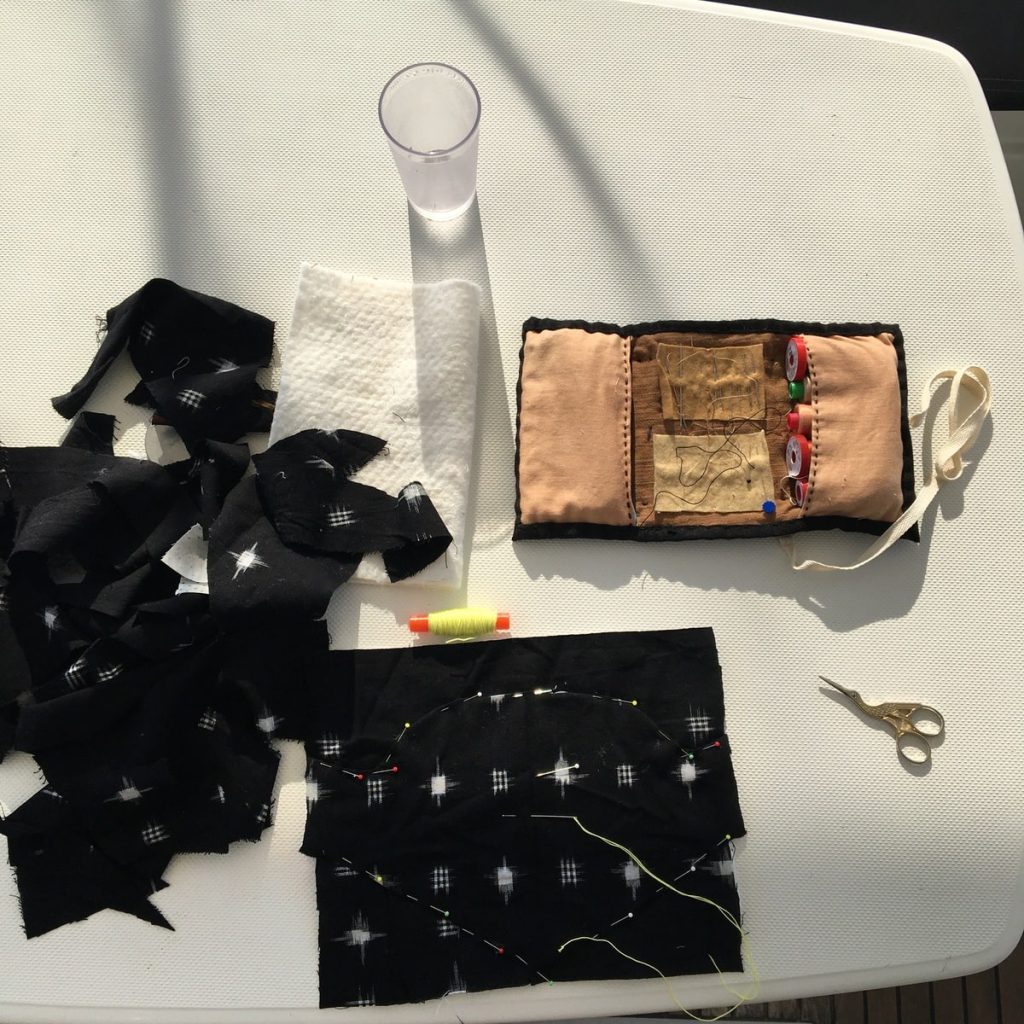 What does a typical day hold in store for you?
The main focus of our trip is the sailing and family life, so sewing has to fit in around that. When we are anchored somewhere, I love to get up before everyone else and sew for a couple of hours.  It's so peaceful out on the water and watching the sunrise is so special.
Once the kids are up it's breakfast and schoolwork before we head off to the beach, to explore a new place or go for a hike, or just hang out on the boat and get on with the never-ending boat maintenance list. On days that we are sailing I might also spend some of the passage sewing, but this depends a lot on the wind and sea state as sewing can easily induce seasickness if the boat is moving too much.
When we were in the Mediterranean I was also able to fit in some plant dyeing using plants I sourced in the places we visited but in recent months this has rather fallen by the way side as we've focused on preparing for our Atlantic crossing.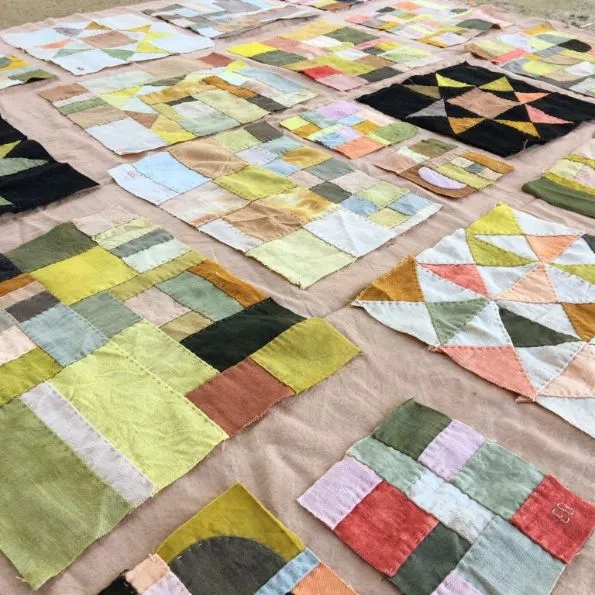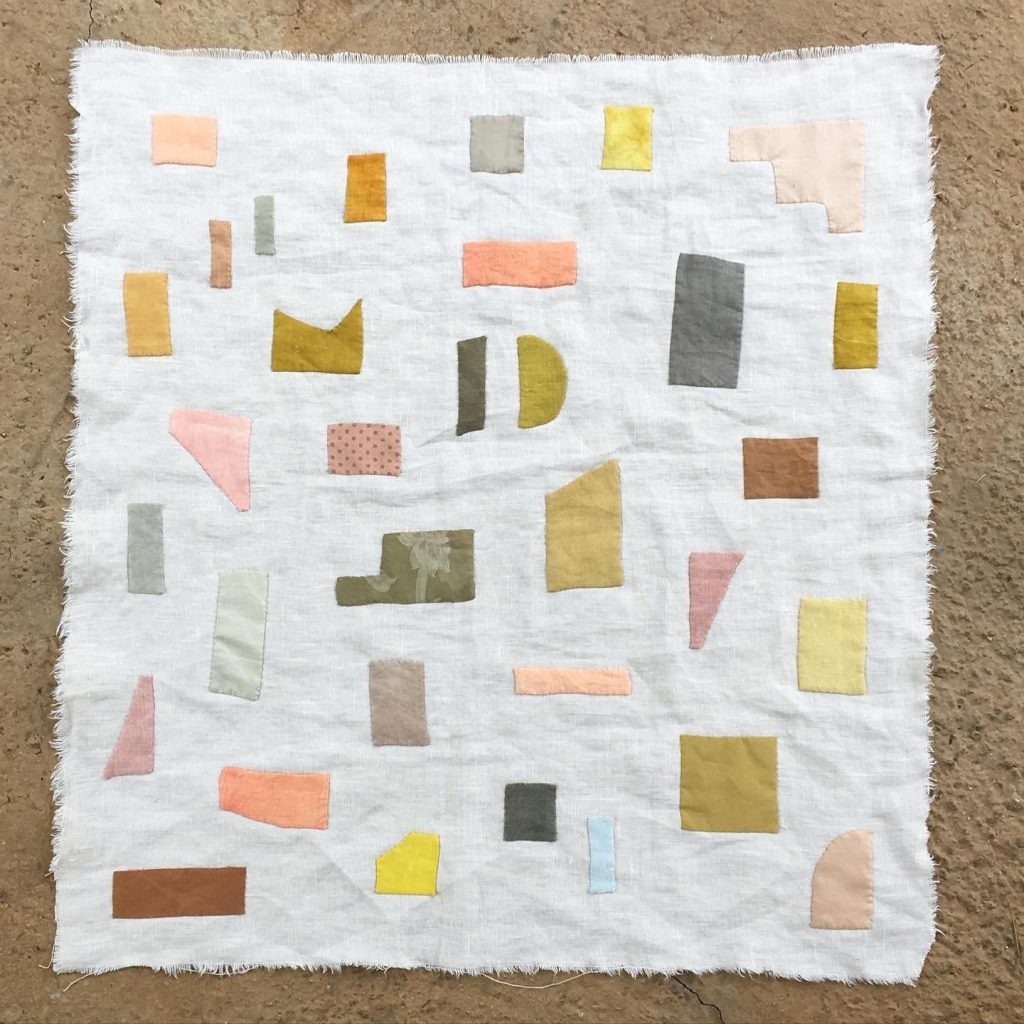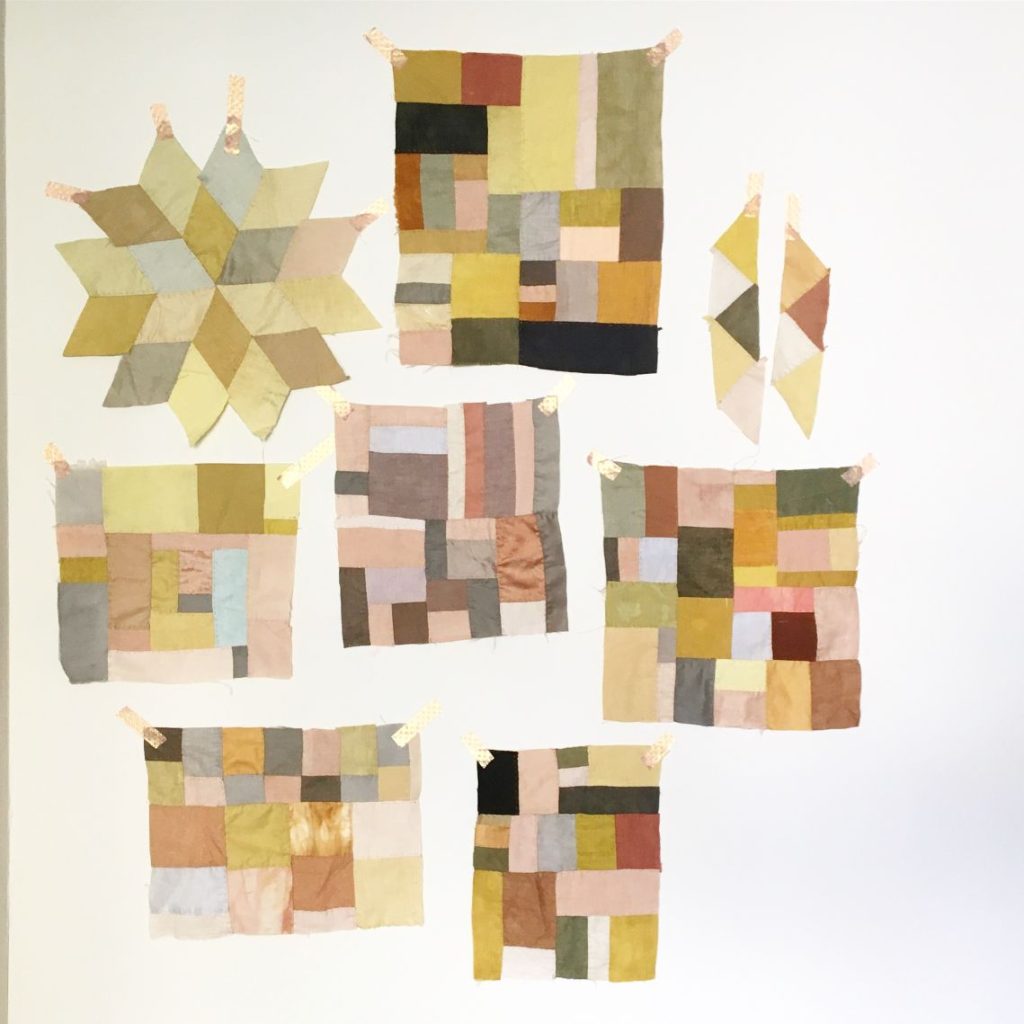 Clearly you travel a lot. How much does that feed into your chosen designs, projects and the materials you choose to work with?
I think it is less the places we have visited and more the change in situation that has influenced my work the most.  For the first six months after moving onto the boat I didn't sew at all. I had to focus instead on learning to sail (I had never sailed before we started) and adjusting to family life on the sea.  Although it was a time of huge challenges it gave me some distance from my work. It gave me time to reflect more on where I wanted to go with it.
Stepping away from much of the business side – fairs, commissions, regular shop updates etc – has given me the chance to experiment and play with new ideas. Switching to hand sewing has fed into this, opening my eyes to whole new ways of making.
It is such a gift to have been given this time of rest and reflection with regards to my work and there's no doubt it will have a lasting impact.  Not least it has shown me that stitching really is central to who I am. I need this creative work to find balance and happiness in life.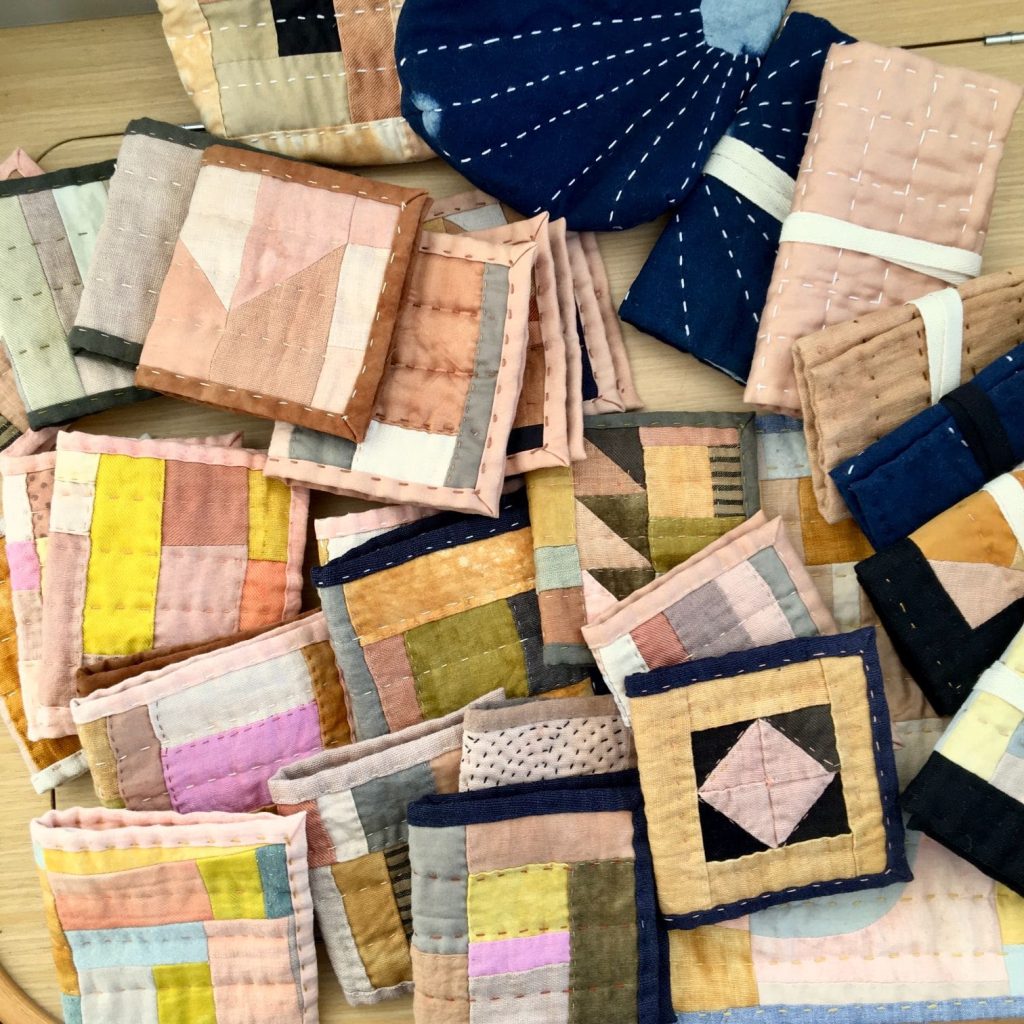 You say in your book, Conscious Crafts: Quilting, that 'making is mindfulness'. Do you have any tips or tricks for helping our students relax and destress whilst undertaking their coursework?
Making to a deadline can often be stressful, particularly if you're something of a last minute procrastinator like me! When writing my book I made all the projects for it. I had incredibly tight deadlines, but things like hand quilting simply take as long as they take. However, they are perfect for letting go of stress. It may take a bit of effort to quiet a busy mind but focusing on the simple rhythm of hand quilting works for me every time.
The other key to destressing for me is making time for experimentation and creative fabric play without the pressure of completing a finished piece. Whether it's just ten minutes of freeform patchwork piecing, trying out new stitches, fabric manipulations or designs. Whatever brings you most joy, make time for it.  Courses will teach you so much but making for pleasure will keep you happy and inspired.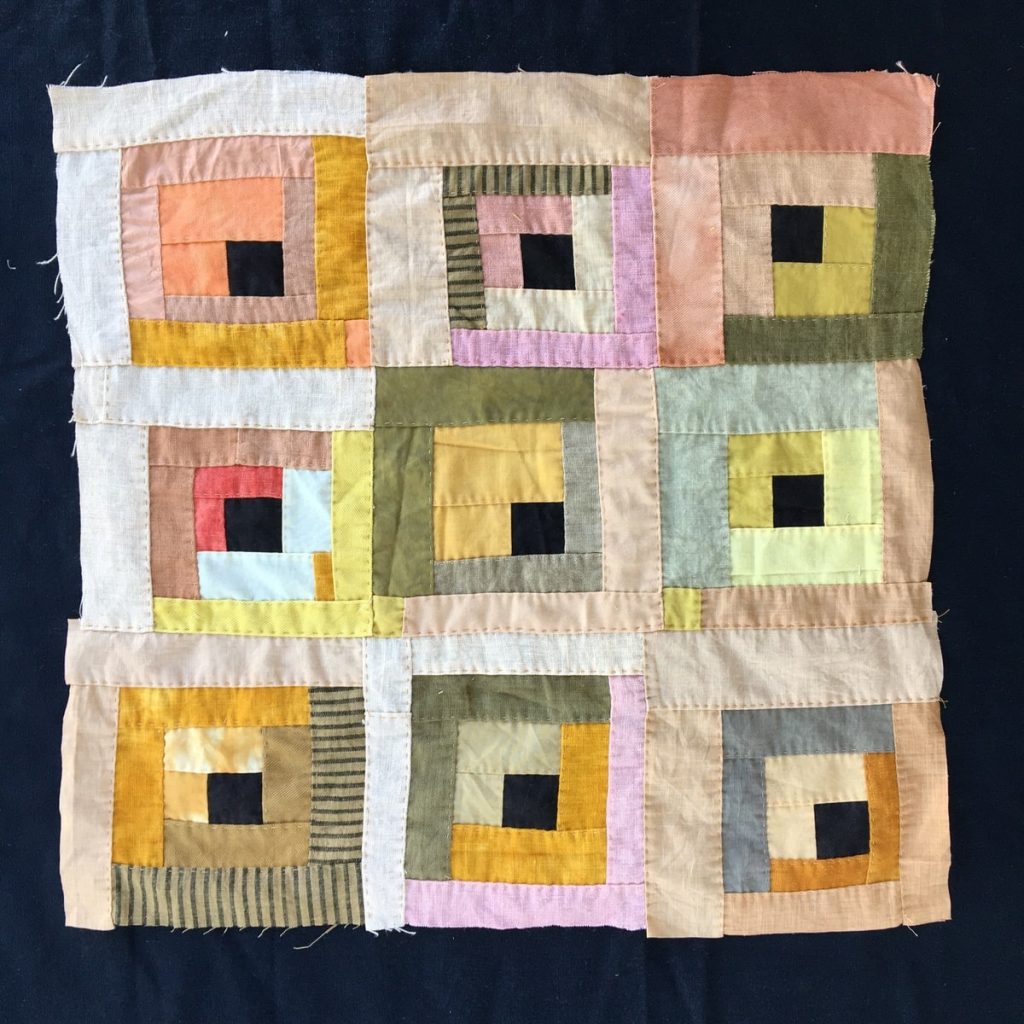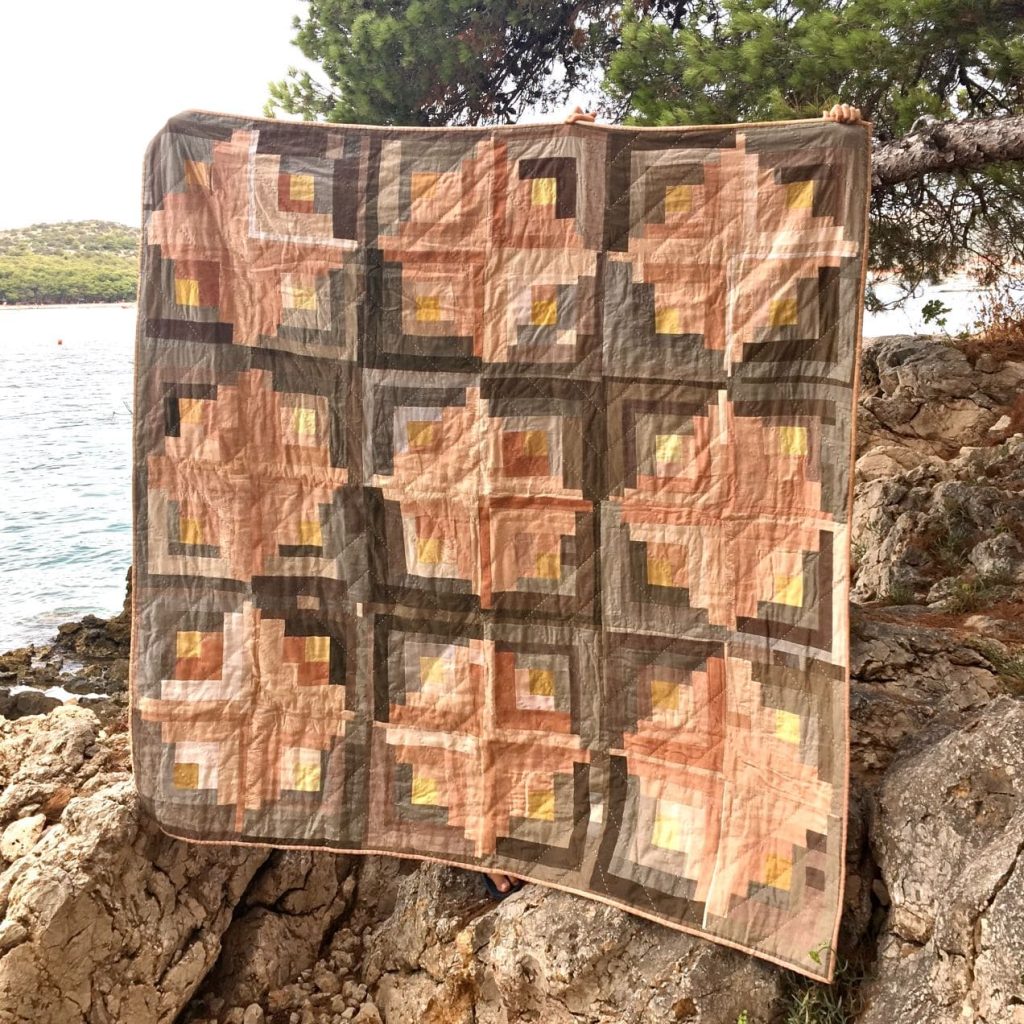 What's next? What do you have coming up?
I'm keeping my plans for the coming year fairly small scale, with sailing taking up most of my time. At the beginning of last year I had ambitious plans for a Patreon account focused on stitching, plant dyeing and travel. But it's been harder than I imagined to keep it up. I'm really hoping that as we slow down a bit in the Caribbean I'll be able to pick it up again.
I also really miss teaching workshops and hope to start offering them again as and when time (and internet speed!) allow.
In terms of actual stitching work, for the moment I am happy to use the time I do have to continue exploring new techniques and ideas. I'm laying the groundwork for a future time when stitching will hold a greater space in my life.
What Eilli Beaven taught us
Don't be afraid to work with less: You don't need lots of equipment to make unique and creative pieces
You don't need a lot of space to be truly creative and enjoy the creative process
Stitch for fun. Making for pleasure will keep you happy and inspired
Making is mindfulness – there is no better way to reduce stress and restore clarity.
Slow stitching is particularly good for mindfulness. Focusing on the simple rhythm of stitching or hand quilting is really effective.
New to slow stitching? Want to ideas on what to make? Why not try our free slow stitching online course?
For more information or to purchase some of Elli Beaven's pieces, take a look at her website – Wholecloth.co.uk or follow her on Instagram.