Trish Burr is a self-taught embroidery artist specialising in needle painting and Whitework embroidery. Working out of her home studio in Cape Town, South Africa, Trish creates patterns, embroidery kits and materials for embroidery enthusiasts.
Trish's ability to effortlessly blend colours and create stunning life-like pieces has made her international reputation. But it's her pioneering Whitework – the inclusion of colour in traditional whitework designs –  that has secured her status of an embroidery icon.
In 2001 Trish Burr published her first book. Since then, she has continued to publish a book every 2-3 year and has recently released The Kew Book of Nature Samples, which is a follow on from  The Kew Book of Embroidered Flowers with Search Press. Trish continues to teach, author books and create helpful instructional materials for all budding embroidery artists.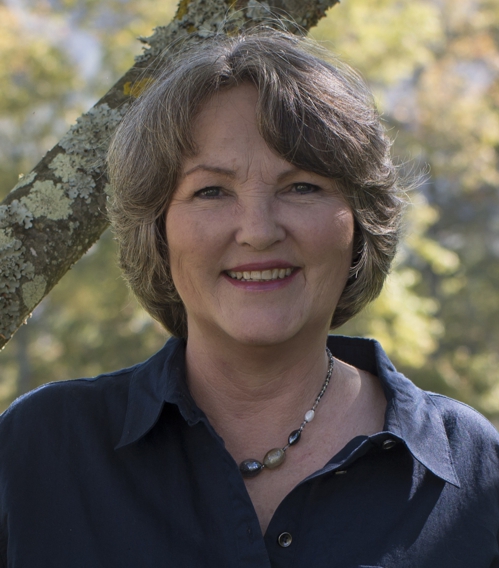 Tell us about the piece you're currently working on – what was your inspiration for it, what is it made from, the processes involved and what is it being made for?
The piece I am currently working on is a dolphin in Whitework with Colour.  Although my main style of embroidery is needle painting I do have followers who love Whitework with Colour. Every now and then I will I introduce new patterns and enjoy having a change of scene. My whitework designs are a bit more whimsical and fun to stitch.  It is stitched on white linen and uses a lot of padded satin stitch with other stitches to give it texture and interest.  It will be launched as a new digital pattern once complete.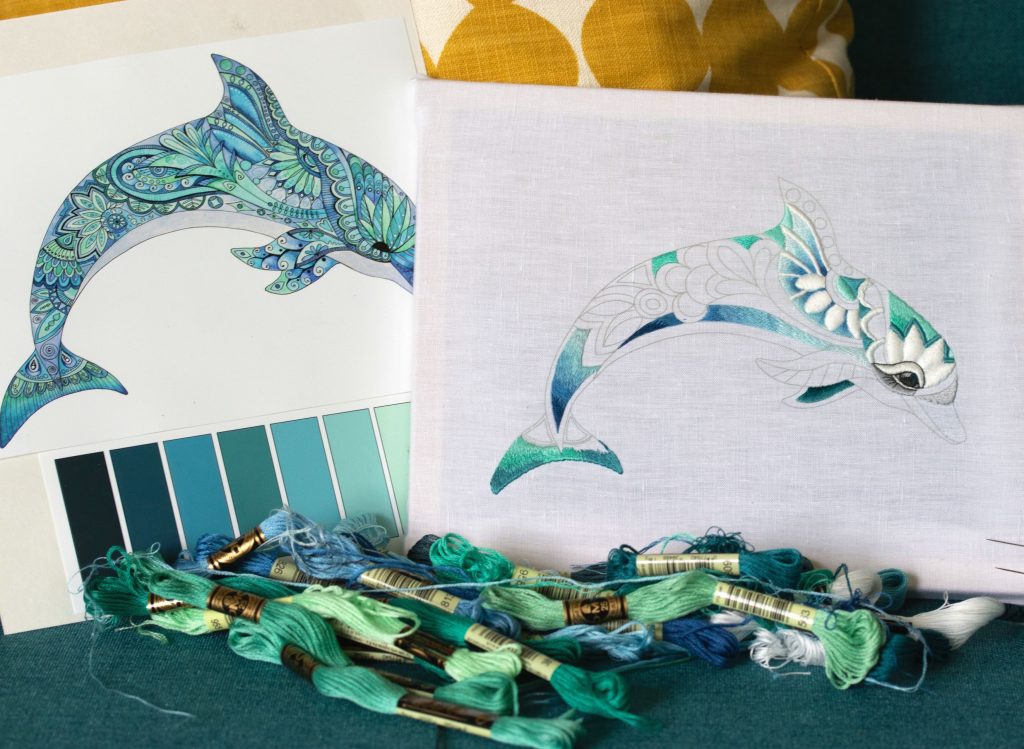 What was your first memory of stitching – who taught you?
I am completely self taught, I did not do domestic science at school and no one in my family did embroidery.  My cousin introduced me to cross stitch in about 1990 and I loved it but felt limited so decided to copy pictures from little postcards and started painting with a needle.
At that time I lived in Zimbabwe, Africa where we had no books, patterns, threads or embroidery materials of any kind, so I was not sure if I was doing it right, but I just made up my own stitches.   I used to use polyester sewing threads as that was all I could get, some years later I had the opportunity to buy "proper" embroidery thread whilst on holiday in South Africa– when I saw the selection of DMC thread I was in heaven!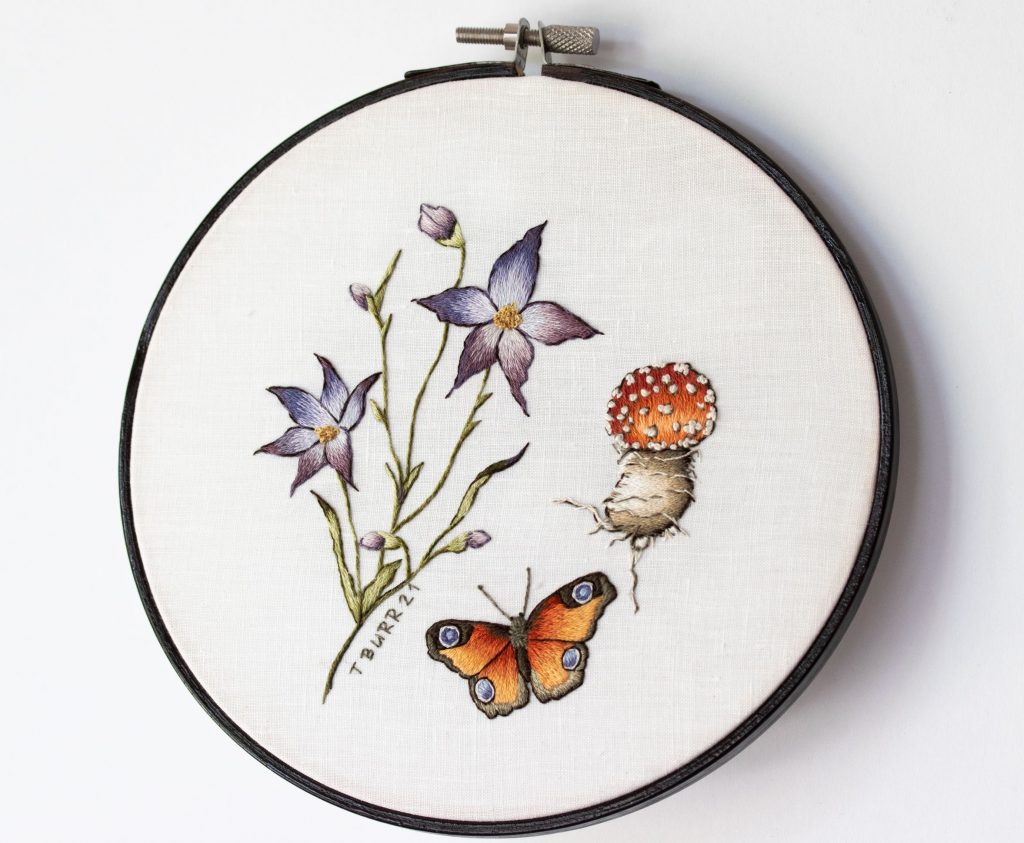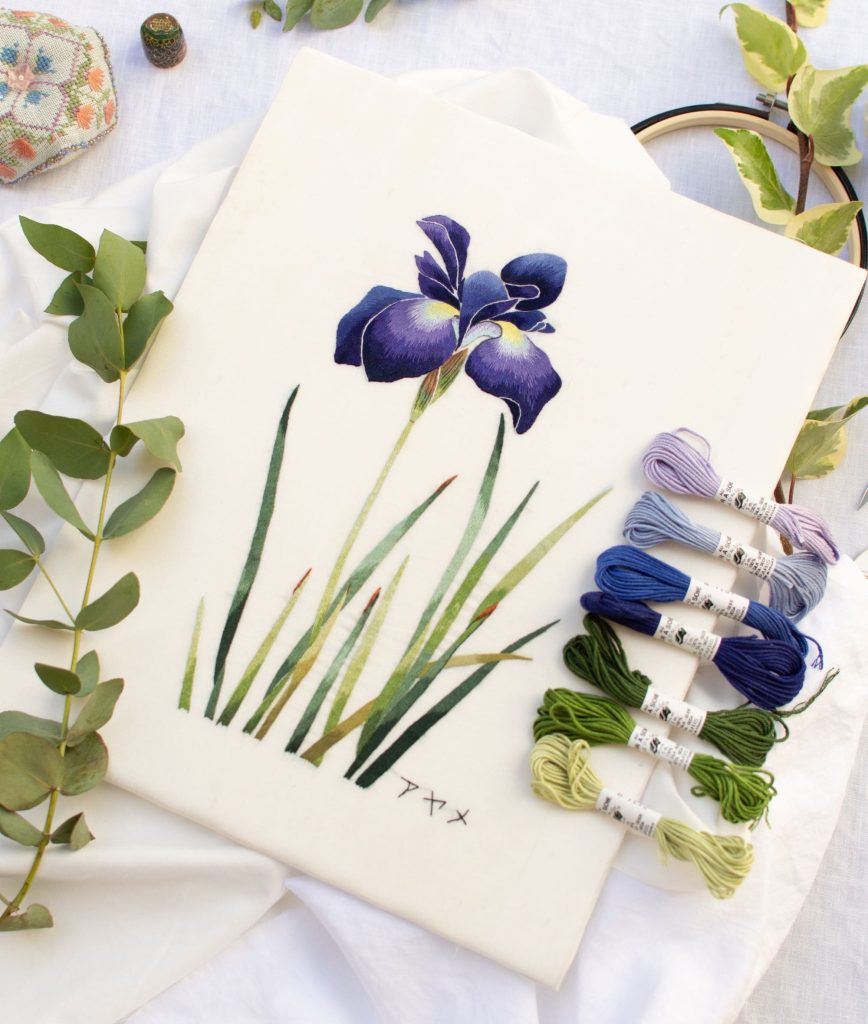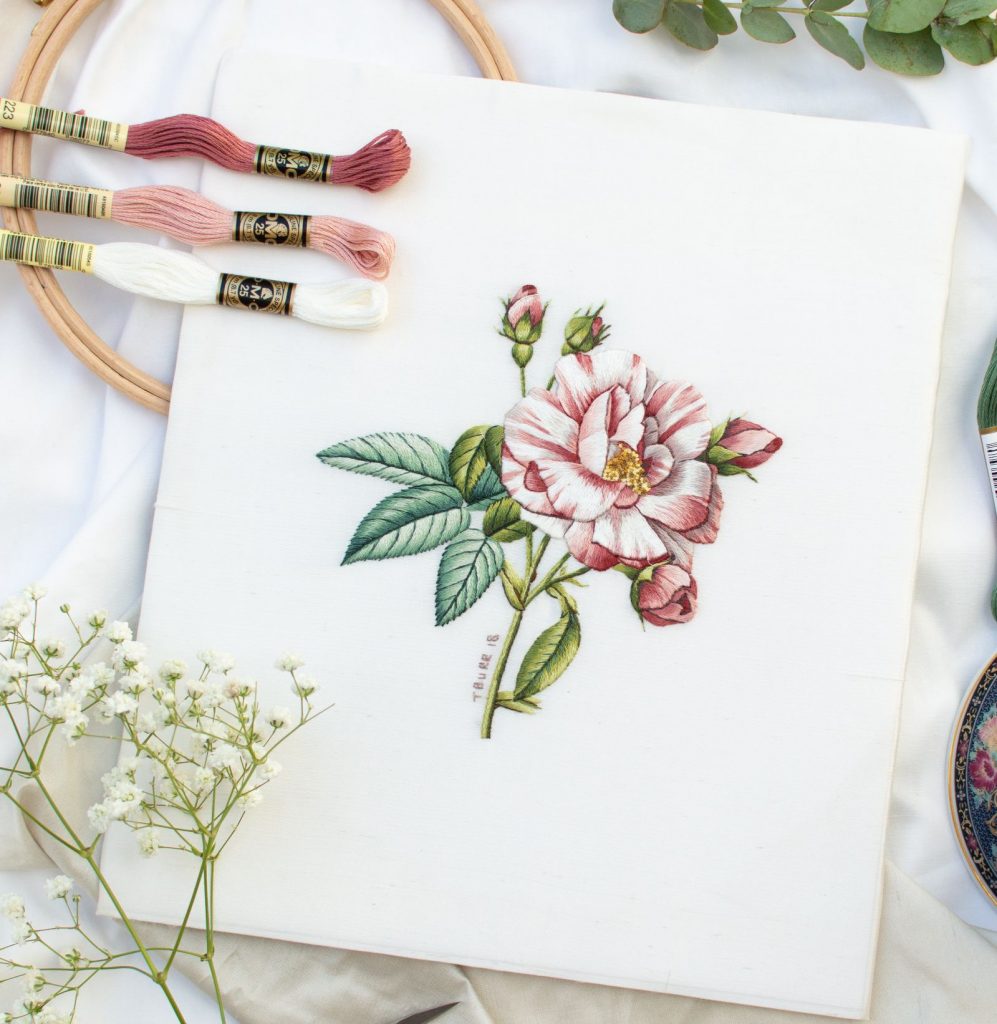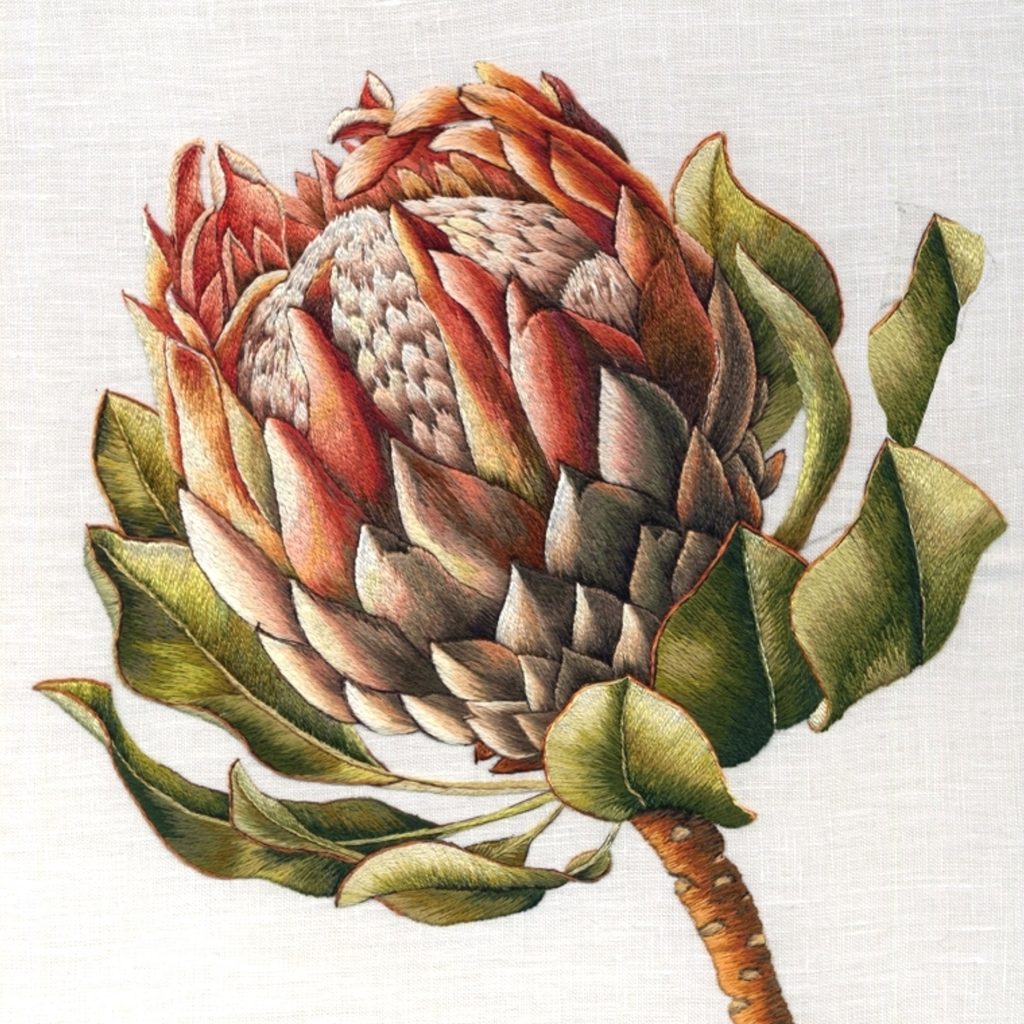 Does your home country of South Africa provide you with inspiration when considering new pieces?
South Africa, in particular Cape  Town where I live is a beautiful and diverse country. I am constantly inspired by my surrounds but I tend to be more inspired by colours. Colour to me is everything. You can have a lovely composition but if the colours are wrong it will be flat and dull.  I love to use very vibrant or contrasting shades from very light to very dark. If I see a piece of artwork where the artist has used a beautiful blend of colours, I won't sleep till I have created something similar.  I often get permission from the artist, but also use reference photos or images to create my own.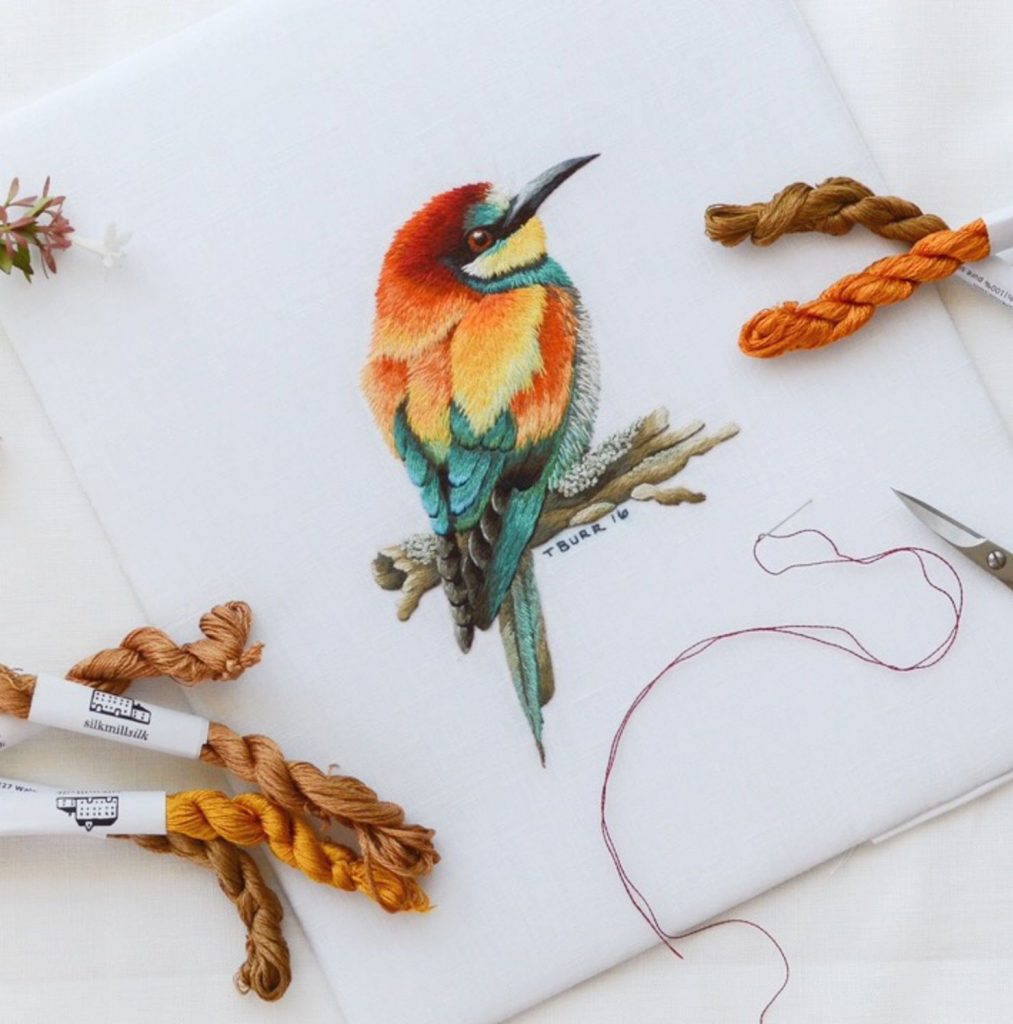 In my book, The Kew Book Of Embroidered Flowers, I was given access to a library of more than 200,000 botanical paintings – they were very old,  illustrated by some of the early explorers, so  I started by re-drawing them in Corel Draw. 
I worked on giving them a clean outline and refresh the dull, faded colours. I tried to stay true to the original artist's rendering but also give it a more contemporary feel.
While I tend to do birds and flowers I recently did a course on digital painting and was inspired to create a series of Cape town landscape scenes. They are in the Naïve style of art and very vibrant (not released yet).  I also like to take very old illustrations and give them a fresh look – such as Tudor/Elizabethan style and make them contemporary.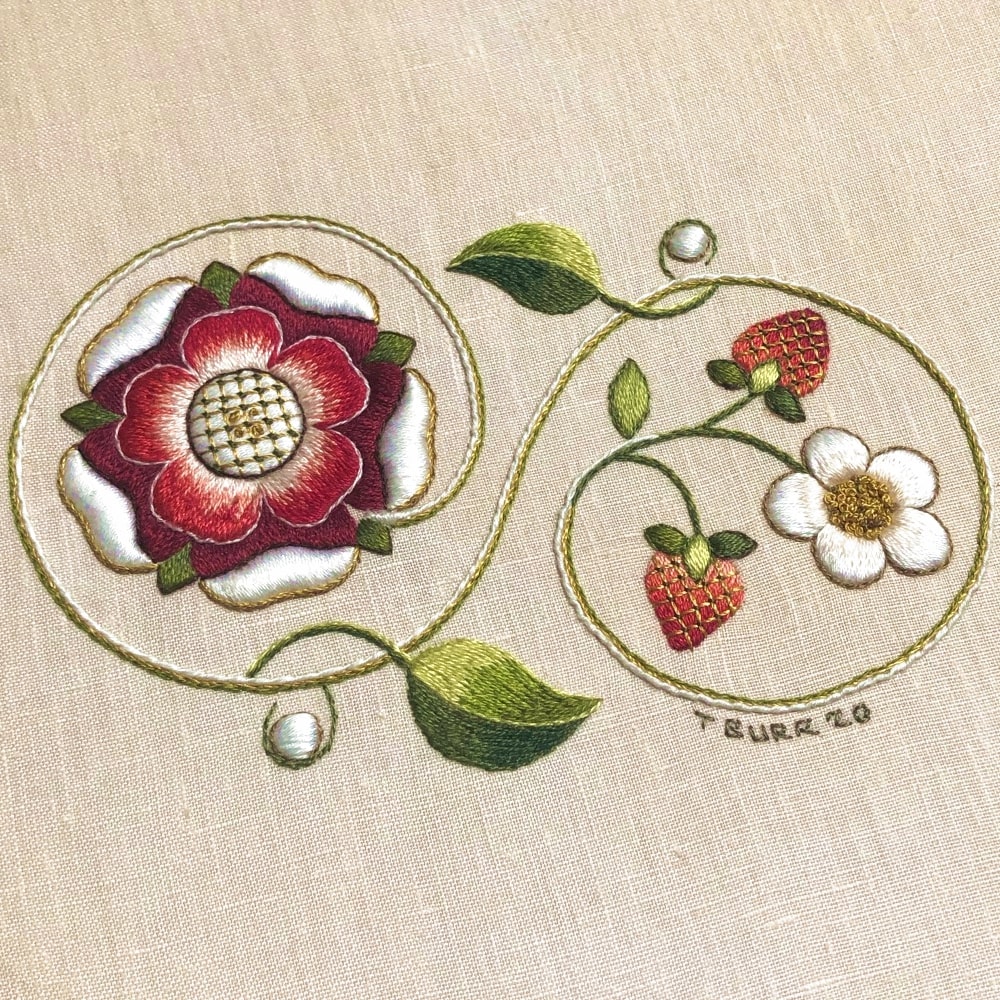 Your beautiful embroidery contains lots of silk shading – a technique which many find challenging to work. Any tips or advice on how to make it easier?
Yes I absolutely love silk shading, but am aware that it is many people's nemesis!  Firstly, always use one strand of thread. This helps the colours to blend better.
It is helpful if you begin with a relaxed approach. Don't try to stitch one long, one short stitch, and be too precise, rather do a few placement stitches across the shape and then go back and fill in the gaps.  This way you will get a series of uneven (long & short) stitches in the first row which provides a foundation for all your other rows.  Keep the stitches quite short (about 1cm). This will help you to get around curves. I have a few videos on YouTube which show how to do it.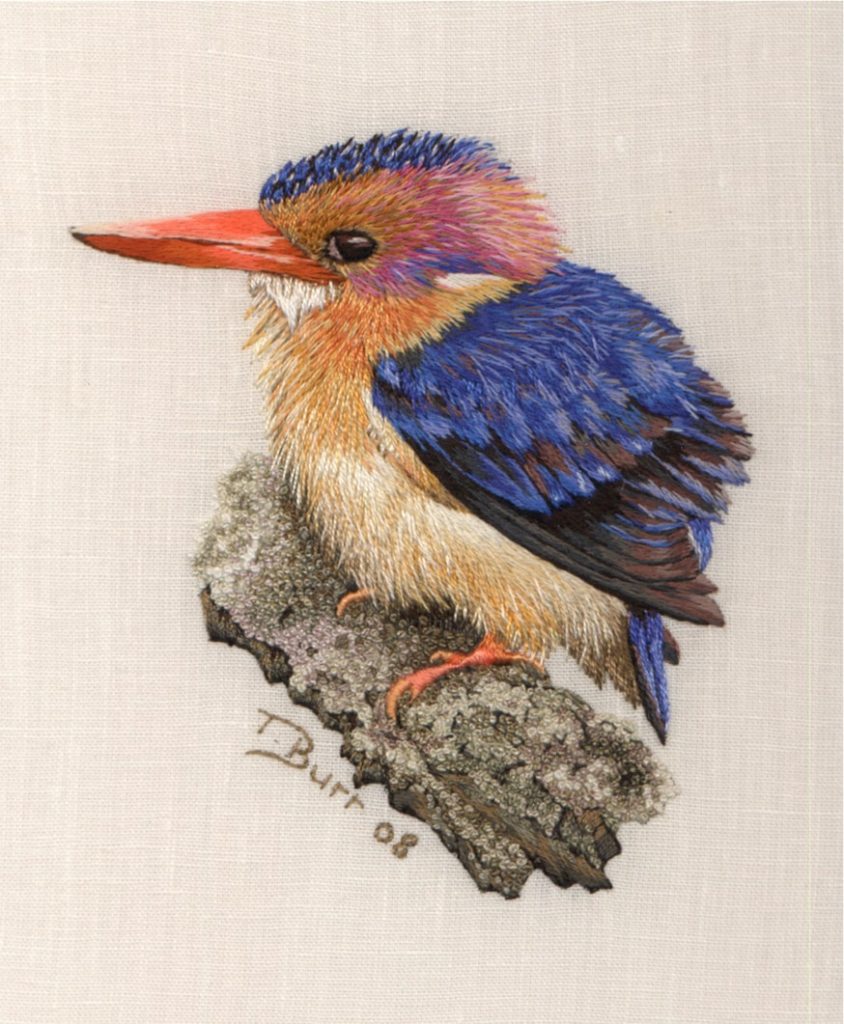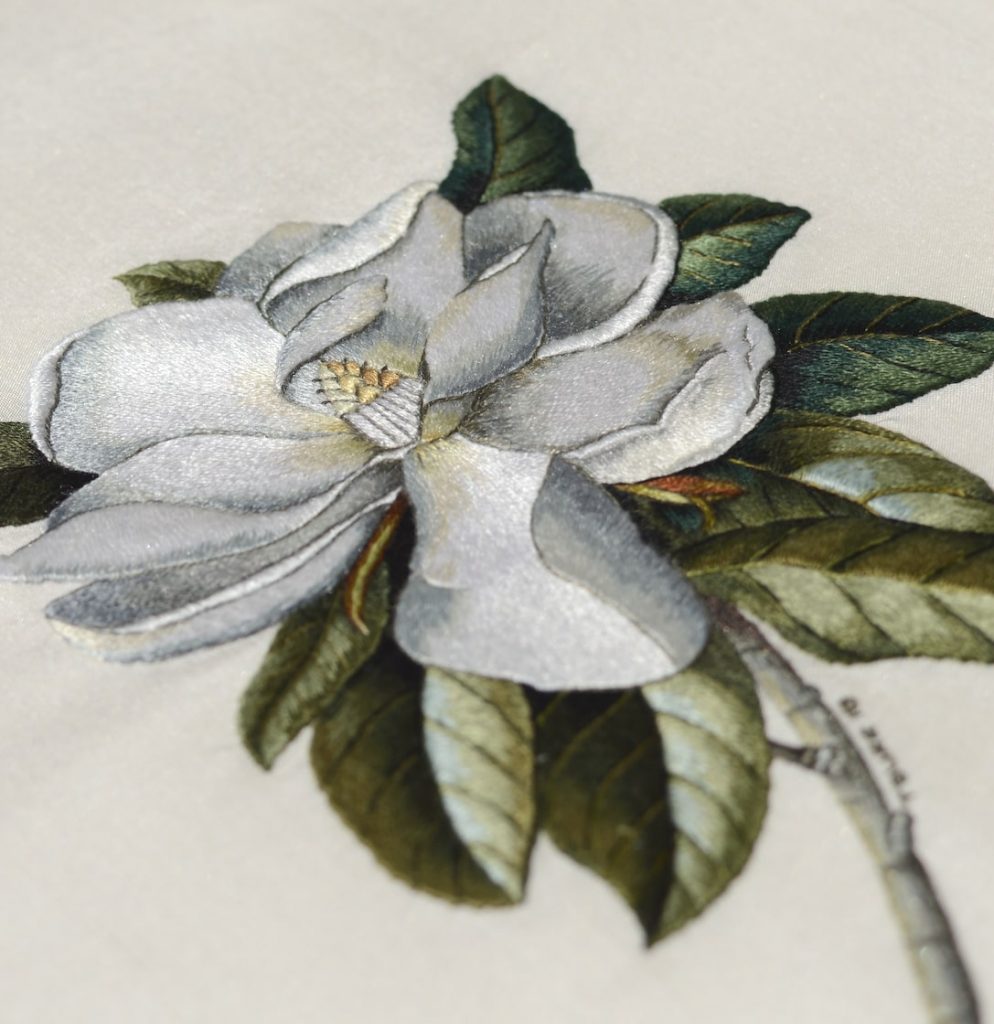 We know from your book that you enjoy flowers and birds within your work. Was there a particular reason for this?
When I was young I did a lot of botanical paintings. I would pick flowers from my Mum's garden and replicate them in watercolour.  I love to stitch tiny details, hairs, stems, pods,  stamens etc so guess it was just natural for me to start with flowers.  Birds came later. I copied a picture of little bee eaters from the front cover of a bird magazine and was hooked.
Birds and flowers go well together and are pleasing to the eye, but I like to try other styles of art also. I am looking very closely at pen and ink illustrations and thinking how I could reproduce them in thread.
I like to keep challenging myself with different forms of art. Most of the time I can do it if I put my mind to it, but it can be difficult to explain it to others so I can't always make a instructions or patterns out of it.  I feel a certain loyalty to my followers to keep producing patterns but I also have a yen to create pieces of art without instruction – it can block the creative flow when you have to keep stopping to write down the thread numbers/stitches used.   If I look back on some of my earlier work where I was not providing instructions I can see the difference – possibly I need to re-brand myself as an artist rather than just a teacher?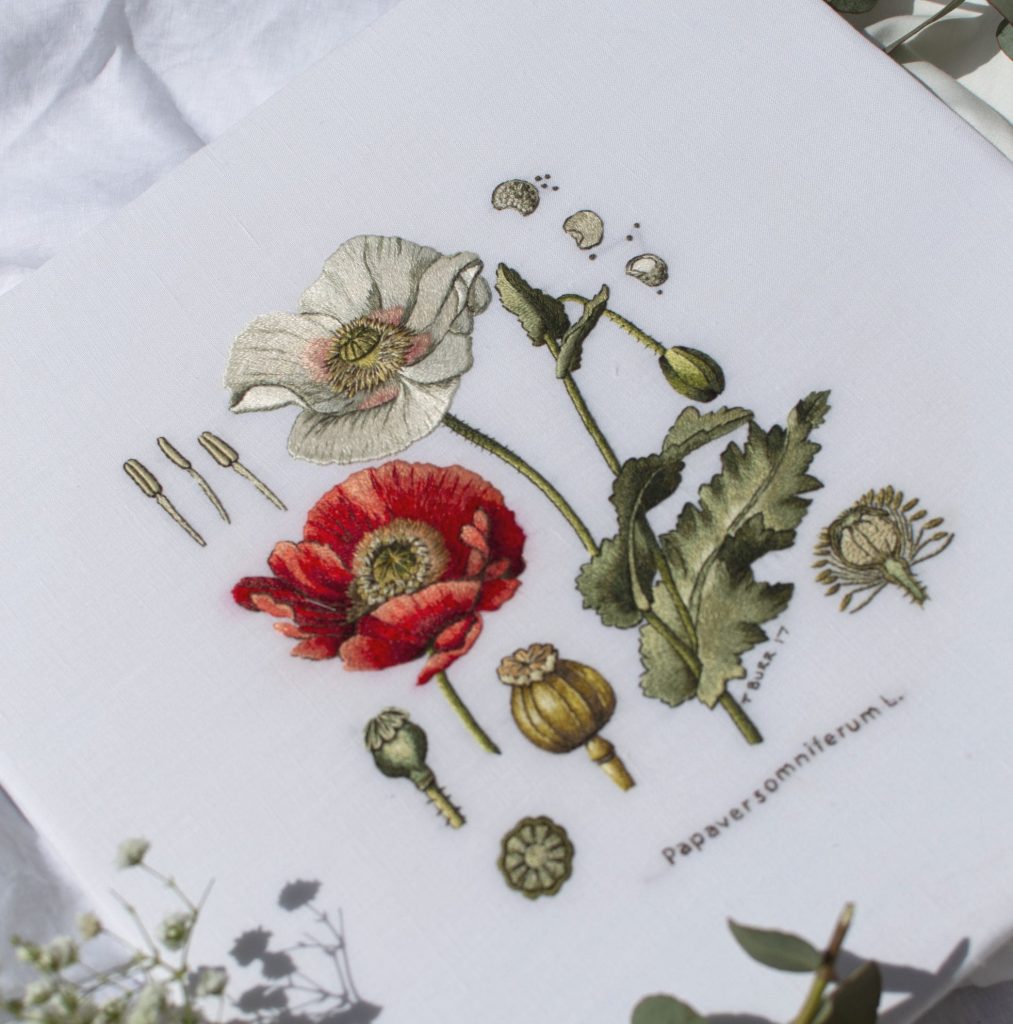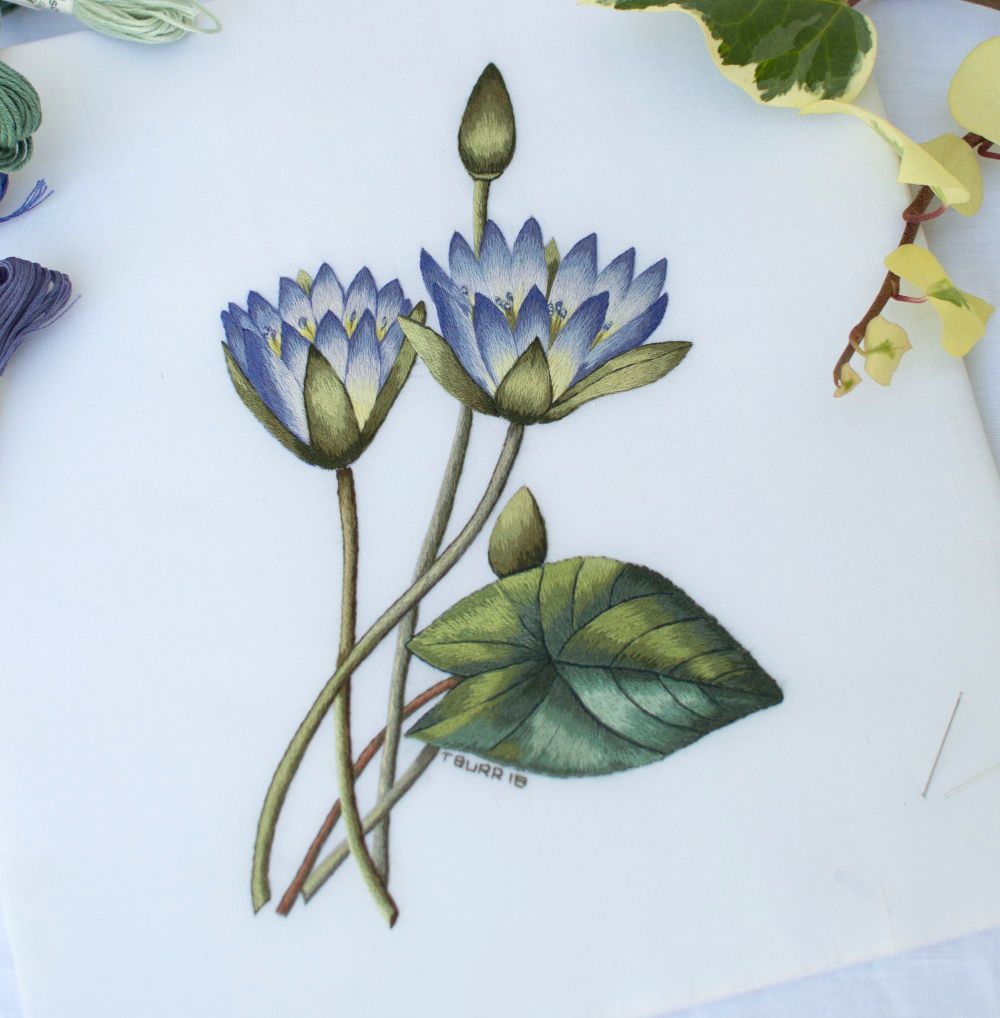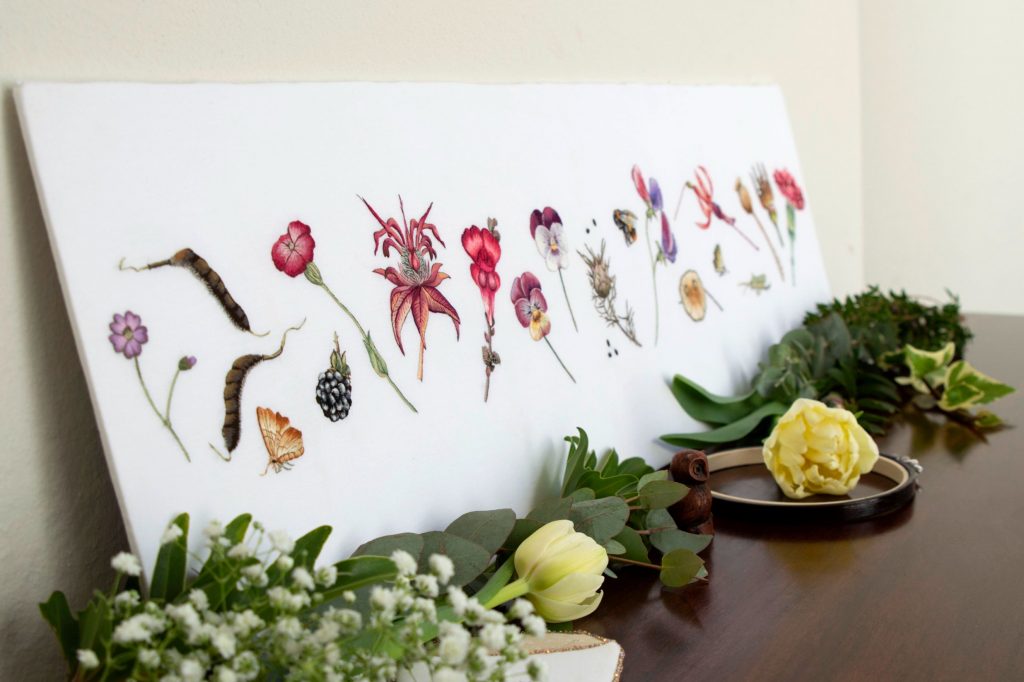 How do you decide what technique to use for a particular piece? Going from whitework and it's absence of colour to a full colour spectrum must be quite a leap?
I use needle painting for more realistic subjects and whitework is slightly more abstract.  Sometimes it depends on my mood – if I have been stitching a lot of colourful projects I like to go quiet and muted every once in a while. Whitework it is soothing, pure white with a bit of colour is stunning, but sometimes the subject just speaks to me and I can see it in a particular colour palette.
One of the things I also like to consider is how this embroidery would fit into someone's home. We tend to have more minimalist, uncluttered décor so the embroidery should reflect this.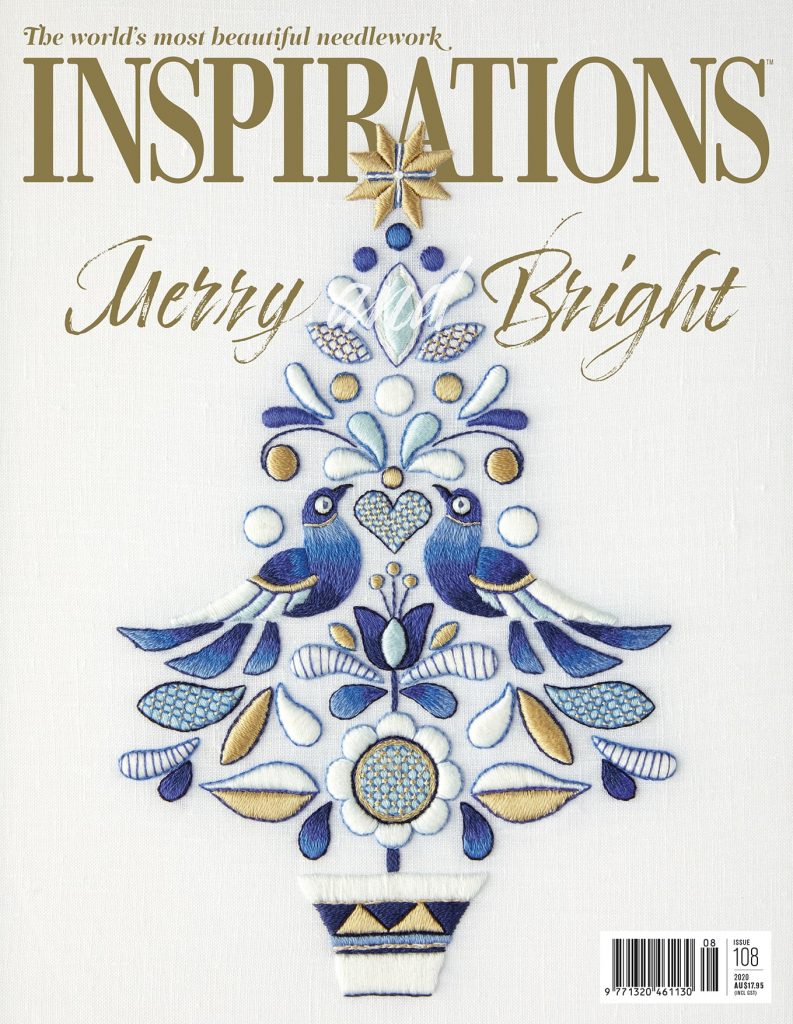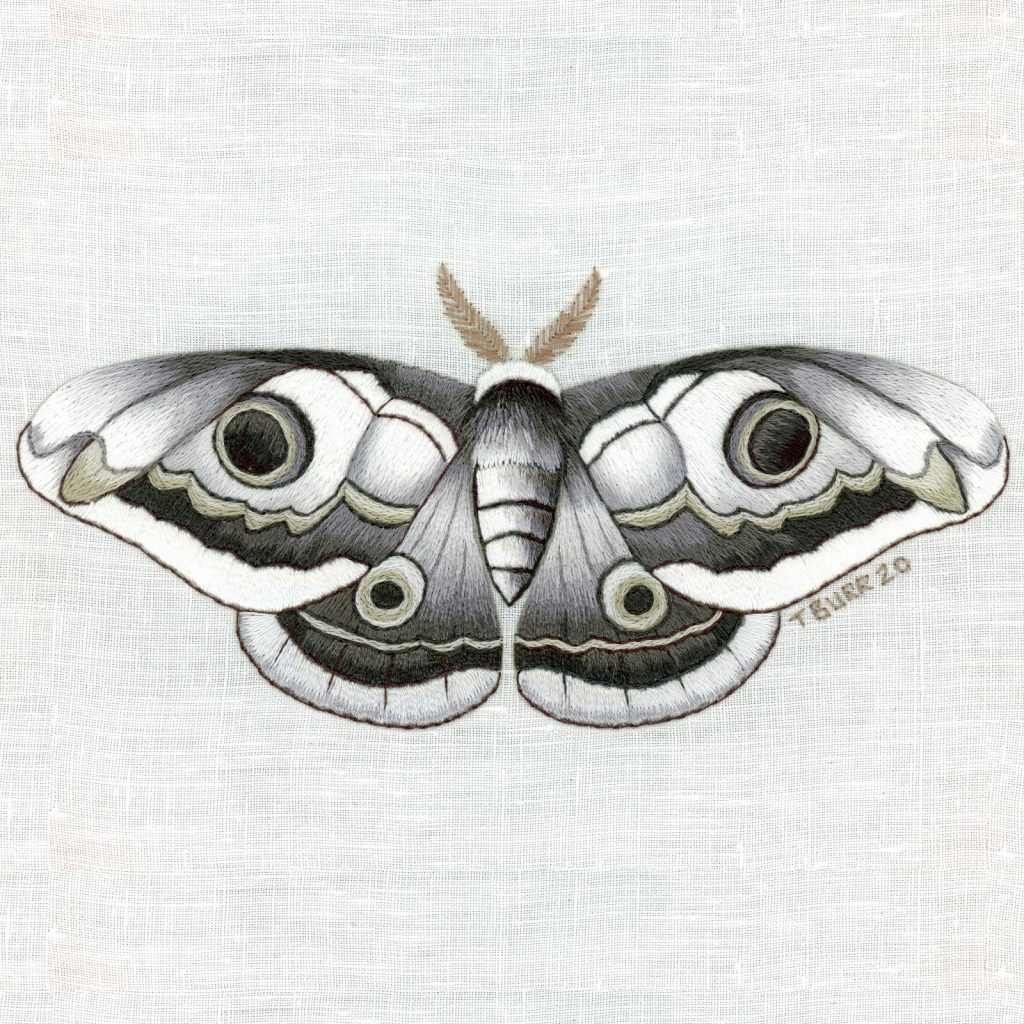 What artists inspire you personally – who would you like to sit next to at a dinner party?
What a great question, I never get asked that.  My answer is Diego Rivera.  I absolutely love the depth of shading he used in his paintings and can see it in stitching.   Sadly he is no longer with us. I wouldn't be able to sit next to him at a dinner party but I greatly admire his work.  I am a big follower of botanical artists on Pinterest and love modern illustrators like Katie Scott and the Japanese, Studio Ghibli type illustration.