Barbara Weeks is an accomplished, British Textiles Artist and international teacher with a passion for Patchwork and a flair for felt. With her recent involvement in the Ebb and Flow exhibition and vast amount of experience to talk about, we thought we'd catch up with her to find out more about her approaches, finding creative freedom and the power of inspiration.
An Interview with Barbara Weeks

How did you get into textiles? What is  your background and did you study or do any formal training?
'I trained to teach Textiles at Stockwell College of Education in Bromley Kent. The course title was 'Dress and Embroidery' and the Principal tutor Diana Springall who is still active and most accomplished in the world of Embroidery. The course prepared us for teaching girls, but a year or so into teaching in a large comprehensive school in London, the curriculum was changed radically so that boys and girls both studied all areas of Design Technology and Home Economics. At this time, material resources were relatively generous so the emphasis was very much on 'making' as much as designing, so it was enormously fun and challenging to pass on machine skills with a well maintained supply of Bernina machines.'
What came next in your career?
'In 1989 I was invited to teach the new City & Guilds Patchwork and Quilting course. This has been the focal point of my work for the last thirty years, teaching the course at day, evening and residential venues both in the UK and France. Teaching is such a rewarding two way process and contemporary textiles never stands still, so there are always exciting new developments to explore.
It's been a great privilege to see so many gain confidence with their creative textiles.'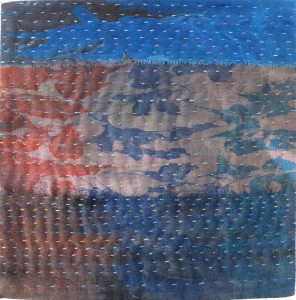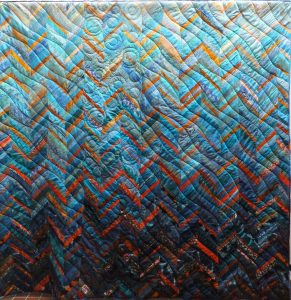 How did you develop your own style and inner voice? Was there a defining moment for you or was it a gradual process?
On reflection, I can point to some significant changes of style and direction in my textiles. After I had mastered the discipline of cutting and matching seams with accuracy that is required for traditional patchwork, I soon discovered the freedom of a freer form of piecing, and I never looked back!
Working with strips has endless possibilities, and a good way of introducing an element of free piecing within a pleasing structure.
'Crazy About the Broads' was that first breakaway quilt, and it's still a favourite on my wall. It celebrates the fun of taking an art – sailing course on a Wherry on the Norfolk Broads.
At about this time I was gaining confidence with dyeing fabric and discovering how an increased colour palette could be achieved by overdyeing and cross dyeing two or more colours. I also moved from using only cottons to the lustrous qualities of silk.
The next significant style of work came about by trying to introduce texture and moving colour around more freely than strips could give. This was my impressionist period, with two visits to Monet's garden at Giverny. The Quilters Guild had set a design challenge and my collage featured  Autumn woodlands in the style of Klimt. But no sooner than this was done, the bluebells came out in our woods and I was seduced. I made a number of Bluebell woods quilts. I used strips of dyed cloth freely cut into squares and oblongs and bonded onto a lightweight backing before quilting. The rows overlapped and in time I introduced raw edges to depict water lillies, for example. Some featured painted backgrounds on silk noil which gave an interesting contrasting texture. I covered all the seasons and these quilts sold well. There was a huge satisfaction that I had developed this independently.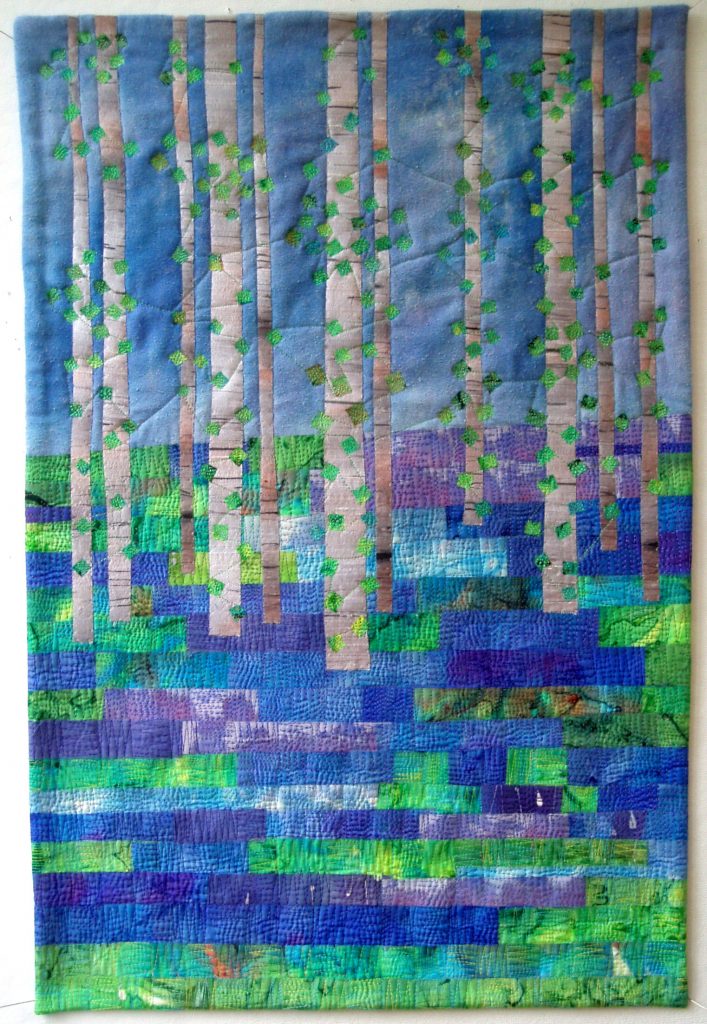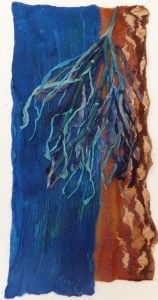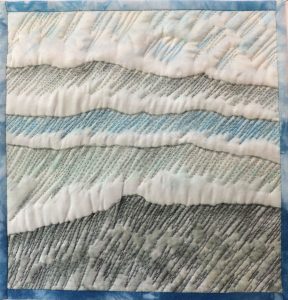 After a while I felt I needed a change of direction, but I was not sure where to go.
At the Knitting & Stitching Show in 1999 Andrew Salmon decided that he would introduce Quilts and he invited a number of us to contribute. I had had a birthday trip to Barcelona and was blown away by Gaudi's colourful architecture. I set out to work with colourful strips, but again I could not move the colour as freely as I wanted to. My design featured the windows of the Sagrada Familia worked in 'pieced over papers' technique and an area of fish. For these, I tried a traditional mosaic technique, but my paper design fish looked more like a helicopter. Oh dear and only a month before the deadline! I took the shape of the fish that I wanted and proceeded to fragment it into pleasing shapes. For speed, I made 'mix and match' fish moving segments across from one bonded fish to another. I am probably best known for this technique and still get invited to teach it, but in truth I find it a bit fiddly now. I am amazed at the patience some folk have.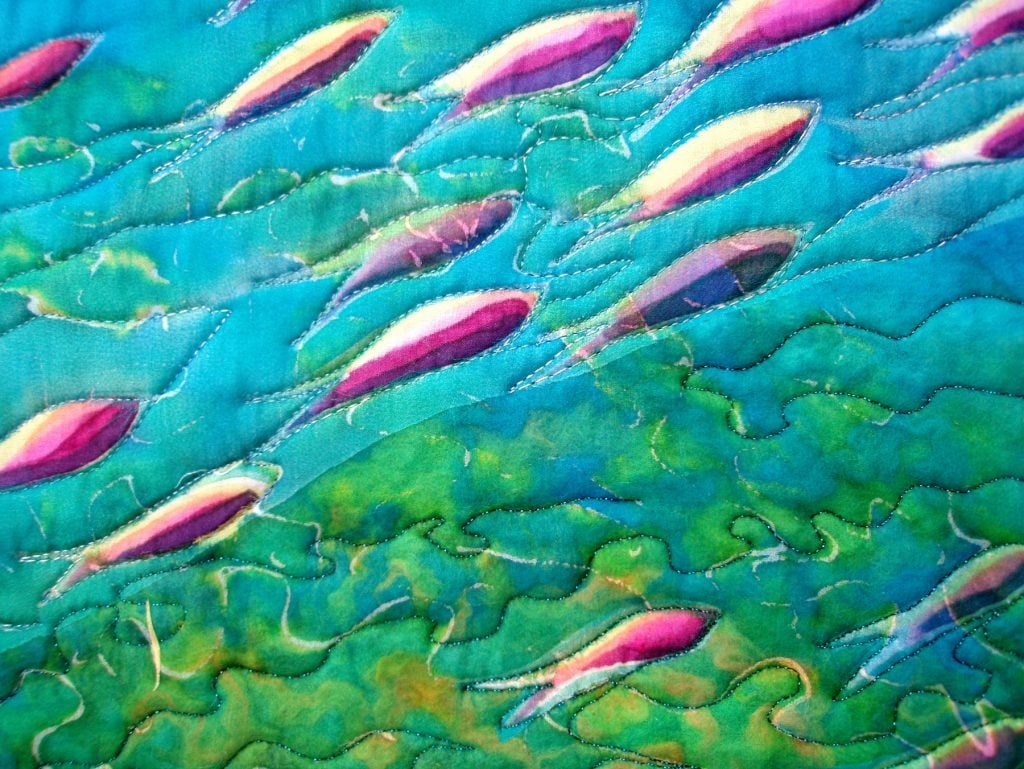 We know that you have spent a lot of time in Australia – is this a place you feel inspired by? 
In 2006, my daughter went to Australia, doing further study as a marine biologist. Twelve years later Rebecca is still there, working with fishing communities across the pacific islands creating and sustaining marine protected areas. What inspiration! Firstly from her photographs and then from my annual visits to Queensland, and lately the glorious far south of Western Australia.
The colours and quality of light on the coasts are so life enhancing; the dramatic rich ochres of the outback make a stunning contrast.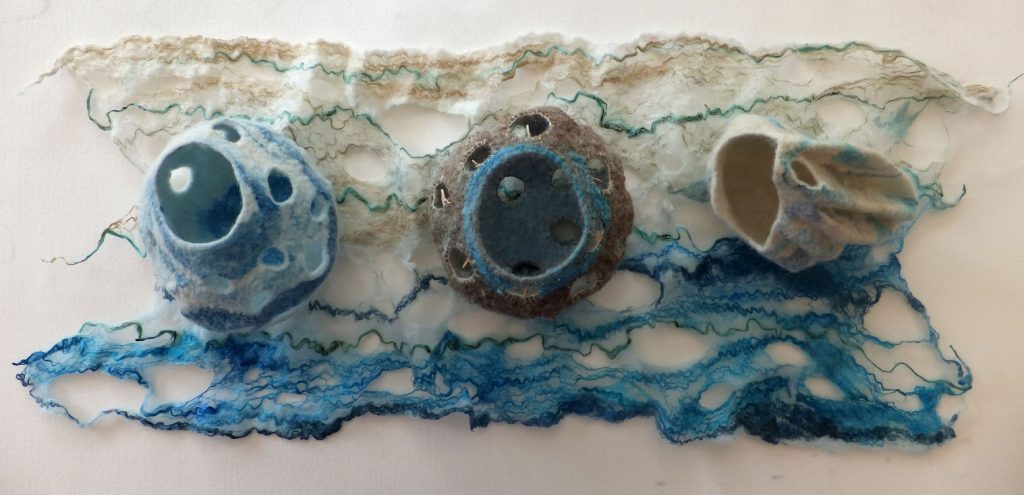 What's your development process for your designs, if any?
 I keep moleskin sketch journals of each trip, supplemented by small watercolour books. These are invaluable for reference along with photographs, which capture the scene or subject, but don't require you to really LOOK!
Back in my studio workshop, I'll do further colour work; water soluble crayons are a favourite for speed, and I never fail to enjoy the added splash of colour when water is applied.
Since 2007, I have done monthly Journal Quilts with the Contemporary Quilt group and these are invaluable for exploring different experimental techniques. They are always small, but must be with a finished edge, so more satisfying than a sample. From these I can select and develop designs for larger pieces.
The creation of colour on cloth is always the starting point, and I buy silks on the roll. From procion, I have largely moved to steam fixed silk paints and immersion acid dyes.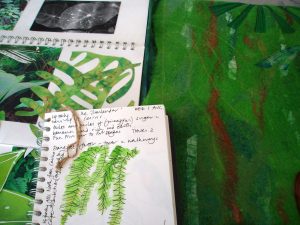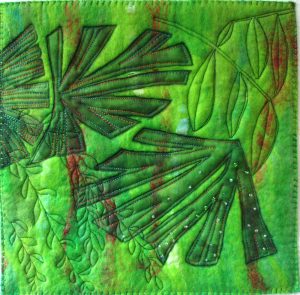 How did you get into Felt?
'I had dabbled with felt making years ago, but found it rather heavy and coarse, not to mention hard work!
How felt has changed! Working at Missenden Abbey, I was meeting and seeing the work of many talented teachers. Sheila Smith taught City & Guilds Felt there for a few years and I was struck by the diversity of felt today; her student displays were so colourful and the possibility of 3D work attracted me. I joined the IFA, found my local area group and started going to some of the workshops. Before I knew it I had become the regional coordinator and had some input as to which tutors to invite. We also attend a lot of local shows and events, demonstrating the magic that cloth can be made with only water and soap, and that it can be a gentle and contemplative art. Here I have found a medium that I can do anywhere with minimal equipment, and knowing that I am working with sustainable, organic and biodegradable wool. For the last four years I have immersed myself with this, gaining new skills, notably with 3D forms and nuno felted wearables.'
How is this used in your Quilts?
 'My quilts have found a new and more subtle voice. Wool laminated cloth creates colour and texture which contrasts well with other materials. Waters Edge and Outback Meeting Place both feature this, but you don't actually see the wool.
Currently I am experimenting with a range of fine silks, and my next goal is to explore natural dyes.'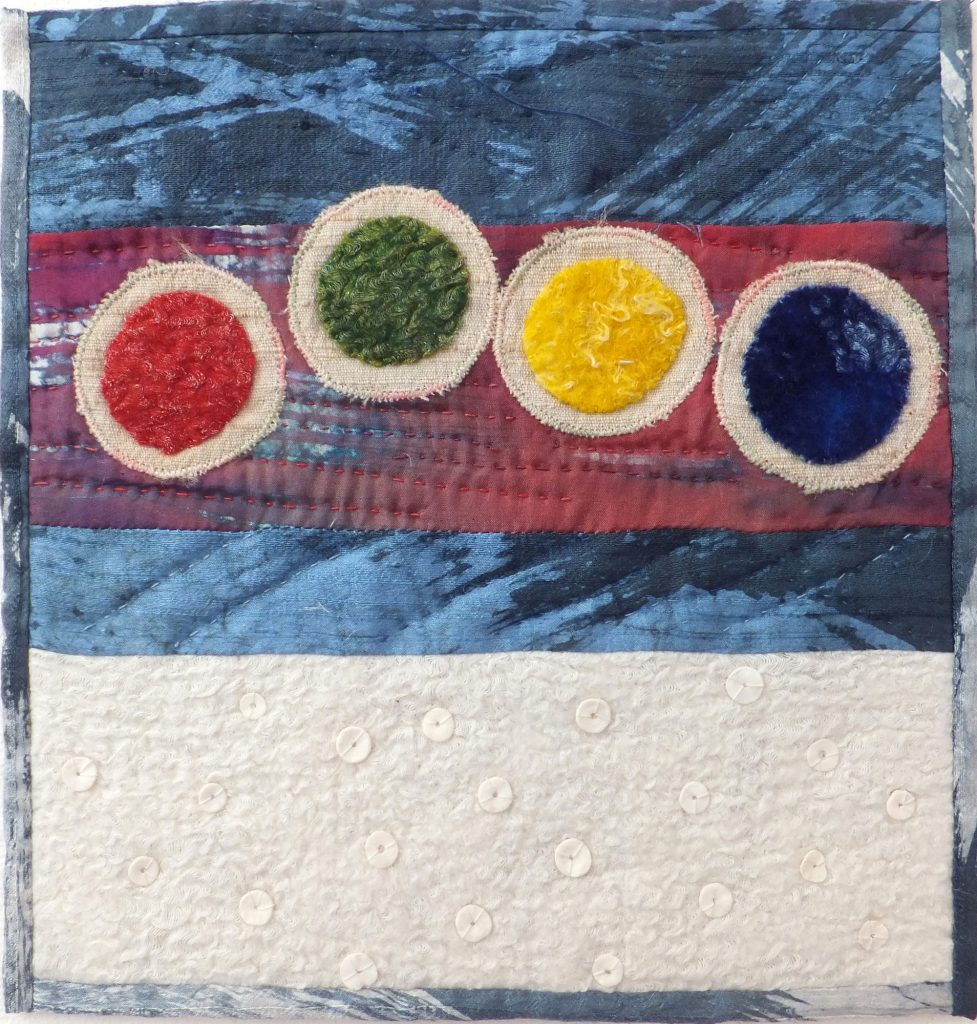 What else inspires you?
Coastlines and the natural environment around me are always a good source for an artist-designer-maker. I'm a beachcomber and collector of interesting pebbles. I find lovely lines, colours and textures. We have a wooden boat moored at Bradwell on the East coast; this year my Journal Quilts focus on boat hulls, lovely dribbled paint and nature's degrading textures.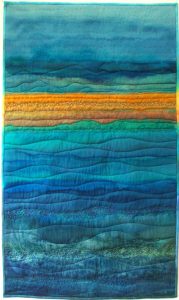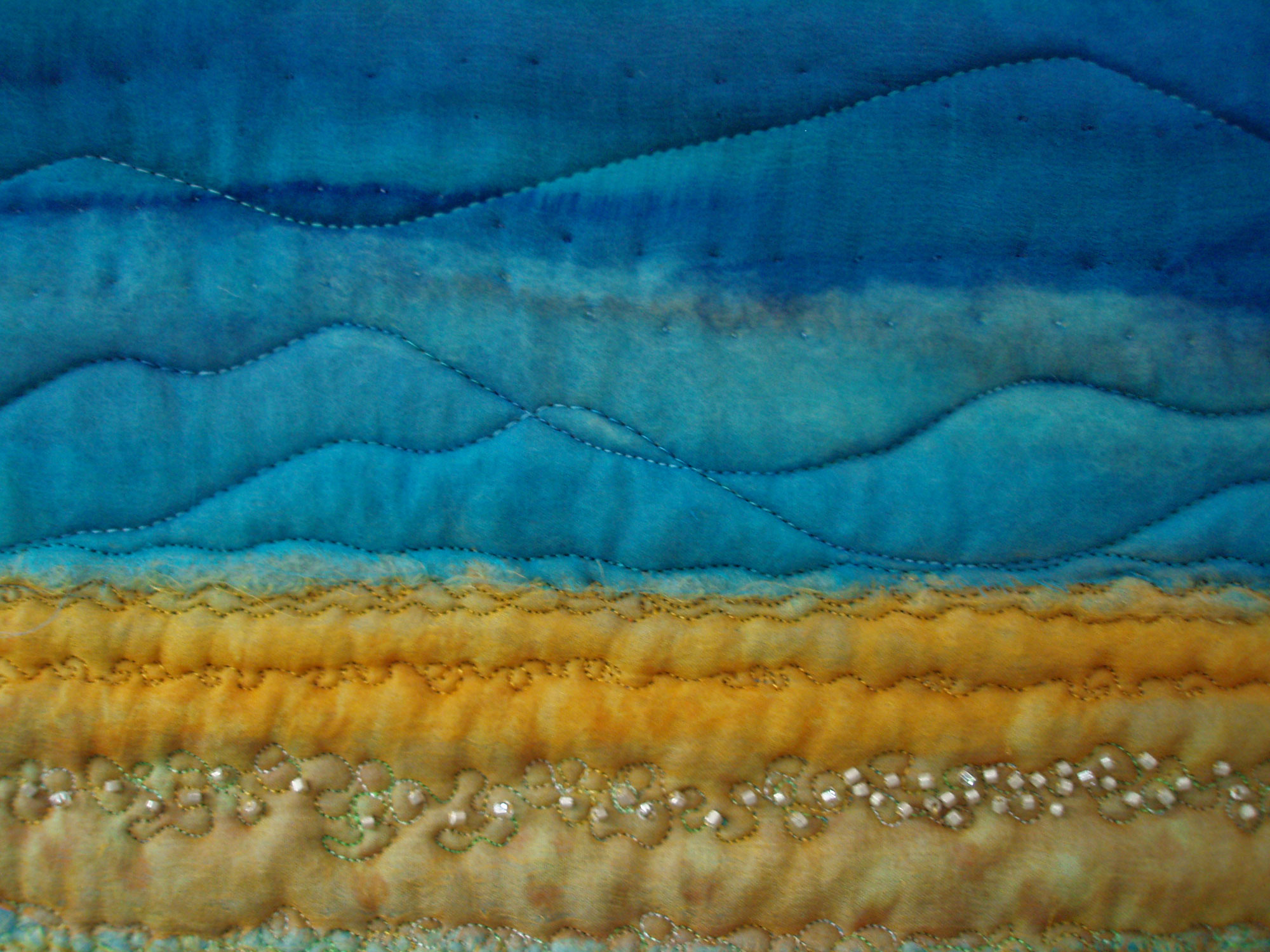 What advice would you give to our our students or people wishing to study textiles?
'Create a pin wall somewhere. Seeing your source material, samples and progress 'on the wall' is so much more revealing than on a table.
Be there. In your creative area, even if it's tidying or sorting, which often leads to ideas.
Spend time away from the world wide web to find your own style.
Sampling and testing ideas is so valuable, don't cut corners.
Look widely for inspiration across all the creative arts and crafts
Don't be afraid to take elements out of a design, less is truly often more.
An Inspiring Quote, from the V&A 2012 Exhibition "Thinking by Making"
Many people think that craft is a matter of executing a preconceived form or idea. Yet making is also an active way of thinking, something that can be carried out with no particular goal in mind. In fact, this is a situation where innovation is very likely to occur.
Advanced skills may take a long time to learn, but the feeling of being 'in the zone' can be experienced by anyone, from a four year old to a master artisan. When you are absorbed in making, things happen that you didn't plan, the experience is intuitive.
This sensation of effortless flow is a reward in its own right, but it is also a situation of intense learning. Makers who are immersed in what they are doing build on existing skills and discover new ones. Innovations in making happen, more often than not, when they are least expected.'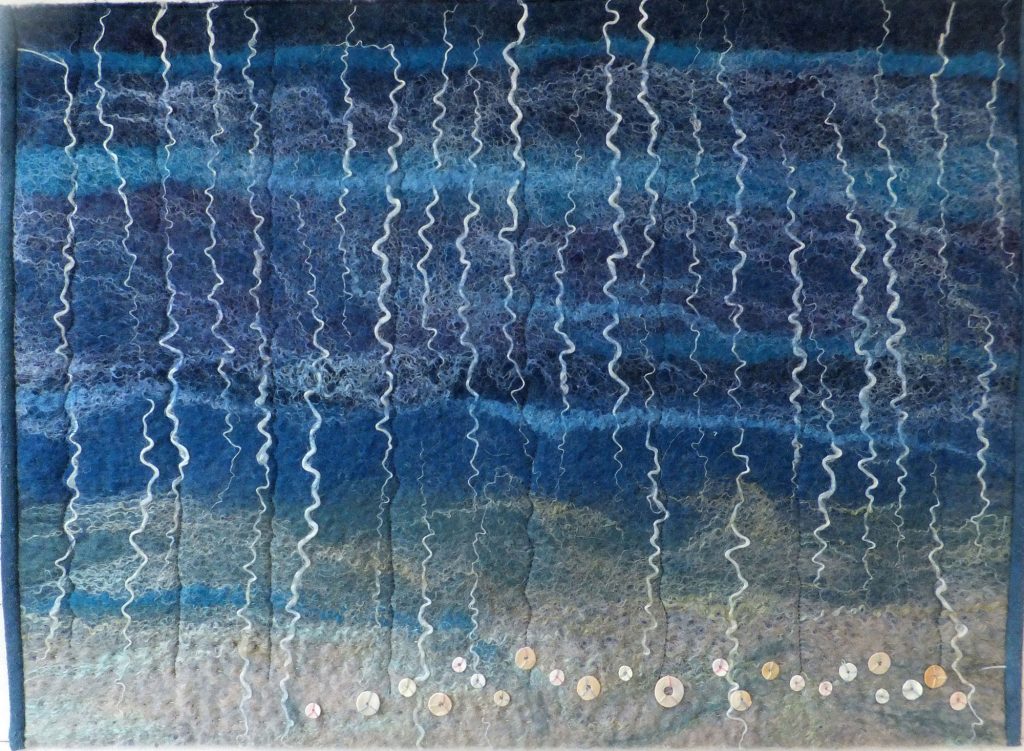 Please tell us where you've exhibited
'Ebb and Flow is an exhibition by the Textile group of Herts Visual Arts. Fifteen of us showing textiles related to the Canals and waterways that link us across Hertfordshire. We are a diverse group who meet occasionally to share work, plan exhibitions and encourage each other in Open Studios.
Solo exhibitions are such a big commitment. I had a Gallery at Festival of Quilts in 2011, and this toured the Hertford Theatre Gallery.  Perhaps now I am retired from teaching City & Guild courses I will have time to contemplate another.
Art in Kimpton (Hertfordshire) is in our 3rd year of Open Studios with 8 participants, this year on September 22-23. This is such fun. We belong to a group of Harpenden area artists who meet monthly in a pub for coffee, with no agenda, but the incidental networking is invaluable.'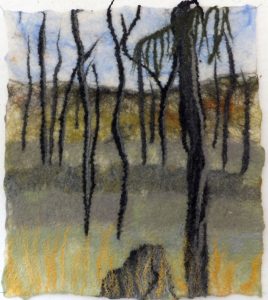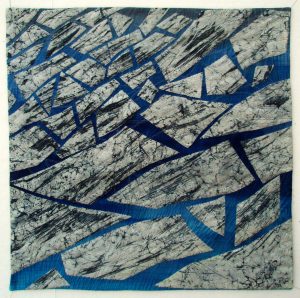 We'd like to thank Barbara for sharing her work with us. We're that this will inspire many of our students. To see more work by Barbara please visit her website.
Are you ready to unlock your creative potential with a City & Guilds accredited course? Take a look at full range of craft courses covering 8 different subject areas.