Contemporary fibre artist, Victoria Potrovitza grew up in Romania where she was exposed to hand embroidery and traditional creative textiles. With an MS in architecture Victoria is arguably a naturally gifted artist and visionary. Although her calling was always in textiles it was only through experimentation and exploration  that Victoria became the contemporary artist she is today.
Her abstract vision, organised compositions, vibrant colours and contemporary form distinguish her pieces from many hand embroidery artists. Today she talks to us about her love of modernist artists, her early influences and how the structured world of architecture give her the confidence to later embrace creative freedom.

How did you get into hand embroidery? What is your background?
'Growing up in my native country, Romania, one of the few highlights of my education were the embroidery and hand stitching classes included in all levels of the school curriculum. As a fundamental element of the Romanian cultural traditions I learned and practised hand embroidery. I searched for and examined old hand woven and embroidered beaded pillows, tablecloths, rugs and other items surrounding me, which were part of my family inheritance going back generations. Inspired by the artistry of these works, I started making my own designs.
As I matured, my affinity for working with textiles evolved towards wearable art. As a fashion designer, I made my own fabrics by hand dyeing and designing patterns using gutta resist techniques. My fabrics were embellished by block printing, hand embroideries and hand beaded designs.'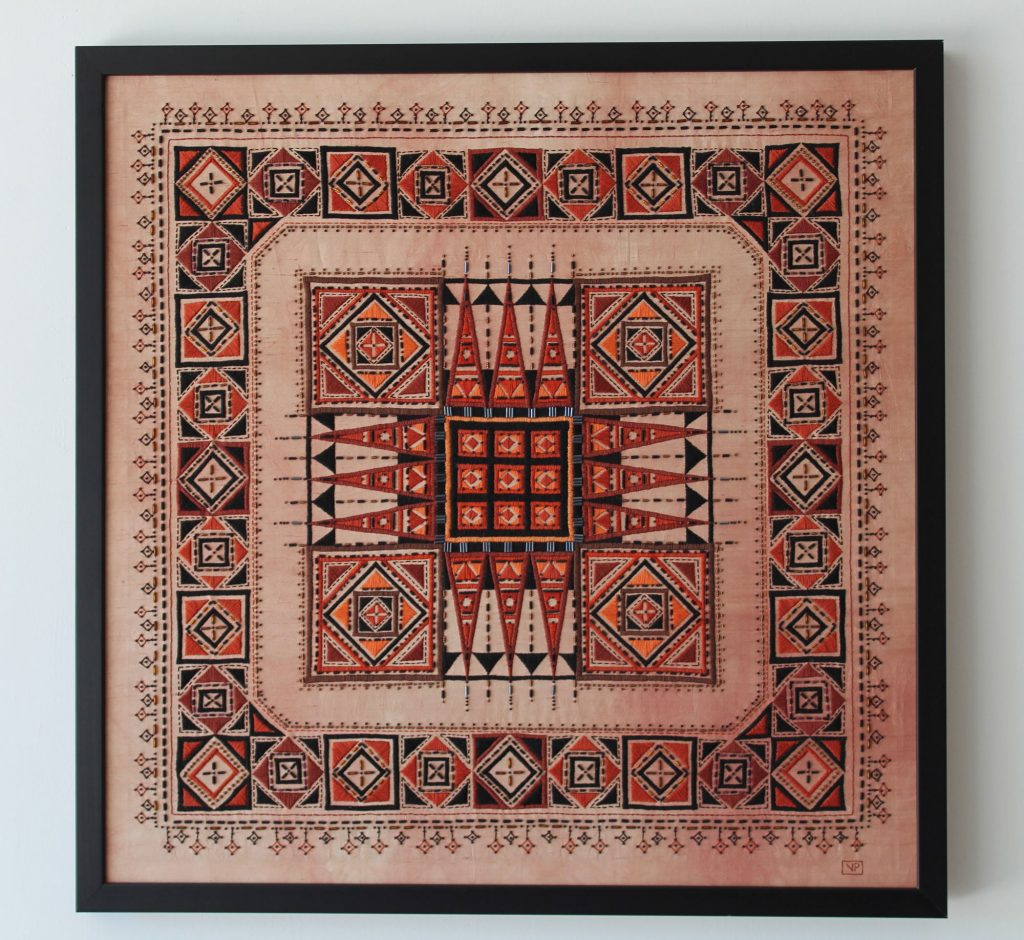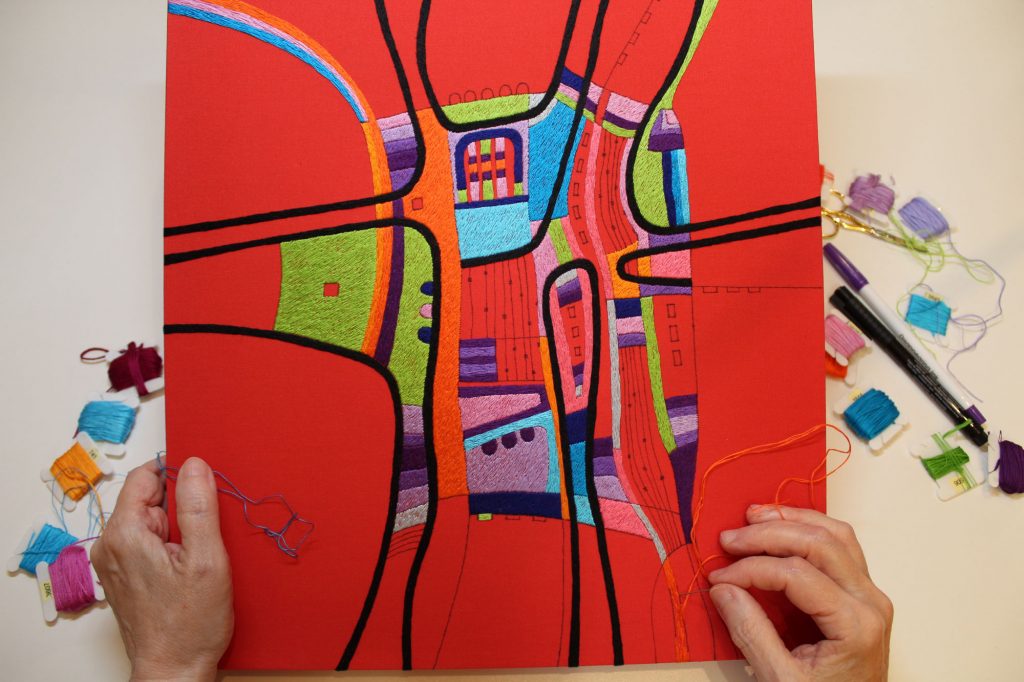 Did you ever study hand embroidery formally?
'My formal education is in architecture. I hold a BS and a MS in architecture. After a very short time working for an architecture firm, I realised that my true interest and calling was visual arts. I studied tapestry for two years in a formal setting at the School of Art in the Cultural and Art Center of Timisoara, Romania. While the school offered a basic education in this field, after years of practice and experimentation I considered myself a self-thought textile artist.'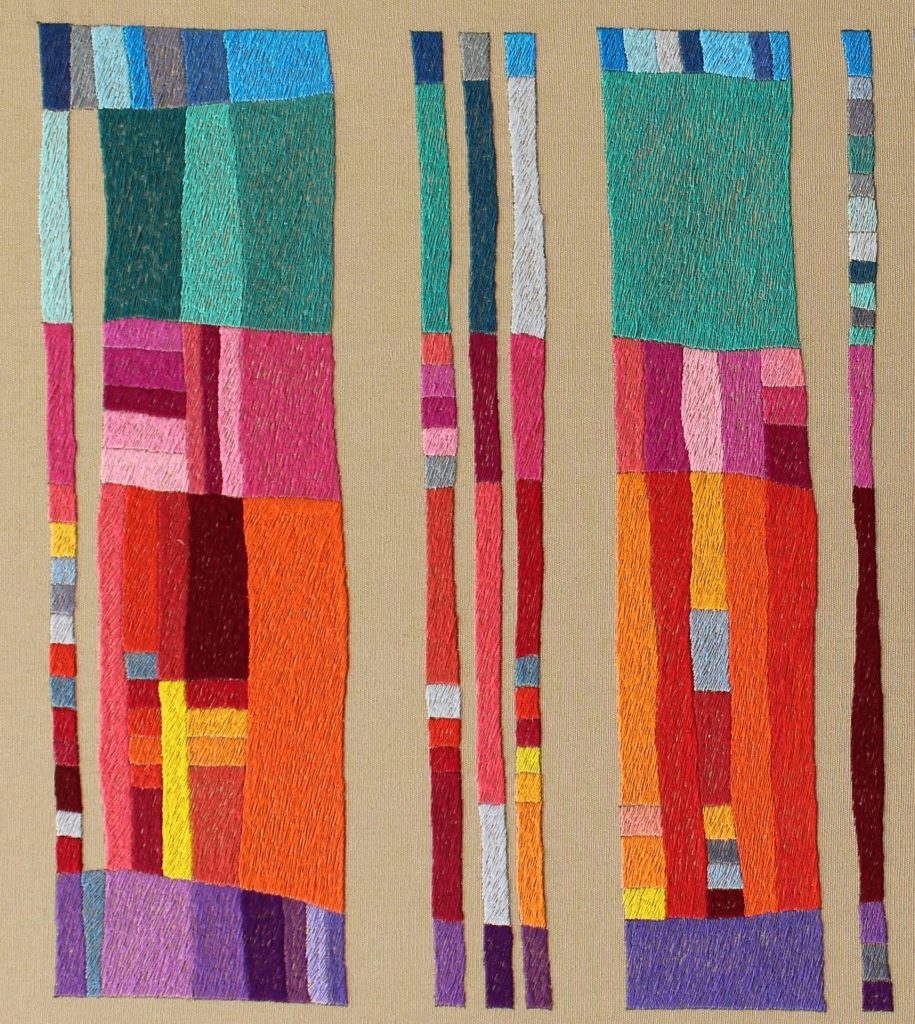 How would you describe your style?
'Over the years, as I evolved through different fields of visual arts drawing was always a steady companion. While I was using my pencils, I noticed that each stroke of colour on paper could be a stitch of thread on fabric but with more impact on the eye giving the work a totally new feel and dimension. That's how I started "drawing with threads".  Many years later, to my delight, I discovered that other artists made the same correlation between pencil strokes and threads. Through trial and error, with each work, I learned from my mistakes, perfecting my technique.'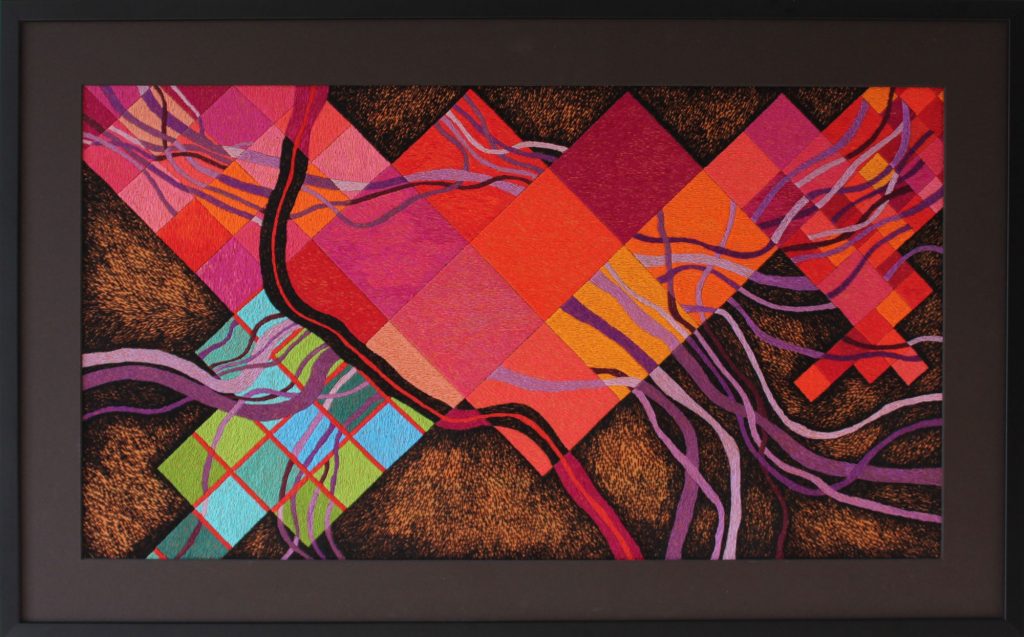 Tell us more about your process for creating your pieces?
'I stretch canvas or heavy silk on rectangular wooden frames to form my blank "piece of paper". A sketch made with a pencil provides the outline of a future piece. As I lay the threads, one stitch at the time, the composition takes on a life of its own, evolving beyond the original sketch, to morph into a work of intuitive creation. To obtain more vibrant shades, I stitch multiple coloured layers of threads on top of each other like I would mix colours for a painting. I'm using the same process to give depth to certain areas, playing with positive and negative spaces.
'Sometimes, a geometric feel dominates and other times I end up with an organic maze like composition.  Colour is the driving force of my abstract art. I have a strong belief that abstract art gives me the most freedom of creative expression. I build my abstract works using the same building blocks that are so well represented from ancestral art depictions to the modern art movements. There are infinite potential combinations of these blocks and when overlaid with colours there are no limits to creativity.'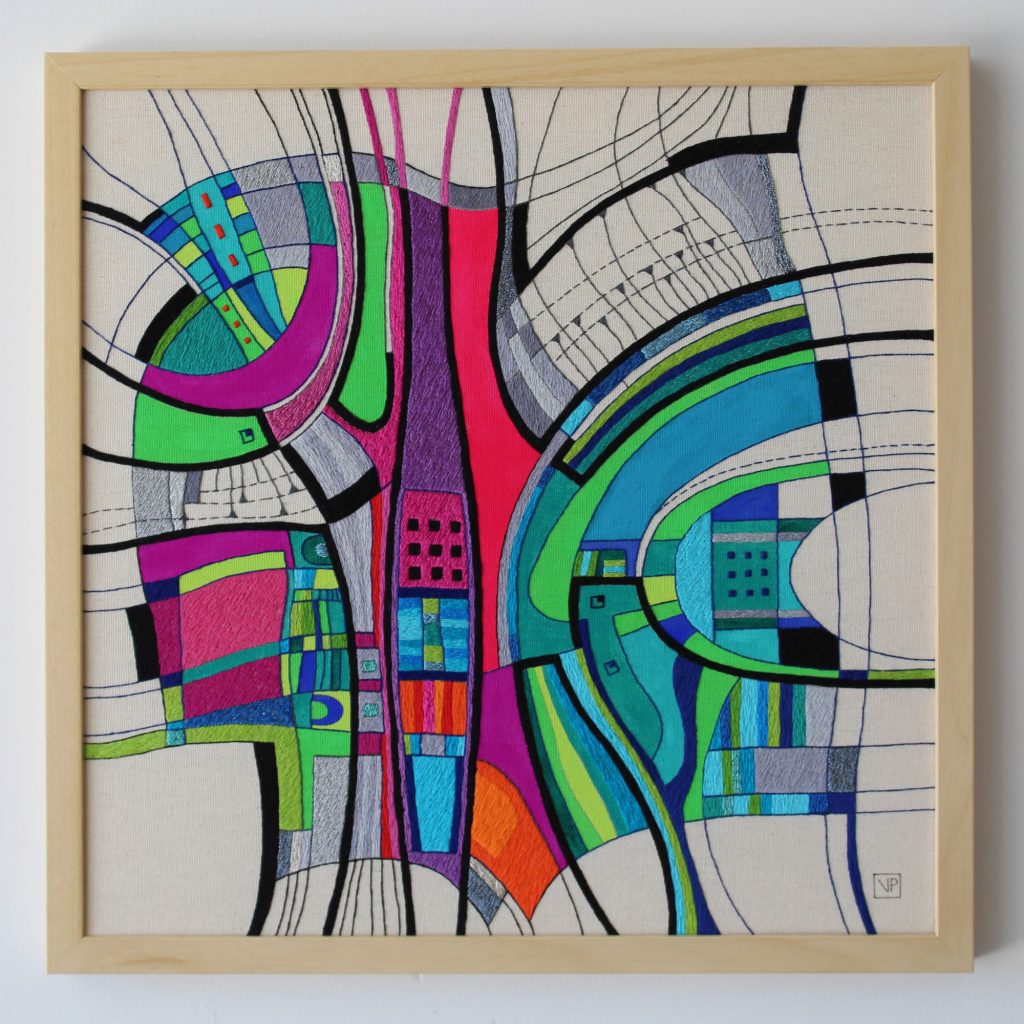 Do you think that your previous work in Architecture inspires your pieces?
'When I decided to study architecture, I designed cityscapes and futuristic buildings but soon realised that they can exist only on paper. After graduating, I returned to textile art, but the geometry of architecture stayed with me to this day. In the beginning, my hand embroideries were more decorative in nature. I used some more traditional elements based on folk and tribal inspiration. As I developed my body of work, I naturally gravitated towards abstract representation of geometric forms in 2D works. Looking at some of my latest works there is less and less resemblance to architecture. I use free interpretations of architecture and cityscape elements in playful combinations and vivid colours. For a viewer who is not familiar with my background the works are just abstracts.'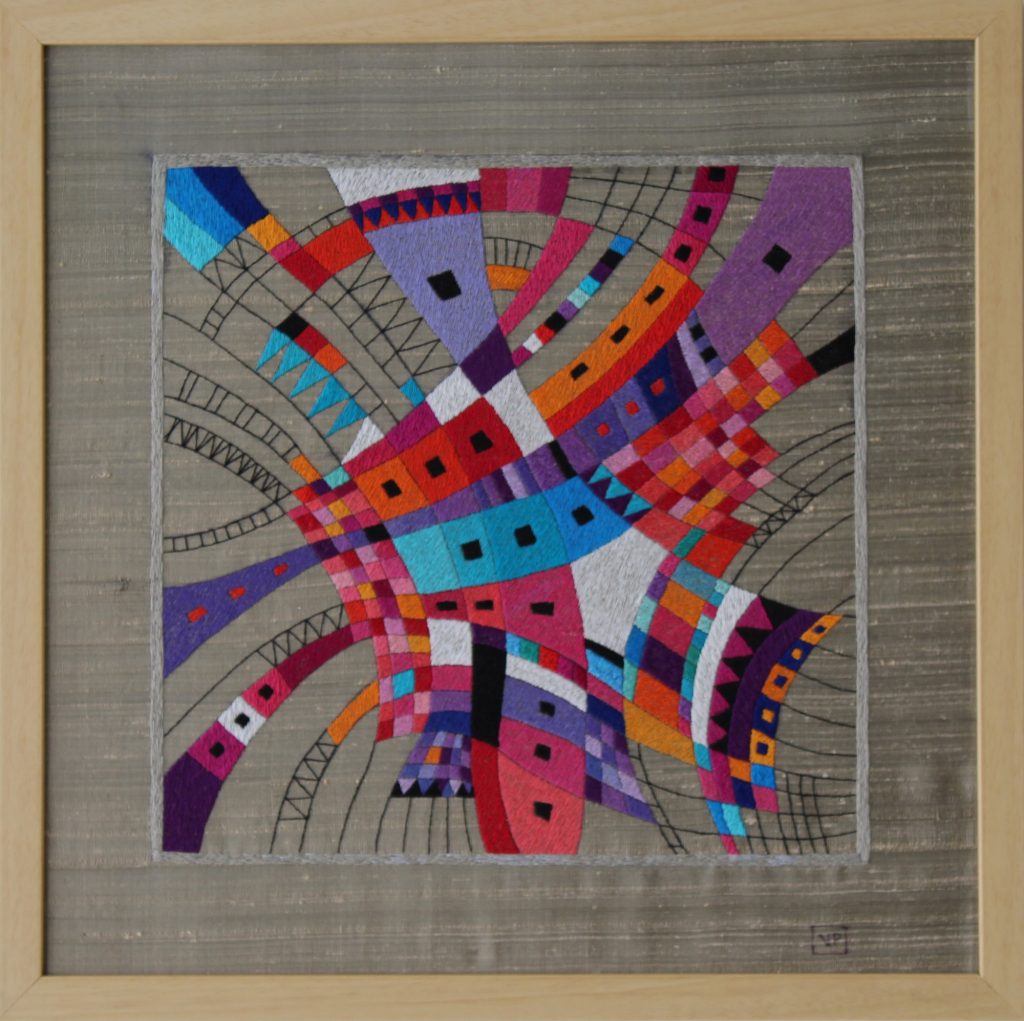 Which artists inspire you?
'As an abstract artist I'm forever grateful to the pioneers of the modernist movements that developed in the beginning of the twentieth century, the avant garde Russian suprematism and constructivism. The Bauhaus Textile School is the cornerstone of my inspiration.
I admire the work of all the remarkable contemporary artists. I often discover these through my infinite reach of social media, particularly Pinterest. For all your students I encourage them to research the following artists: Takashi Iwasaki, Yoshiko Jeneji, Rieko Koga, Junko Oki, Dorothy Caldwell, Aideen Canning, Paula Kovarik.'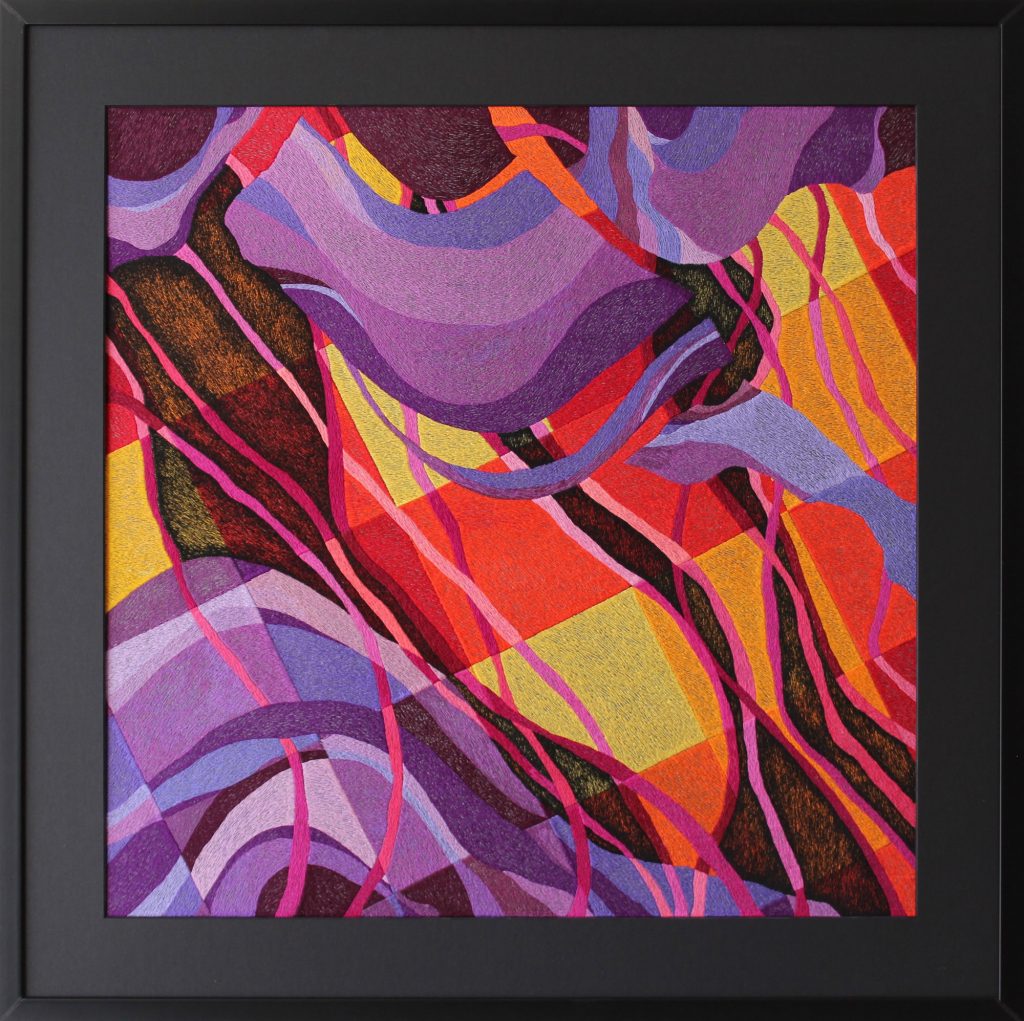 What's your development process for your designs, if any?
'Sometimes, my design starts with sketches on tracing paper. I start drawing geometric shapes connected by flowing lines, not sure how the composition is best balanced and harmonized. I lay a new sheet of tracing paper over the sketch and try variations of the same design creating series of related works. My sketches are black and white.
Lately, I have started to make attempts to colour some areas using pencils, but I have a difficult time matching the brilliance of the DMC cotton threads, so I prefer to make colour choices during the stitching process. Other times, I sketch directly on canvas. I sketch the outline of a composition with a disappearing ink pen that allows me to make changes to the design as the stitching progresses. Most of the time I make changes to the design, so I end up with something quite different from the initial design.
I keep my stitching simple by using clean lines. No rough finishes and no hanging threads and my stitching is very dense. I don't use any particular stitch rather I focus on the outcome that resembles a painting. In the beginning, the entire canvas was field with layers of threads to create vibrant colours, shades and the illusion of depth. In my latest work, I use densely laid stitches to fill small geometric details. These are connected by lines and the composition is balanced by empty spaces. Overtime, I transitioned from relatively muted colours to bold and bright colours using a rich pallet in the same work. Because I use dense stitching and clean lines, a lot of the time my embroideries resemble paintings. Only when closely examined they will reveal their true nature of being made with threads.'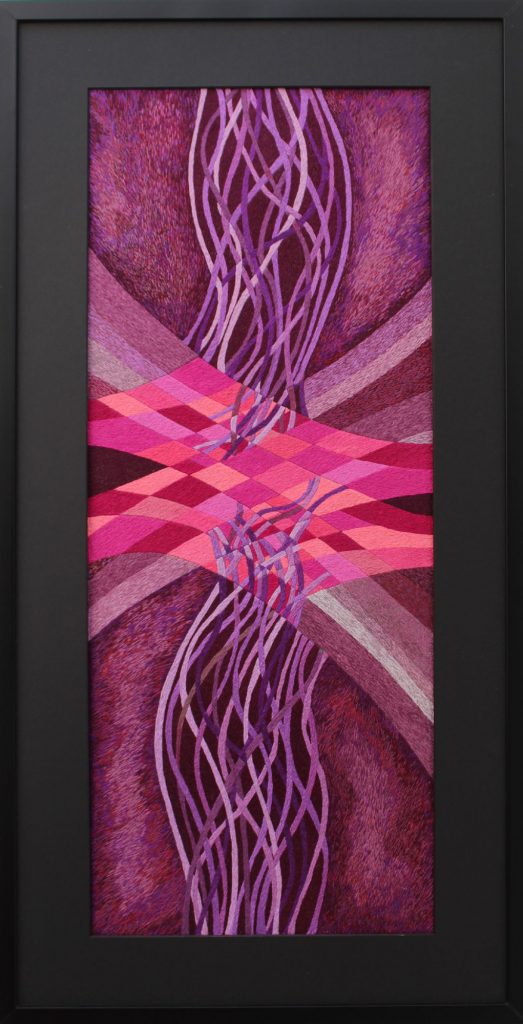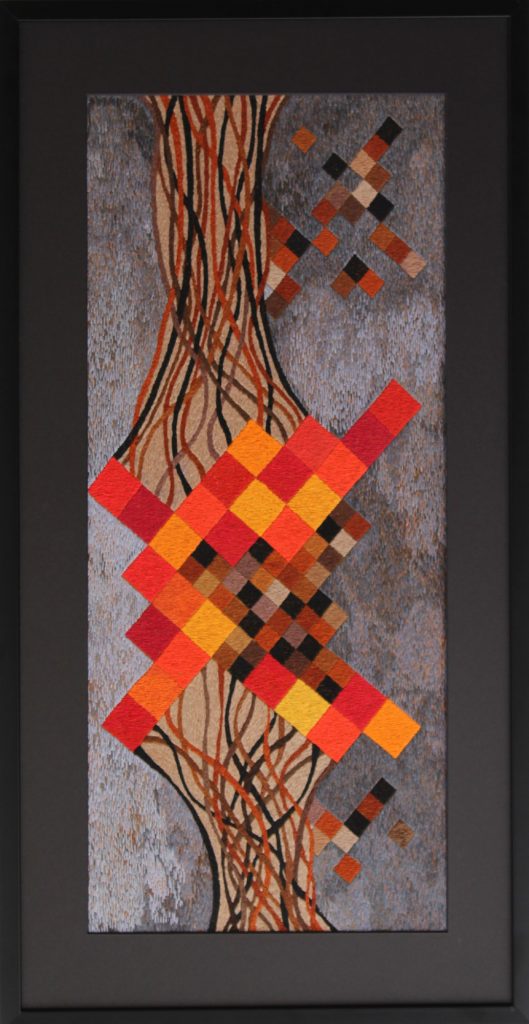 Would you say that your own personal style developed progressively?
'Definitely, it was a gradual process. It started a long time ago when I tried to reproduce designs from old functional textiles. I would turn them into pieces of clothing that led to fashion design. Adding my architectural background and love of drawing into the mix resulted in my current signature style.'
As a textiles artist do you ever have days when you feel less motivated?
'My art is a refuge from the mundane. I never feel unmotivated to work on my art. Quite the opposite – it is my ultimate escape and therefore it motivates me. Creating something that only exists in my imagination into an art piece that I can share with others is my way of staying motivated.'
Do you have your own studio space or a particular place you like to work in?
'I like small, intimate and familiar spaces. Since I was a young mother, I worked on my wearable pieces from home surrounded by my two daughters. Nowadays, my embroidery "studio" is a comfortable chair in my modern living room. Few boxes of thread, organised by colours, two small cabinets for my supply, and a small drawing table is all I need. This complements well my minimalist lifestyle.'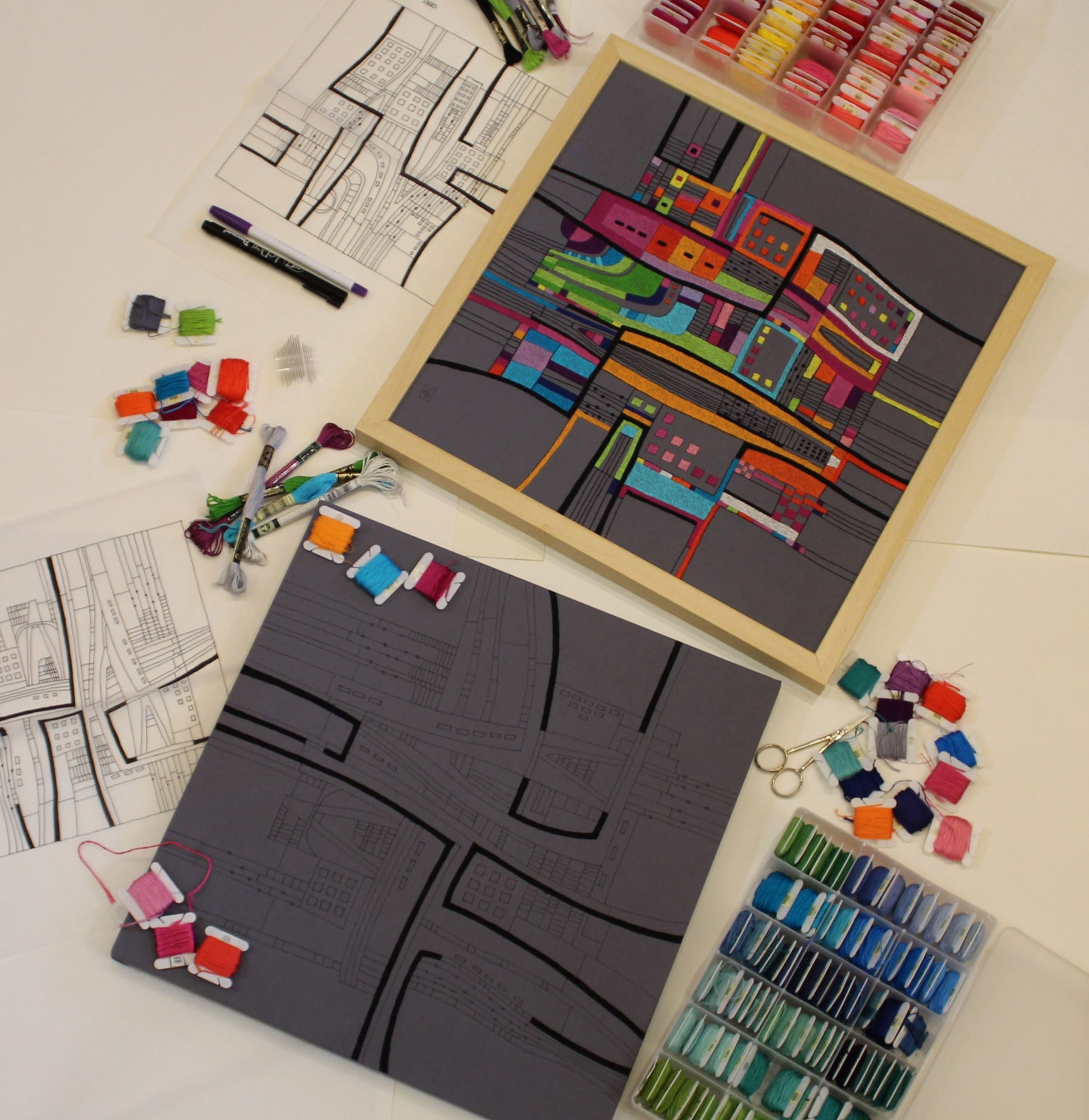 What advice would you give our students on developing their own creativity and style?
'It is difficult to give advice. We are unique individuals with unique desires of self-expression. If stitching feels right for you then keep doing it. I assume your students, like myself, chose this field because they have the same calling inside. I would encourage them to listen to their inner voice and not to deny it. Follow your instinct and create no matter what. Only by doing, trying and failing, experimenting and learning can you evolve and be the best you can be. Don't get discouraged. There is so much creativity around, but there is a place for each of us.'  
Ten of Victoria's pieces have been selected for the World of Threads Festival 2018 which is an international showcase of contemporary fibre art. Victoria also has a solo exhibition in the Corridor Galleries of Queen Elizabeth Park Community & Cultural Center, Oakville, Ontario, Canada – October 13, 2018 to December 31, 2018.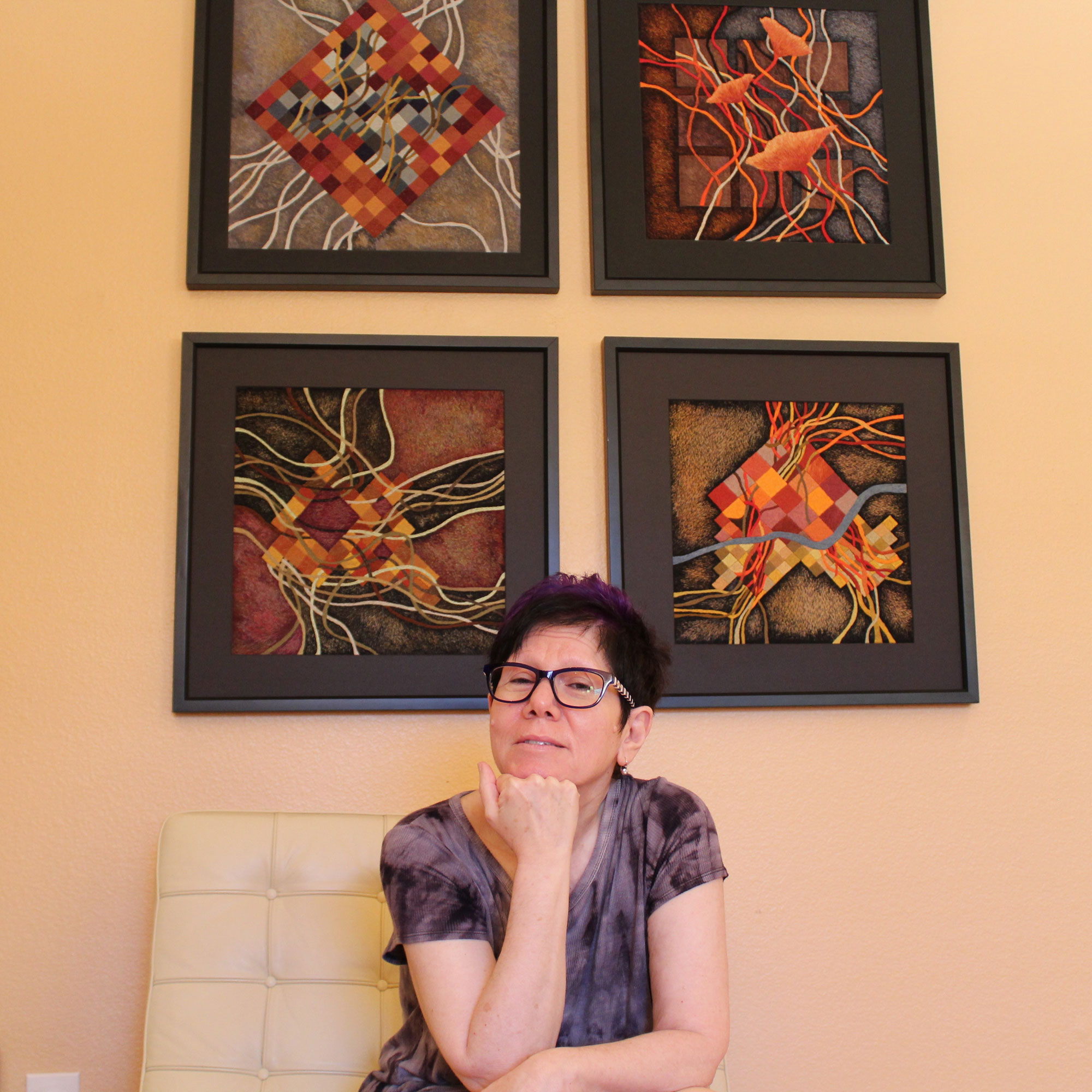 You can find out more about Victoria and view her work by following her Facebook page, on Pinterest or by Saatchiart.
If you're feeling inspired then why not check out our range of accredited textiles courses.