Today, we're going to be hearing from tutor, author and mixed media textile artist, Anne Kelly.
Based in Kent, Anne has trained in Canada and at Goldsmiths College, London to develop her artistic voice. But it was during her Fine Art degree that she began to explore crossing mediums like photography and printmaking, that define her work today.
Anne Kelly's pieces are like tiny exhibits; showcasing her collections of materials, textiles, paper and ephemera. She is well-known for up-cycling and reusing materials to create detailed and intricate pieces that mirror the stylistic qualities of folk art.
As an accomplished artist she has exhibited across the UK and internationally. Anne Kelly was invited to exhibit as a gallery artist at the Knitting and Stitching Shows in 2016 and 2018 and at the Festival of Quilts.
Tell us about the piece you're currently working on
I'm currently reworking a series of pieces in a series originally called '12 Dresses' for an exhibition at Quiltmania, in Nantes, France, in September. They were first shown at the Knitting and Stitching Shows in London and Harrogate in 2017-18 and are based on the forgotten women in my father's family. They are dresses with names of these women embroidered on them. I have altered some of the pieces to include an apron or pinafore with a view of some English towns on them.  They are places with an historical significance connected with the pieces. I like to rework pieces and enjoy seeing the work evolve. It also taps into my ethos of reusing and recycling, see below.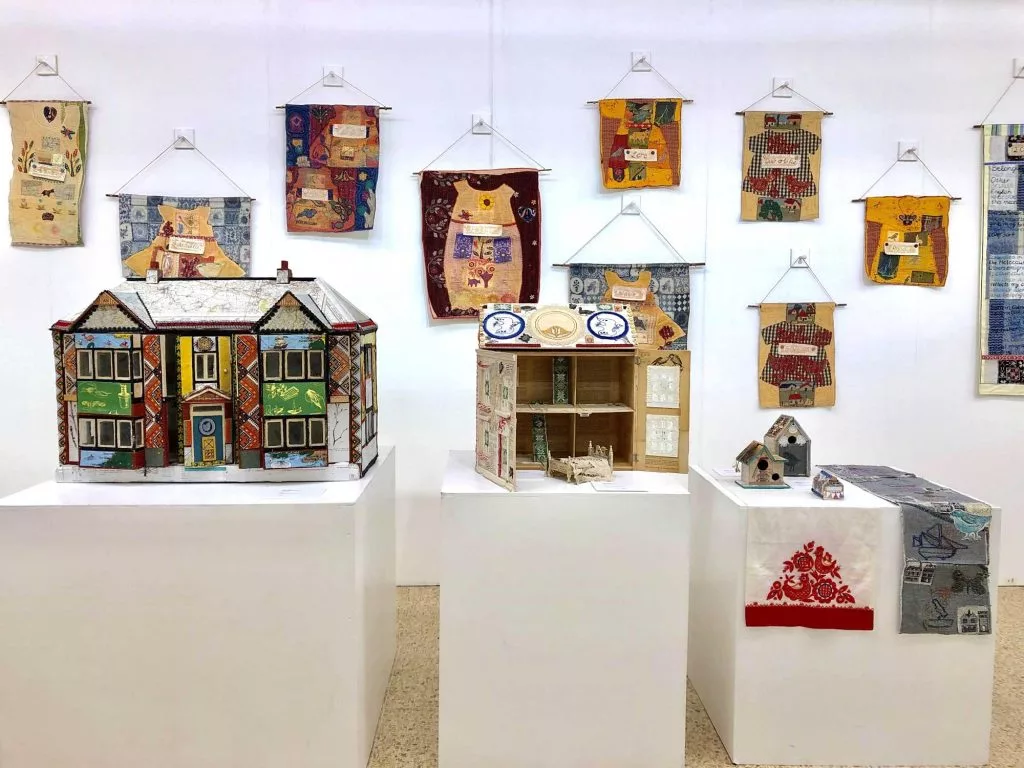 What was your first memory of stitching – who taught you?
I learnt how to stitch from my Mum at home, but it was her mother, my grandmother, who was a real needlewoman. When I was a bored teenager I was sent on a patchwork and quilting course and loved it. Shortly afterwards, I started using her Singer machine on a regular basis. I did a degree in Fine Art but always stitched and did further training at Goldsmiths College in London.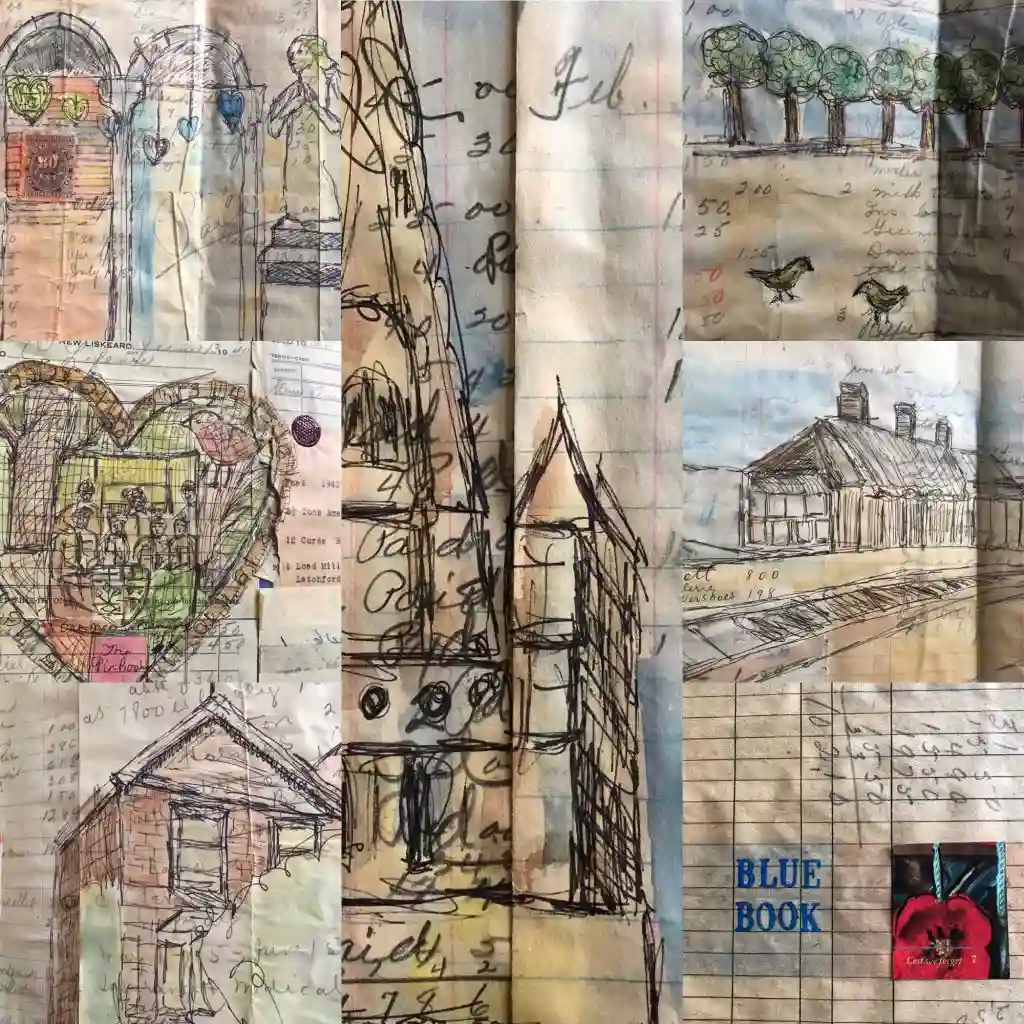 Tell us about the book writing process – it must be so interesting?
The book writing process is interesting and time consuming.
It takes roughly three years to research and source material for the book and write a proposal. A year is then spent producing more research, writing and photographing and preparing work for it. The book is then drafted and takes almost a year to edit and be printed. Many decisions are taken along the way and I have been fortunate to have a great working relationship with my editors at Batsford Press. My latest book 'Textile Travels' is being published later this year. My favourite part of the process is the dialogue I have with contributors and arranging the photo shoot with the wonderful photographer Rachel Whiting. Each of my books are less how-to manuals and more about sourcing inspiration, so the inclusion of different people's work is part of that process.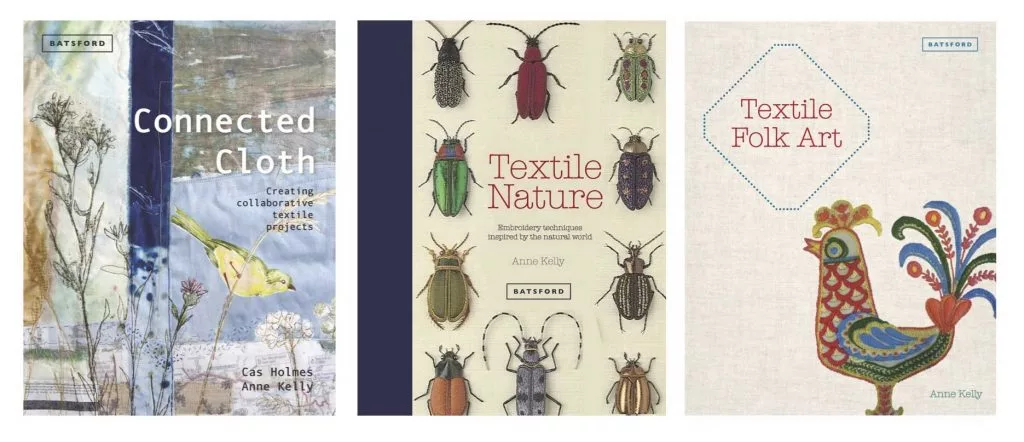 You're clearly passionate about recycling and using it within your work – how do you go about doing this and can you perhaps suggest ways our students could begin to do the same?
I like to recycle and reuse vintage and found materials. There is so much fabric out there we really don't need to buy any more! I like to encourage students to use the best from their collections and items that they find in charity shops. Textiles don't have a long shelf life and will just end up in landfill if they aren't used. I like to combine block printing, vintage elements and textiles with hand and machine stitching to create original and meaningful stitched narratives. I particularly look for old embroidered tray cloths, tablecloths and furnishing fabric. Old linen tea towels, even faded ones, make beautiful backgrounds for working into. Hand stitching and gentle machine embroidery add a textural element to the work and make it feel like one new piece of cloth.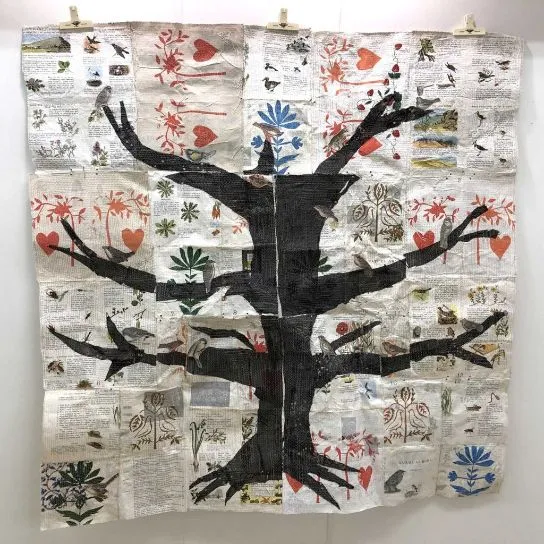 Travel seems to be a strong interest – do you use this as inspiration for your work?
In all of my books I try to reflect my areas of interest and use themes that I use in my work. I feel that it is important to write about areas that you have some experience in and I am fortunate to travel extensively for work and to visit family abroad. I have created work whilst teaching and travelling and always keep sketch books which are sources of inspiration long after the journey has finished. My forthcoming title 'Textile Travels' explores methods of recording and recreating journeys and travel around the world and closer to home.
Often it can be a single fragment of fabric that inspires a whole series of work.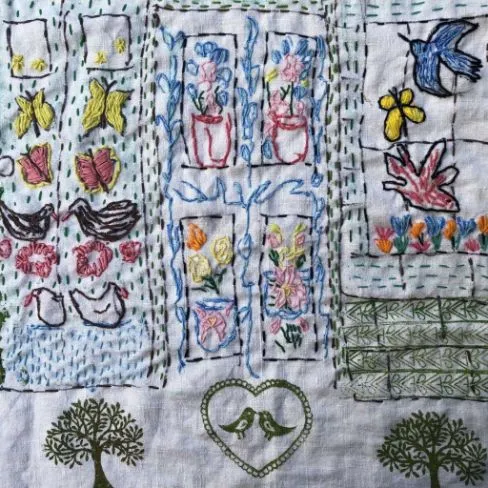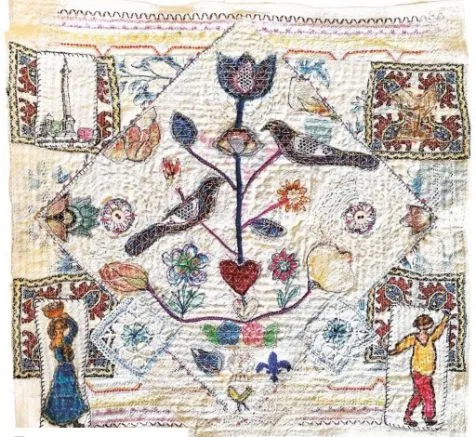 What artists inspire you personally – who would you like to sit next to at a dinner party?
This is a difficult question. Like many other artists, I have been inspired and influenced by many artists and makers during my career. Over a year ago I was fortunate to visit Anna Torma, a Hungarian born Canadian artist, who produces huge hand stitched panels. She lives in New Brunswick, Canada. It was great to see her work up close.
Although, sadly no longer with us, I would have enjoyed meeting Joseph Cornell. Joseph created amazing box constructions from the basement of his house in New York. I love naive and folk art and many of these artist/makers are anonymous but I do love seeing their work online or at folk art exhibitions.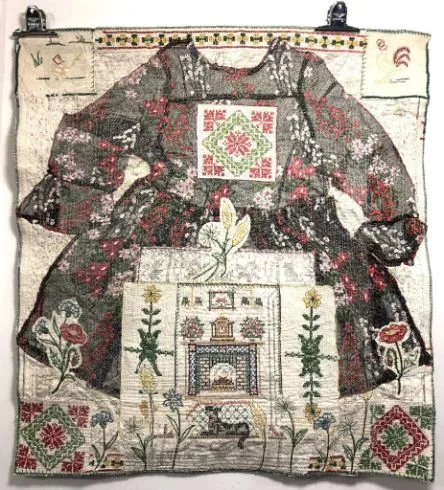 What is next? Do you have exhibitions or new books underway that you could tell us a little about?
As I mentioned previously, 'Textile Travels', Batsford 2020, will be released in October. It is my fourth book for Batsford and I am really excited about it. I think there are many aspects of the theme that will appeal to students and makers alike.
I am also preparing for a major solo exhibition in Wales in 2021. People can read my blog, written with the show's curators. This will be part of the launch events for the book. I have been invited to teach in Australia again in 2021 and am travelling to France and America for work in 2021. It's going to be a busy year!
You can follow Anne Kelly and keep up to date with her latest exhibitions and releases by visiting:
www.annekellytextiles.com archive website
www.annekellyartist.net mobile website
https://annekellytextilesblogspot.co.uk blog
Anne is a member of SEW and the Embroiderers Guild and she is on the Crafts Council Directory.