Since the financial crash in 2009 we have seen so many of our beloved retail stores fall by the wayside. Not only are shoppers increasingly heading online, consumers are attracted to suppliers that offer the cheapest and fastest shipping. Who can blame them! For many owners, this means adapting quickly or 'shutting up shop'. The high street is sadly facing exponential change, but there is a way that we can salvage our independent craft stores and online suppliers.  
We're really pleased to announce an exciting new initiative.  Over the past few months we've been working really hard to establish a brand new directory to support our favourite independent businesses. Before its launch we wanted to tell you a little more about why we've set it up, how it will support businesses and what makes it different to anything else out there. 
The Situation for our Independent Craft Stores.
Over the last decade retailers have worked hard to survive the changes in shopping behaviours. But sadly, the survival of retailers has been further threatened by Coronavirus and the instruction to remain closed. And who knows if the public will have confidence to venture out once things begin to reopen? One thing we do know is that we – as artists, creators, makers and crafters – rely so heavily on the stores that supply our threads, needles, yarn and fabric. 
While buying supplies online is a welcome alternative, you just can't beat visiting a store. Handling the materials and talking to the experienced owners can spark a new idea or pique a new interest. In the UK many of our haberdashery shops have been around for decades, originally established to support homemakers or were born around a thriving industrial revolution. We feel strongly about not wanting to see our beloved stores and this important heritage disappear. 
What can we do?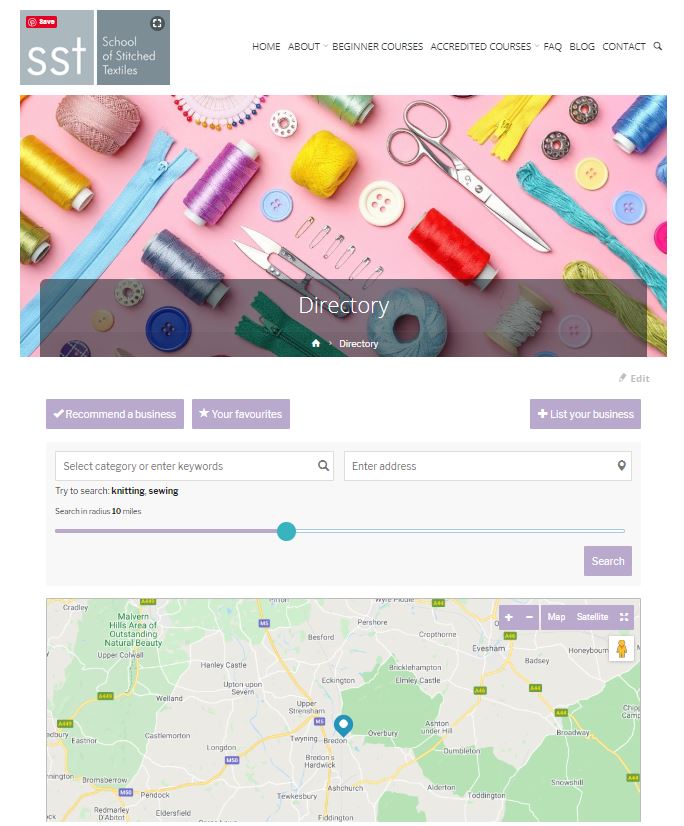 We've all heard of the phrase 'shop local'. Given the current epidemic, maybe this should be changed to 'just shop!' In any case, what we want to do is support our independent craft stores. Why? Because we believe that they have so much to offer. Independent shops provide expertise, a more personal service, and they'll always do their best to stock that really unique yarn you once read about. 
For these reasons, we've developed a brand new Stitch Directory! A dedicated place where users can recommend independent shops and online retailers. The aim of the Stitch Directory is to support independent shops to help promote and support the uptake of crafting and the sale of craft supplies. The aim of this project is to therefore support and promote local stores; highlight their existence and ultimately help them to attract new and returning business.
The Directory will also include a feature allowing you to 'save' your favourite shops, view the shop location on a map and print out your saved list of favourites. Users will also be able to provide reviews and construct their own haberdashery shop trail or crawl!
What makes ours different? 
There are several sewing directories already in existence, however, as the name suggests, these focus solely on areas of sewing, such as dressmaking, quilting and sewing courses. We've created a directory that covers all aspects of textiles. You'll be able to recommend businesses that offer a wider variety of supplies including yarn, knitting, felting and crochet supplies too!  
Unlike other directories, all listings have to be recommended by a customer. Businesses can still add themselves to the directory but the listing won't be as 'visible' until it has received a review, or a seal of approval from our followers.  
Our directory is completely FREE! We will not charge businesses to have a listing on our directory. We simply want to promote independent craft retailers around the world and support these much-loved businesses. 
Another great feature is the ability to create your own 'favourites'. Simply click the heart next to a listing to add it to your favourites. These will remain on your list (if using the same device) when you return. 
What's our aim?
Our aim is to create the most comprehensive user generated Stitch Directory to support makers and independent craft businesses. Eventually, we have plans to include events and gallery exhibitions to support artists with promotion. 
We have plans to feature stores that are added to our directory. We have a rapidly growing online community and a huge subscriber list, so we hope that we can leverage our stitch community to provide the vital support that our shops need. 
The Stitch Directory will be launched in June. Initially, our subscribers will be invited to take part in recommending their favourite shops. Over the following weeks this will be opened up to a wider number of people. So, if you want to support your local or favourite independent craft stores then make sure you subscribe for the latest news.