Shelley Rhodes is a mixed media artist who combines drawing, printing, photography and stitch to create pieces that resonate personal feeling. Her secret? Most of her work is the end result of creating detailed sketchbooks that feel more like visual diaries. 
Prior to embarking on career as an artist Shelley worked as a graphic designer for the BBC and Granada Television, before going on to teach Art and Design in secondary schools. Creating sketchbooks is such an important part of her creative process that she has recently published a book specifically about different aspects of working in sketchbooks.
Shelley currently teaches workshops throughout the UK and abroad. Alongside this she creates artwork for exhibitions.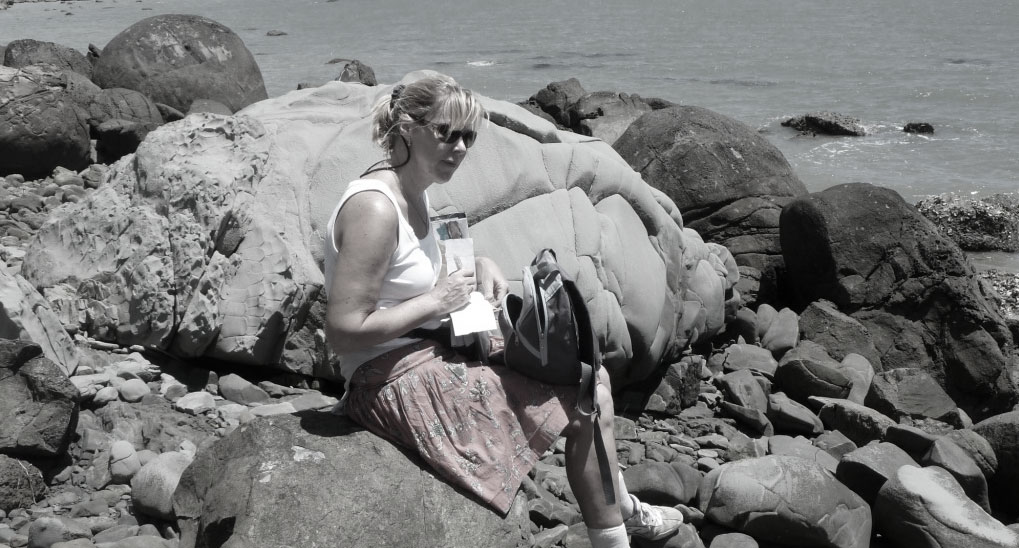 Tell us about the latest project you're working on.
I am continuing my work investigating bleaching and damage to the world's coral reefs. I am also starting to explore the damage that plastics cause to the reefs and ocean life.
I am working towards a new project with the Textile Study Group. It involves recording my working processes as I develop ideas and move towards finished pieces of work. It will result in a publication and related exhibition by the whole group.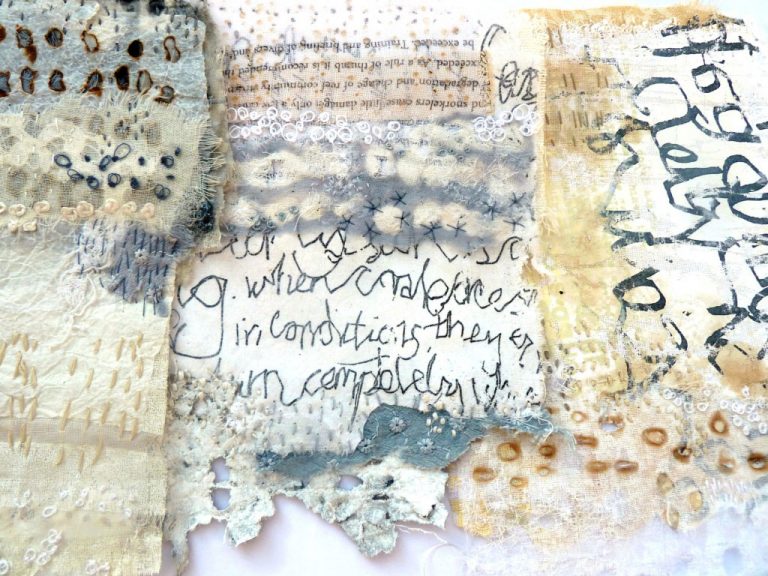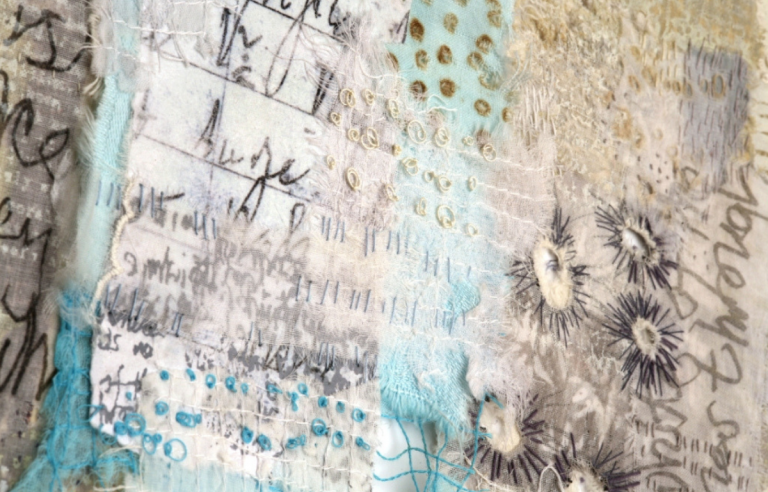 What was your first memory of creating a sketchbook – who taught you or were you self-taught?
As a child I used to love to 'cut and paste'. A favourite activity was chopping up old magazines and making collages. However, I really started working in sketchbooks whilst at art college in the 1980's, when I studied graphic design.  My sketchbooks have changed a lot over the years and developed further when working towards my City and Guilds in Creative Embroidery.  
What's your development process for your sketchbooks, if any?
I usually work in several books simultaneously.  I always have a current 'workbook' for new designs, developing ideas, exploring and experimenting  with material and concepts as I work towards finished pieces for exhibitions. I always carry a small sketchbook (about A6) for my 'one a day' daily creative act. This could be a drawing, collage, painting, stitched sample, arranged collection, manipulated photograph – in fact anything goes. I usually have a couple of other ongoing sketchbooks. For example at the moment I have one with black paper, one specifically for recording marks, patterns and shapes related to my ongoing coral project and another for exploring and experimenting with text, gestural and asemic writing.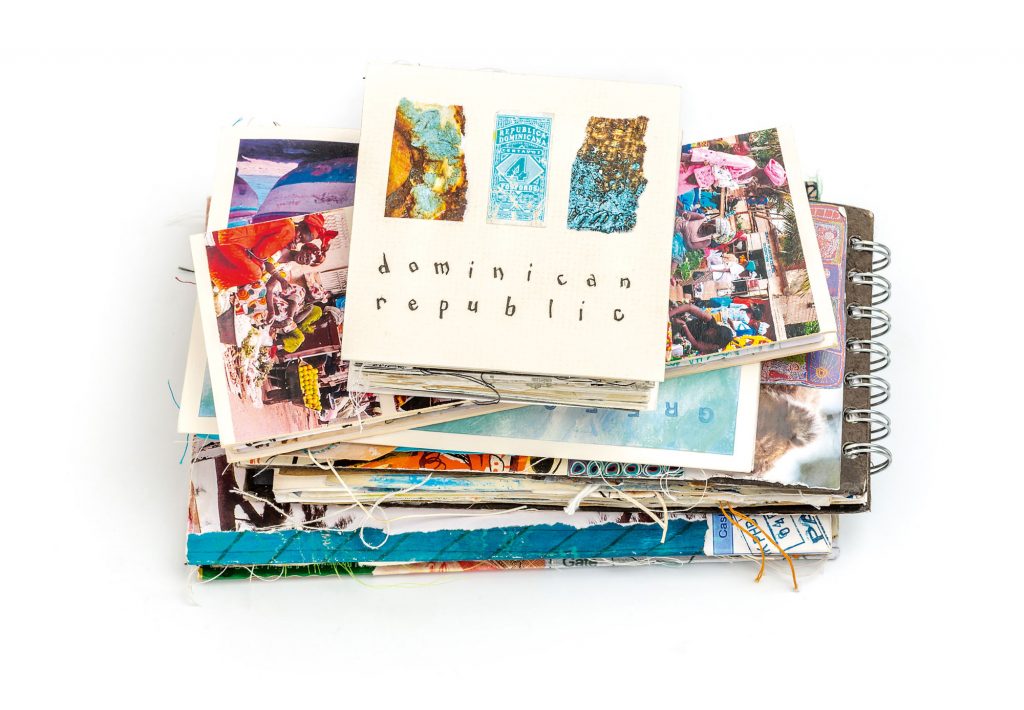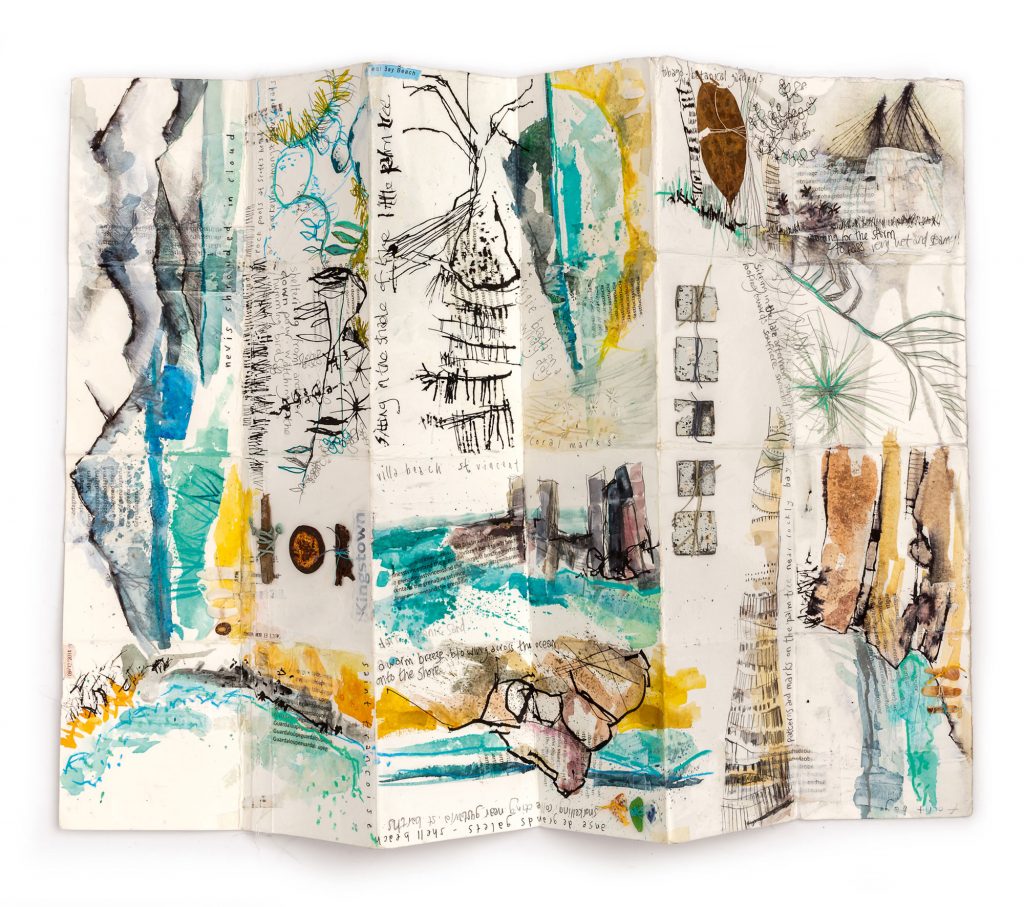 How did you develop your own style and inner voice? Was there a defining moment for you or was it a gradual process?
This is definitely a gradual process. Developing your own style takes place over many years.  In fact, it is an ongoing process. One never stops developing, adjusting, figuring out what works as well discovering new approaches and  taking risks.
Do you see your sketchbook work as an end in itself or as part of a larger design process?
I use sketchbooks for developing work as well as an end in itself. My workbooks are definitely part of a larger design process, whereas on the whole my small travel sketchbooks are created for my own pleasure with no real intention of development.  Occasionally, I use the book format for exhibiting.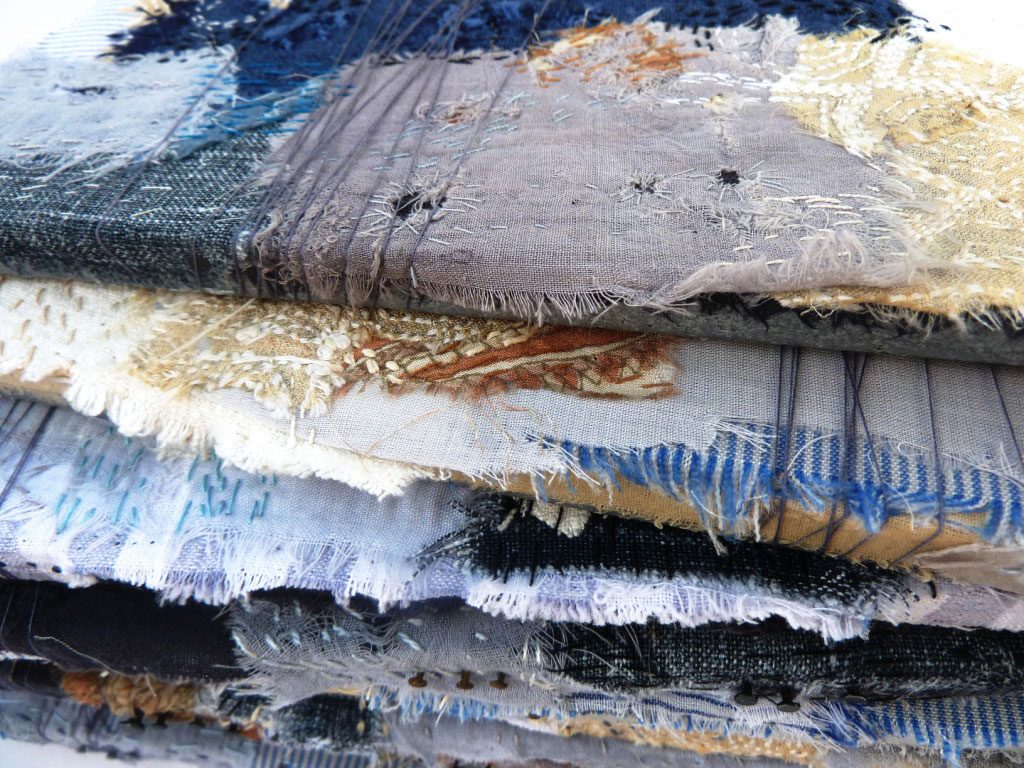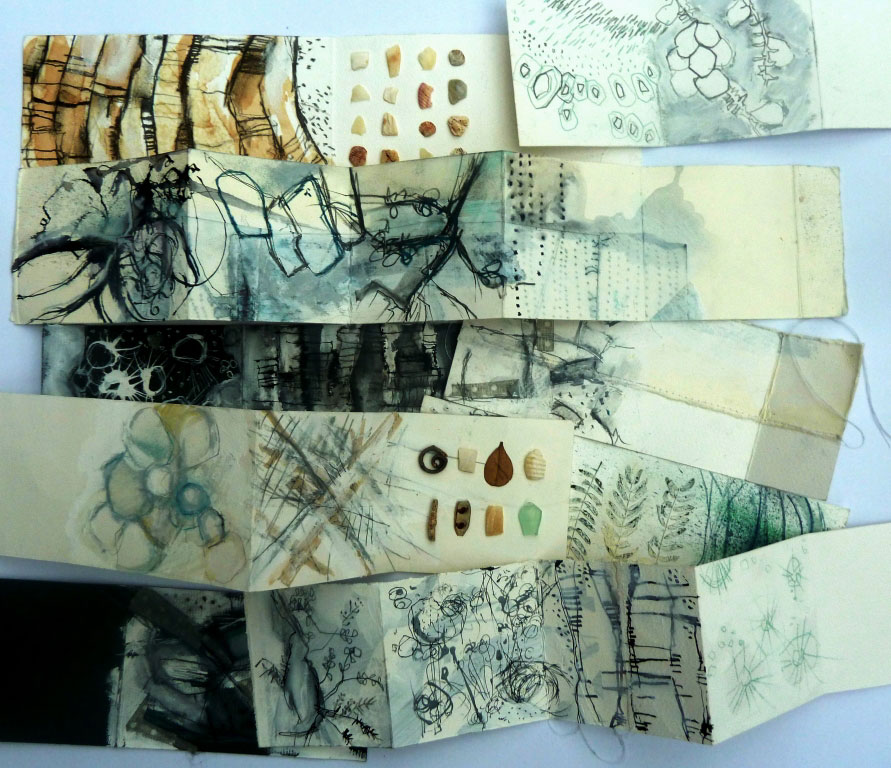 How do you decide which designs to develop further?
I love drawing, designing and working in sketchbooks so I often have too many ideas and designs to take forward and develop further. Sometimes I could just quite happily continue to play, experiment and explore. So I usually start sampling and pin the samples up, then use my instinct to decide which ones to develop and work on further.
What has been the highlight of your career so far? 
I was thrilled when I started working for the BBC and remember being very excited seeing my name on the credits for the first time. However, having my book published has been a definite highlight. It seemed like such a daunting task and I still have to pinch myself to realise that I actually did it. Much of my work in 'Sketchbook Explorations' was never created to be shared ie my travel books, small sketchbooks and workbooks but seeing them in print is definitely a career highlight.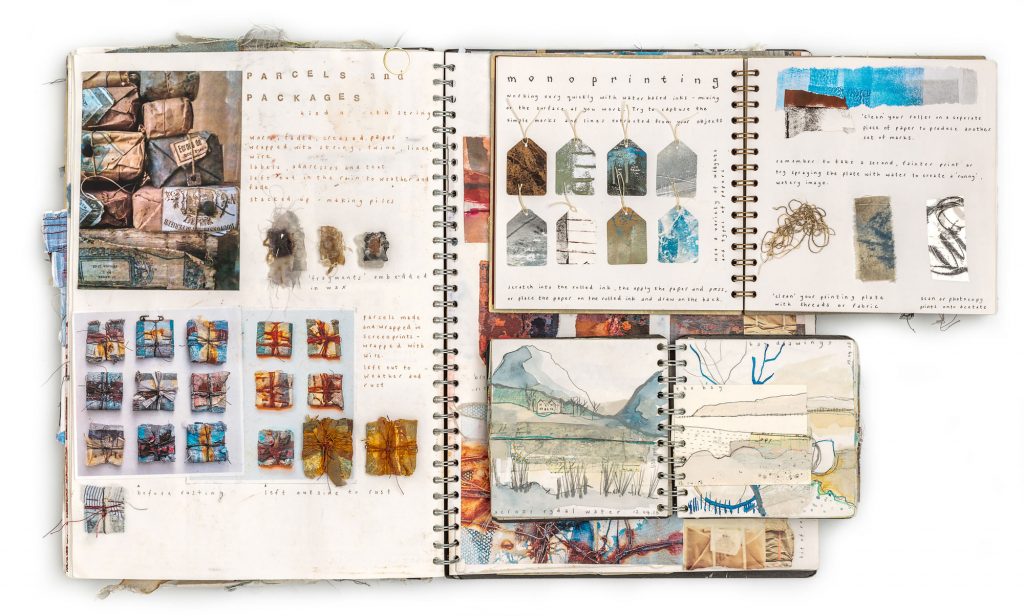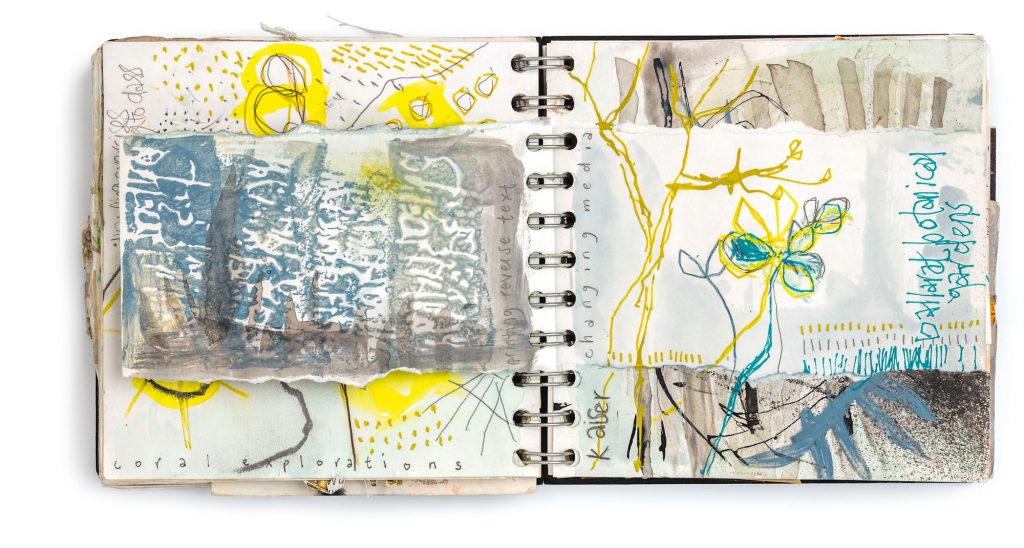 You possess a great deal of creativity; do you think that creativity is something that can be taught or nurtured? 
There are so many ways to be creative and I think it is a matter of finding a way that you enjoy and suits you. It could be through drawing, stitching, collage, journals, painting, photography, words – this list goes on and on. Of course all these things can be combined, which is how I like to work. Skills can definitely be taught and a good teacher will inspire you to want to investigate further, experiment, explore, take risks and find your own way of expressing your creativity.
How do you keep motivated to keep a visual diary on a regular basis?
Actually setting yourself the challenge of creating a daily visual diary is a great starting point.  Some days are more difficult than others, mainly due to a lack of time or opportunity. A number of years ago I worked in my sketchbook consecutively for about 4 years. Then I thought I would have a break and decided to just work in it every few days rather than every day. It was fascinating how days would slip by without me working in it and I realised sometimes a week had suddenly passed. So I think having a daily challenge really just makes you do it. Even if you can only spare 10 minutes a day, get into the routine so that it becomes a habit.
Which artists inspire you personally?
I am inspired by the mixed media work of Robert Rauschenberg and Hannelore Baron.  I particularly like Barbara Rae and Kurt Jackson's sketchbooks. Also, I love the gestural writing of Yves Leterme.
What advice would you give to students who are undertaking courses with us? They often struggle with drawing and design work and with the link between design and craft.
I would suggest than rather than trying to draw an object start with extracting marks, patterns, shapes, colour or texture. There are lots of little tricks that can help with loosening up and getting started such as drawing with your non-dominant hand, drawing continuously without taking your pen off the page and drawing without looking at the page. I also find working at speed can help. You could try setting an egg timer and doing a series of 3 minute drawings.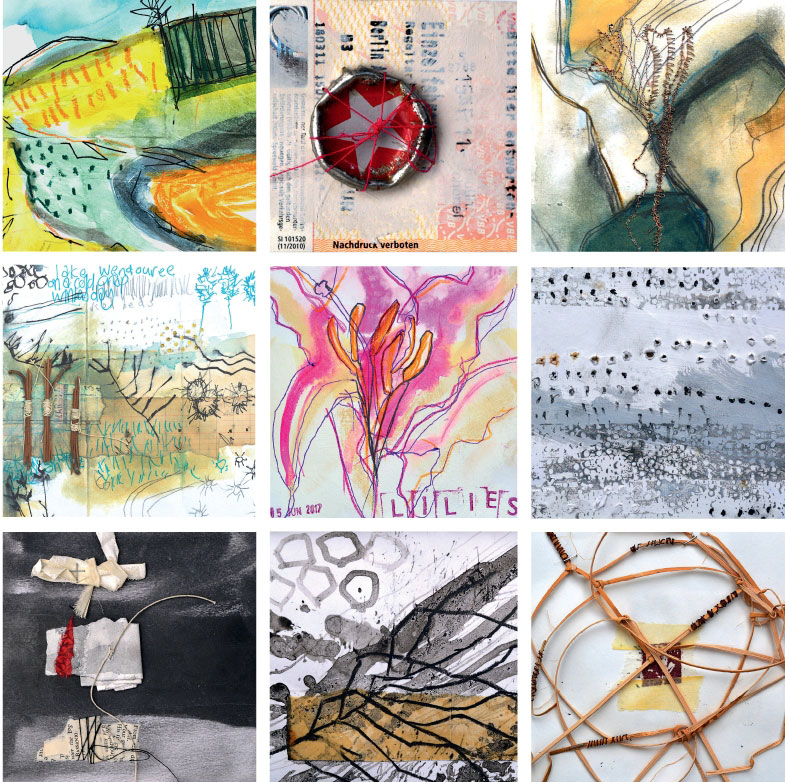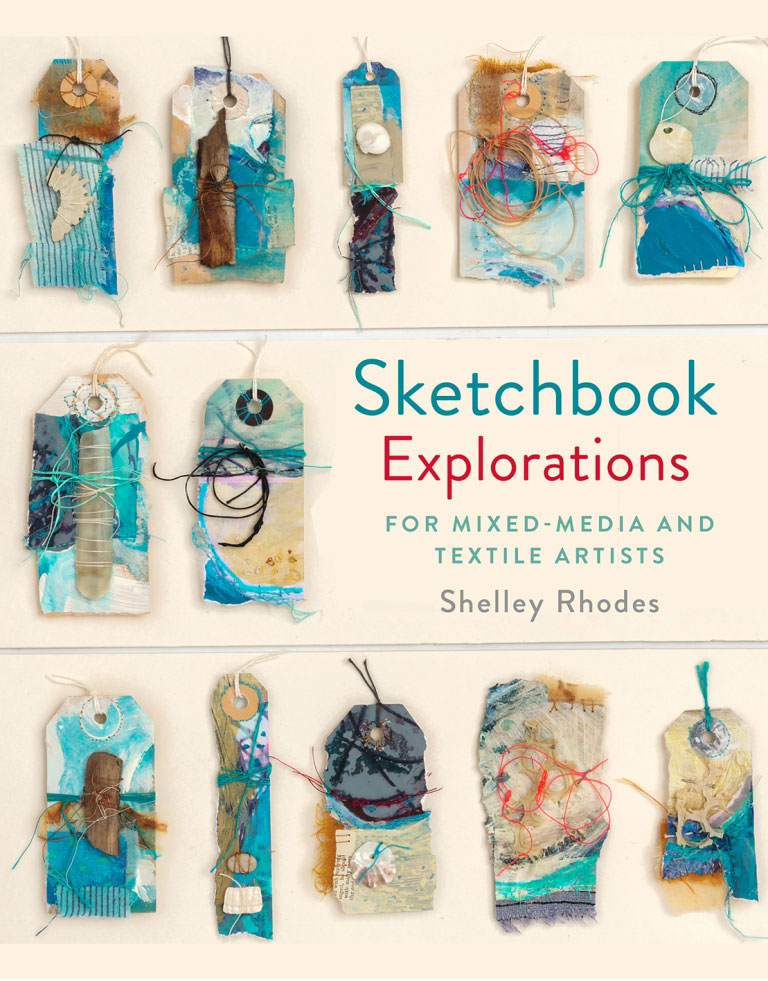 Shelley's latest book is practical and inspirational guide to help embroiderers and textile artists make the most of sketchbooks to inform their creative work.
She shows us how how a sketchbook can act as an illustrated diary, a visual catalogue of a journey or experience or as a starting point for more developed work.
Whether out on location or in the studio, Rhodes explores every stage of the creative process, from initial inspiration to overcoming the fear of a blank page, manipulating paper and images and incorporating `found' objects to build a sketchbook that is both beautiful and inspiring.
Sketchbook Explorations is the ideal companion for everyone from the beginner to the more experienced artist looking for exciting techniques to expand their repertoire in mixed media. 
You can purchase Sketchbook Explorations published by Batsford from Amazon – It's out now. You can also follow Shelley on Facebook, Instagram or visit her website for more details. 
Feeling inspired? Check out our City and Guilds accredited courses.
photographs by Shelley Rhodes and Michael Wicks.