We were recently approached by a student from Dartford Grammar School for Girls, asking for an interview. Not normally one for giving interviews we were admittedly hesitant at first. However, Neve Wilson had entered a competition with Young Reporters and won! Her prize was to interview our Head of Centre, Gail Cowley. It's such a great piece and does such a fantastic job of explaining the history of the School of Stitched Textiles that we thought we share it with you.
We also wanted to use this timely opportunity to support Neve and other young women on this very special International Women's Day. Because of Covid 19 young people in particular have additional challenges to face. We're so glad that as an organisation that supports all women to fulfil their full potential that we are able to share her piece with you.
Happy International Women's Day!
By Neve Wilson
The School of Stitched Textiles (or SST) is the UK's largest provider of distance learning textile courses, most of which are City & Guilds accredited. It is based in Ormskirk, Lancashire, but provides remote textiles education to people across the world. I interviewed Dr Gail Cowley, the Head of Centre at the school, to learn more about it.
My first question was about what the School of Stitched Textiles does. "We deliver distance learning in textiles related subjects like crochet, hand and machine embroidery, knitting, patchwork and quilting," Gail said. Other courses include stumpwork, goldwork and applique. "There is a whole range of different courses at different levels. Skill Stage 4 is equivalent to a diploma."
Gail also told me about how the school began. "Around 1998, a couple of students moved away from an in-person class I had been teaching and I said 'look, I will write some modules for you so you can continue.' It grew into a small business". She is still very active at the school today. "I'm the Head Of Centre and I founded the school," she explained to me. "Now I have eight tutors who look after individual students. I do a lot of organisation and thinking about what's coming next, like developing an online gallery for exhibitions."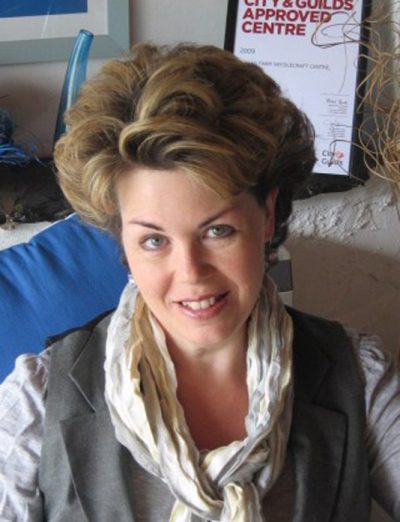 These courses can be completed from anywhere, and the fact that students come from different countries is a testament to the excellent reputation of the school. "Most of our students come from the UK, but about a quarter come from countries like Canada, Germany, New Zealand and Australia," Gail explained.
The School of Stitched Textiles is also set apart by its accessibility. "You don't need any prior qualifications. There are four enrolment days a year, and we take in the first 25 students on that day as well as about 25 existing students." Courses require commitment, however. "The Skill Stage 2 courses take around a year with 4 modules, but Stages 3 and 4 have 12 modules and take around two years. We also have master practitioner courses for people who have completed the Guilds Stage 4 and we certificate them ourselves." She also added that "there are a range of video courses called the Creative Classroom, just for beginners who want to get better".
One of the most important questions I had was about the content of the courses and how they are taught. "Course modules started off as text based and would be printed off and sent out." With the development of technology, "now they are digital, written instructions, images, galleries and videos". When students join the course, they are put into a private Facebook group where they can talk and share their work, even if they are from different corners of the world. People work at their own pace, and some students take longer than others to finish their courses. "People can extend their courses by six months in certain circumstances," Gail reassured me.
Course graduates have gone on to participate in a wide variety of activities and vocations. "There is a graduate story area on our website with stories from people who have gone on to do things like theatre or costume design. One person has become a demonstrator on TV, somebody has set up her own business importing scarves from India and embroidering them before selling them on. Graduates have had commissions and books printed."
This appears to be one of the best parts of the job. "It's a lovely feeling from our point of view, it's the best feeling in the world." Once students have graduated from their courses, they receive a certificate from City and Guilds and the school themselves to recognise their achievement.
The coronavirus continues to impact life as we know it. In the rare case of the School of Stitched Textiles, however, it has had a mostly positive effect. "Individual tutors will have struggled in some cases but in general as a business we have been very positive. There have been higher enrolment numbers and students who have been furloughed have been able to spend more time on their coursework."
Some talented prospective students cannot afford to fund their studies, and Gail acknowledges. "We wanted to be able to reach out to people who weren't able to pay the fees. We issue 6 funded places a year and that will increase this year because we have two new bursaries for distance students." She also outlined how this process works. "People are asked to submit a bit about themselves and photos of their work, the tutors make a decision for the best people to put forward, then we put it to our followers on Facebook and ask them who they think should be awarded the bursary."
The School of Stitched Textiles clearly has a bright future ahead, and I was eager to learn about two projects Gail is working on at the moment. "If you stand still too long it's not a good idea," Gail told me. "We're working on the online gallery so we can show off our students' work online and we'll be giving awards out for that." She also spoke enthusiastically about her other project, the Stitch Directory. "We're trying to raise the profile of needlework shops across the country, as recently we've seen lots of traditional needlework shops gradually disappearing. We've taken an area of the site called the Stitch Directory where people can advertise their shops. We have about 160 at the moment and we want to encourage our students to use them. When I was doing my City and Guild course, it was such a great thing to go into a local shop and speak with somebody who knew what they were talking about and get their expertise. All that is disappearing and we're trying to do something to stop that."
Distance learning is a relatively new concept for most of us. The School of Stitched Textiles offers us a unique perspective as a school that has always taught remotely. It serves as a great example for people wanting to learn new skills or develop existing ones, no matter what they are.