Cheshire-based textile artist, Nikki Parmenter creates texturally rich mixed media pieces. They explore her fascination with mythology, legends, ancient societies and visual iconography. Influenced by her husband who trained as a sculptor, Nikki's work is nearly always 3 dimensional. Her birds showcase features that stretch out from the canvas, her frogs proudly display their rough, knobbly texture and some pieces are complete architectural structures.
There is so much to explore in Nikki's pieces. The textures, vibrant colours and free motion embroidery are all individually brilliant.
To find out more we caught up with Nikki Parmenter to quiz her about her work, influences and style and to find out when we can next see her work on display.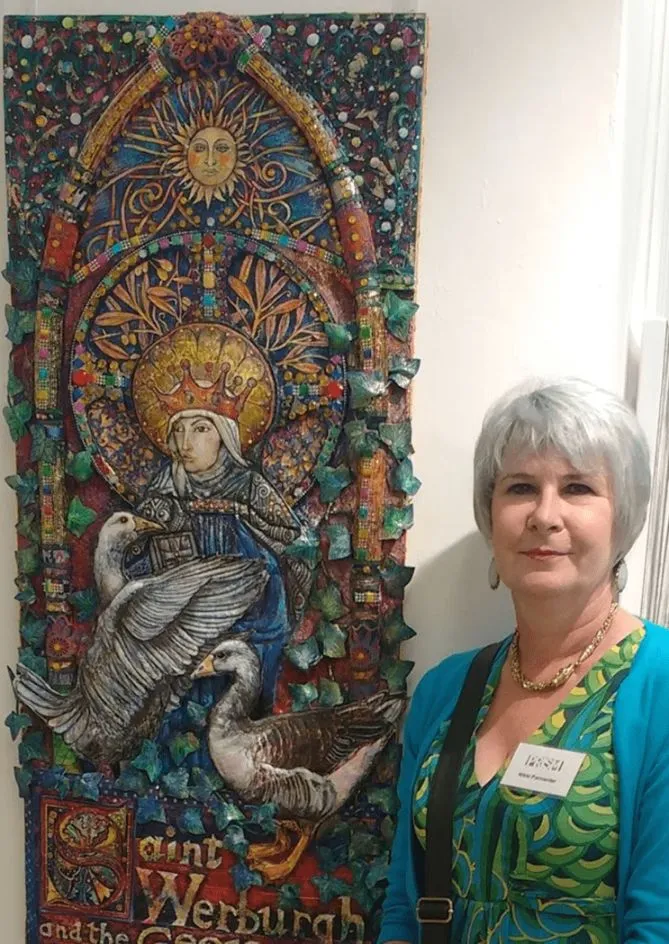 "I tend to look at objects with a view to thinking how I could incorporate them into a piece of work, so a trip to the most unlikely places often leads to some unusual purchases."

Nikki Parmenter
What are you currently working on?
At the moment I'm working on several pieces which are all in various stages of completion. These are "The Conference of the Birds," a 7ft x 5ft wall piece which is the second image in a triptych which will be displayed at Chester Cathedral in June this year. They are part of an exhibition by Textile 21, "Odyssey," which responds to the Cathedral's chosen theme of journeys. 
The triptych is inspired by poetry, religion and symbolism. The first wall hanging is inspired by a verse from W B Yeats' poem of the same name. The swan flies from this image to the second, "the Conference of the Birds," which is a 12th century Persian epic poem describing the journey of thirty birds who go on a spiritual quest to find enlightenment. They seek the Simorgh which is a mythical bird which lives in the Tree of Life, and they find him in the third image.
A similar sized wall hanging, "Sedna," also awaits the final stages of assembly. Based on an Inuit myth, this piece is inspired by the engravings of German zoologist and evolutionist Ernst Haeckel. His beautiful engravings are incredibly intricate and were recognised as a "marriage between Science and Art." The myth details the sad fate of Sedna whose father wanted to be rid of her so he took her to sea in his kayak and threw her overboard. When she tried to climb back onboard he cut off her fingers. These became sea creatures and Sedna herself became a powerful Sea Goddess. The work is abstract in feel.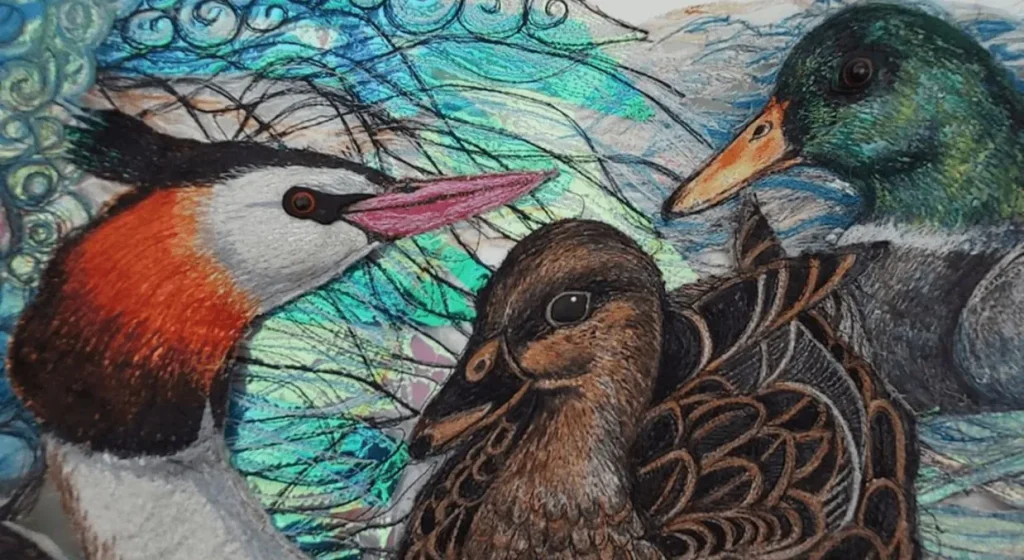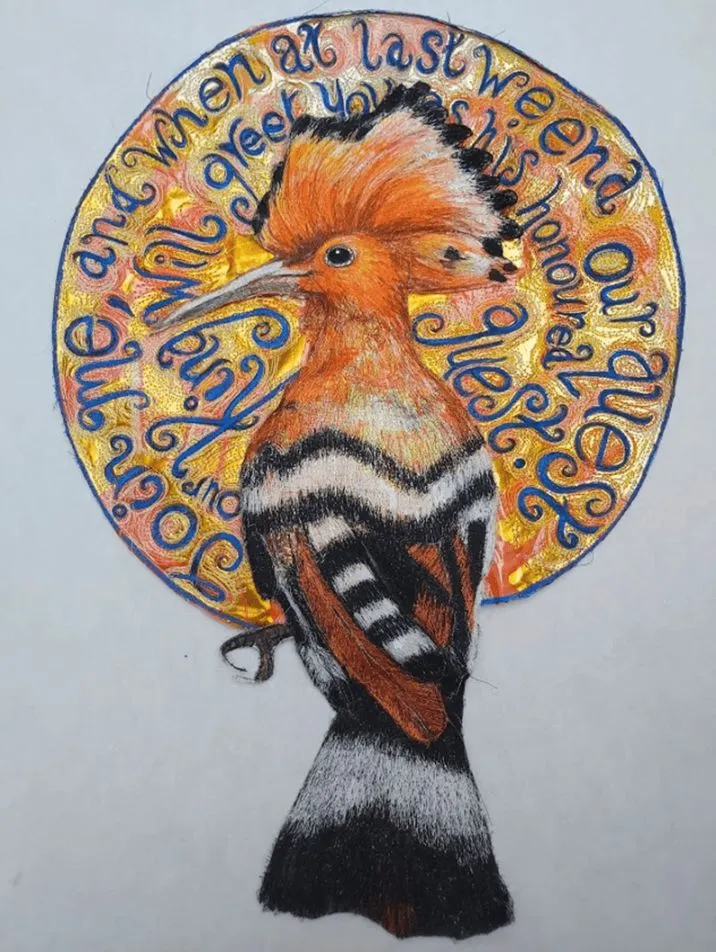 My house is modest in size and the two pieces will need to be a laid out on the floor for several hours while I attach all the elements together. The reason that the work remains unfinished is because my 10 month old puppy has a penchant for stealing my artwork and running off with it!
The final "in progress" work is a sculpture based on tulipieres, which originated in Europe in the 17th century. These tall blue and white vases had cylindrical openings where exotic flowers could be displayed. My "Flower Power Tower" was made for an exhibition "Floralia," which was shown at Gawthorpe Hall in 2021. It consists of a series of six boxes of decreasing size which stack one on top of another. For storage purposes they stack on inside the other like Russian dolls! Each side is decorated with a reference to a piece from the Gawthorpe Textiles Collection or to some other floral aspect. The flowers in the vases are all made using recycled plastics and the vases are plastic bottles. I am currently making a rather beautiful blue parrot which will perch on the top of the tower!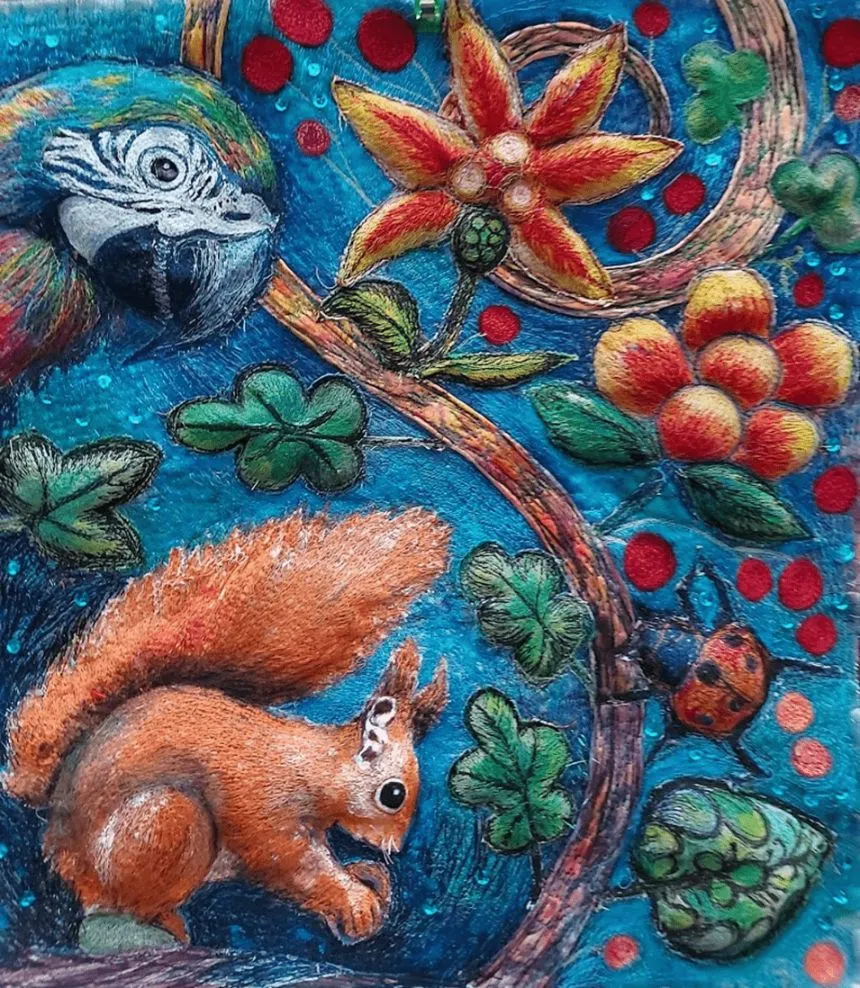 How did you first become interested in stitch and what evolution has taken place in your work over time?
I spent many years working on paper but eventually became dissatisfied with working on a flat surface. Encouraged by my husband (who trained as a sculptor) I started to experiment with MDF in order to achieve a more robust structure. I produced many increasingly large artworks which became almost too heavy to lift. Also, I was unhappy with the rigidity of the wooden surface and so decided that I needed to change direction. Two books were particularly inspirational: "Paper, Metal and Stitch" by Maggie Grey and Jane Wild, and "Fusing Fabrics" by Margaret Beale. The techniques and materials I discovered in the books were varied and exciting and opened a whole new world for me. I discovered a cornucopia of materials and techniques which I could experiment with.
I have had no formal textiles training and have absolutely no idea how to achieve French knots or Suffolk Puffs. This has been advantageous as it has meant that I haven't been hindered by any "rules," leaving me free to experiment. I am a fan of bonding fabrics which involves layering and fusing several layers of material together, then machine stitching it to create a strong piece of fabric which can be used as a background or made into some type of object.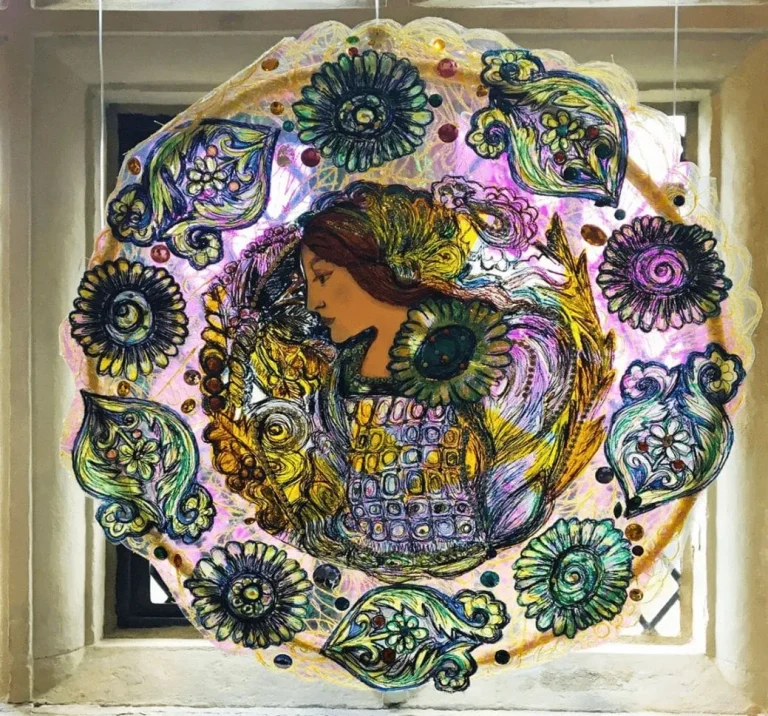 You have an interest in myth and legend – tell us a little more about how this caught your interest and how you go about translating these symbols from ancient societies into stitch.
My influences rarely come from the study of textile art and artists so each piece I make is centred on my subject matter rather than a specific technique.  I credit my parents, through taking me on extended summer holidays abroad, for giving me the experience of visiting art galleries, cathedrals, ruins, sites of interest, capital cities, stunning scenery and fascinating architecture. I also reference literature, stories, religion, mythology, flora and fauna, symbolism…..in fact anything which grabs my attention and imagination. I am fascinated by visual iconography and often investigate how certain themes or objects have been interpreted by different cultures and at different times.
We know you have exhibited widely and are clearly expert at the process. Could you tell our students a little about how it works and any tips or advice you may have for them if they are just starting to think about exhibiting their work?
I have been exhibiting for many years in both solo and group exhibitions. The power of the Internet makes the application process very accessible as I can use WeTransfer to send images and proposals. I make it a priority to research the venue before making a submission and then approach the gallery to see whether I can visit to show work or whether they need me to complete a written application. 
A key element in any proposal is to present a body of work with a coherent theme and I also offer to make some pieces inspired directly by artefacts or images on display in the gallery's own collection. In 2019 I showed over forty pieces at the Williamson Art Gallery in Birkenhead which houses a fabulous permanent collection of Della Robbia ceramics. I made many pieces inspired by the pieces on display, and similarly in my 2121 "Floralia" show at Gawthorpe Hall, I responded to the Gawthorpe Textiles collection. I always offer "Meet the Artist" sessions, workshops and guided tours.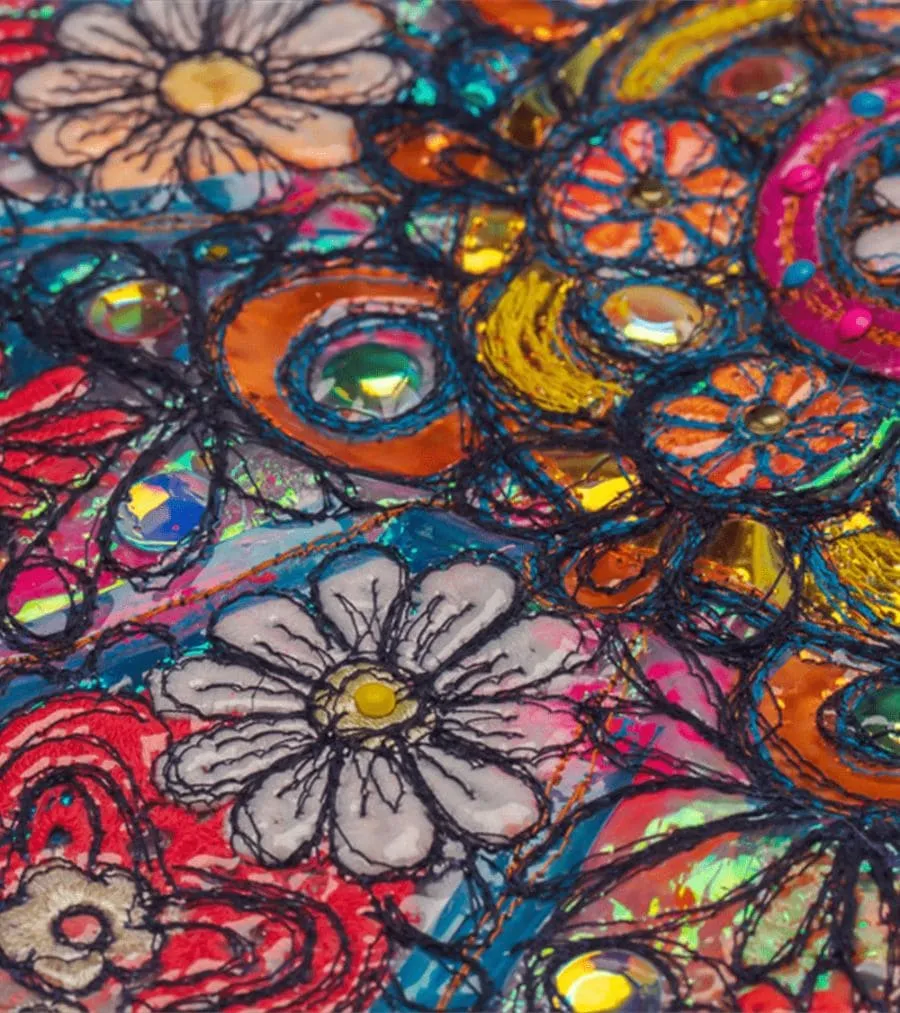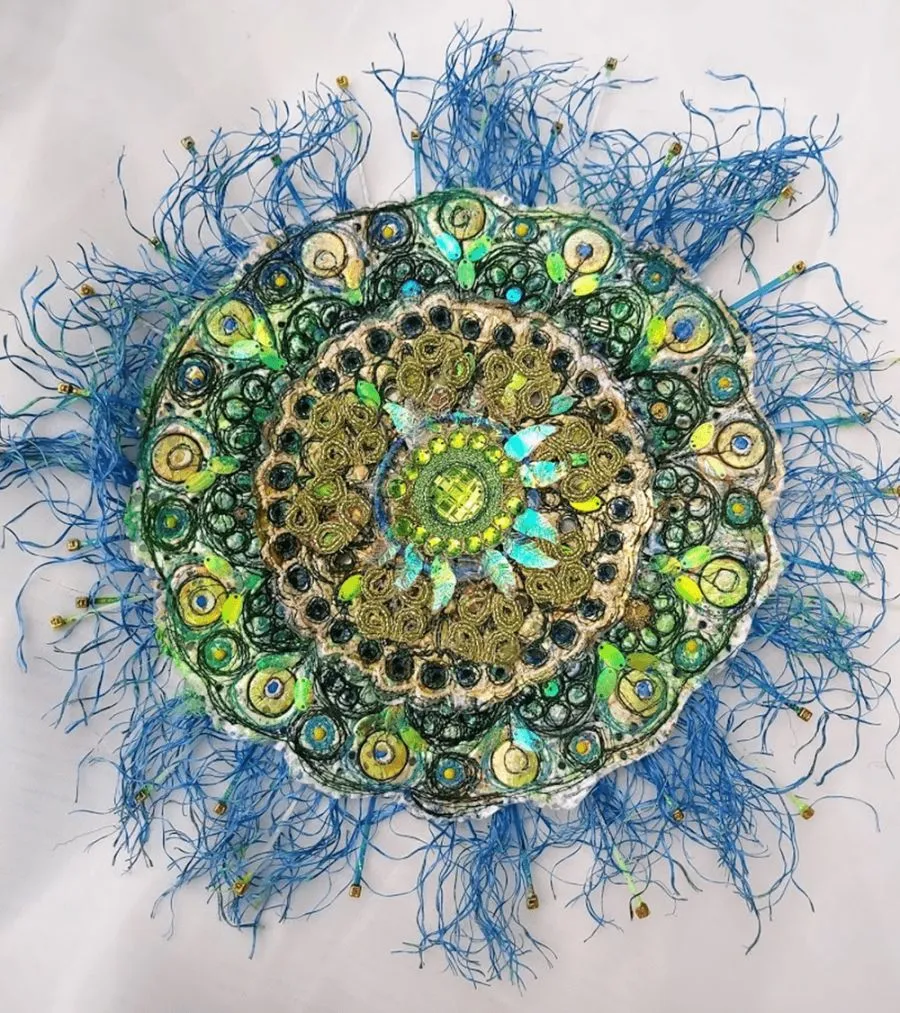 You featured in Kim Thittichai's book 'Experimental Textiles'  – how did that come about and how did you choose what to submit?
I have work featured in a number of publications including Kim Thittichai's "Experimental Textiles." I took some of my work to show her when she had a stand at a Textiles Fair in Liverpool and she invited me to have some pieces photographed. I have written a number of online projects for online platforms and also magazine including "Stitch." I feature as a contributor in Maggie Grey's WOWBook 6 and as an interviewee in WOWBook 7.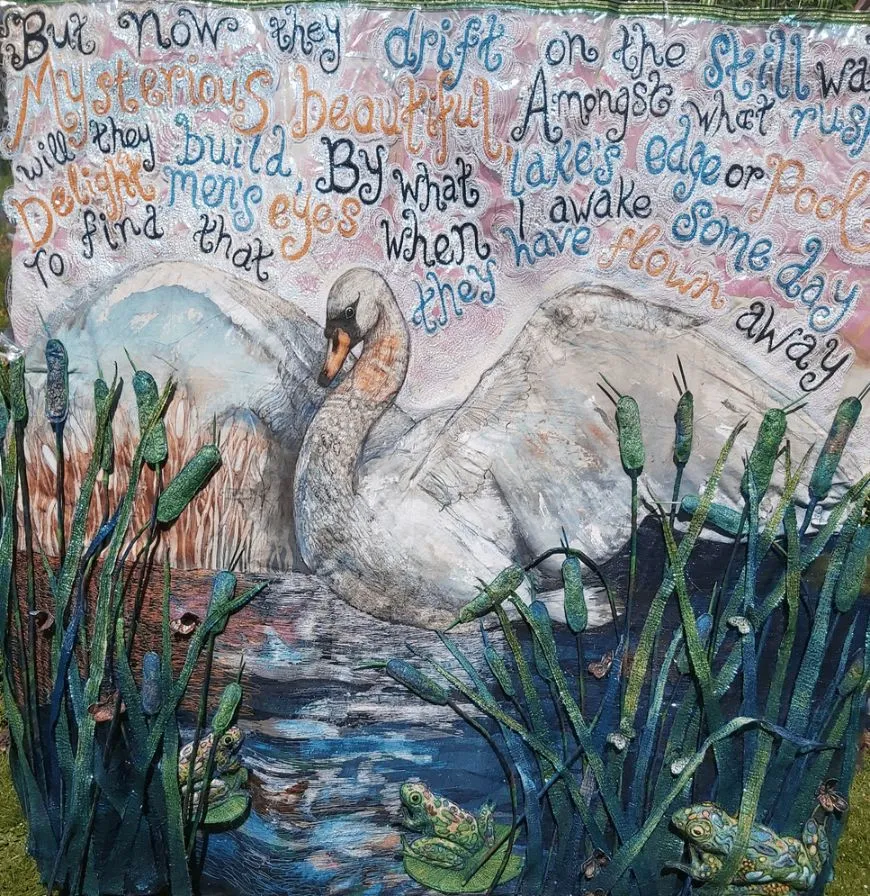 Your pieces are so full of colour and texture – visually exciting and very rich with beads and metals. How do you decide on the techniques for a specific piece? Where do you source your materials from?
I love using mixed media! I am a typical magpie and have accumulated vast quantities of "stuff!" I have even used a wheel trim for a piece of wall mounted work. People often ask me "would you like some……." and I have replied "yes" before they finish the sentence. I tend to look at objects with a view to thinking how I could incorporate them into a piece of work, so a trip to the most unlikely places often leads to some unusual purchases. B and Q, for example has been the source of various unexpected elements such as pipe insulation and spacers for cavity walls. I often go to furnishing fabric stores to buy discontinued sample books and rummage around charity shops as well as the usual places such as Hobbycraft. My favourite technique is free machine stitching and the most important element in my work is drawing, which is how I view free machining.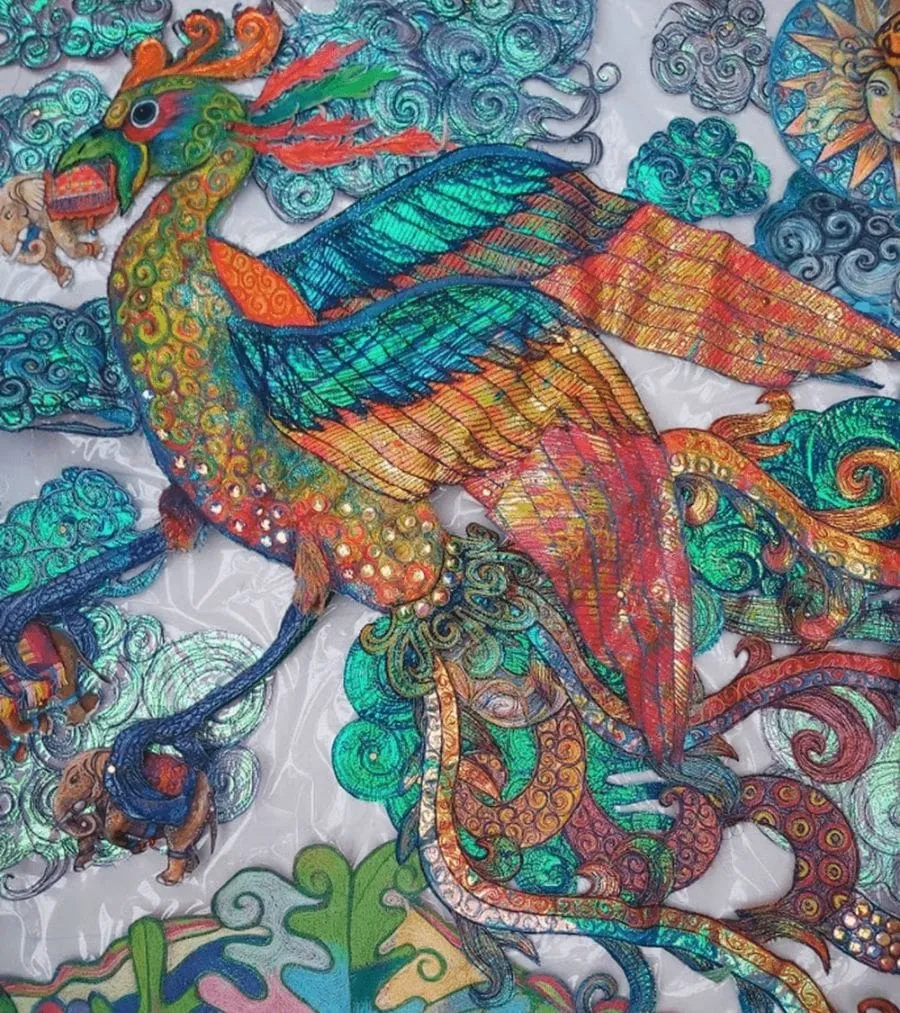 What is next? Do you have exhibitions or new books underway that you could tell us a little about?
I am working on a new piece which is part of a body of work which Textile 21 will be submitting to exhibit from 2023 onwards.. Entitled "The Discerning Palette," it is an exploration of colour it all its forms. I have chosen to create a large scale piece, "The Red List," which explores the animals, birds and plants which are endangered. It will take the form of a Cabinet of Curiosities and is constructed using free machine stitch and fused fabrics. This gives me the opportunity to work in my preferred manner which is to fabricate a number of separate pieces which are assembled at a later date.
I have a website, www.nikkiparmenterartworks.com and a Facebook page which I use very frequently. As well as working with Textile 21 I am a member of Textile Connections and Cheshire Artists' Network.
I would love to write as book and have a proposal ready but it's tricky to find the time as I'm busy teaching, delivering talks and workshops and of course making work. Perhaps someone out there would like to collaborate?
I have just found out that l have an exhibition at Buxton Museum and Art Gallery from 14th September to 13th November 2024.