We've been taking a look at some of the latest books to have been released over the last few months and we're pleased to say that you won't be disappointed. Our book selection covers a range of techniques covering; dying fabric, crocheting doilies, sculpting in fabric and everything in between. If you've had the chance to take a look at any of these books then do let us know what you think by dropping us a comment below.
Stitched Memories: Telling a Story Through Cloth and Thread
Published: – 31 July 2018
Author:  Tilly Rose
Where to get it: Amazon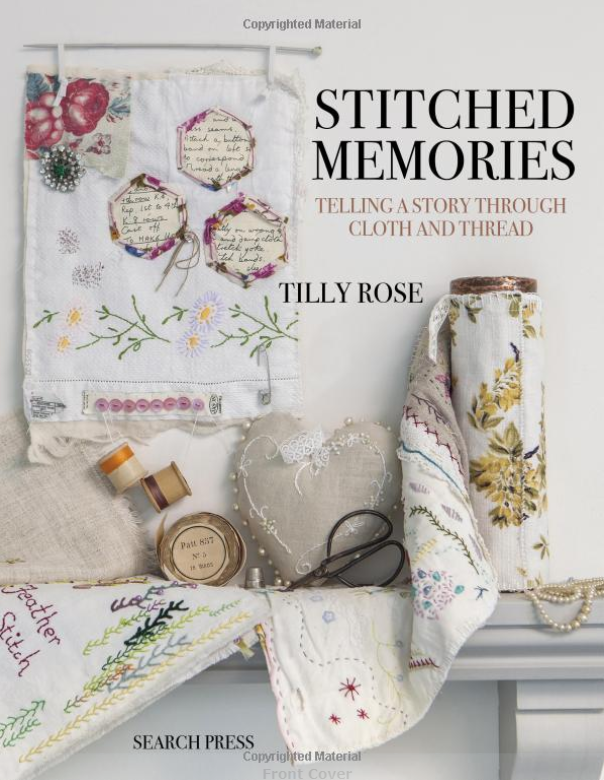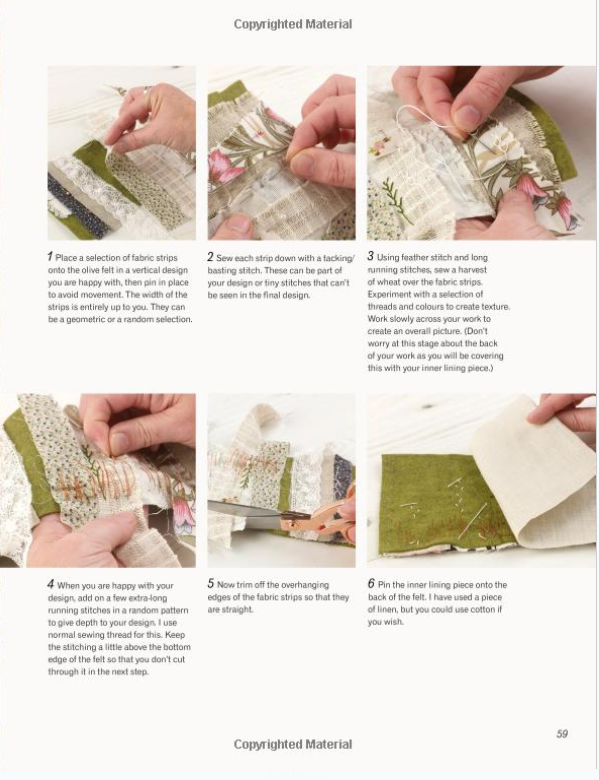 This is a charming book about creating unique textile art using vintage cloth and embroidery to tell a story and preserve memories, celebrate a memory or record a special event.
In this book Tilly describes how to create these textile artworks using scraps of fabric, thread, lace, ribbon, buttons, beads, photographs and other found items that readers either already own or are able to source from elsewhere.
The projects take various forms, including cloth journals, lavender hearts, hoop art, framed collages, wall hangings and miniature quilts, and involve a variety of easy techniques that are explained through step-by-step guides. Techniques covered include layering and collage, hand embroidery, creating your own fabrics, transferring your designs to cloth, stamping on cloth, applique, embellishing, patchwork, quilting, free motion embroidery and photo transfer.
The Royal School of Needlework Book of Embroidery: A Guide to Essential Stitches, Techniques and Projects.
Published: 16 July 2018
Author: Various
Where to get it: Amazon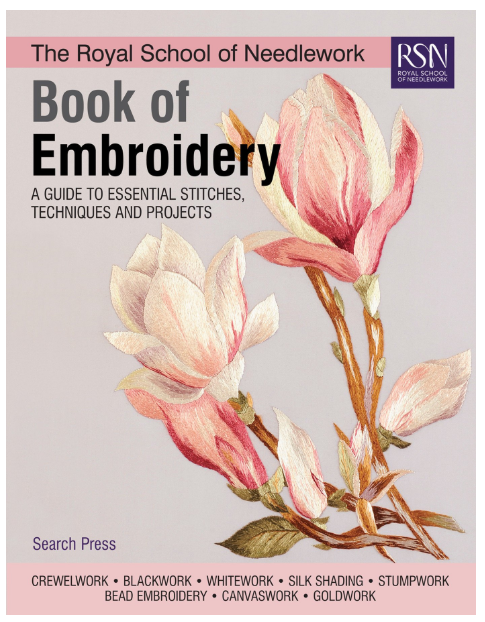 New from the Royal School of Needlework, this beautiful book is a rich source of embroidery techniques, stitches and projects. The book covered 8 different subjects in details including; crewelwork, bead embroidery, stumpwork, canvaswork, goldwork, whitework, blackwork and silk shading. Containing all the trusted, bestselling content from the RSN Essential Stitch Guide series, plus a new section on mounting your finished work, this fantastic book is a must-have for all embroiderers.
Indigo: Cultivate, dye, create
Published: 7 June 2018
Author: Douglas Luhanko (Author), Kerstin Neumuller (Author)
Where to buy: Amazon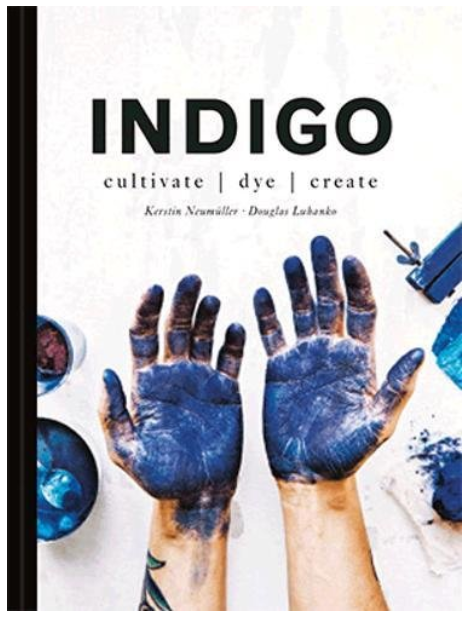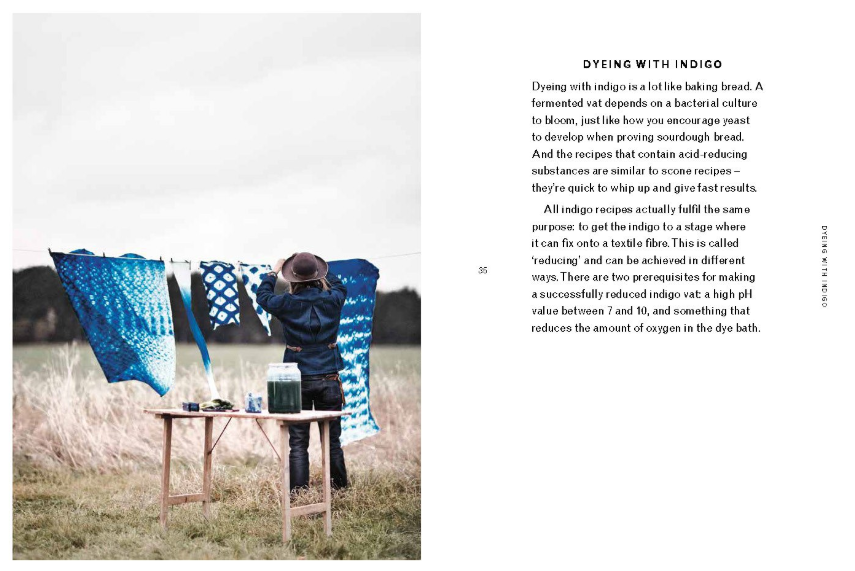 Discover indigo; one of the most mystical yet widely used plants in the world. In this practical and inspirational handbook, learn how to use this powerful pigment to breathe life into your clothes and craft projects. This book details everything you need in order to you need to grow, extract and use indigo, alongside a wealth of dying recipes with other plants and gorgeous textile ideas. The book also covers a variety of different dyeing techniques to achieve different results. Covering everything from warm or cold dyeing with indigo, fructose, hydrosulfite and fermented vats, and dyeing with other colour pigments, you can create multi-coloured projects that are bound to astound.
Simply Modern Patchwork Quilts: 10 Stunning Step-By-Step Projects
Published: 7 May 2018
Author: Janet Goddard
Where to get it: Sew-and-sew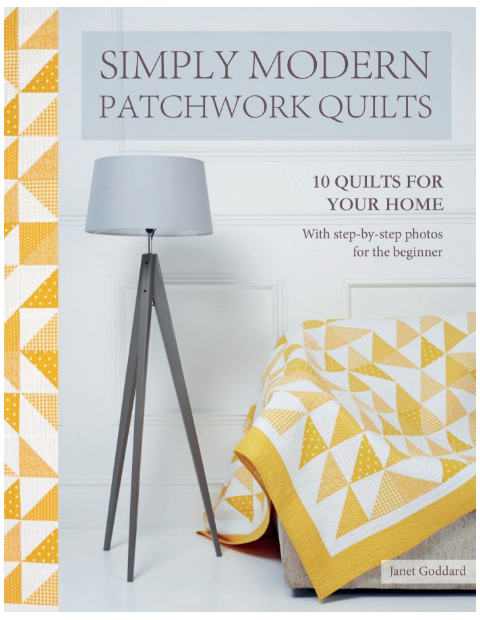 10 contemporary quilt designs to sew for the stunning modern home.
Quilting expert Janet Goddard shows you how to create 10 contemporary quilts. Each come in a range of sizes which can be customised with different colours. The projects are accompanied by gorgeous photographs displaying the quilts in a modern home setting, and materials and basic techniques sections at the start of the book give you all the information you need to start quilting. Choose fabrics and colours to match your own decor and create an eye-catching accessory for your home.
Dimensional Cloth: Sculpture by Contemporary Textile Artists
Published: 28 June 2018
Author: Andra F. Stanton
Where to buy: Amazon
Sculpting in fabric is shown in ingenious detail with more than 350 lavish photographs of 3-D cloth configurations along with insightful profiles of the 78 artists who created them. The images and text capture the currents that are powering these works, like the do-it-yourself (DIY) movement established in the 1990s and the current revival of the revolutionary sculptural cloth of the 1960s. Works are approached through five themes: investigating nature, capturing the ephemeral, playing with space, telling a story, and "Take Heed." In her foreword, renowned fiber art expert Josephine Stealey helps us put this art form in context, from its origins in 1880 England's arts and craft movement to today. This is essential reading and inspiration for collectors, students, home artists, and anyone who appreciates innovative artwork.
Crochet Doilies and Edgings: Directions for Twenty Four Crochet Doilies in Very Beautiful Patterns
Published: 10 Jun 2018
Author:  Cornelia Mee (Author)
Where to buy: Amazon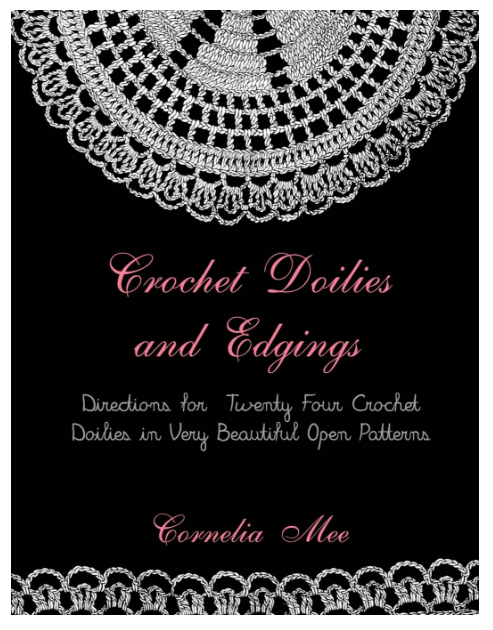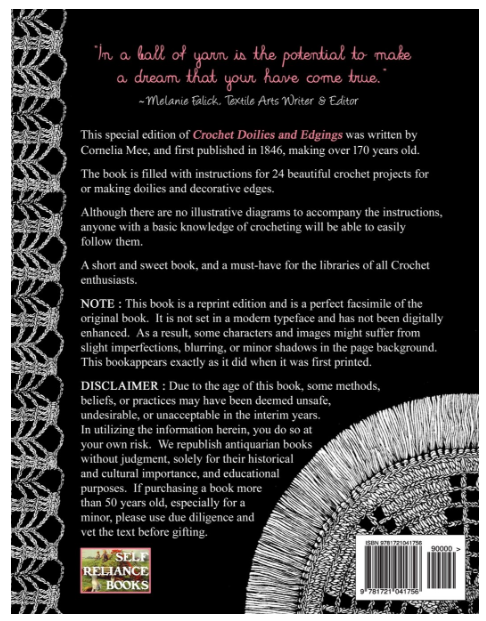 This special edition of 'Crochet Doilies and Edgings' was written by Cornelia Mee, and first published in 1846, making it over 170 years old.
The book is filled with instructions for 24 beautiful crochet projects for making doilies and decorative edges. Although there are no illustrative diagrams to accompany the instructions, anyone with a basic knowledge of crocheting will be able to easily follow them.
A short and sweet book, and a must-have for the libraries of all Crochet enthusiasts.
Granny Square Flair UK Terms Edition: 50 Fresh, Modern Variations of the Classic Crochet Square
Published: 30 Jul 2018
Author:  Shelley Husband
Where to buy: Amazon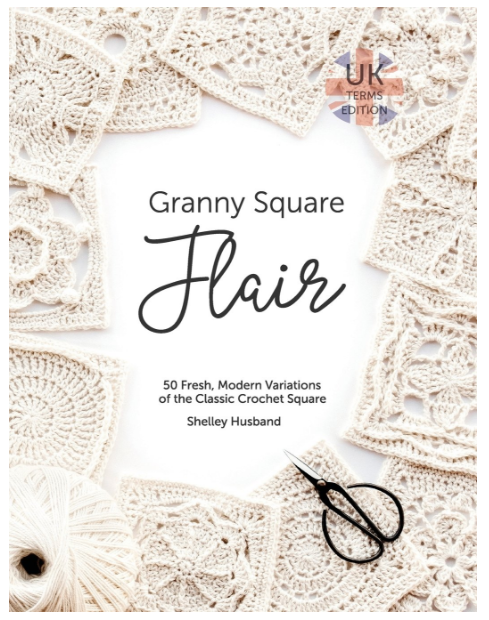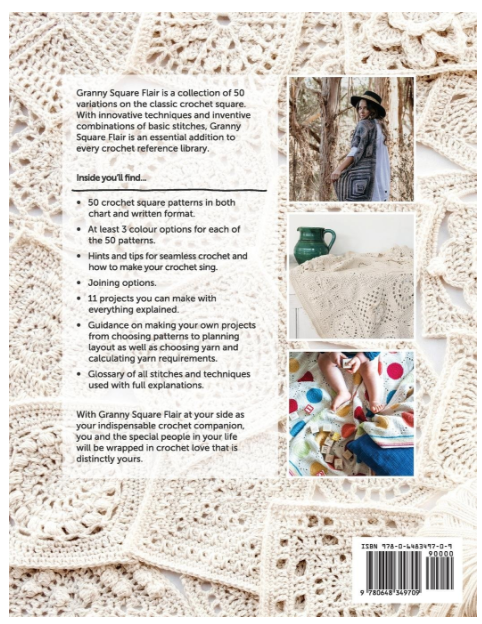 Granny Square Flair is a collection of 50 variations on the classic crochet square. With innovative techniques and inventive combinations of basic stitches, Granny Square Flair is an essential addition to every crochet reference library.
The book includes 50 crochet square patterns in both chart and written format and each design has at least 3 colour options for each of the 50 patterns. There's also a great hints and tips section for seamless crochet and how to make your crochet sing.
The Textile Artist: Layered and Stitched Pictures: Using Free Machine Embroidery and Applique to Create Textile Art Inspired by Everyday Life
Published: 23 Jul 2018
Author: Katie Essam
Where to buy: Amazon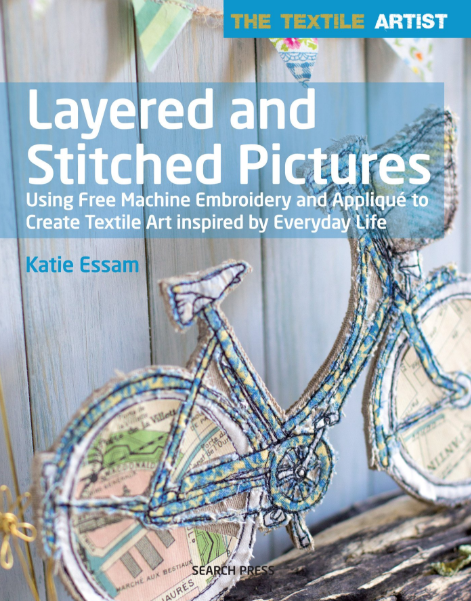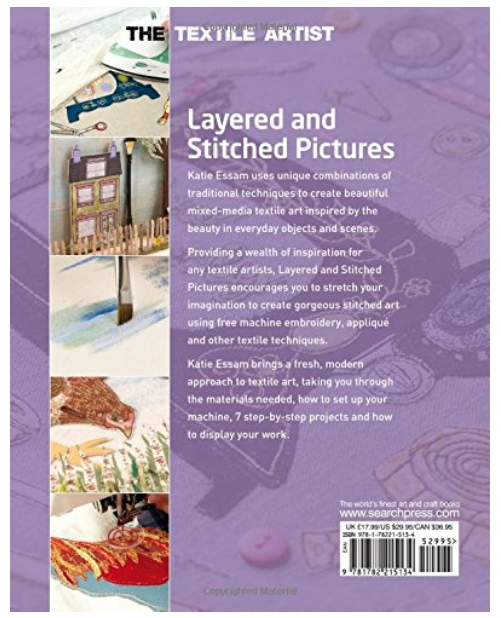 Katie Essam's fresh, modern style uses unique combinations of traditional techniques, and in this book she shows you how to create beautiful textile art inspired by the beauty in everyday objects. Stretch your imagination and be inspired by Katie's fun, innovative ideas; learn how to draw inspiration from the animals, birds, gardens, beach huts and scenes that surround you; and use that inspiration as the fuel you need to create gorgeous stitched pictures.
Fabric Embellishing: The Basics & Beyond
Published: 27 Apr 2018
Author: Ruth Chandler; Liz Kettle
Where to buy: Amazon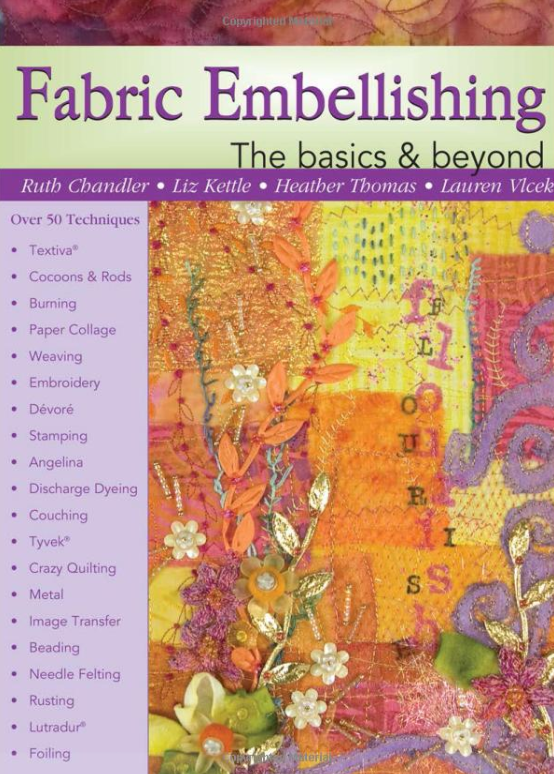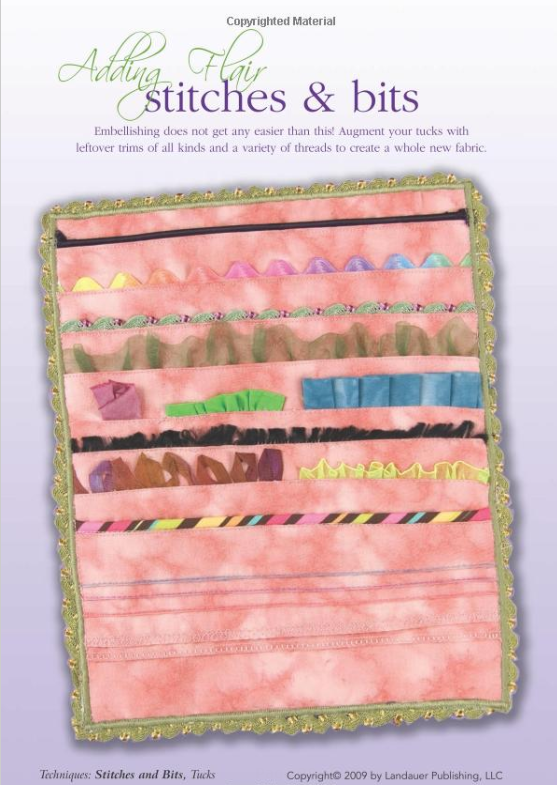 Embellishing your fabric is more fun than ever thanks to this fabulous book. You'll discover and learn over 50 exciting embellishing techniques to enhance and personalise any fabric project. Starting with the essentials, the authors cover equipment and supplies. The foundations section discusses fabric manipulation with techniques like weaving, photo transfers on to fabric and more. The soft embellishments section includes applique, machine and hand stitching methods and hard embellishments covers beading, sequins, silk cocoons and much more. Every technique features a large photo of a finished example to inspire readers while clear instructions guide them every step of the way.