Holiday Shopping - Barcelona

As tutors, we're often asked if we can suggest textile orientated 'finds' abroad. Perhaps a wonderful fabric shop, an interesting purveyor of knitting yarn or just somewhere that we think students will find inspirational for design work.  
After returning from a trip to Barcelona just before Christmas and having been surprised with just what was available in the city that would interest a craft and design enthusiast, I decided to compile my finds into a blog post, hoping that those of you who visit the city in the future have a head start for places to shop for interesting products and ideas of the best places to look for design inspiration.
I had the idea that, in future, when I travel and find somewhere interesting,  I'd create another blog about it, but I'd also like to invite you to join in with me in suggesting places you've found interesting from a craft and design perspective and sharing them with others by using the comments section below. Of course, all of this is subjective – what I like you may not or find irrelevant to you, but hopefully between us we can create a resource that will be useful to all of us when traveling.
Ooh – almost forgot to say that all that craft shopping can be thirsty work, so if you choose to recommend a local cafe near the shop, that would be great too!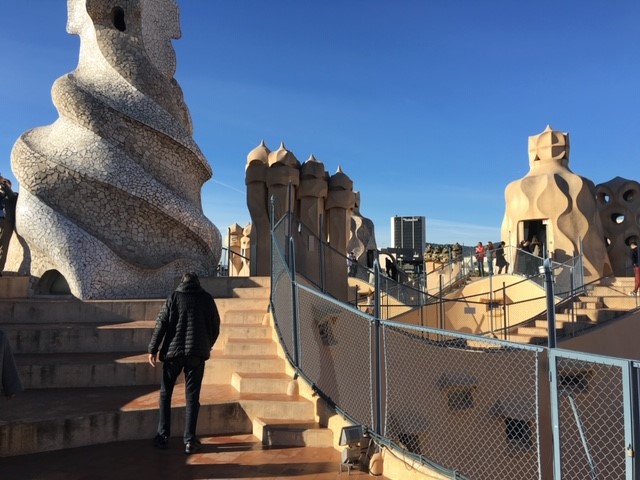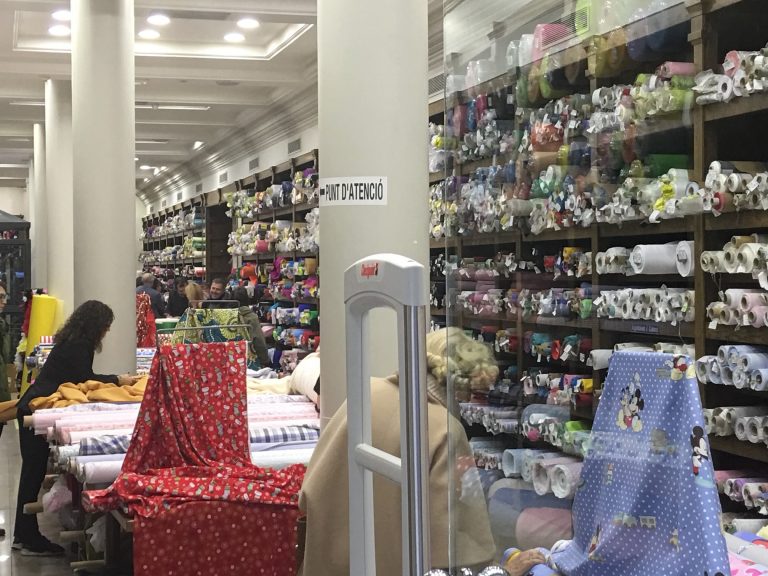 Design-wise, Barcelona is a veritable smorgasbord – Gaudi is everywhere, especially if you are staying in the heart of the city, but then so are Picasso and Dali. We loved the Design museum  – you can check their exhibition programme at https://www.macba.cat It is an amazing modern building and had a really good restaurant, so a good place to plan coffee or lunch around. Casa Mila was another inspiring visit, as is the wonderful Gothic Quarter – all pretty central. 
El Corte Ingles is the large department store in the Place de Catalunya and has a surprisingly wide and varied craft department. The name translates to something like 'Place of the English' because when they first opened more than a century ago, they sold English style suits for men. Great for stocking up on small essentials and seemed to a non-knitter to have a good stick of yarn. Also, a good restaurant with an amazing, reasonably priced selection of food on the top floor – the city views from there are amazing.https://www.elcorteingles.es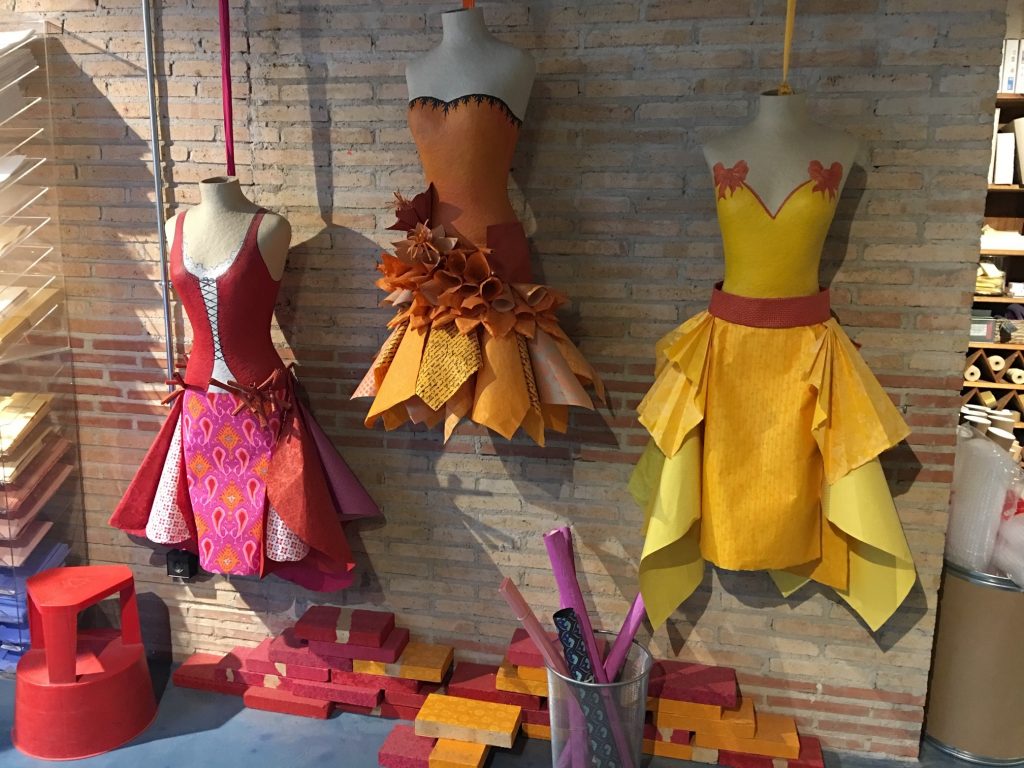 I honestly hadn't expected to see any amount of fabrics shops there, but the moment we walked out of our hotel, I counted 4 on the same city block – and they weren't small ones either. Try Ribes and Casals just off Plaça Urquinaona – the choice is huge https://www.ribescasals.com/en/. The Gothic quarter plays host to many bead shops – they seem to be on every street and offer a huge and varied choice. There is a concentration of these shops around Carrer de la Boqueria.
Finally, I love, love, love a fabulous paper shop in Barcelona called Raima – they have the most amazing stock of every paper, pen and art requirement you could ever want spread over 4 glorious floors and if that wasn't enough they also have a lift with a Louis XVl couch in it so you can sit down in style as you flit between the floors. http://raima.cat/en/
I hope that you find the above useful and I very much look forward to hearing about your recommendations and special places you visited whilst on your travels.
Gail x