From her first cross-stitch at the age of seven, to authoring her own book on Stumpwork Embroidery. Today we speak with Embroidery Artist and owner of Bluebird Embroidery Company, Helen Richman, to find out more about her inspiration, design process, love for embroidery and passion for British wildlife.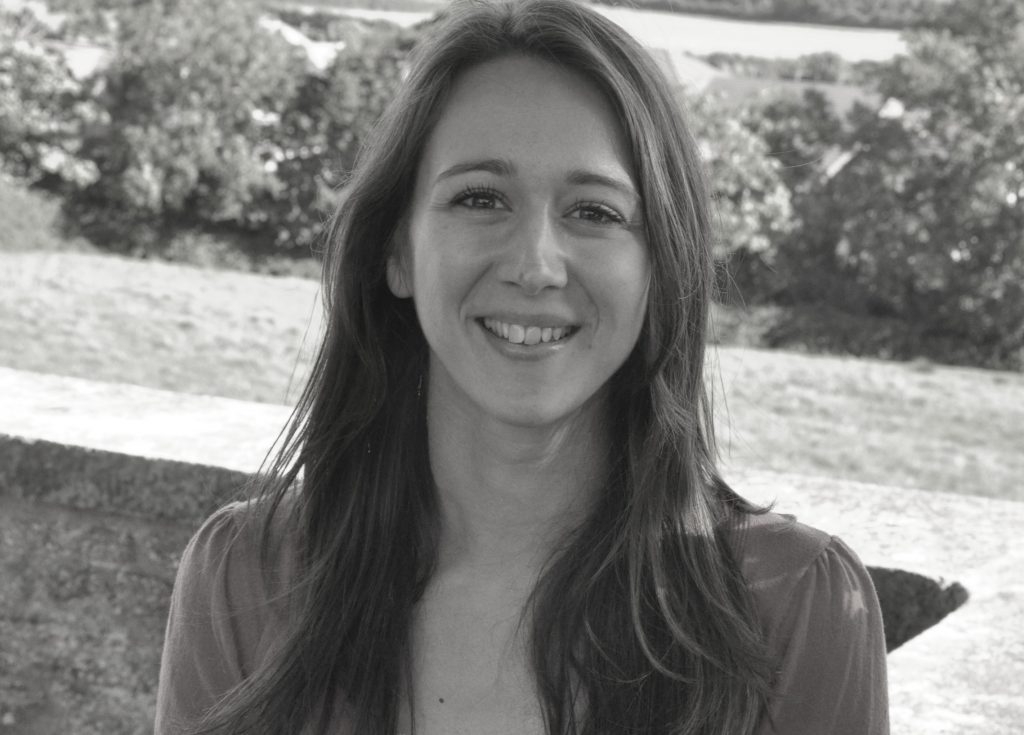 How did you get into hand embroidery and particularly stumpwork?
What is your background and did you study?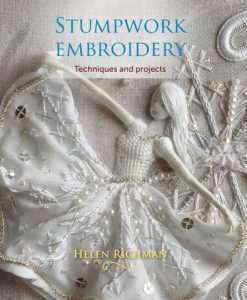 'I have always loved textiles and in particular hand embroidery. I created my first cross stitch at the age of seven and studied A level textiles along with digital photography at college before completing my three year apprenticeship at the Royal School Of Needlework. My time at the school was wonderful but hard work; every day was filled with learning and practising a huge array of hand embroidery techniques.  I particularly enjoyed designing and creating my own projects and I think this is what led me to love Stumpwork so much. The playful mixture of threads, fabrics and colour; the freedom of combining all sorts of stitches and techniques together in a single design, and the three-dimensional quality of this embroidery technique.
Having the opportunity to write a book about this charming technique was a joy and I hope that it will encourage and inspire other embroiderers to also give it a go.'
How would you describe your work. Medium used, form, style?

'A lot of my work revolves around designing and creating new embroidery kits which I sell through my online shop, Bluebird Embroidery Company. I really enjoy the challenge of producing designs which my customers will love creating for themselves. Because everybody has their own favourite technique, it means that I am very lucky to constantly be stitching samples of all kinds of embroidery. However, I have to say that my favourite embroidery techniques to work with are silk shading, goldwork, stumpwork and crewelwork. I like to think that my designs are fun but elegant with plenty of attention to detail.'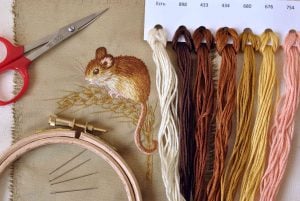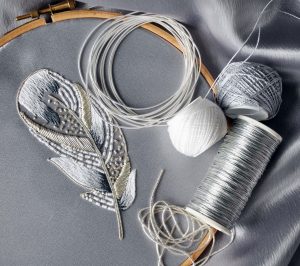 We know that you draw your inspiration from various things in life such as nature and in particular British Wildlife – how did this come about?
'When I decided that I wanted to create embroidered art pieces for exhibition and sale I immediately turned to my passion for British wildlife to use as the theme for my first collection. I love spending time out in the countryside and am very lucky in that living in Somerset means that inspiration is never far away. For many hours I researched and studied various species before deciding on the final eight: Fox, Badger, Hedgehog, Little Owl, Rabbit, Grey Squirrel, Fallow Deer and Wood Mouse and concluded that the technique of silk shading would be the perfect choice for realistically recreating the effect of fur and feathers.
I used up to 14 colours of stranded cotton threads simultaneously inserted into individual needles to delicately build up the shading and form of each animal. These were stitched onto backgrounds of ivory cotton felt to contrast with the smooth crisp threads, making the animals really stand out and come alive.'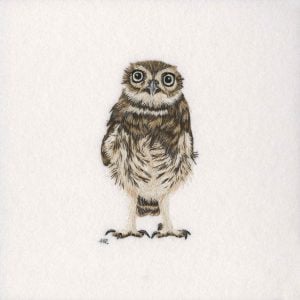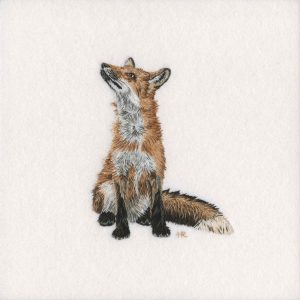 Which artists inspire you?
'I often turn to the work of traditional craftsmen for inspiration. Being a member of the Somerset Guild Of Craftsmen has introduced me to a broad spectrum of crafts and design styles from wood carving and ceramics, to glass engraving and calligraphy. These I then use as a rich source of inspiration to develop and adapt my own designs.'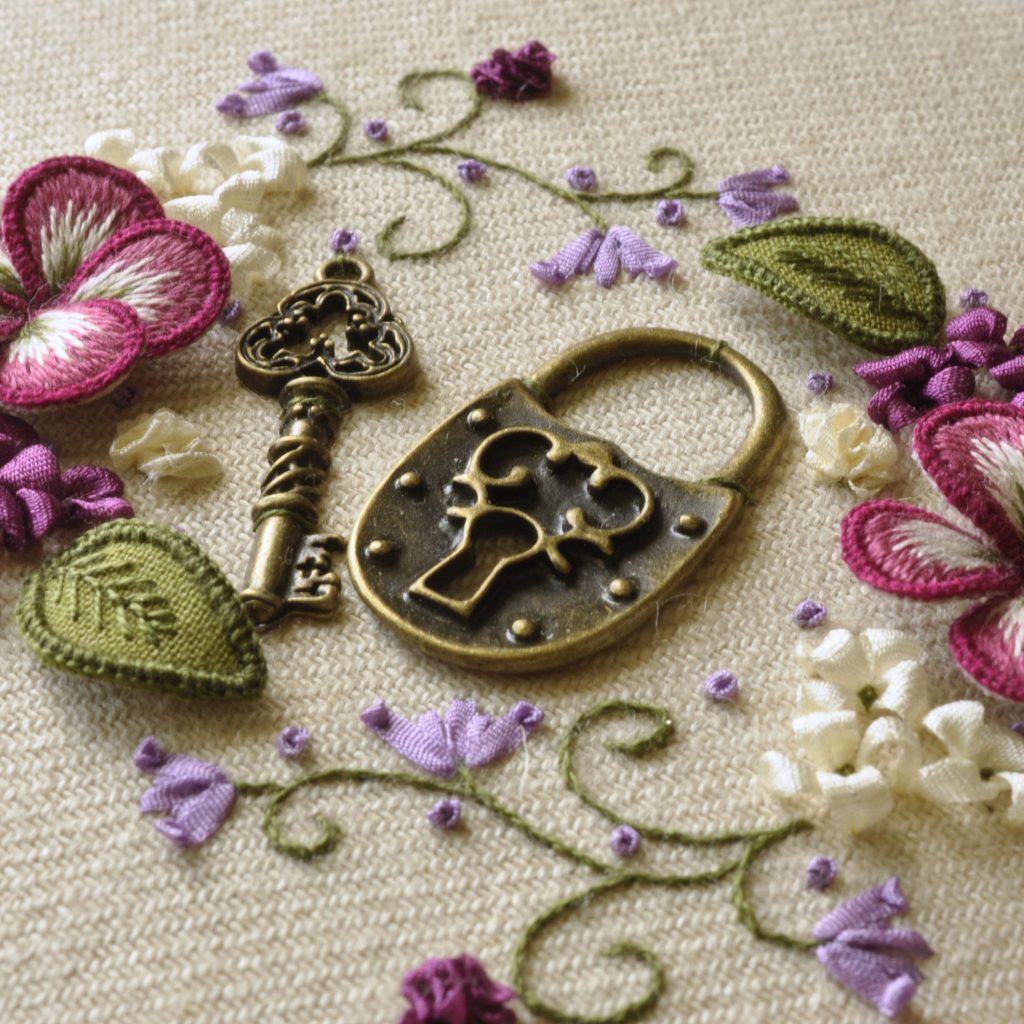 What's your development process for your designs, if any?
'To turn a design idea or concept into a piece of embroidery I often follow the same process. I will begin by researching my theme or subject matter; this can be on the internet, in books or by drawing studies and taking photos. I then draw rough sketches which will develop into a simple but clear line drawing. This I will use to experiment with different combinations of colour to help me choose threads and fabrics, to plan which stitches and techniques will be used and to organise the order in which the design will be worked. Once all of this has been finalised I then create a full size drawing of the design which I will then transfer onto fabric to begin stitching.'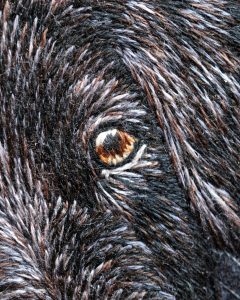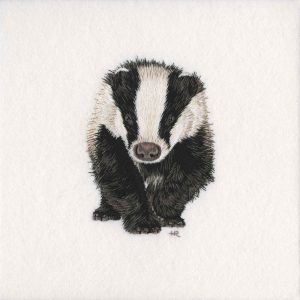 How did you develop your own style and inner voice? Was there a defining moment for you or was it a gradual process?
'My own style developed over time as I learned which embroidery techniques I enjoyed and which ones could be combined and adapted to suit the designs and subject matters I enjoy creating. I love silk shading as it feels very free – you build up the colour, texture and placement of stitches by eye which gives it a quality reminiscent of painting.  This combined with stumpwork can create very realistic and dimensional work.'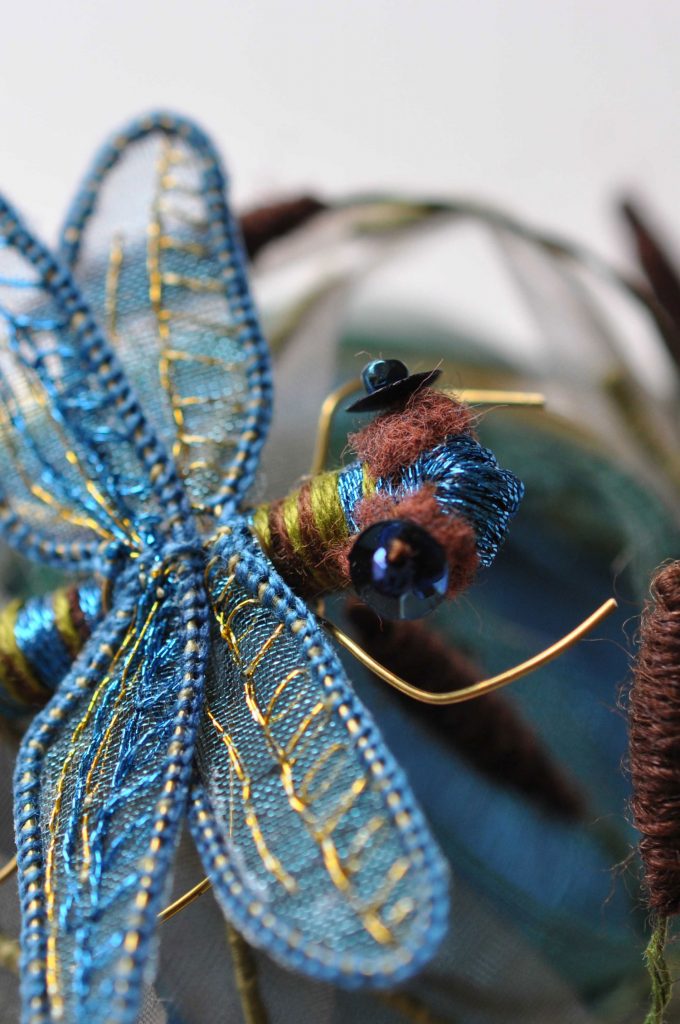 Do you ever feel unmotivated, if so how do motivate yourself on these off days?
'Of course! Sometimes there are days when I feel completely unmotivated to stitch. But on those I've learned not to force myself to sit down and work. I never produce my best stitching and often have to unpick the next time I visit it anyway. Instead I will try and get myself outside when I feel like this, going for a country walk with the dog is my best motivation and provides an opportunity for mulling over designs.'
What advice would you give our students who are taking our courses?
'Try to always follow your own tastes. This will help you to create designs that you feel inspired by and that you'll enjoy stitching. Do this and you'll always produce your best work, which you will love and take pride in for many years to come.'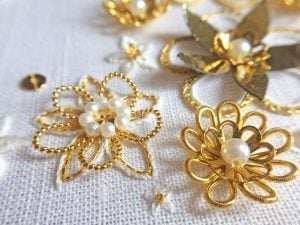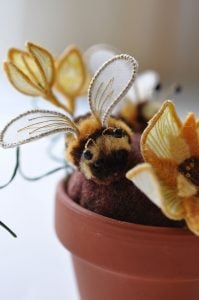 A huge 'thank you' to Helen for taking the time out of her busy schedule to talk to us. You can follow the Bluebird Embroidery Company on Facebook and Pinterest